It was a simple holiday trip to North Carolina that Emily had been planning since the middle of the summer. Our sister-in-law Fran reached out and mentioned she wanted to have a special birthday gathering for Emily's brother Drew and after 2 seconds of contemplation, the hotel was booked and Pinterest saw a spike in their birthday ideas pin volume. Emily's parents signed up for the trip as well leaving us all excited to have the entire Griffin clan together for Thanksgiving 2016!  Emily went to town on party ideas texting Fran at every turn to ensure she was completely on board with all decisions.  From the napkin colors to the decorative album choices (keep reading for photos of that one), it was most certainly going to be a party to remember and a fantastic family holiday. 
Tuesday, November 22nd – Driving Day 1
Fast forward to Tuesday, November 22nd, and the family was chomping at the bit to get on our way to North Carolina.  Emily had packed the car to precision (I believe it involved a protractor and the Pythagorean theorem), but she managed to fit everything we needed for the five day party extravaganza.  (Early wrapped Christmas gifts went in Kee and Colonel's car, who have the freedom of backseat packing).  We had originally planned to depart at 5 am Wednesday morning, but since I worked from home, I was able to wrap up my day, go pick up Hunter from school, and gather the boys in the family truckster.  Emily had prepared them baskets of snacks and a few activities to occupy their time along with the iPads filled with their favorite movies.  Yep, it reminded me of a little show my sister used to watch called Little House on the Prairie, just a simple wagon ride across the country (but I digress). 
The drive through Orlando and up I-4 was relatively uneventful so we chugged away until the cries from the backseat for nourishment intensified.  Having just battled through the Jacksonville-at-rush-hour traffic (BTW, has the Jacksonville section of I-95 been under construction since the invention of the stoplight or is that just me?), we set our sights on a first time dining experience for the Hayes clan, the Waffle House.  There just happened to be one right off I-95 so we pulled into the well lit parking lot and headed in for some greasy goodness.  Hunter was excited for the Chocolate Chip Waffle (which he said rivaled that of Wolfgang Puck's from Disney Springs… please don't let that comment send you into retirement, Wolf), and Emily and I got some greasy sandwiches that were the perfect road food delight for our first night of travel. Emily just tried not to touch any of the surfaces.
We degreased ourselves and hopped back in the car for the remaining two hour drive to our first night stop in Pooler, GA, at LaQuinta.  Emily booked this hotel literally 8 hours earlier, doing some quick research to find a 4.5 star hotel right off I-95.  Let me warn those of you looking at ratings on hotels right off the interstate, assume two of those stars were earned because of location.  We checked into our room and brought up our goods for the night.  The room, while spacious, looked like it had just suffered through a month long college fraternity bender with stained furniture and an odor I am not sure I could do justice to over this blog.  Suffice it to say that not only did the puddle in the parking lot smell like stale beer and urine, so did the INSIDE of the refrigerator in the room.  Needless to say, we left our sodas in the cooler that night.  However, we enjoyed the break from the road and a chance to grab some rest for our busy day ahead.
Wednesday, November 23rd 
We awoke to no mysterious itches, which we considered a win, showered and packed up, and headed down to the lobby for some LaQuinta breakfast.  Can't really go wrong with waffle batter and do-it-yourself waffle irons. We filled up on that and some cereal before we were ready to take on the open road once again.  
Lucky for Hunter, he has been given the gift of motion sickness from his dear old dad.  He quickly realized that watching the iPad was not going to be in the cards for his travels as it definitely set off his stomach.  We made a few stops along the way for bathroom breaks and just to get some fresh air.  Emily spotted this Coke sign that we pulled over for to capture a few silly photos before being back on our way. 
Back on the road, we kept motoring until we stopped for lunch at Wendy's (boys) and Bojangles (big people). The stop was a much needed stabilization break for Hunter who was doing his best to keep down all of the food and drink he consumed throughout the morning.   The stop was an hour from our final destination of Holly Springs, NC, so we toughed out the remainder of the drive and arrived at the Hampton Inn & Suites just behind Kee and Colonel. They left Orlando first thing Wednesday morning and hit our overnight stop in Pooler about 10 minutes after we departed, and ended up passing us when we stopped for lunch!
Thankful to be at our non-mobile destination, Emily and the boys chilled in the room while Colonel and I unloaded the never ending clown car of stuff that we brought. Emily took some time to get the room situated while I headed to the Harris Teeter for a few things we needed in the room, mainly wine and beer. 
The pressure of holding in our surprise 50th birthday visit was getting to Emily as the multiple months of preparation had now bought her within miles and minutes of the reveal. Our original plan was to all be at the restaurant and surprise Drew when he and Fran arrived. Drew ended up napping so we decided to show up at the house and surprise him at the door.  Needless to say he was quite surprised.
We shared some hugs and quick conversation before caravanning over to Aviators Smokehouse to meet up with the Glen Griffin family for a much anticipated dinner. Aviators was a restaurant that Drew and Fran took us to a few years back.  They have these amazing smoked wings that I have been craving ever since our last visit, so I was super excited that this meal kicked off our long weekend. They were holding a table for 16 for us in a nice back room area which was ideal for the kids and conversation.  It was the perfect spot to enjoy some delicious food and catch up on the year since we lasted visited.
After a chilly North Carolina walk back to the car and short drive back to the Hampton Inn, we were ready to retire for the evening, rest off our travels, and get our stomachs ready for Thanksgiving!
Thursday, November 24th (Thanksgiving)
Thanksgiving morning in North Carolina didn't quite bring the chill we were anticipating but it was still enjoyable to be out of the 80 degree heat of Florida.  We stumbled out of bed, got showered and dressed, and headed down to the lobby to get some Hampton Inn and Suites breakfast, which was on Hunter's must-do list before we left.  The boy loves his hotel waffles.
Our first order of business for the day was to make our traditional stop at Dunkin' Donuts (although we had already had enough breakfast) because it has been a Thanksgiving morning tradition for several years now.  We found a Dunkin' Donuts a couple minutes from the hotel that met the need.  Unfortunately they had like 3 donuts available so Emily picked them up and we brought them to Drew and Fran's.
Spending the morning at Drew & Fran's gave us all the ability to unwind and stretch our legs a bit, having been in the car the past couple of days.  The ladies (Emily, Fran, and her mom Naomi) spent their morning preparing some dishes for Thanksgiving dinner, while Hunter, Sawyer, and I spent the morning excavating Drew and Fran's backyard looking for dinosaur fossils (aka rocks).  The weather was amazing and the leaves changing color provided the perfect backdrop for the fun photos and videos that we captured.  There are a lot more pictures that we captured from this beautiful fall day in the photo slideshow at the end of this post.
Drew has a really cool music room with guitars and drums where he records music. The boys took a break from exploring to enjoy a little jam session upstairs where they got to take out some aggression on the drum set. Sawyer was a little timid at first but ended up really getting into it. After the jam sesh, we heated up some leftover wings for lunch while the Thanksgiving dishes prepared in the oven. 
As the apple pie finished cooking, we were ready to make our way to Glen's house for our Thanksgiving feast.  The boys were excited not only to see their cousins but also happy that the drive only required 15 minutes in the car (they were already dreading the ride back to Florida).  This was our first time as a family spending Thanksgiving with the entire Griffin family in North Carolina, and it was a perfect opportunity to catch up and enjoy a delicious home cooked Thanksgiving meal.  We took a break between dinner and dessert to play "Thanksgiving Would You Rather," giving our stomachs just enough time to make room for the six pies that were prepared for dessert.  We stayed late enjoying conversation, and the boys had a blast running around the house with their Nerf weapons.  A great Thanksgiving 2016!
Friday, November 25th
Needless to say we didn't rise and shine early on this black Friday as everyone was still in a food hangover from the prior day.  I brought breakfast back to the room for everyone so they could take their time getting ready and relaxing.  Sawyer, who is normally a fairly early riser, woke up for a bit but then decided he was tired enough to go back to bed (he is still sleeping as I am writing this at 10:30 am).  Emily and Hunter headed over to Drew and Fran's so Emily and the girls could do some shopping in a few nearby boutiques, and Hunter could hang out with Drew and PopPa Colonel.  
Sawyer finally awoke at 11:20 and picked up right where he left off, enjoying some cereal and watching the iPad.  Poor guy was wiped out from all of this traveling!  Sawyer and I headed over to Drew and Fran's to meet up with the guys while the ladies were still out shopping. We did some exploring in the woods behind their house and relaxed for the afternoon. We were in need of an afternoon snack  so I took the boys to Dairy Queen for an ice cream treat which hit the spot. 
The evening plan was to do something festive to kick off the holiday season.  The North Carolina Chinese Lantern Festival Cary at Cary's Booth Amphitheater happened to be opening that evening which was a great opportunity to enjoy the weather and get in the holiday spirit. 
We met at Glen's and ordered pizza from Cozzolino's, a local pizza place in Cary. Hanging out at Glen's gave the boys a chance to run around and have some fun while the adults chilled. After pizza we headed off to the Chinese Lantern Festival along with what seemed like all of the Southeast region. The expansive parking lot was almost completely full as we parked a half mile from the entrance and made our way to the standby line.  At first glance the standby line for tickets alone had about 400 people in it which initiated some conversation as to how excited everyone truly was to see some lit lanterns.  Although the majority voted to leave, we were actually glad that the minority had us stick it out, as it was a truly unique experience that helped everyone get a little holiday spirit.   We captured some fun photos and videos and, after getting our fill of lit holiday figures, we packed it up and headed back to the hotel to retire for the evening.
Saturday, November 26th
Today was Drew's 50th birthday party celebration (actual birthday the 28th) that Emily and Fran had been working on for months.  They spent the better part of the last two months texting party ideas and photos back and forth, with an intense focus on nailing the theme. It was finally go time as we prepared for our day. My main job for the day was to get Drew and the other boys out of the house so the birthday elves could transform the house into a legendary rock venue.  
We brought the pre-packed bins over to Drew and Fran's that had a bunch of things that Emily had been working on over the previous weeks.  Before I could take Drew out of the house Emily wanted me to set up a photo studio in the garage where guests could take photo booth type photos with a bunch of fun props that Emily brought, all themed around the "garage band."  It took a bit longer to set up than anticipated as I had the backdrop, lights, and the whole nine yards.  
When setup was finally complete, Hunter, Sawyer, Drew, and I headed to Jump Street, a local trampoline place, where we met Glen, Diane, Taylor, and Sean.  The kids had a blast bouncing around and playing dodgeball.  They even had a mechanical bull that Taylor and Sean took a turn at riding.  A perfect spot for the kids to burn off some energy.
After we had our fill of jumping, we went to Dave & Busters for some lunch and video games.  Alex and Kaylie met us there for some good clean competitive video game enjoyment.  The ladies were just wrapping up the finishing touches on the party decoration so Drew and I headed back to the house with the boys for the big reveal and to get dressed for the party.  As anticipated, the decorations were amazing with a ton of personal touches that were distinctly Drew. 
After our tour we got dressed in our casual rock attire just in time for some of the first arriving guests.  The party was well attended by Drew's friends and family, including the members of his band. The party was themed around rock with fun appetizers and snacks with clever decor throughout the entire house.  Our photo booth saw a lot of action as guests posed with all the fun props. The highlight of the evening was a 50th birthday video that Fran had commissioned, with contributing video monologues from most of the party guests.  The video included photos of Drew throughout the years and ended with 50+ birthday wish videos from friends and family across the globe.  The party went on for a bit as everyone visited, many helping to clean as the night neared an end.  There are many more pictures from the party in the photo slideshow at the bottom of this post.
Since the boys were ready to collapse, we said our goodbyes, content with the fact that we would be seeing them again in a month when they visited Orlando for Christmas.
Sunday, November 27th
Today was the day we were not looking forward to, our 10 hour drive back to Orlando (which ended up being 12 because of the horrendous holiday traffic on I-95). We awoke to Hunter looking like a zombie from the Thriller video because he wasn't feeling well. I grabbed the boys some breakfast from the Hampton Inn lobby and brought it to the room while Emily packed and I shuttled stuff to the car. We got the car packed by 9 am, said our goodbyes to Kee and Colonel, who made the wise choice to stay an additional day, and we were on our way. Two stops at Starbucks and Bojangles for the adult breakfast option and we joined the 2 million other folks who were traveling I-95 on this fine Sunday. 
Needless to say it was a long and thankfully uneventful drive. Hunter slept a lot of the way and Sawyer enjoyed using the iPad to distract from the long ride. We downloaded the "boy band" audio instructions on the Waze GPS app which provided for some laughs. 
We grabbed some lunch for the boys at what is possibly the slowest McDonalds in America, then picked up some burgers from Backyard Burgers for ourselves, before getting back on the road for our final push. We arrived home at around 9 pm, after picking up some milk for the morning and pizza for dinner.  We were exhausted from our travels but happy that we got the opportunity to spend time with family over the Thanksgiving holiday weekend.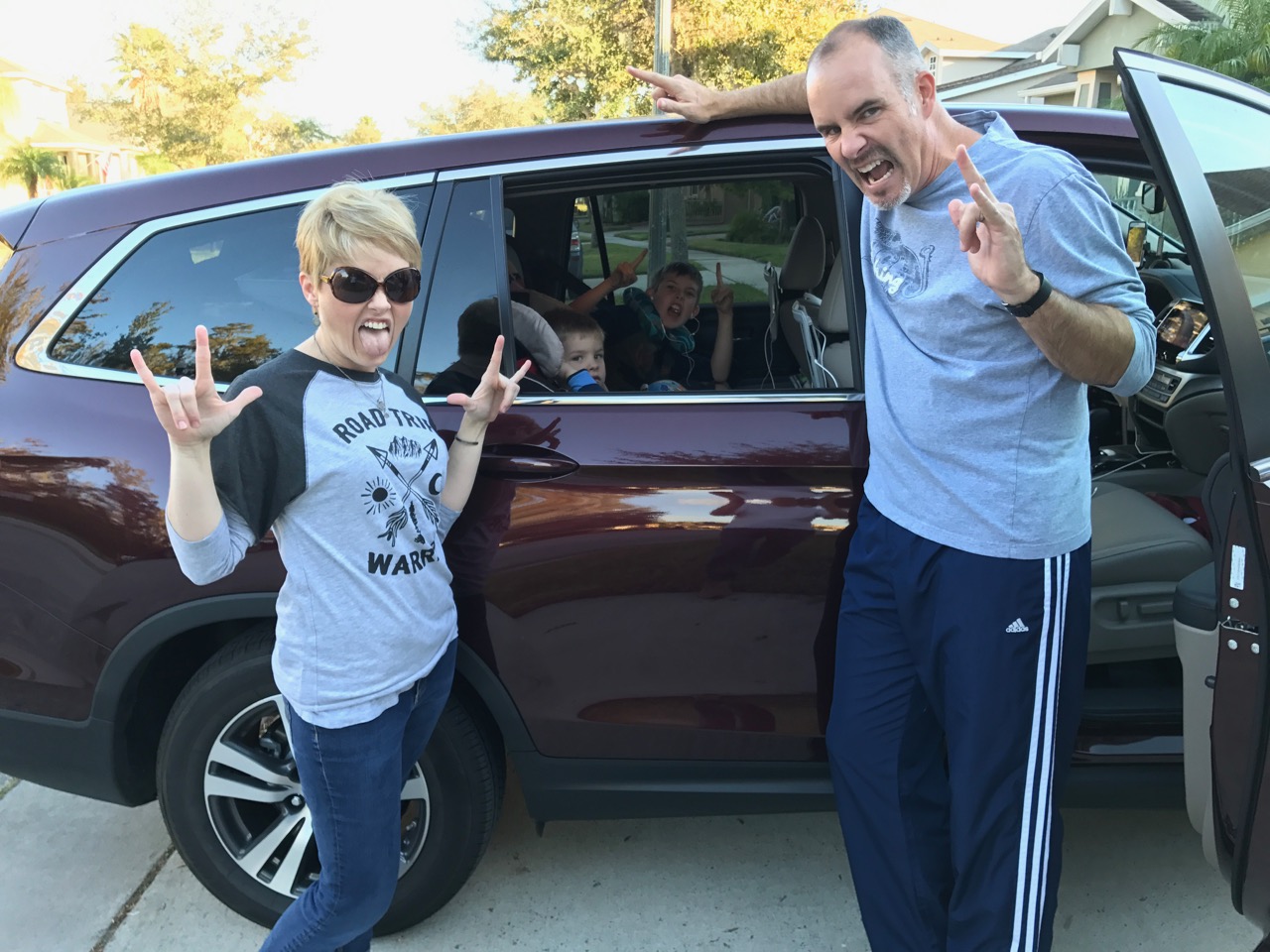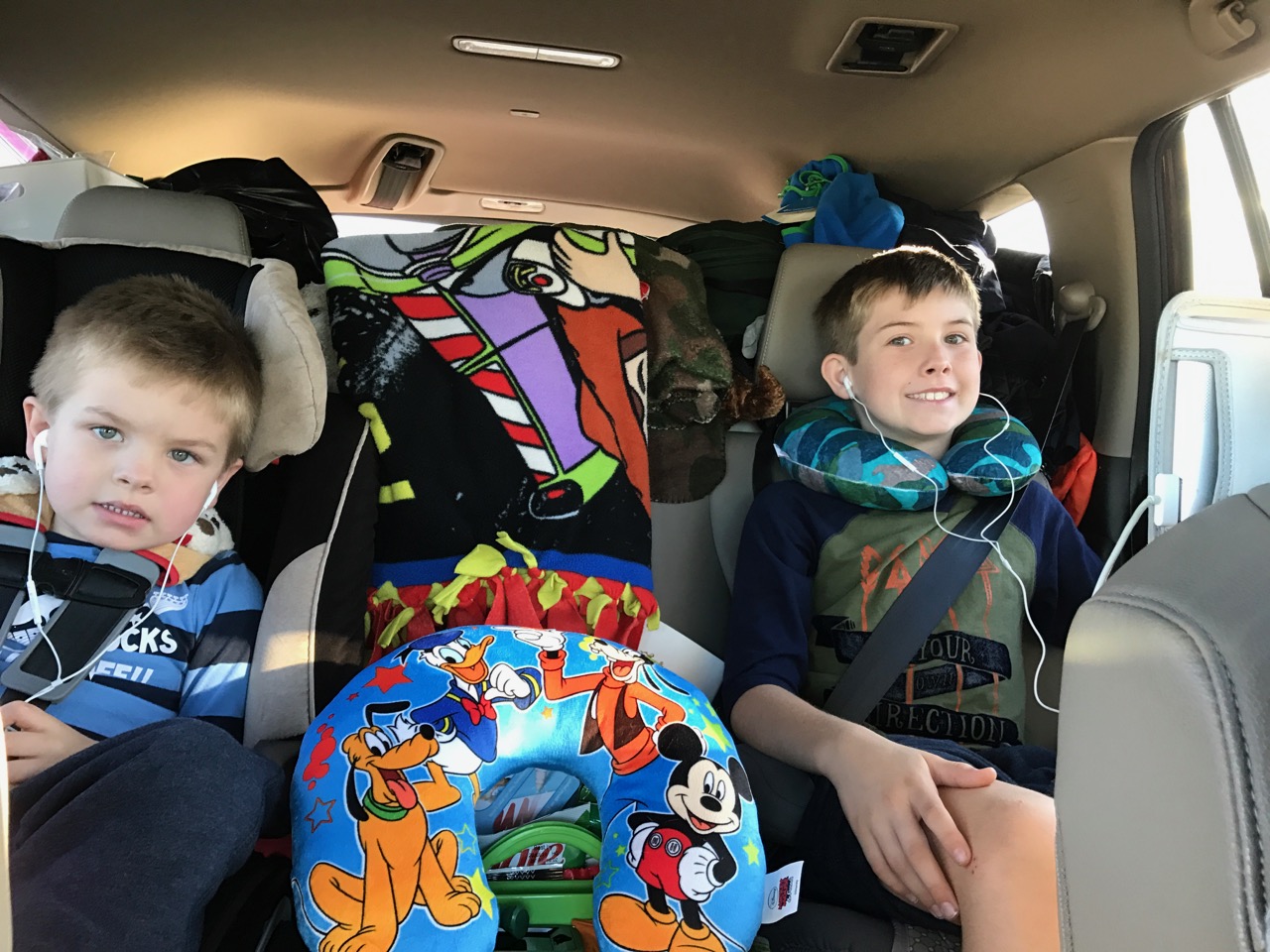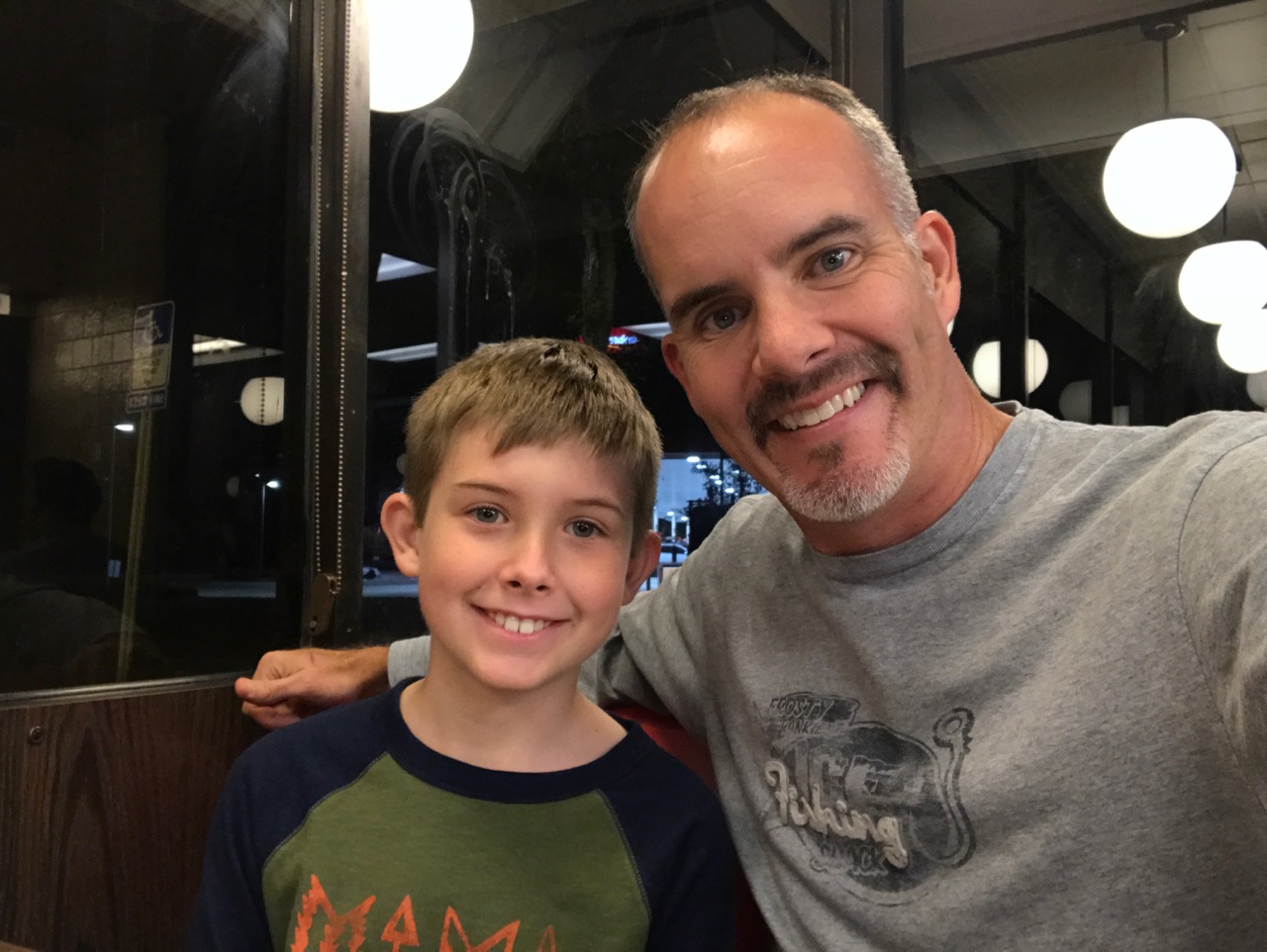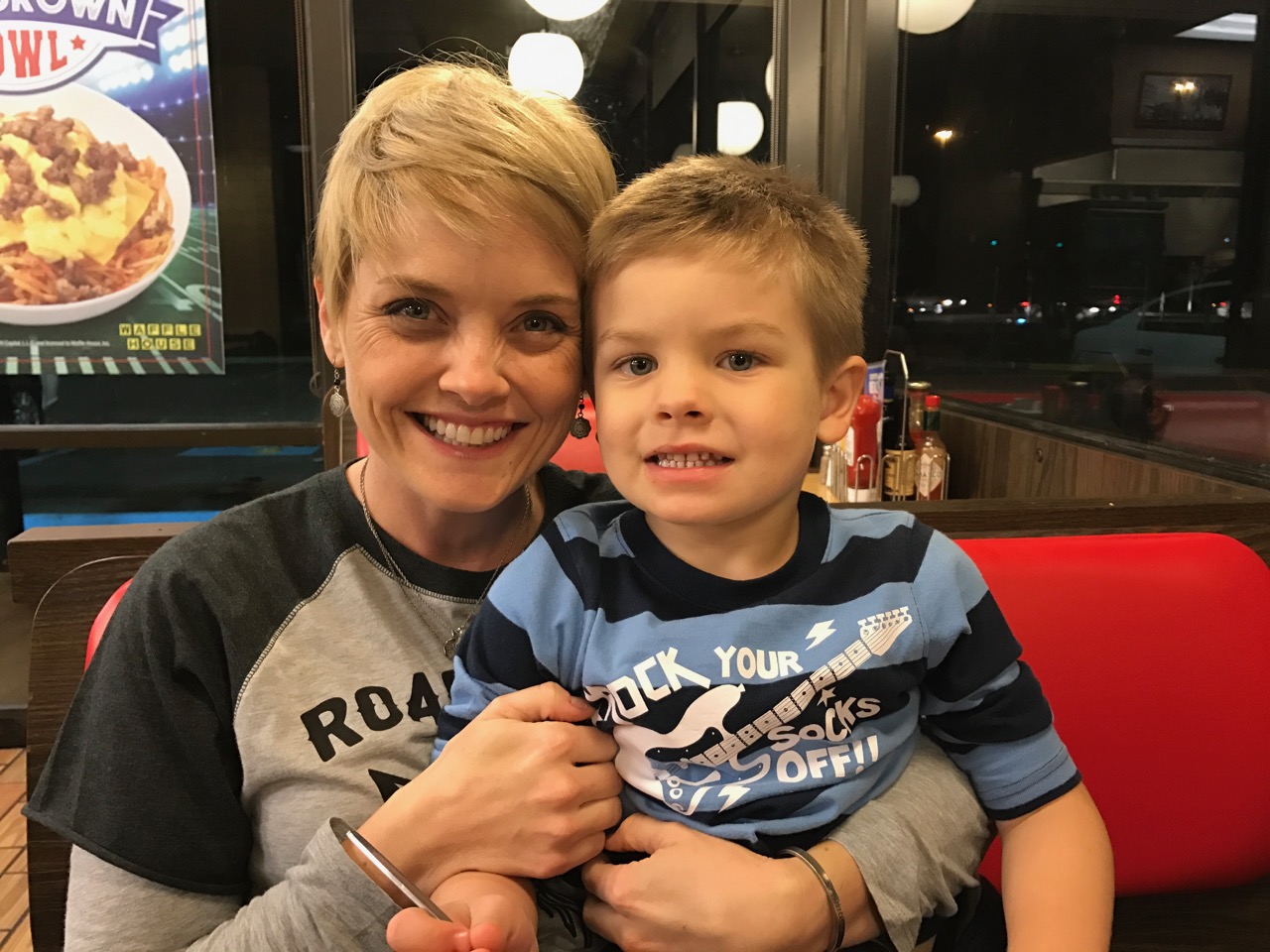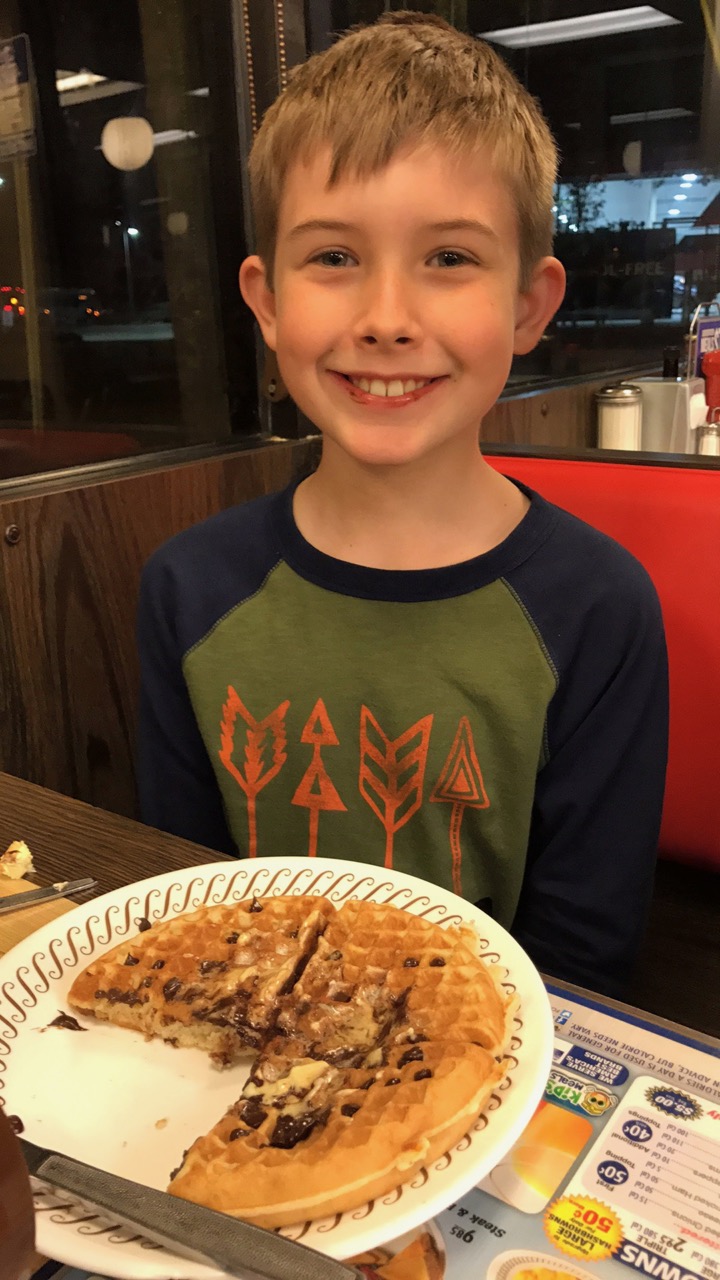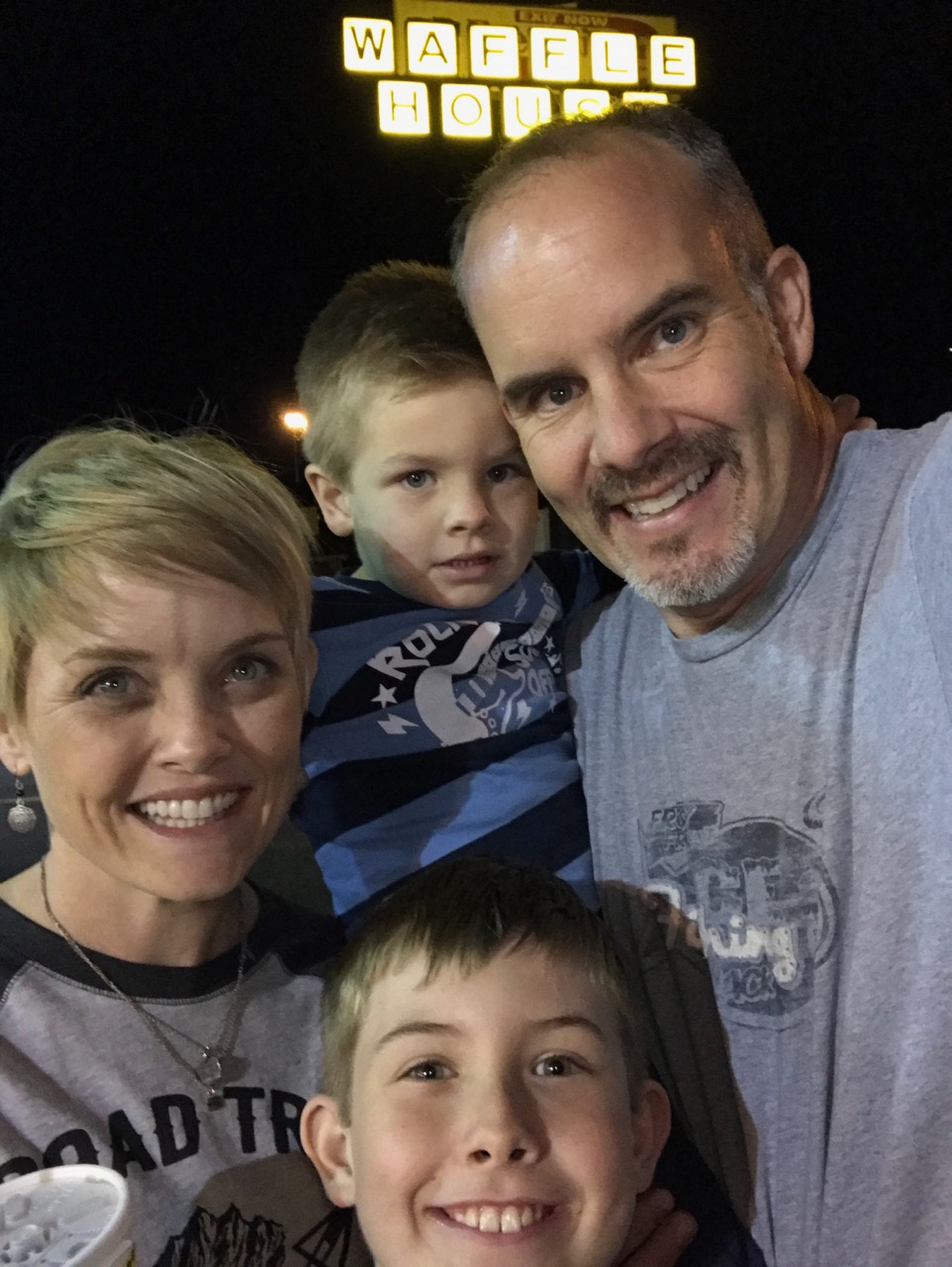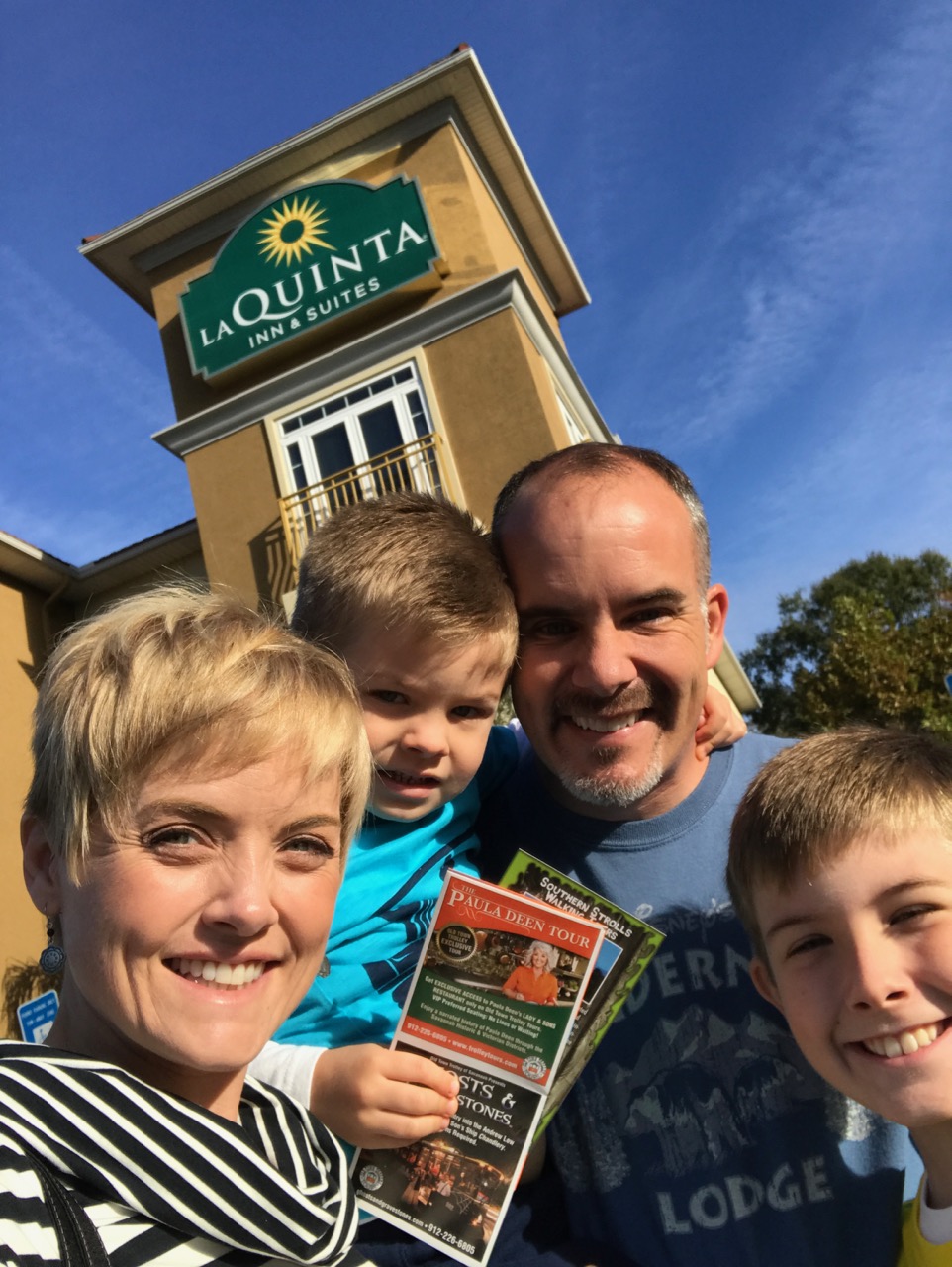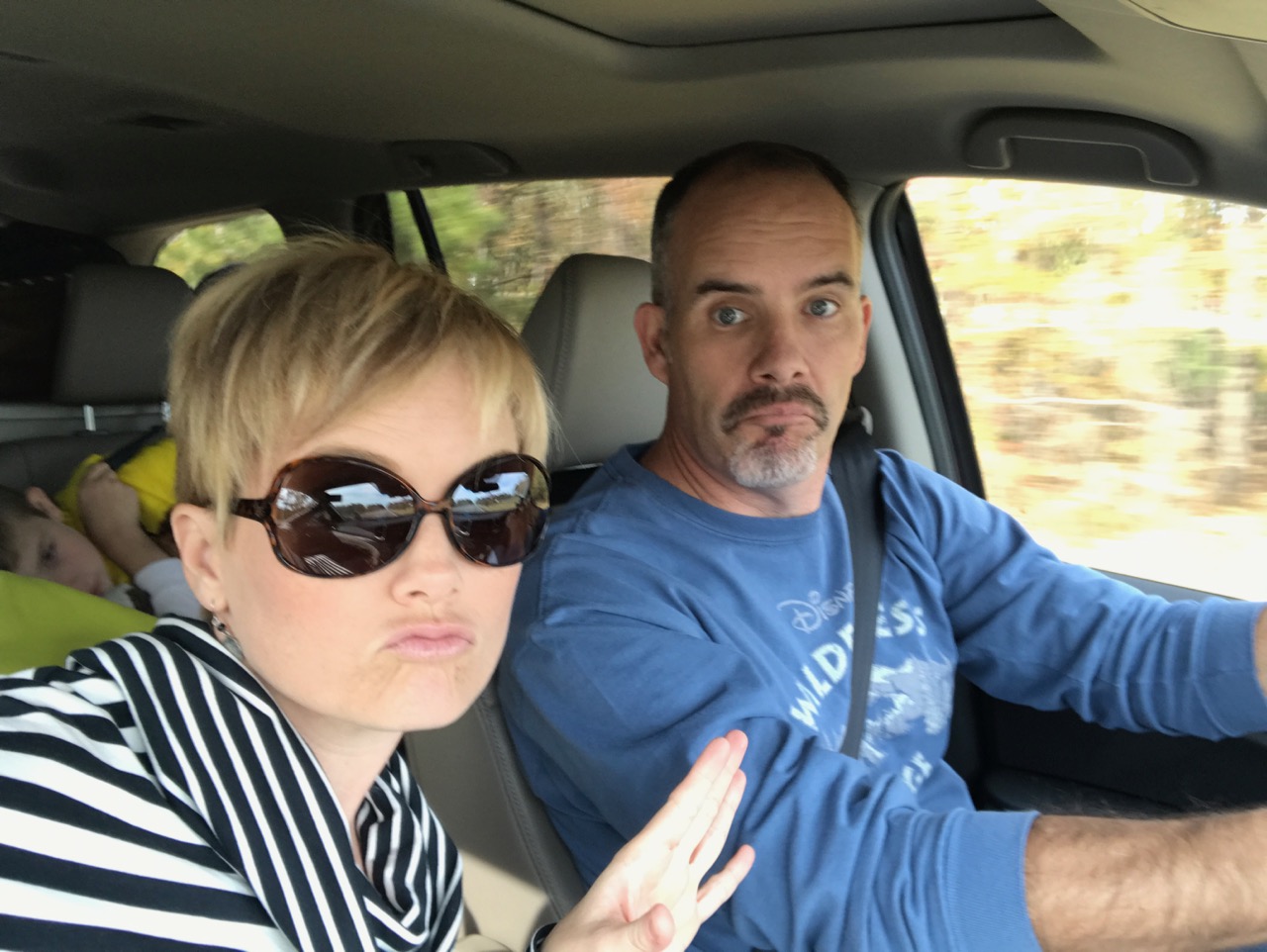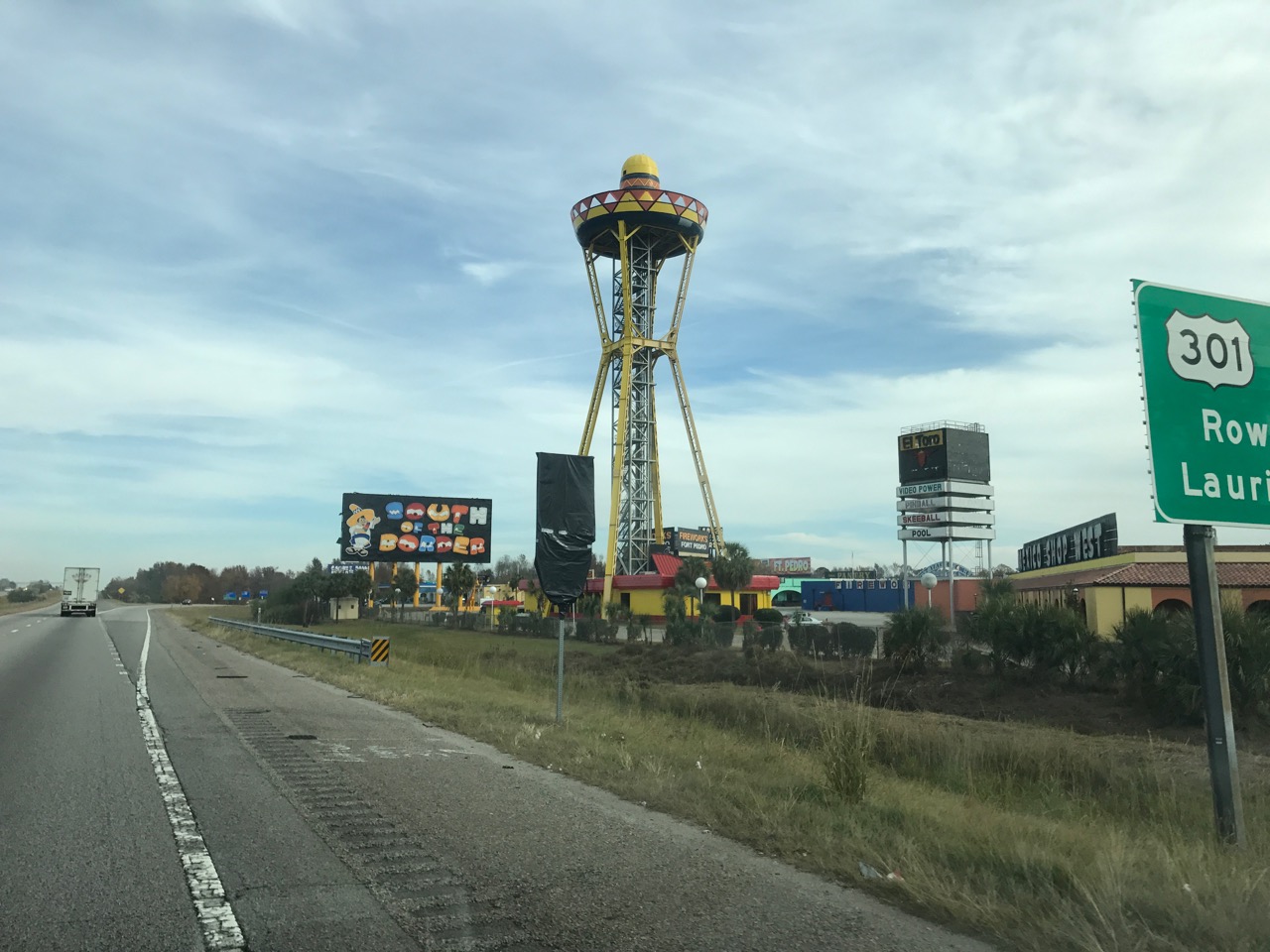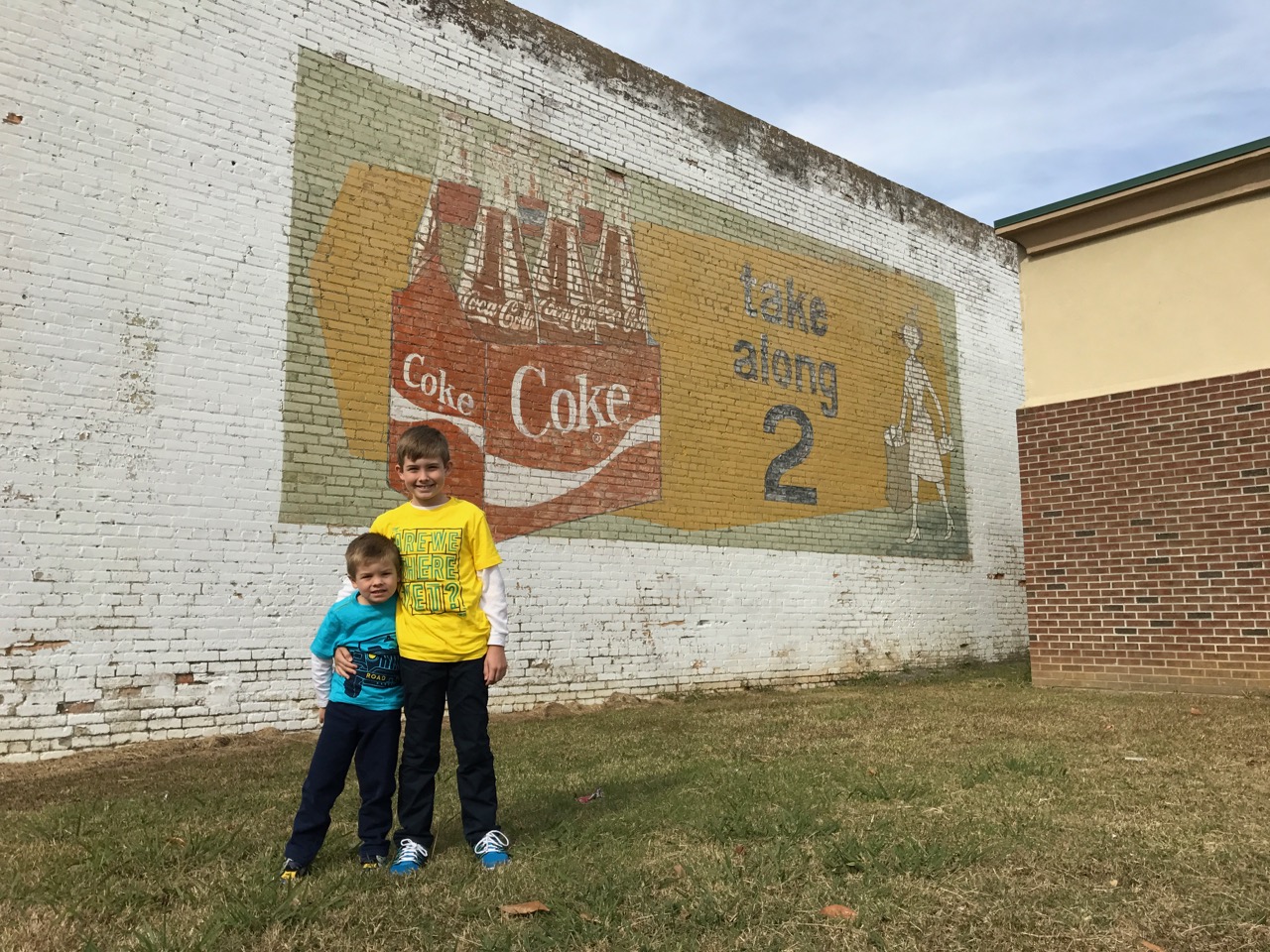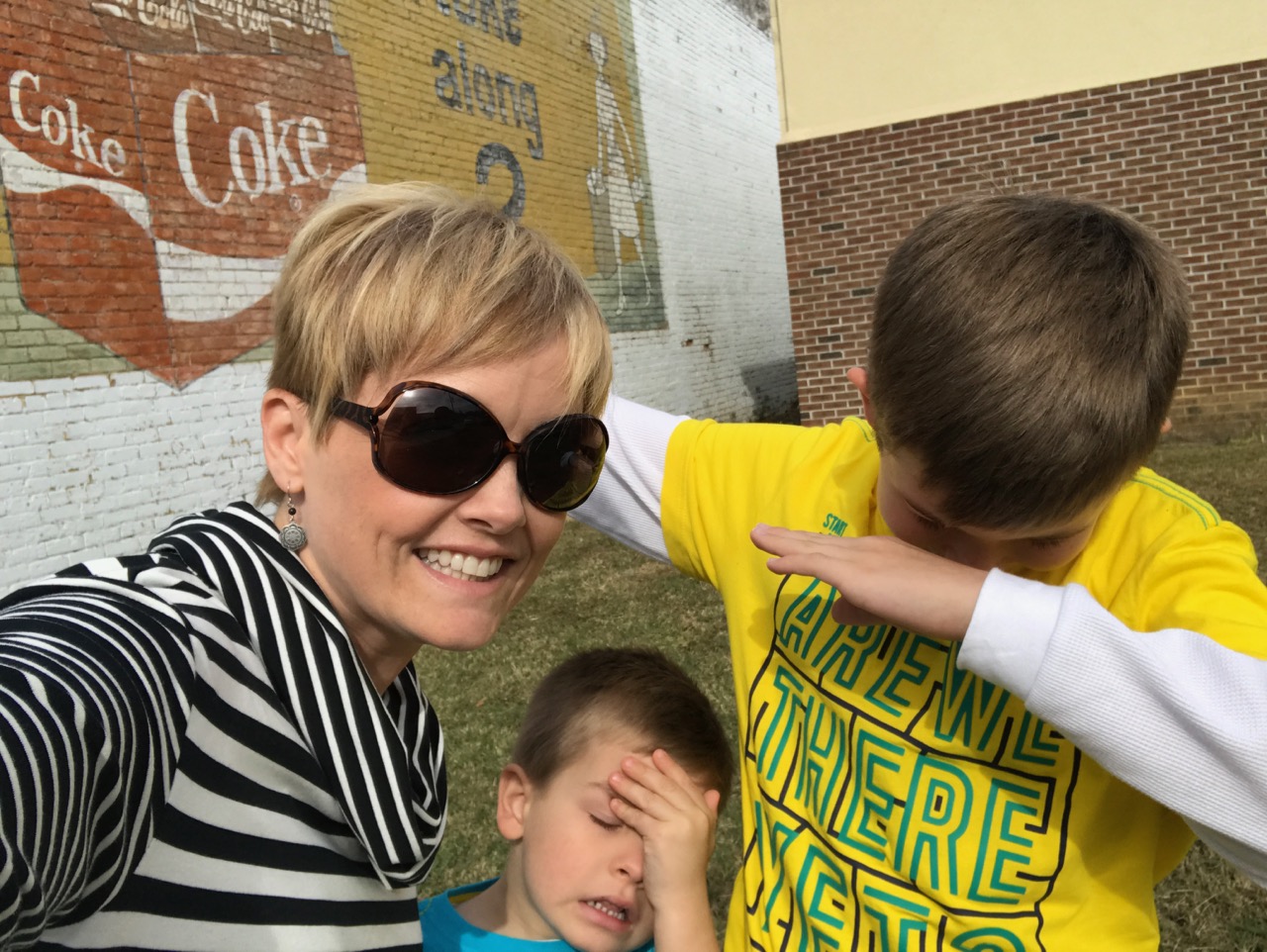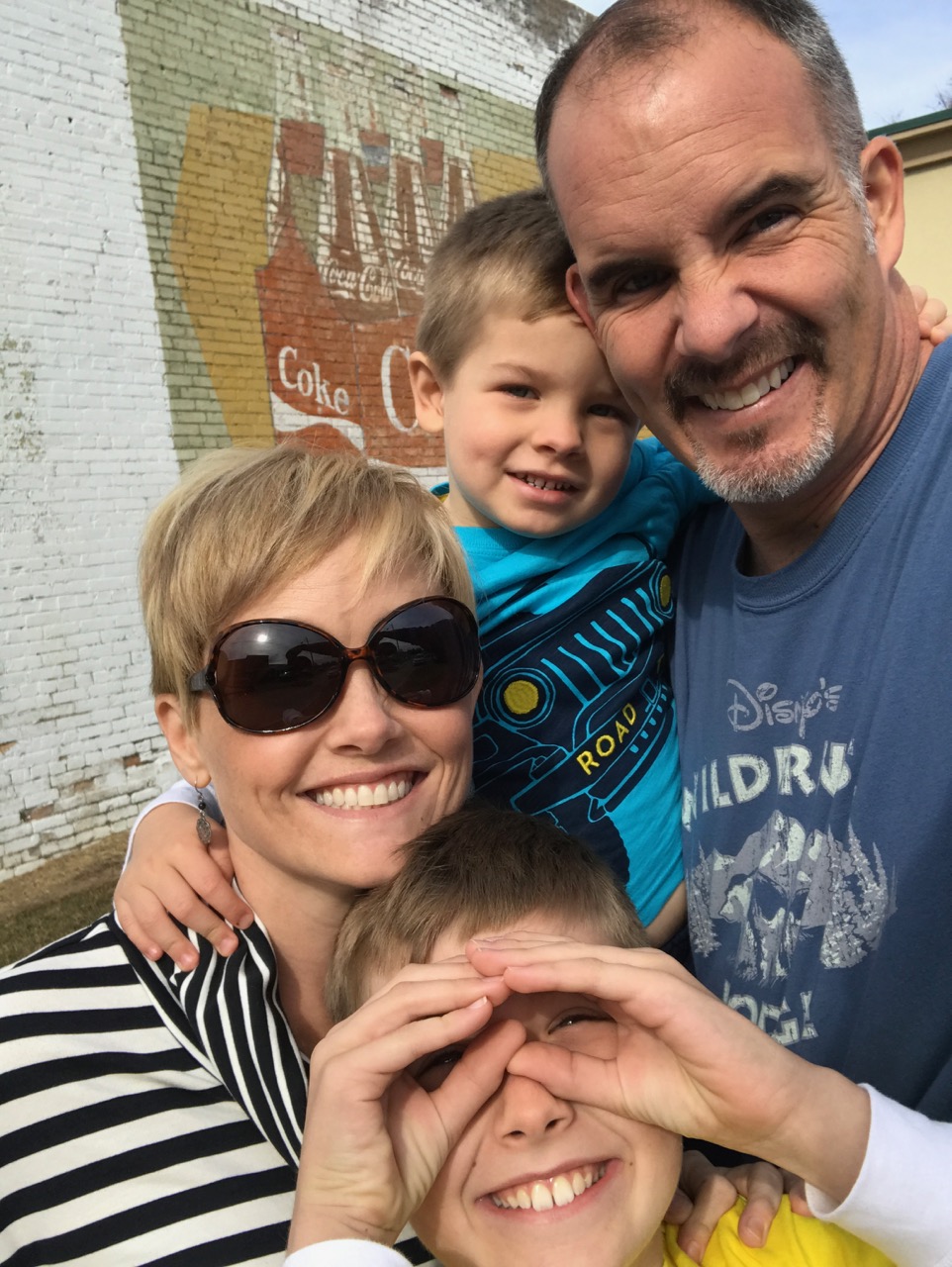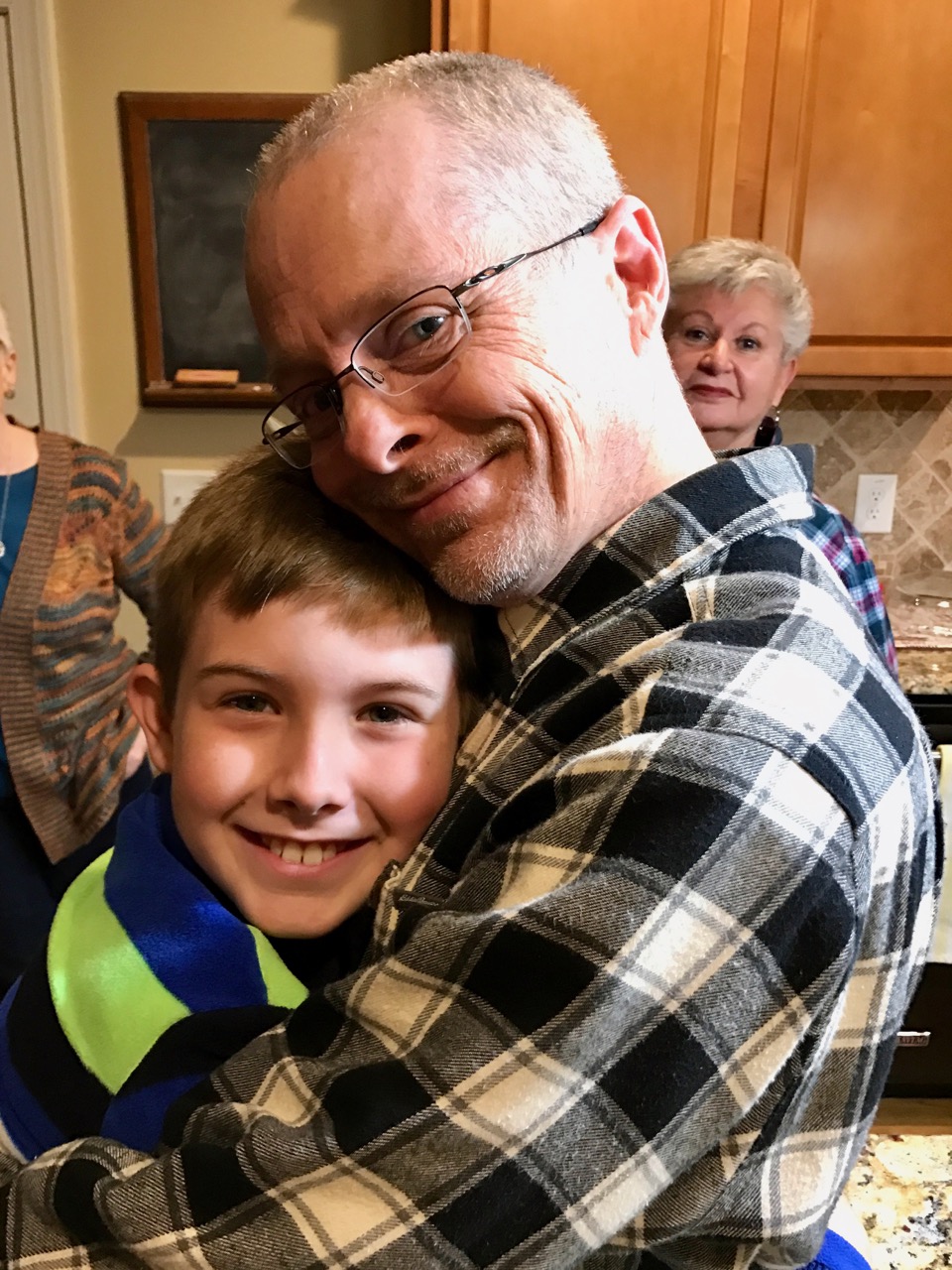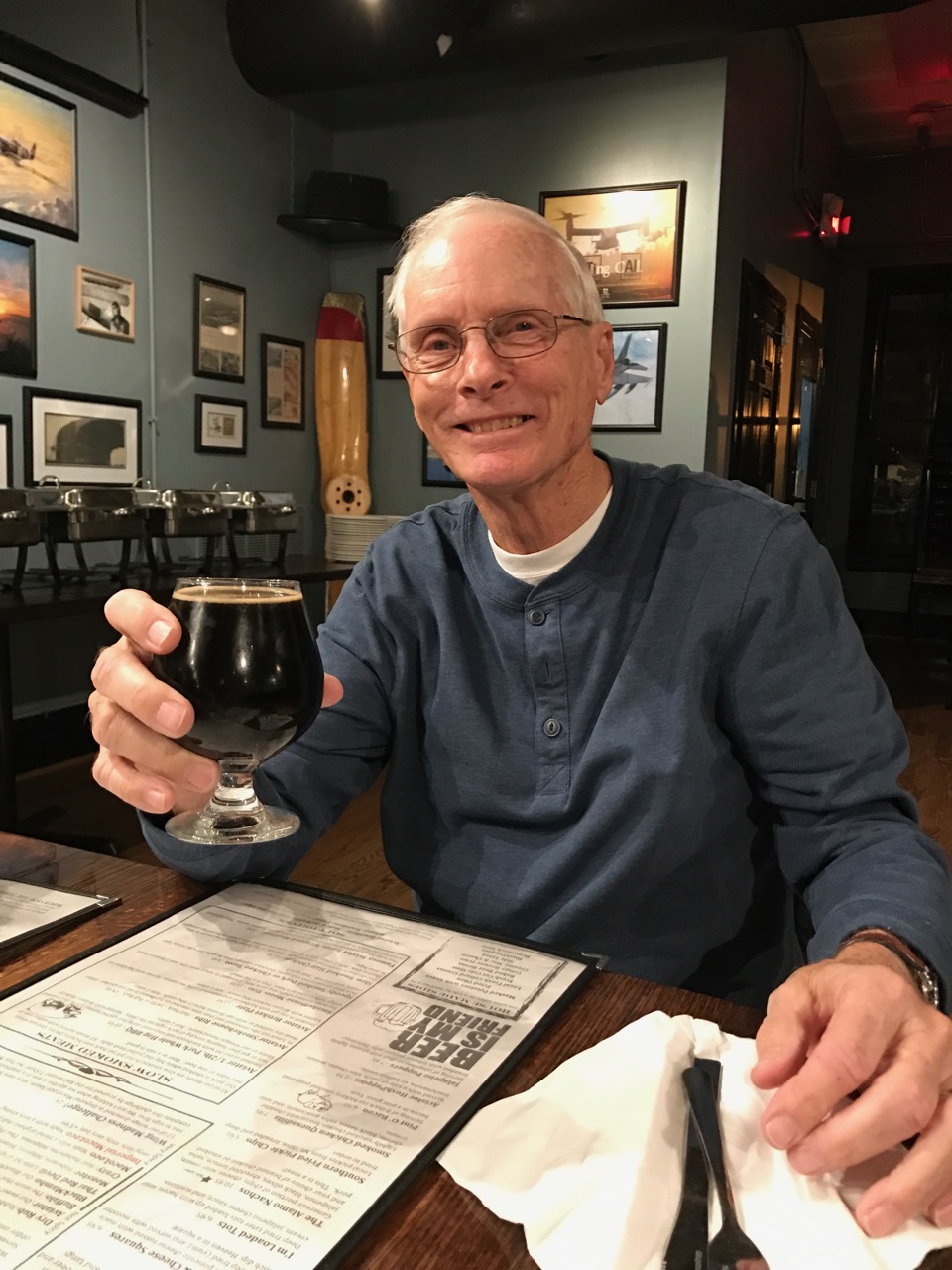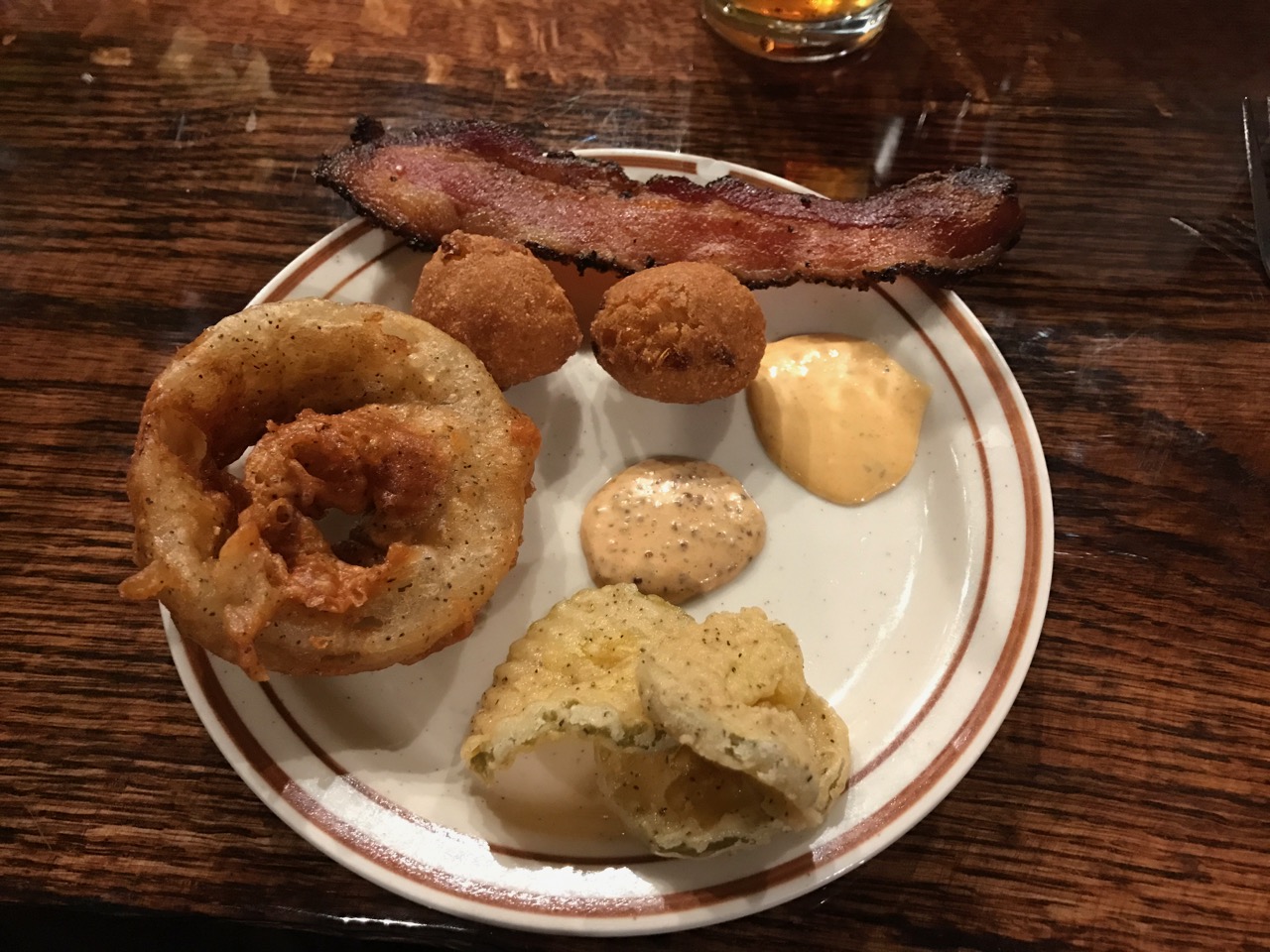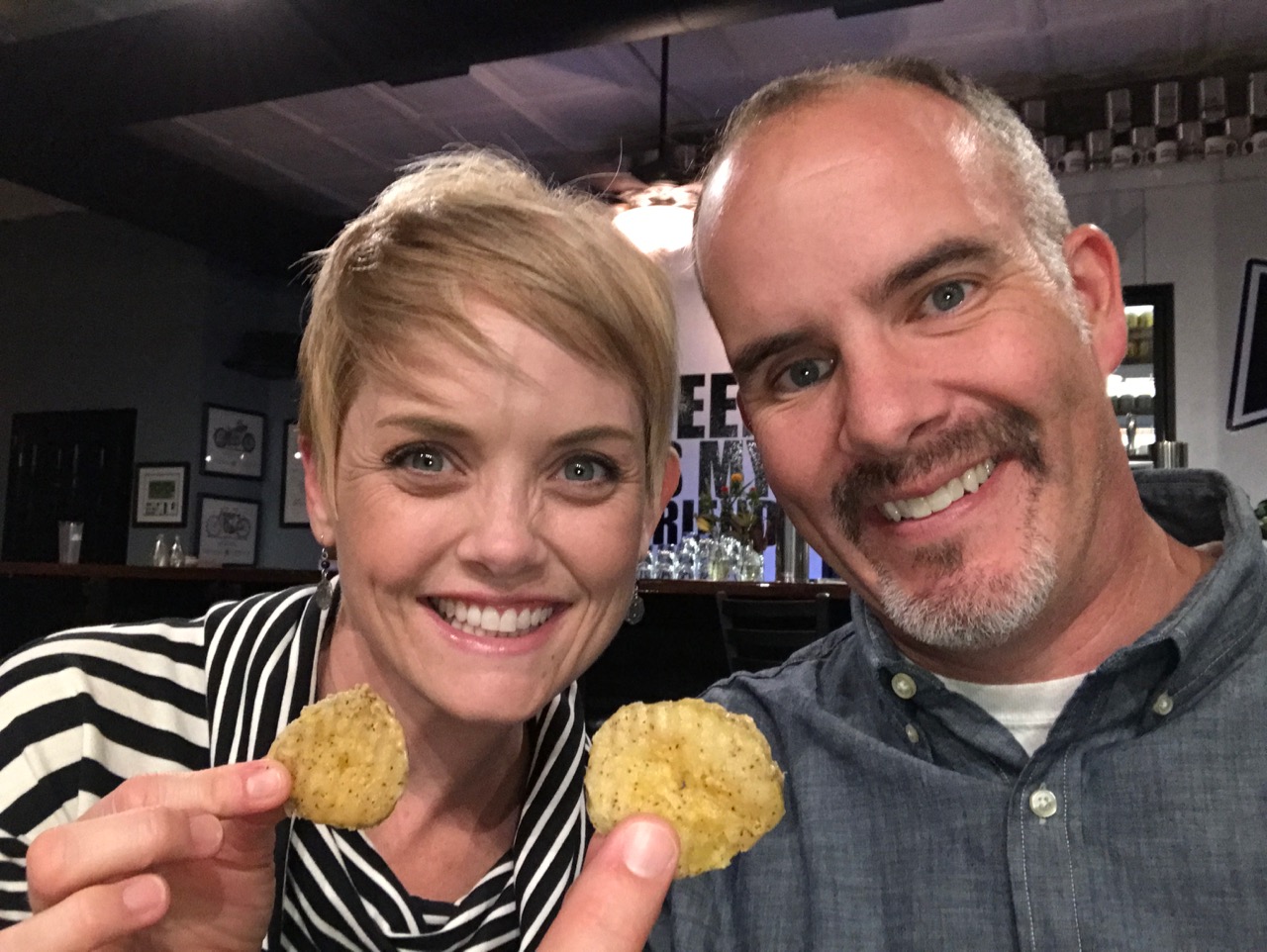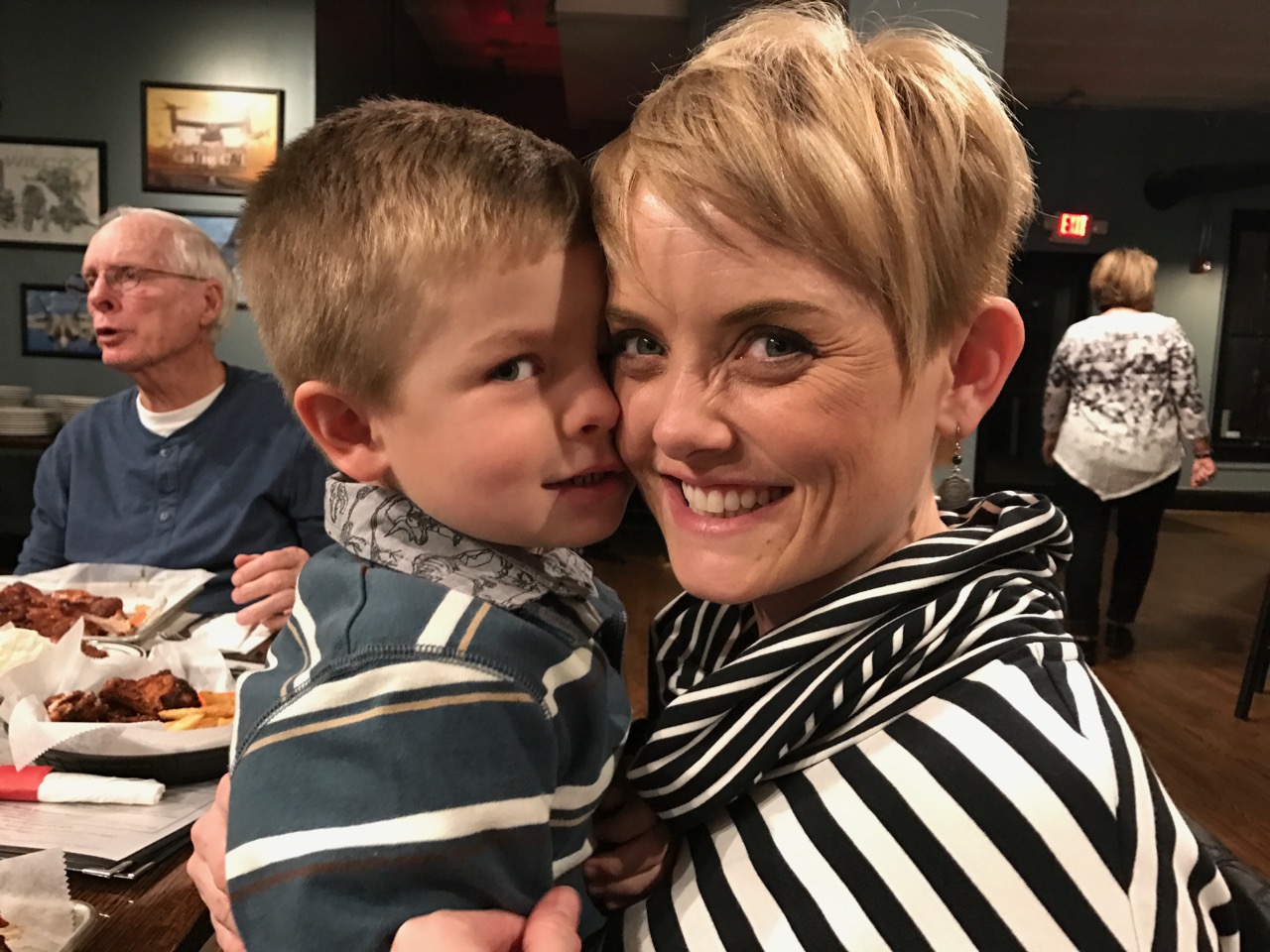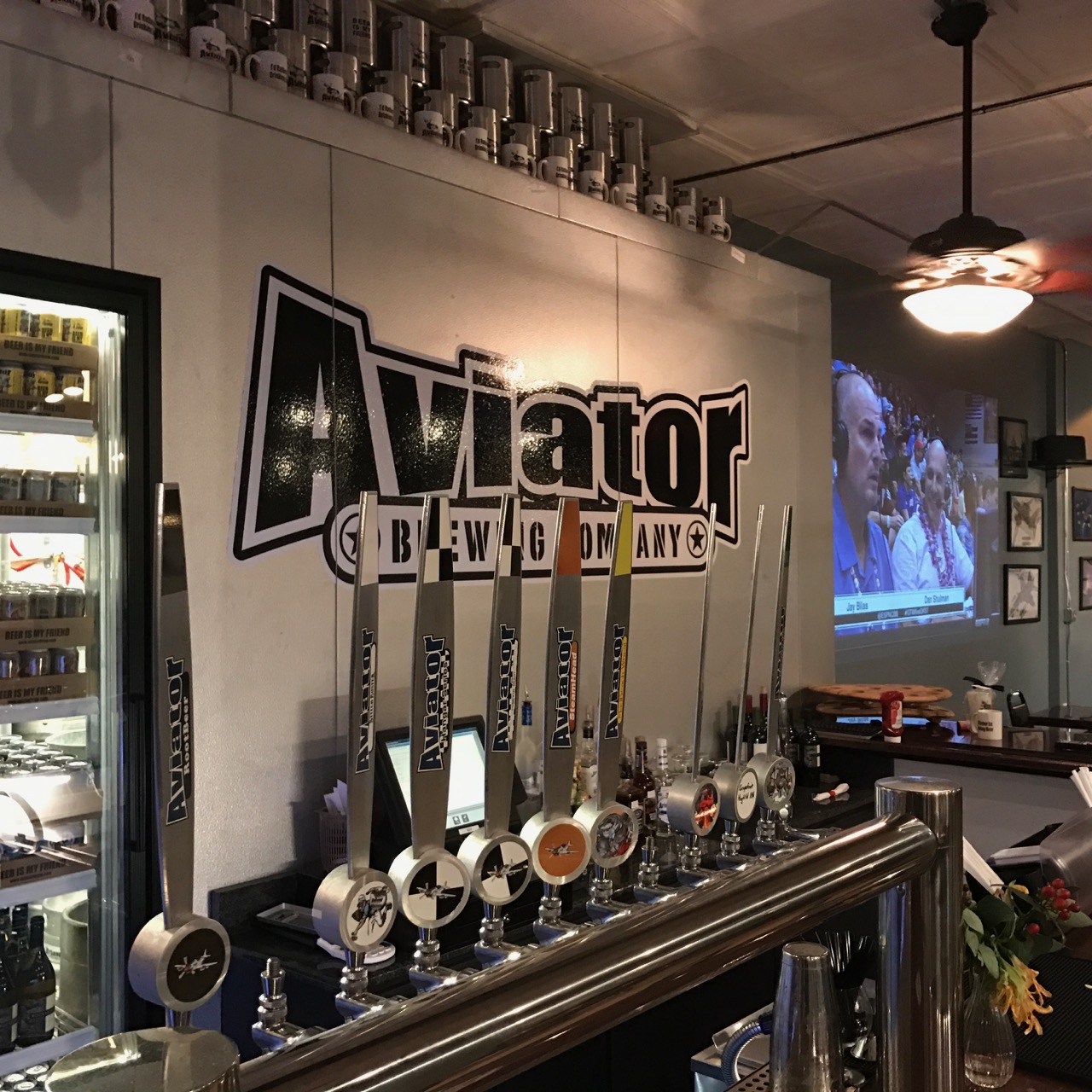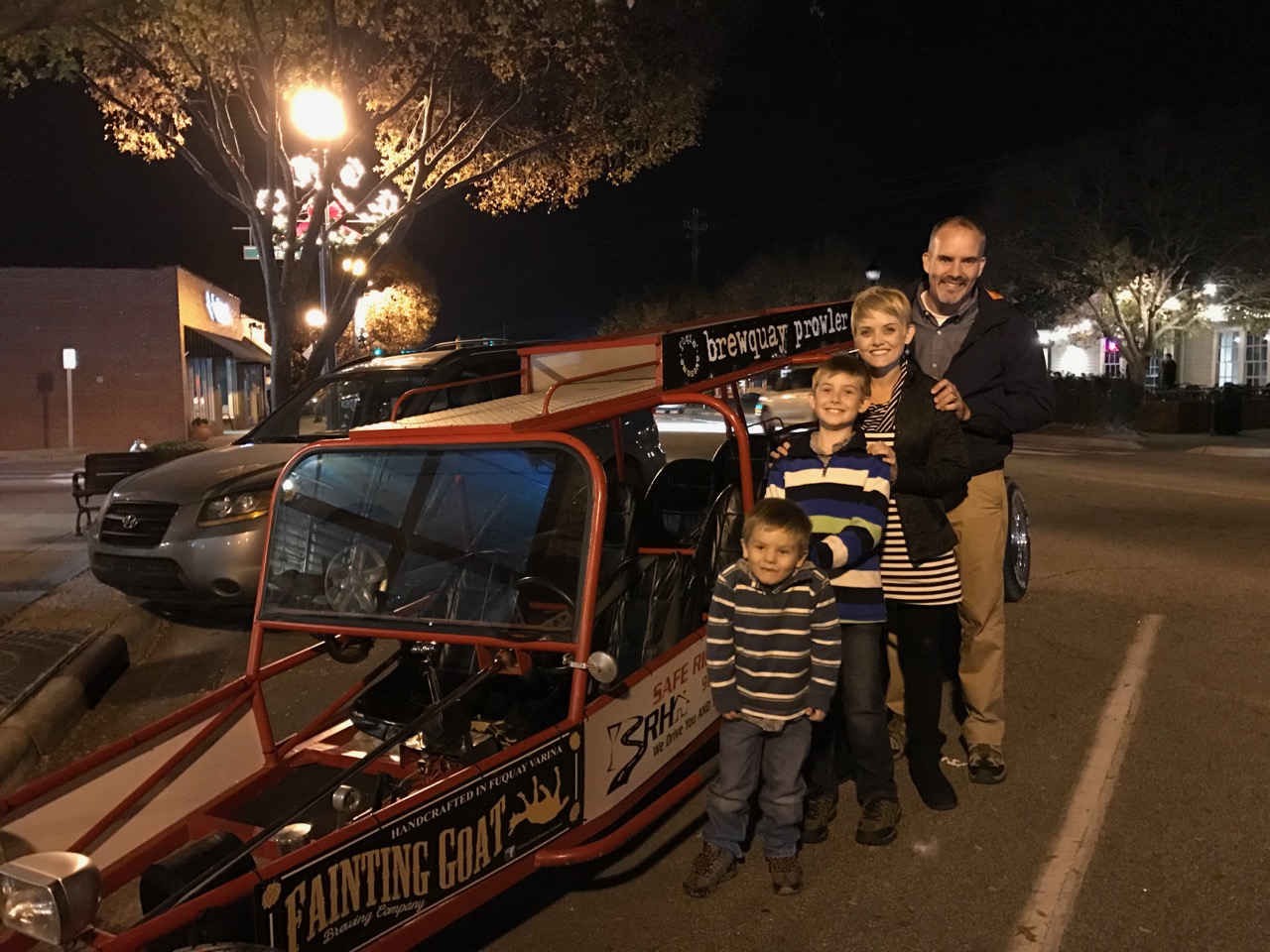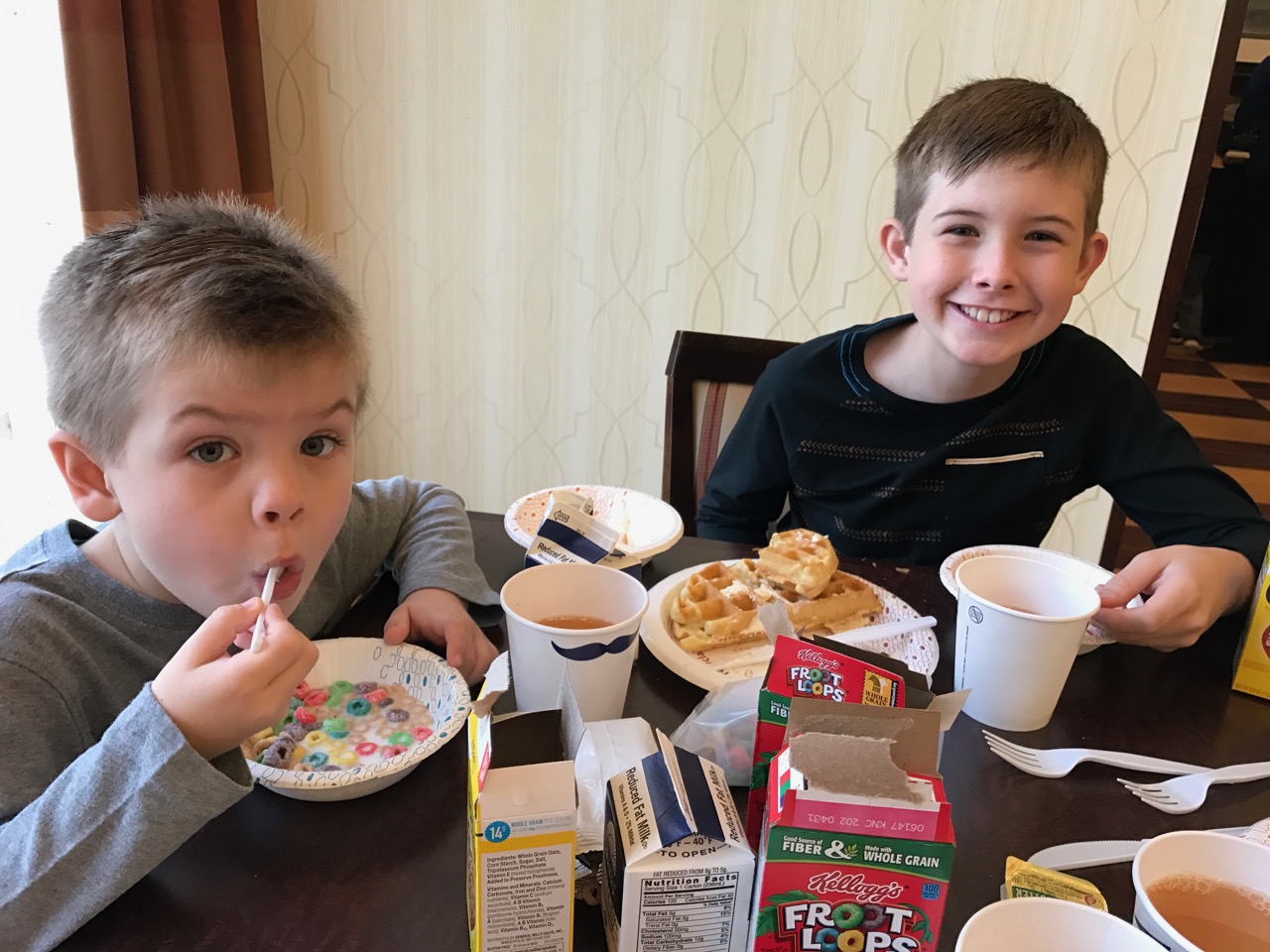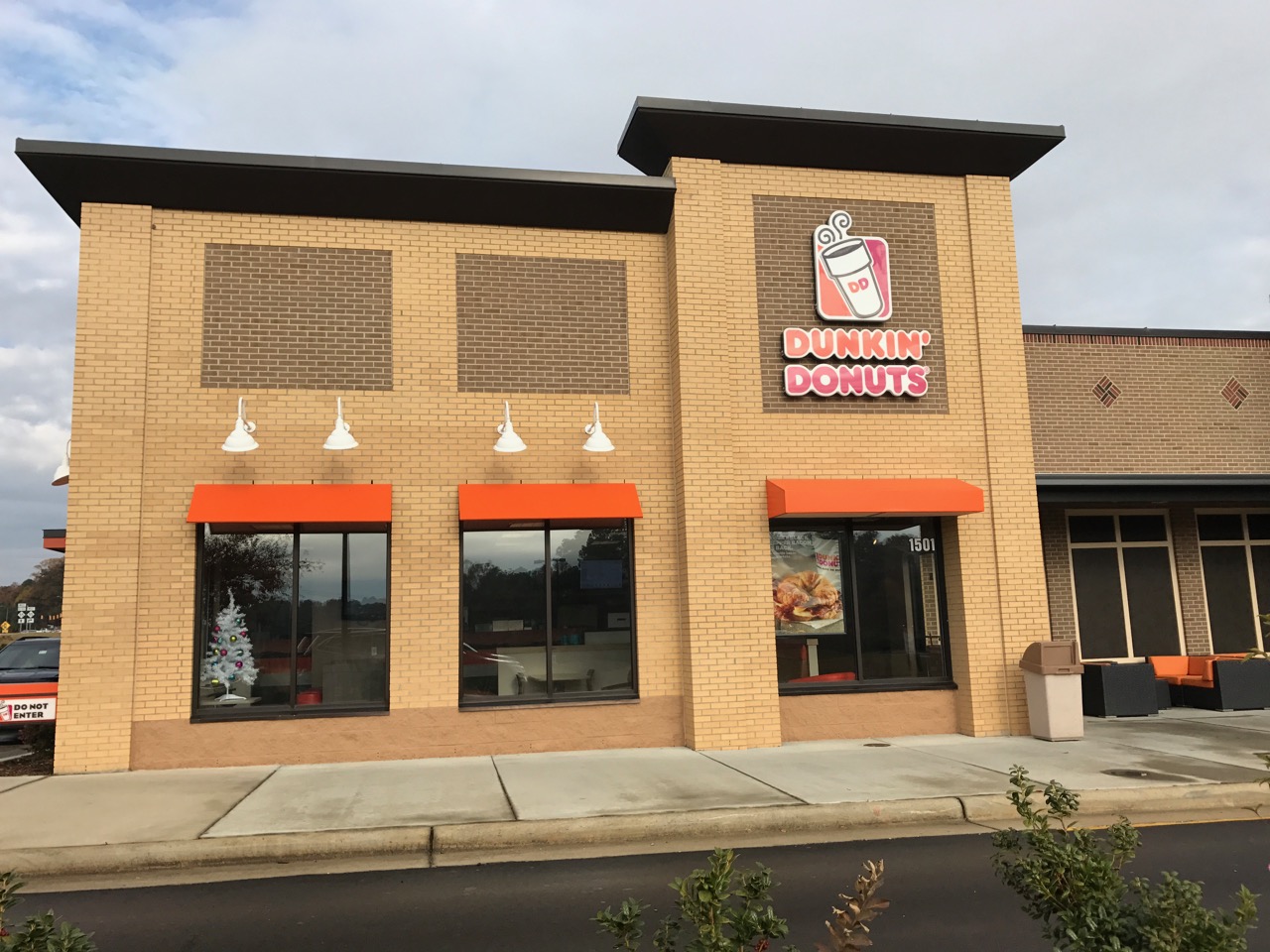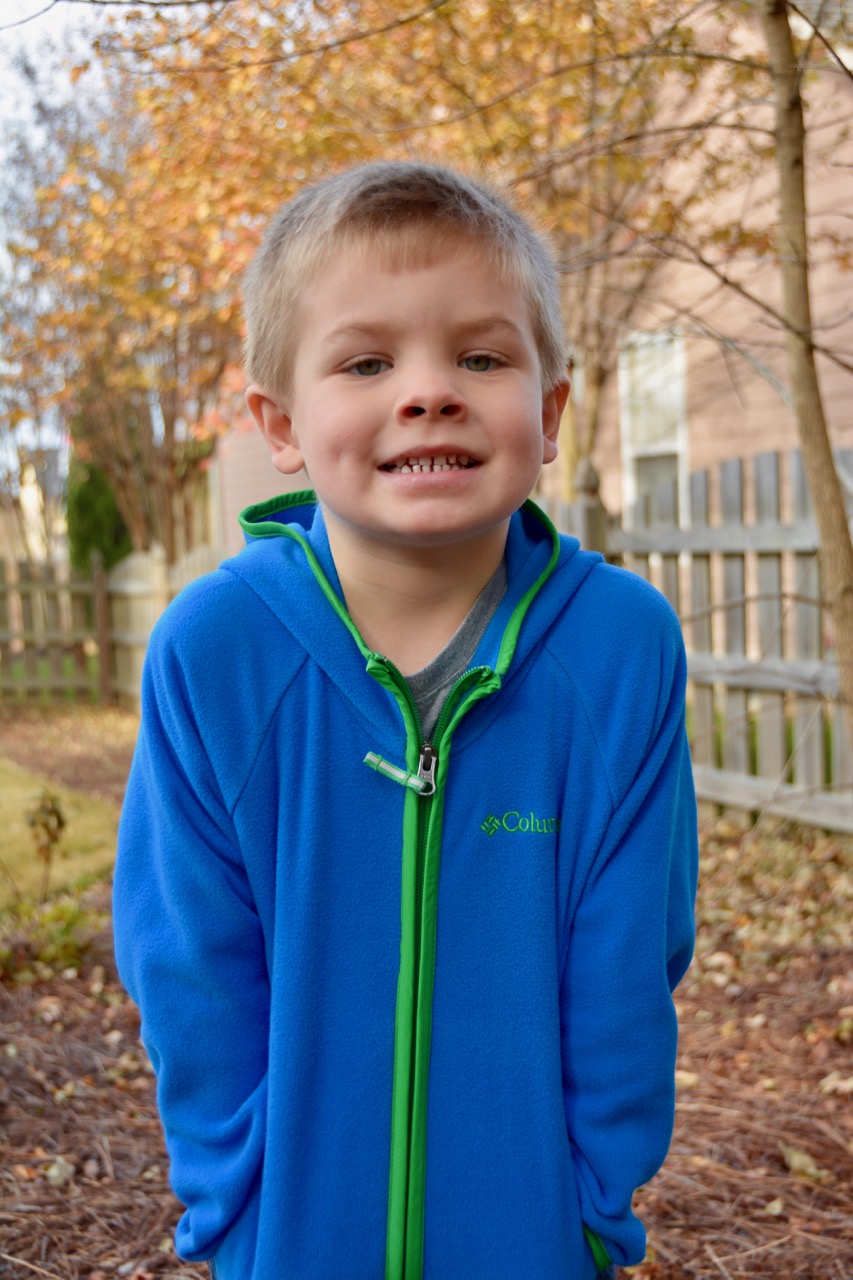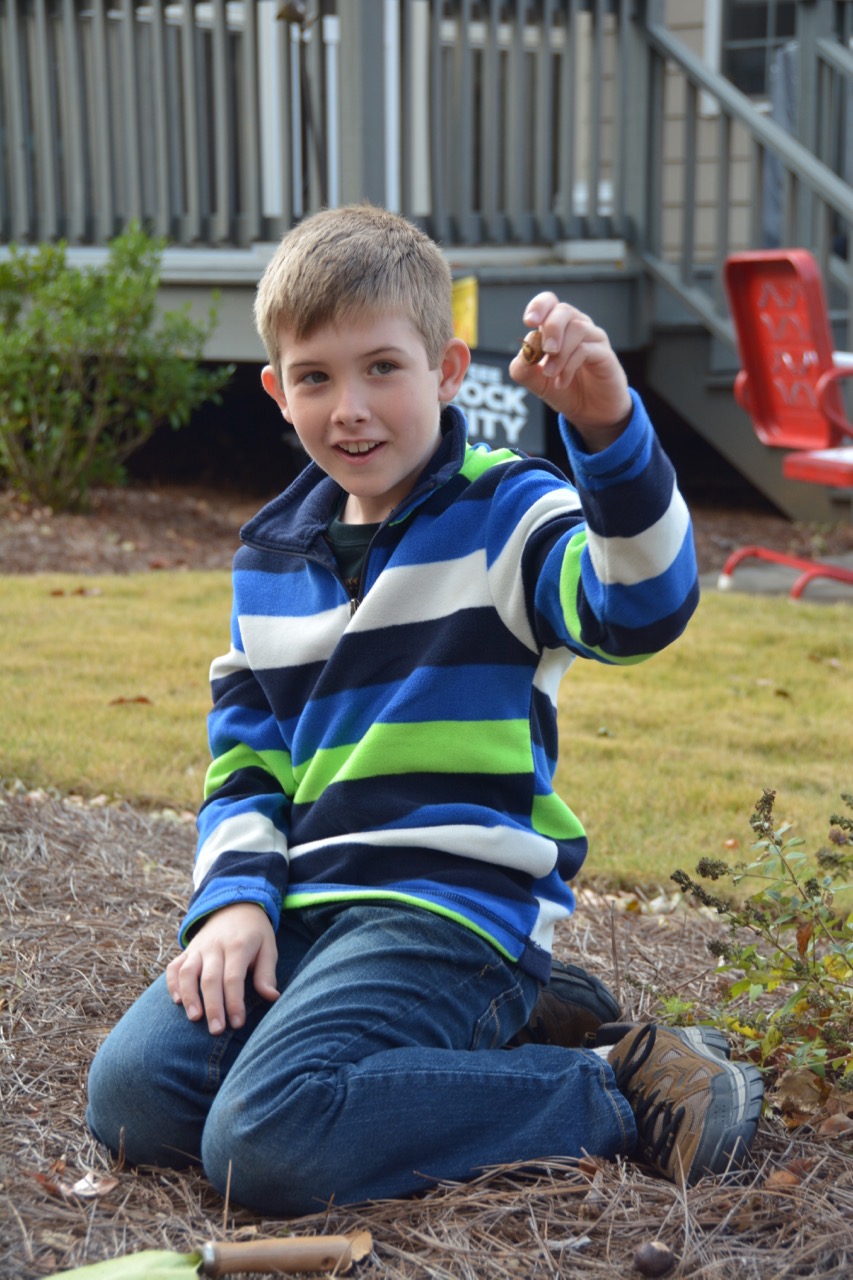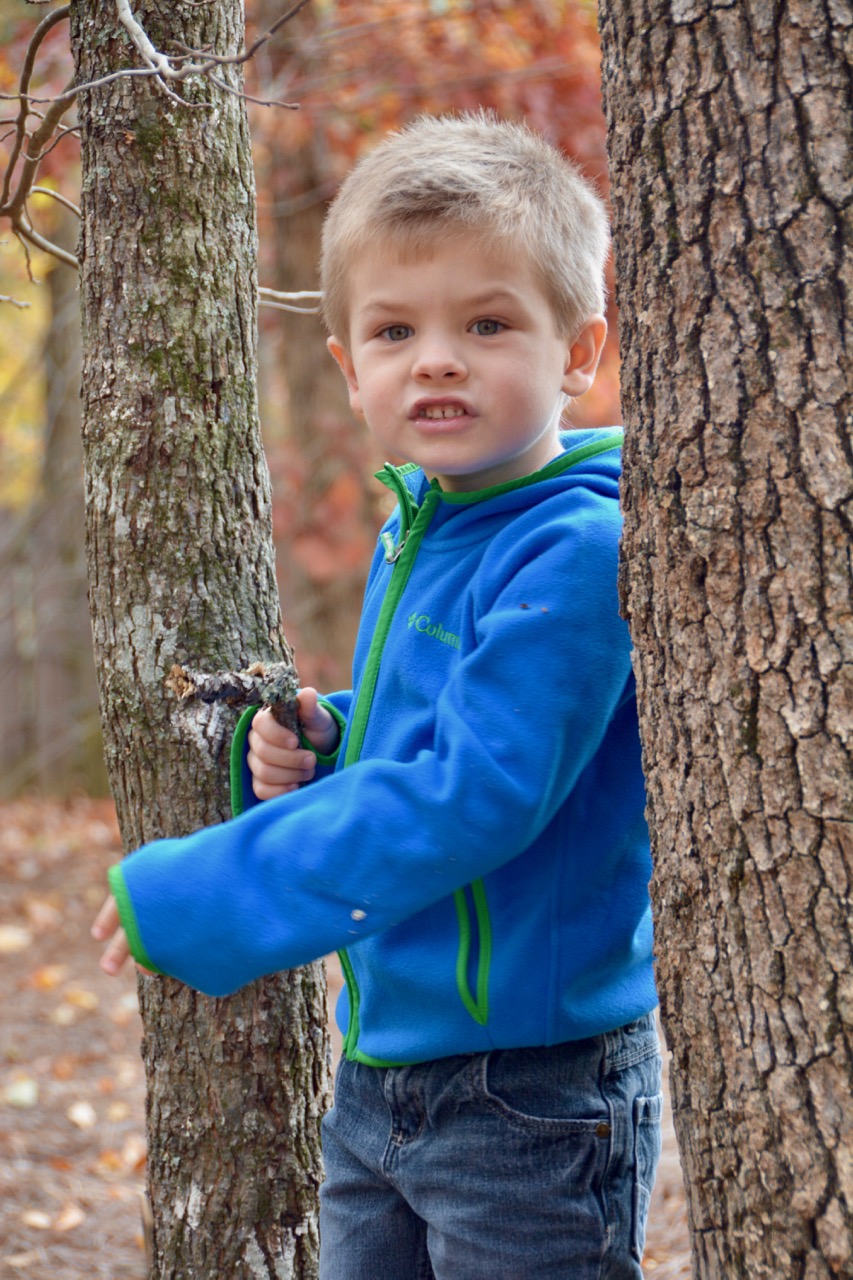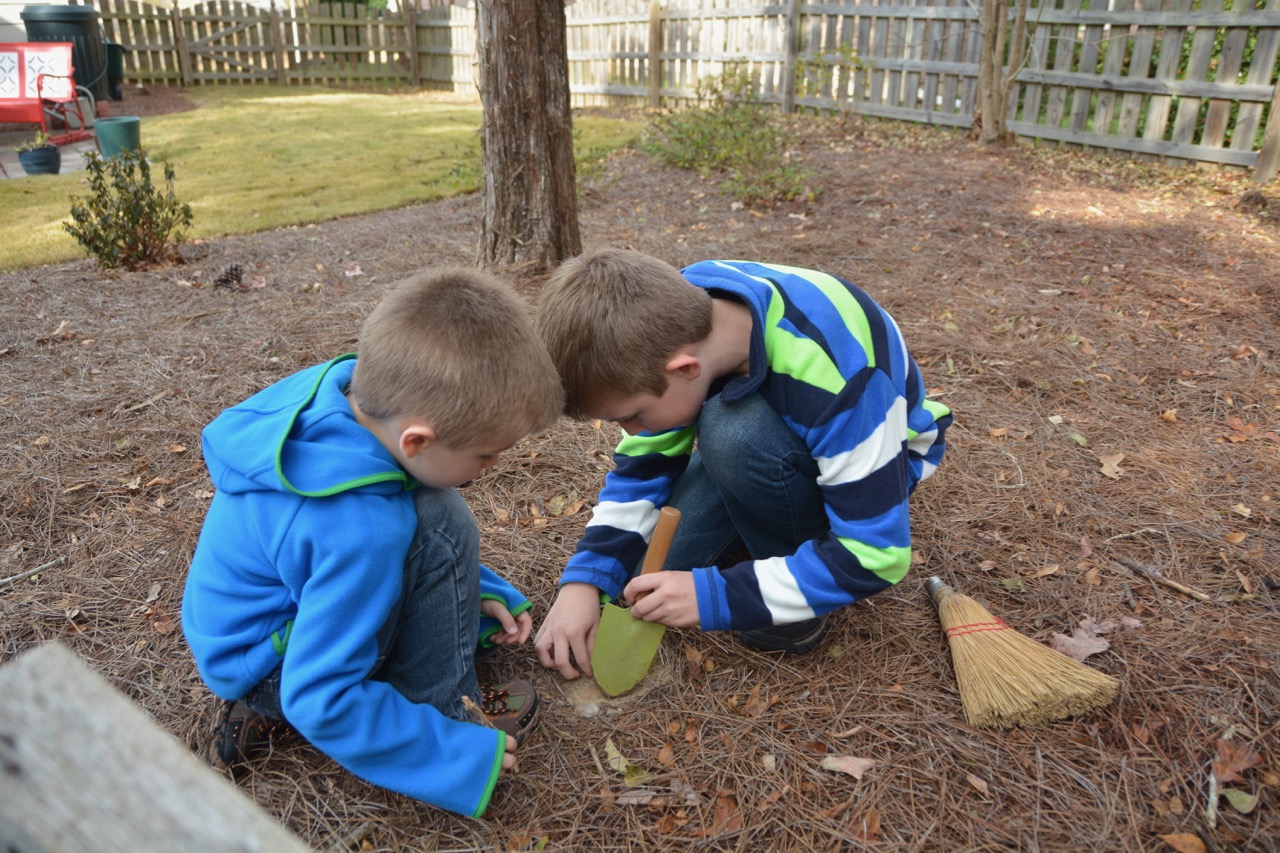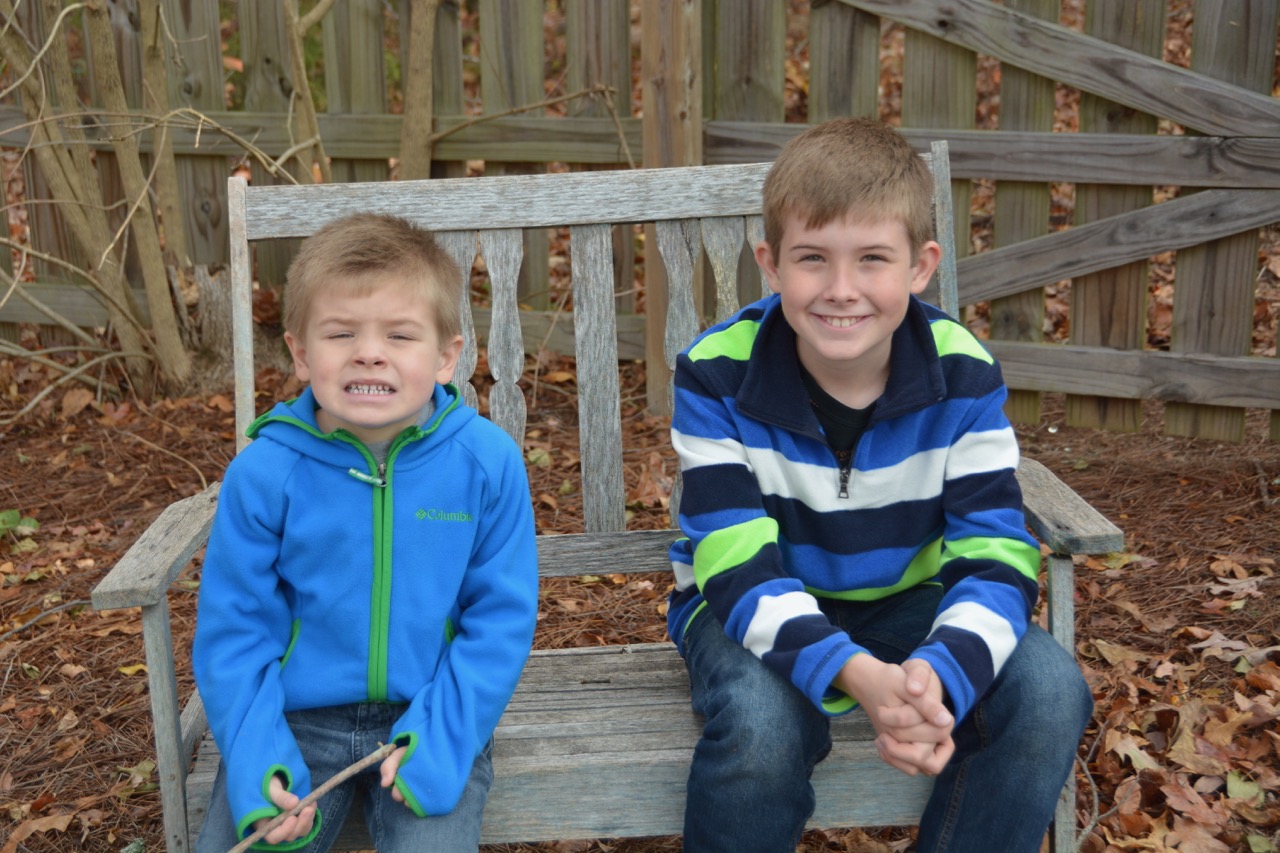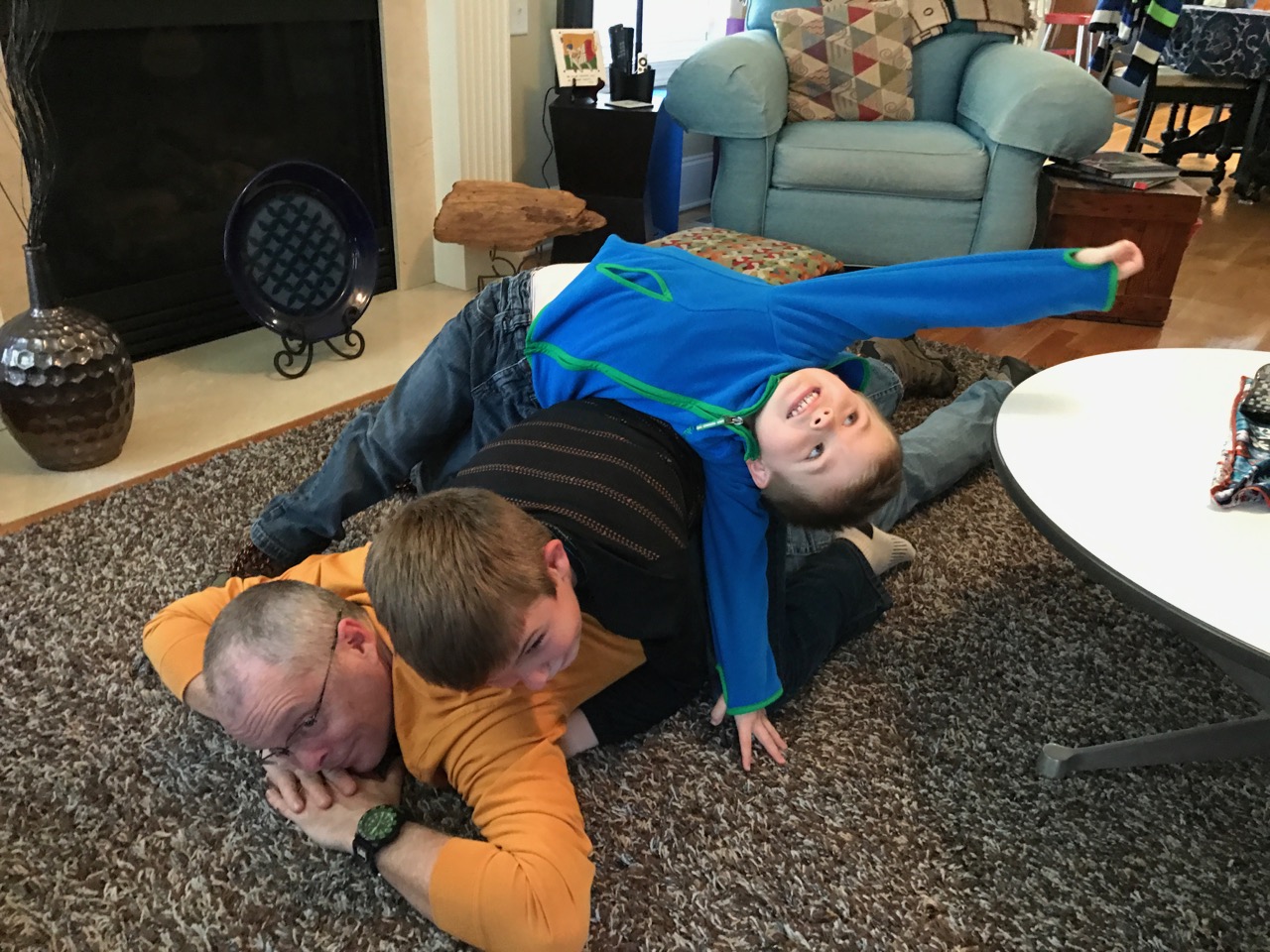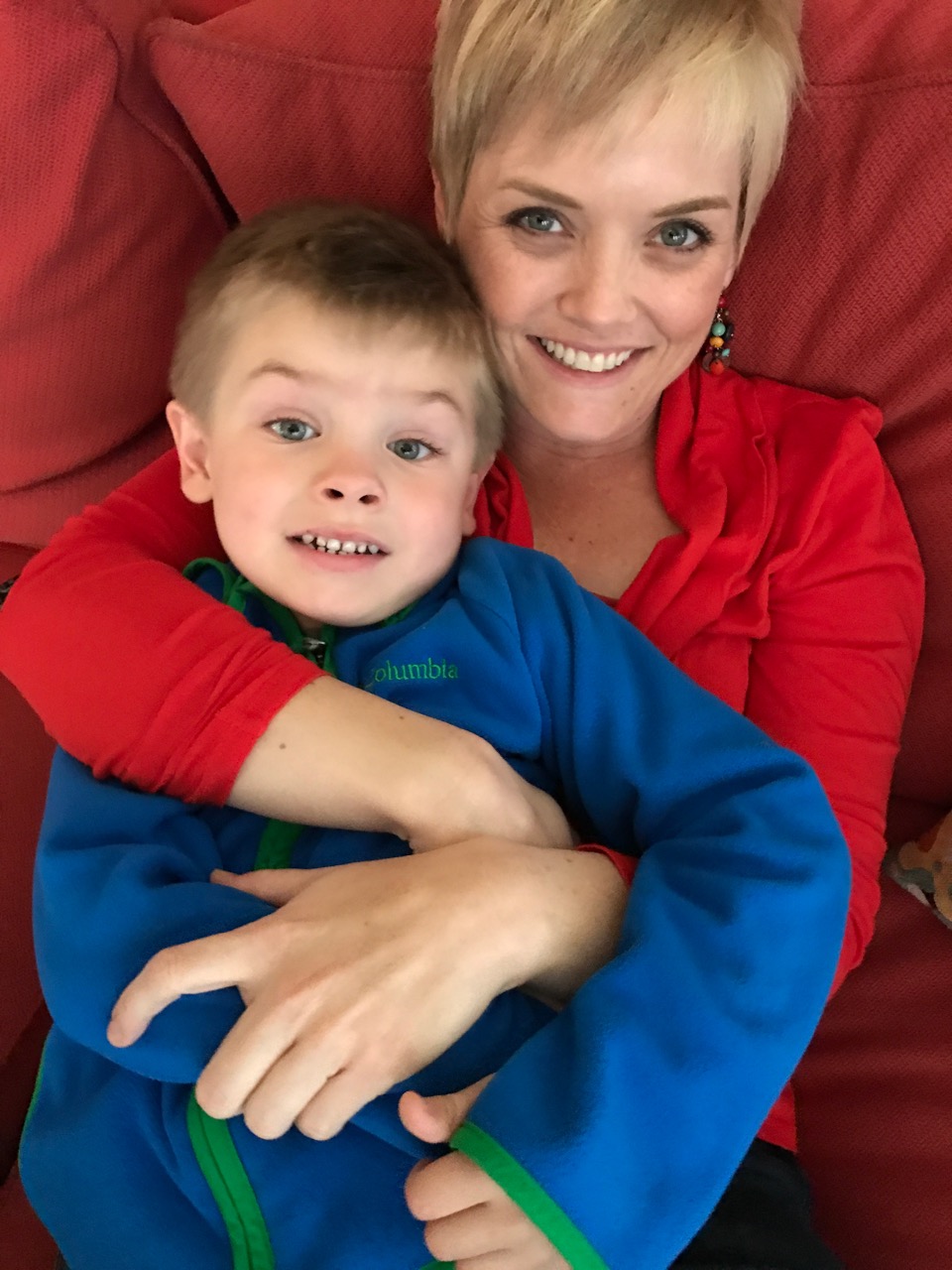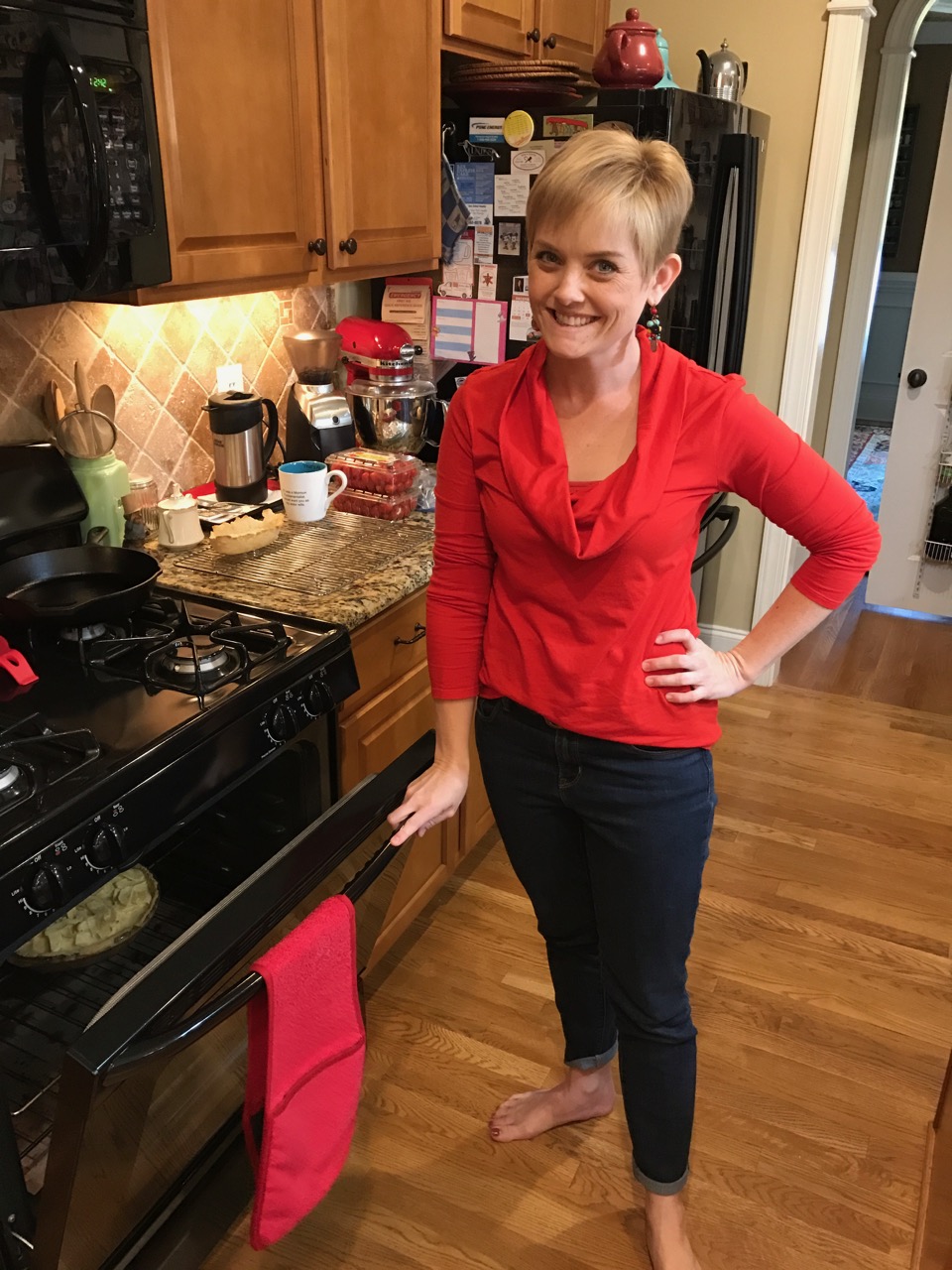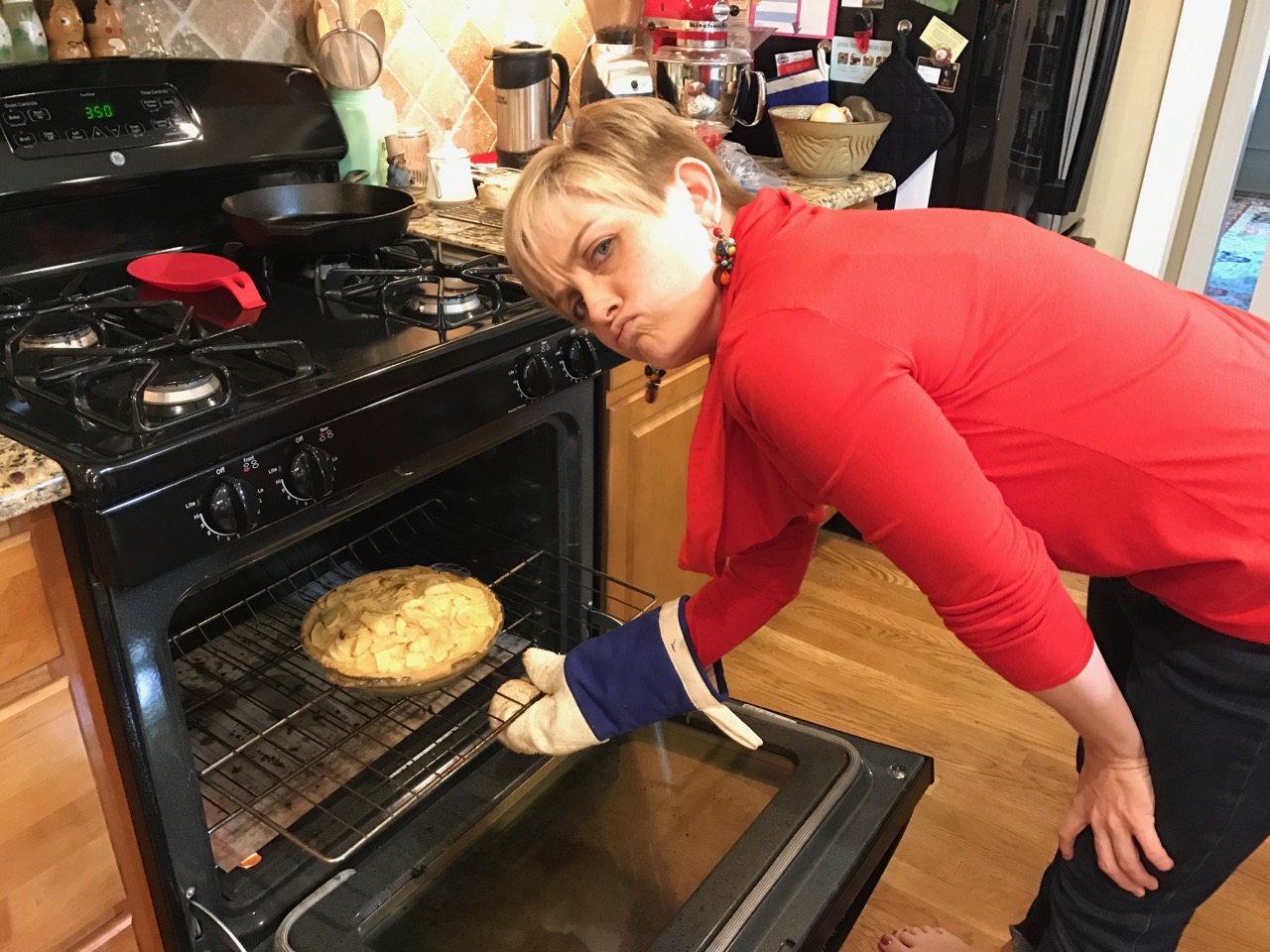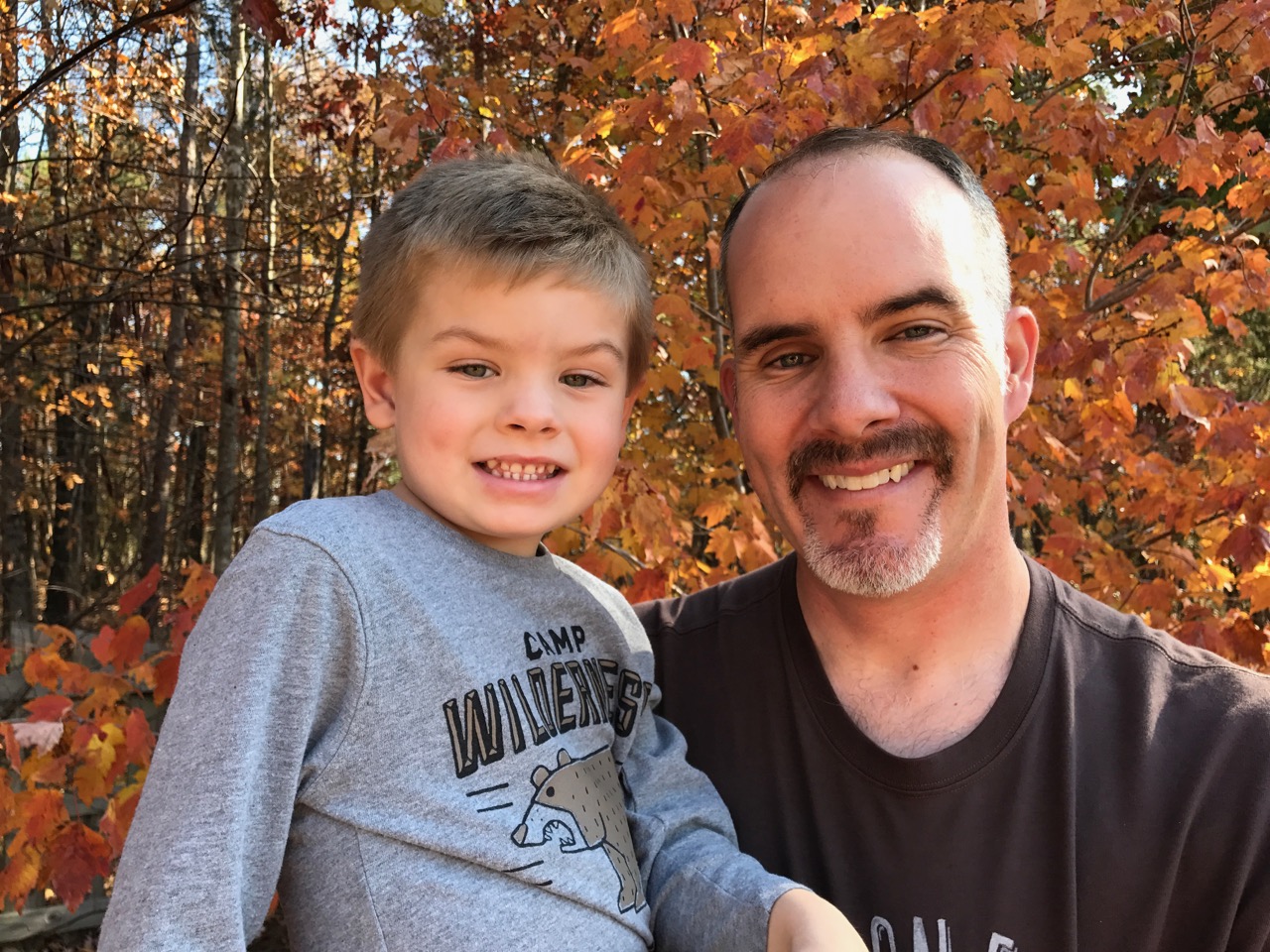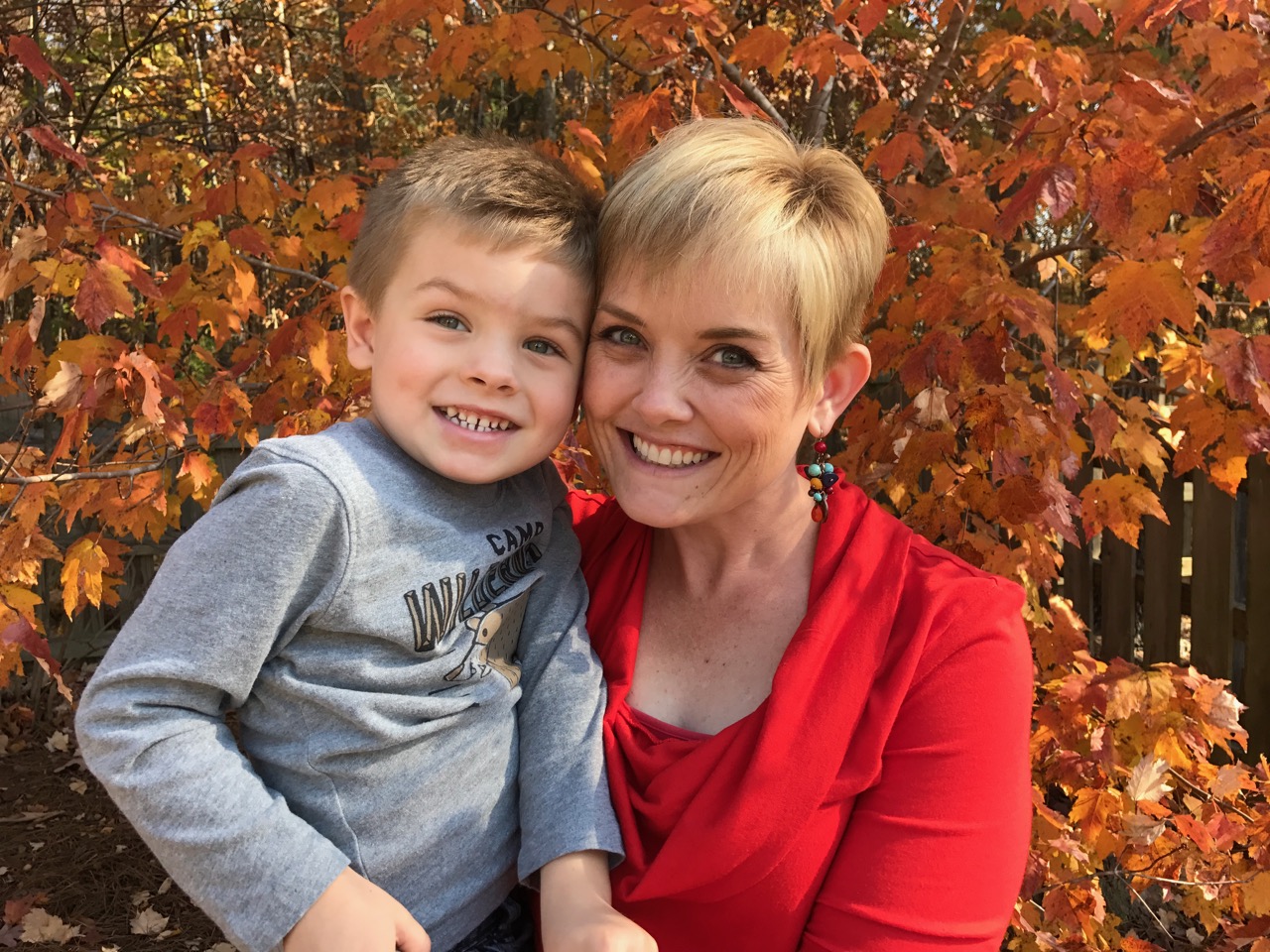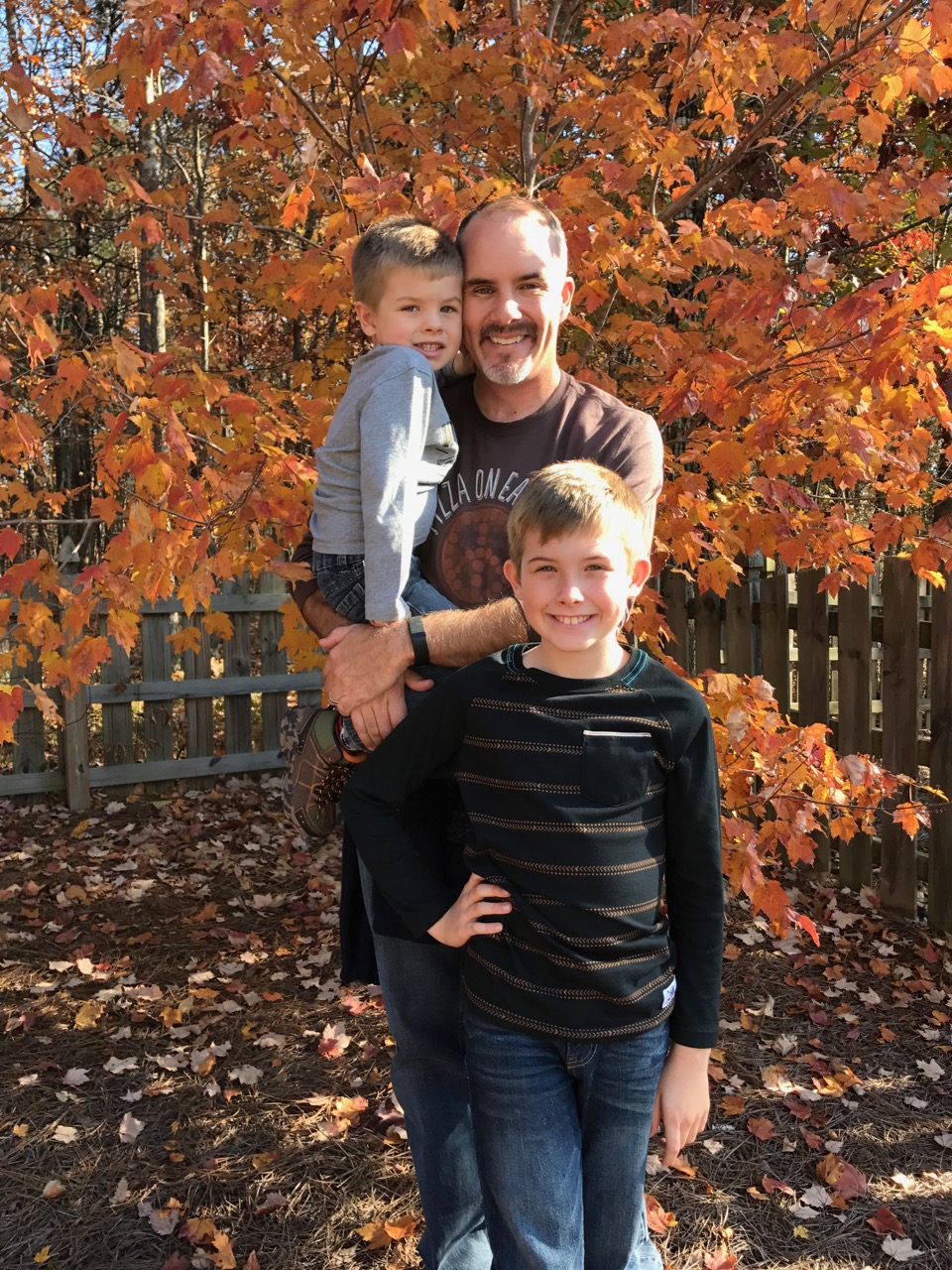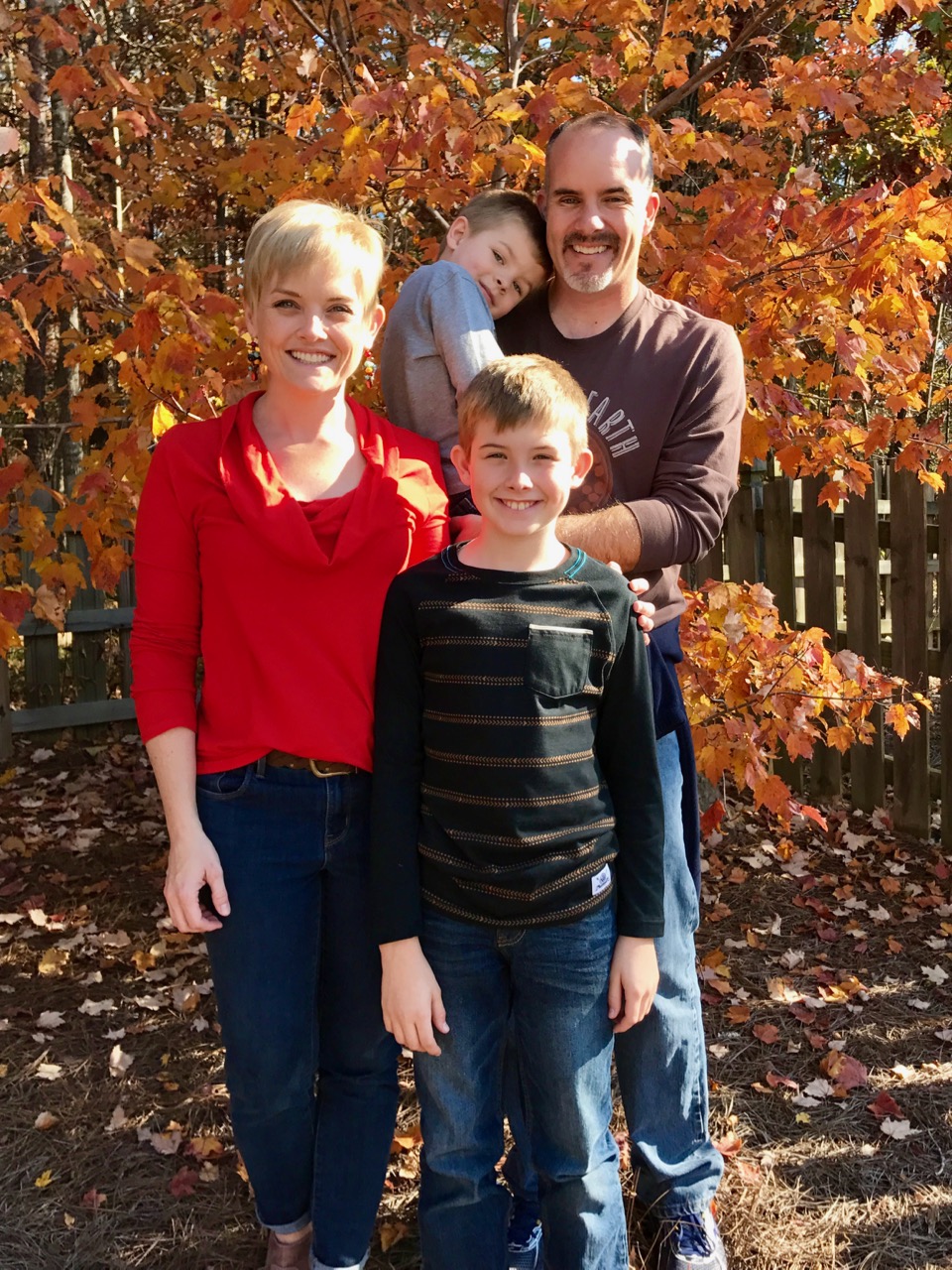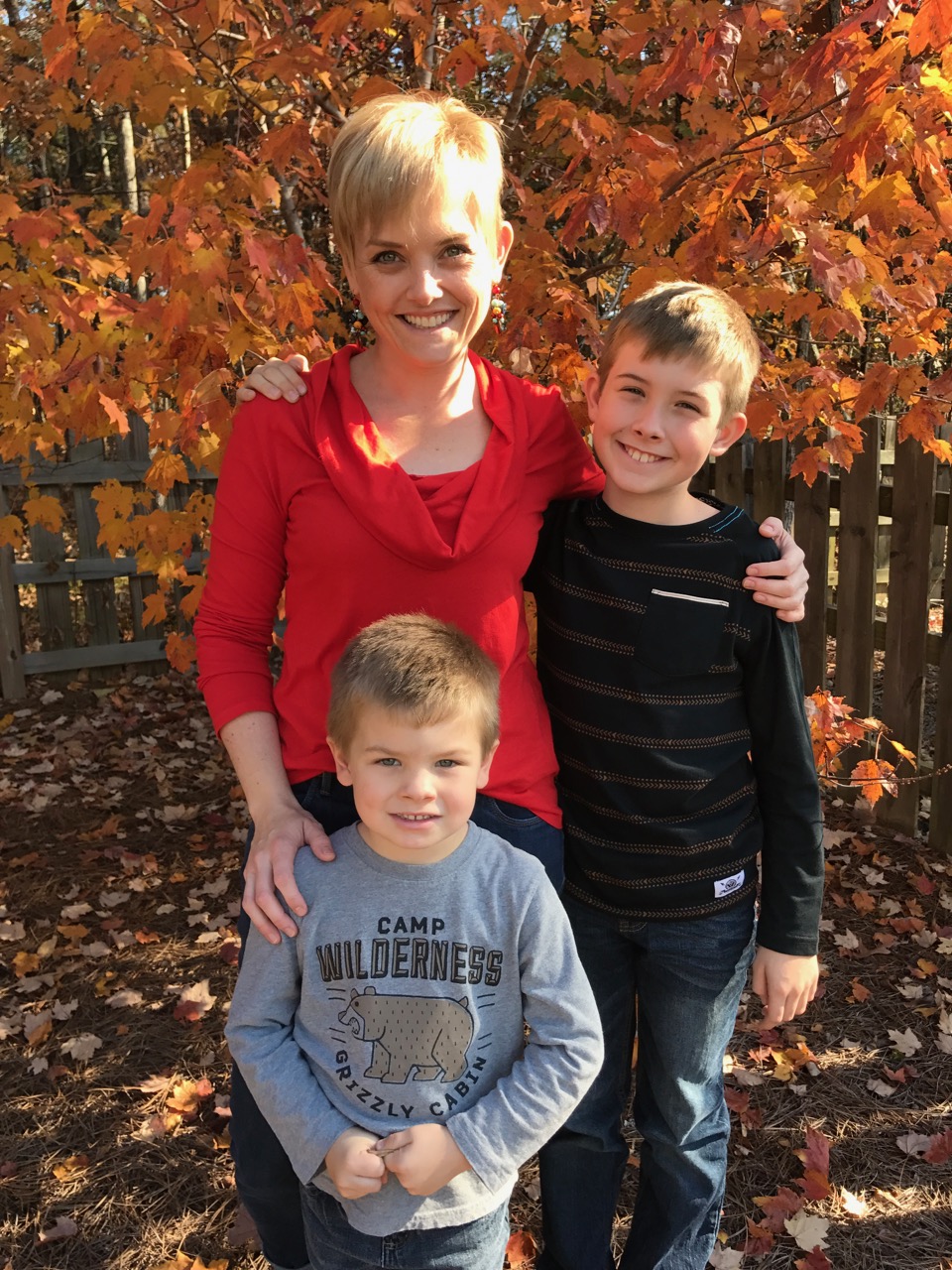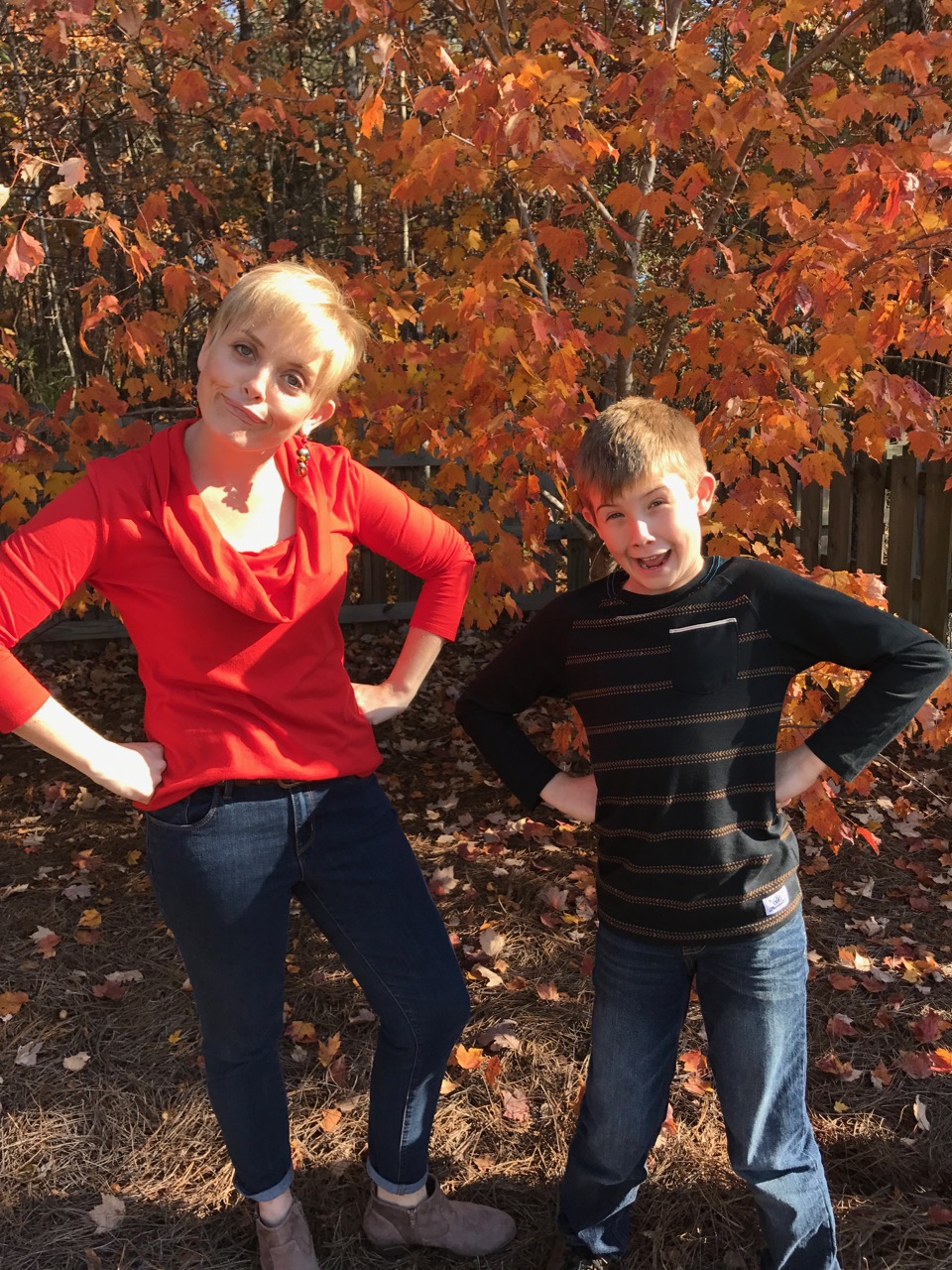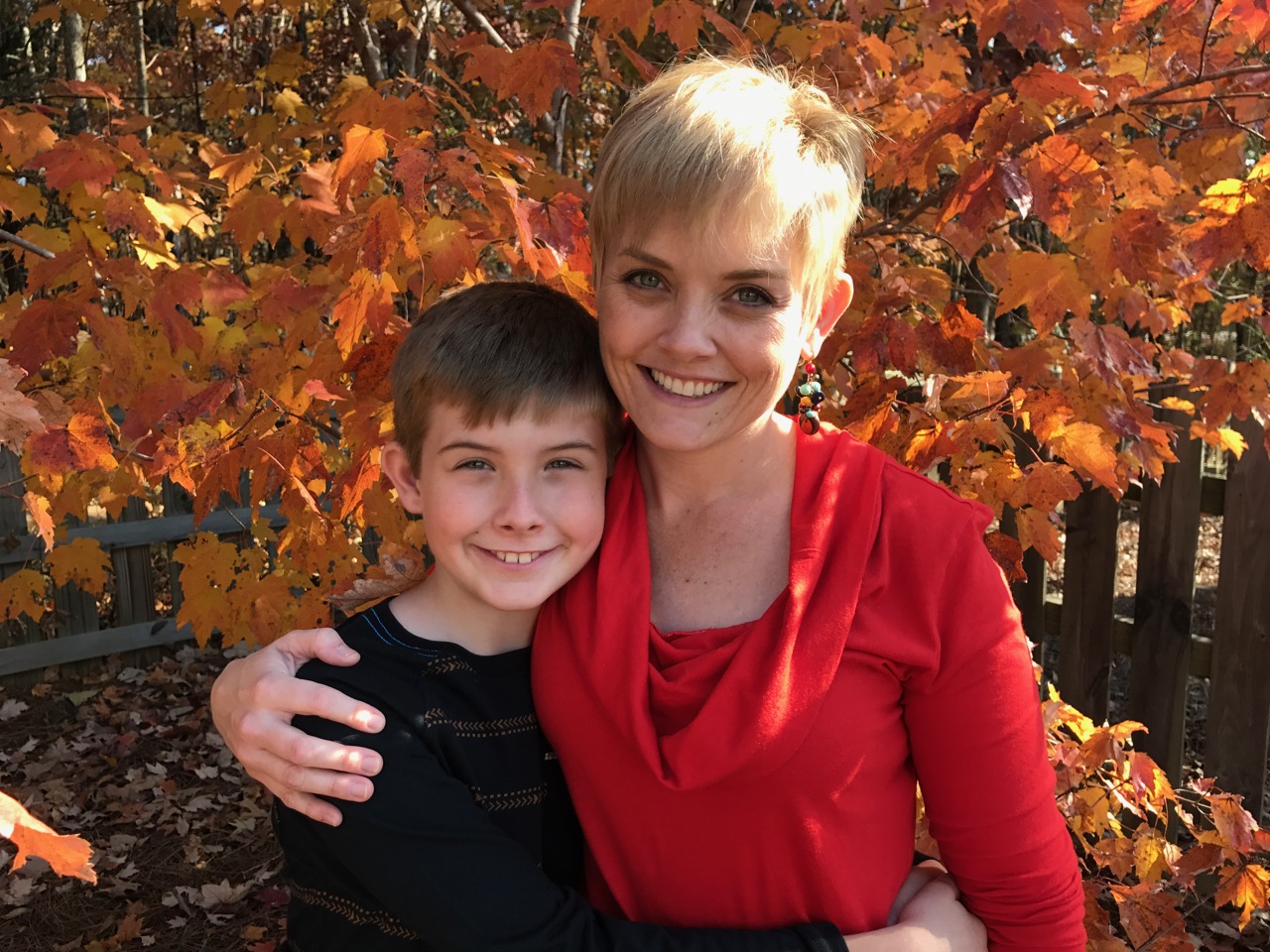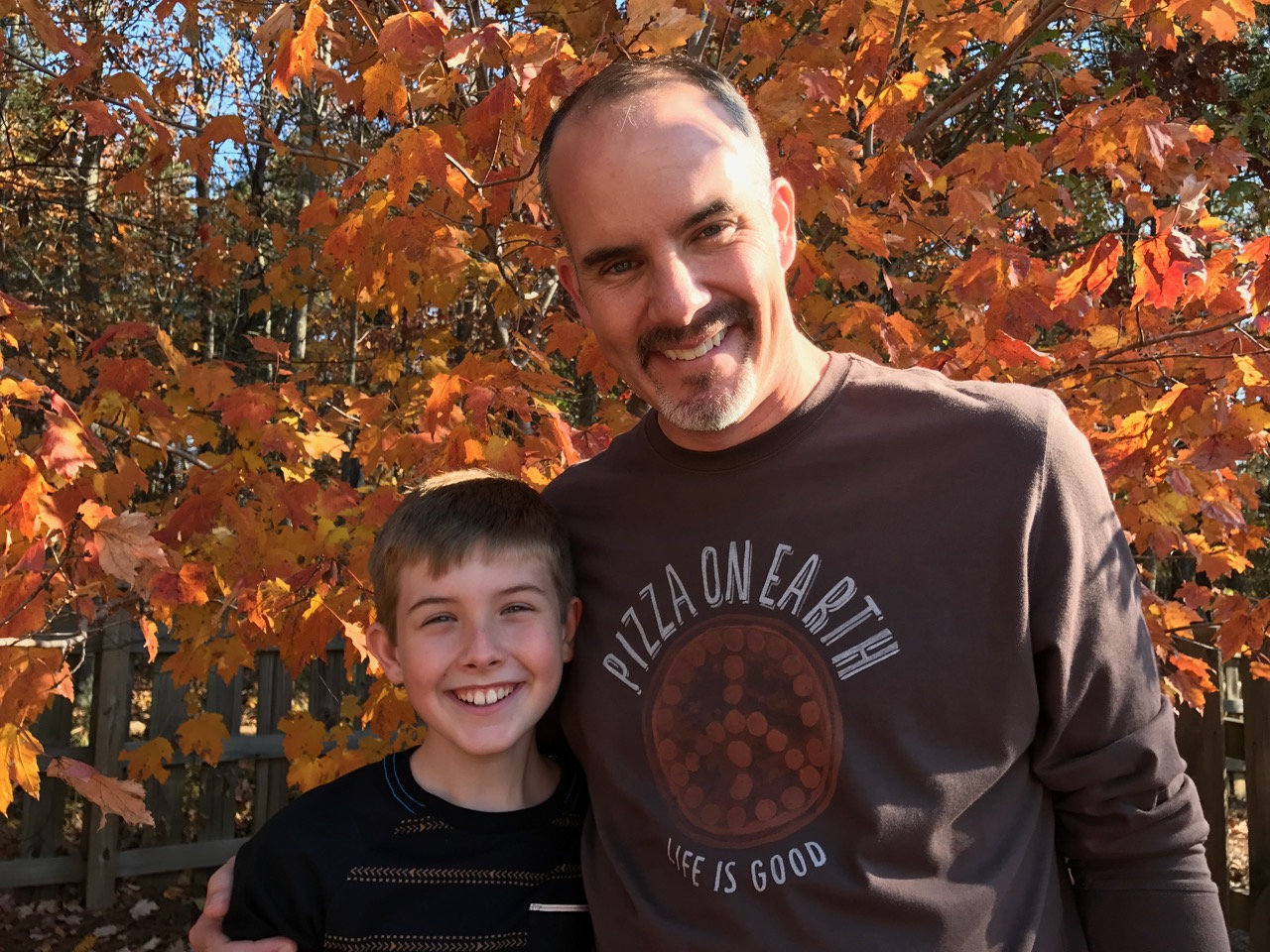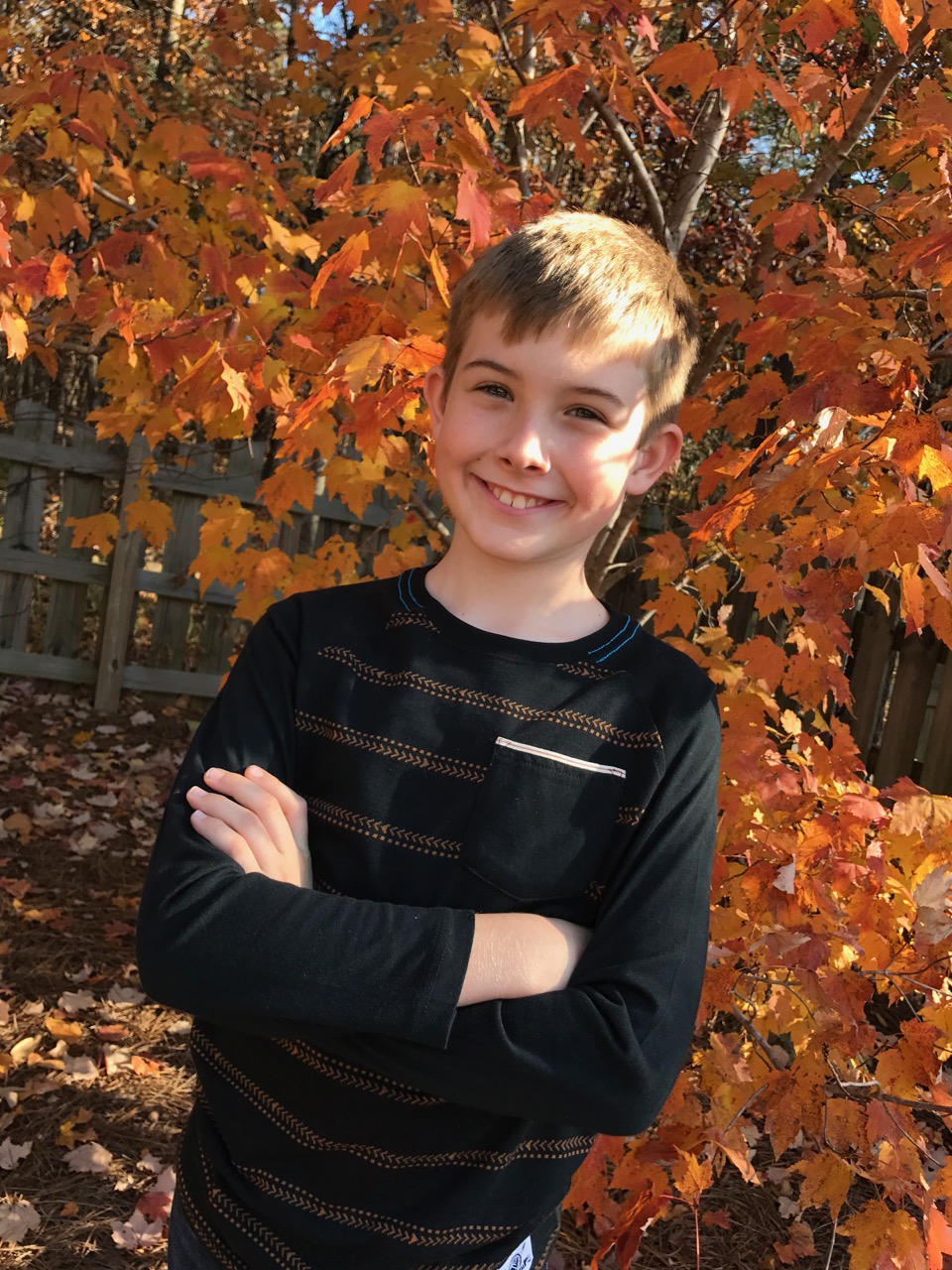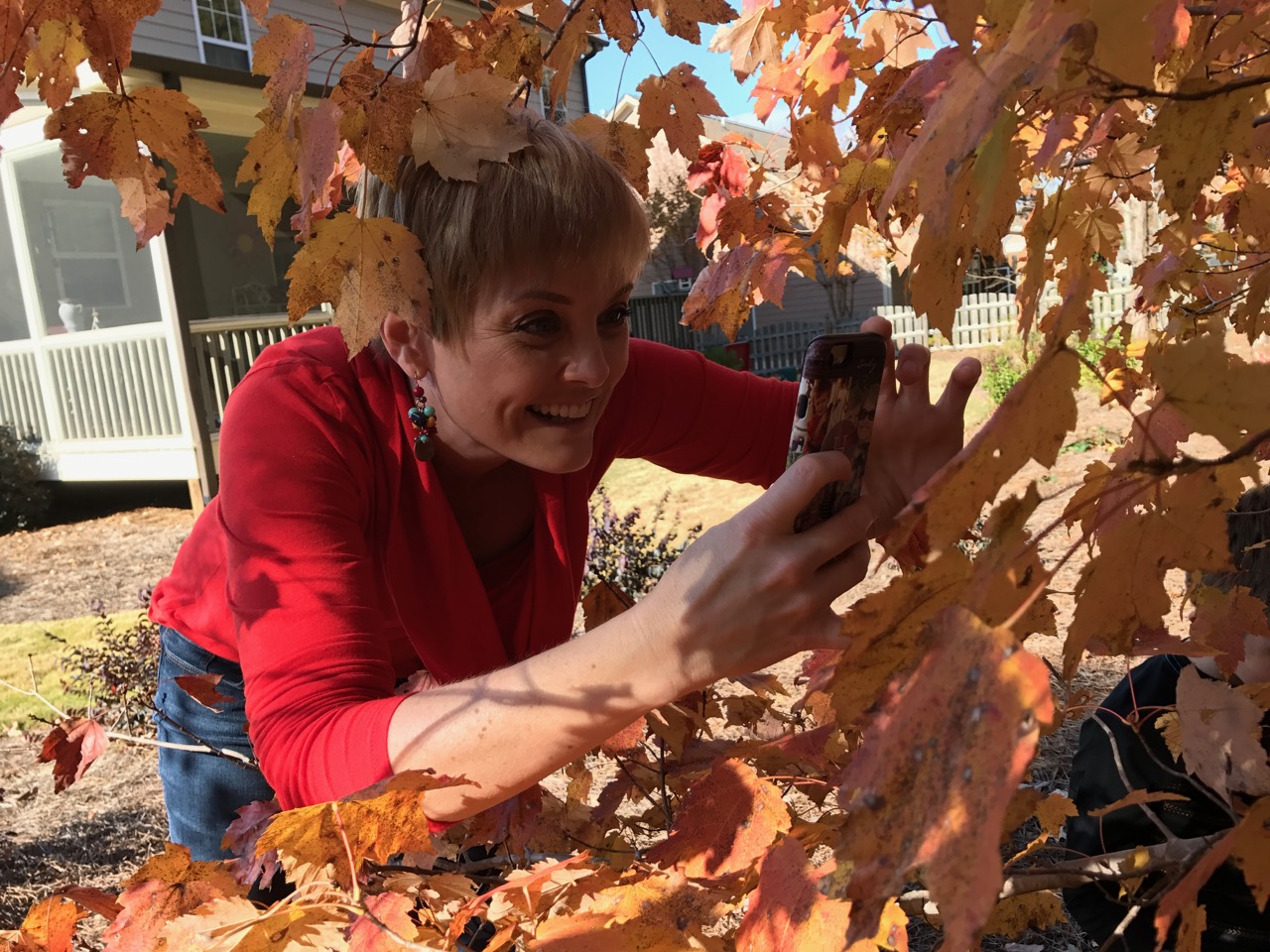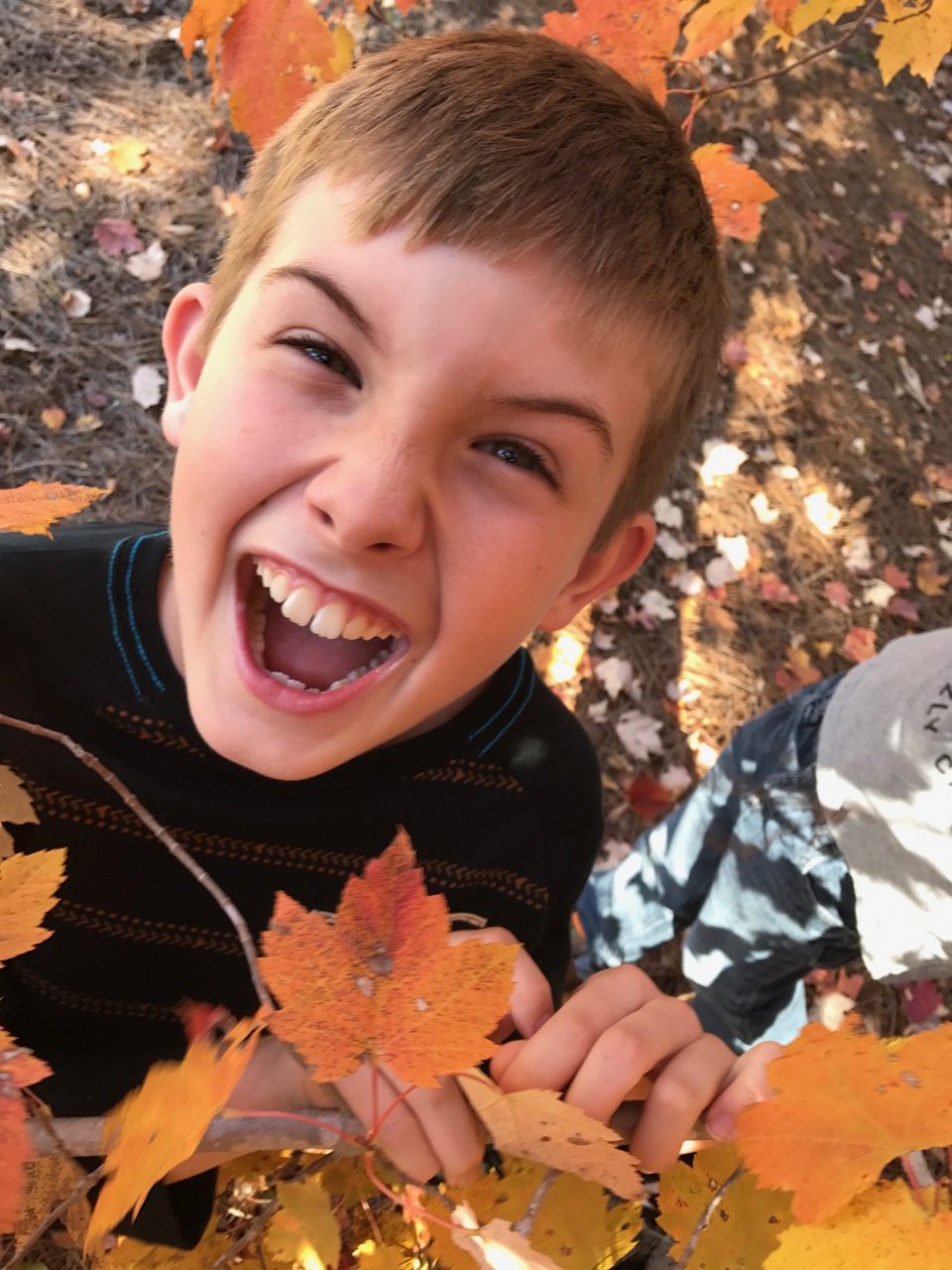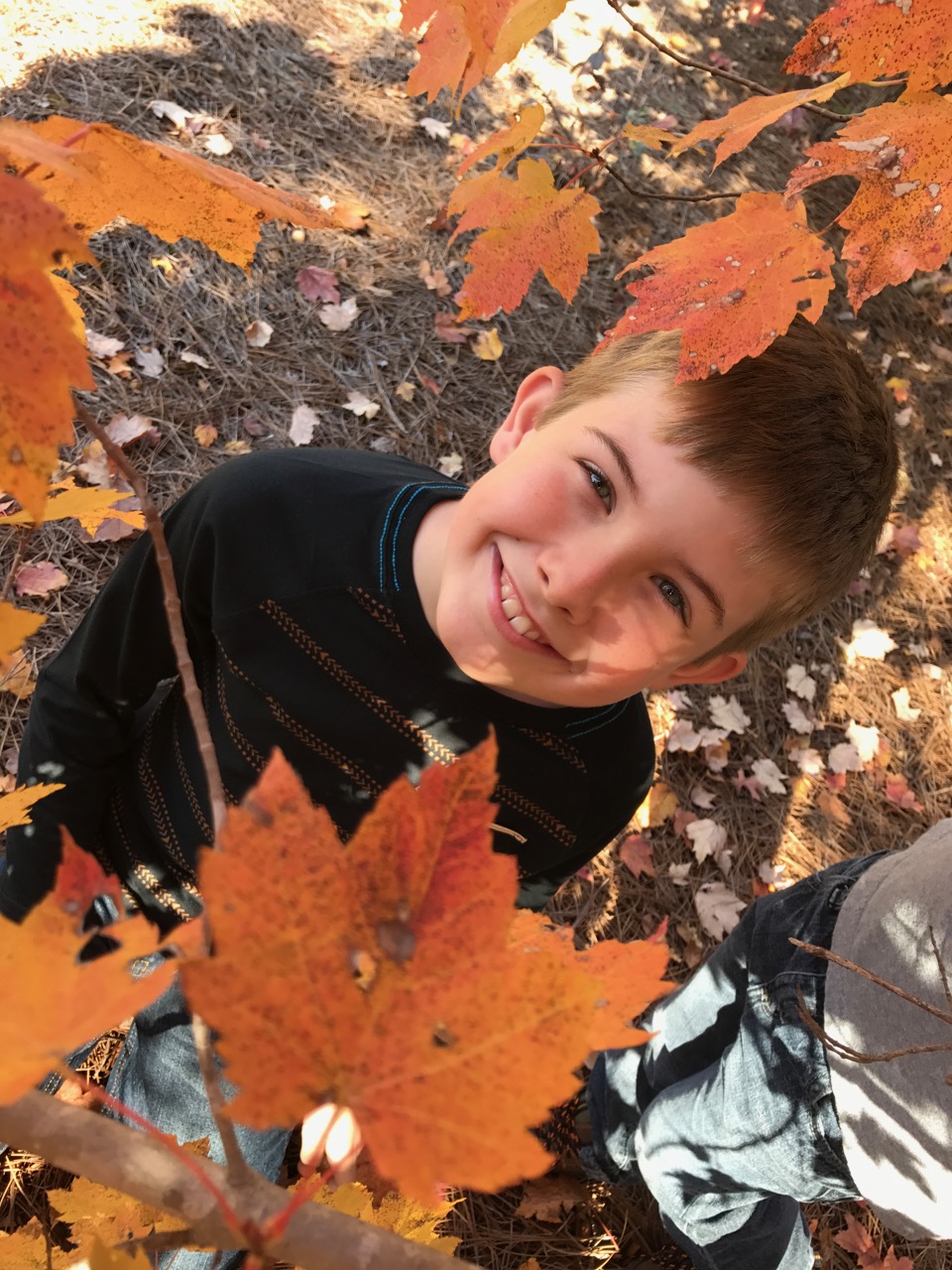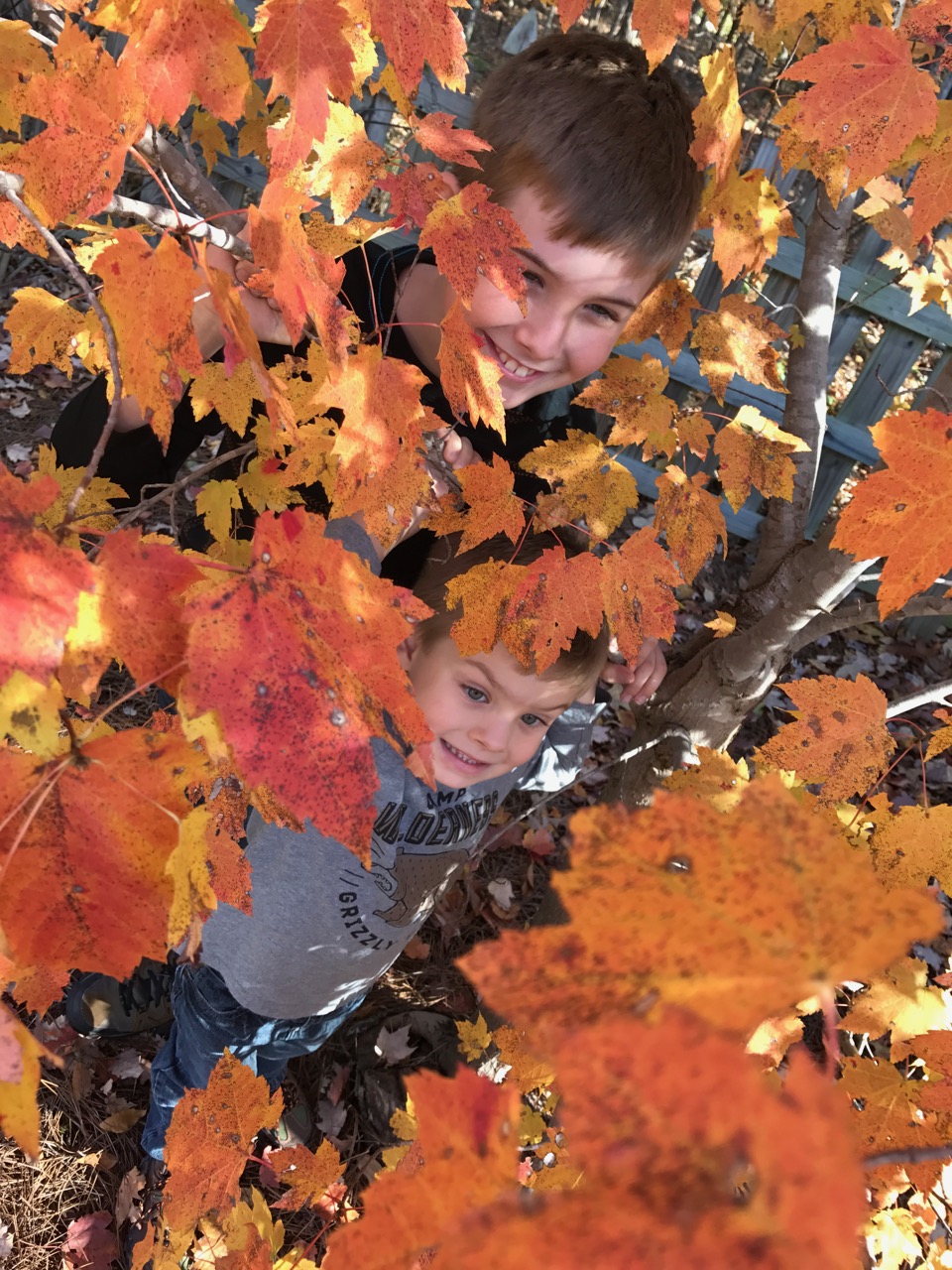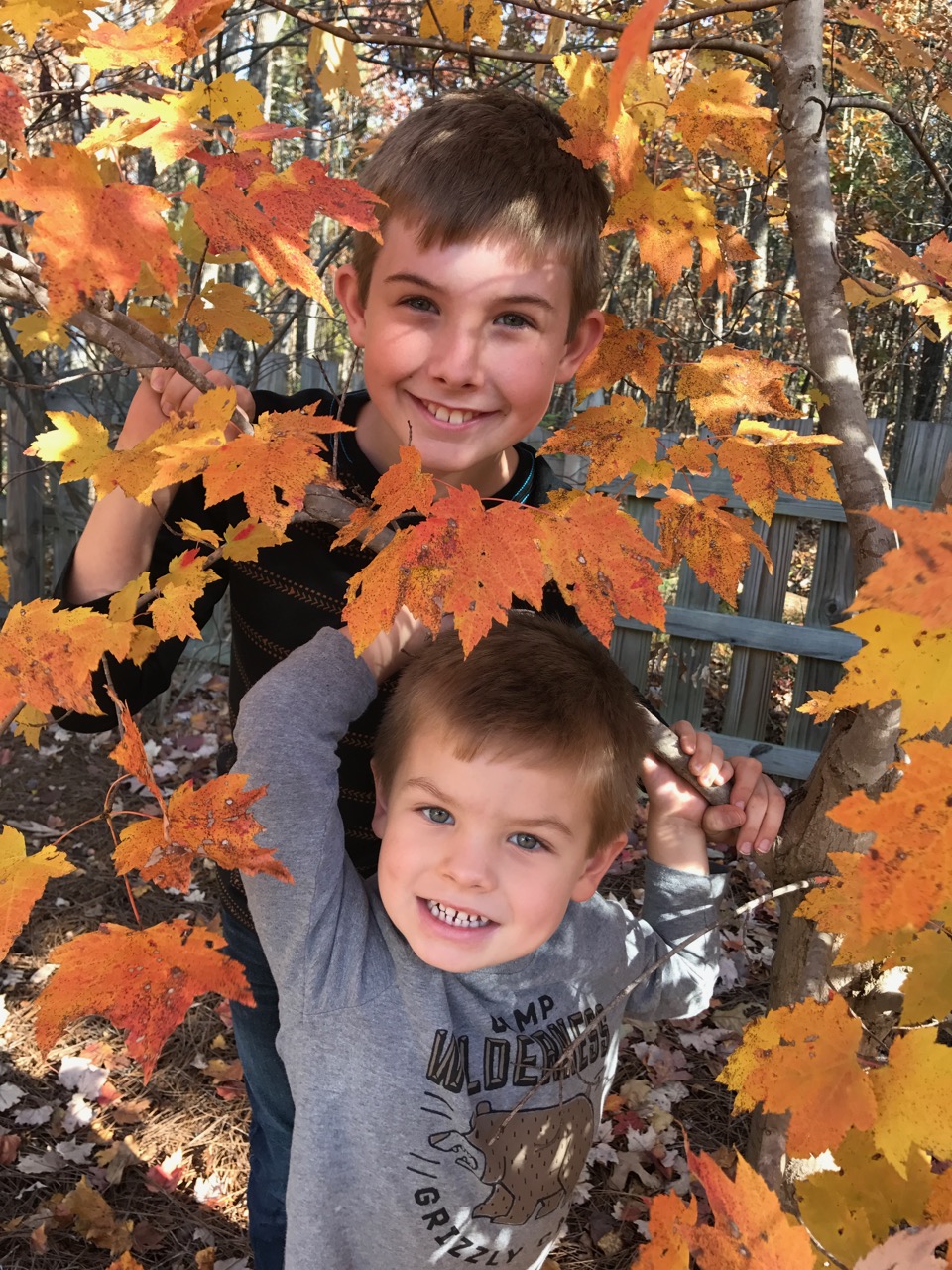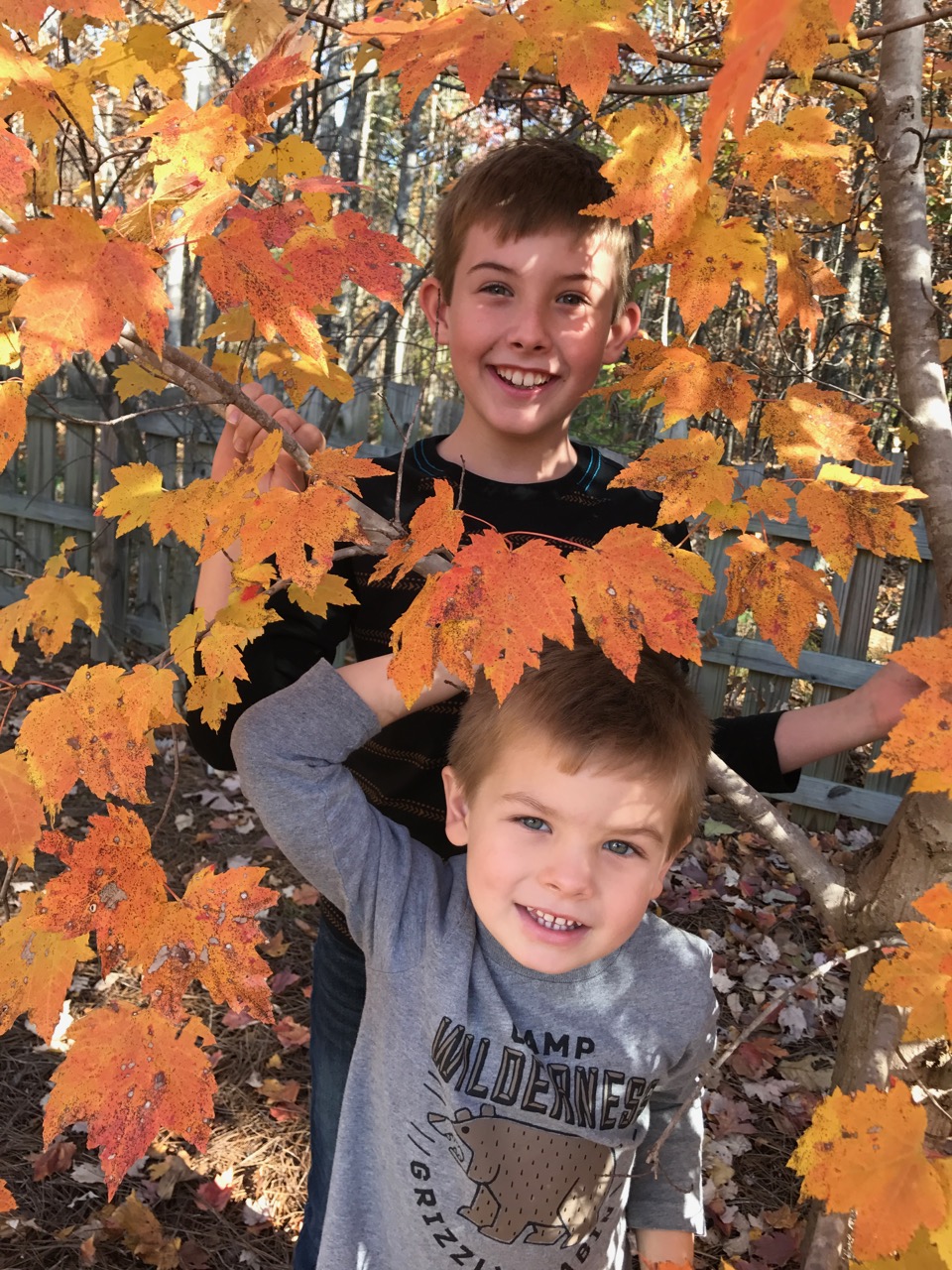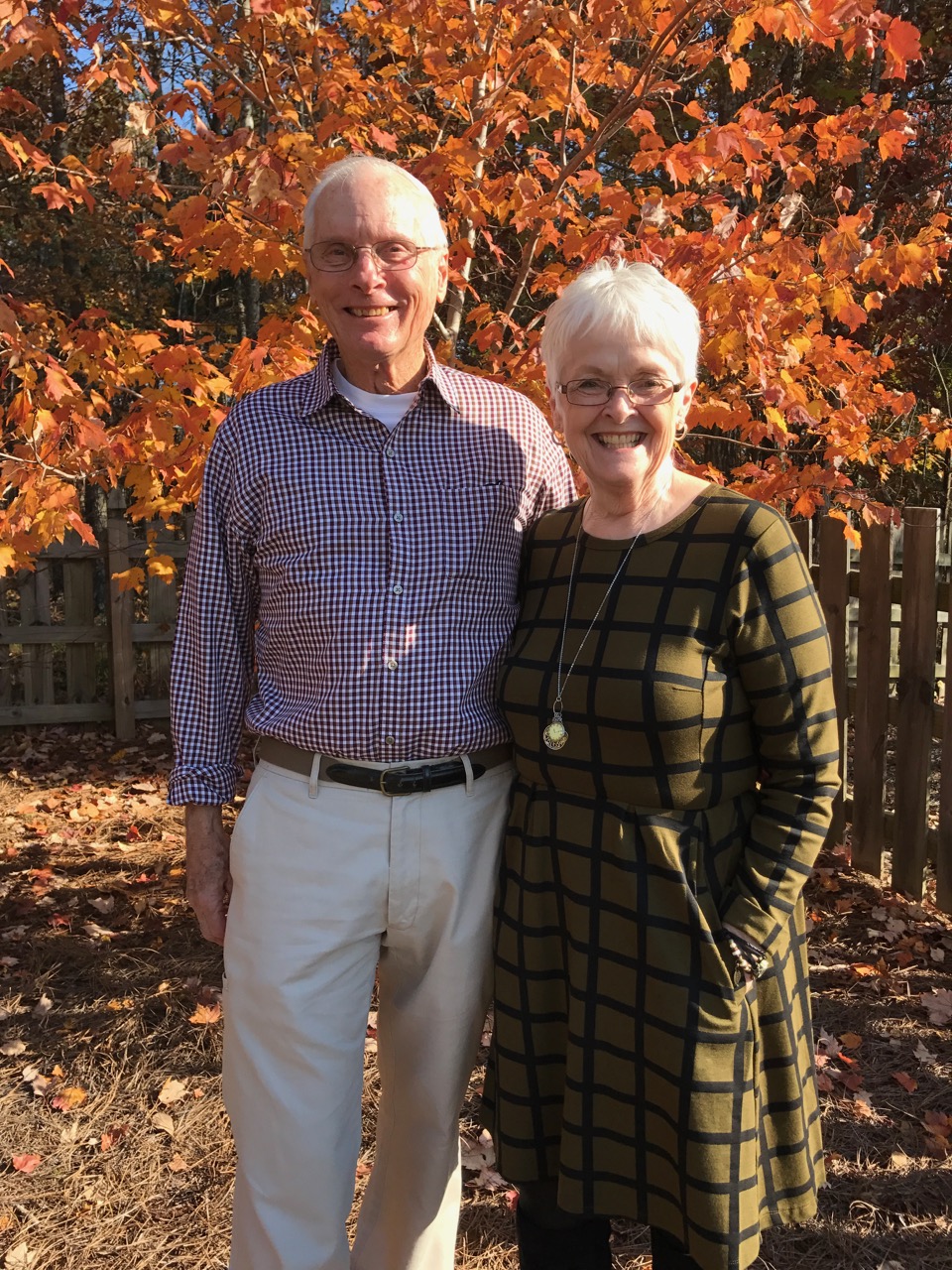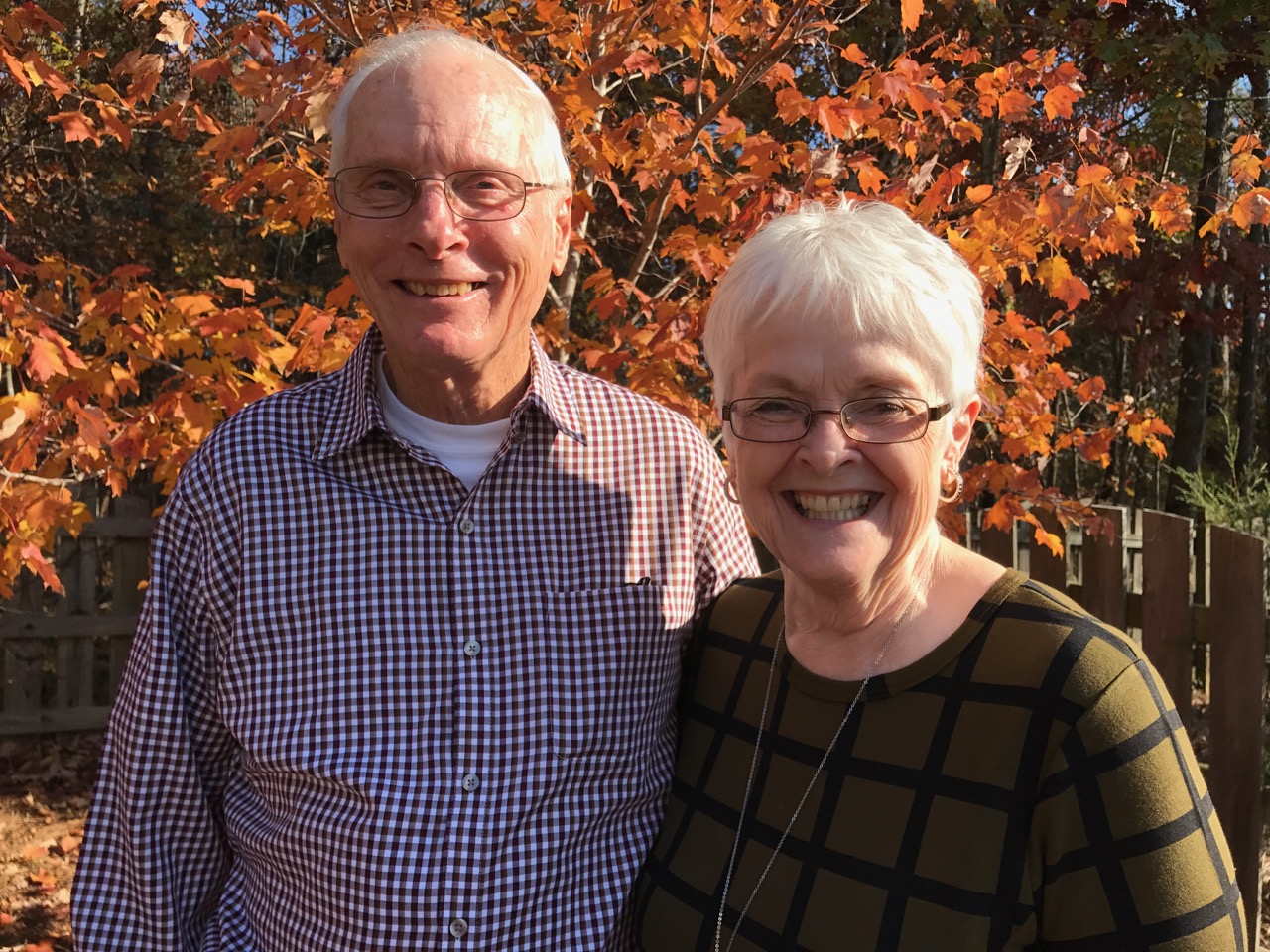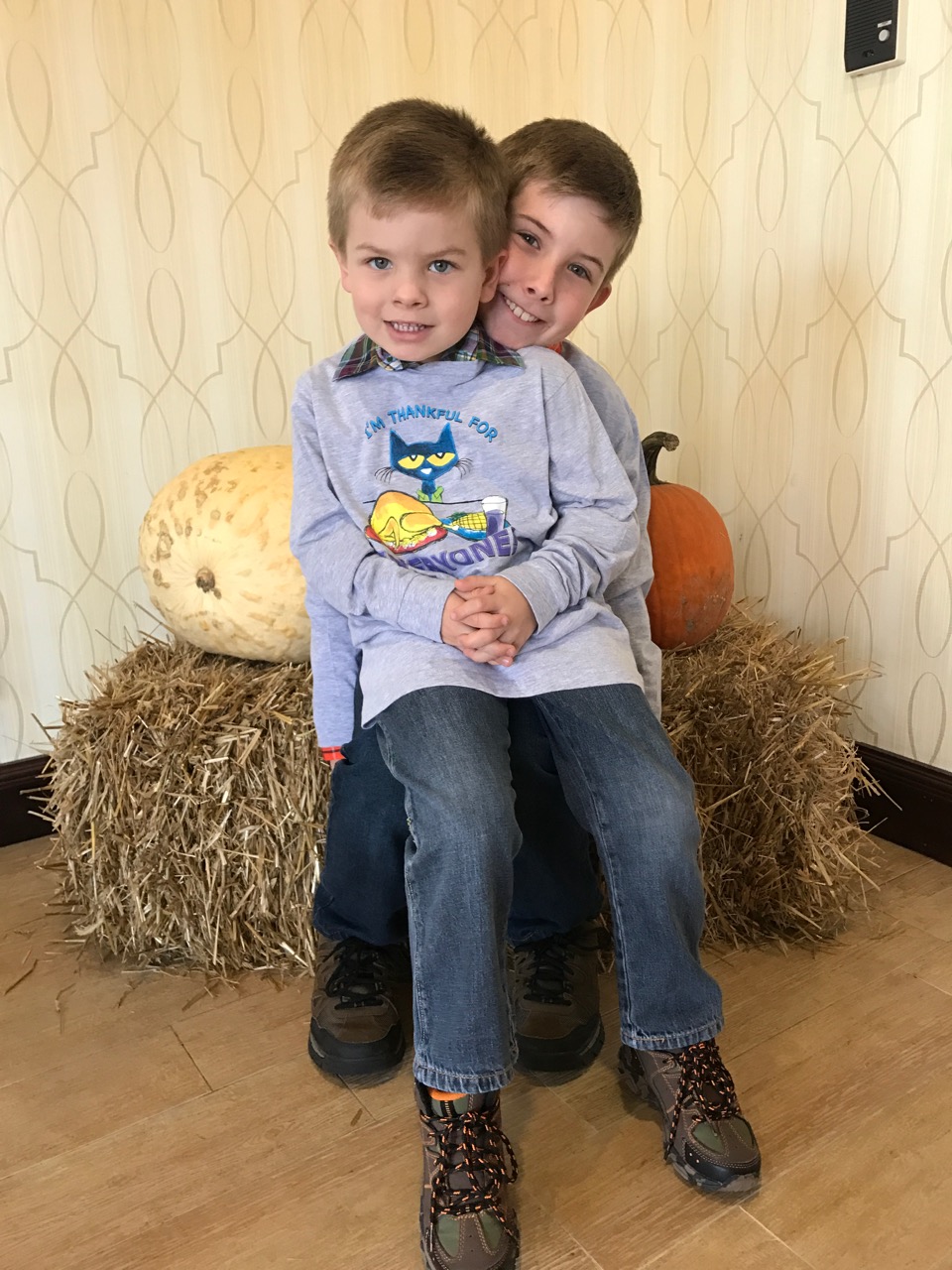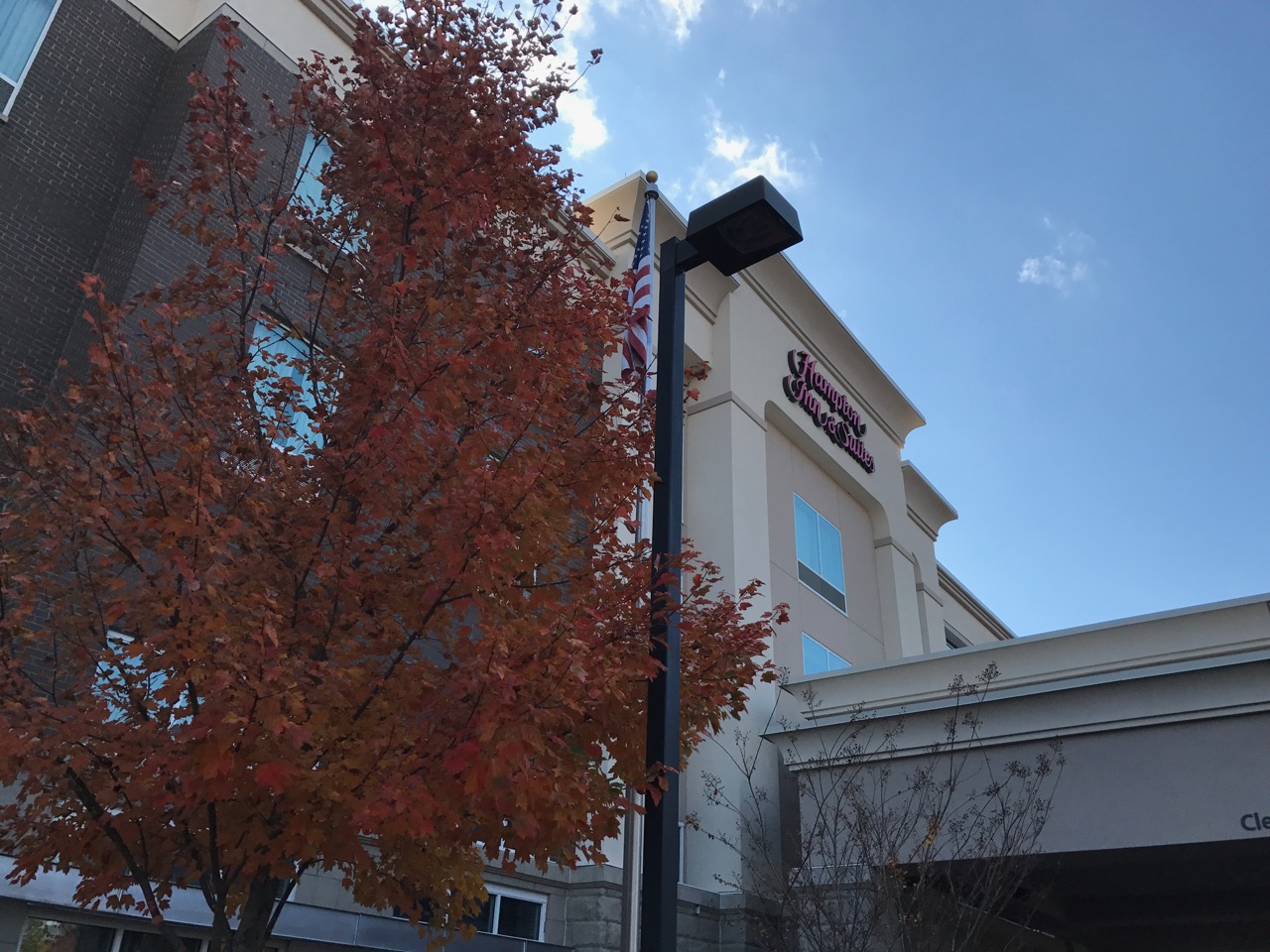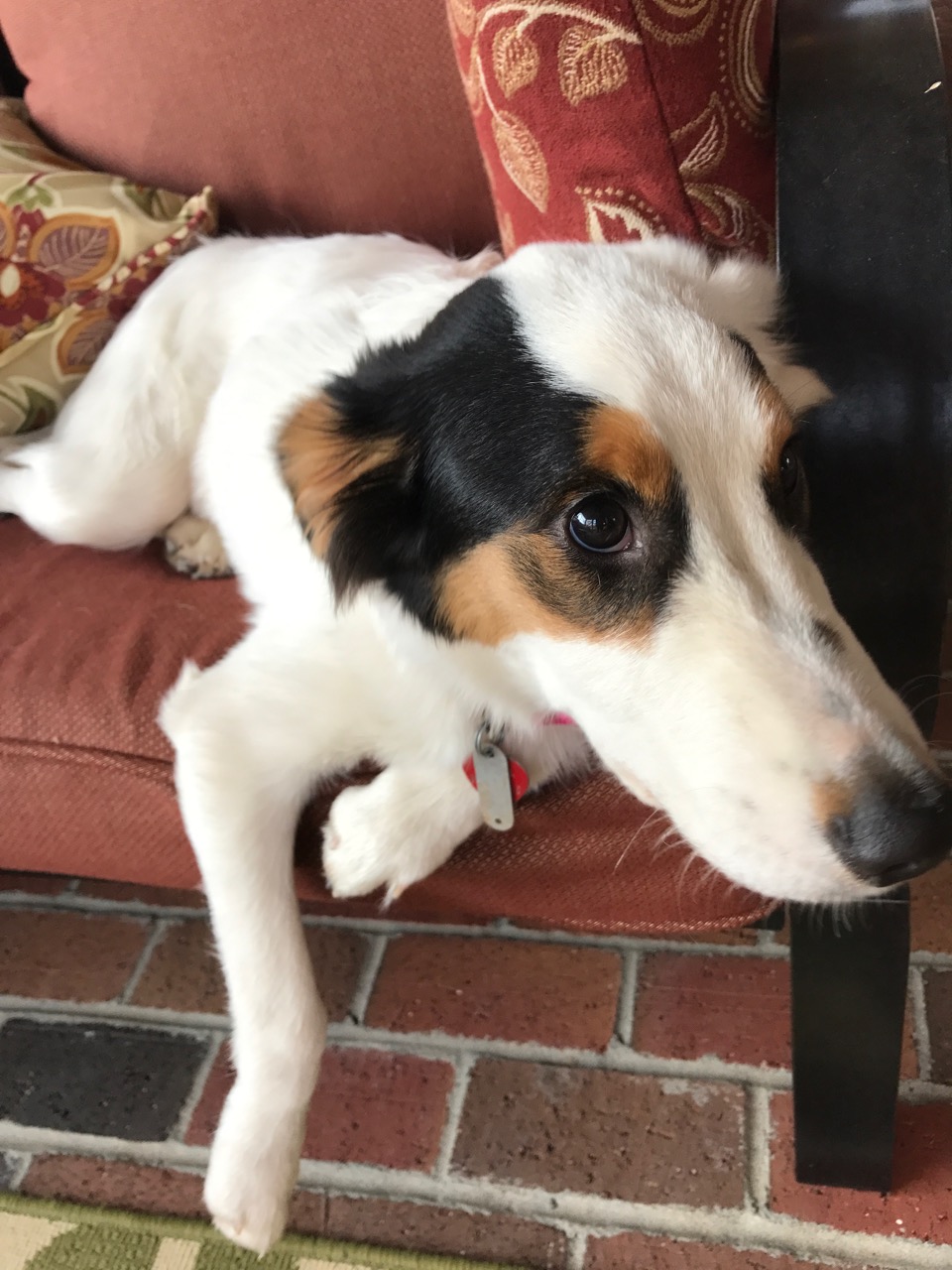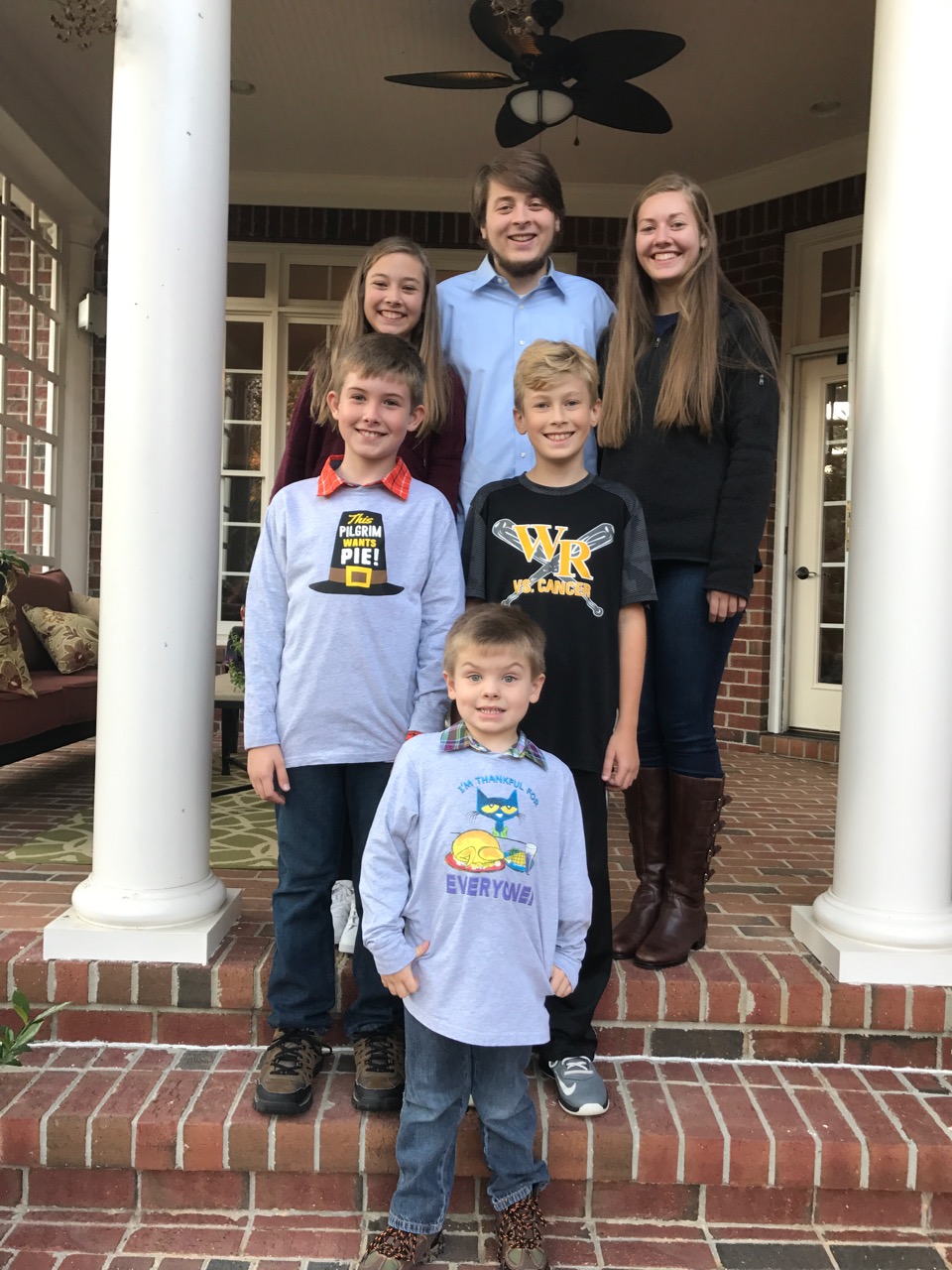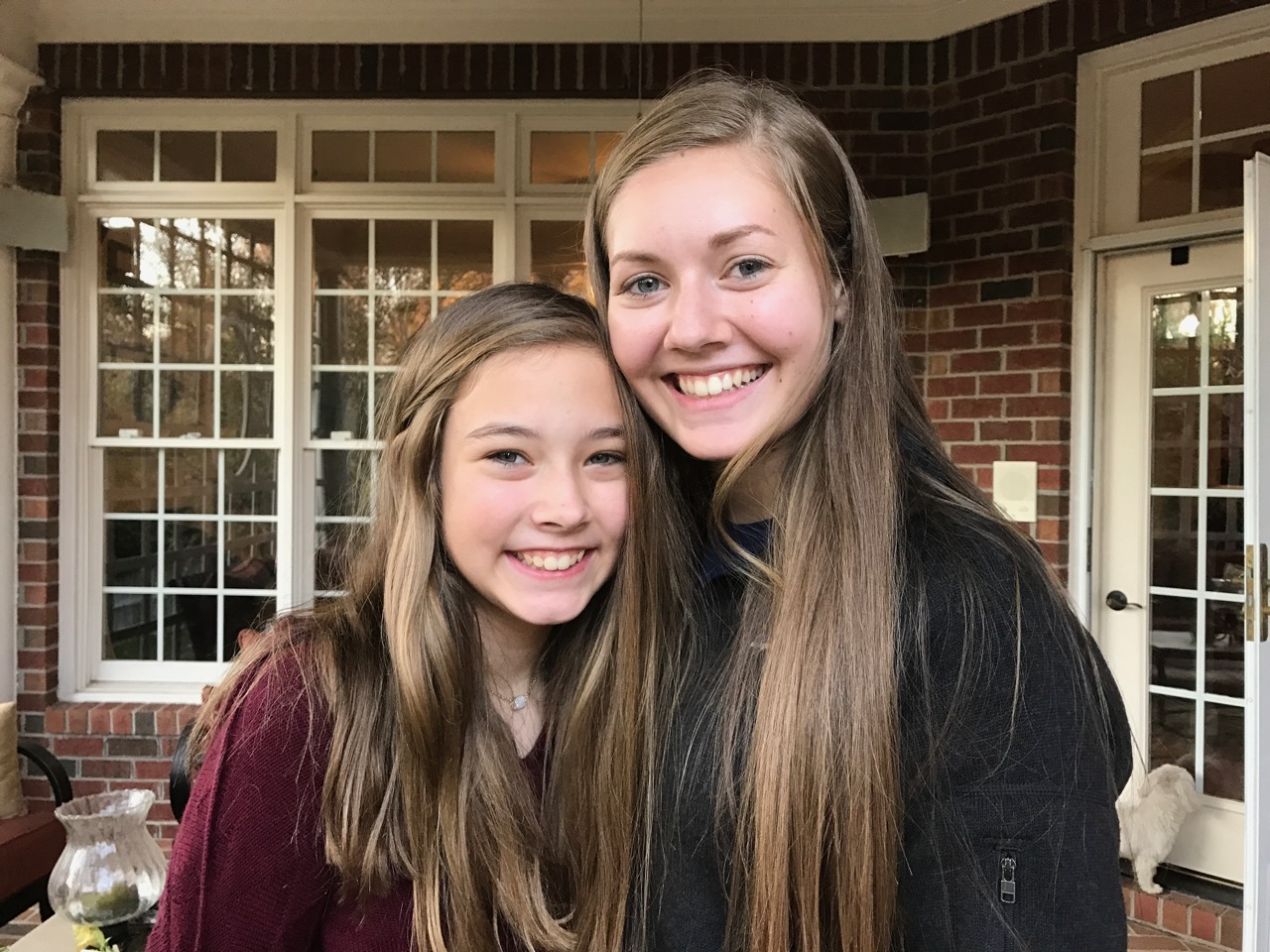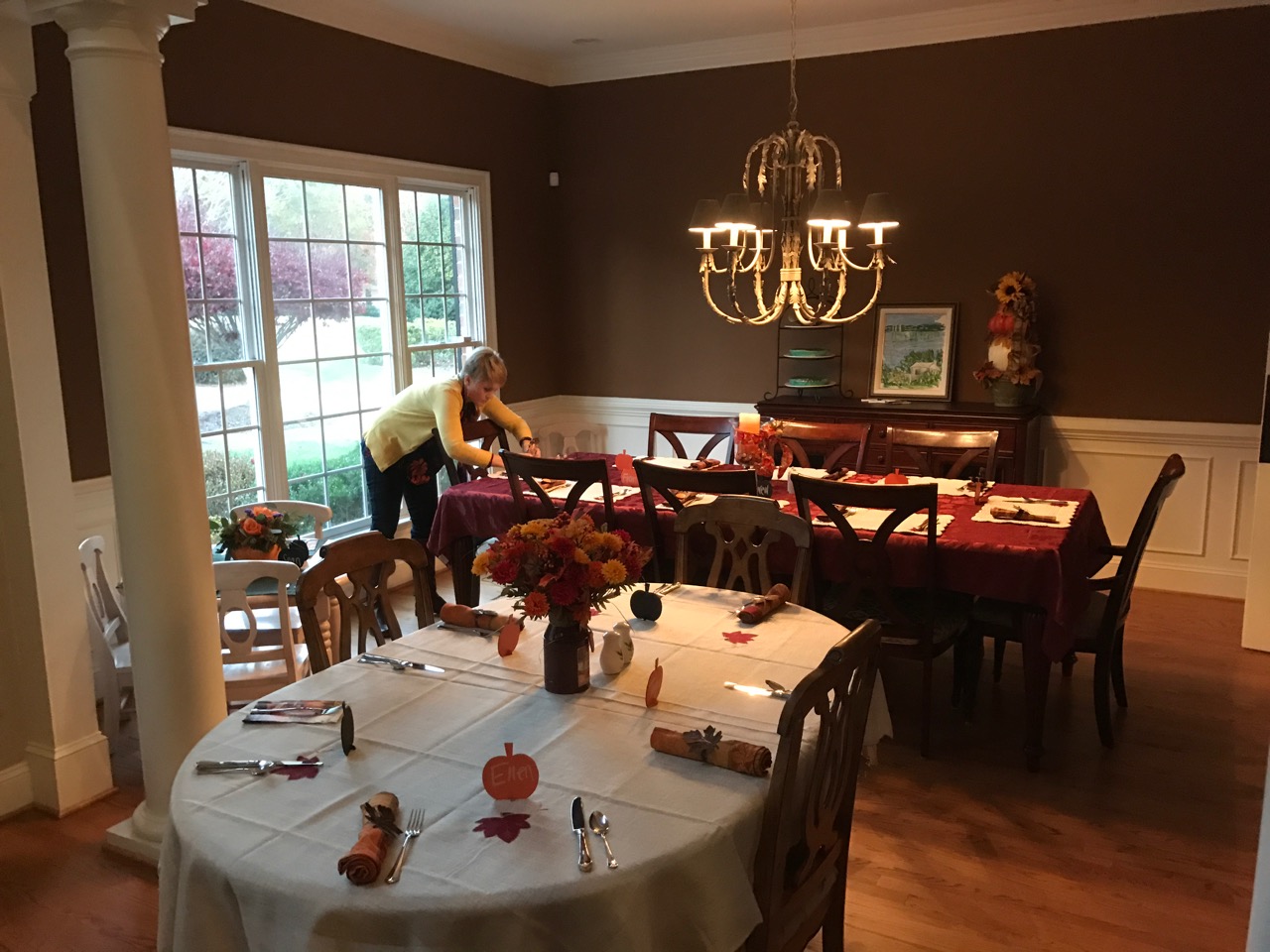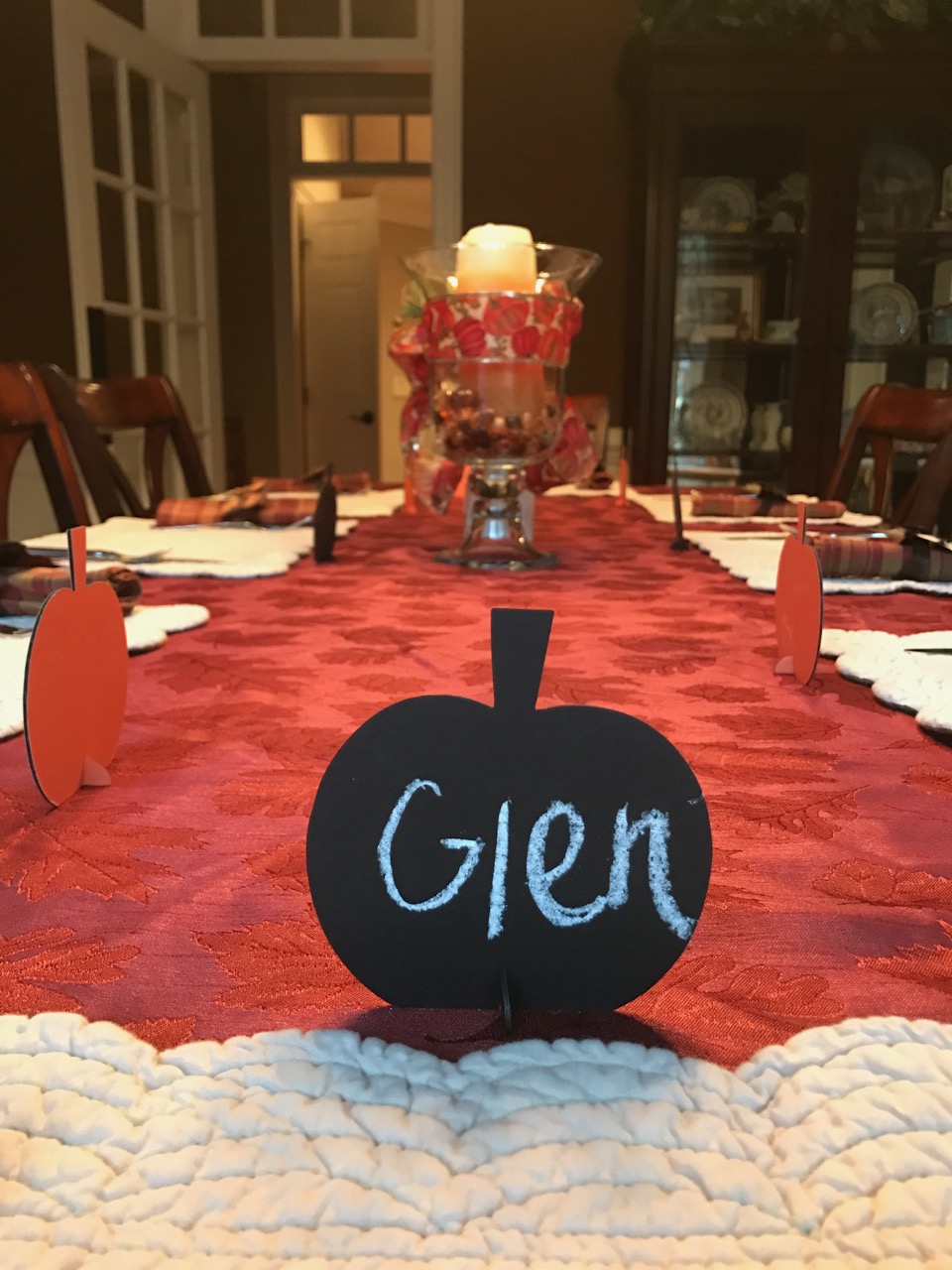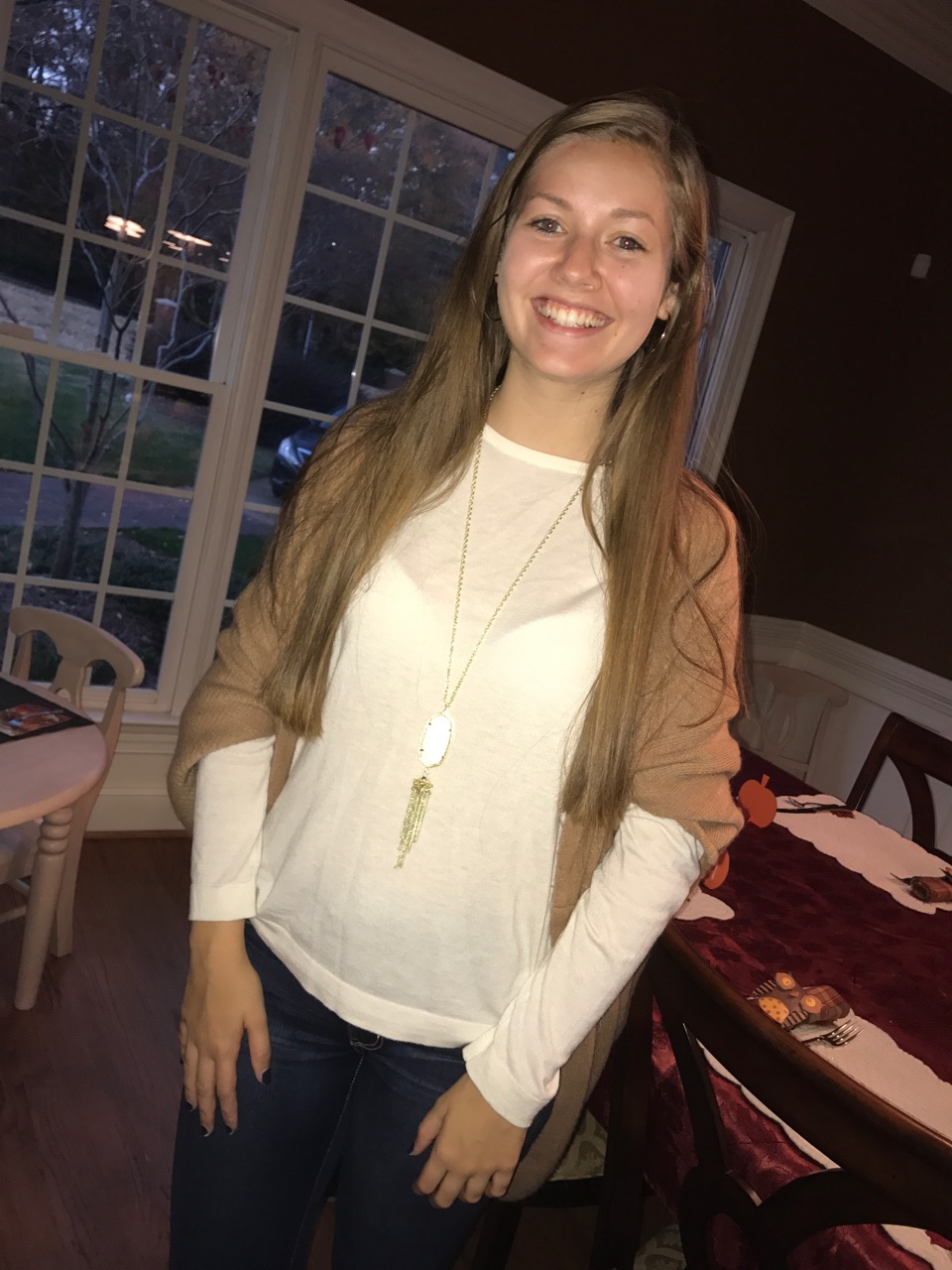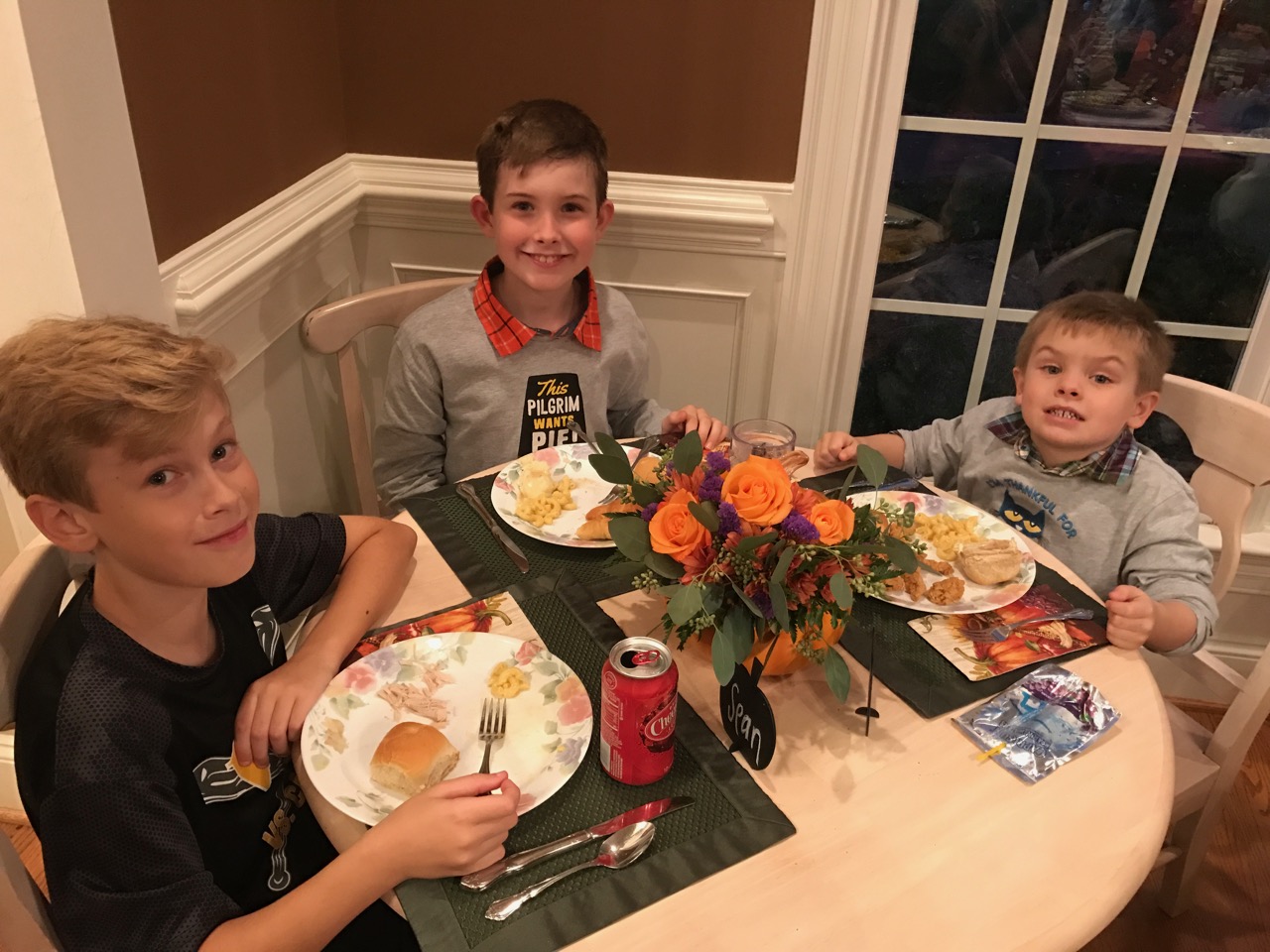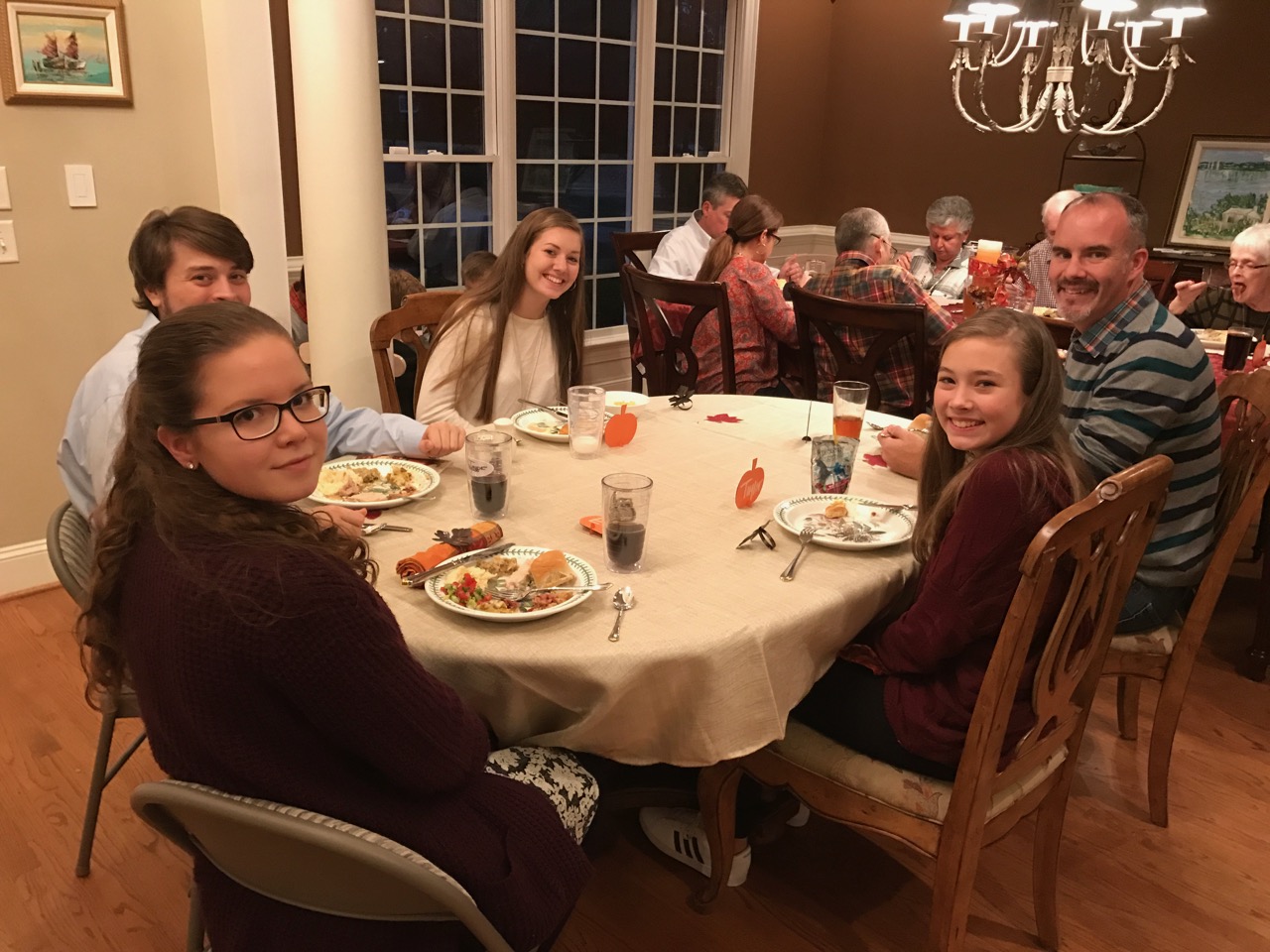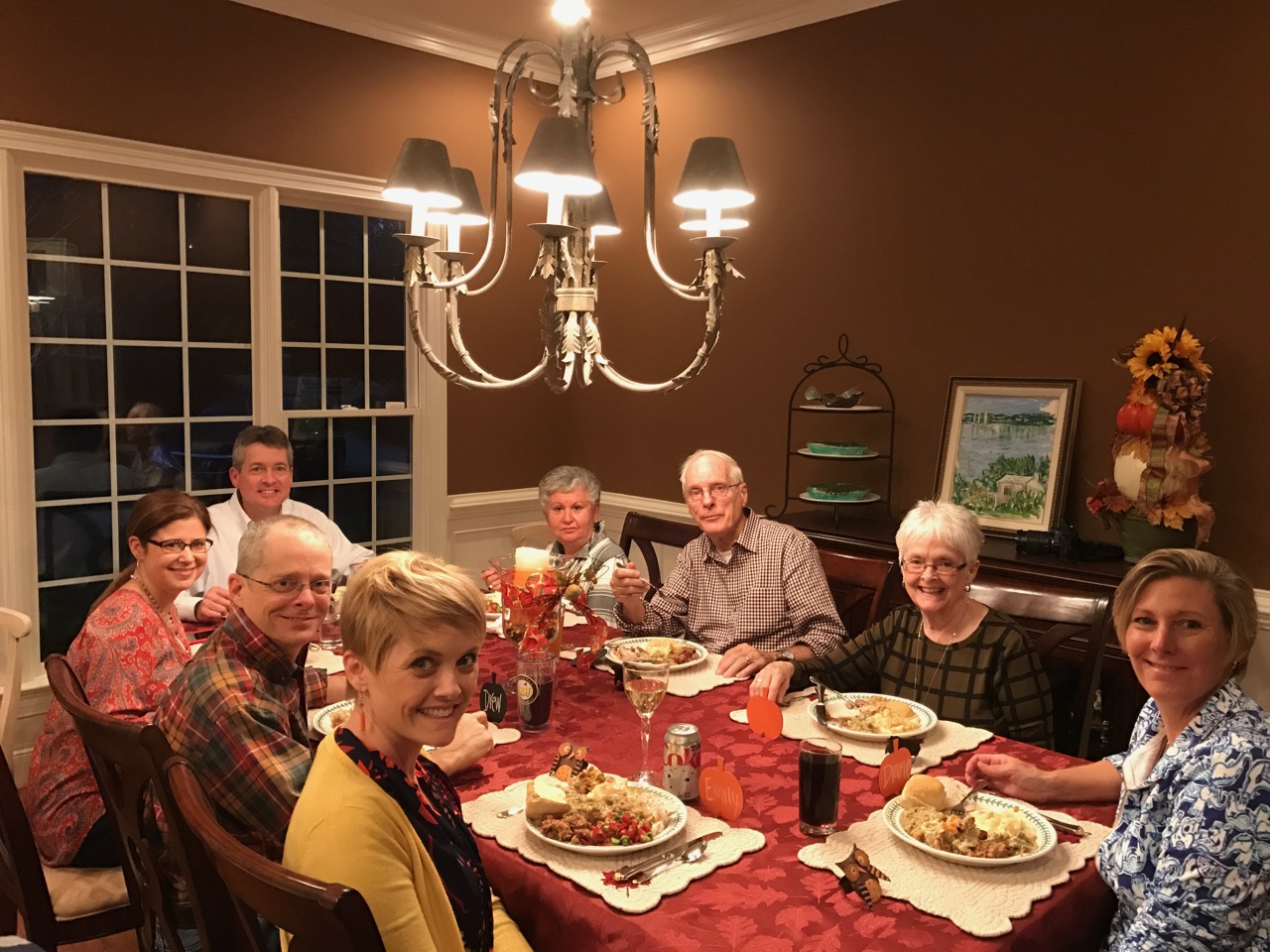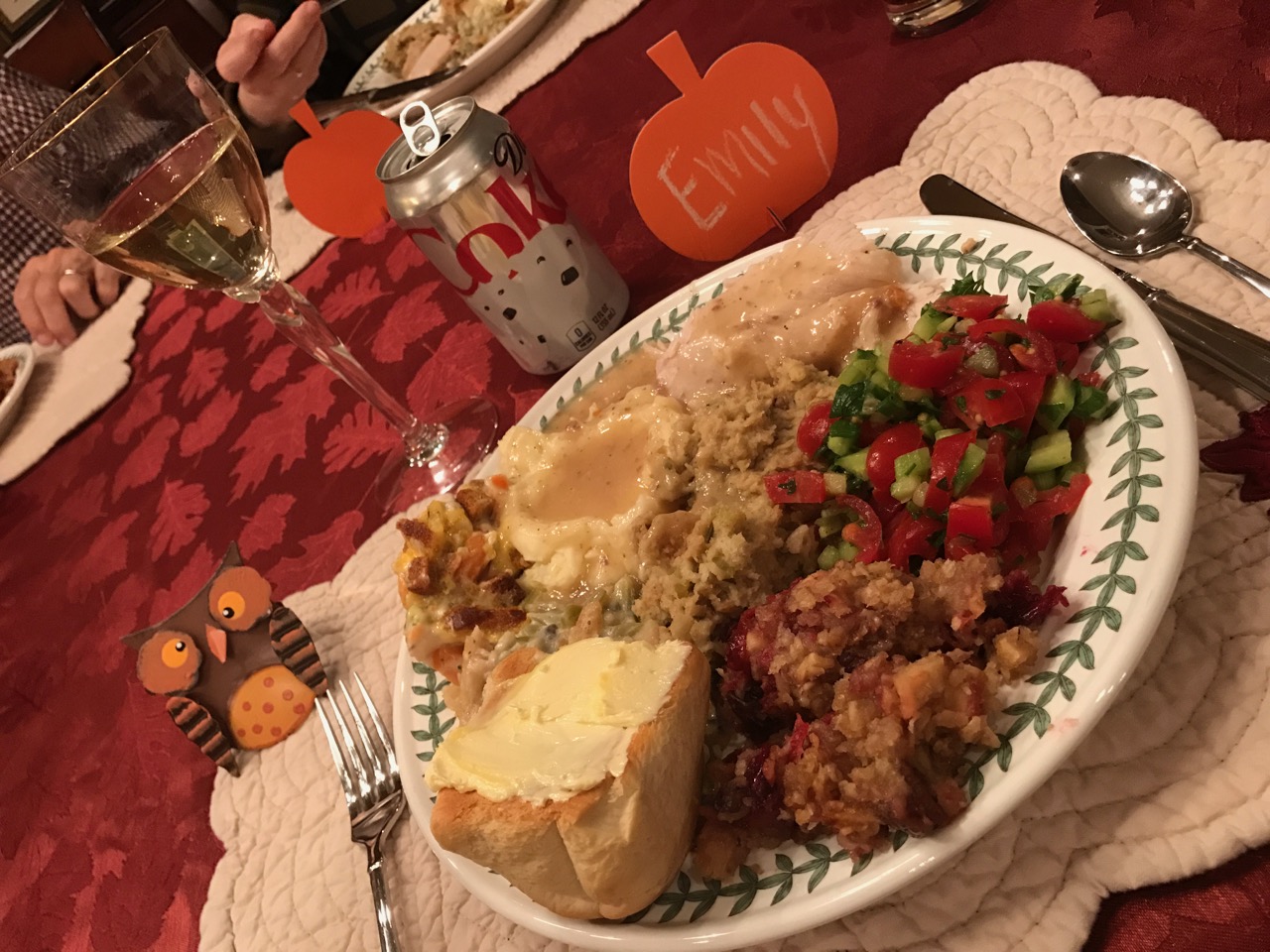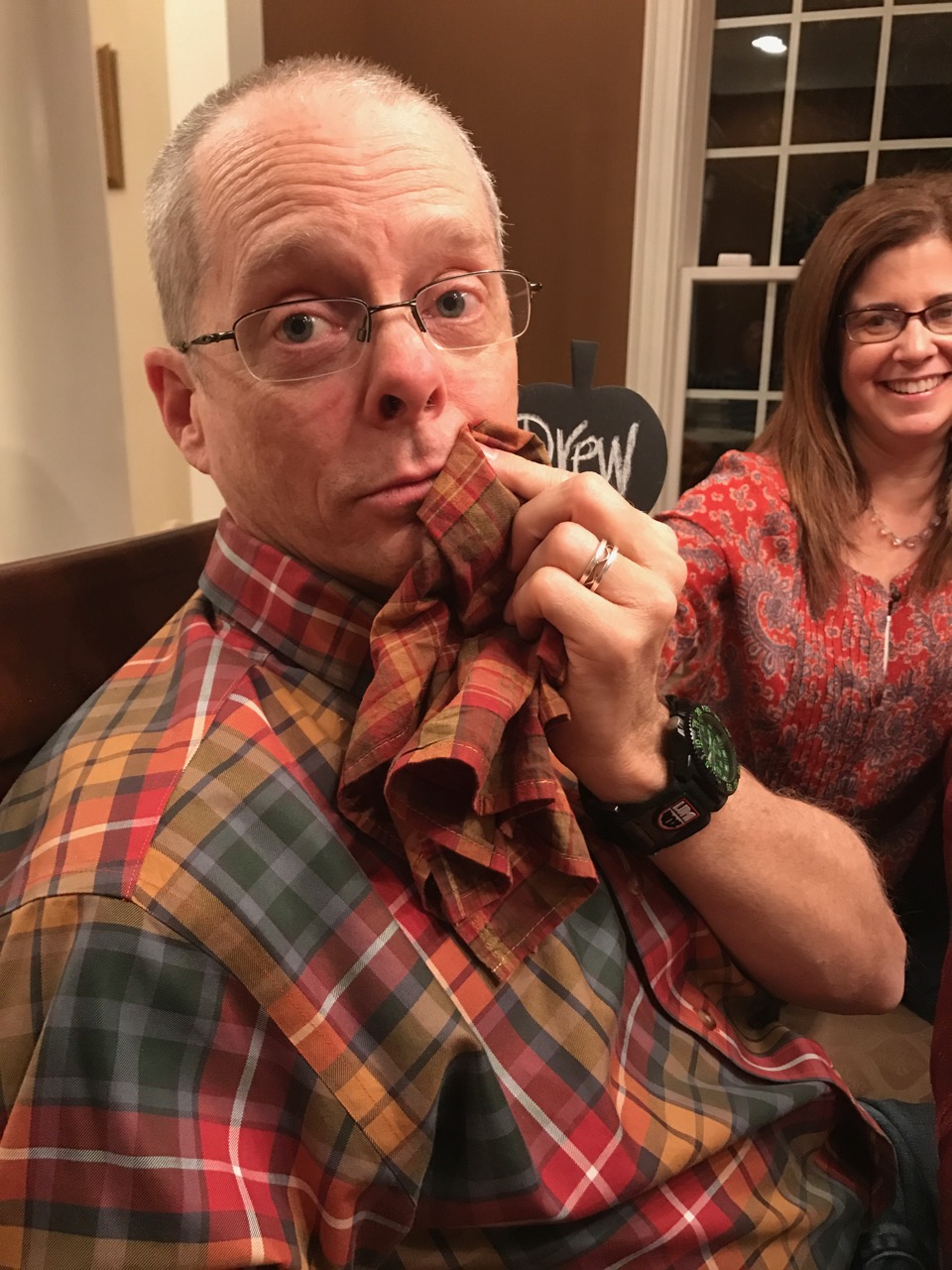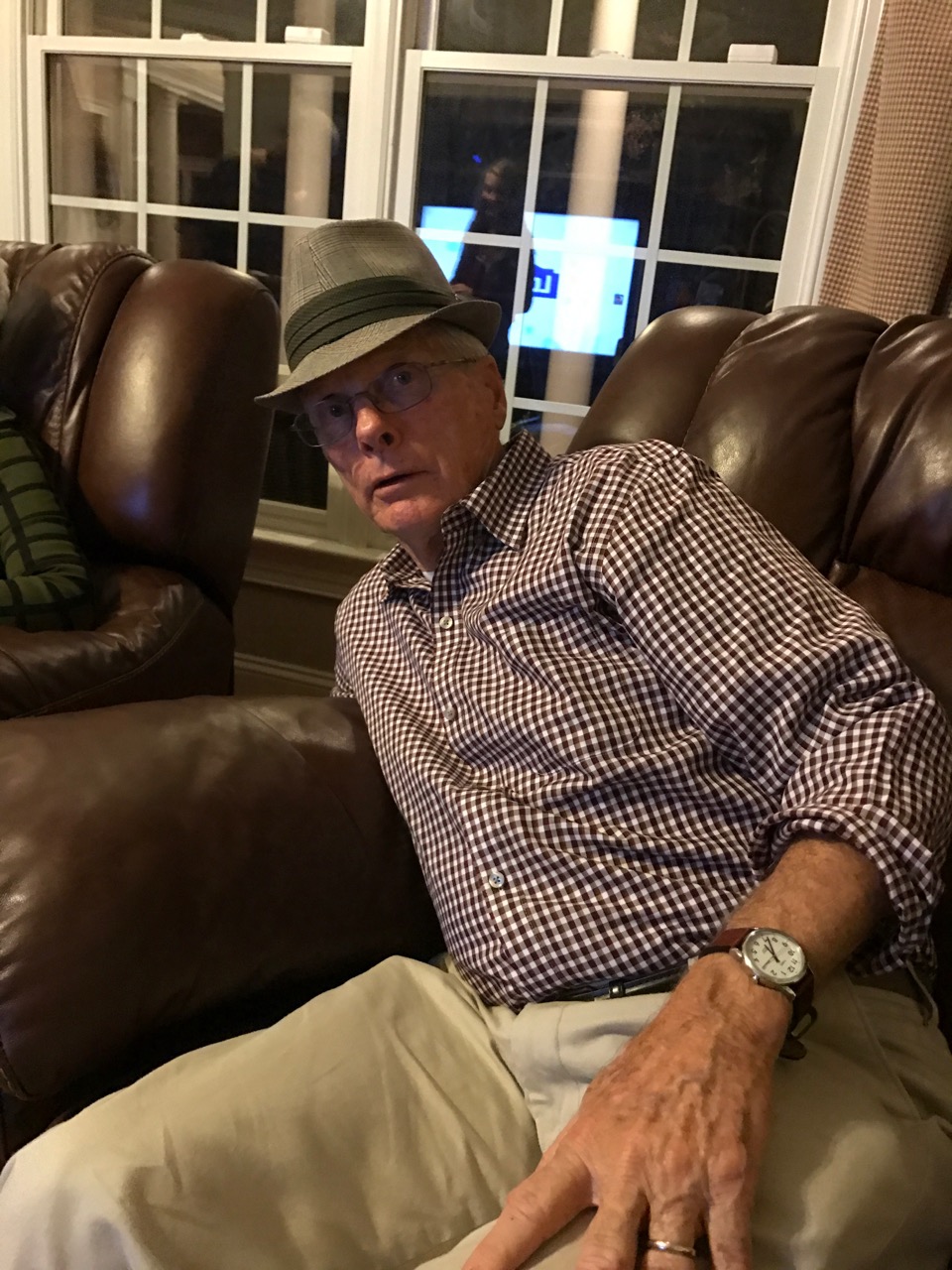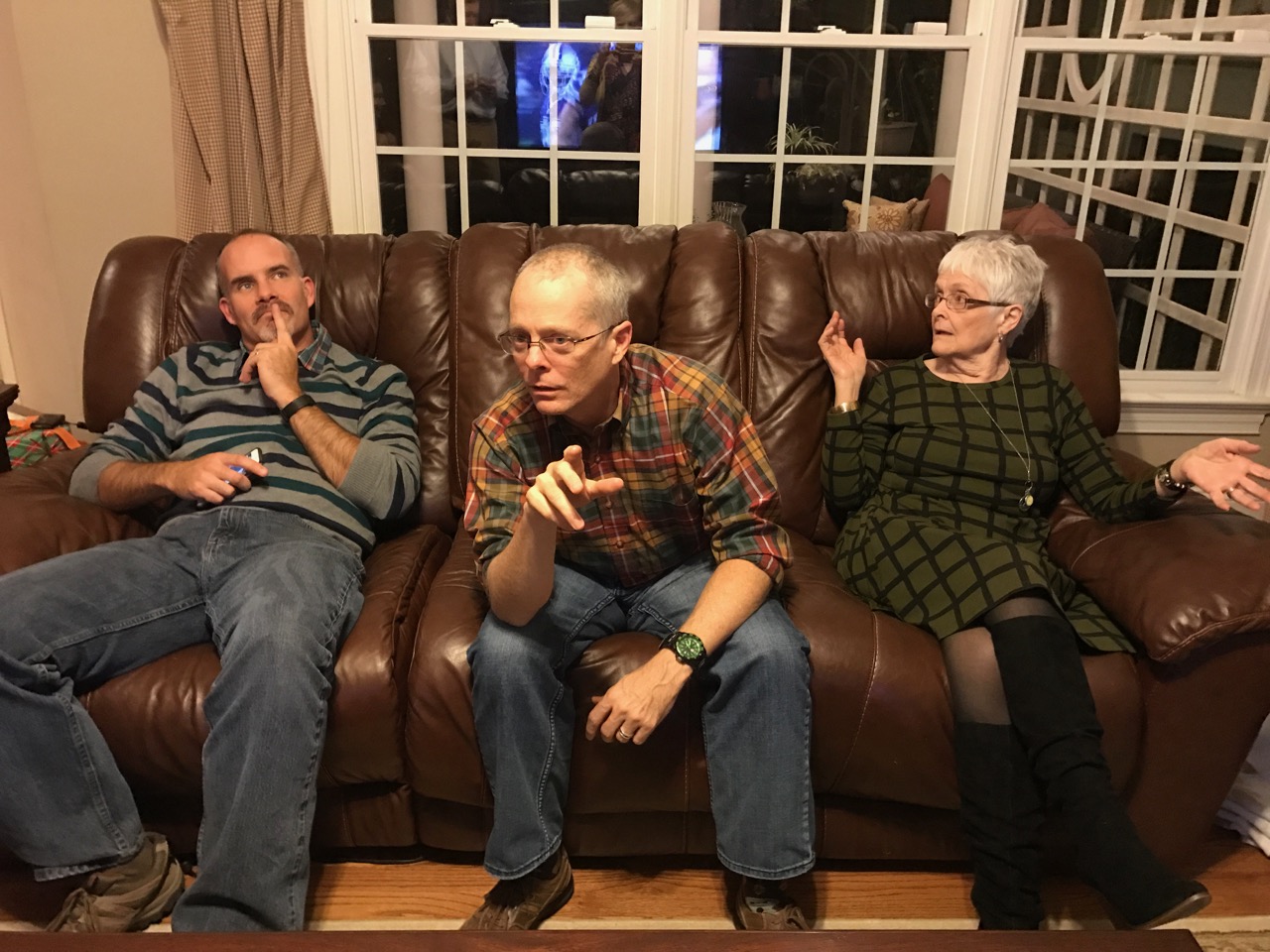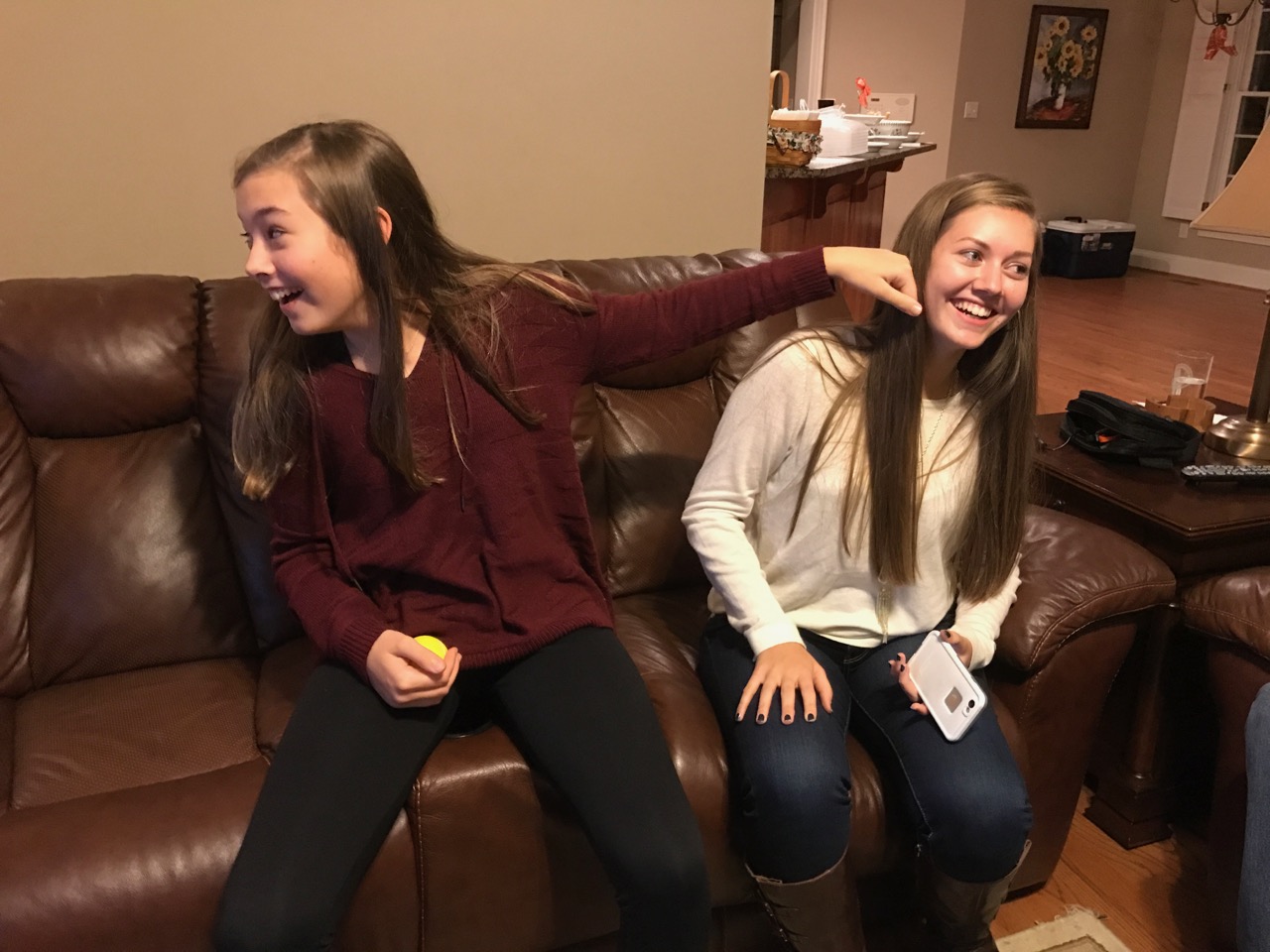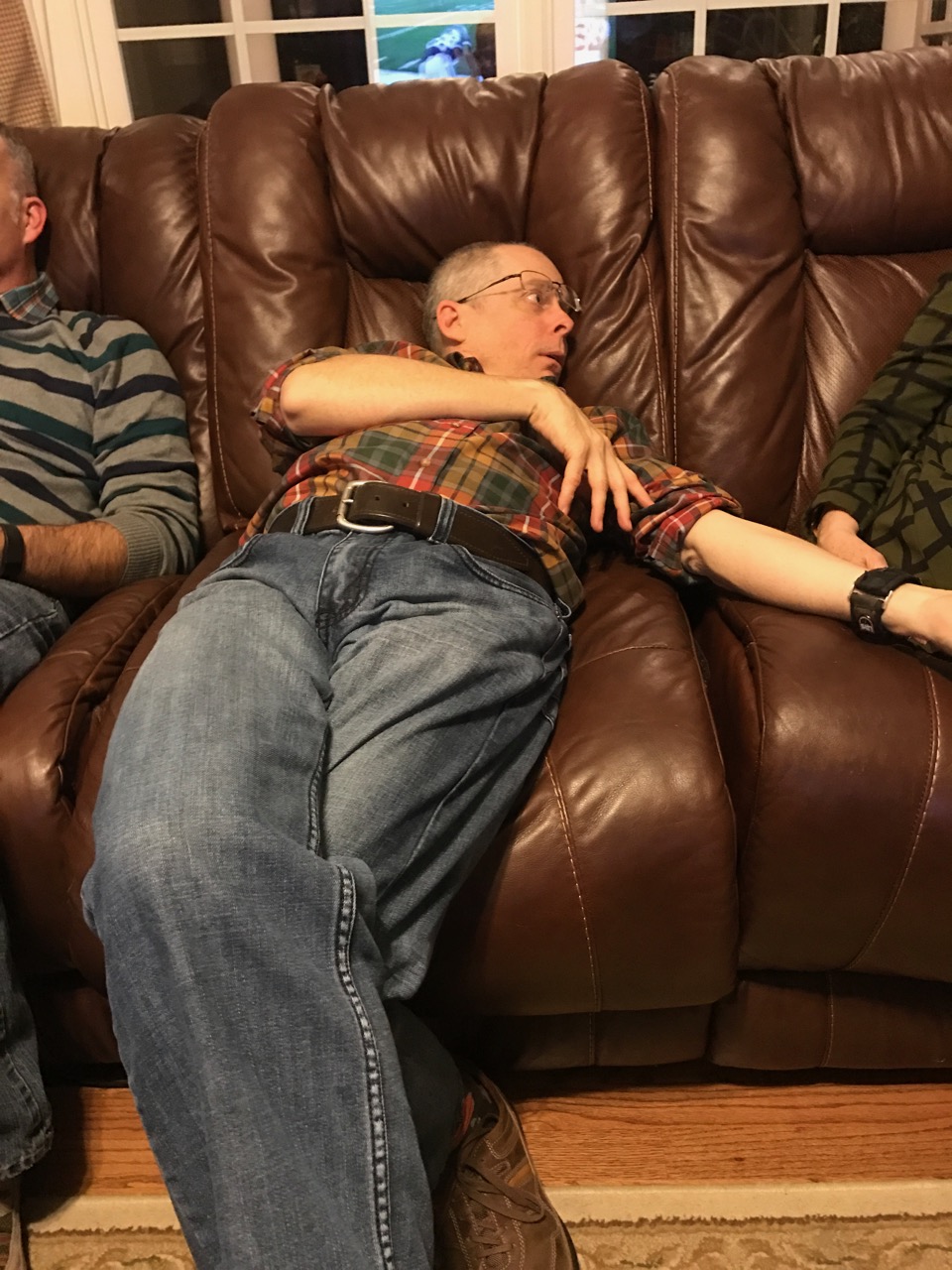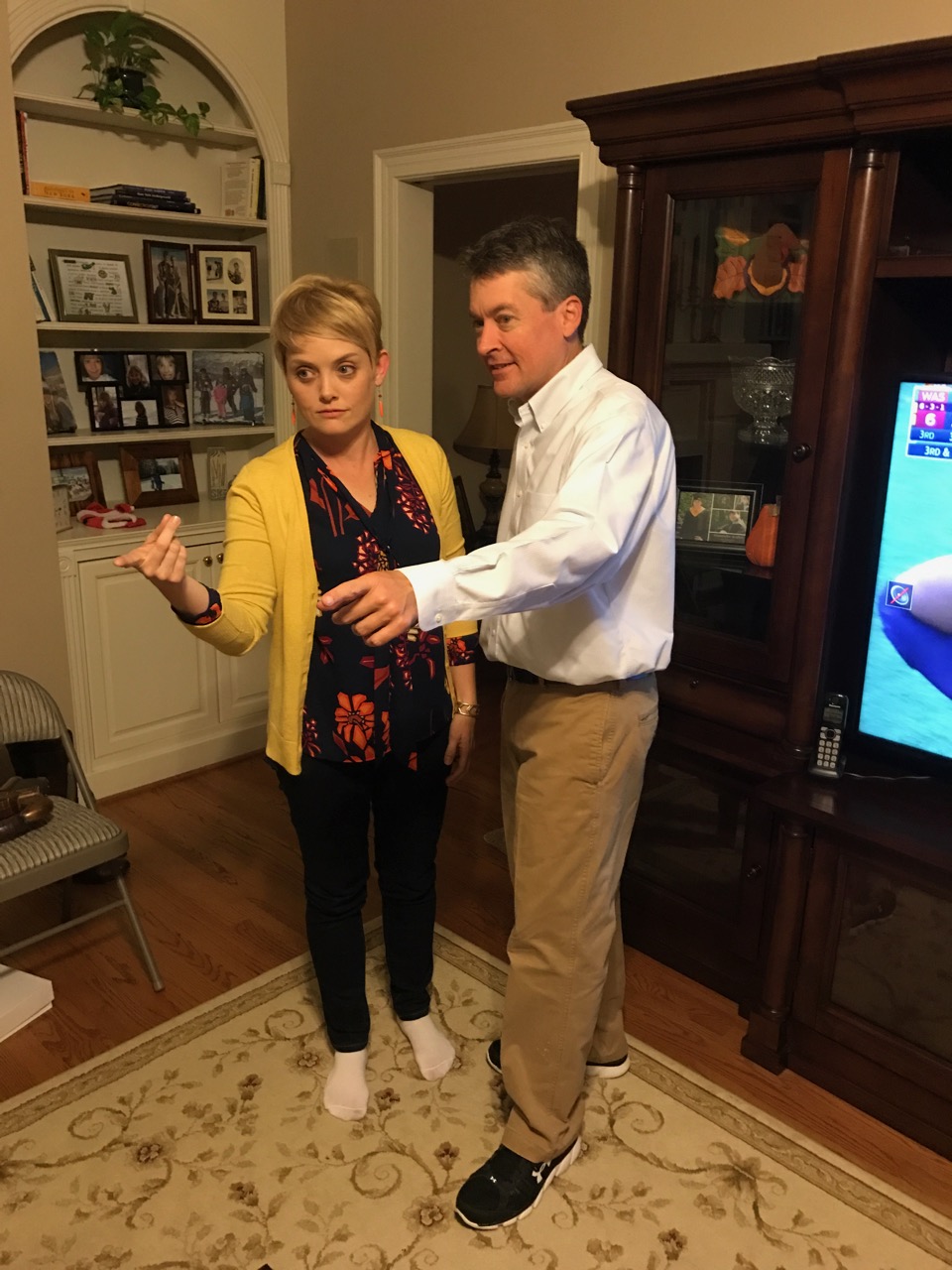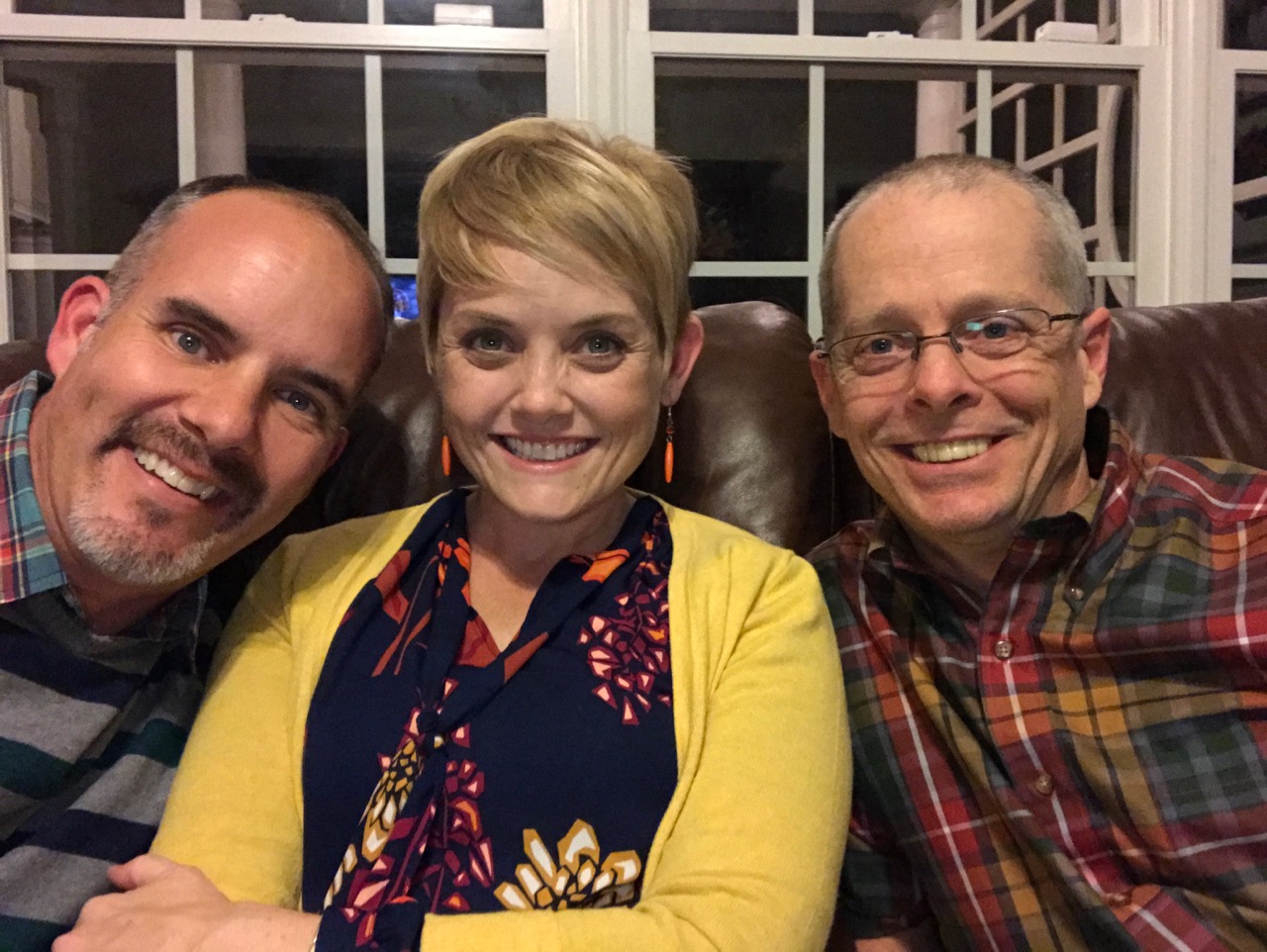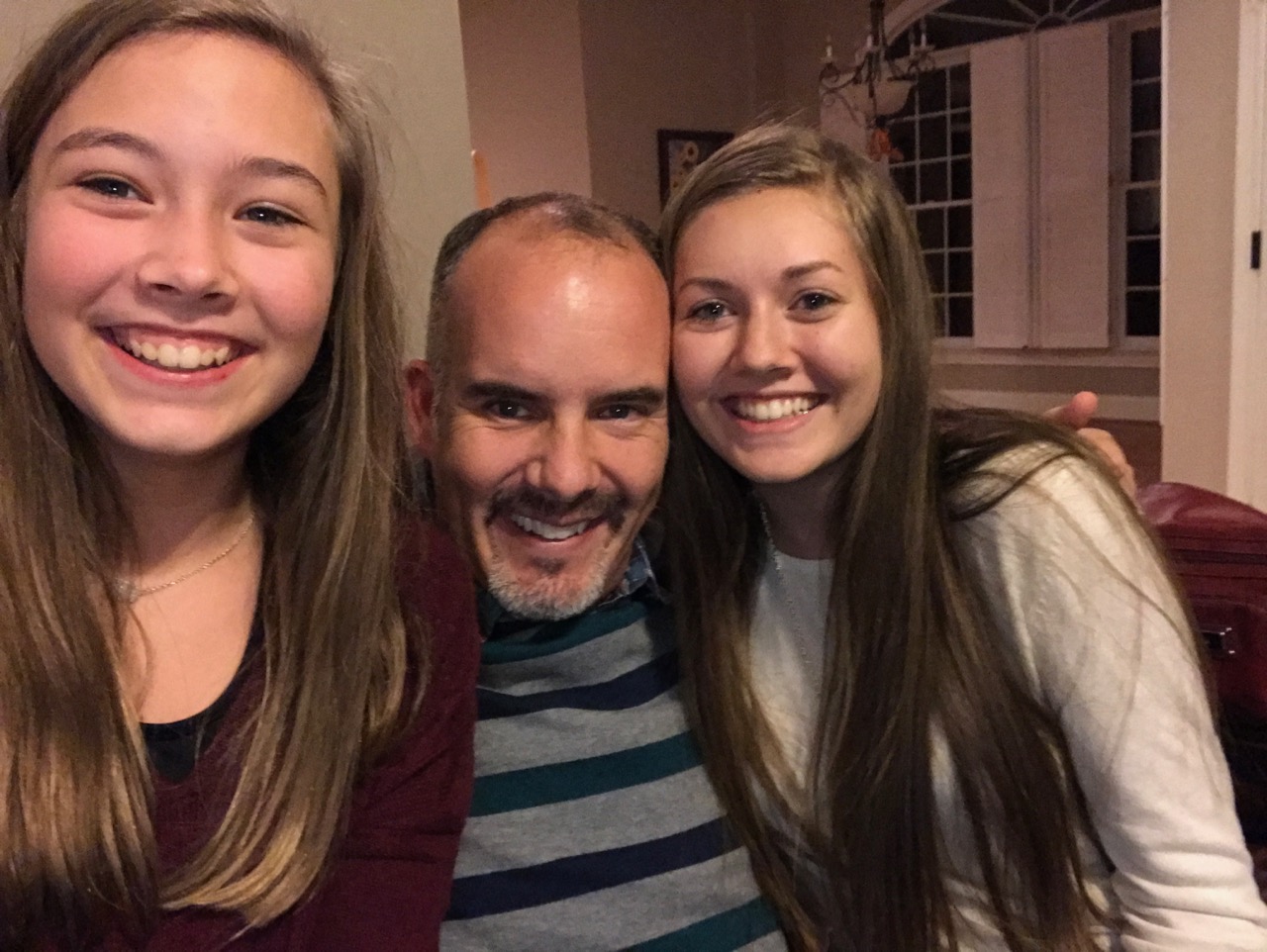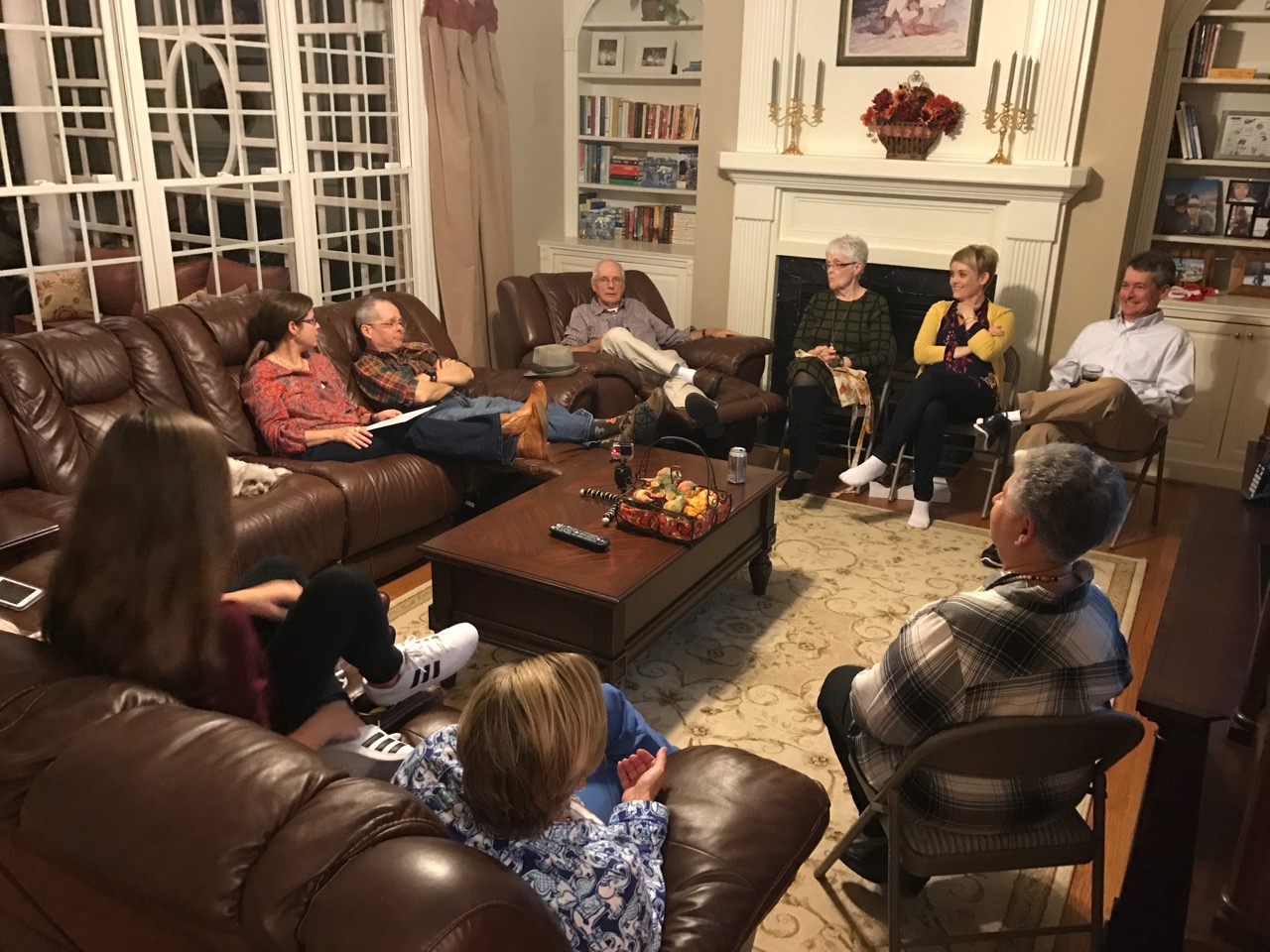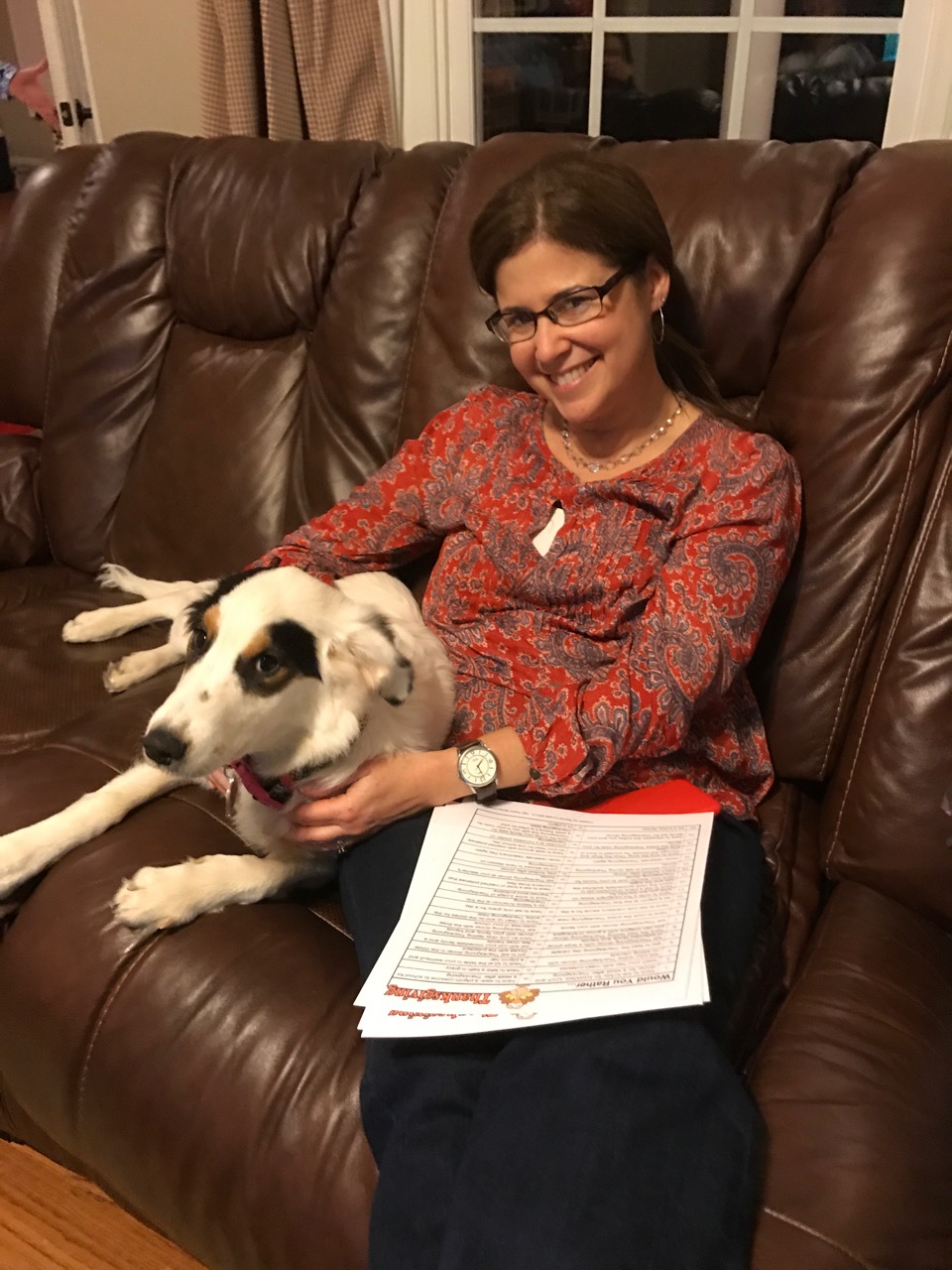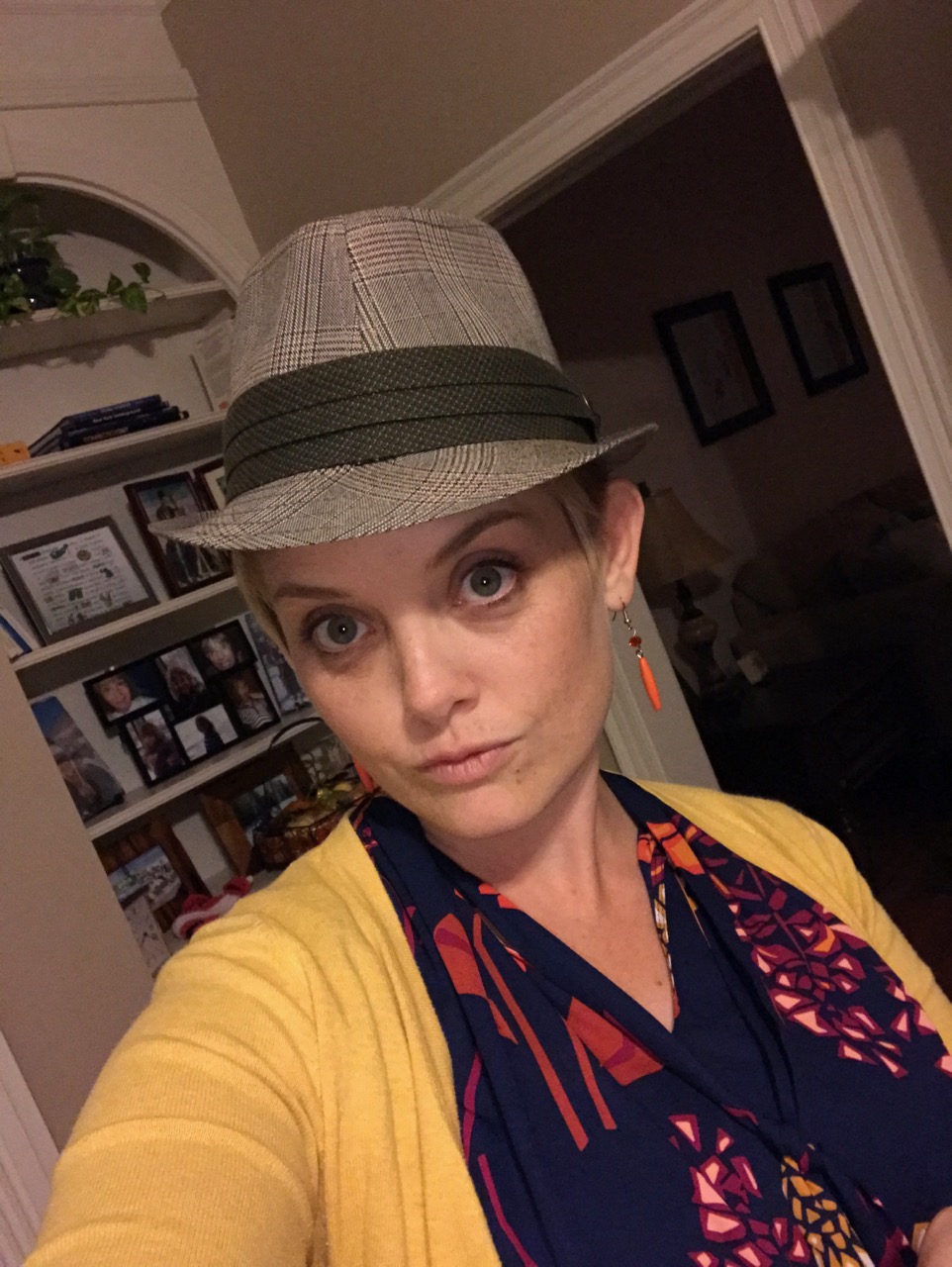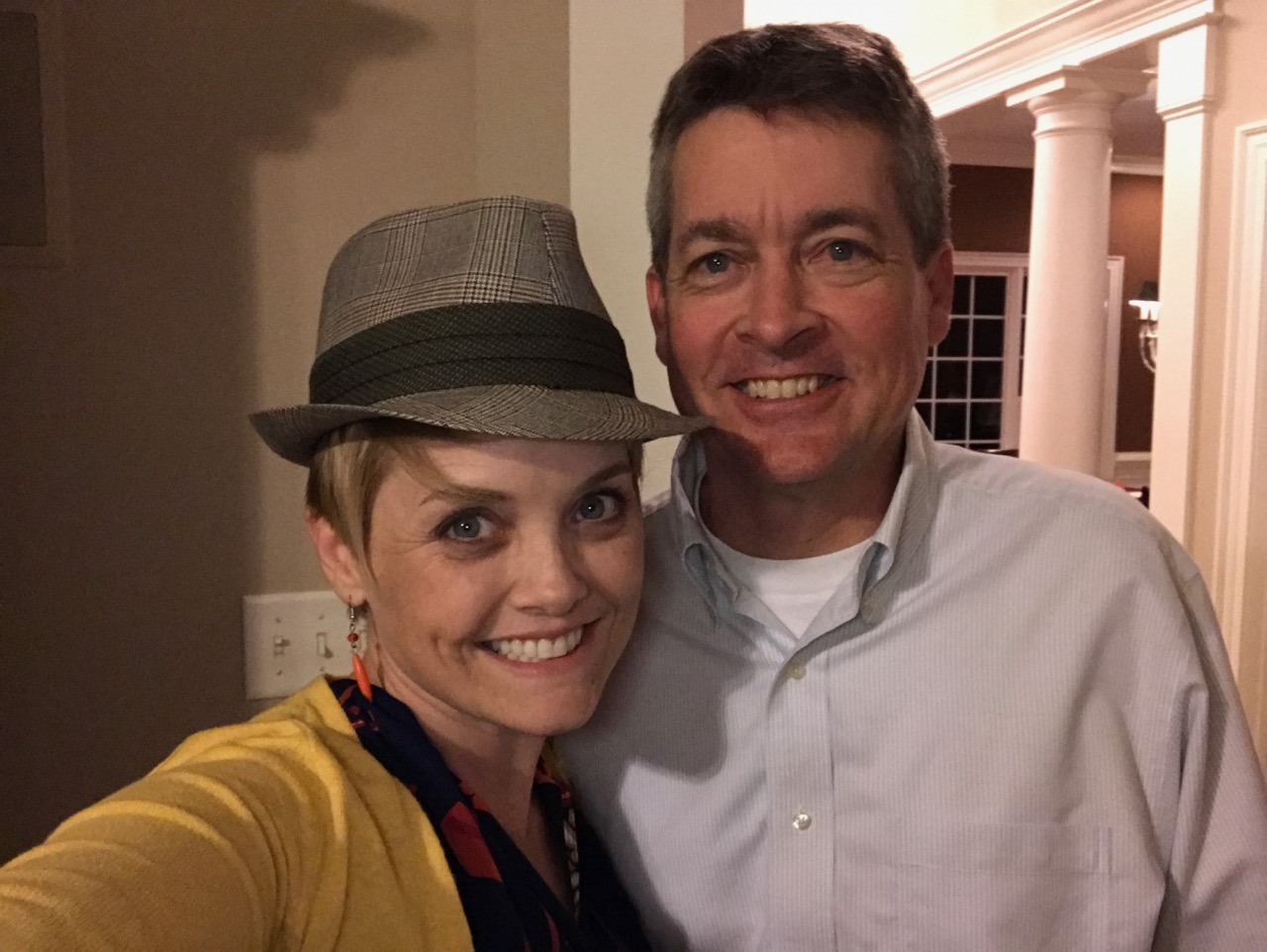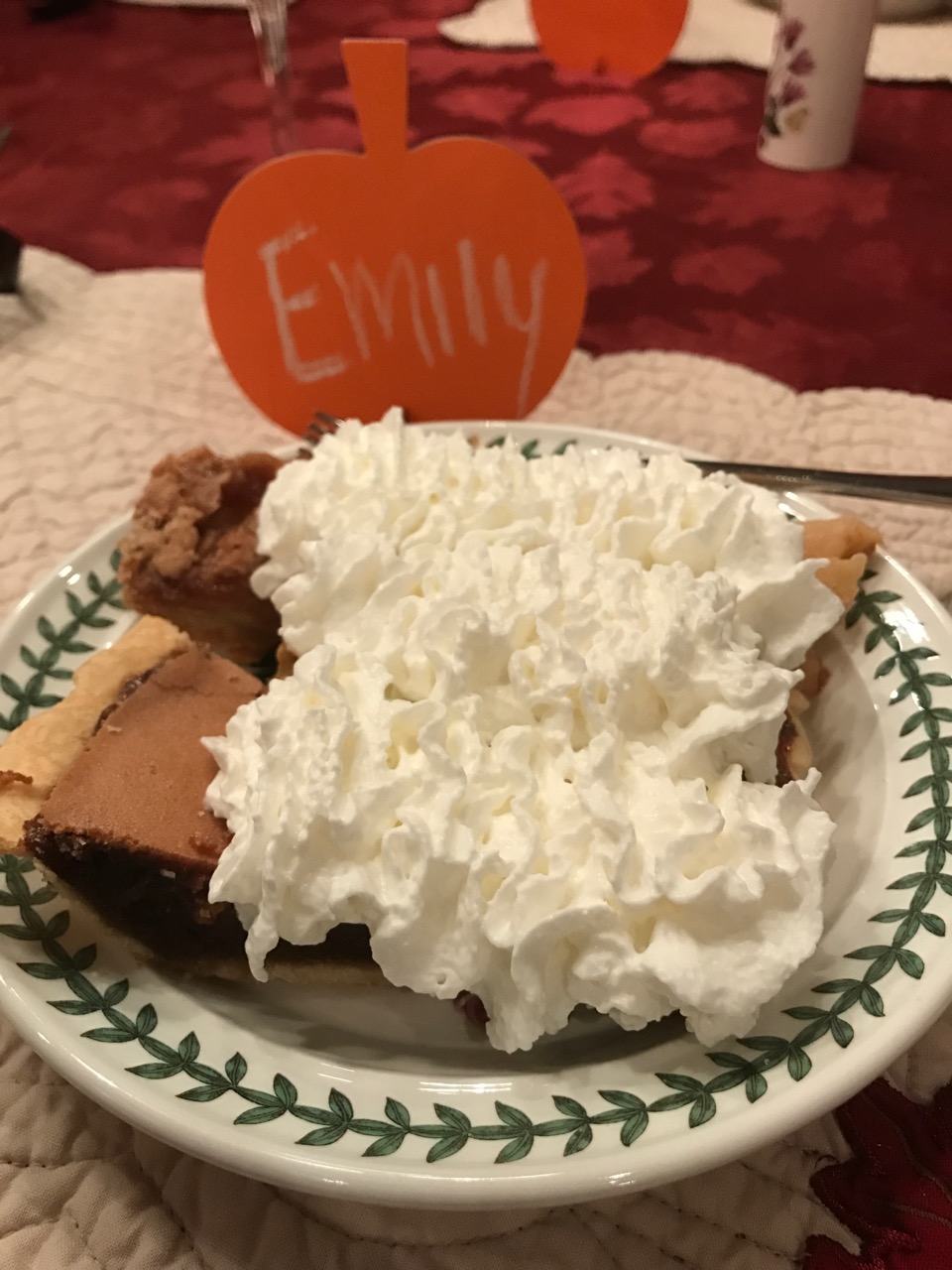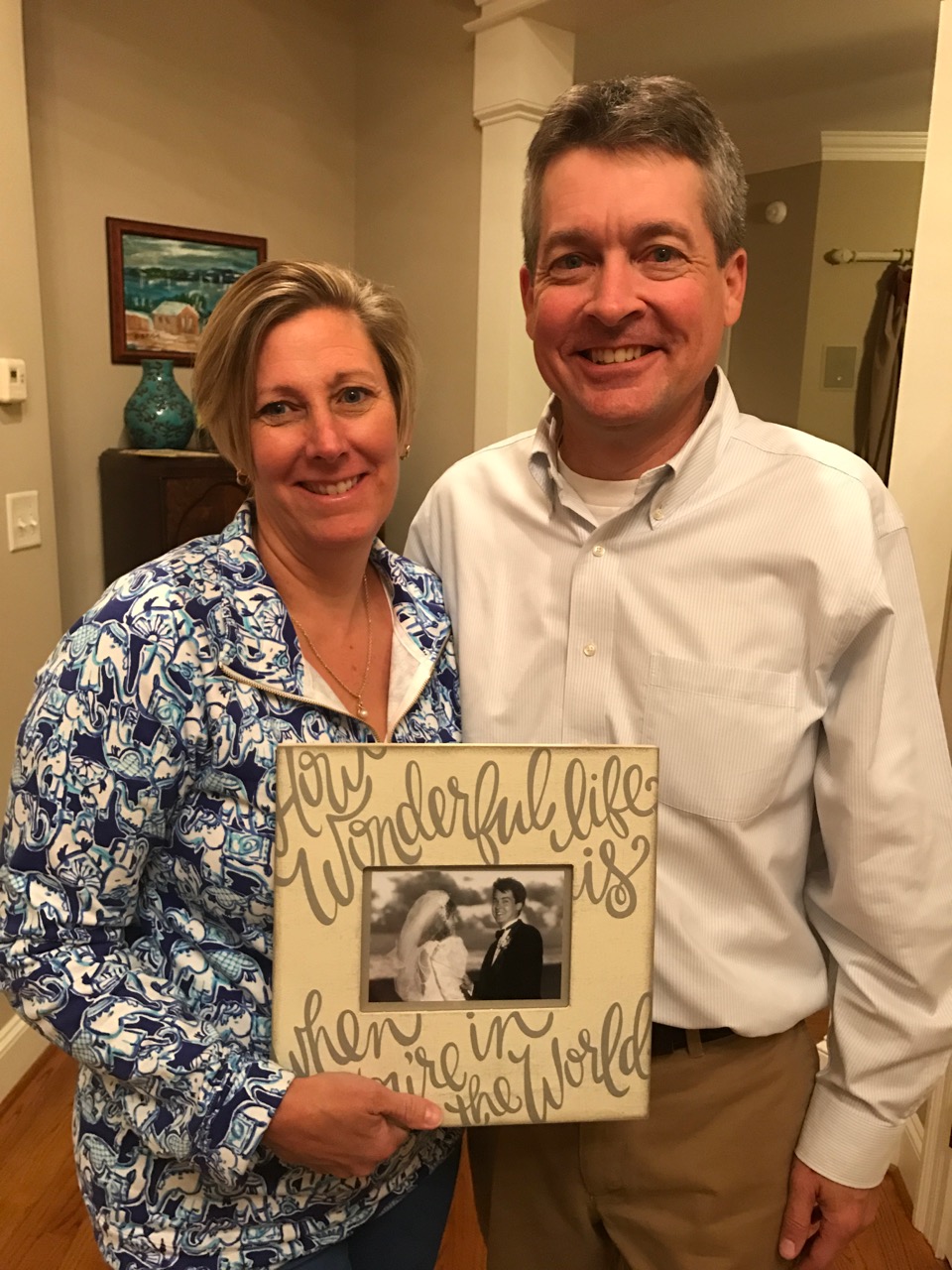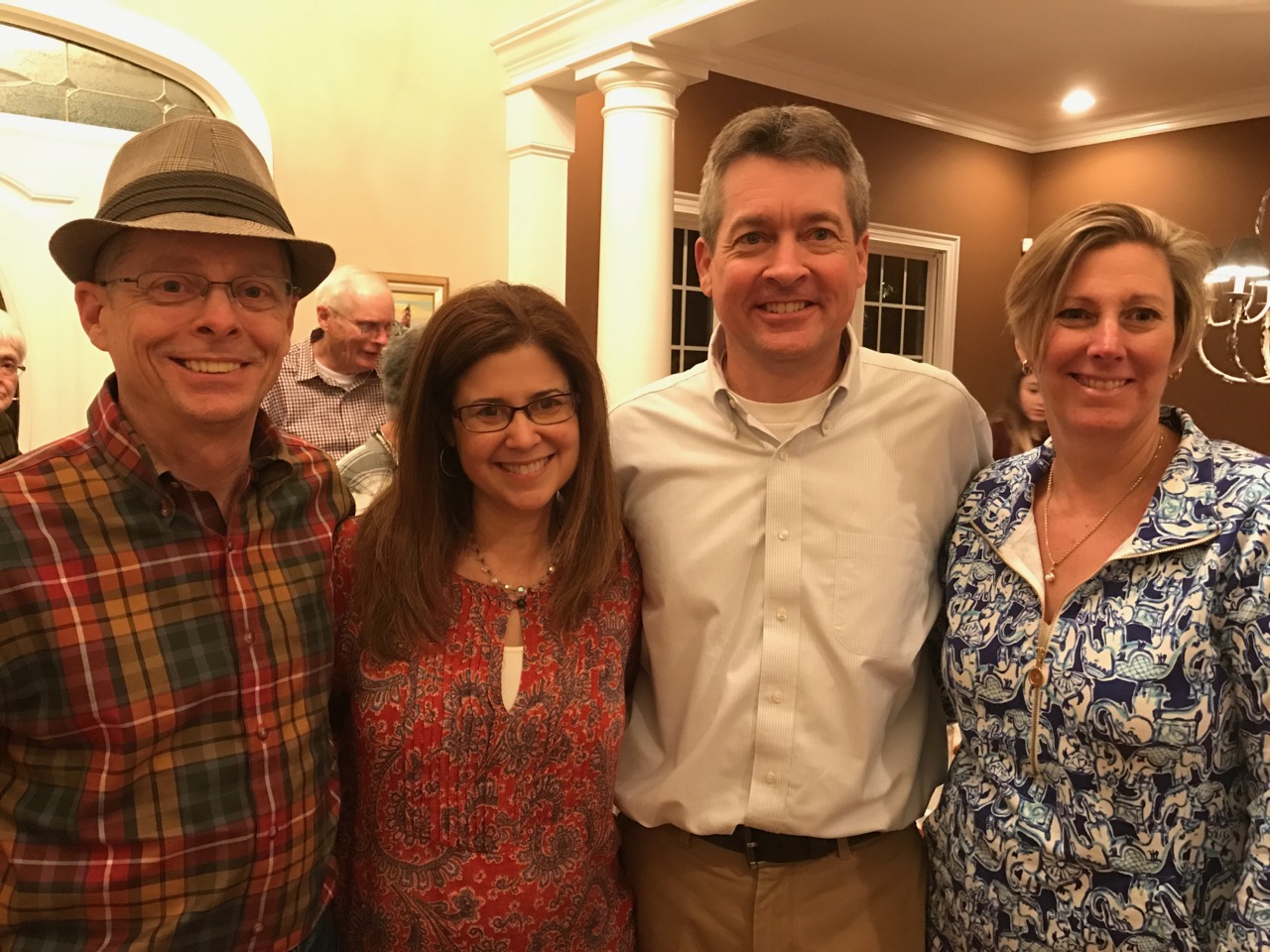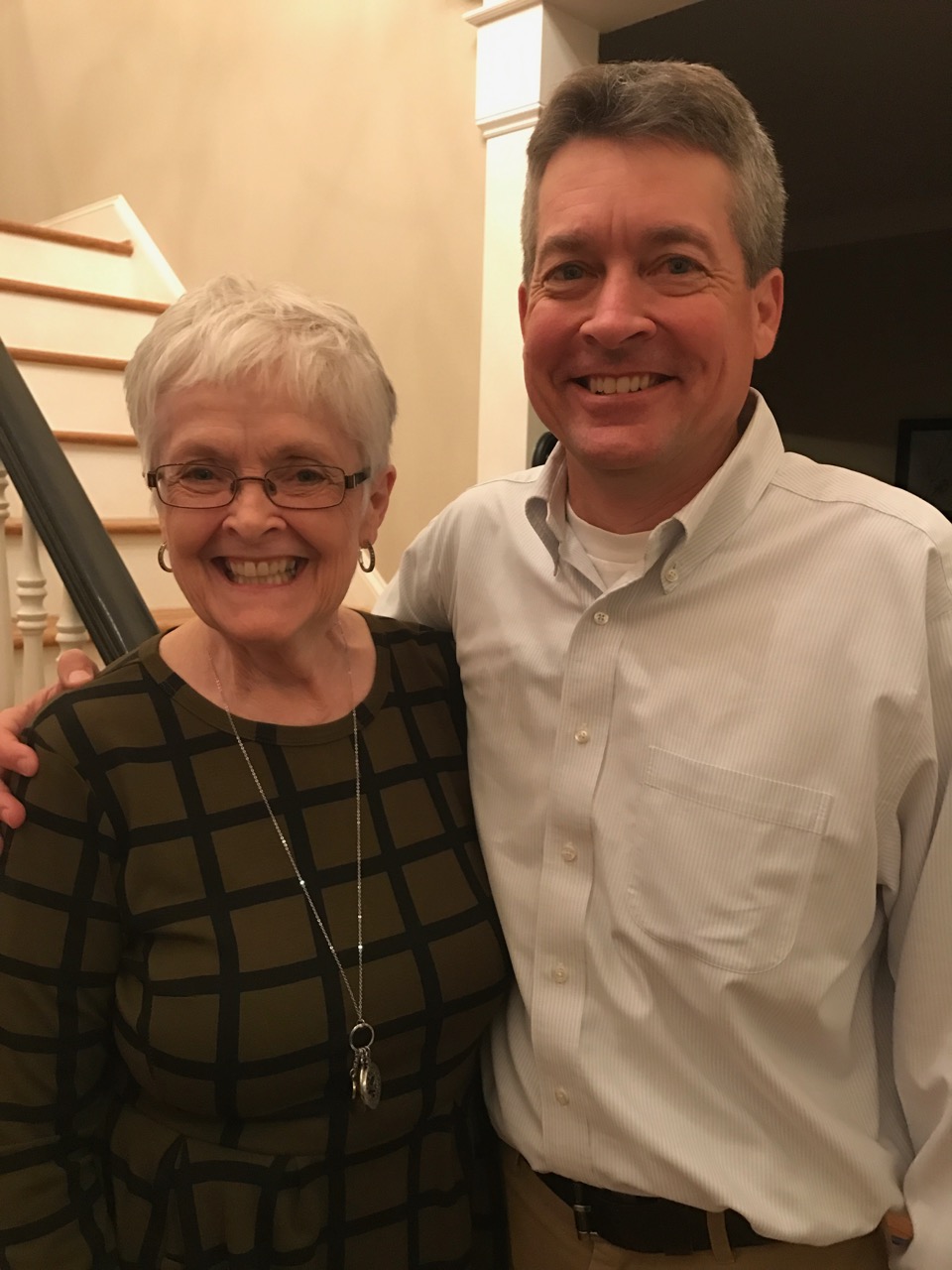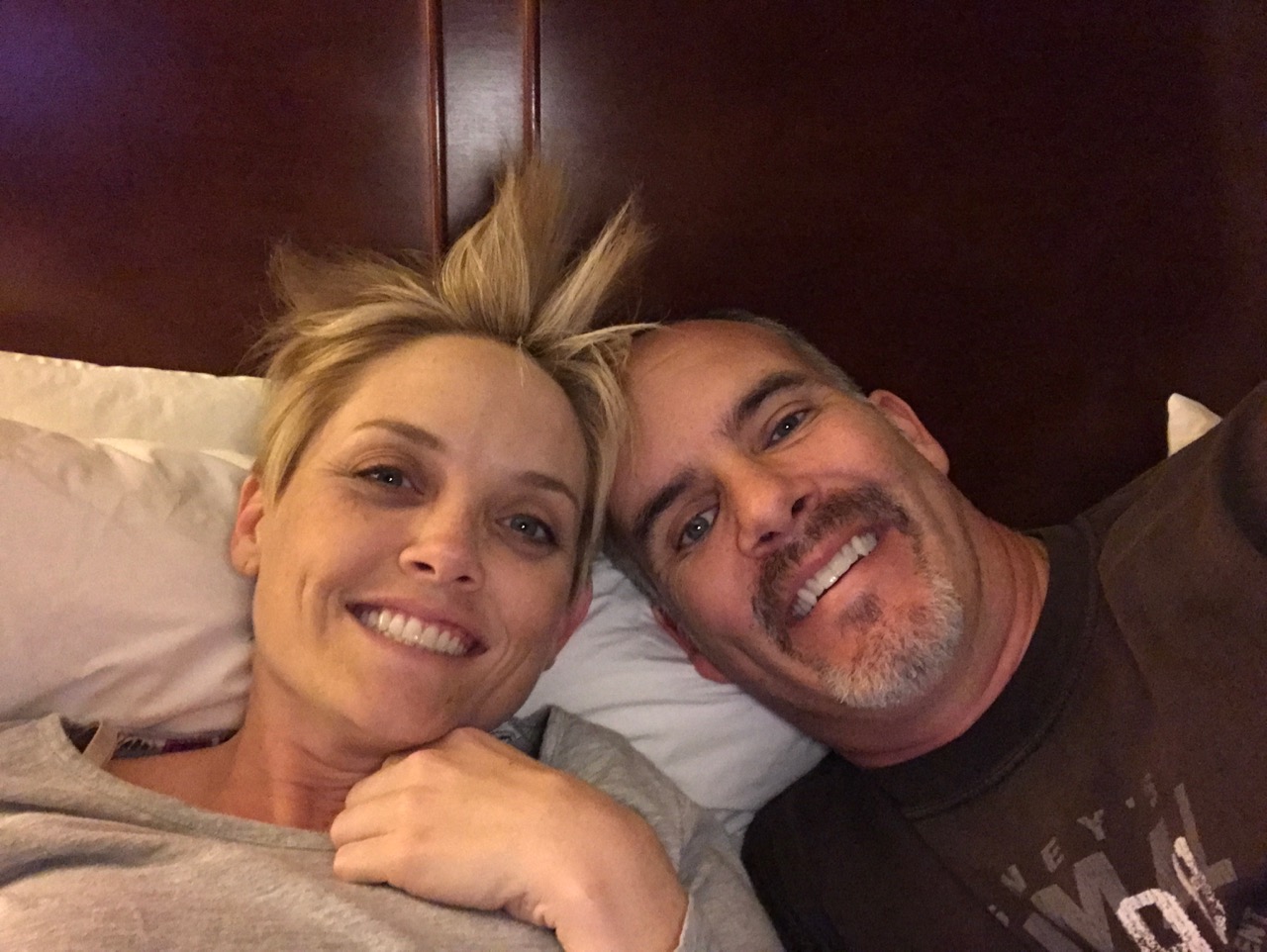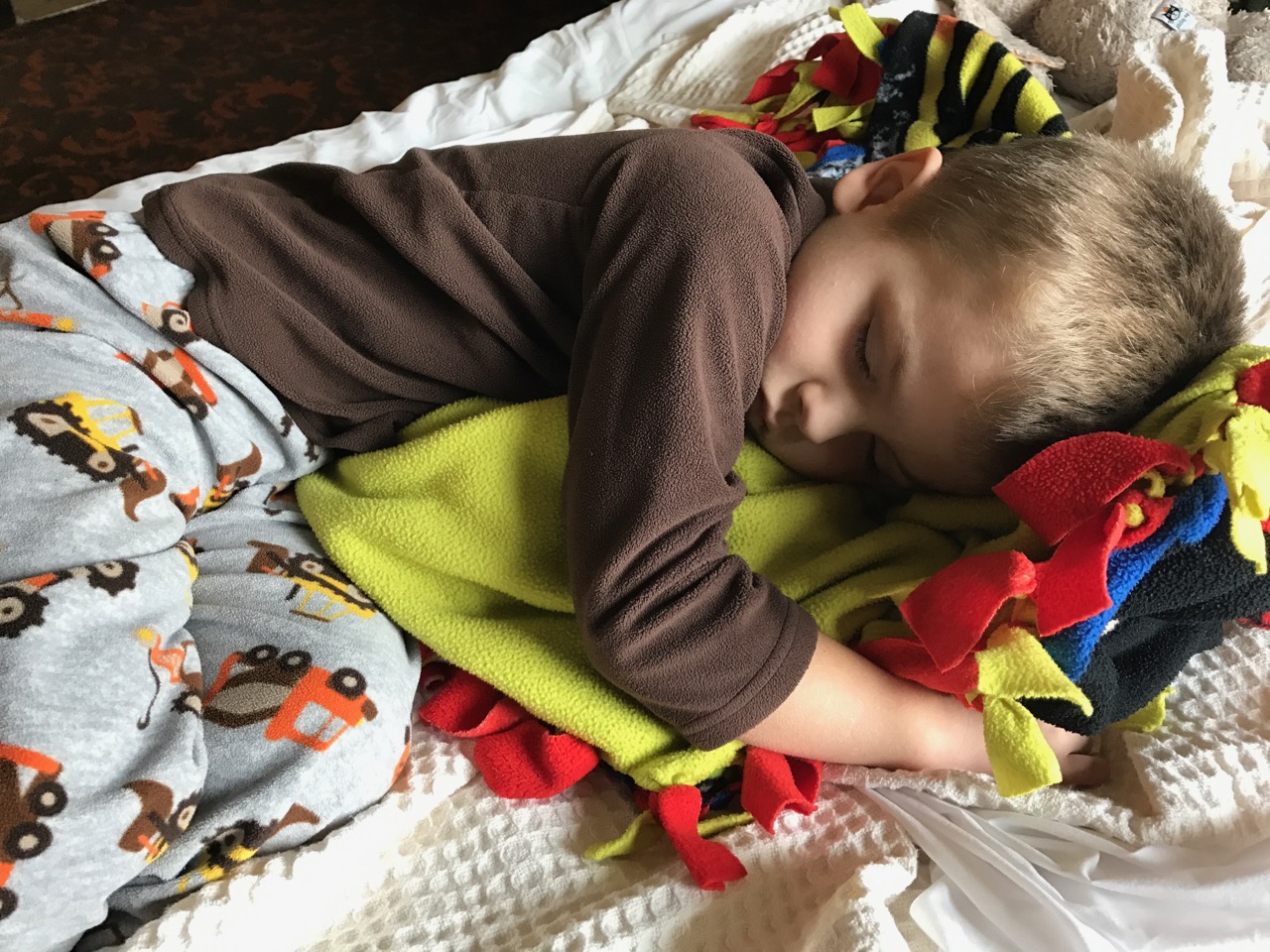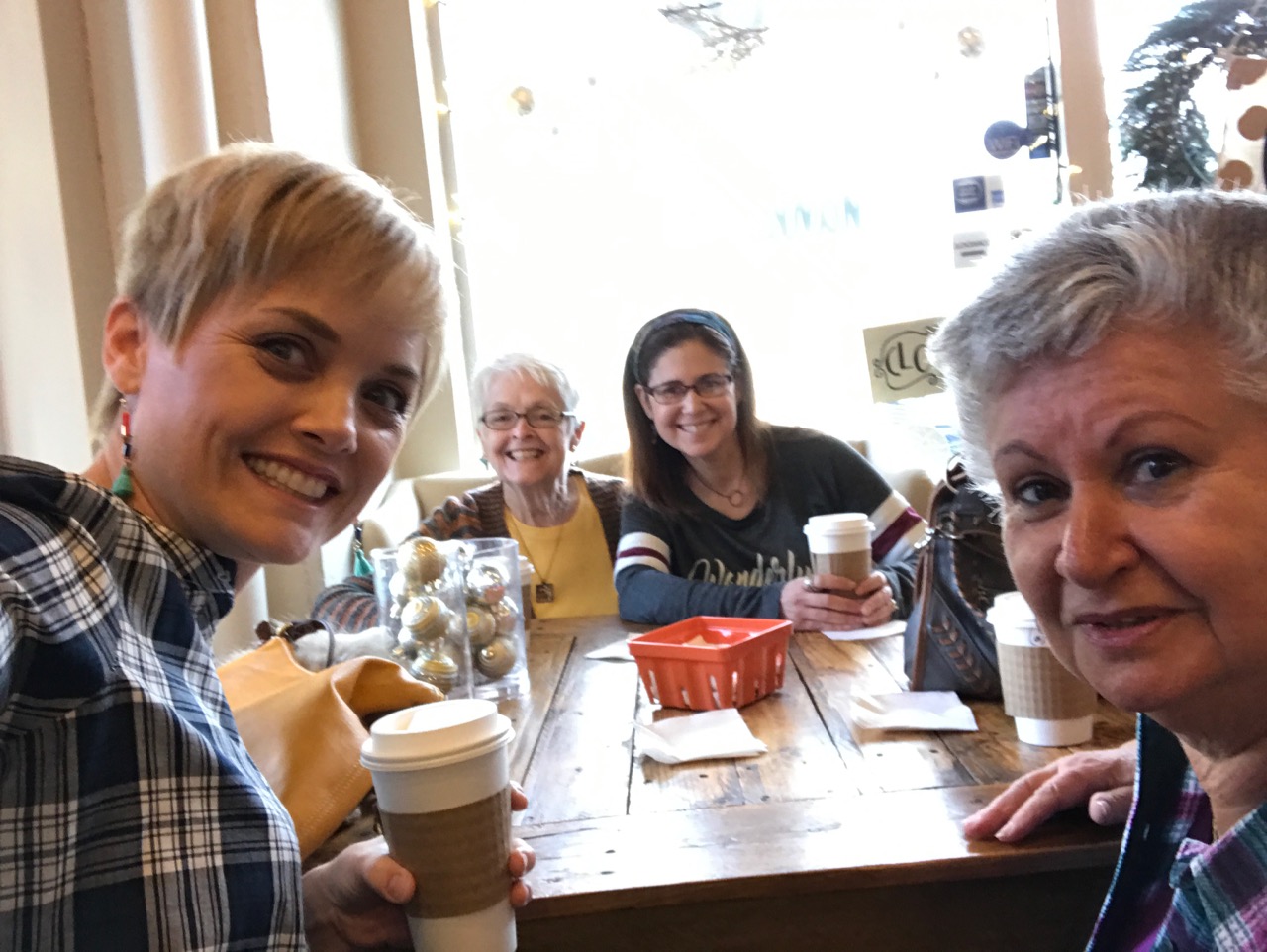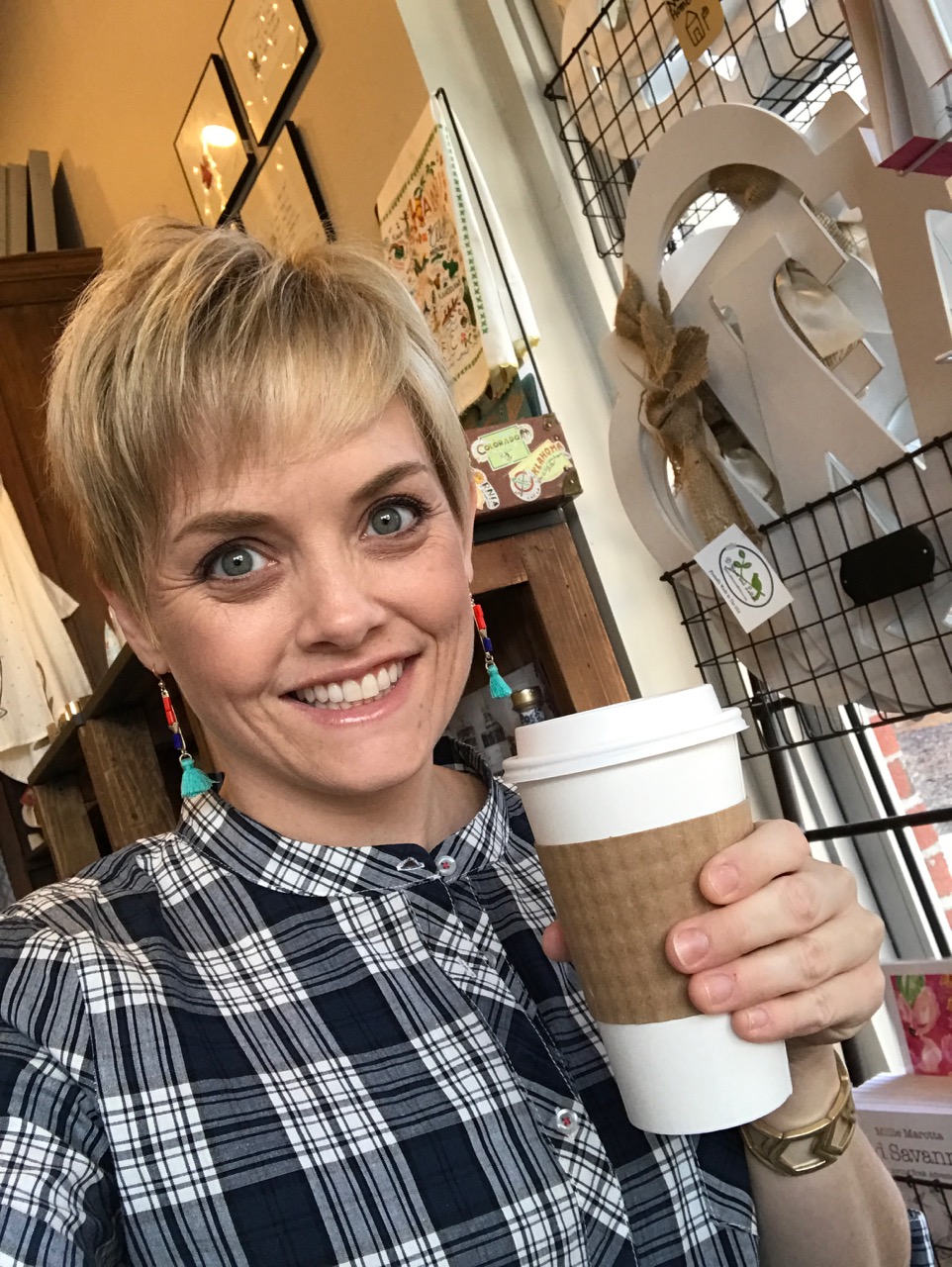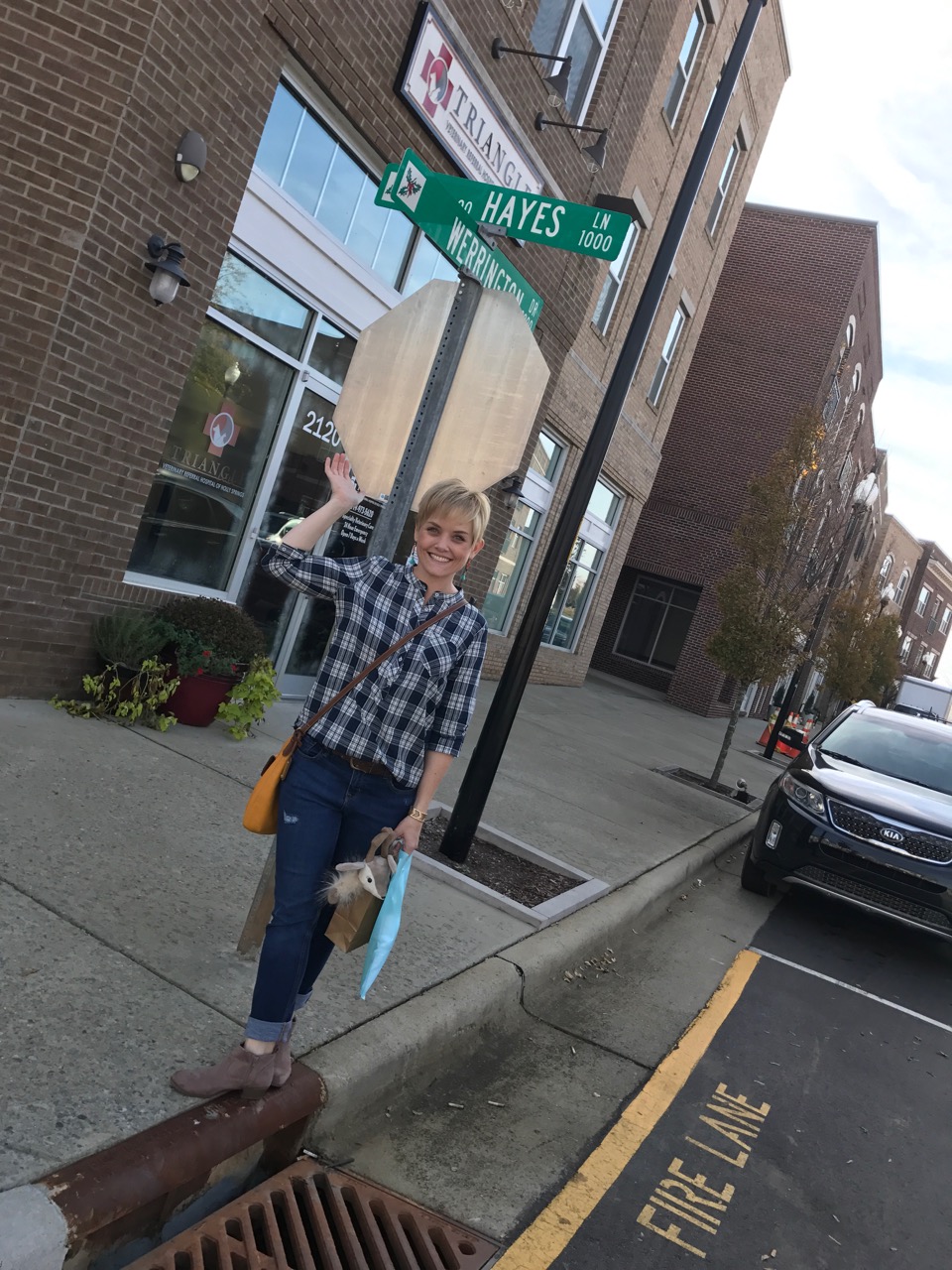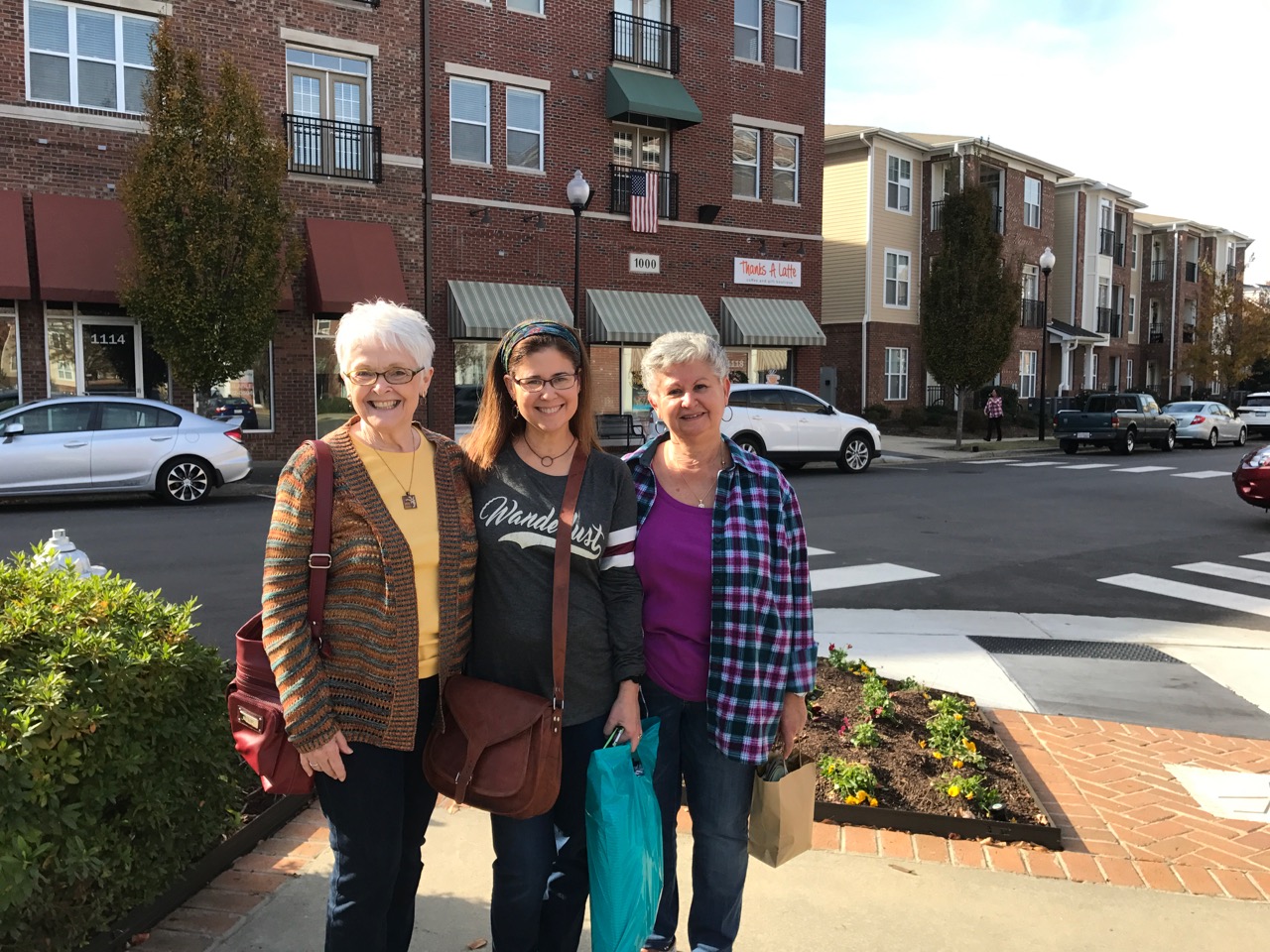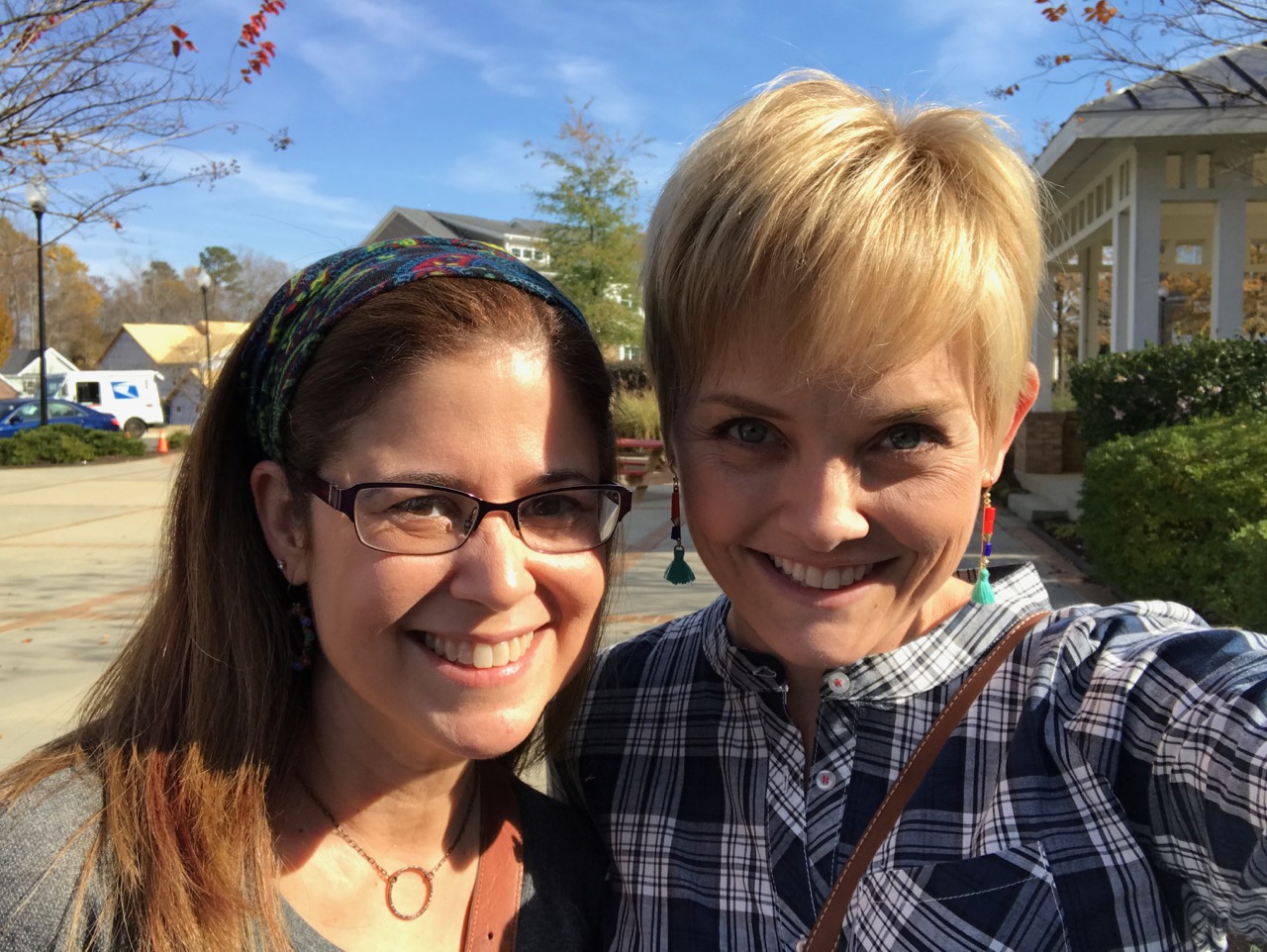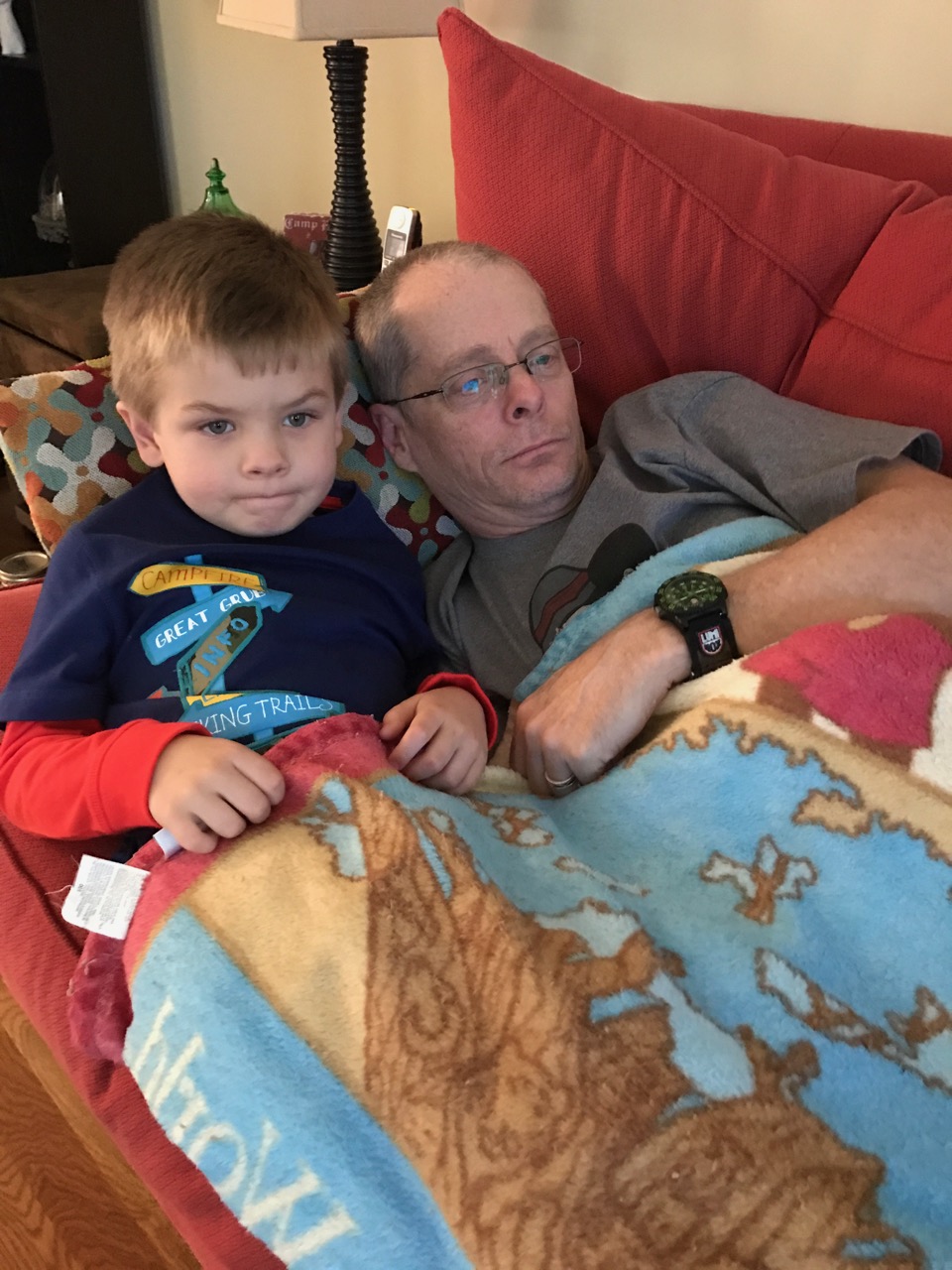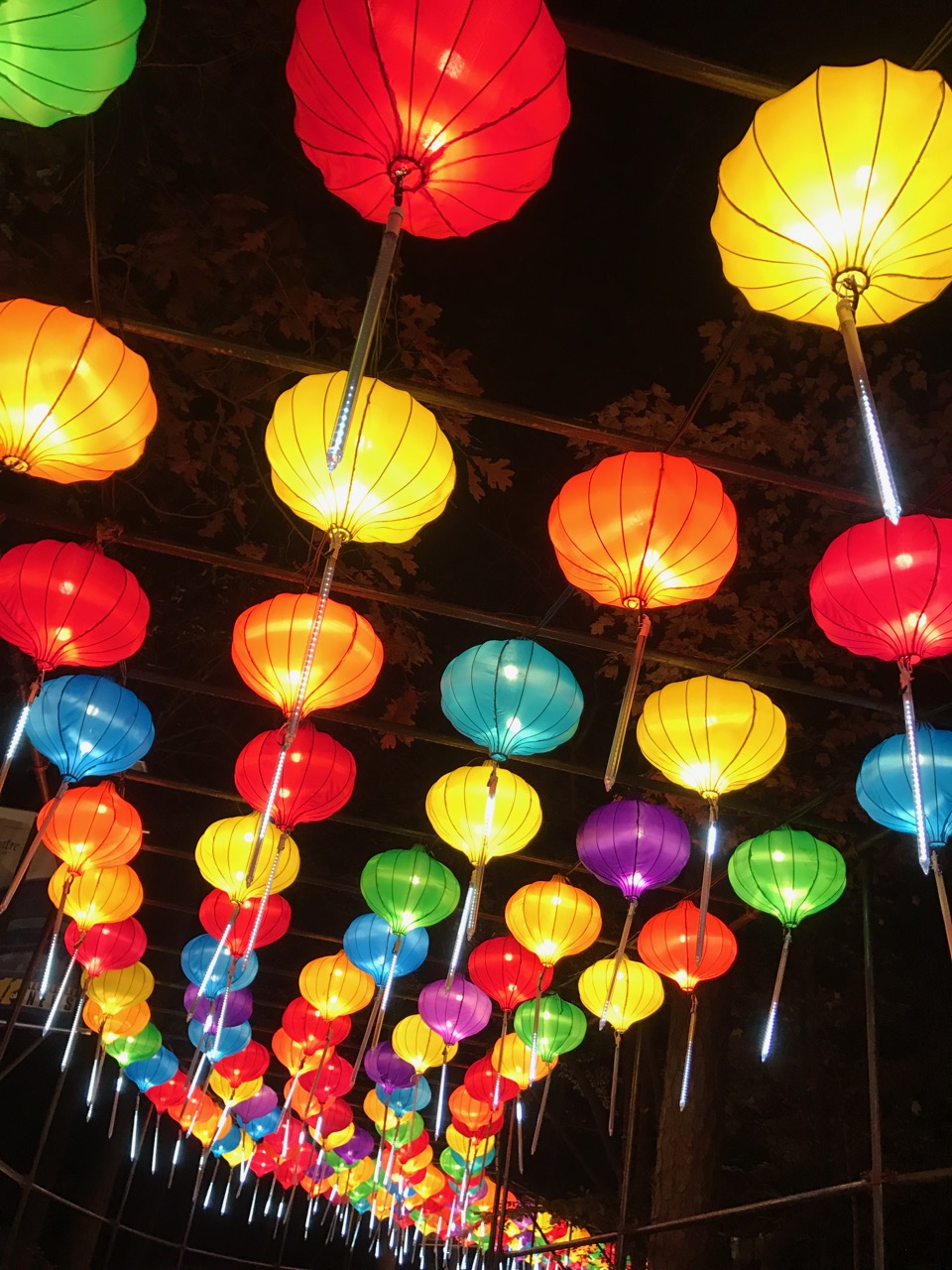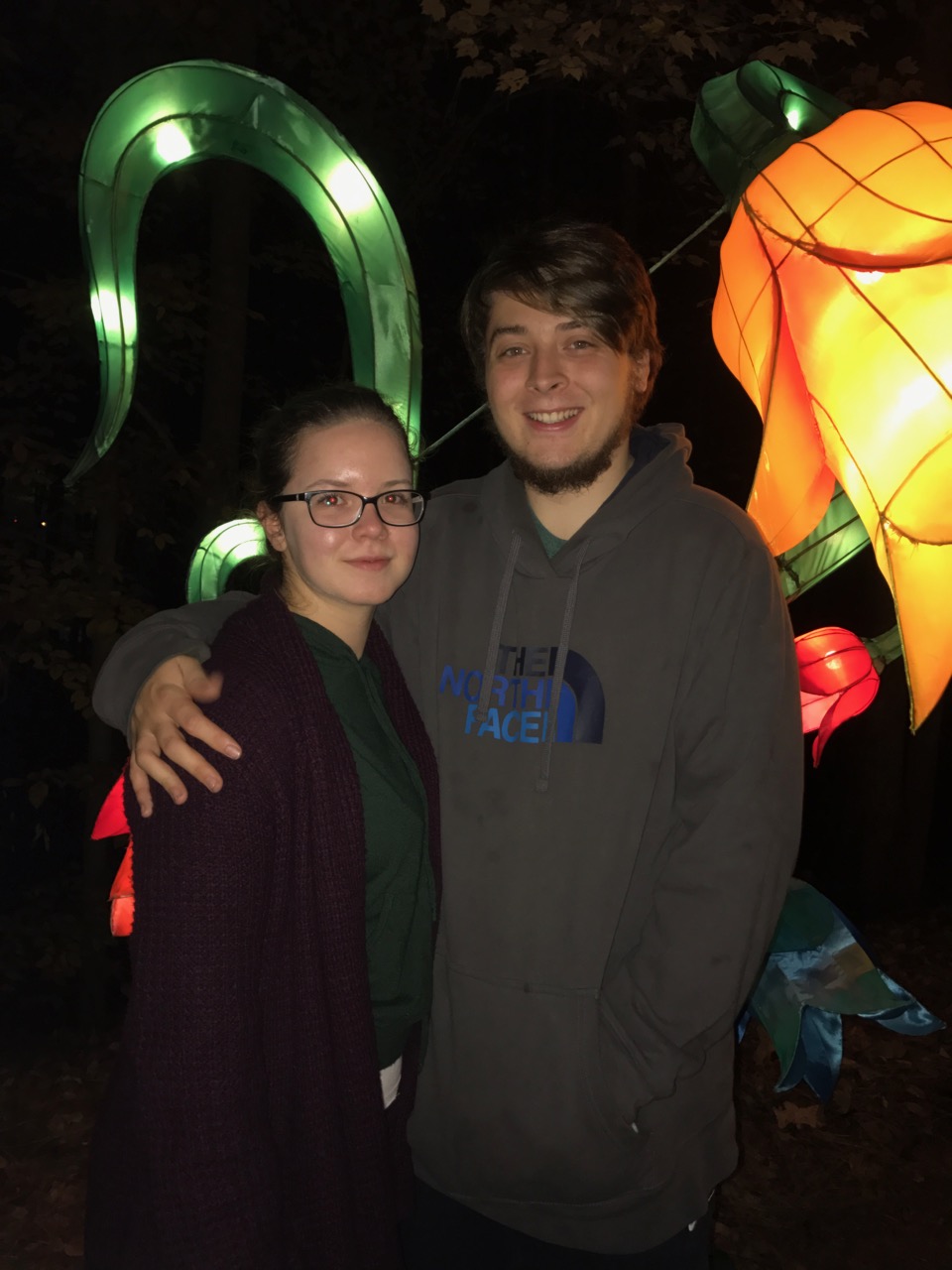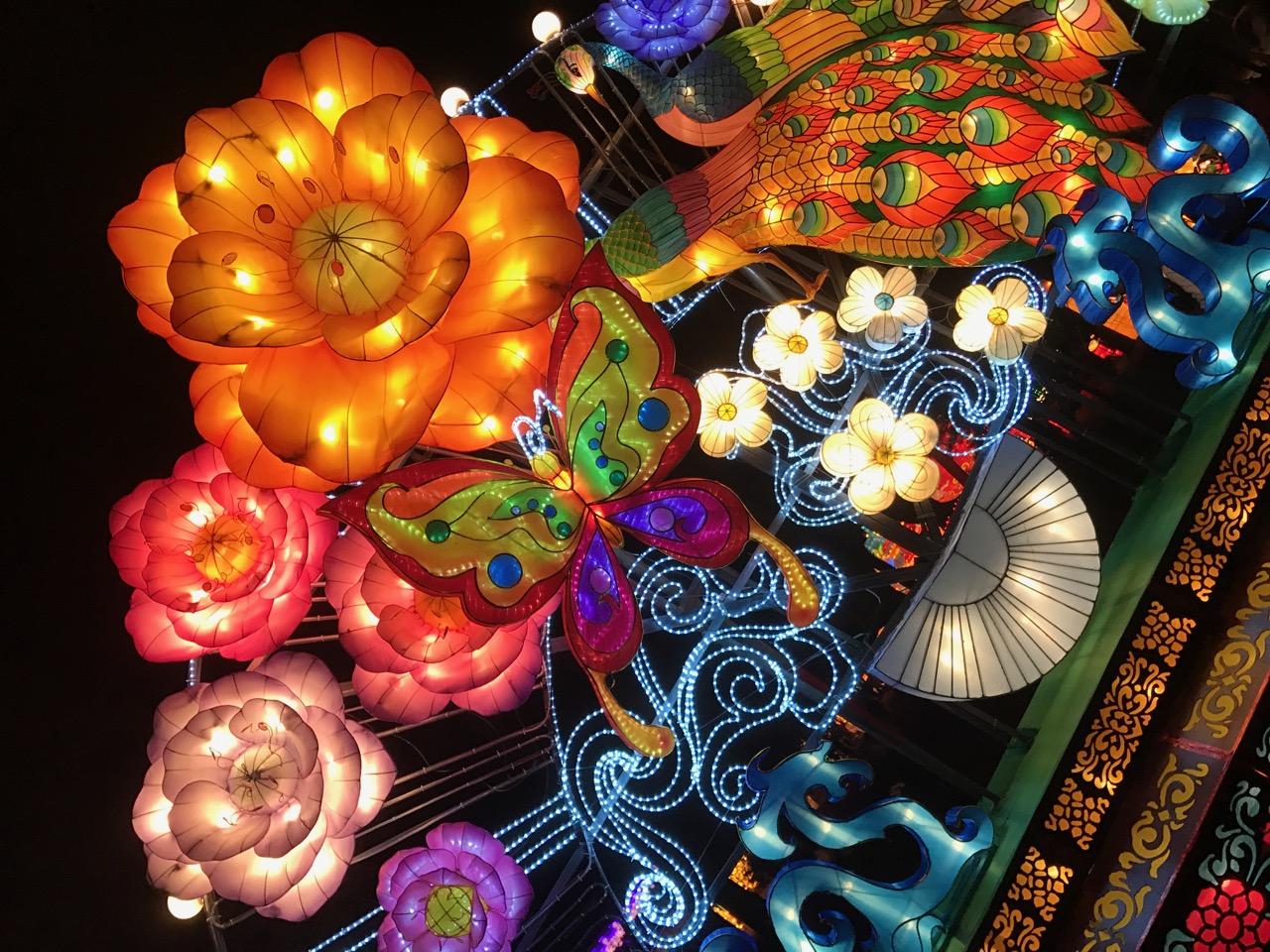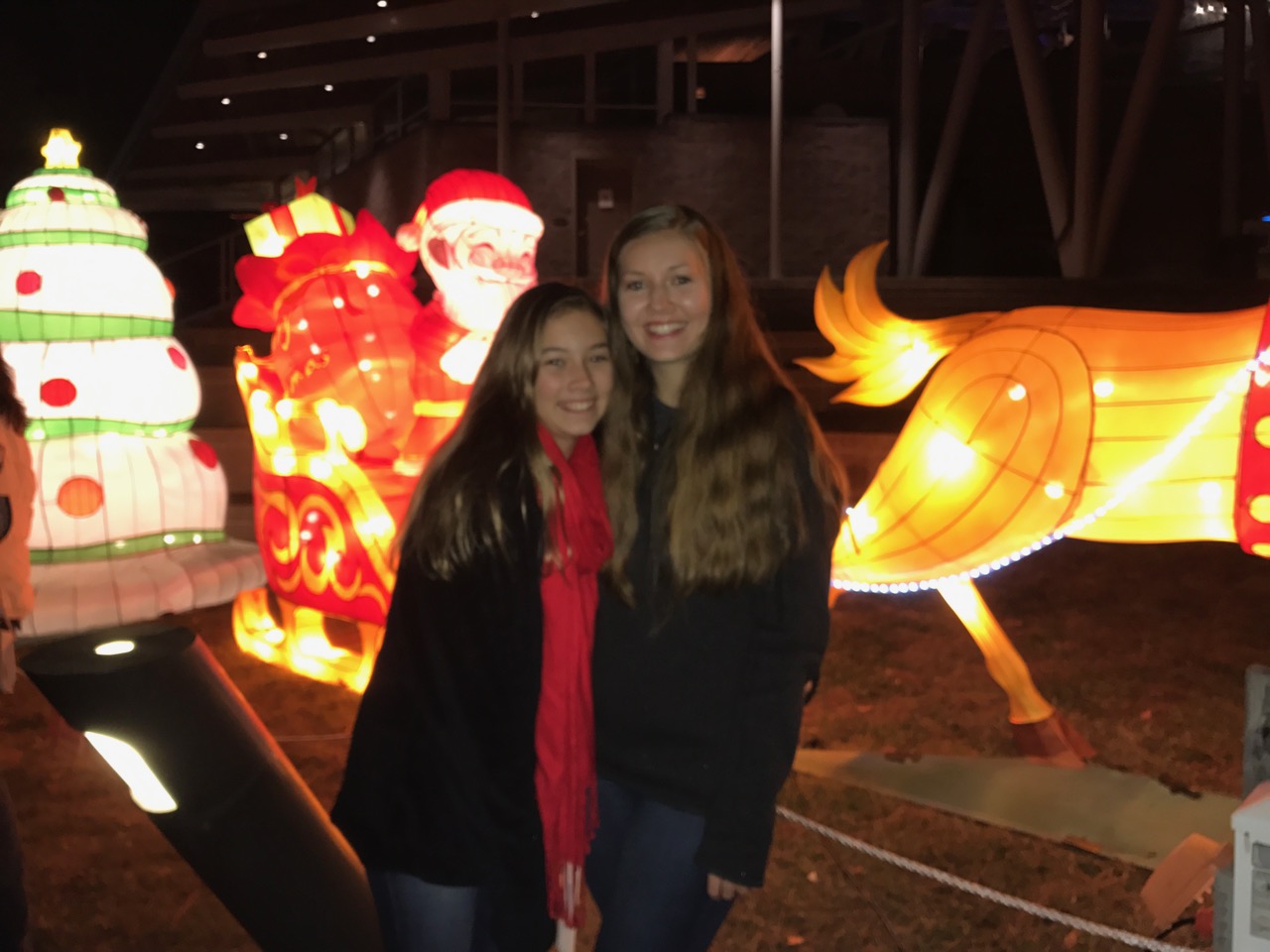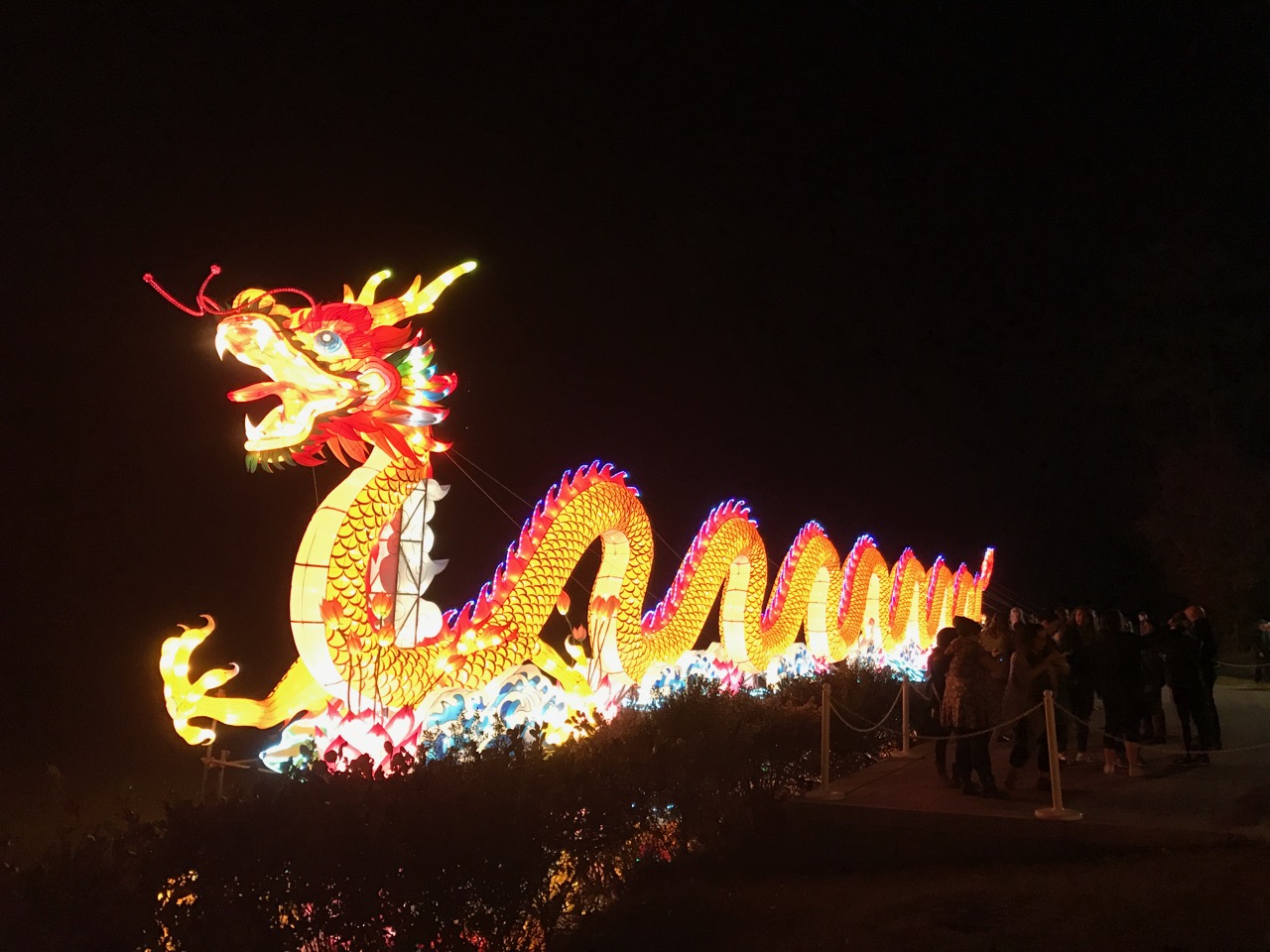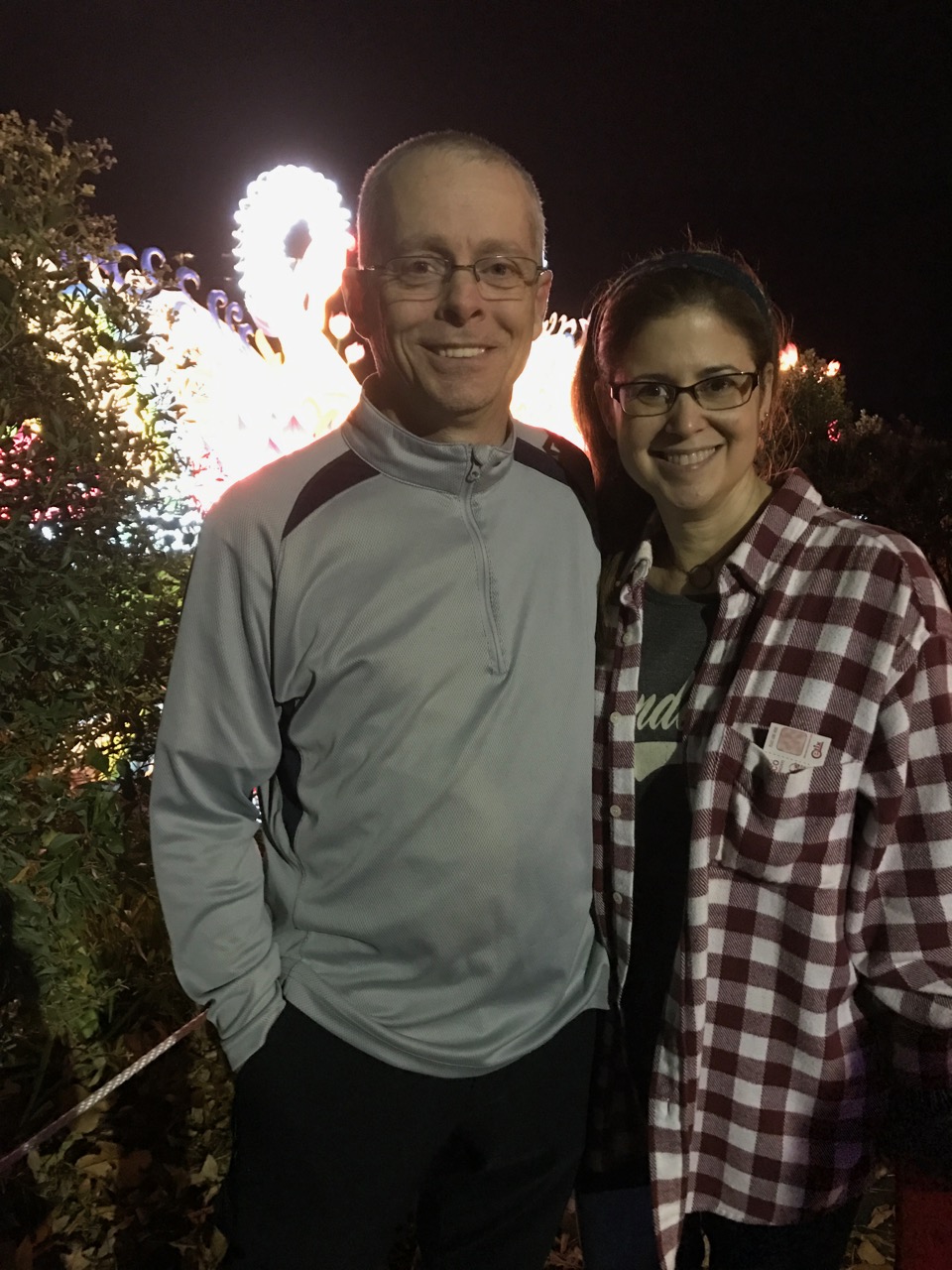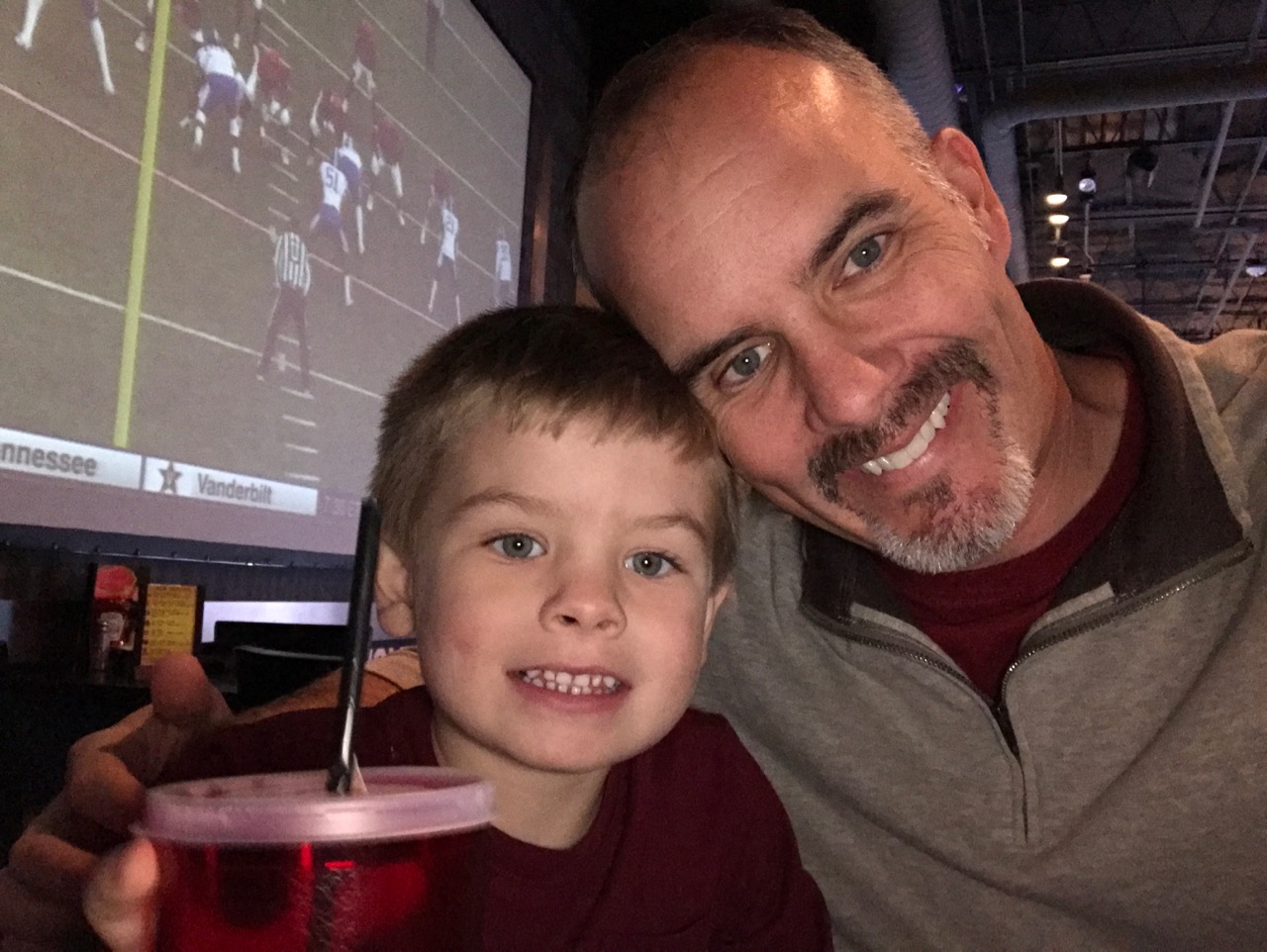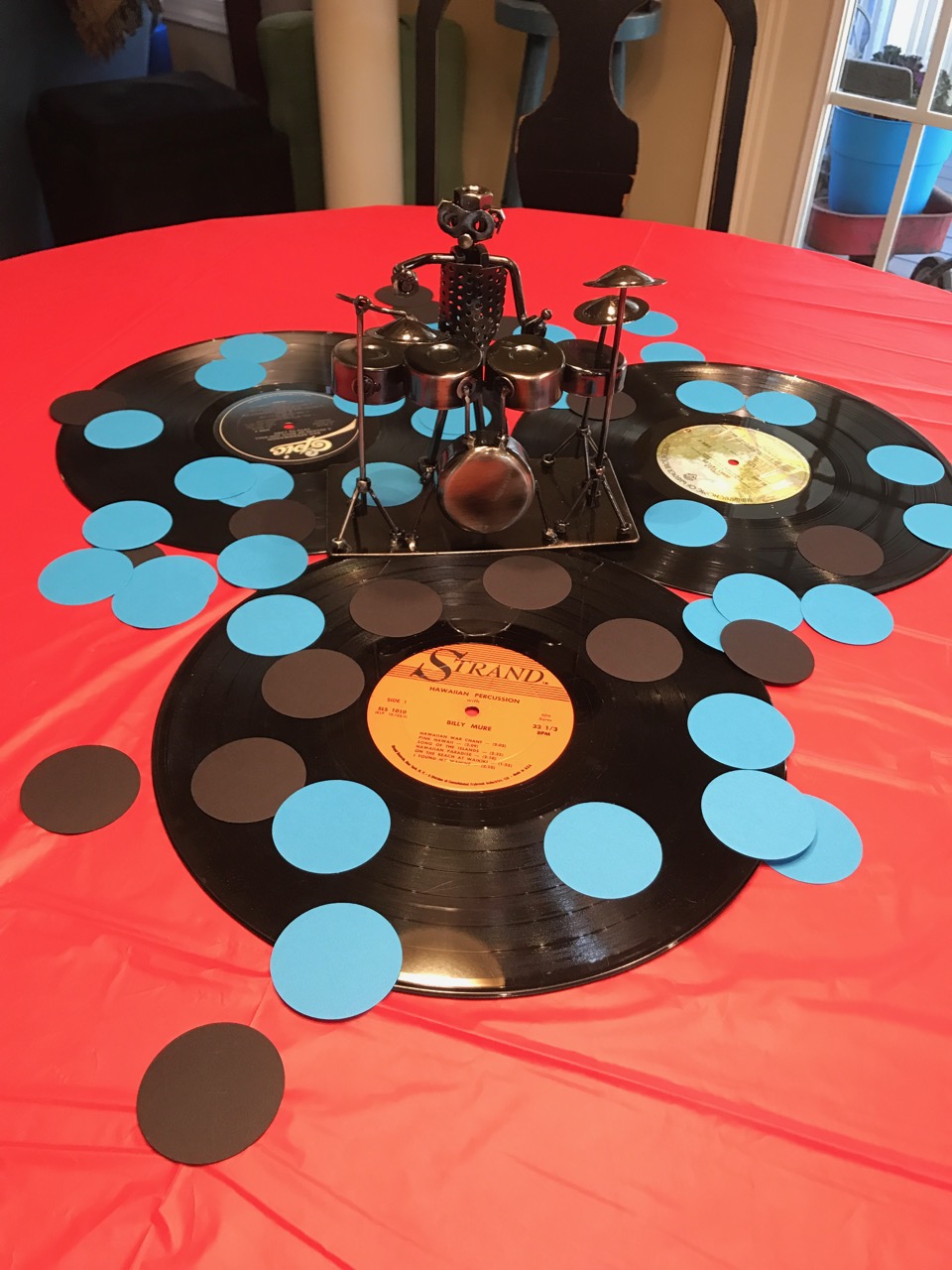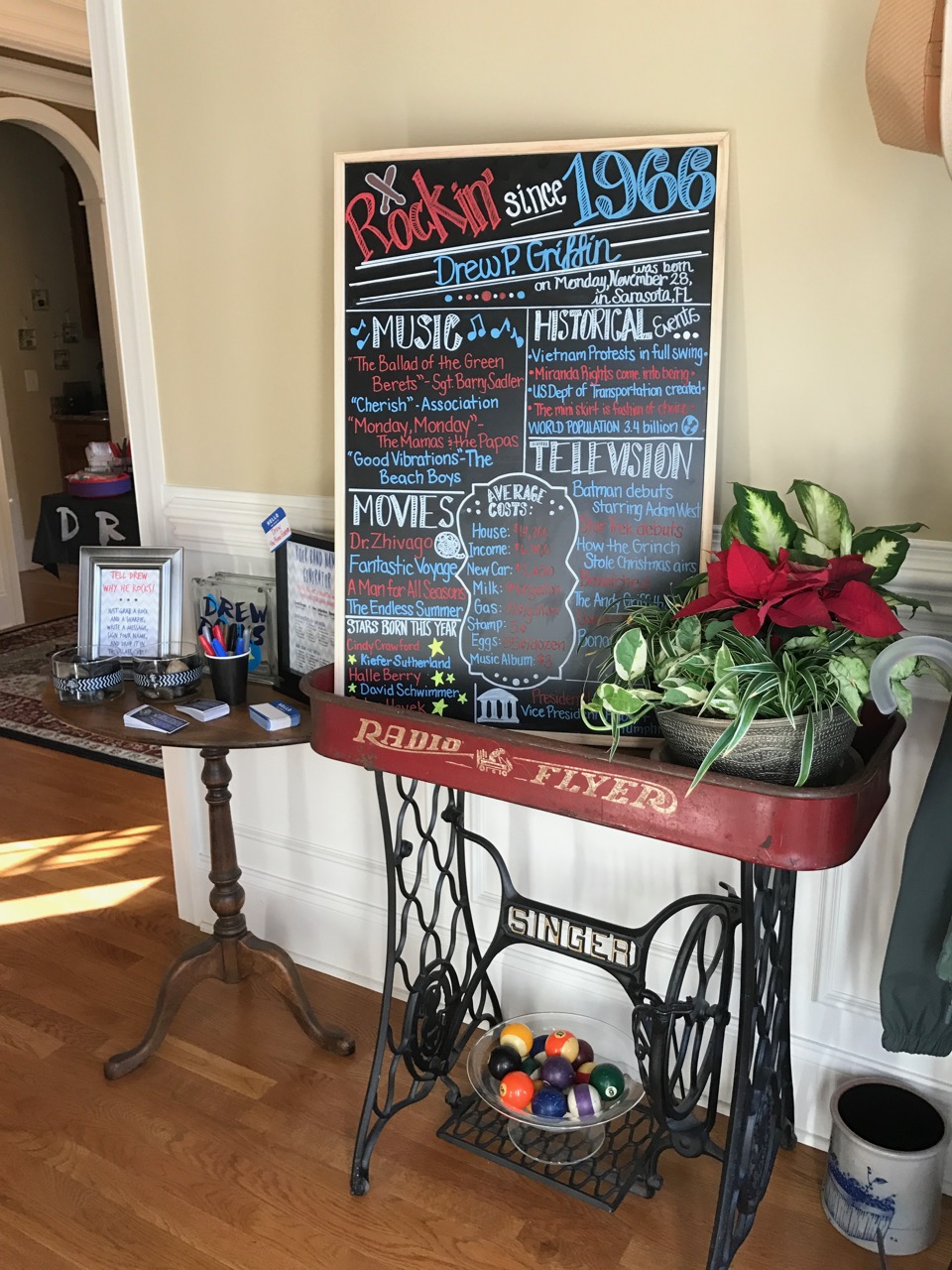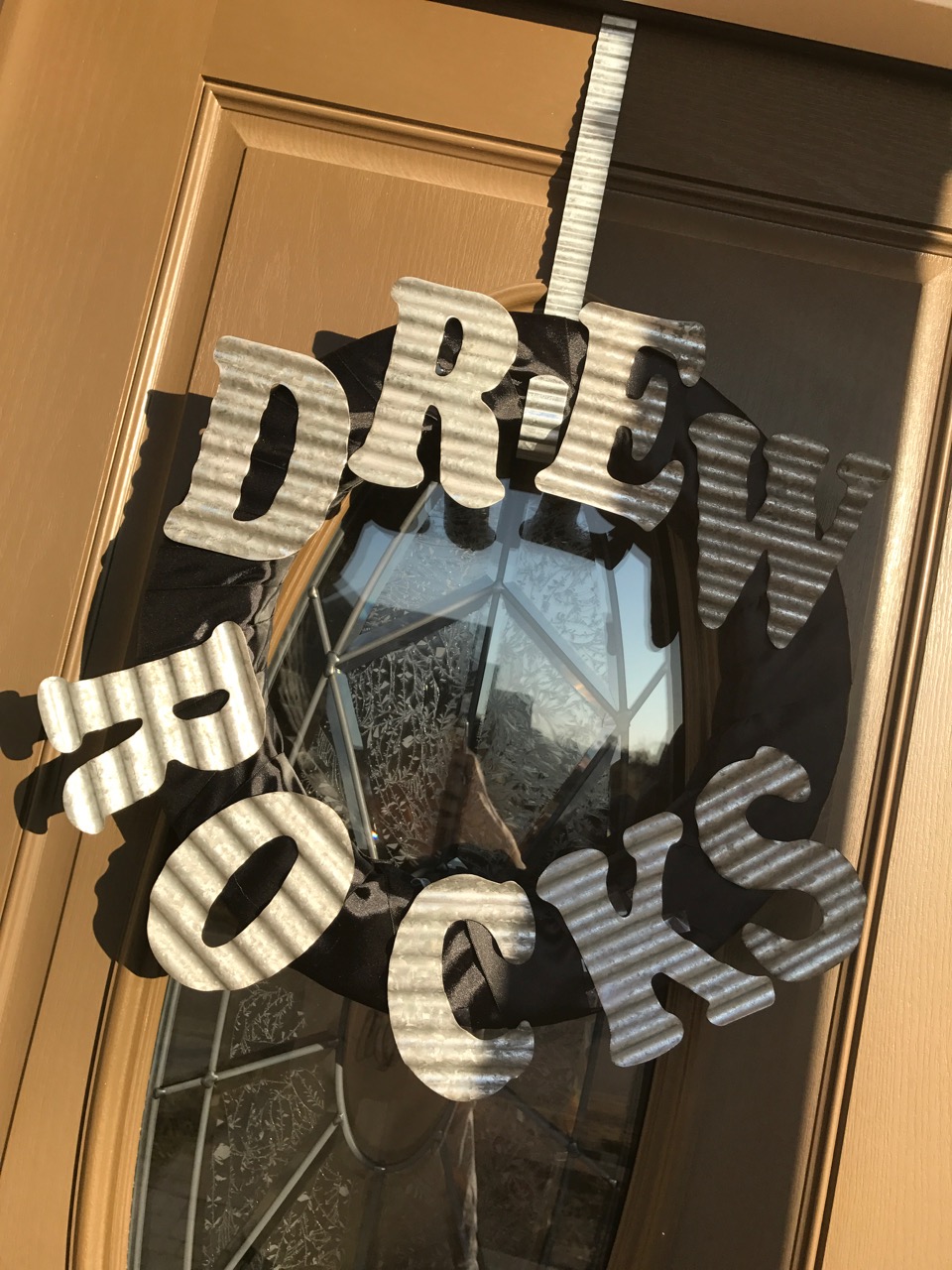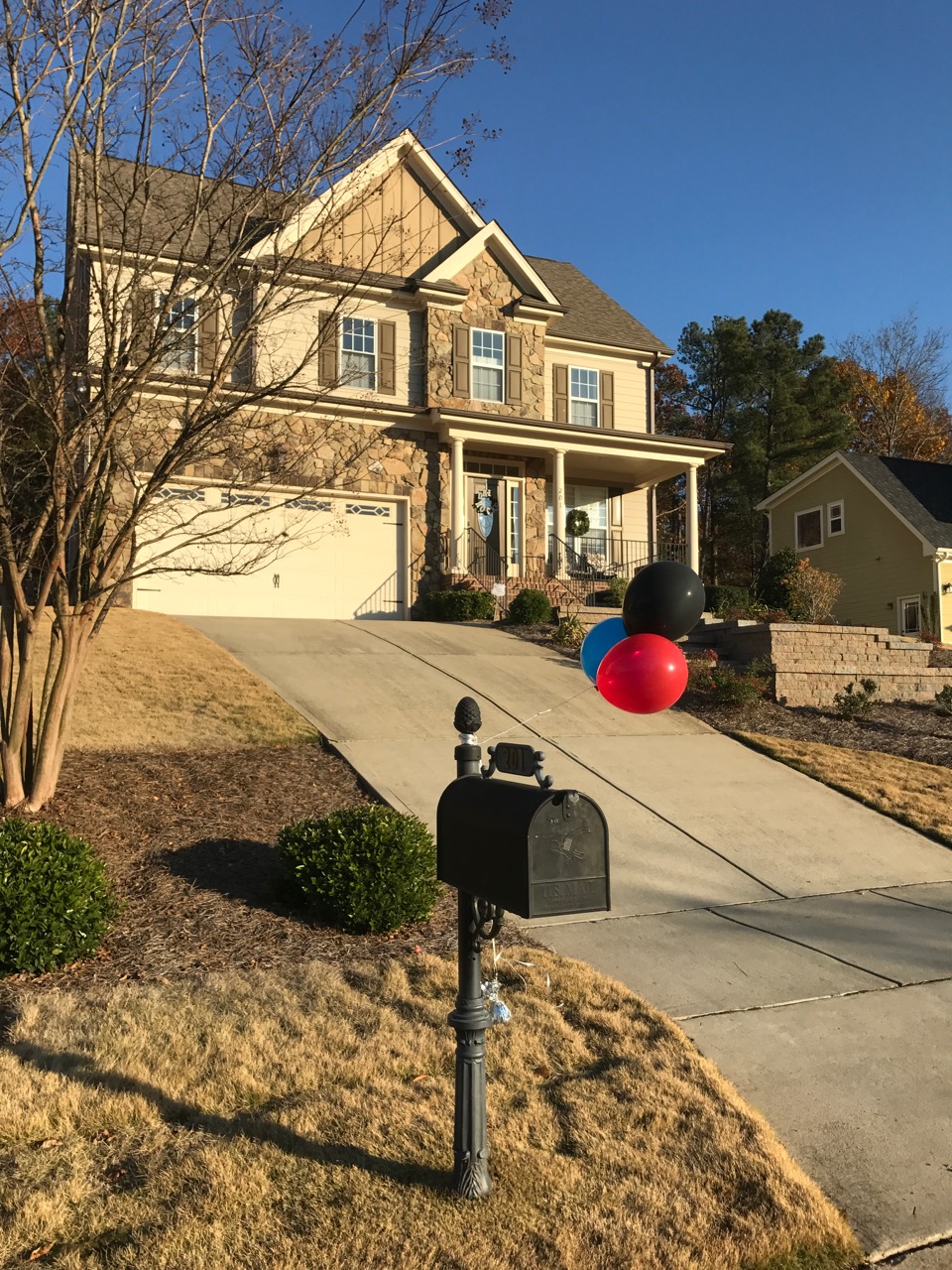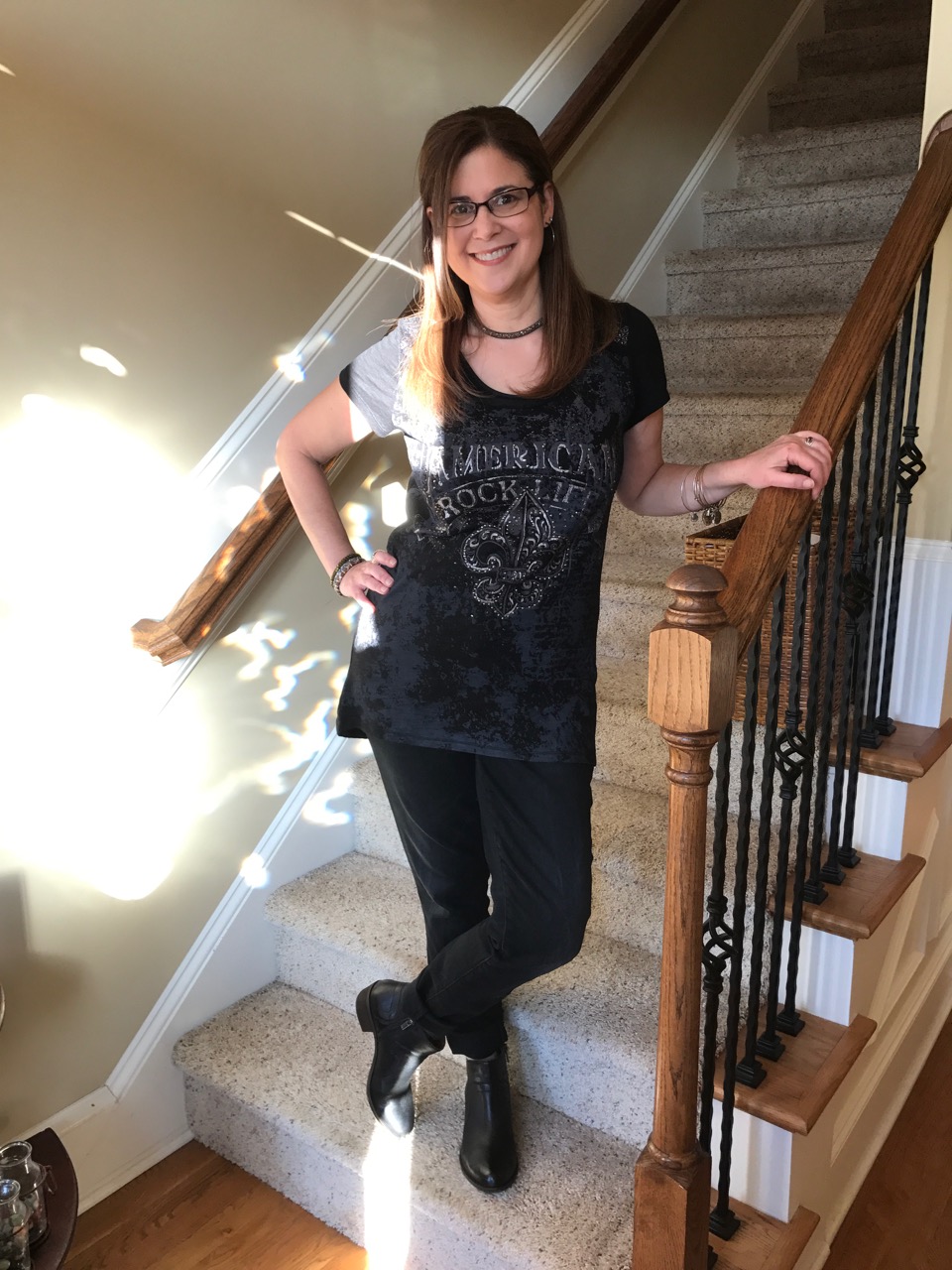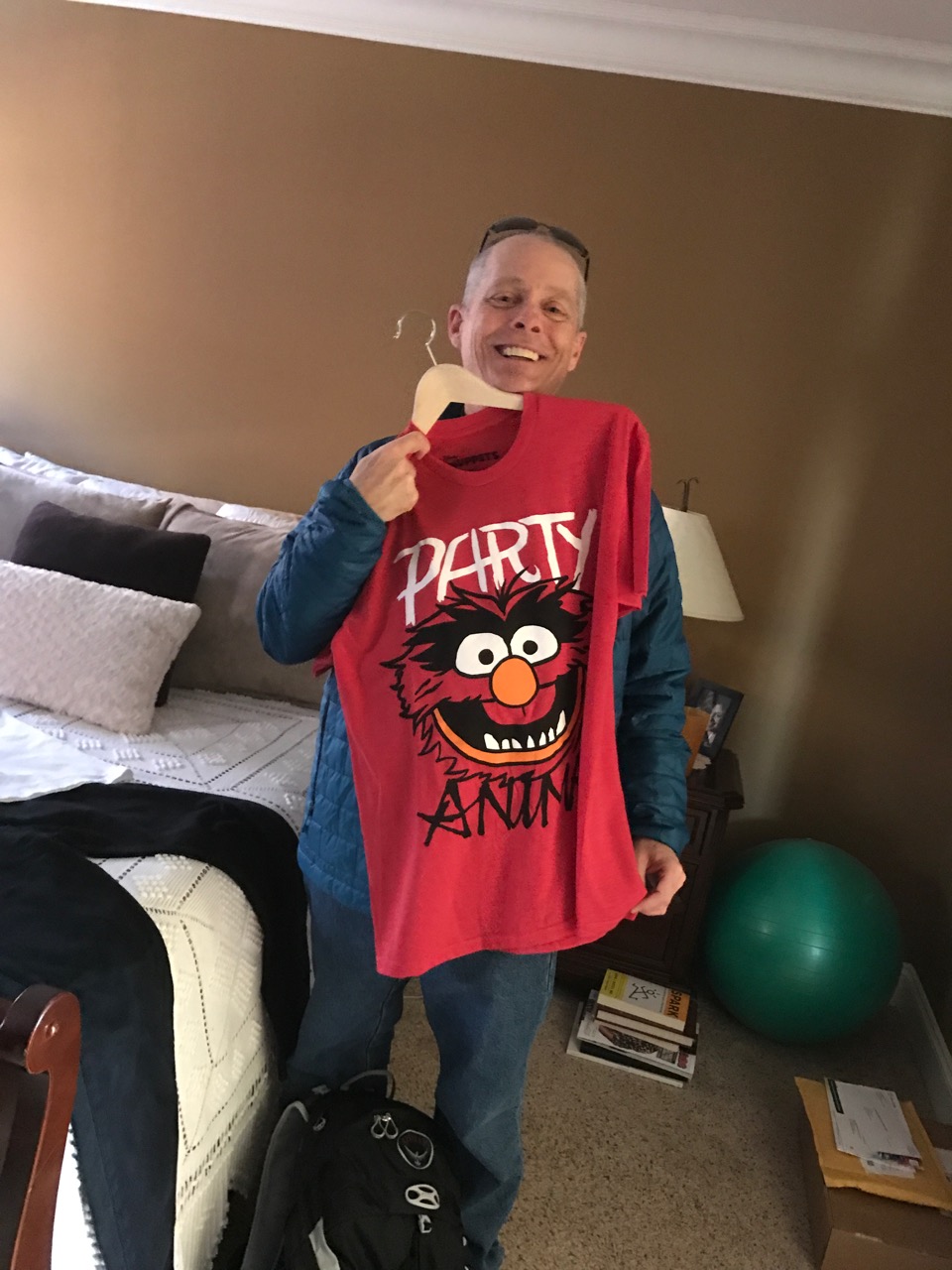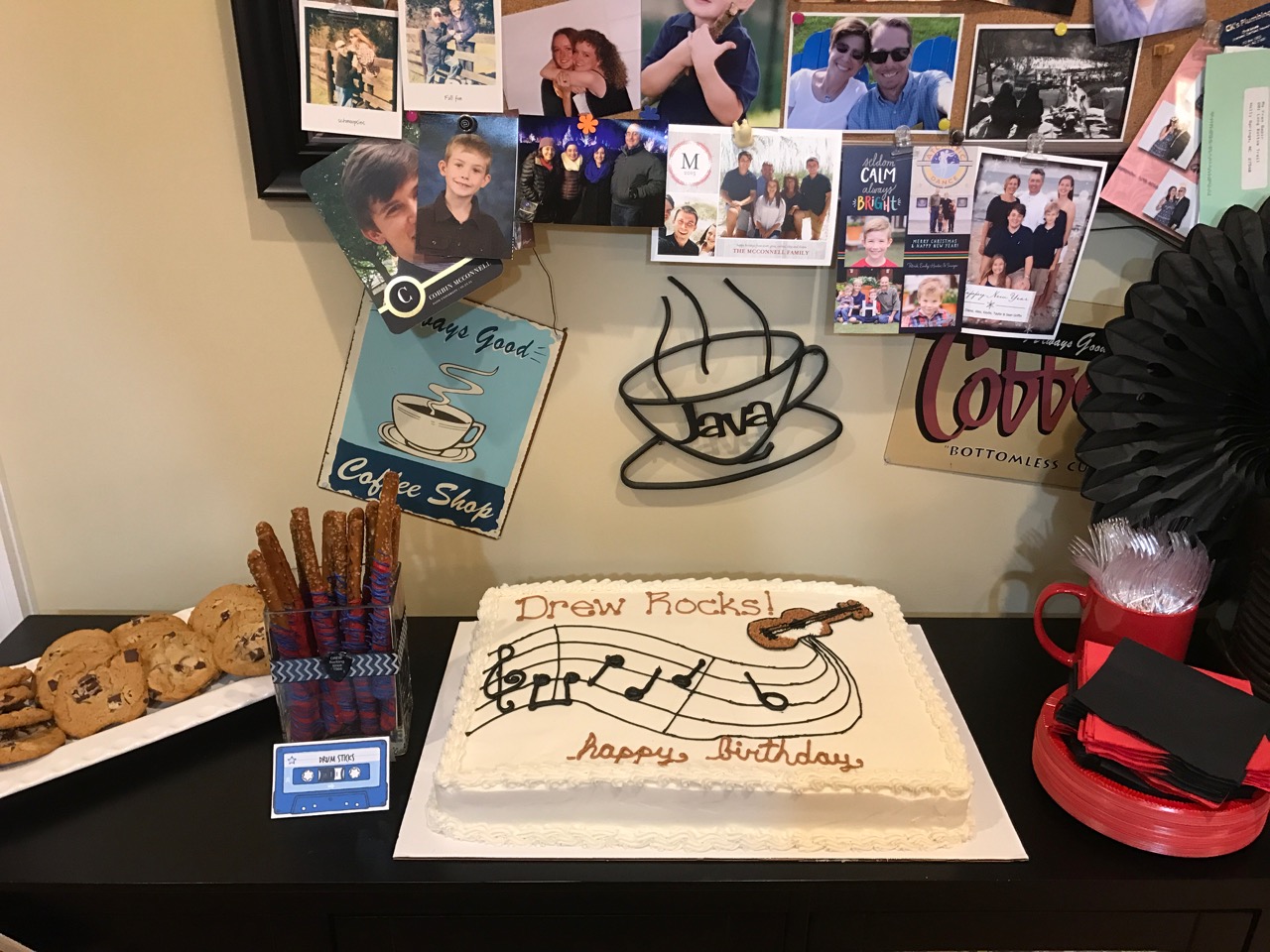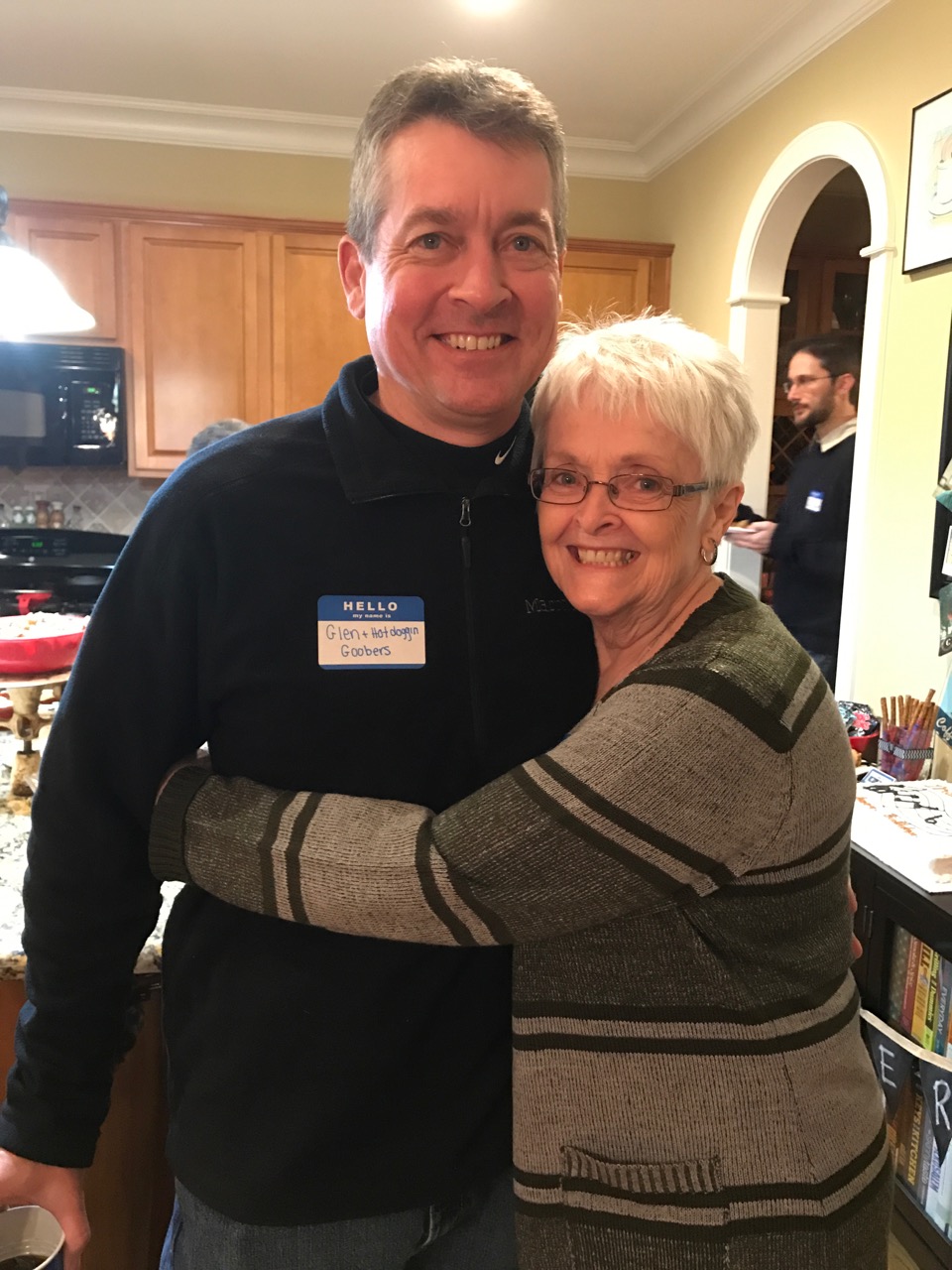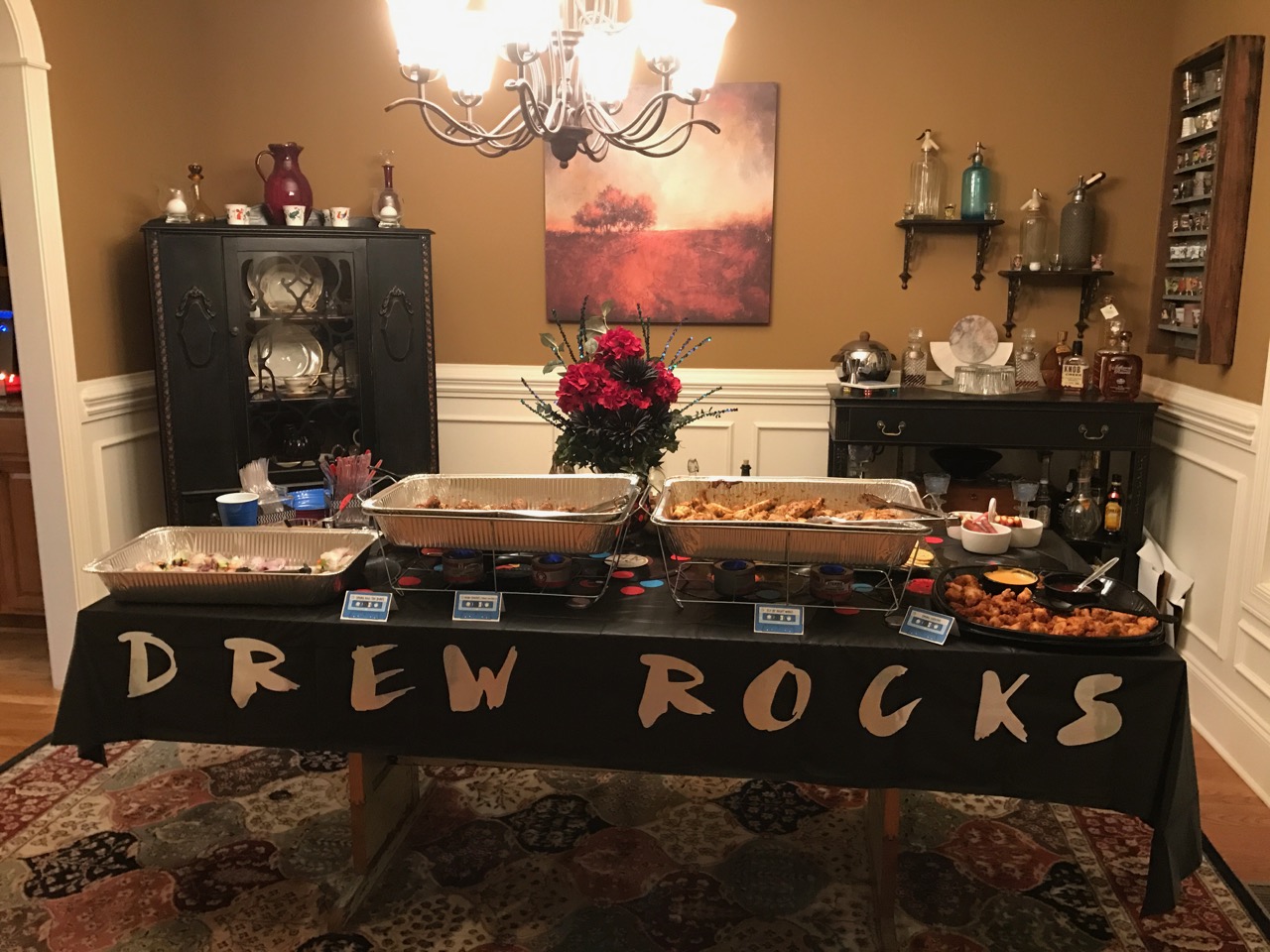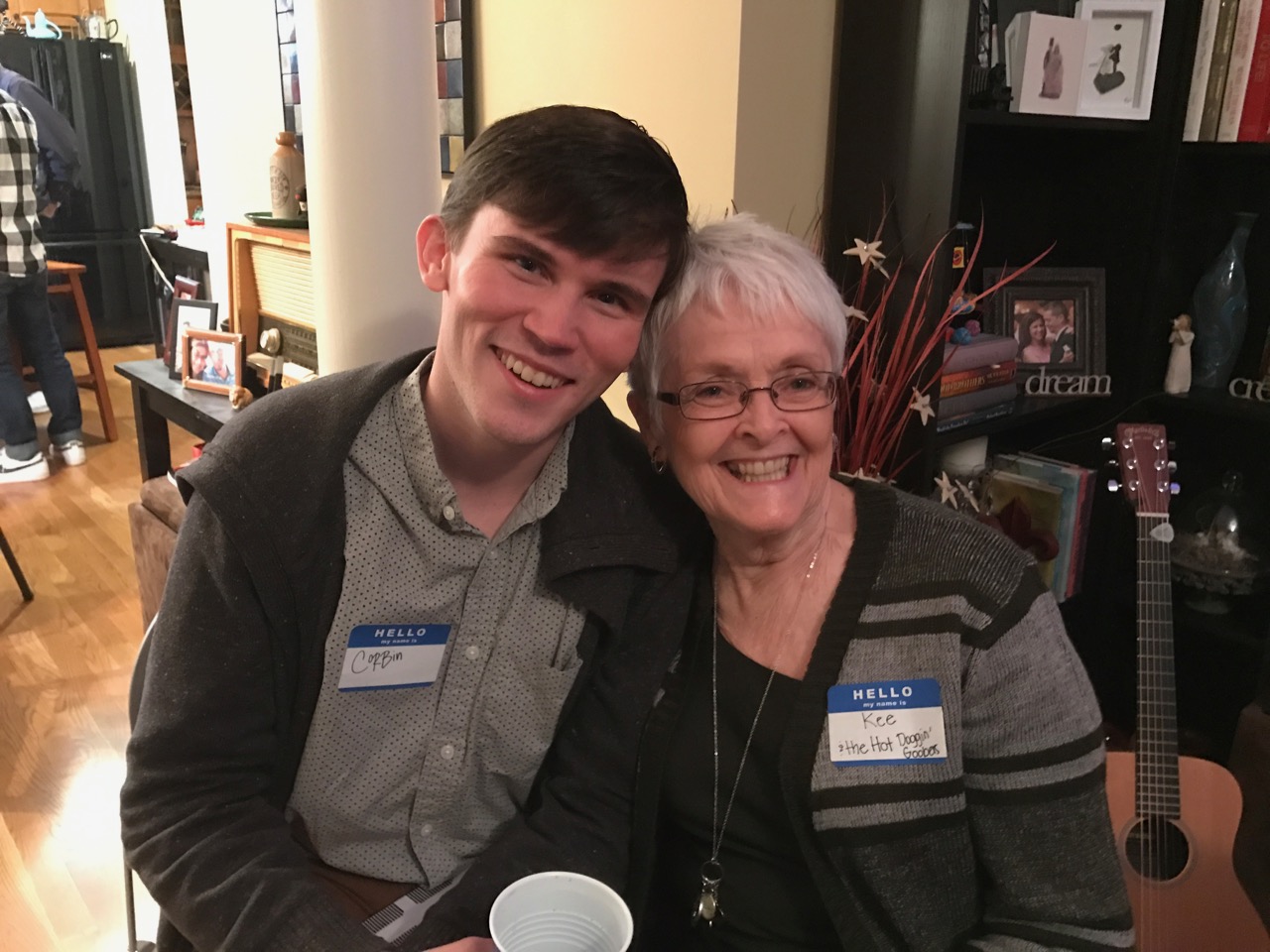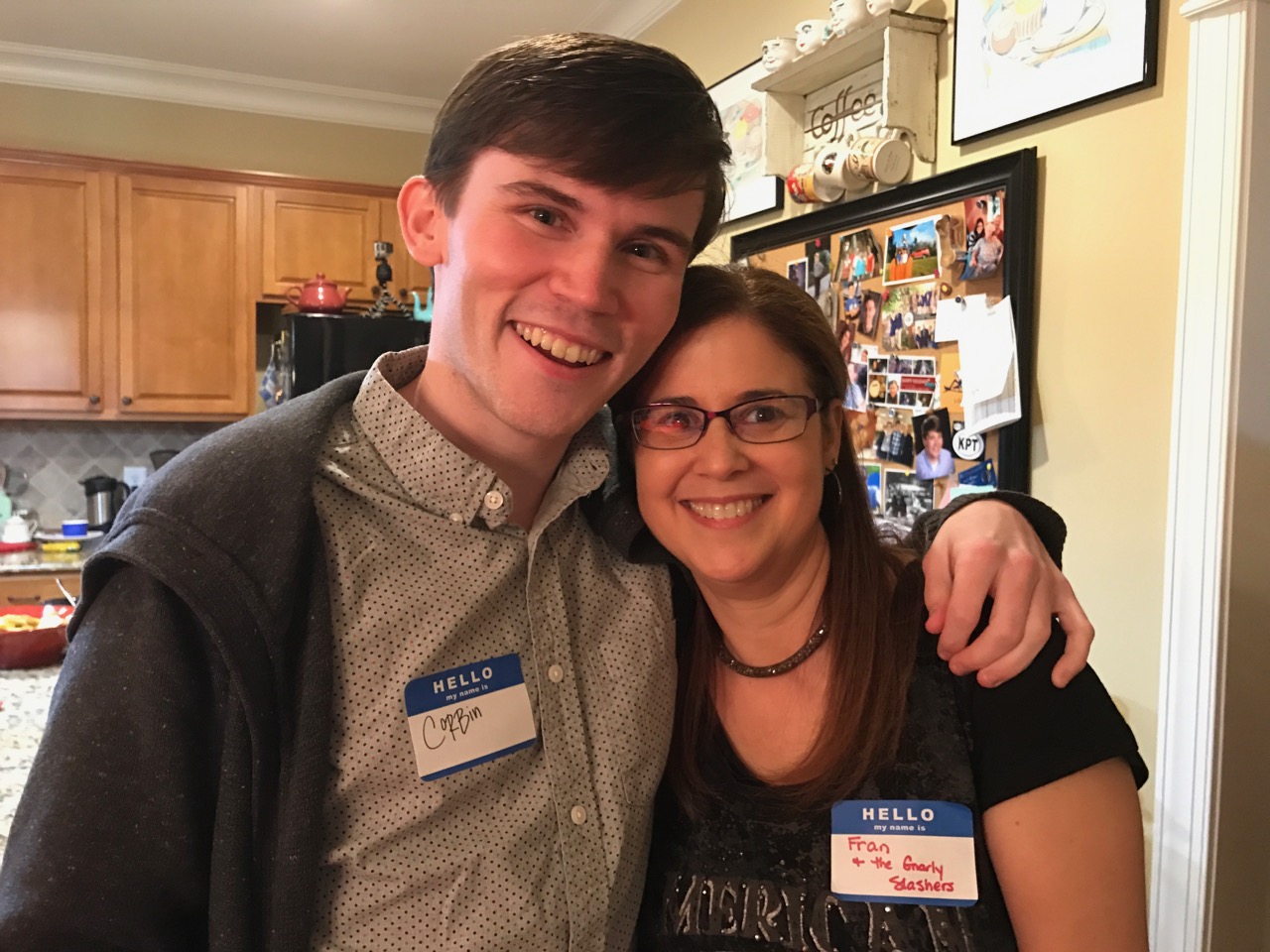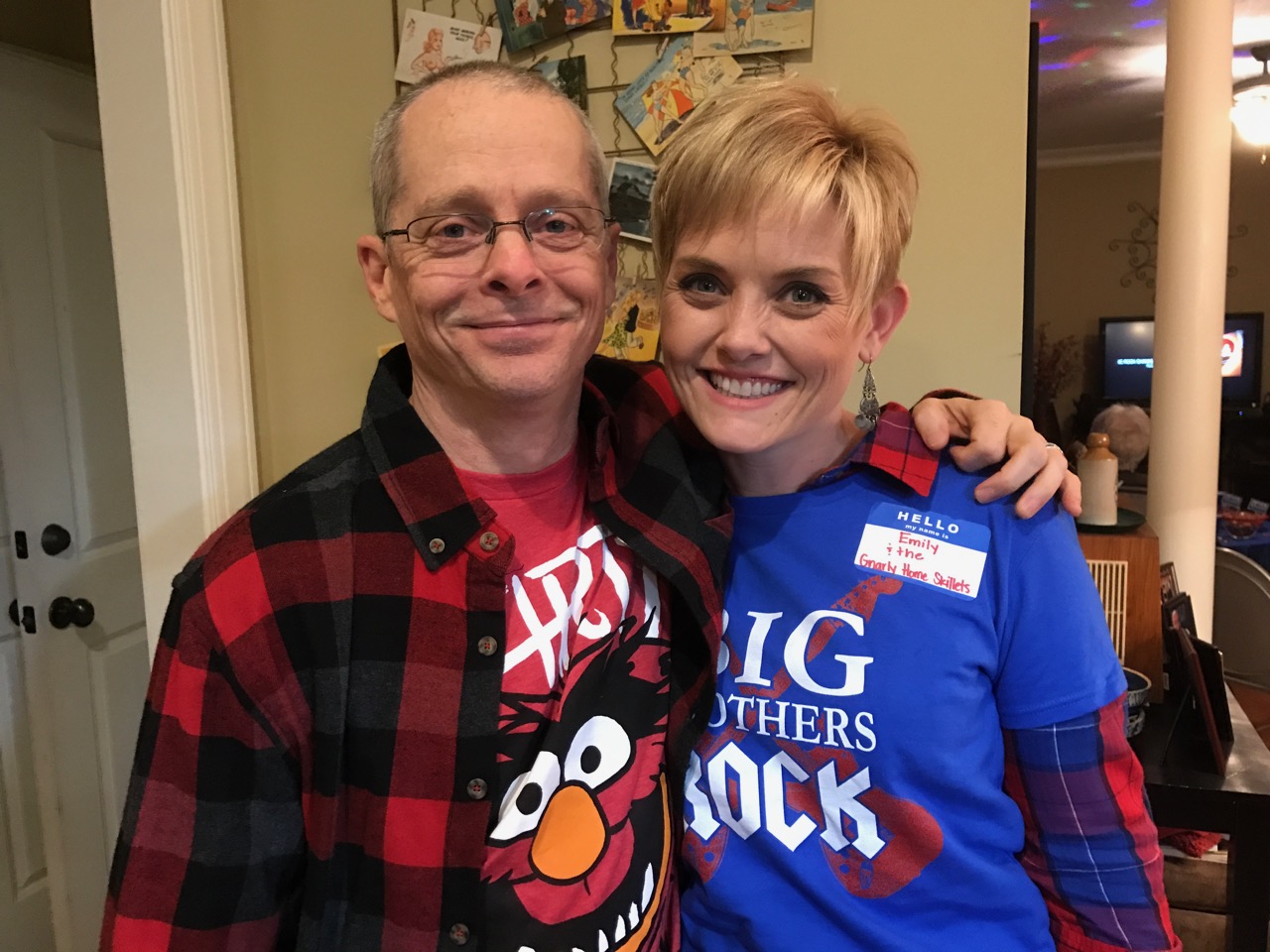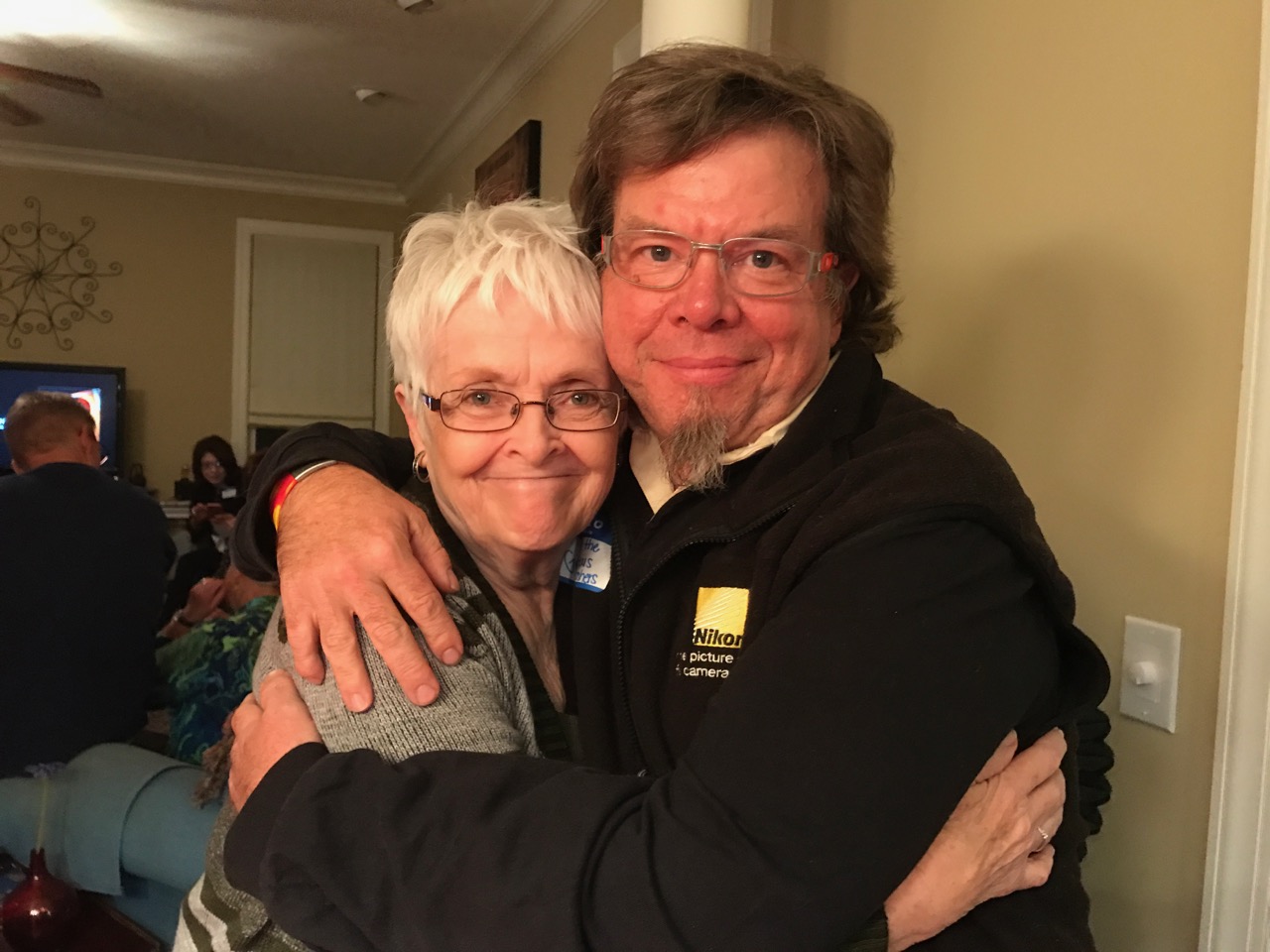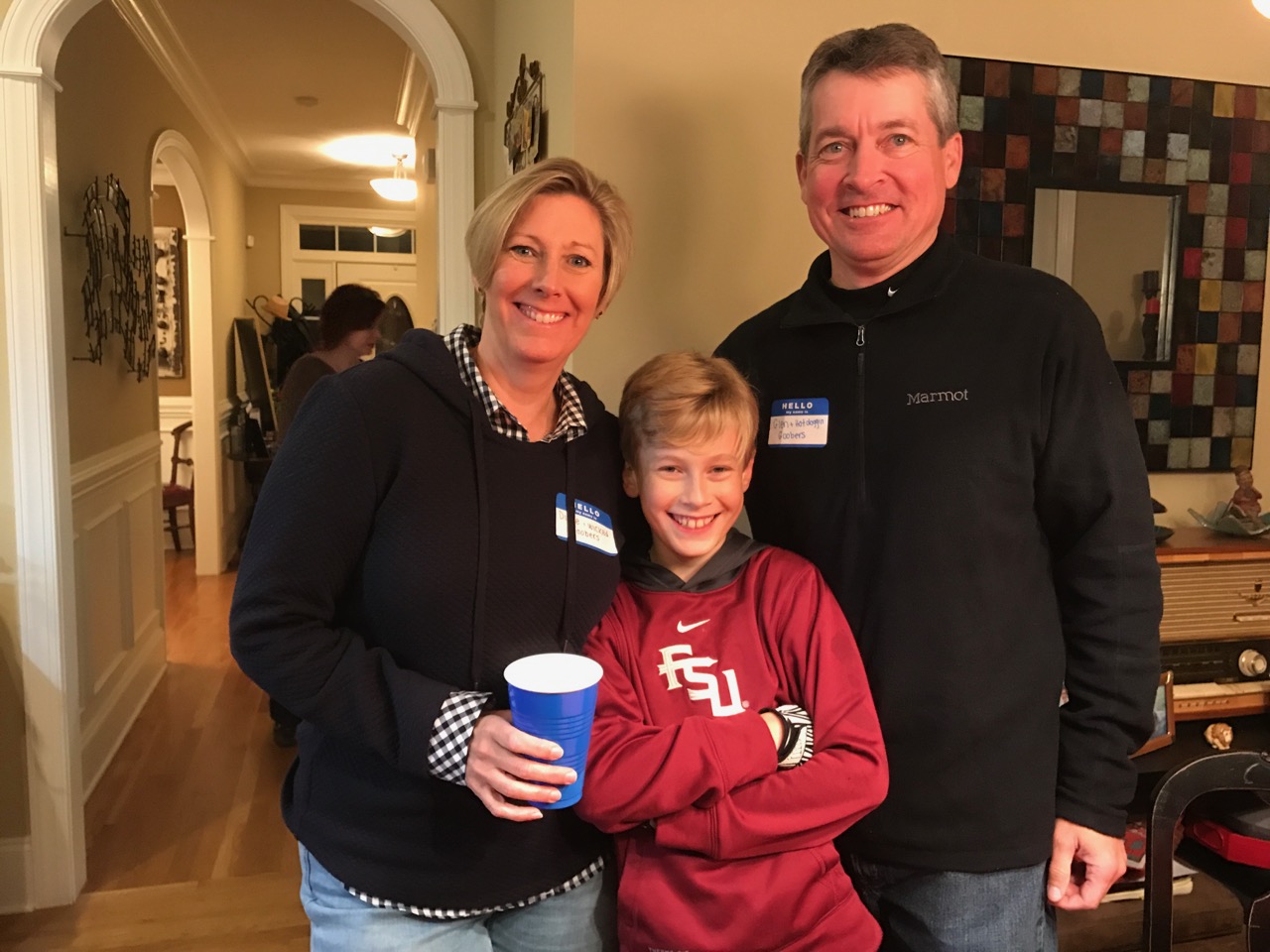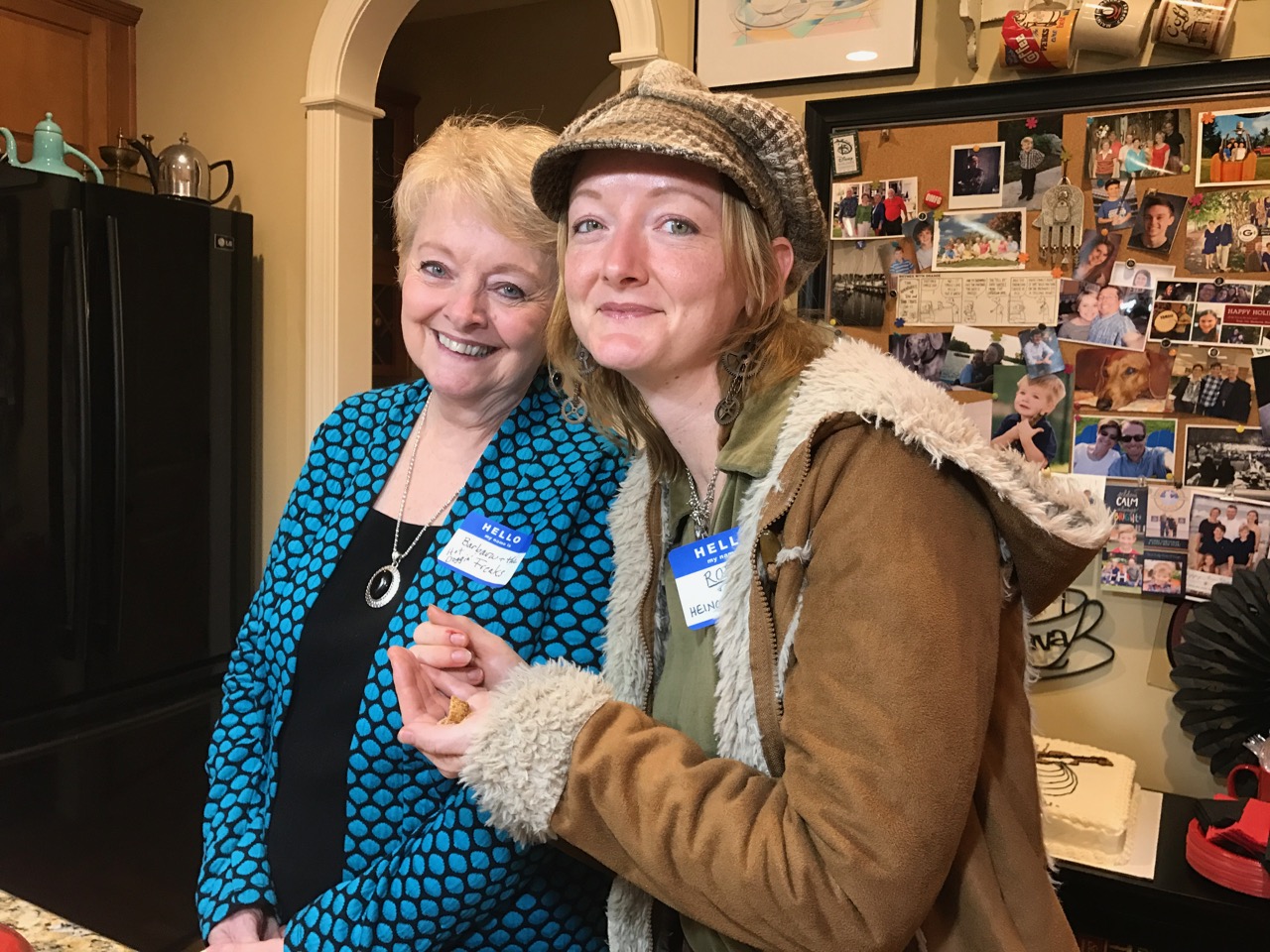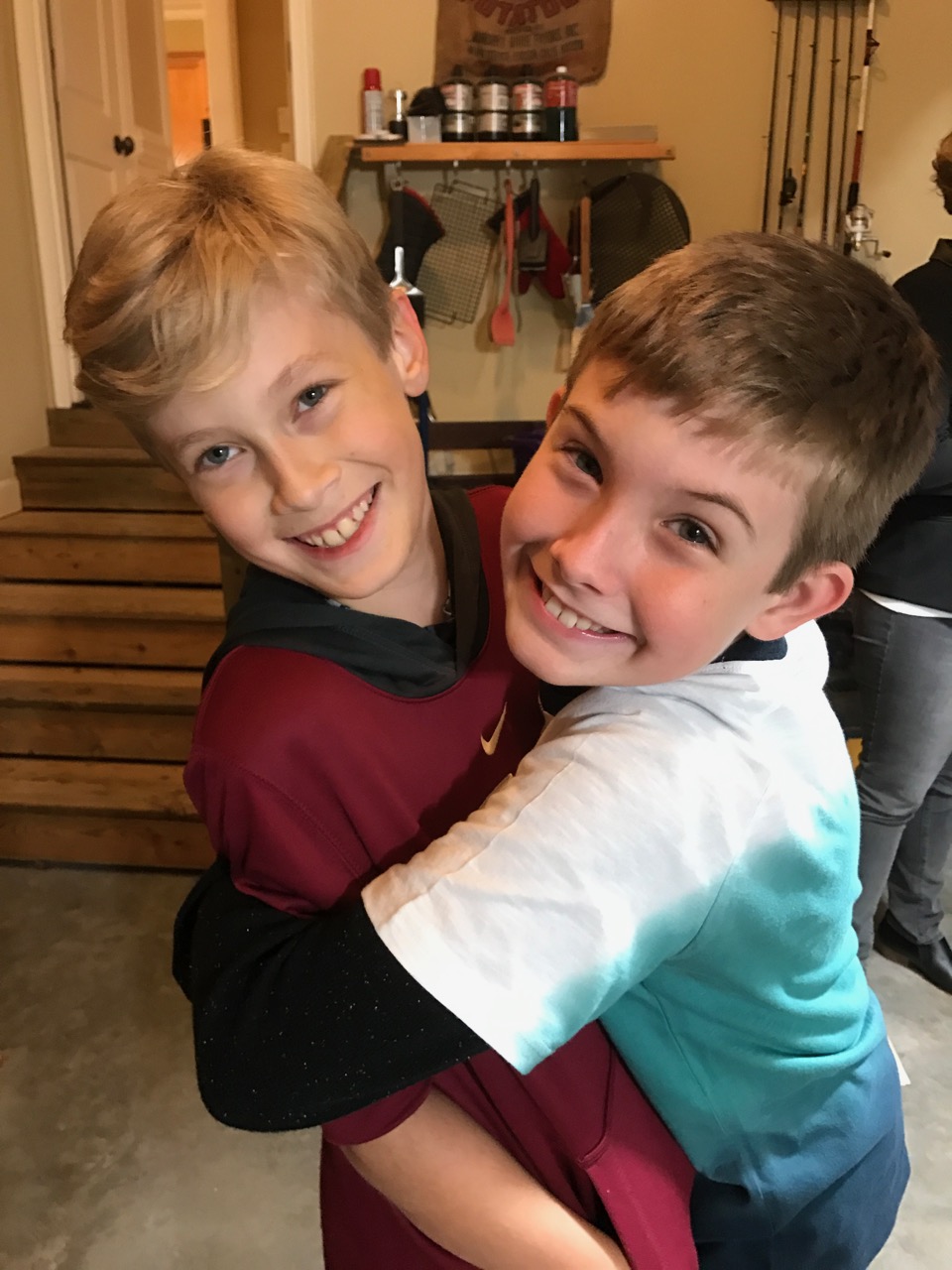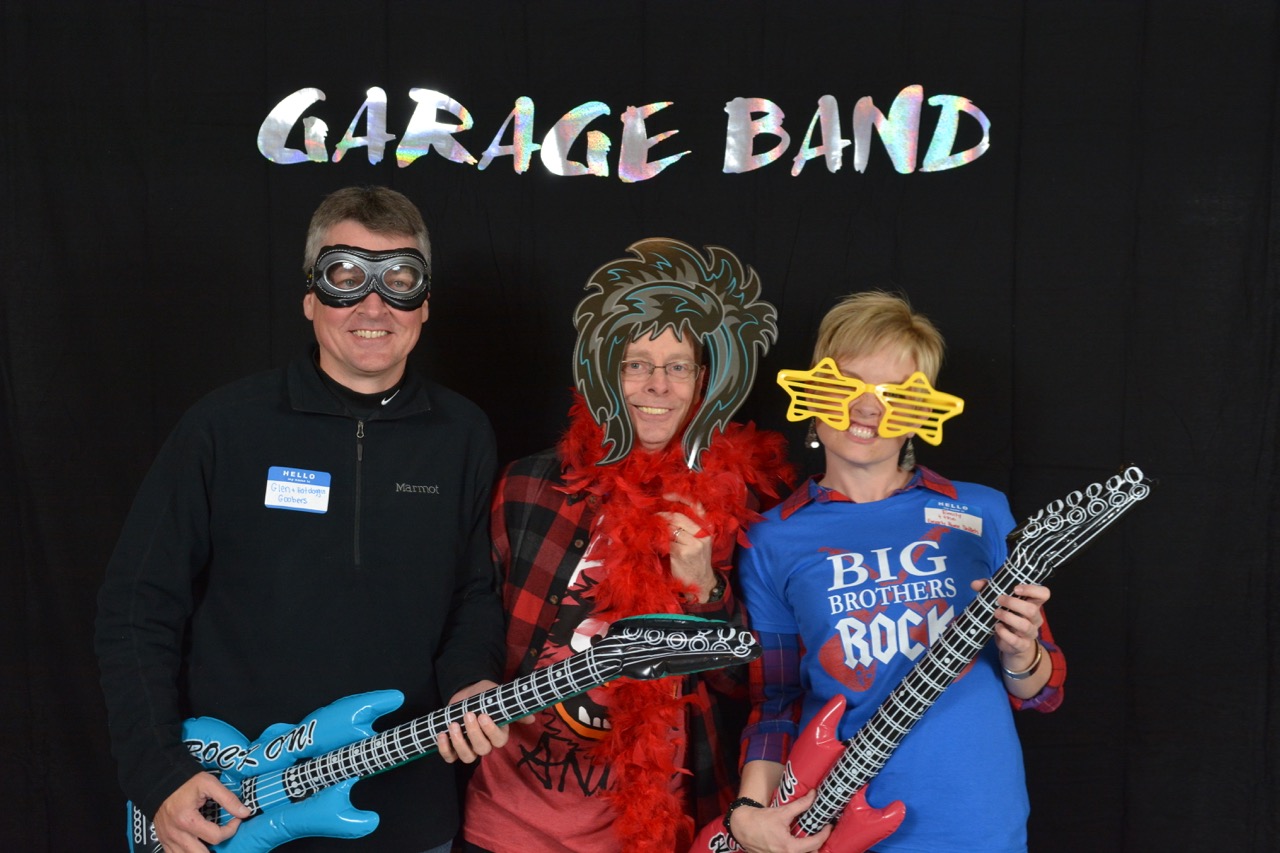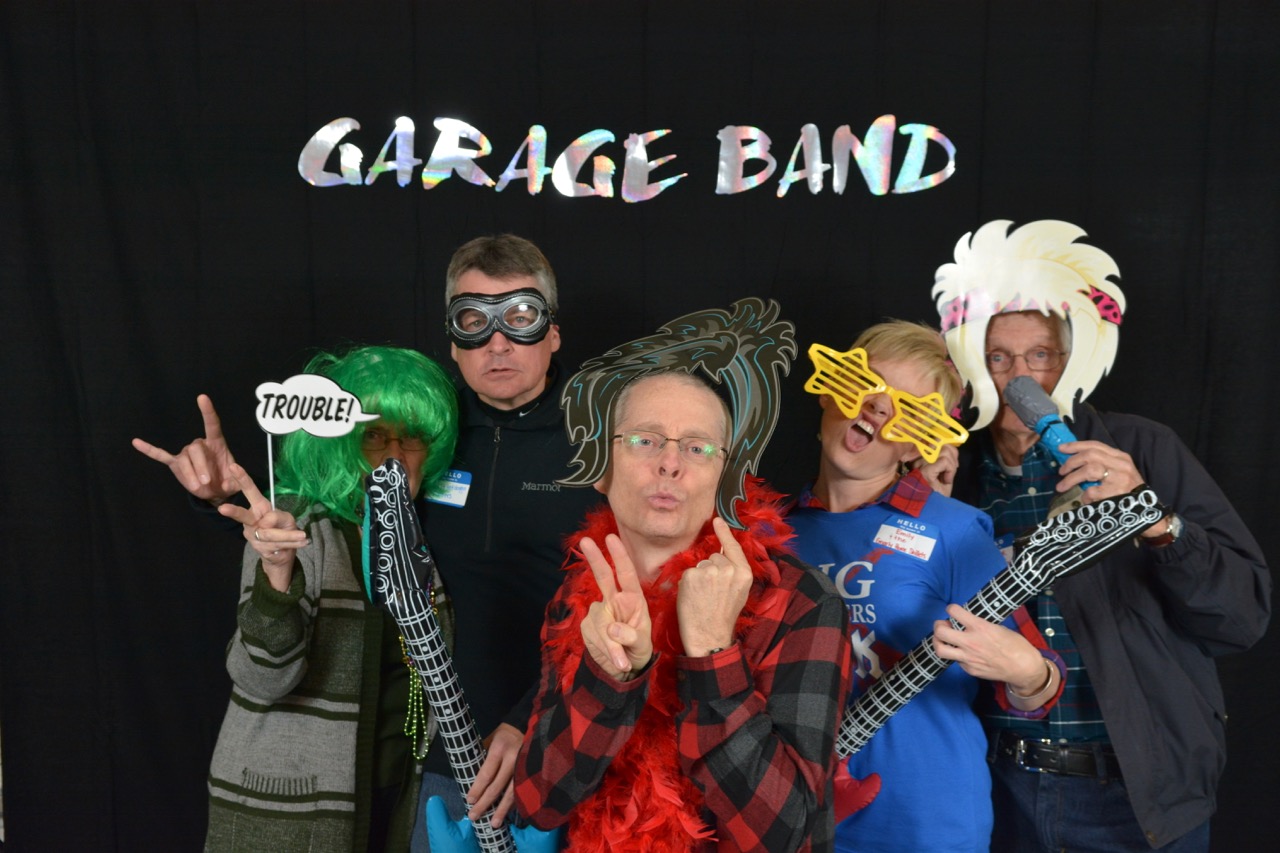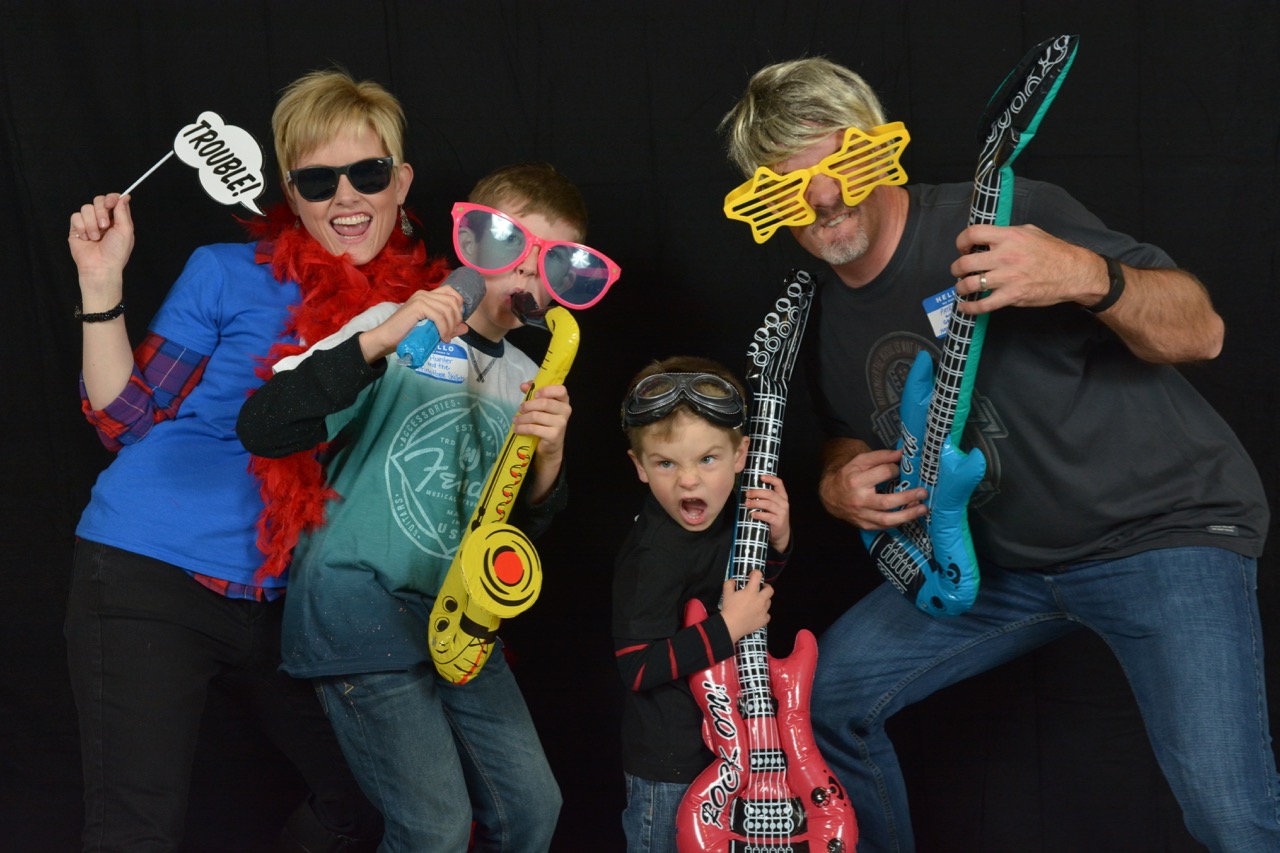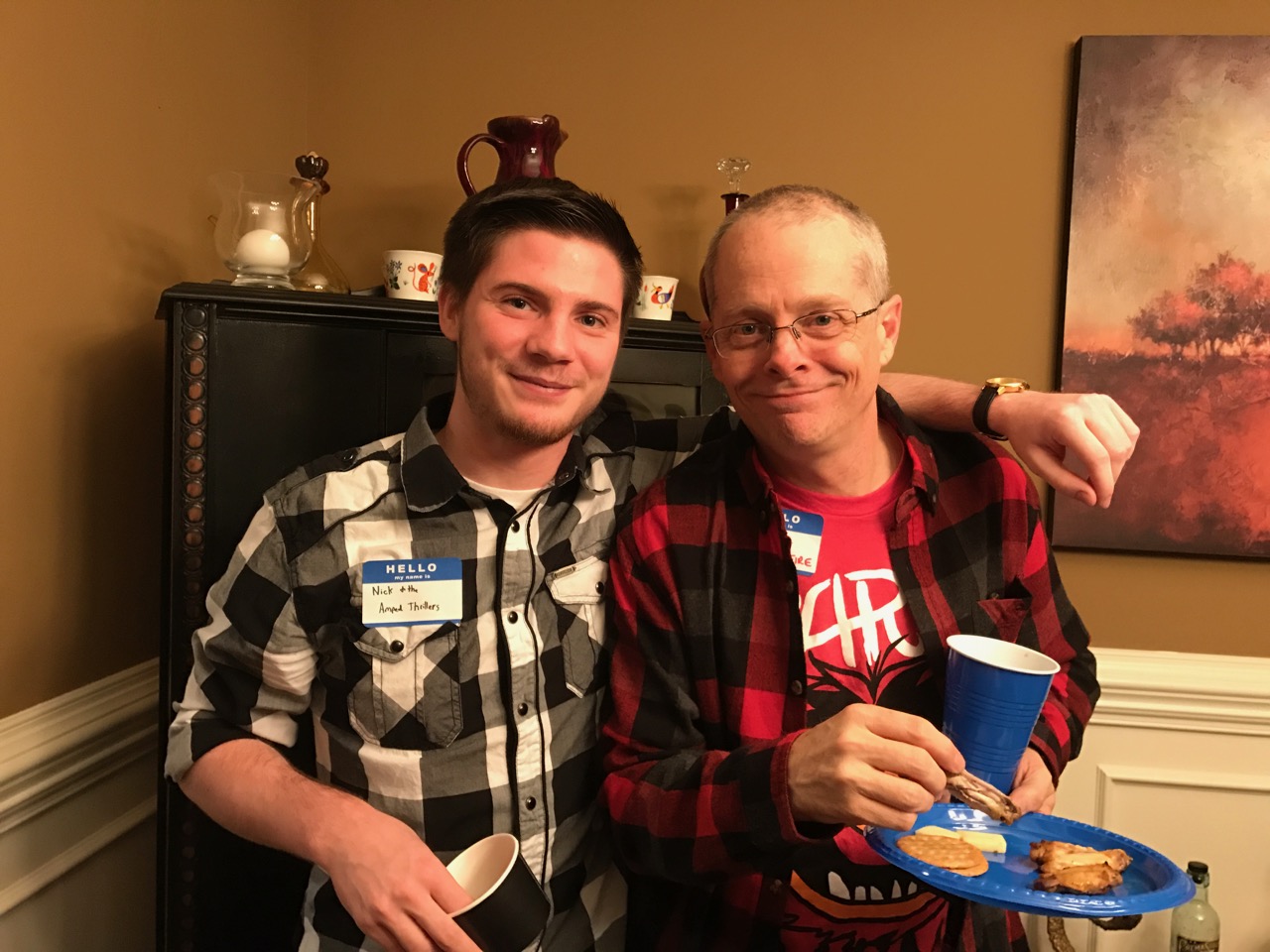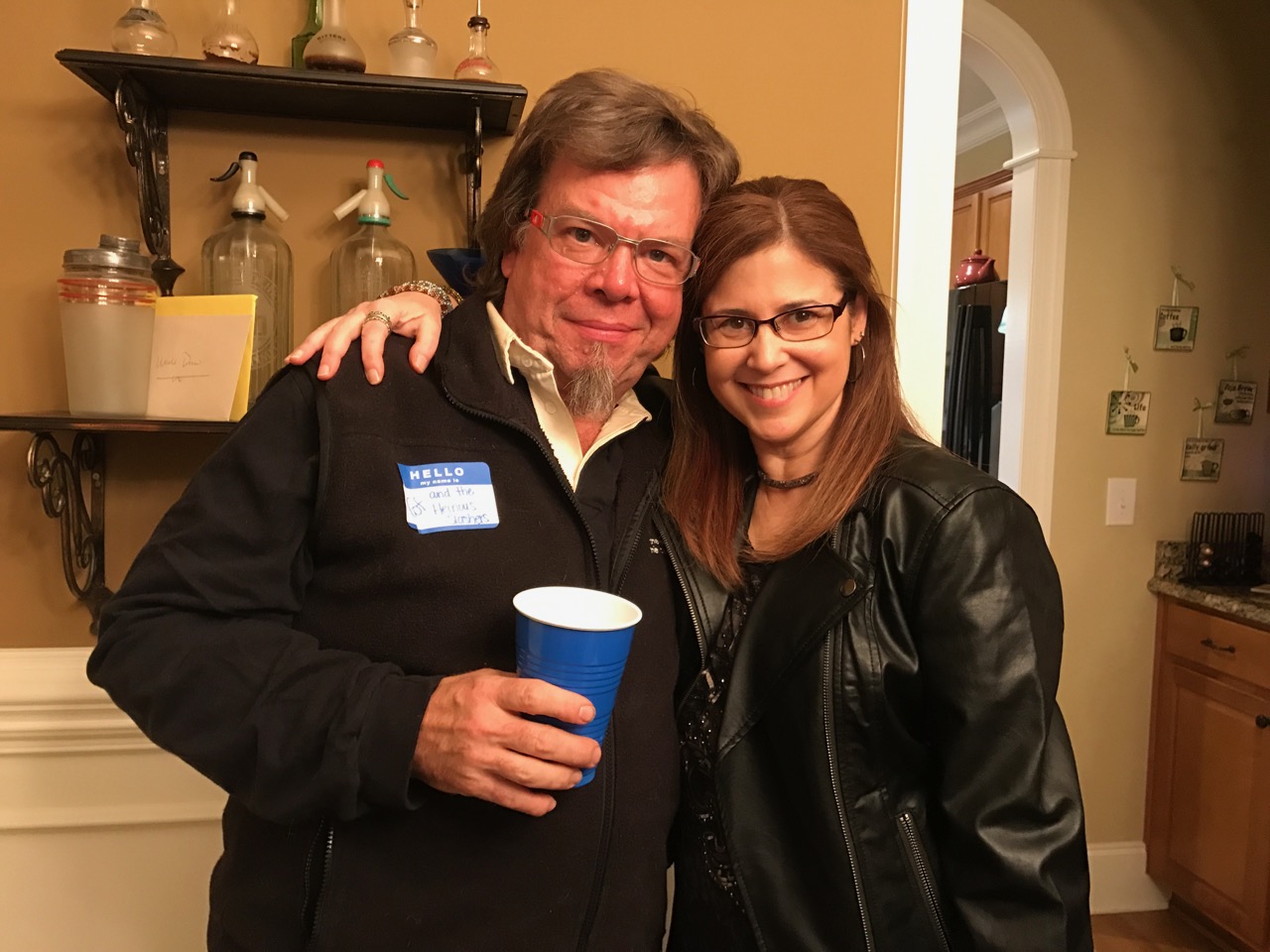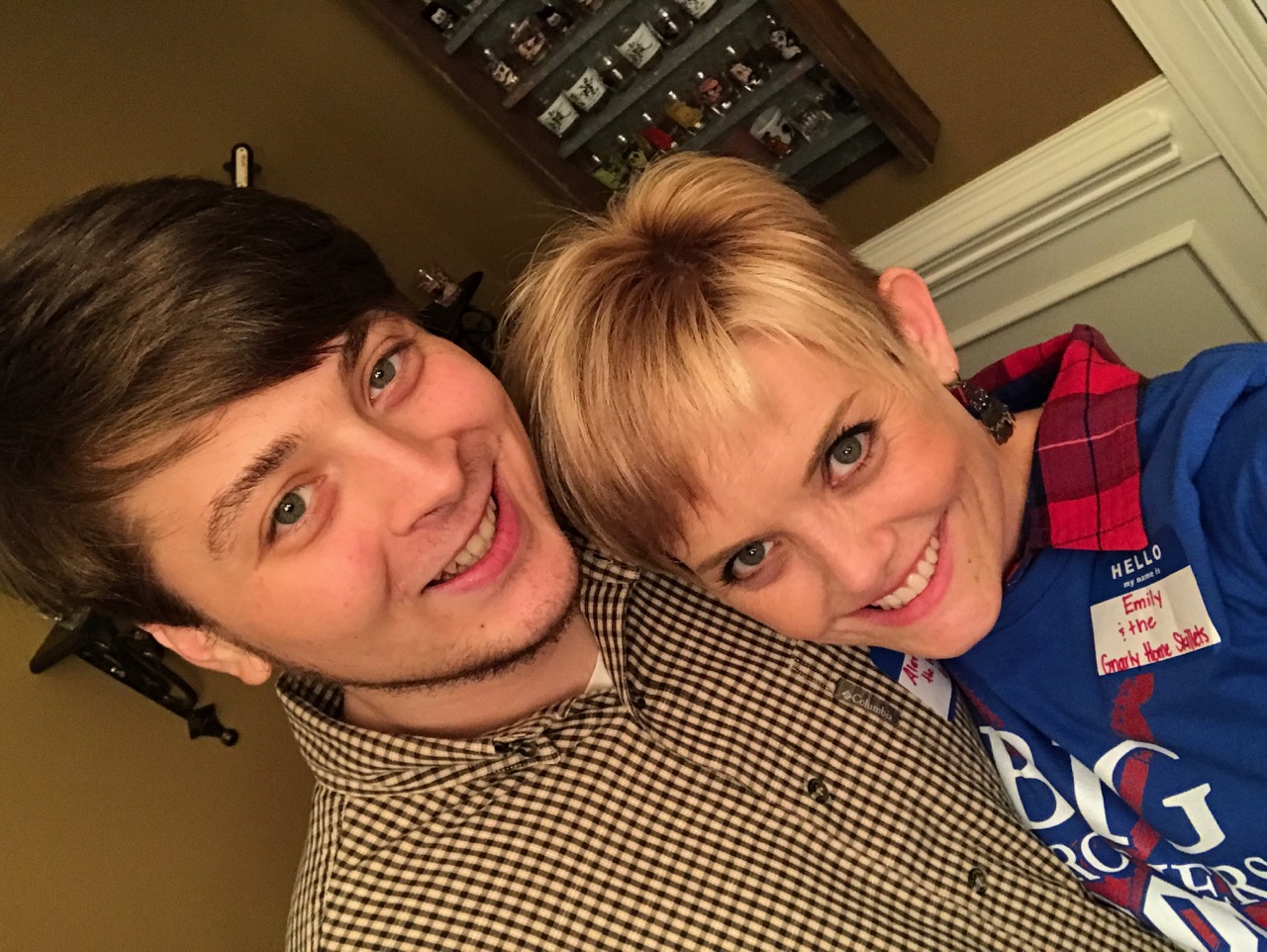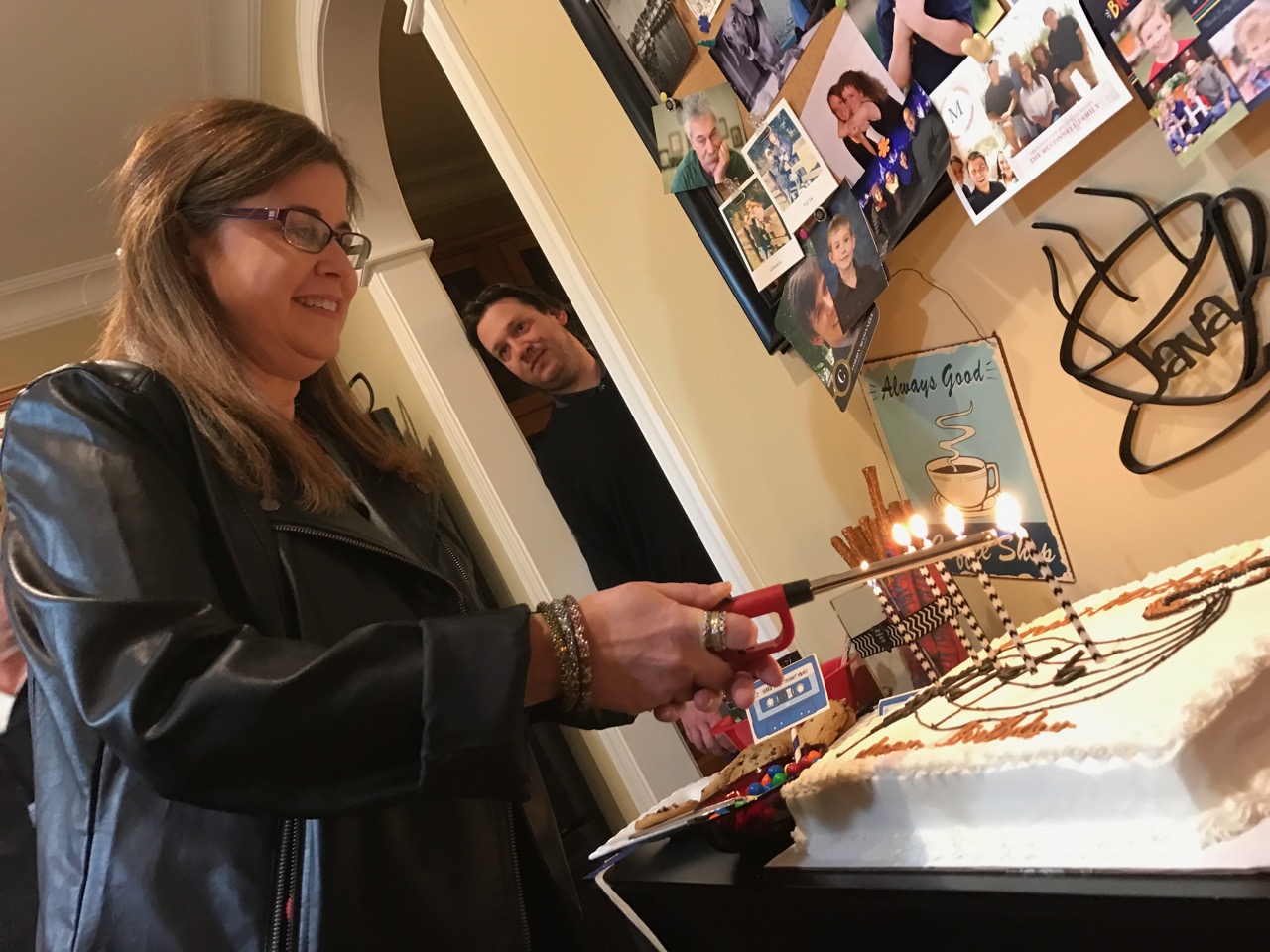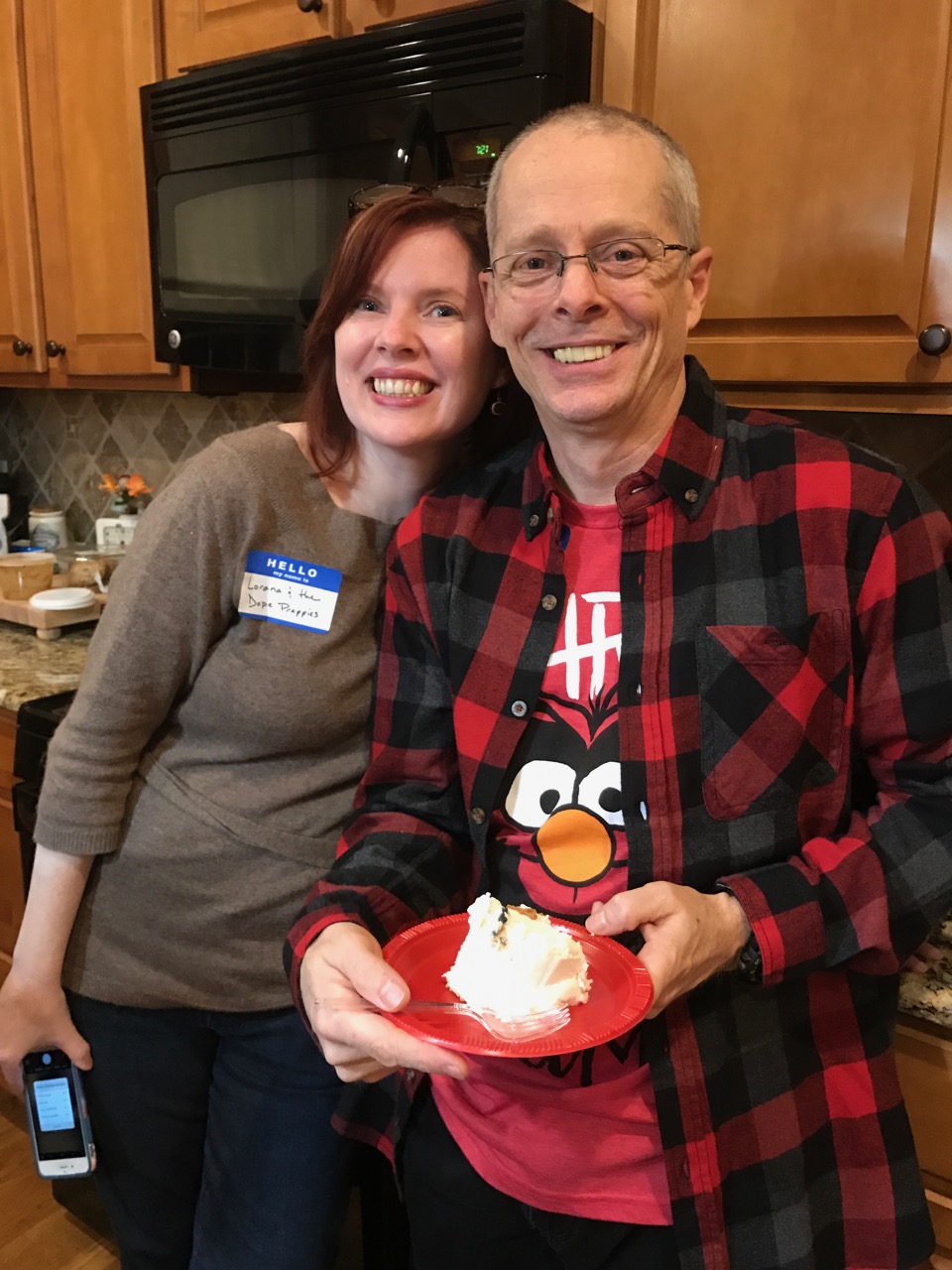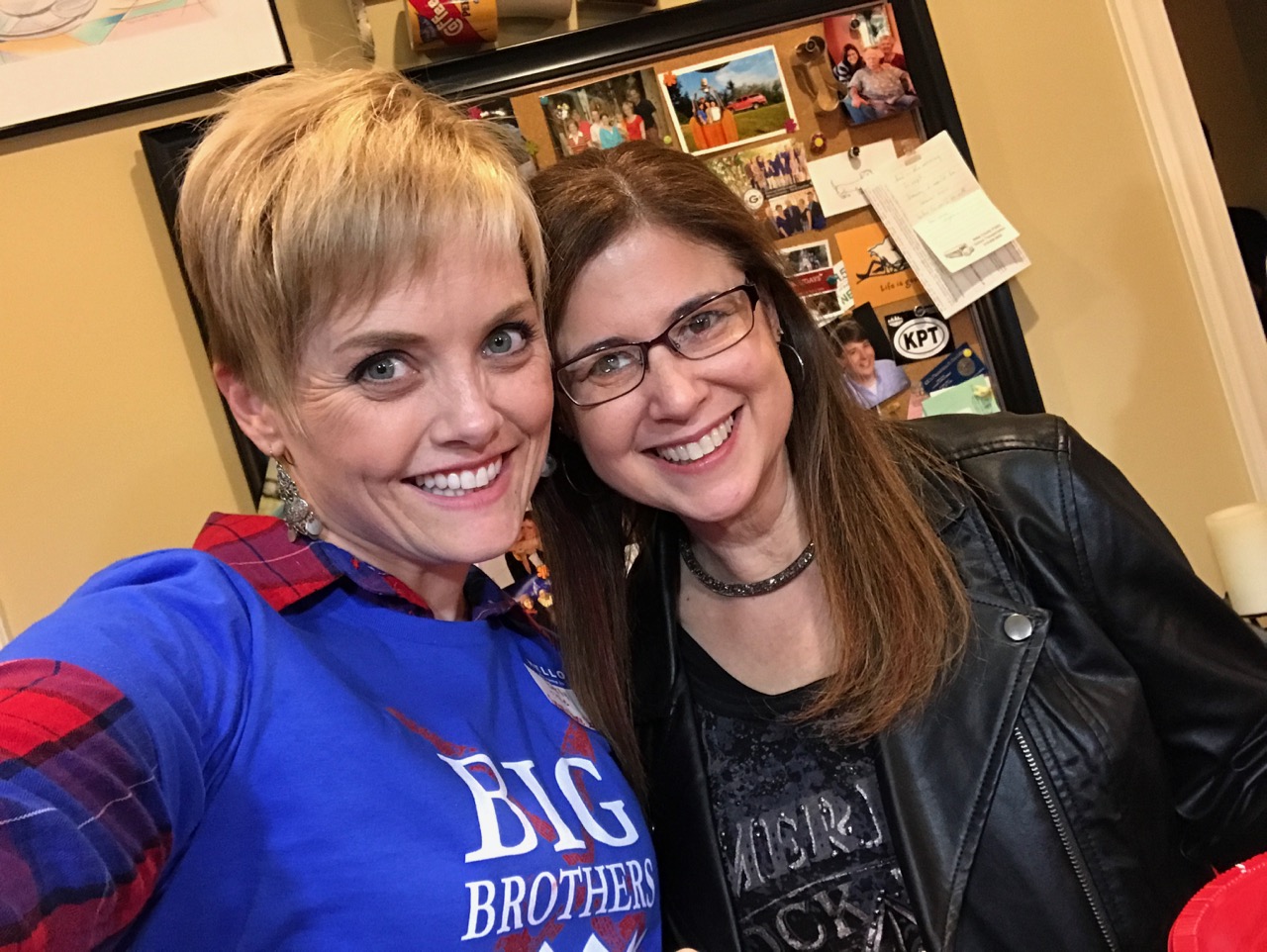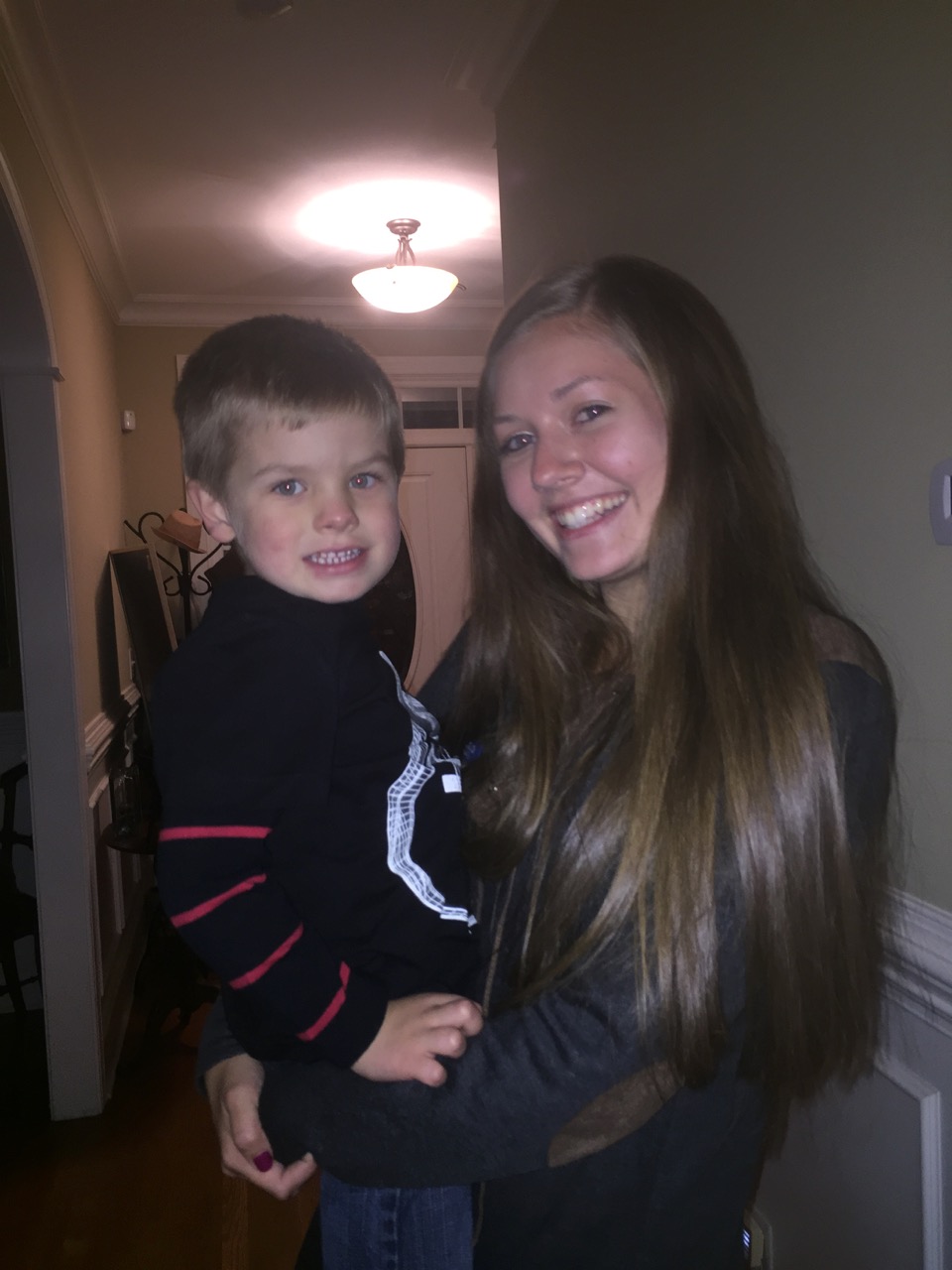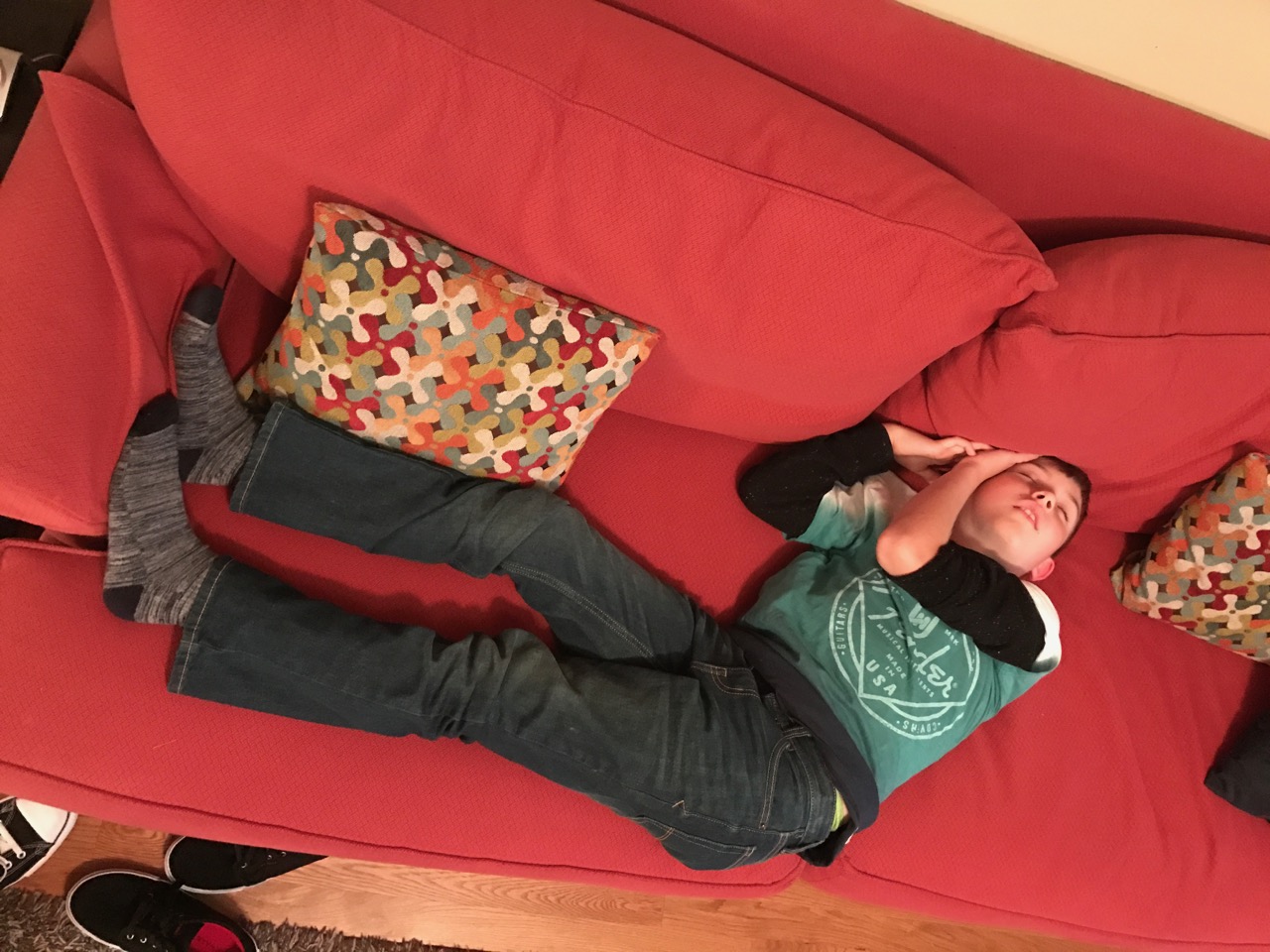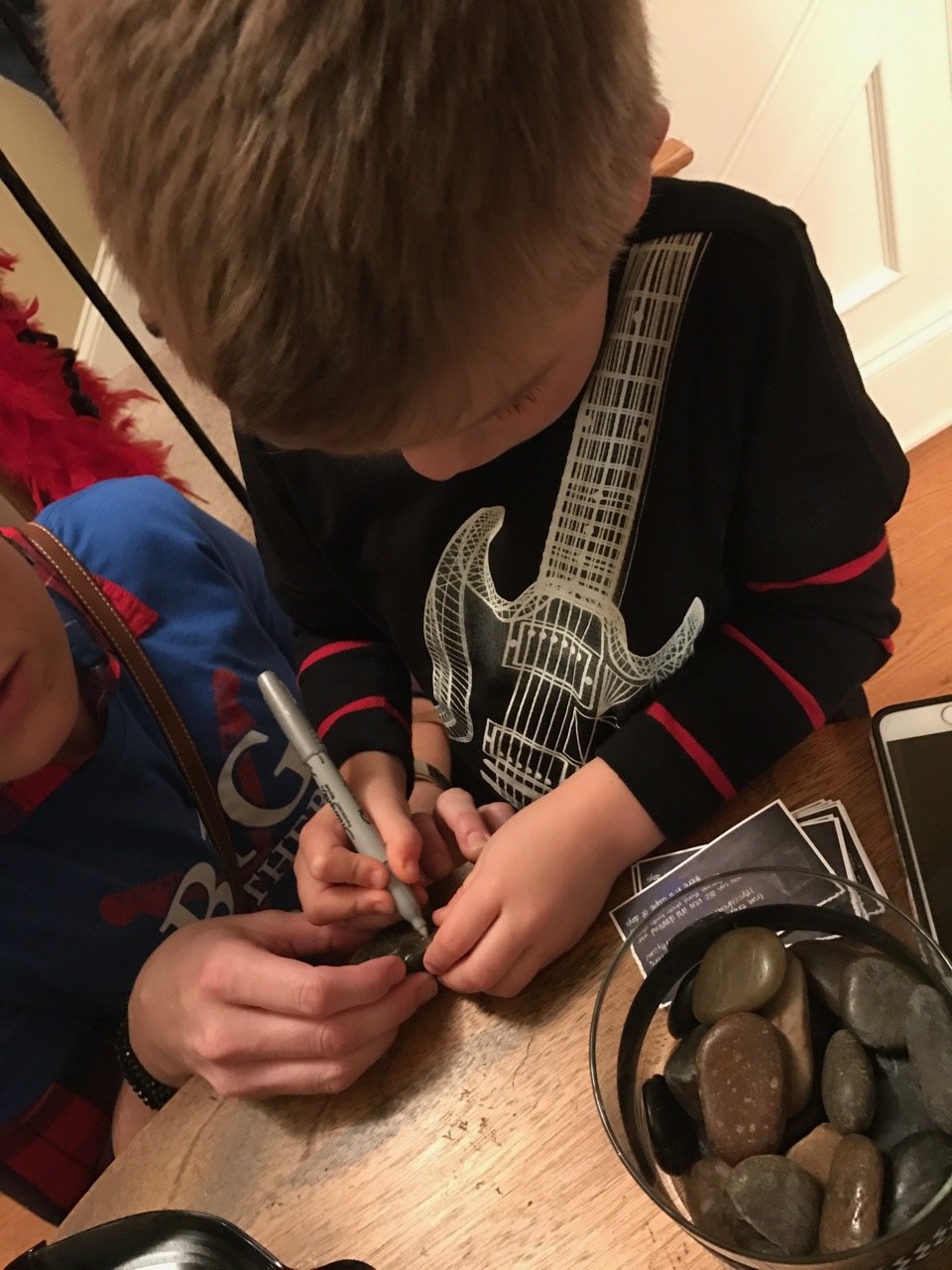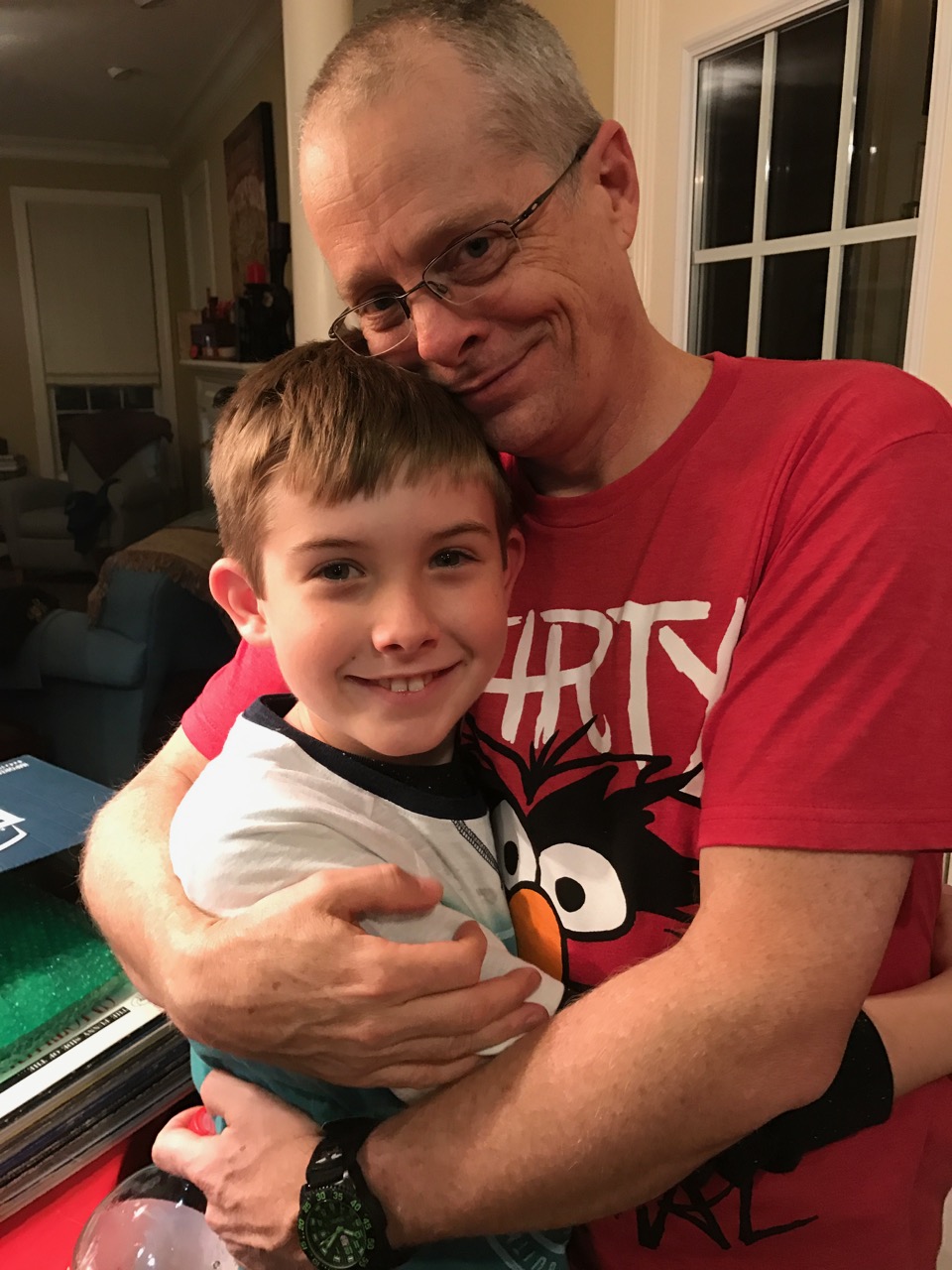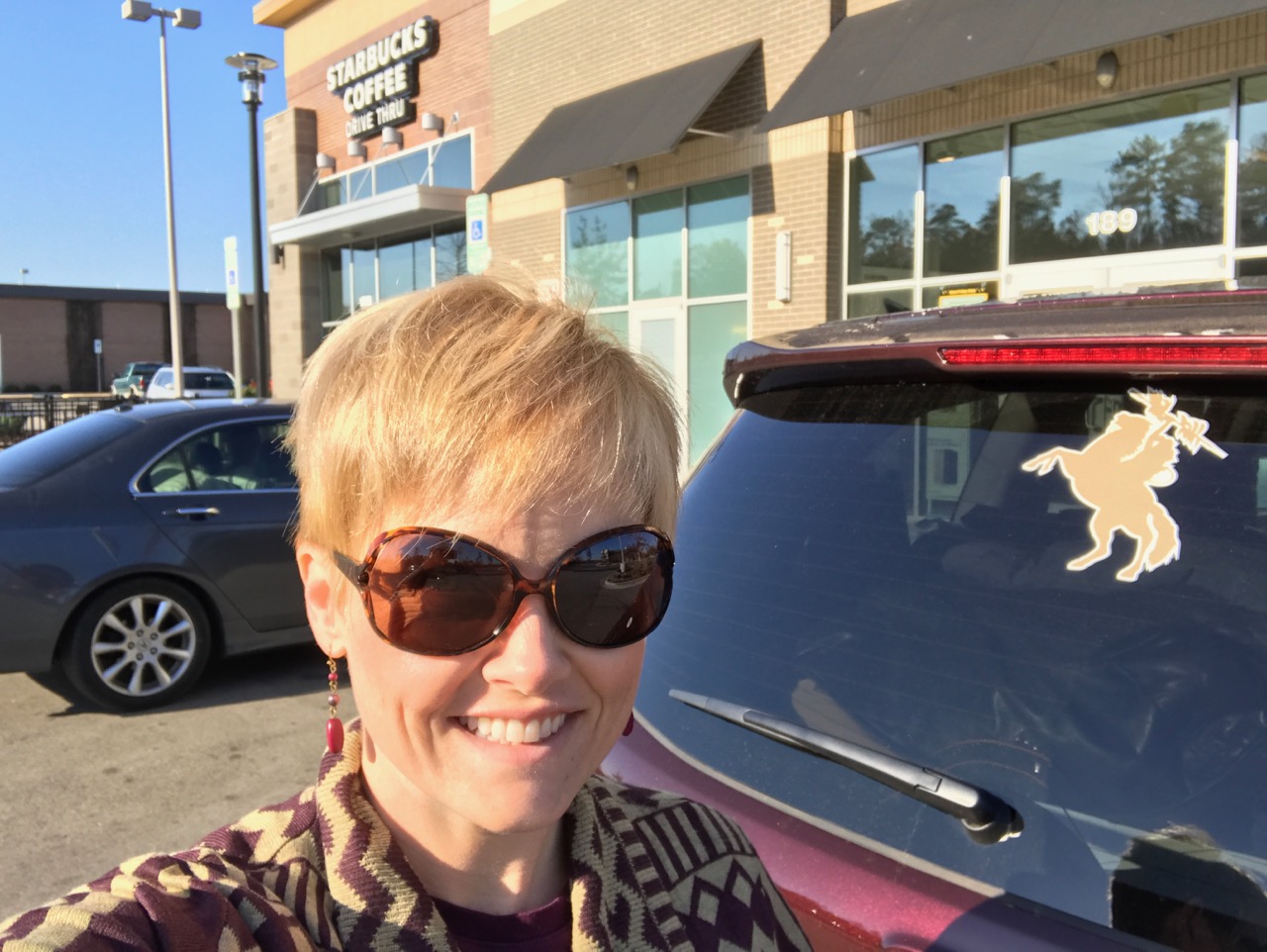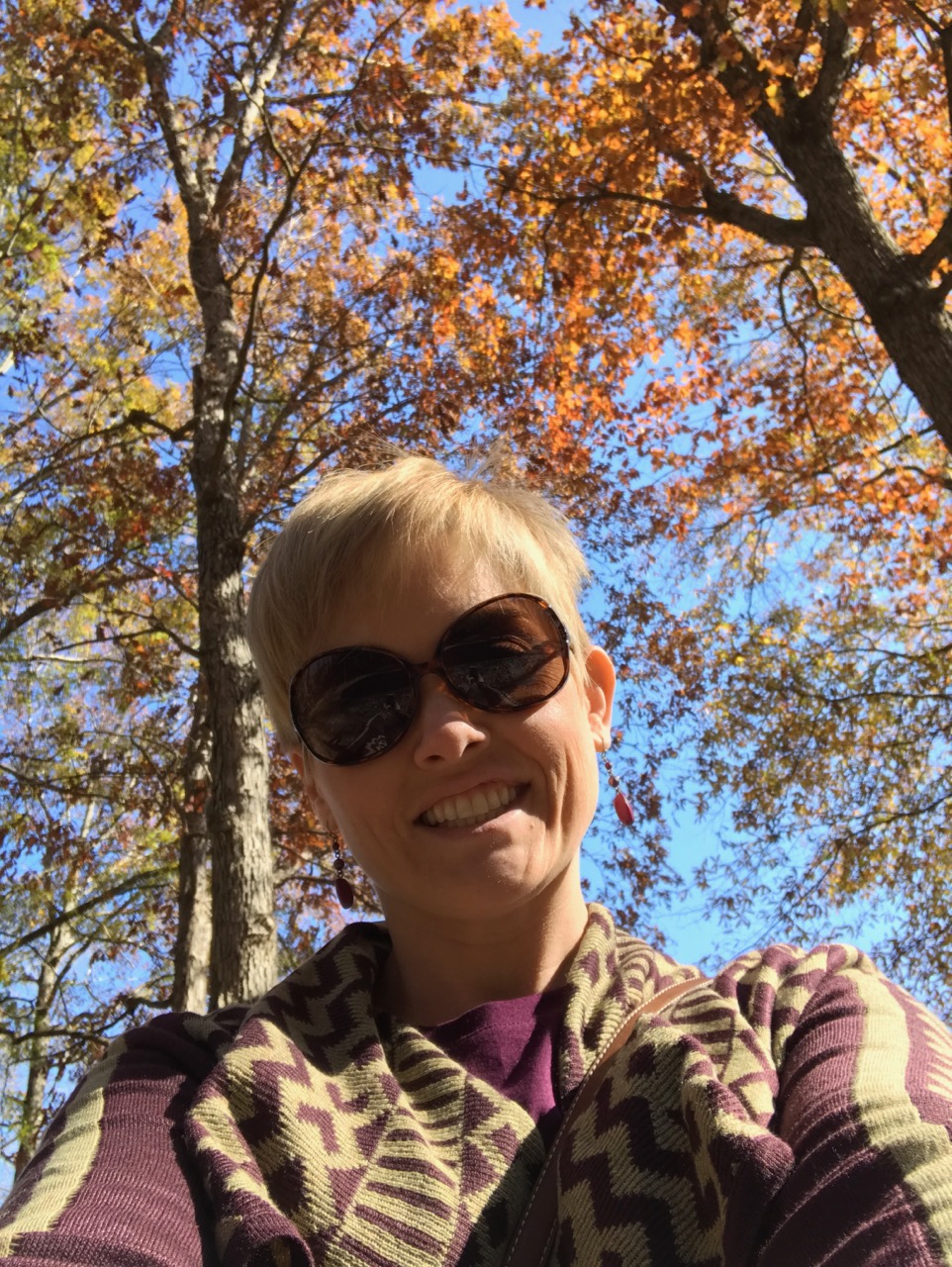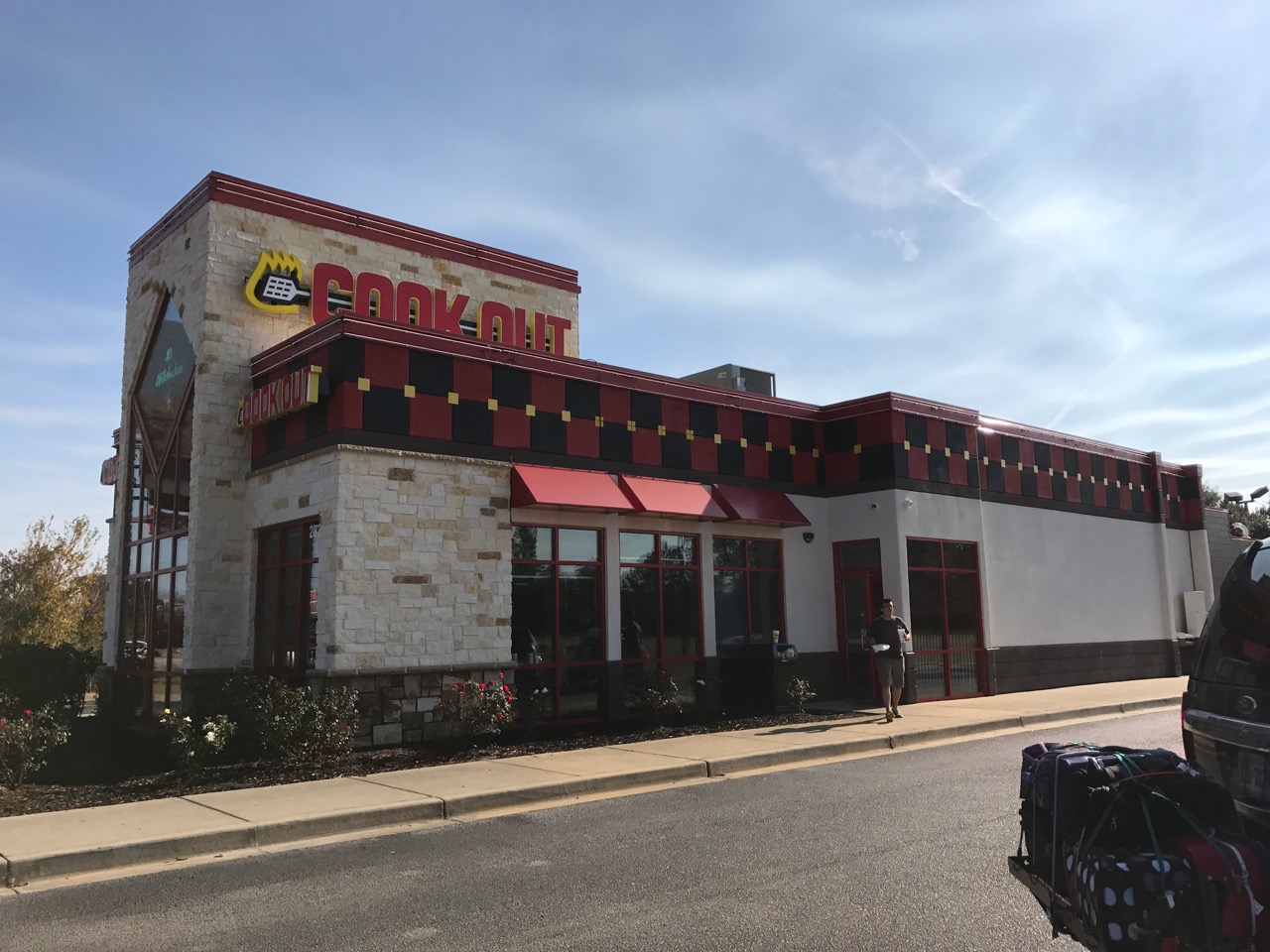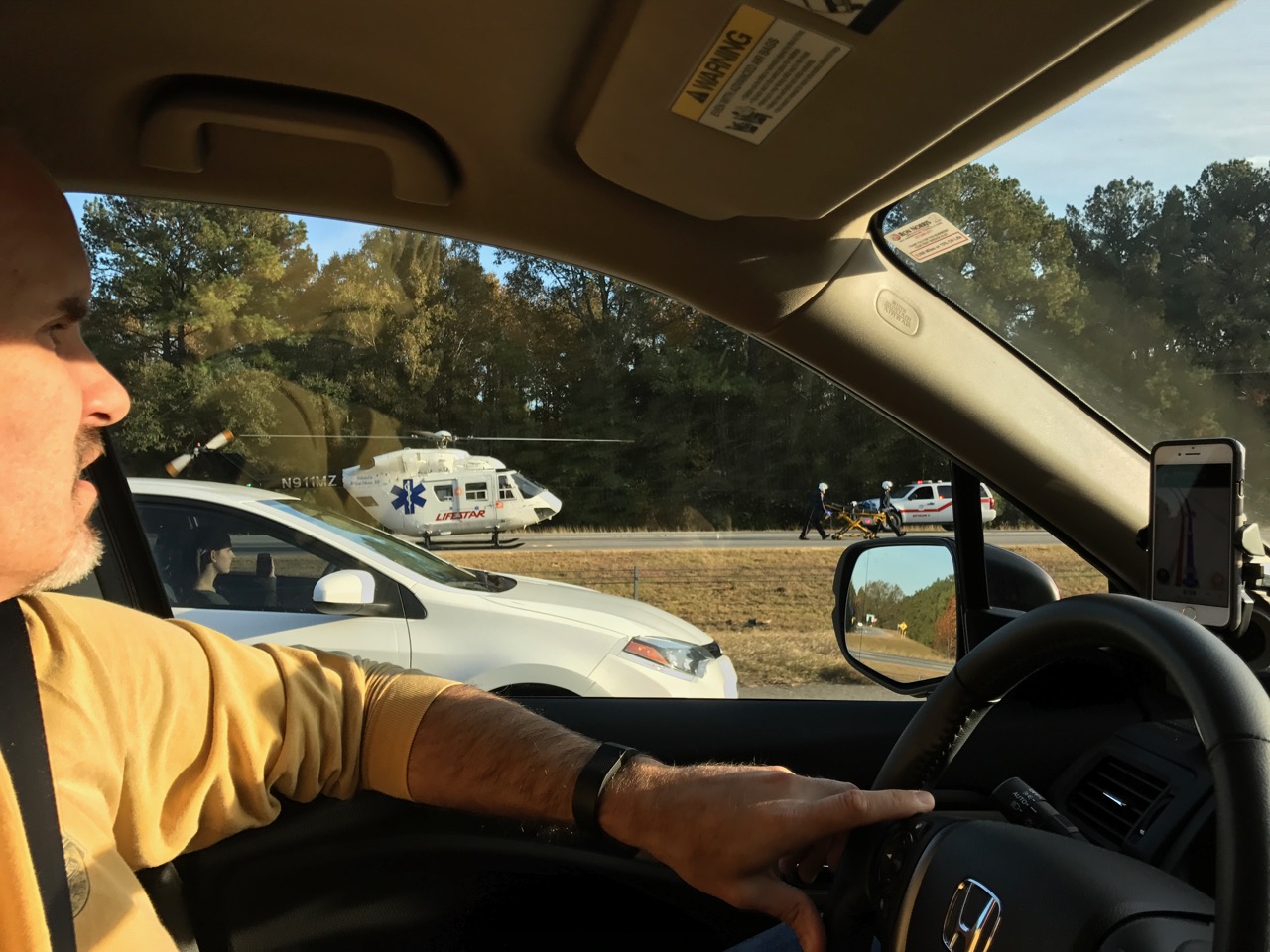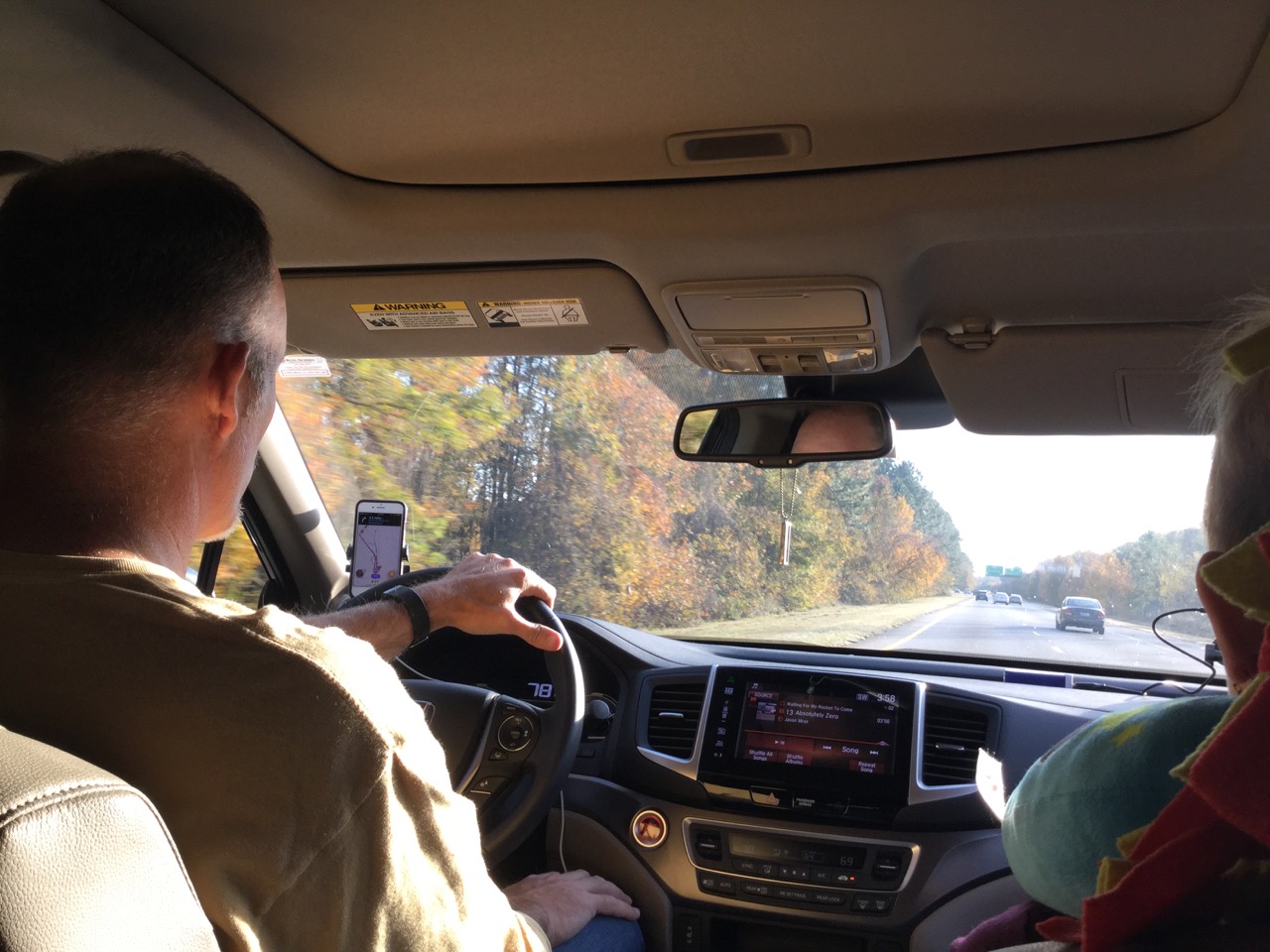 (Visited 51 times, 1 visits today)