Traveling to Port Canaveral
Emily had, in her usual style, arranged all of the details for a memorable fifth birthday for Sawyer, which kicked off with a three night Disney Dream birthday cruise.   The bags were packed with the essentials as well as some fun birthday surprises for Sawyer.  After getting the car packed, Sawyer and I went to get Emily a Starbucks, both as a treat for her as well as to provide her time to set up the house for a special surprise when Sawyer returned on Monday for his actual birthday. 
After acquiring Emily's thirty syllable iced concoction, we returned home to see Colonel and Kee, who came by to take our family photo before departing for Cape Canaveral.  We are lucky that we don't still live in the film era because we would have spent about $2,400 to process just the images that were taken on our front lawn.  Above is shot 14,563 of 2.5M.  We gave our hugs and told them we hoped to see them at Jetty Park as we set sail (one of our favorite traditions).  Living on the east side of Orlando definitely has its perks as the trip to the Port is a relatively quick one, meaning the kids don't really have enough time to get bored.  As we hit the apex of the bridge crossing over the intercoastal, the ship was in our sights!
Disney Cruise Port Check-In
We pulled up to the Disney Cruise Line building, checked our bags at the curbside check-in, and parked in the over-priced, yet convenient, parking garage.  Normally, I drop Emily and the boys off and meet them inside, but we all agreed to enter from the third floor walkway, providing for a few fun photo ops before check-in.
We zipped through the check-in process, which is always amazingly seamless.  Since I am normally parking the car I often don't get to experience the actual check-in at the desk.  The Cast were super friendly and happy to get us excited for our sea voyage.  After check-in we got a photo with Pluto before heading out the back doors to grab a few more photos of the ship.  All of those activities took the perfect amount of time as they were just calling boarding group 12 as we came back in from outside.
Boarding the Disney Dream
Arguably one of Emily and Hunter's favorite moments of the entire cruise happens in the first 5 seconds of boarding.  The Cast Members line up each family and announce each arrival over the atrium speakers, all while you walk through a "human tunnel" of more Cast applauding.  "Please welcome the HAYES FAMILY from Orlando!"  It really is a nice touch to get your voyage off to a memorable start.
Since we have been cruising a few times before, we have settled into our cruise entry ritual.  After admiring the beautiful deck 3 atrium, we travel the deck 3 hallway back toward the aft of the ship and take the elevator to deck 11 to the Cabanas buffet that always awaits us.  This cruise was no exception.  Upon arrival at Cabanas we loaded our plates with all of our favorite eats. Hunter's happens to be stuffing a bread roll with mac-n-cheese.  Because the weather was picture perfect, we agreed that the back deck of Cabanas would make the perfect lunch setting.  Aside from the electronic bird noises that they added to keep away the real birds, the lunch was a relaxing way to start our vacation.  Pretty sure they are channeling pterodactyls to scare away the pesky seagulls. 
Exploring the Disney Dream
The time right after lunch before the rooms are officially ready provides the ideal opportunity to check out some of our favorite cruise locations.  Our first stop was the Oceaneer Club, which has recently been renovated and now includes a Star Wars section, complete with the Millennium Falcon, as well as a huge Disney Infinity game room.  You might remember the kids enjoying the same area with their cousins Halloween on the High Seas Disney Cruise back in October.  Not only is it fun for us adults to enjoy this kids' club during the open house, it is also the perfect place to get the kids signed up for their access bands because there is normally no wait to do so.  We got the kids signed up and played around at the ship game for a bit.  This has been Hunter's absolute favorite game at the Oceaneer Lab since I can remember.  The game allows kids to captain the Disney Dream (and other ships) in and out of the ports that are traveled.  Although his voyages end in many port accidents, he still loves being behind the wheel.
Just as we were wrapping up our fun at the Oceaneer Club and Lab, it was announced that the rooms were officially ready.  We made our way to deck 10 aft to locate our home for the next three nights, stateroom 10646.  Sawyer did the honors of the first door opening and ran in to check out the room.  It didn't take long before the television was turned on and the Mickey cartoon channel located.  Watching the Mickey cartoon shorts has been one of our favorite stateroom activities and provides the perfect background noise to put you into a nice sea sleep.  We got a few things situated in the room while the boys watched the cartoons until Emily kindly asked the boys of the room to get out.  She had grand plans for unpacking and decorating, none of which involved a Y chromosome.
That was Dad's cue to take the boys on our first round of the Midship Detective Agency game.  We navigated down to deck 5, got our Midship Detective Agency card and began "The Case of the Missing Puppies" mystery.  We were saving the Muppet mystery for when Emily could participate.  Before we embarked on our Midship game, we agreed that we were going to go one floor at a time, navigating from forward to aft on each floor so we could see more of the ship.  It was an exhausting experiment but my Fitbit surely congratulated me for my efforts.  After around deck 10 we finally solved our first game which placed us right where we wanted to be… one flight up to deck 11 for some celebratory ice cream.  Gotta love the all-you-can-eat ice cream on the Disney Cruises!  I think we each had 2 or 3 cones!
We had officially killed our allotted time out of the room so we made our way back to the stateroom to see what surprises Emily had cooked up while we were out.  The stateroom door alone was absolutely amazing (as can be seen in the photo above), with a ton of laminated magnetic goodies.  Sawyer was blown away.  After we entered the stateroom there was even more to enjoy.  Emily created a Muppet door of all of Sawyer's favorite characters quoting fun expressions.  There were also banners and magnets on other walls as well.  She really knows how to make people feel special!
After enjoying the creatively decorated room and snapping a few photos to remember it in its initial state, it was time for the ship safety drill.  Those of you who have read previous cruise posts know that this is definitely not Hunter's favorite activity, although he has grown more accustomed to it as he has gotten older.  Lucky for us, our meeting area for the safety drill was in Evolution, an adult bar/night club on deck four.  The nice thing about that location is that it is inside and there are seats!  The safety drill ended quickly, after an audio glitch that repeated part of the message, and we returned to the stateroom so I could set up the GoPro for a departure time lapse before heading up to deck 12 for the sail away party.
Disney Dream Sail Away Party
The clothes were unpacked, room set up, safety drill complete… finally it was time to relax and unwind!  Our ritual is to plant ourselves on deck 12 to enjoy the sights and sounds but not be directly in the middle of crowd.  It also allowed us the ability to grab a spot along the rail to wave to Emily's parents (Colonel and Kee), who were standing at Jetty Park waving their Mickey gloves.  Normally, we get a watered down beverage from the roaming servers, but we decided to kick off this cruise in style with our favorite Captain's Mai Tai from the Waves bar.  Hard not to be in the cruise spirit with a Captain's Mai Tai!  We also got to meet up with a family that we sat next to at dinner on a previous Disney Cruise (Brian, Betsy, Chase and Lexie), who Emily connected with on Facebook.  It was fun seeing them again and catching up since our last cruise.  We all waved to Kee and Colonel on the ground, rounded the jetty out of the port, and we were on our way!
More Exploration on the Disney Dream
We were on the open sea and ready for some fun activities before it was time for our night one dinner at Animator's Palate.  Since Emily wasn't around for the first round of Midship Detective Agency, we started up our second game, this time with the Muppets "Case of the Stolen Show" with Mom.  It took us around a good bit of the ship before the search party was in need of a snack.  We just happened to be near our favorite deck four snack area, the Vista Cafe.  We munched down a few dessert snacks before we felt a bit of ocean movement.  Lucky for us Emily has opened her own onboard pharmacy since our last sailing and had multiple remedies that were sure to keep all of her travel companions upright. We swallowed down some pills and dabbed some magic ointment behind our ears and we were ready to rock. #nerdsatsea
After finishing about half of our Midship game the boys were wanting to head over to the Oceaneer Club, and Emily and I were quite ready for an evening beverage.  We dropped the boys off and made our way to deck four aft, the Skyline Lounge.  This is our favorite indoor lounge on the ship because it is dark and chill and the back wall of the bar has a rotating panoramic wall of some of the most beautiful city skylines in the world.  Emily always orders a fancy drink from the (lighted) menu, and I went with my Captain's Mai Tai.  It was just the break that we needed before getting the boys and heading to dinner.
Disney Dream Dinner – Animator's Palate
Dressed for dinner at Animator's Palate, Emily found Sawyer the perfect shirt for the occasion as Sawyer literally looked like one of the servers.  We got seated and situated at table 75 and were happy to see that we were seated at a table for four.  On one of our previous cruises we were seated with another family and, although they were great people, sometimes it is nice not to feel like you have to make dinner conversation with strangers.
Our servers were nice, but to be honest, the dinner pace felt a little rushed.  The meal was on par with how the food normally is at Animator's and unfortunately we didn't have a great table location to see Crush.  We weren't too bummed as it gave us a chance to catch up and talk about all the things we were excited to do.  We ended up finishing our dinner and skipping dessert, with the knowledge that we would order something fun from room service to end our evening.
Nighttime on the Disney Dream – Deck 11
Because we made relatively quick work of dinner, we wanted to make the most of our day, so we put our swimming gear on and made our way to deck 11.  It was roughly 10 pm at this time so we arrived to find the Aquaduck and swimming pools closed.  Hunter was pretty excited that they were showing Ant Man on the big screen, so he found a chair and camped out to watch.  Sawyer and I spotted the only water area that was still open… the hot tub.  We took a soak in the warm water overlooking the calming waves of the ocean.  Aside from the splashing of the dozen kids who were using the 5 foot hot tub as a lap pool, it was an enjoyable time.  Eventually they closed the hot tub down as well so we all snuggled in our seats to watch a bit of Ant Man.  Realizing there was no plot, or if there was they hid it very well, we headed back to the room to get our cozy pajamas on and order room service.
A slice of key "lame" pie and some warm chocolate chip cookies and milk later, we were done for the night.  The Mickey cartoons lulled us to sleep along with the gentle rock of the ocean.  Can't think of a better place to retire for the evening.
Be sure to check out our day two adventures on the Disney Dream in Nassau!
Disney Dream Photo Slideshow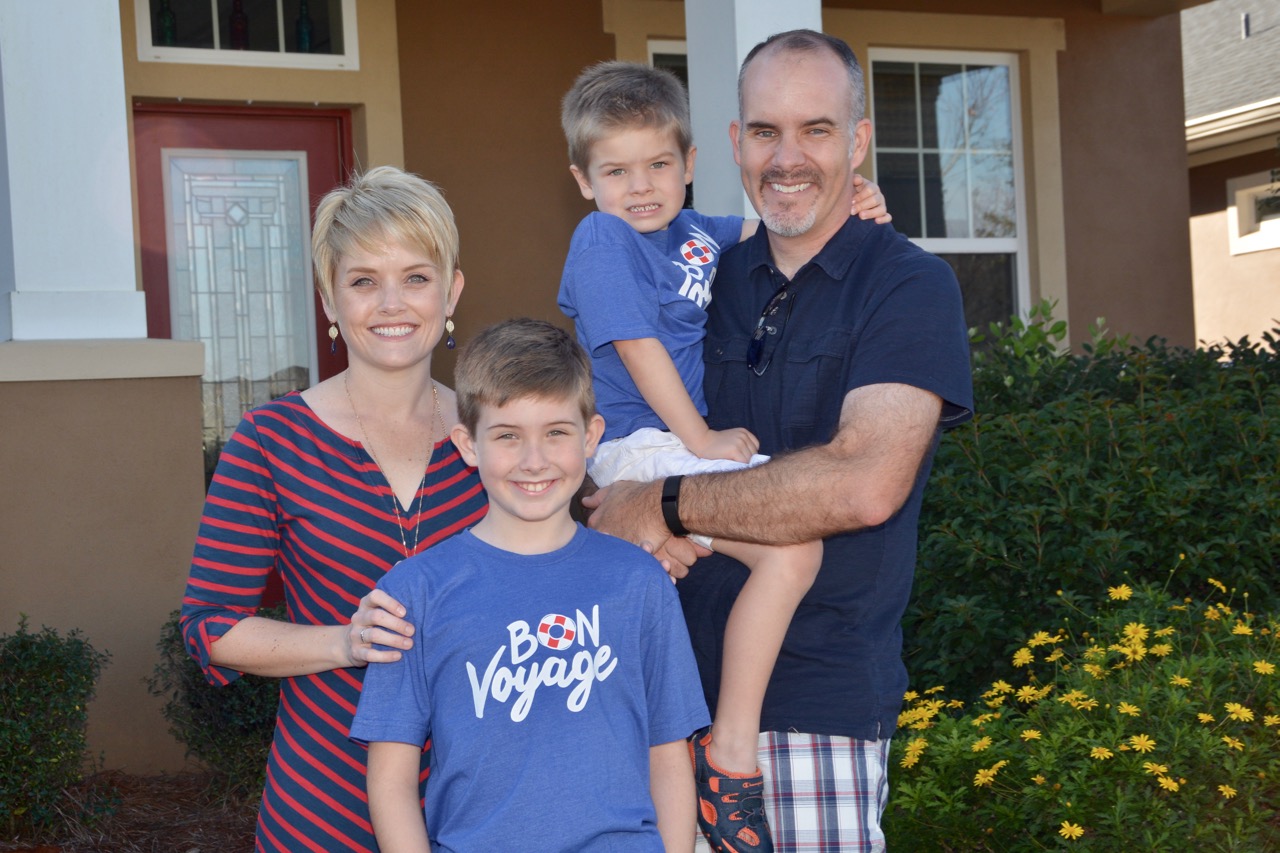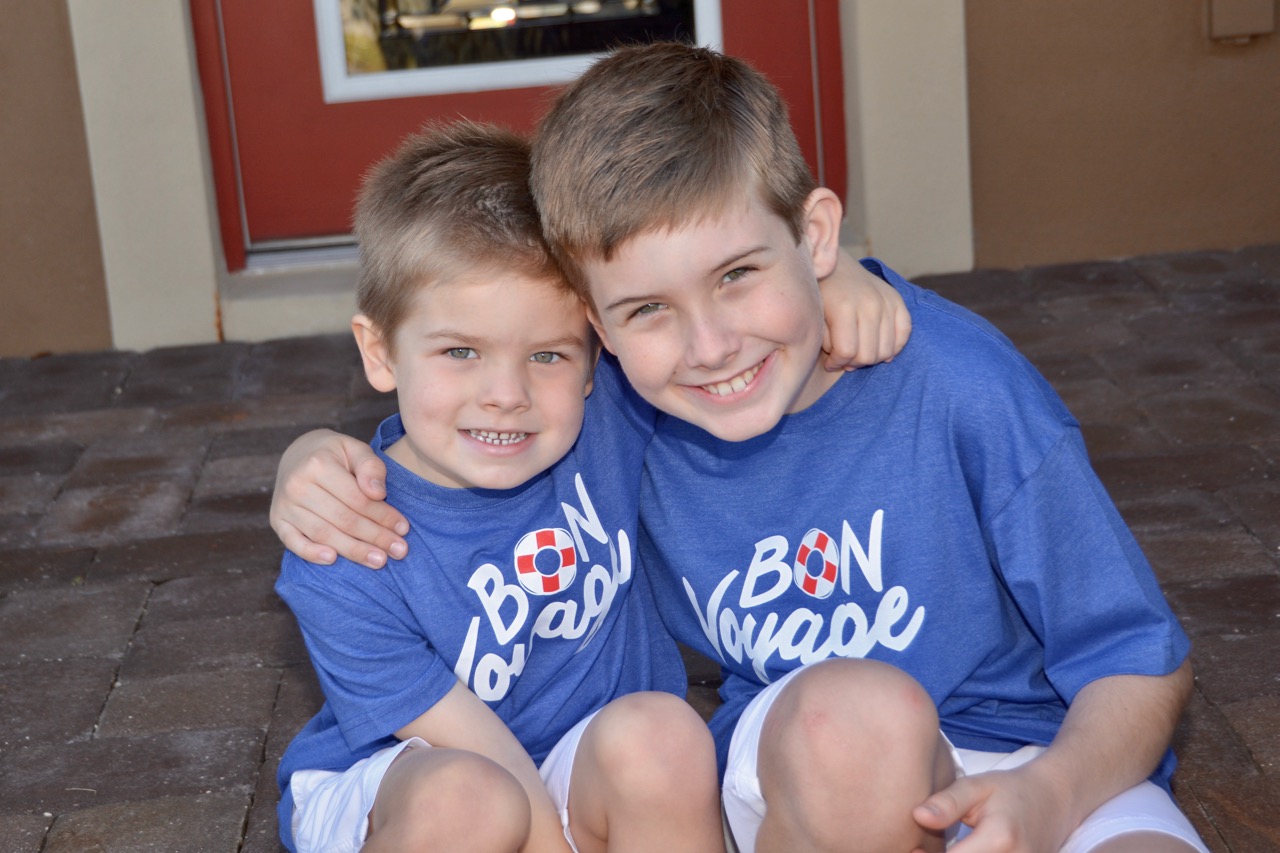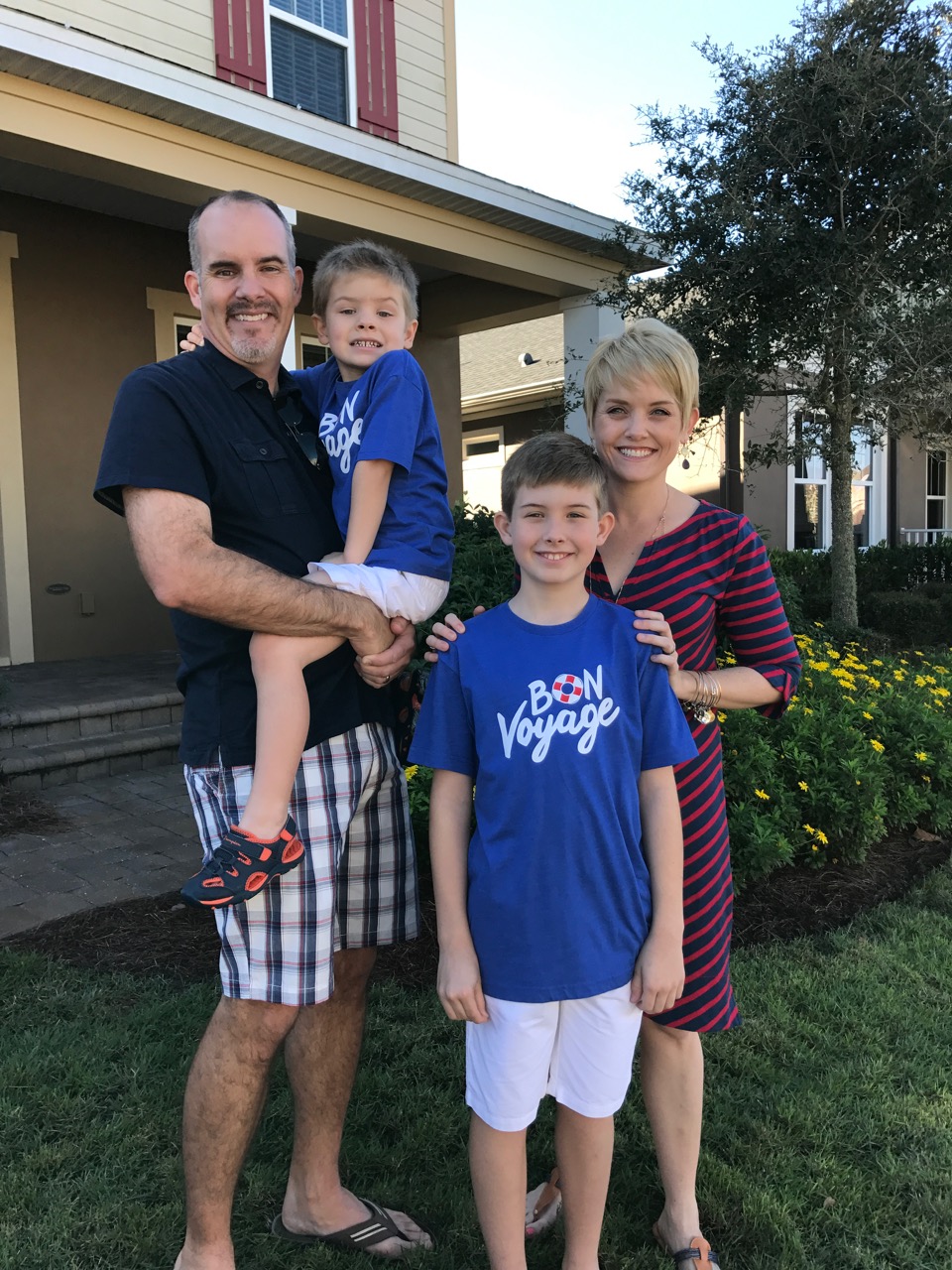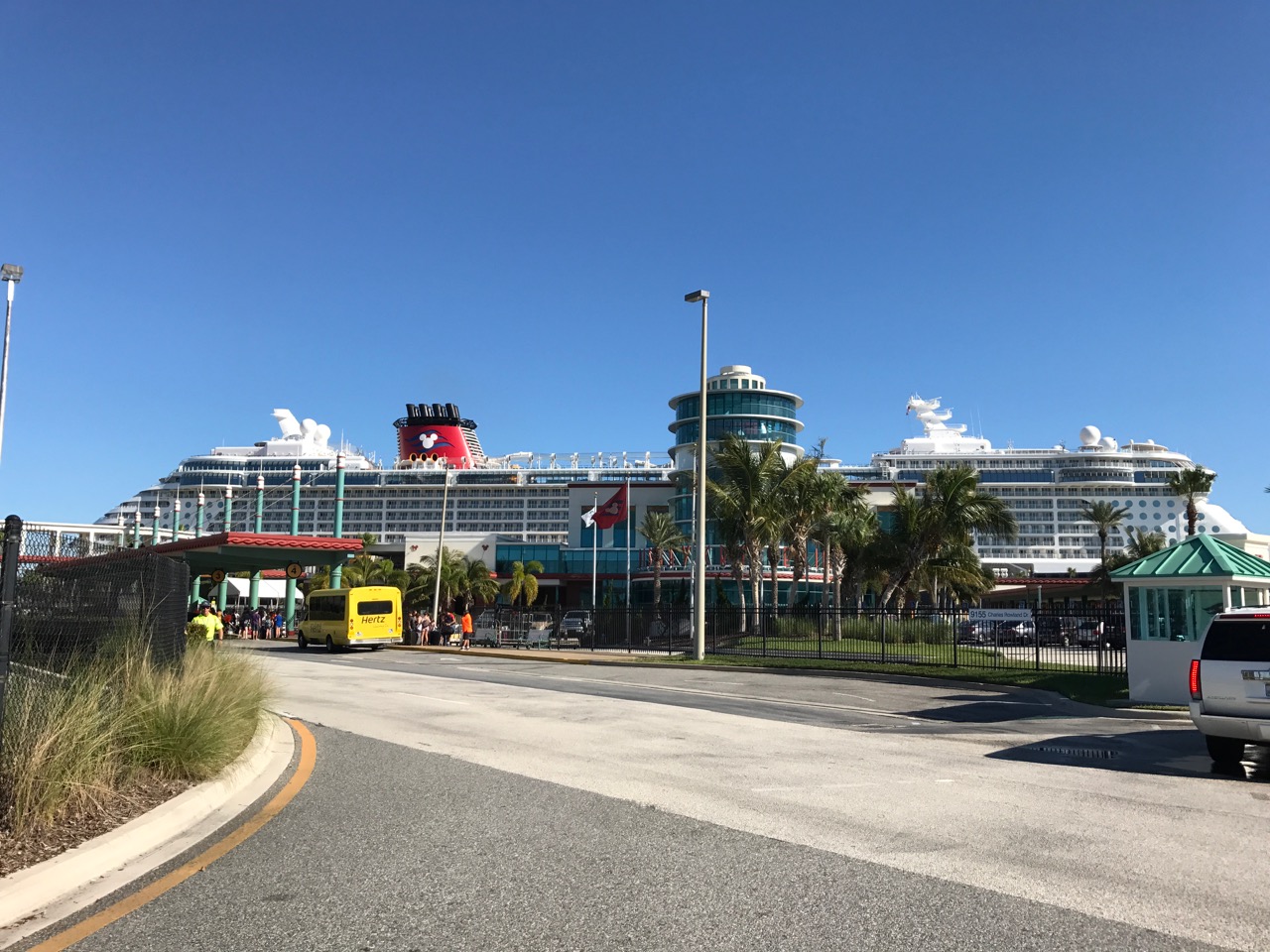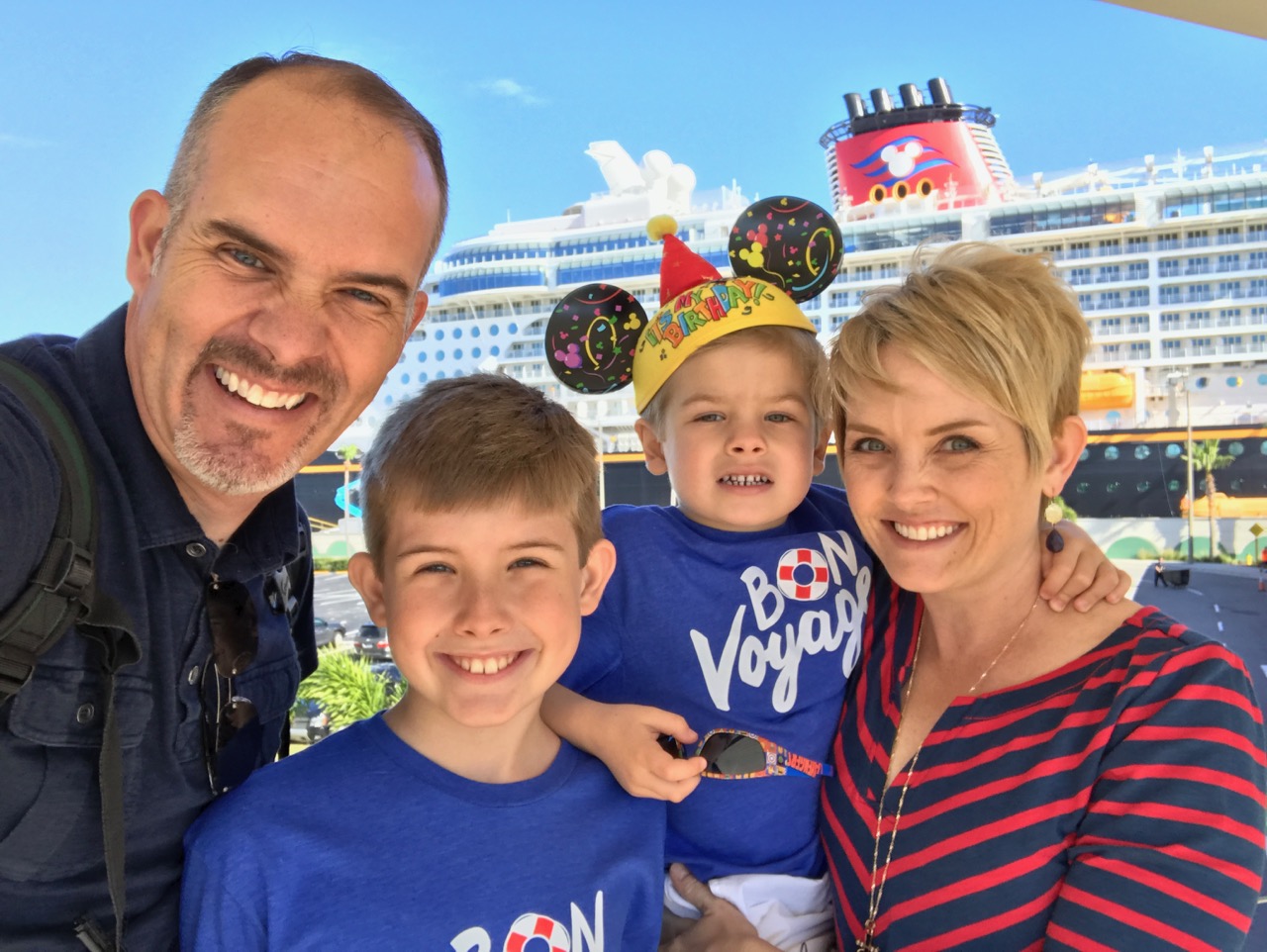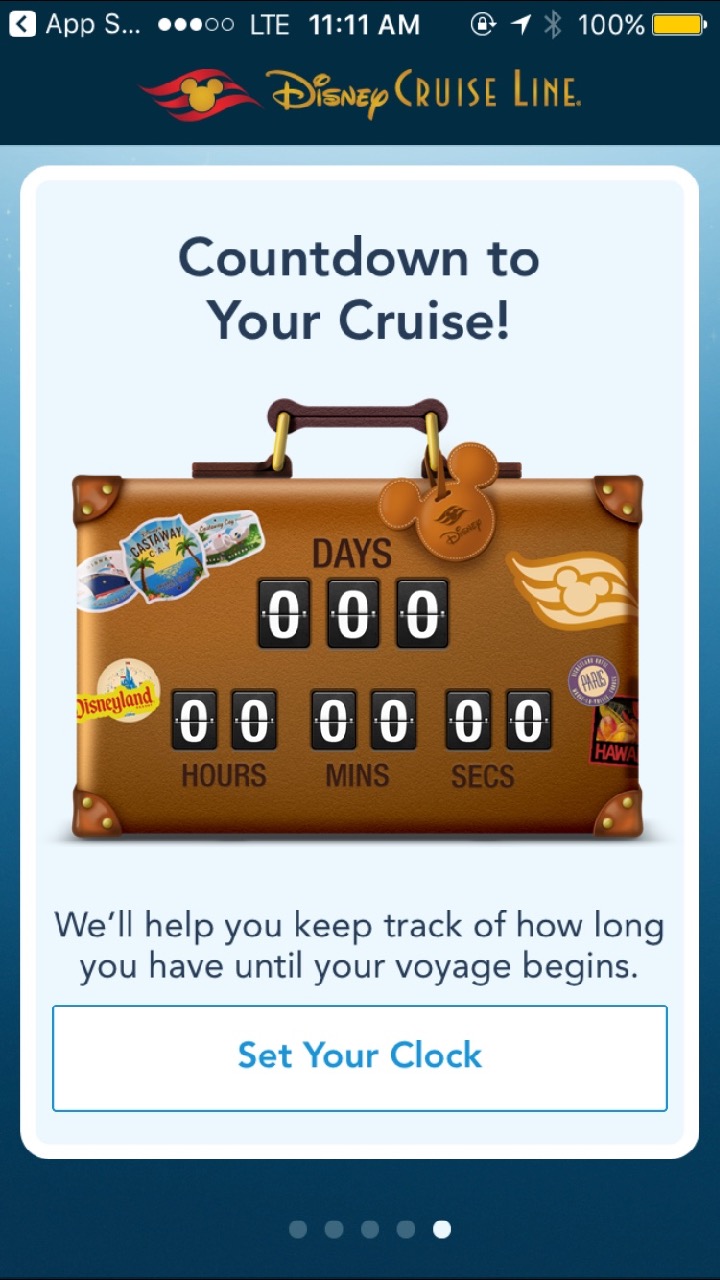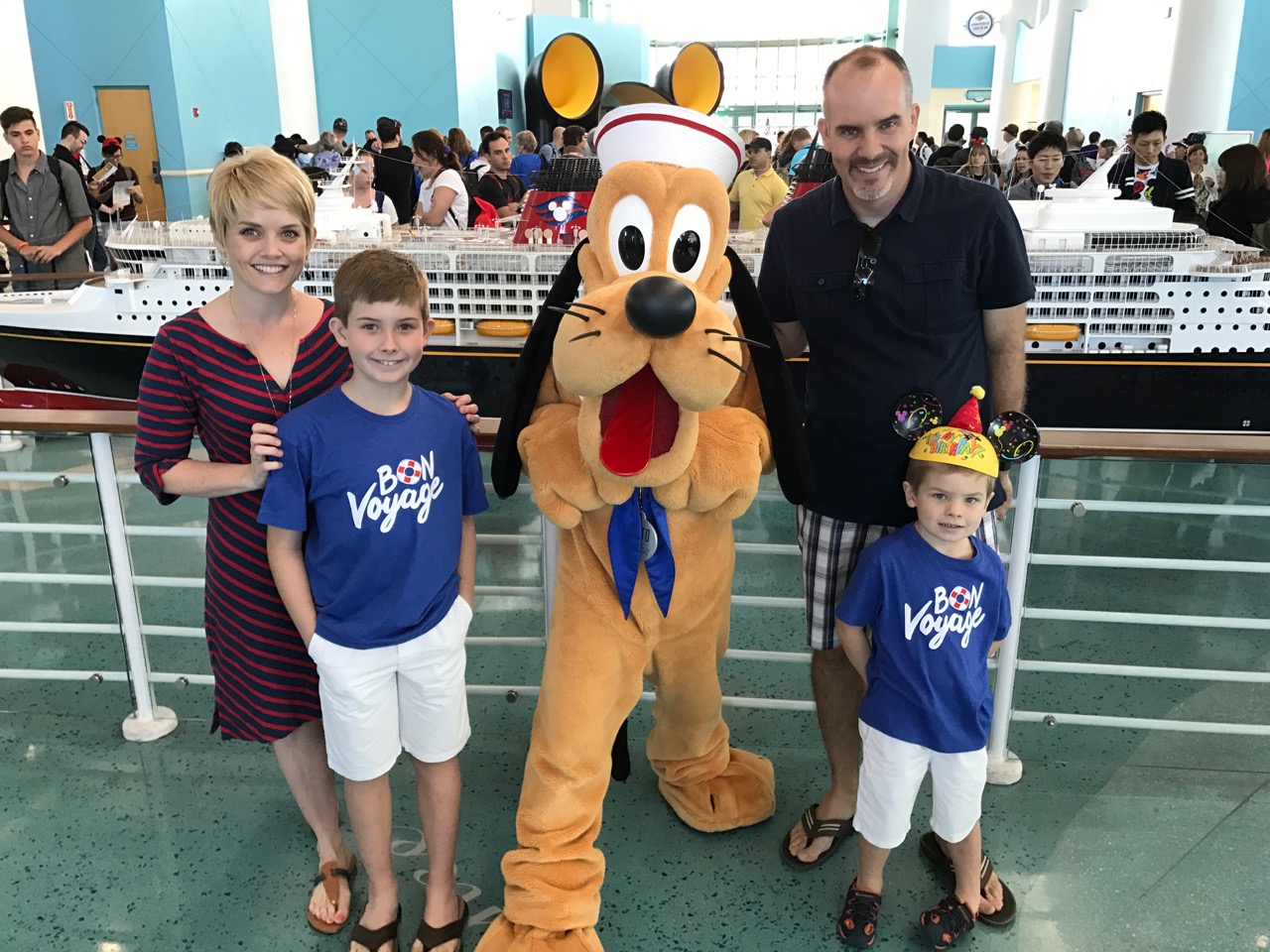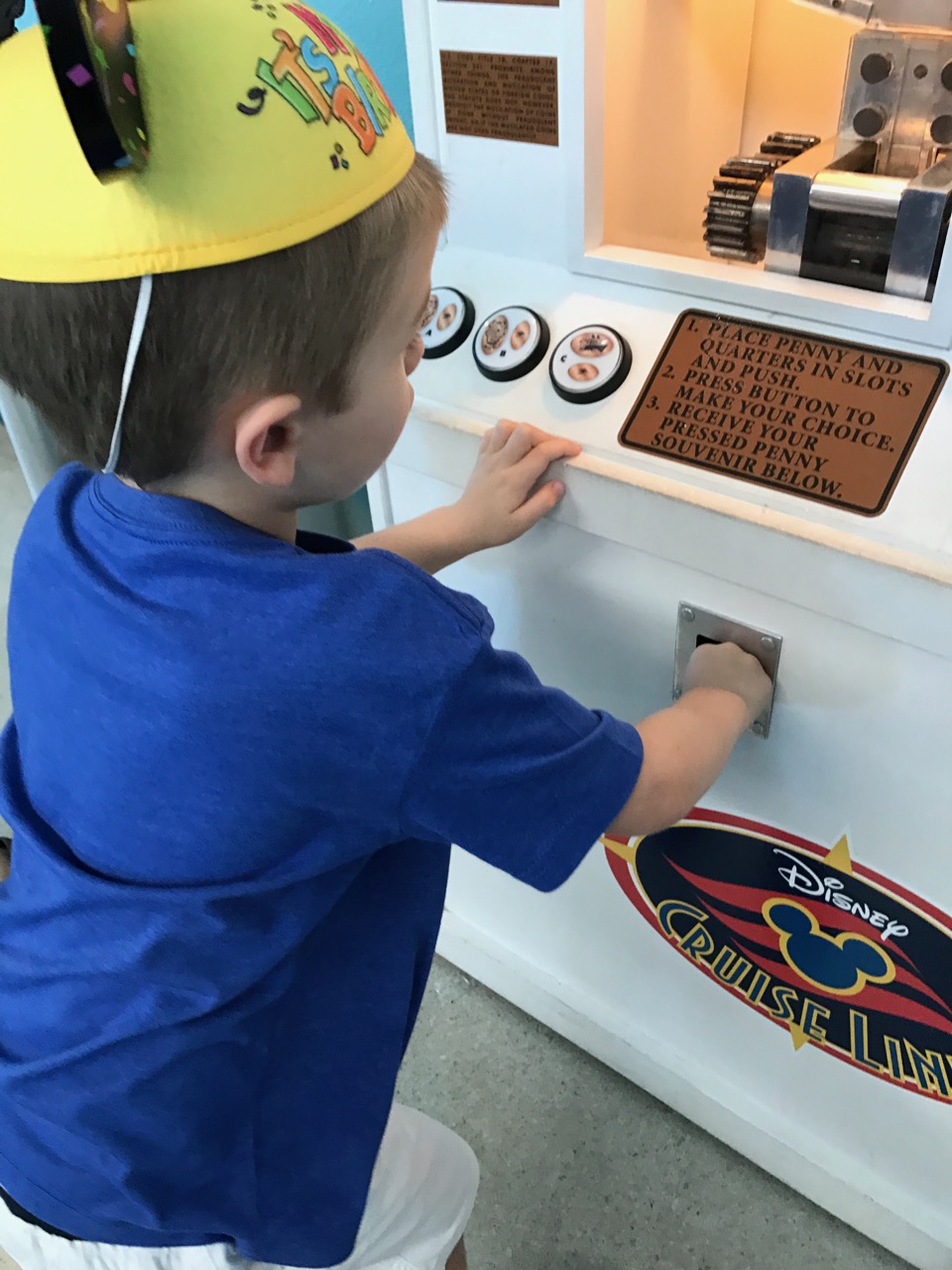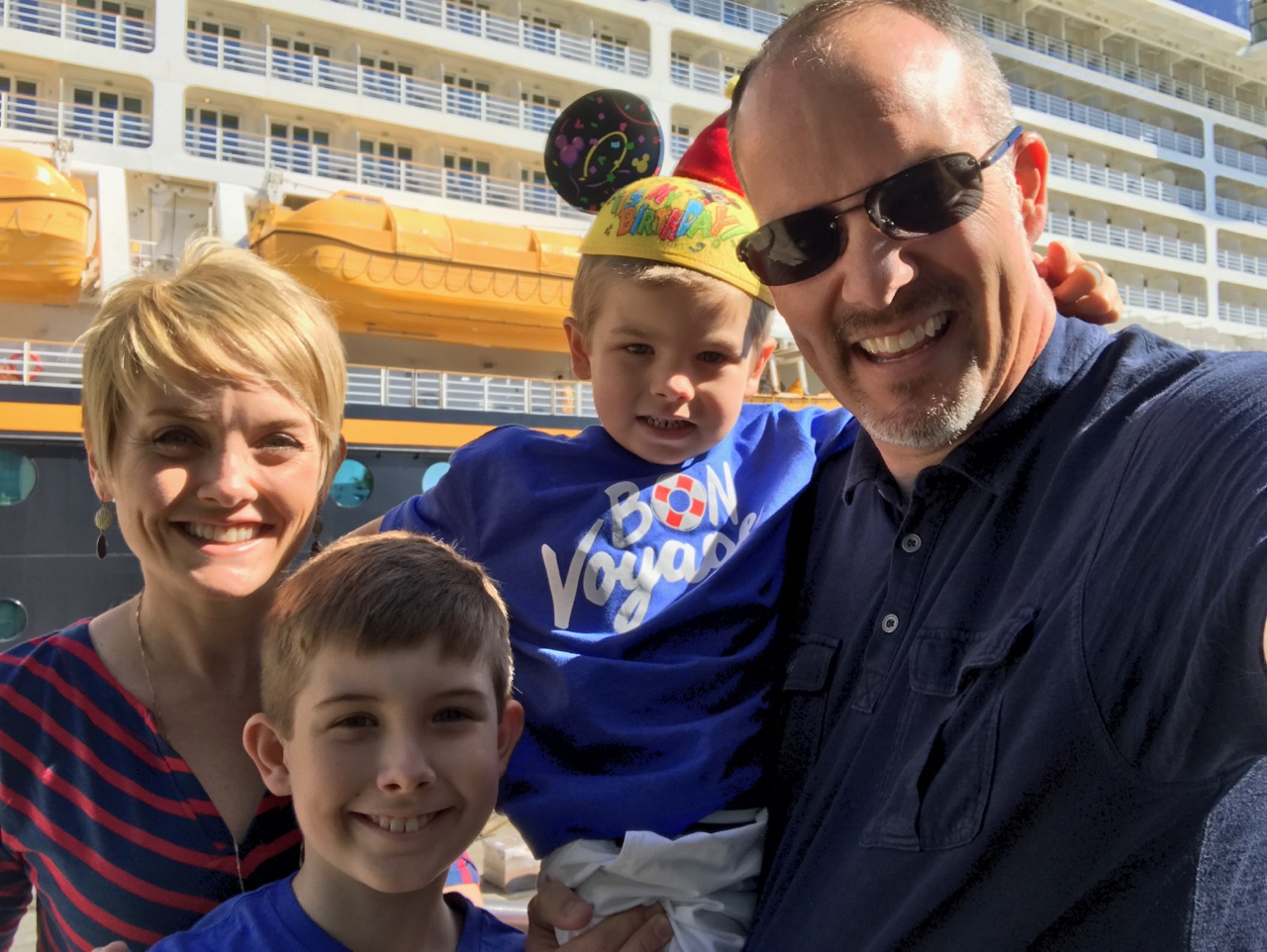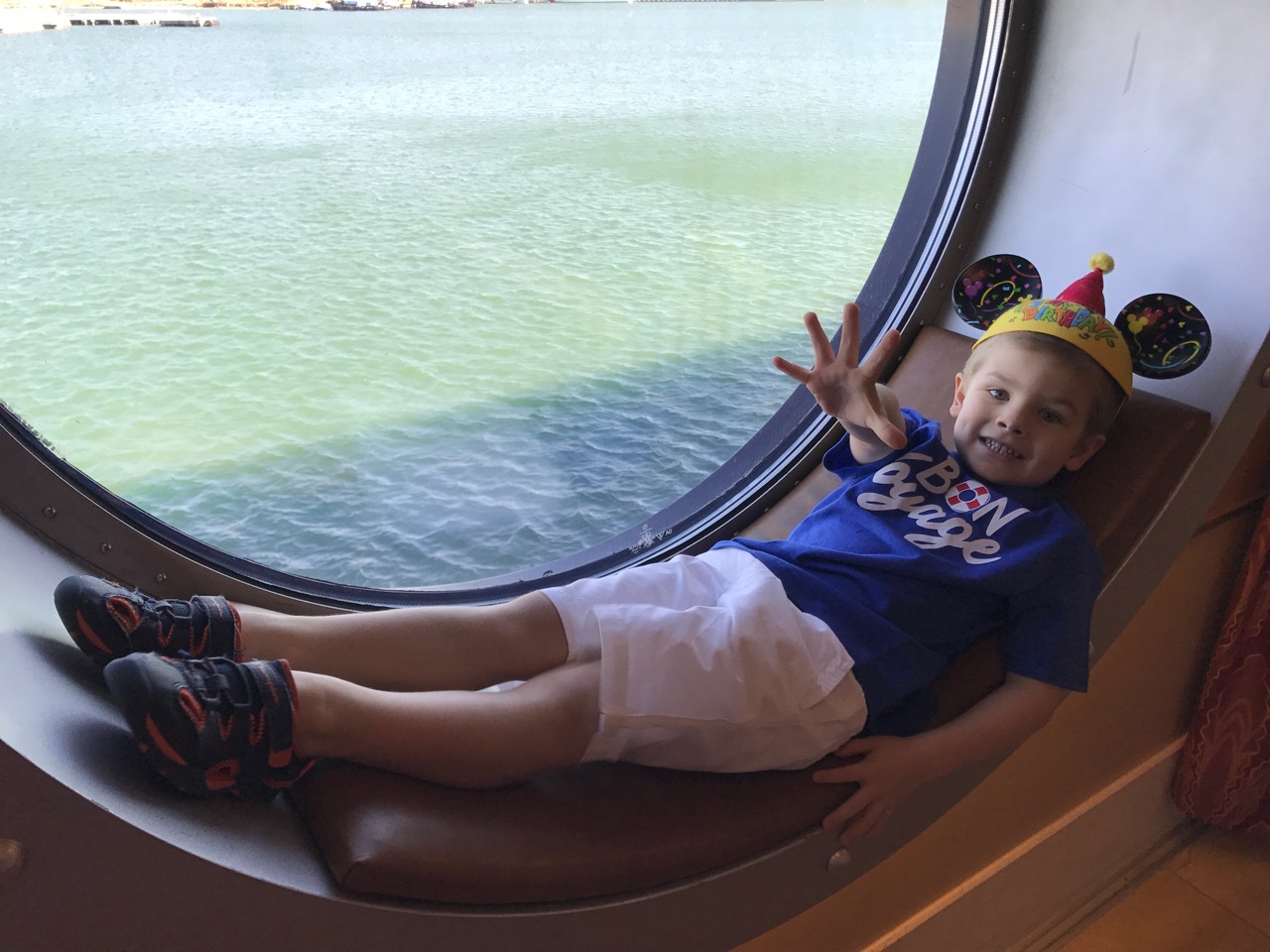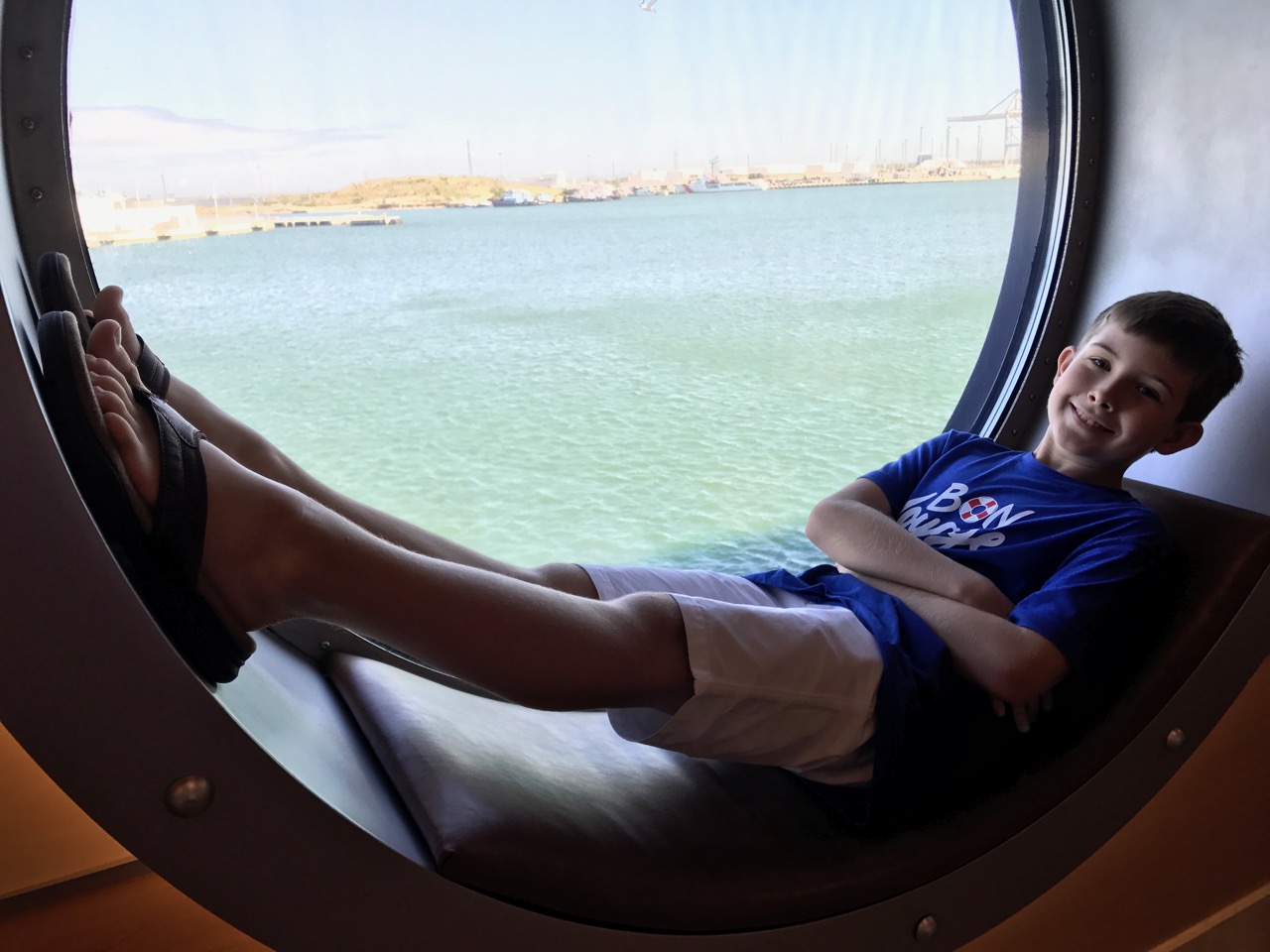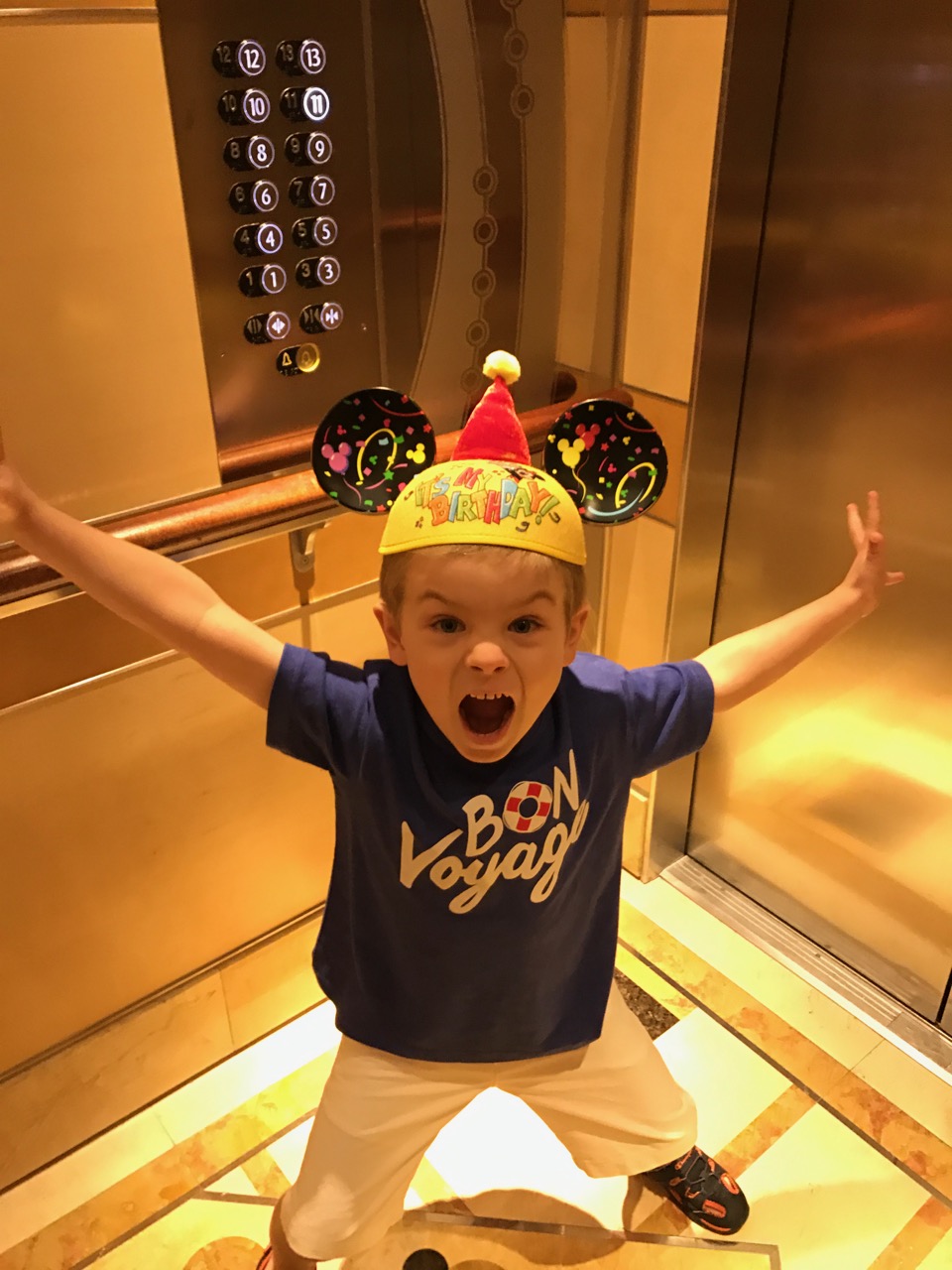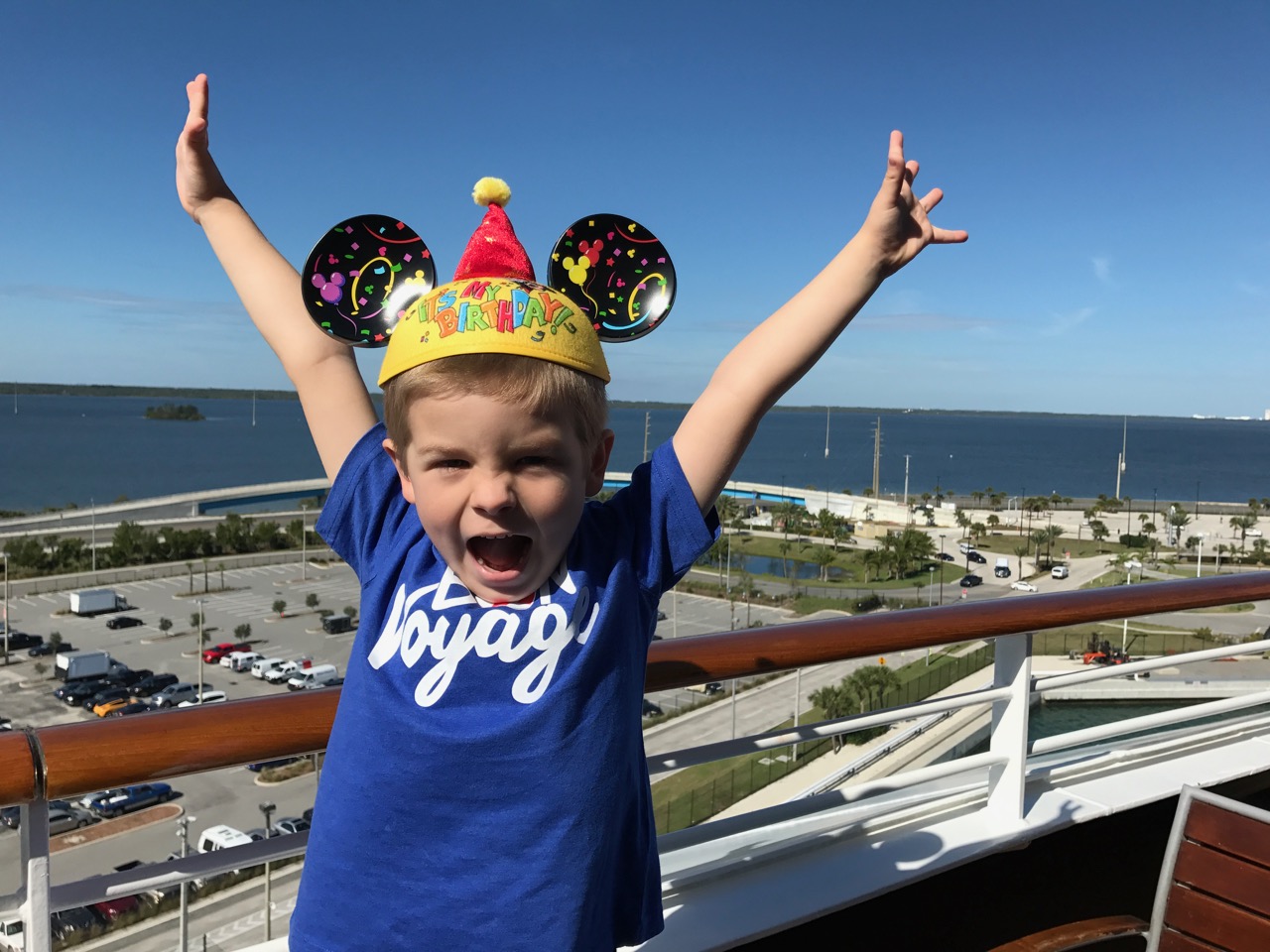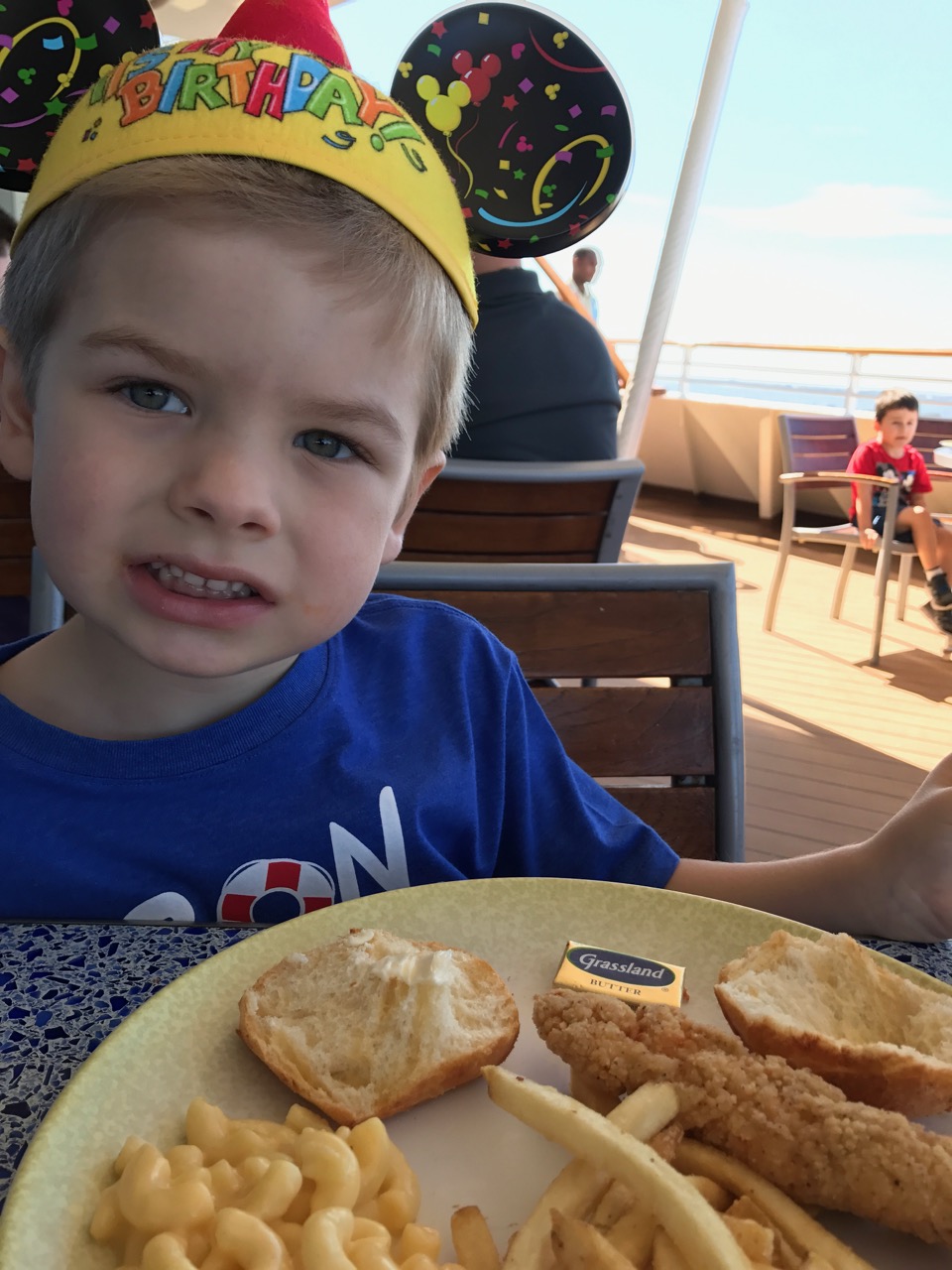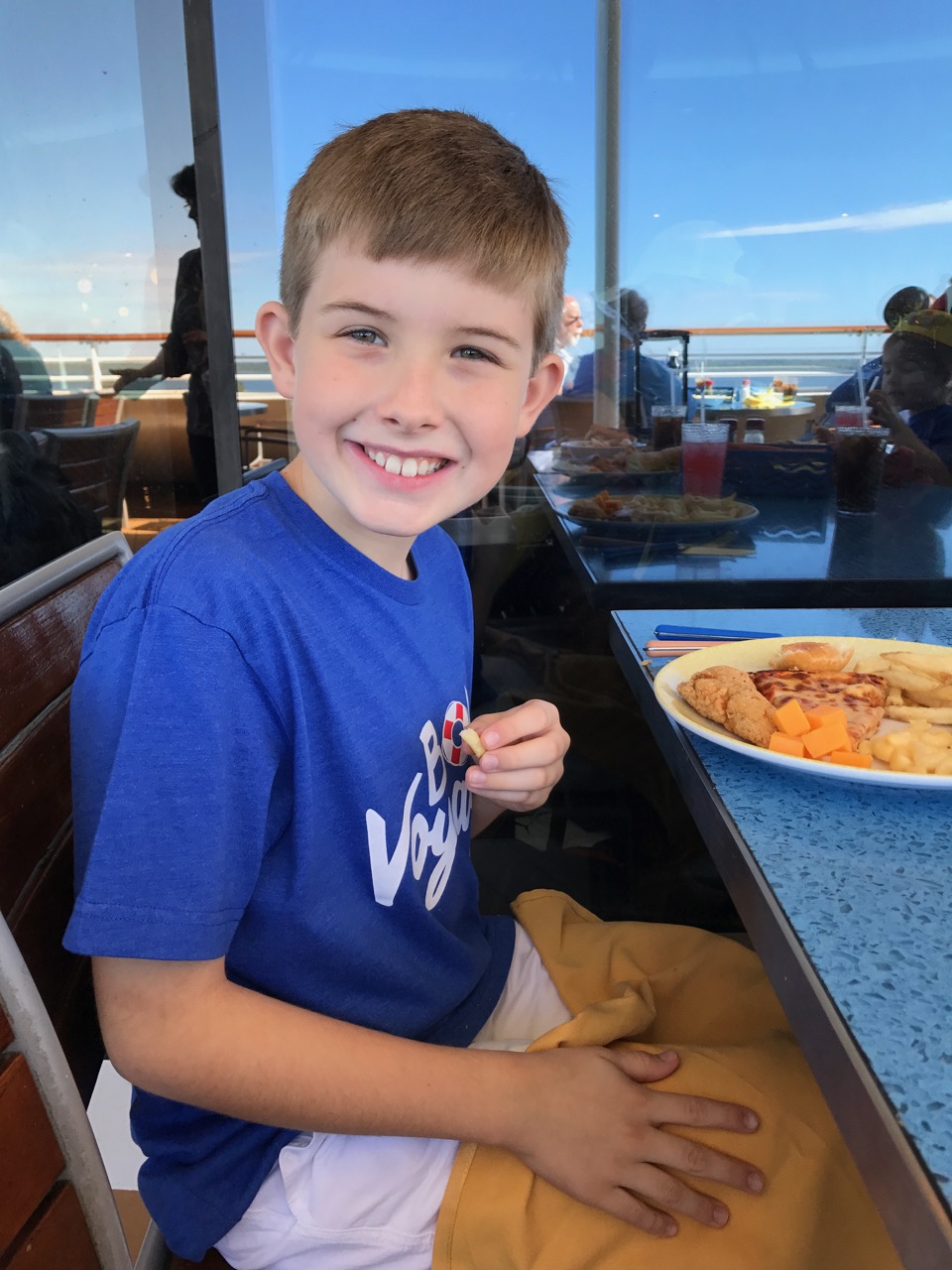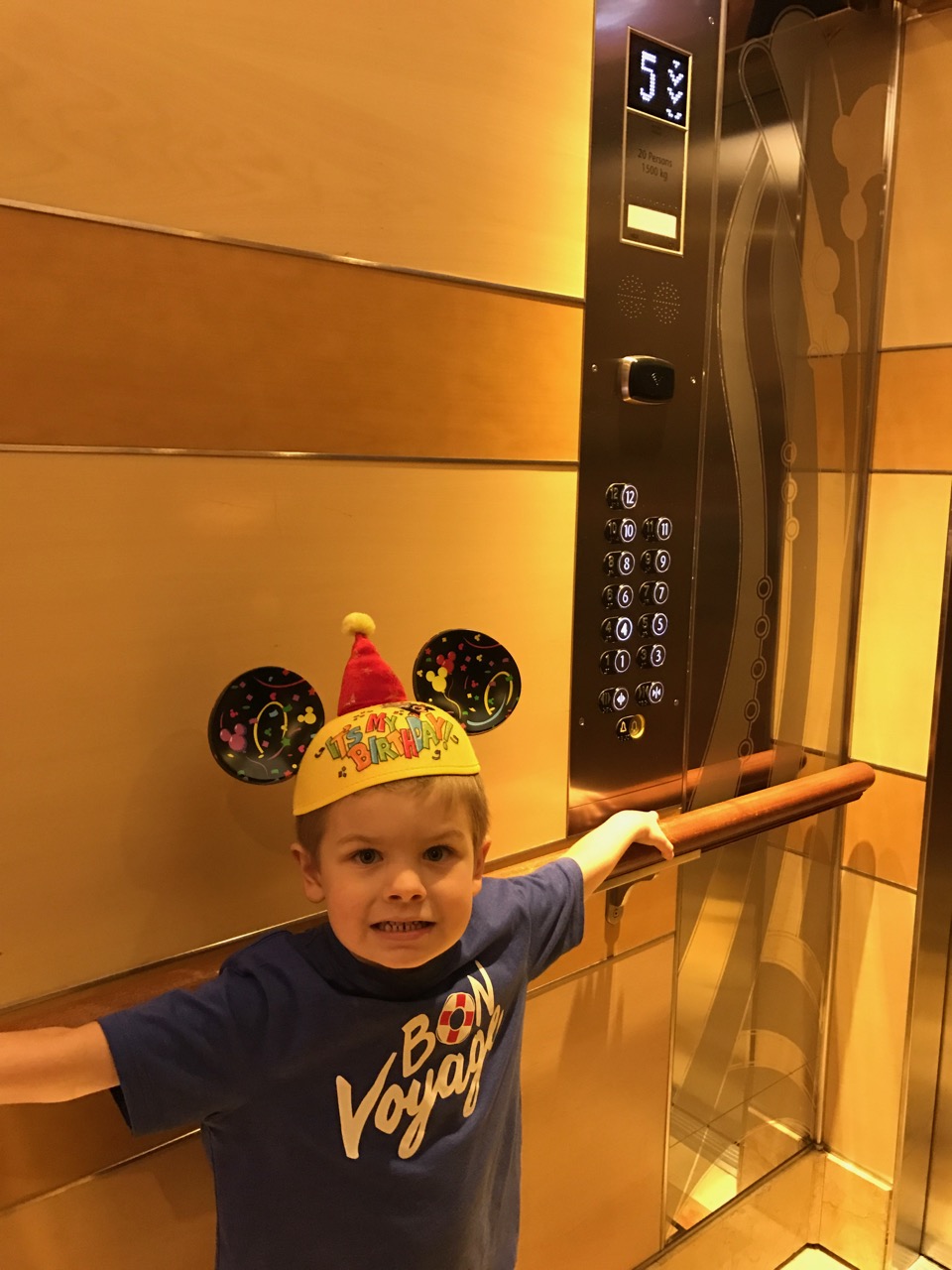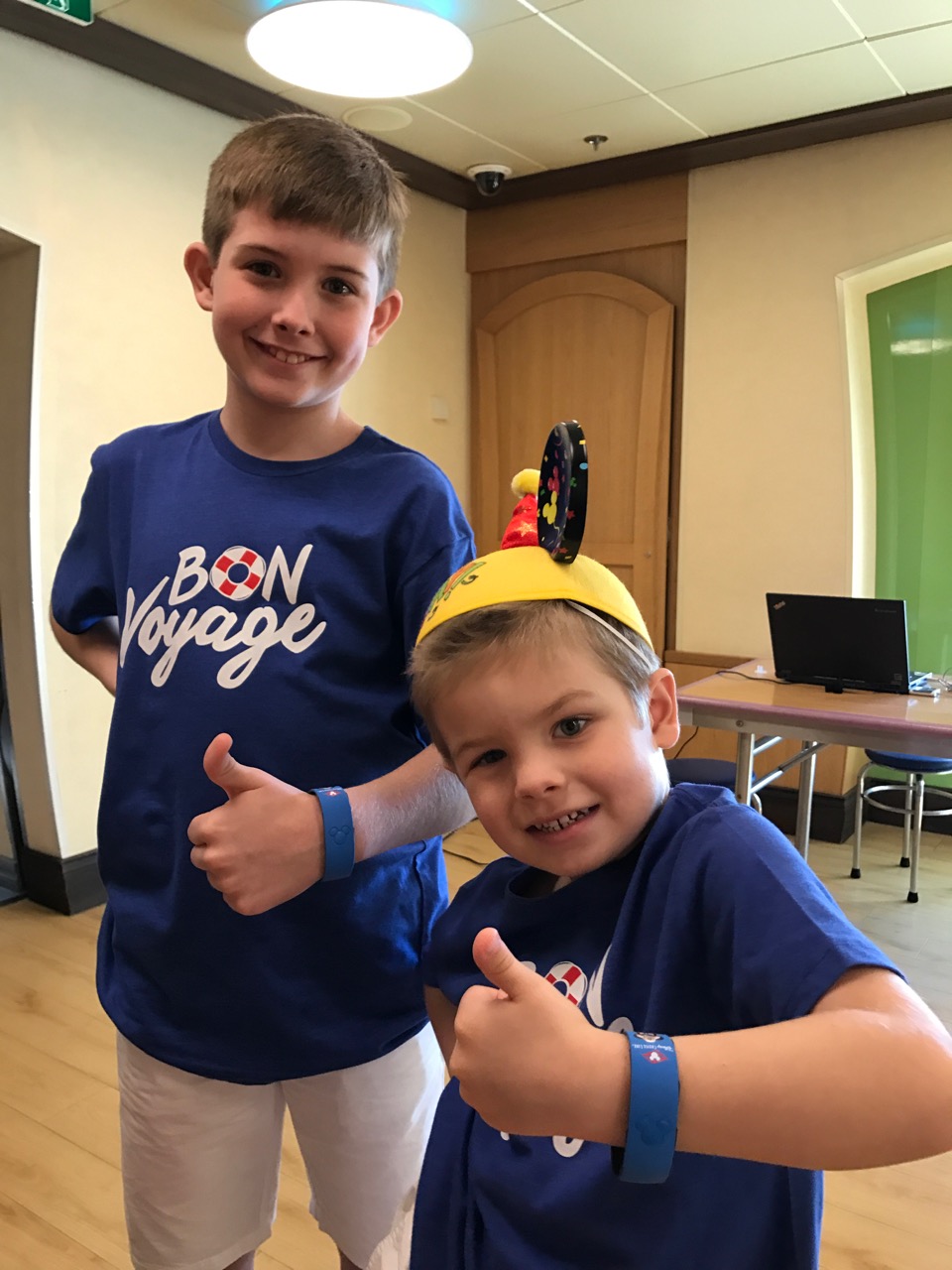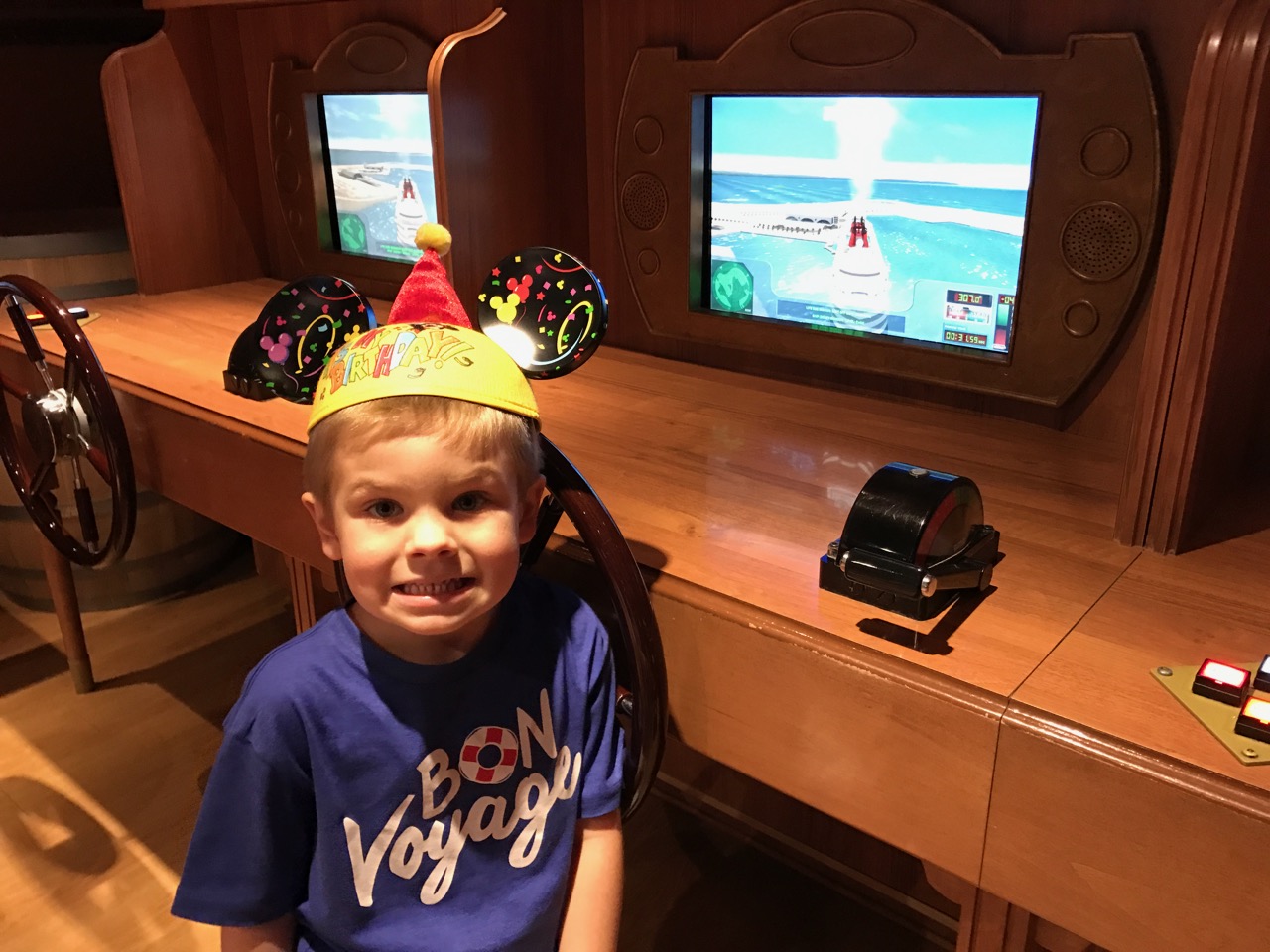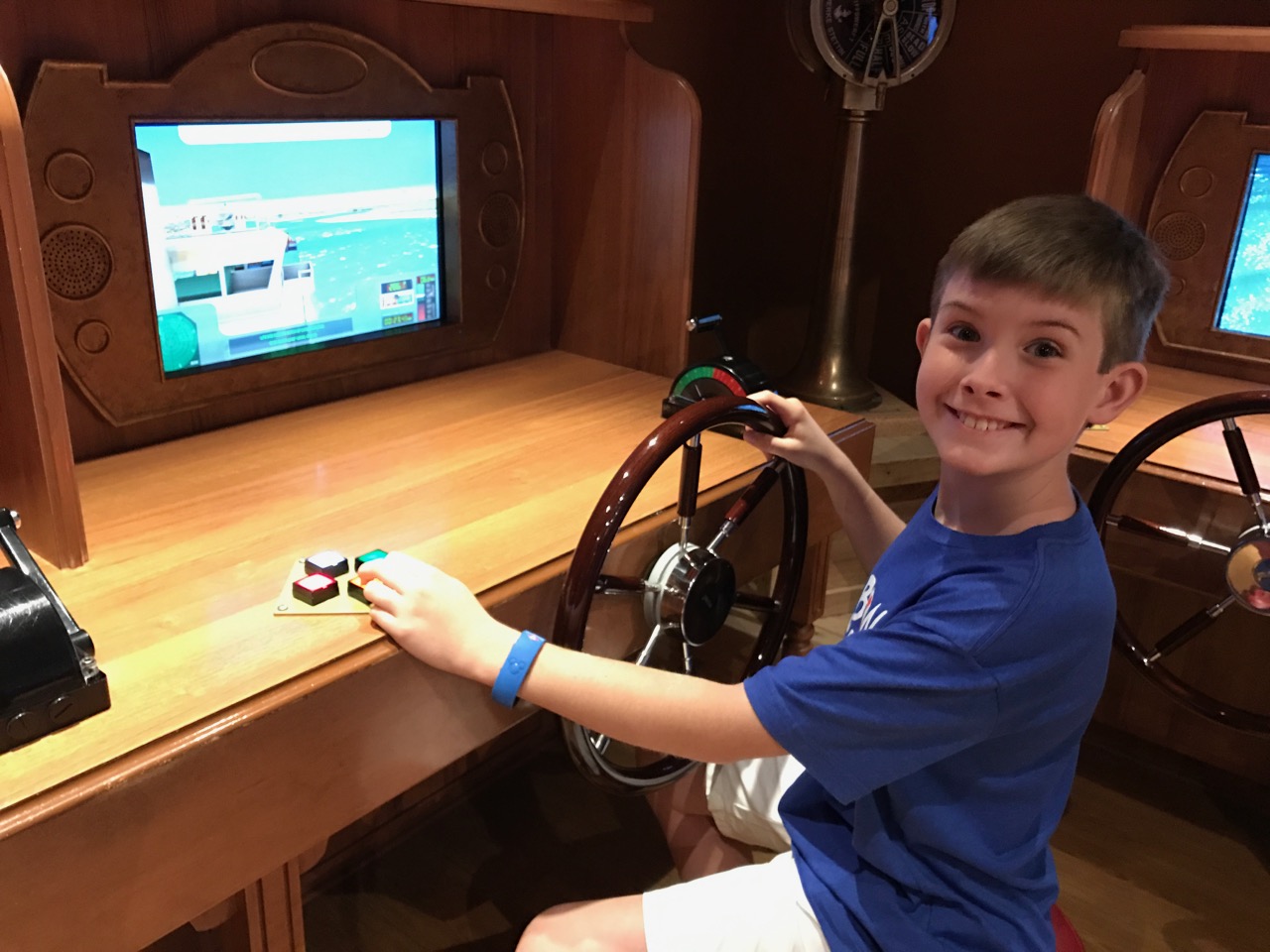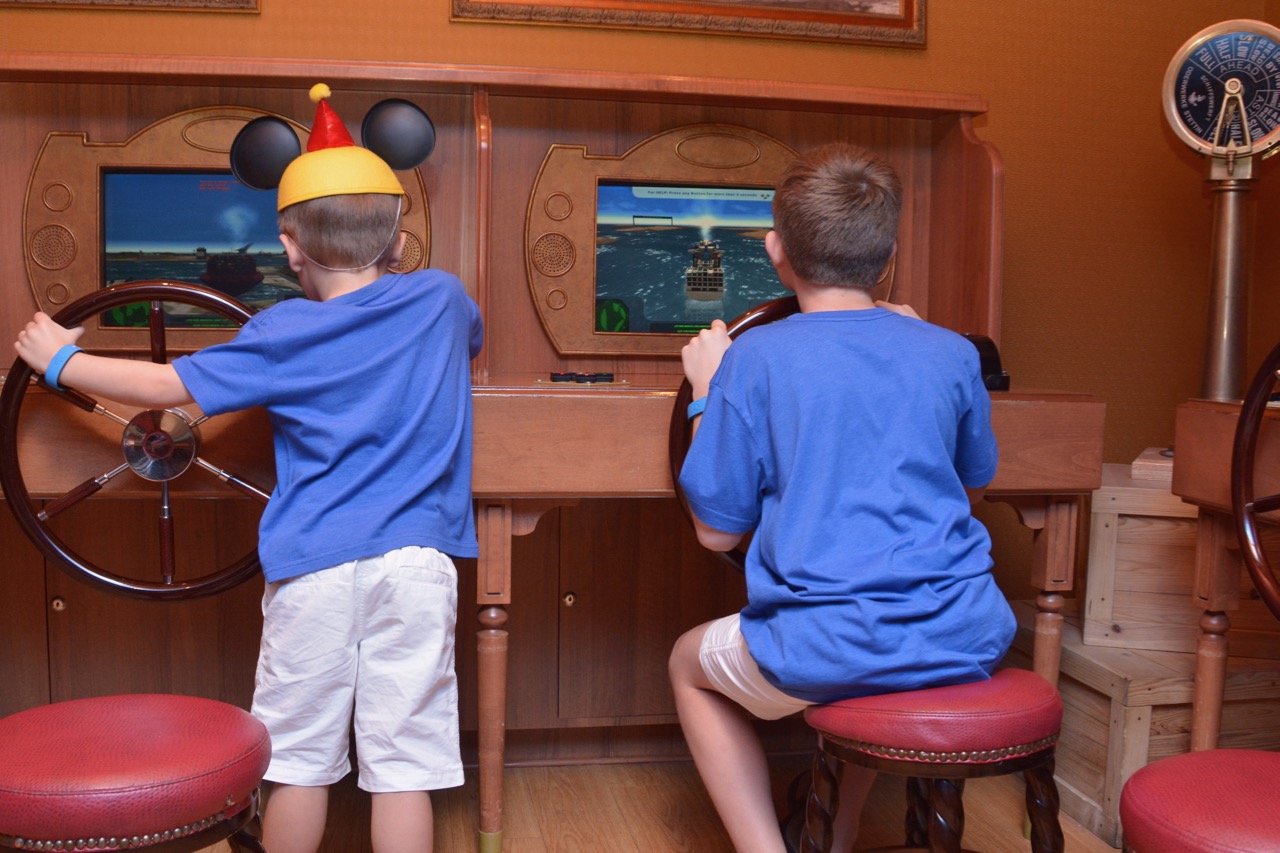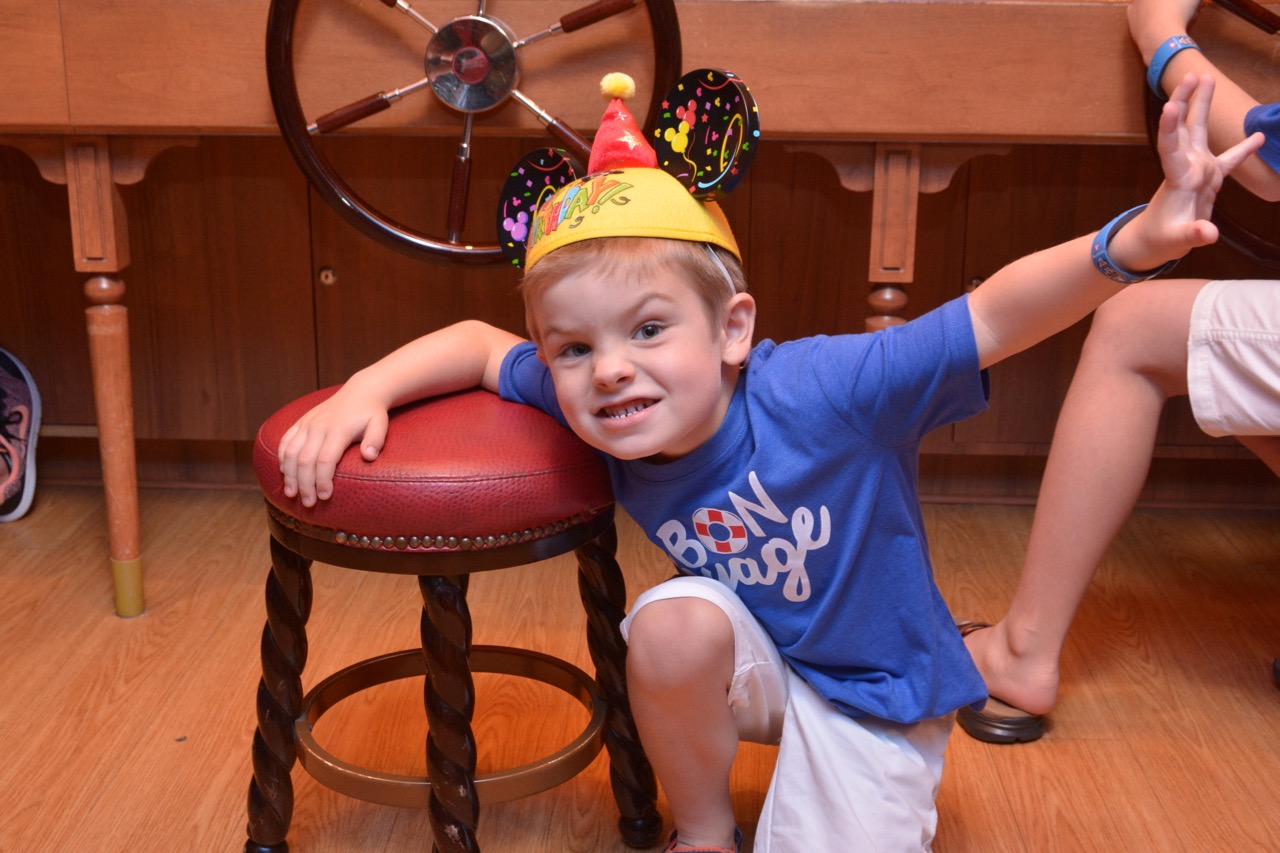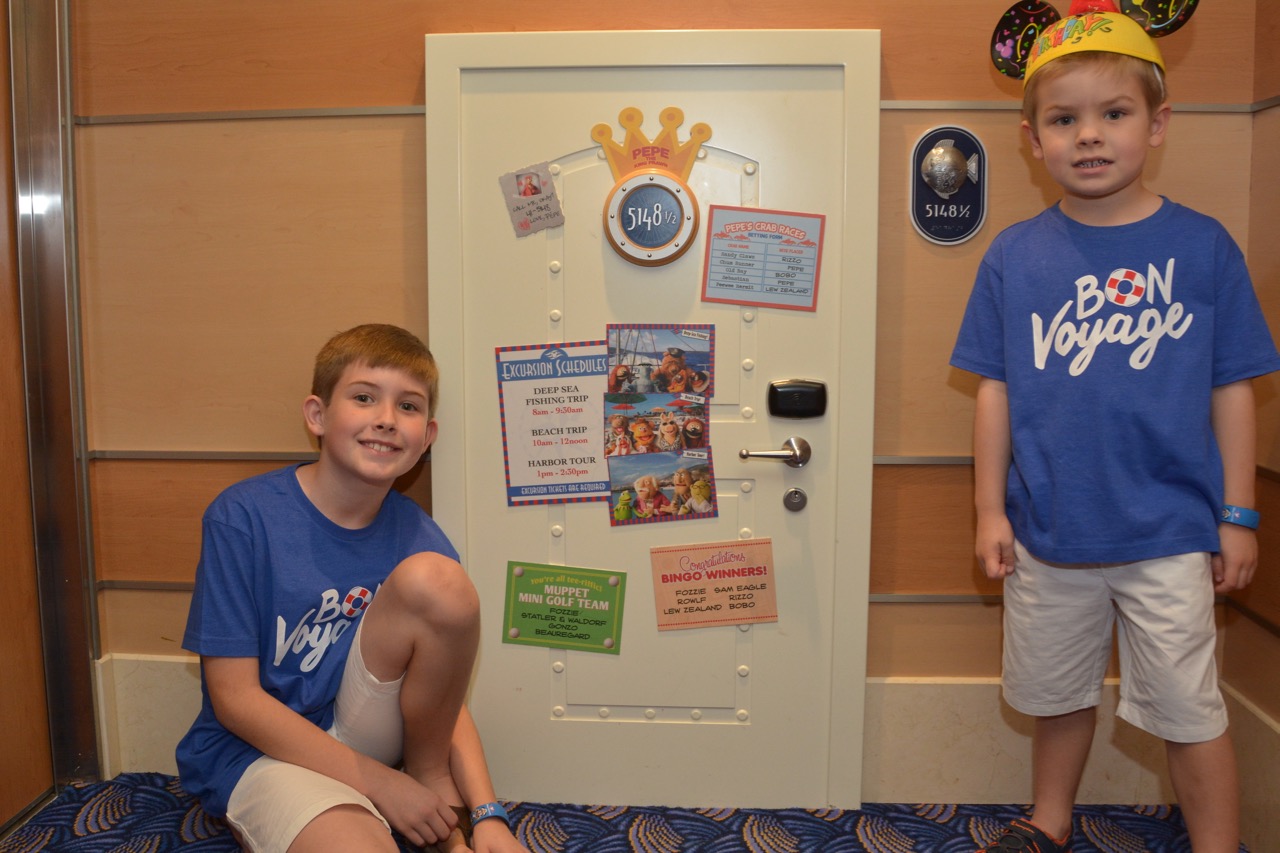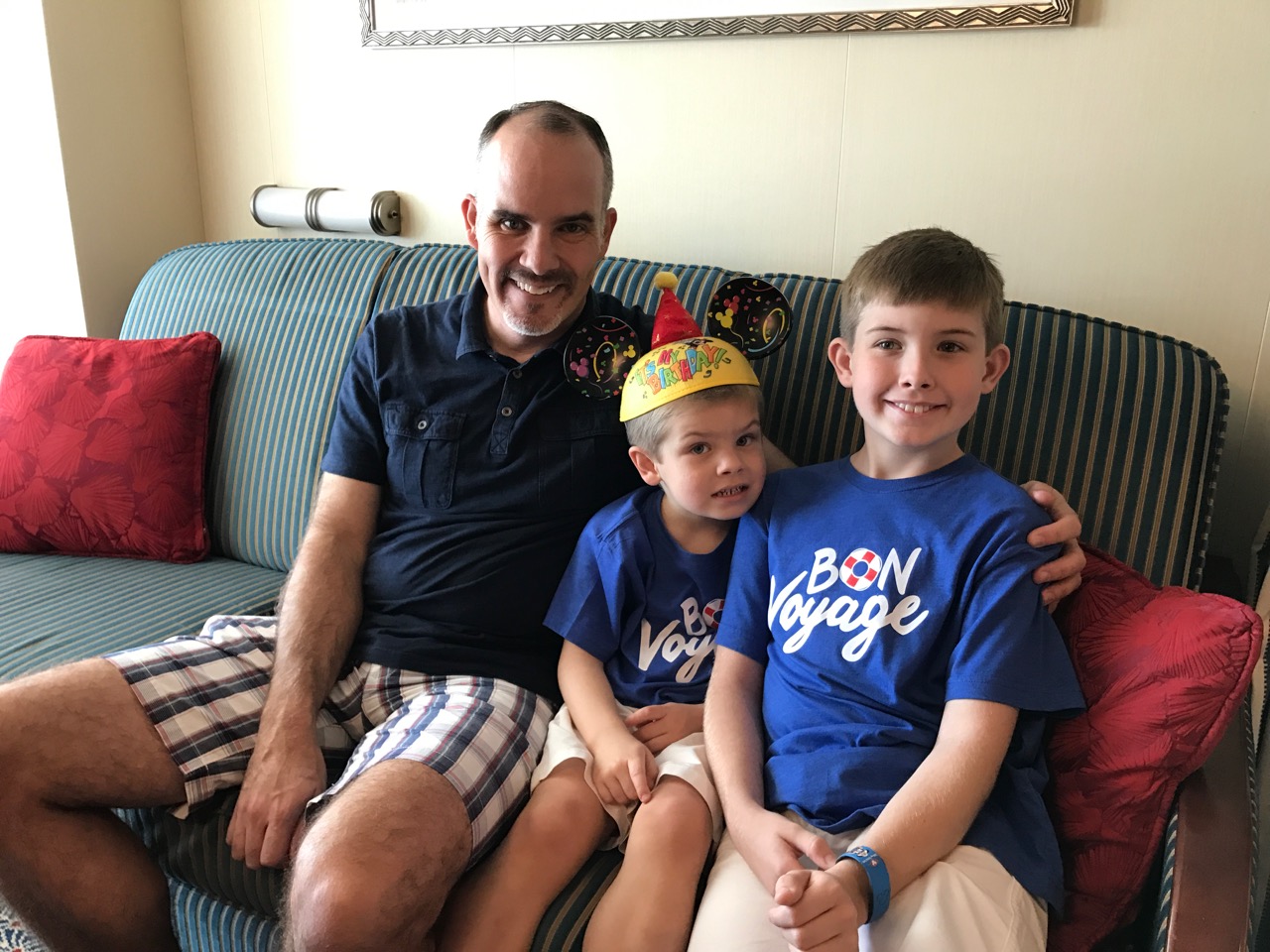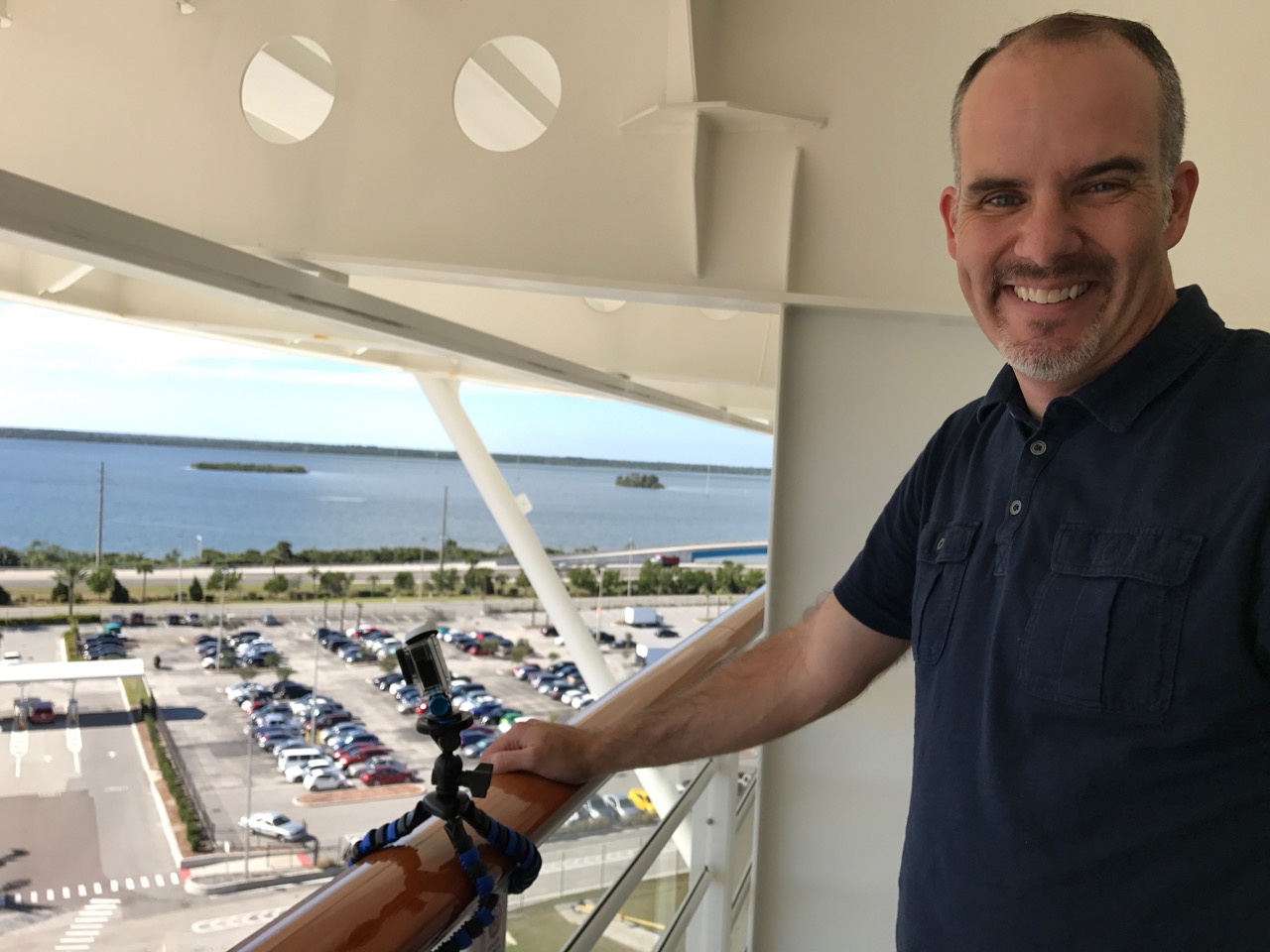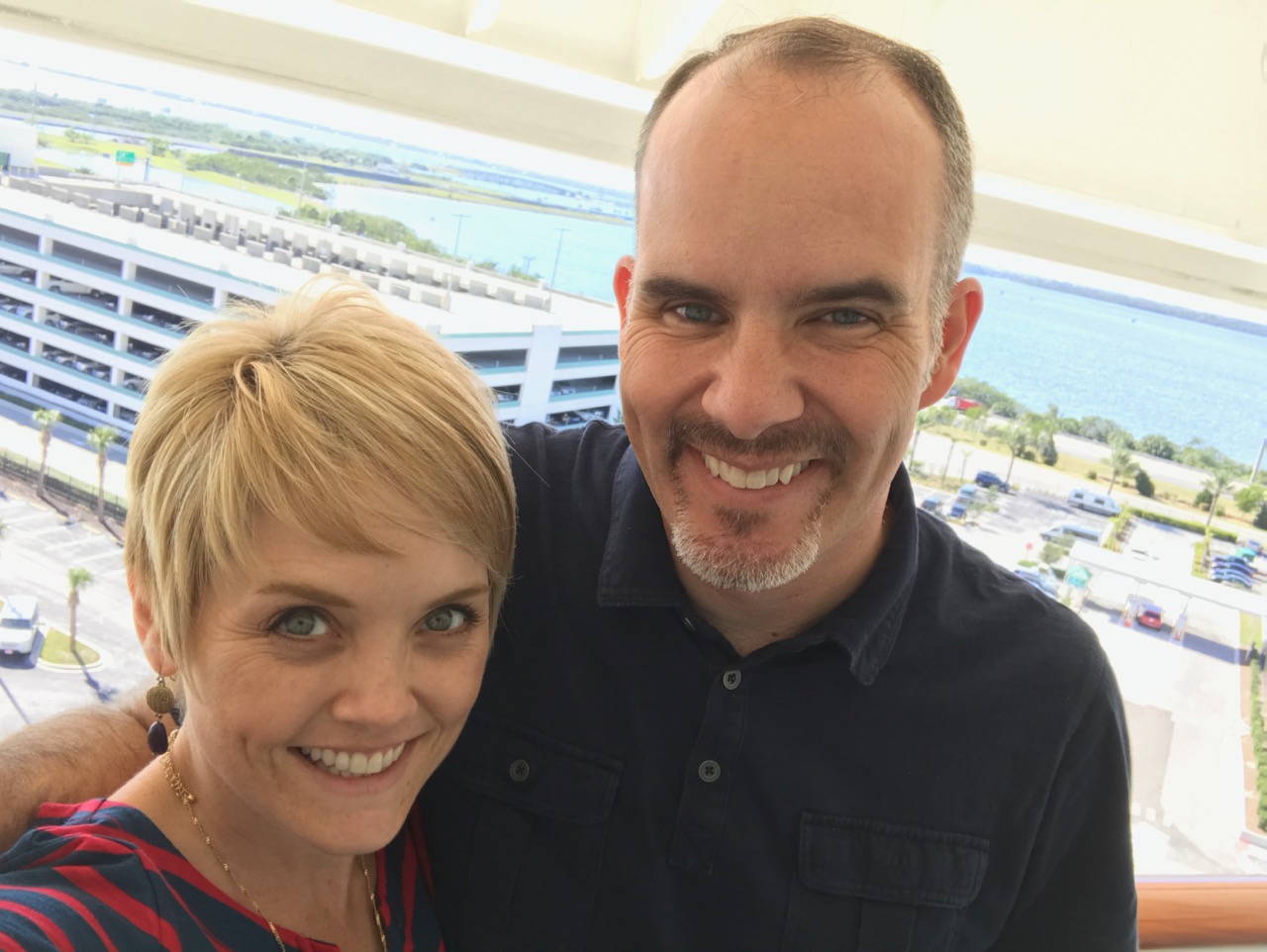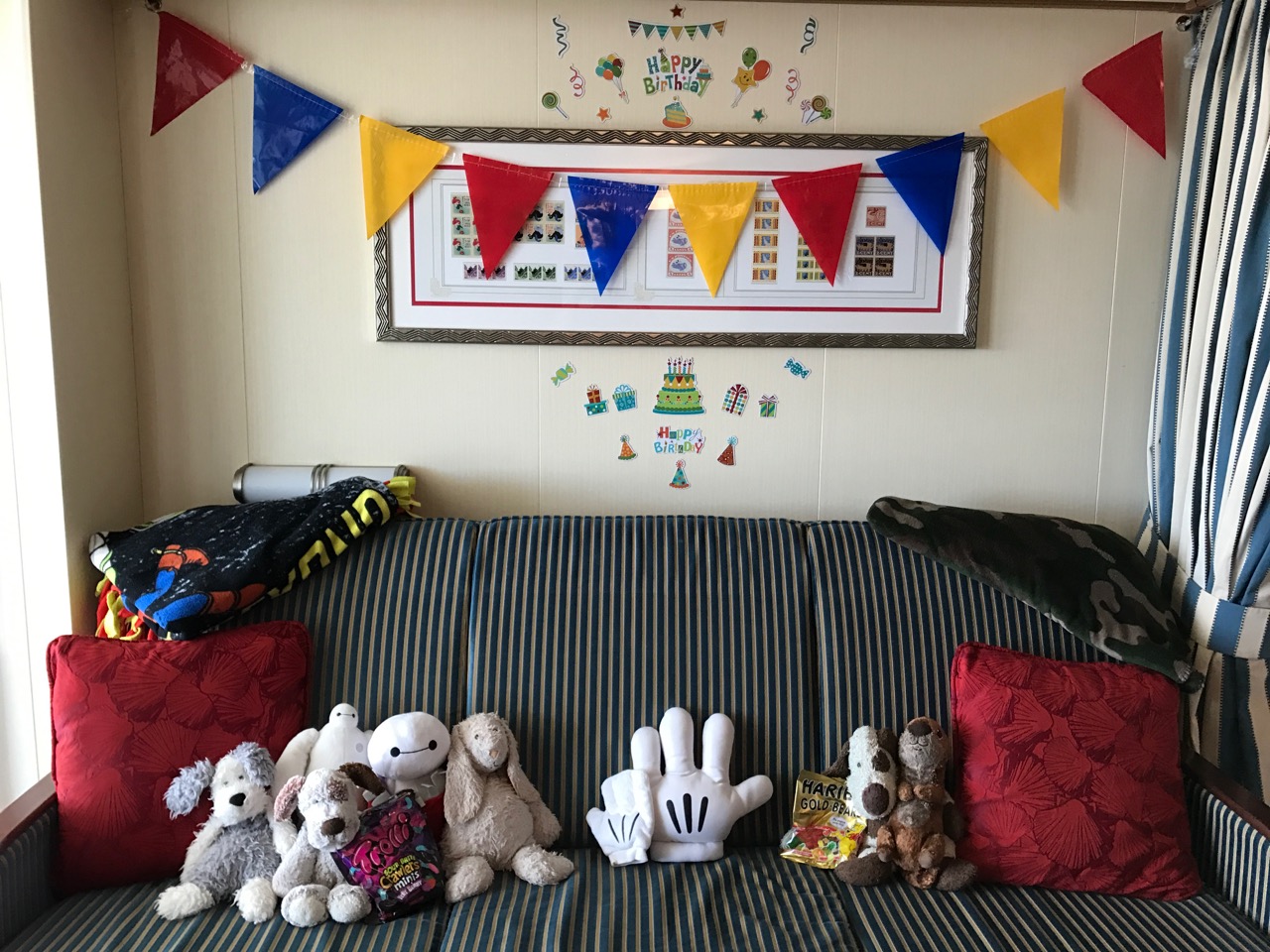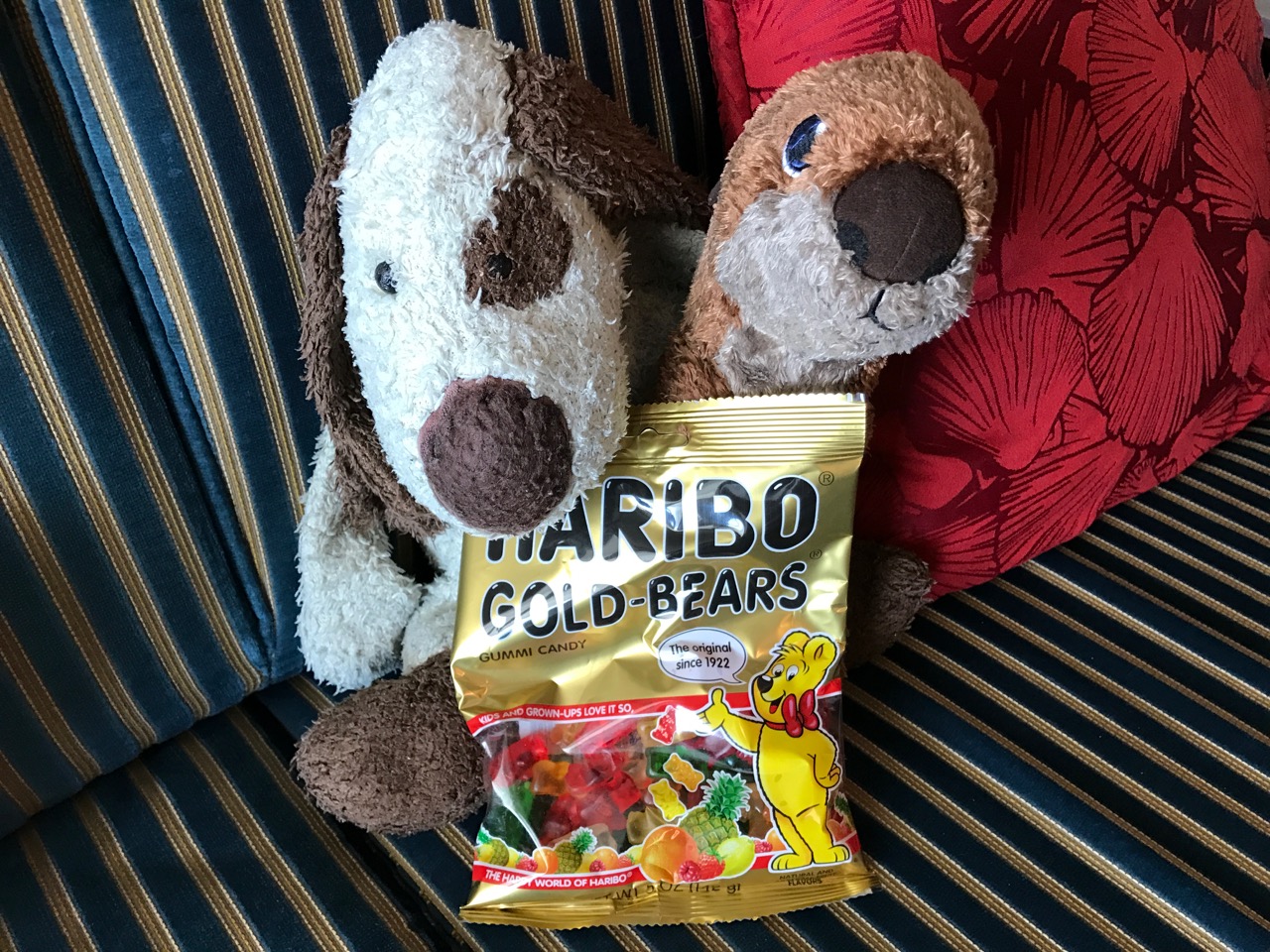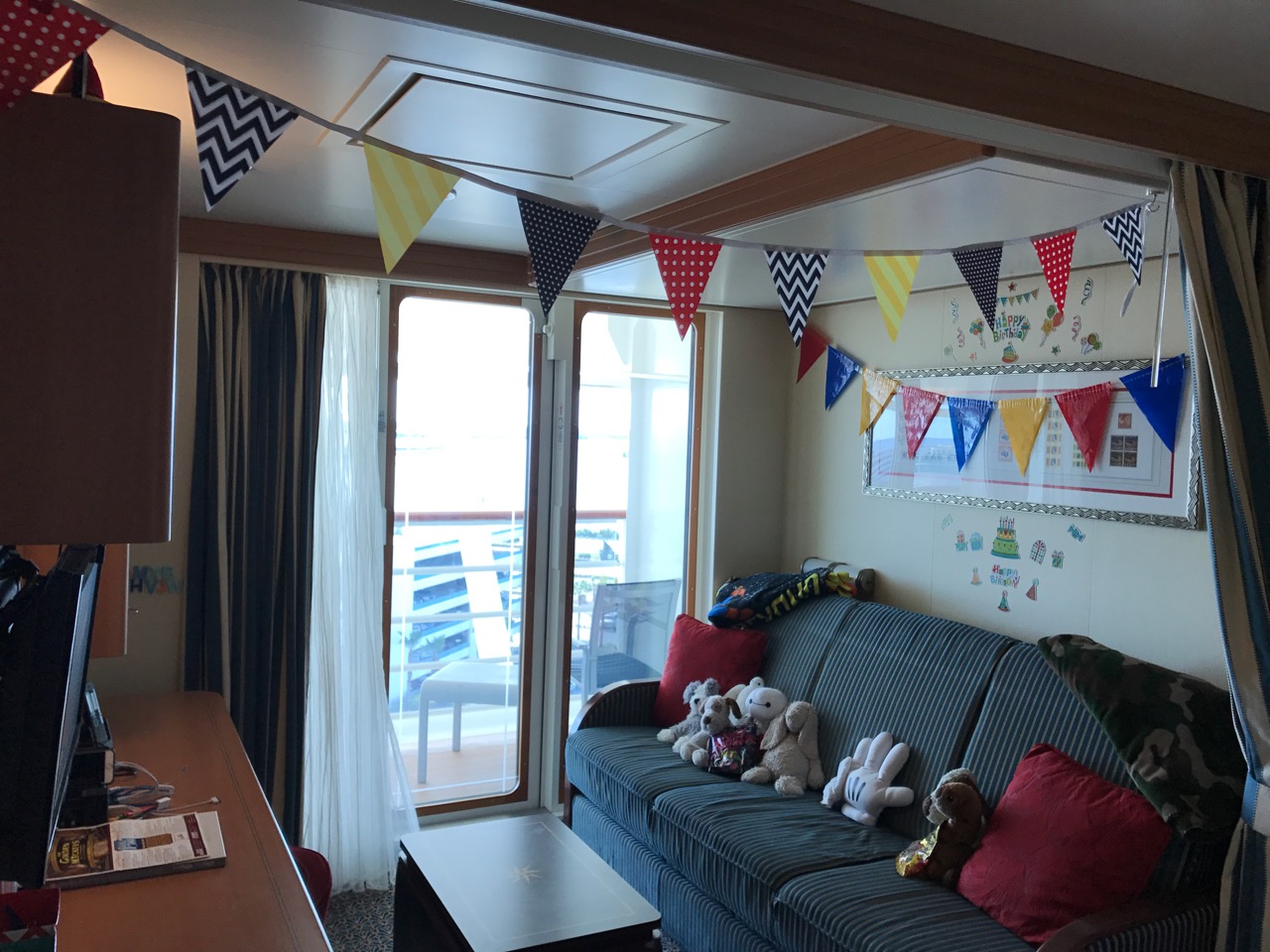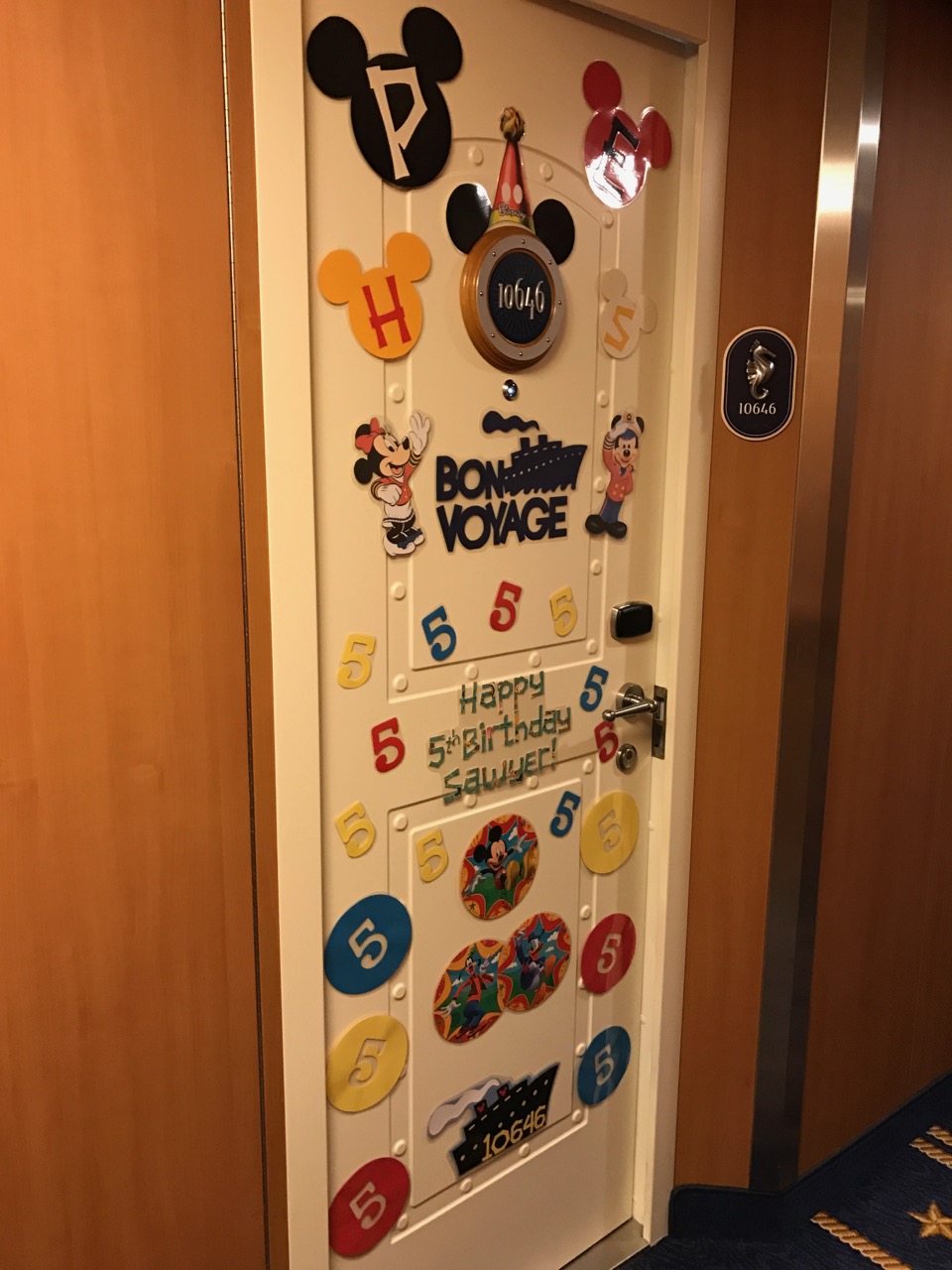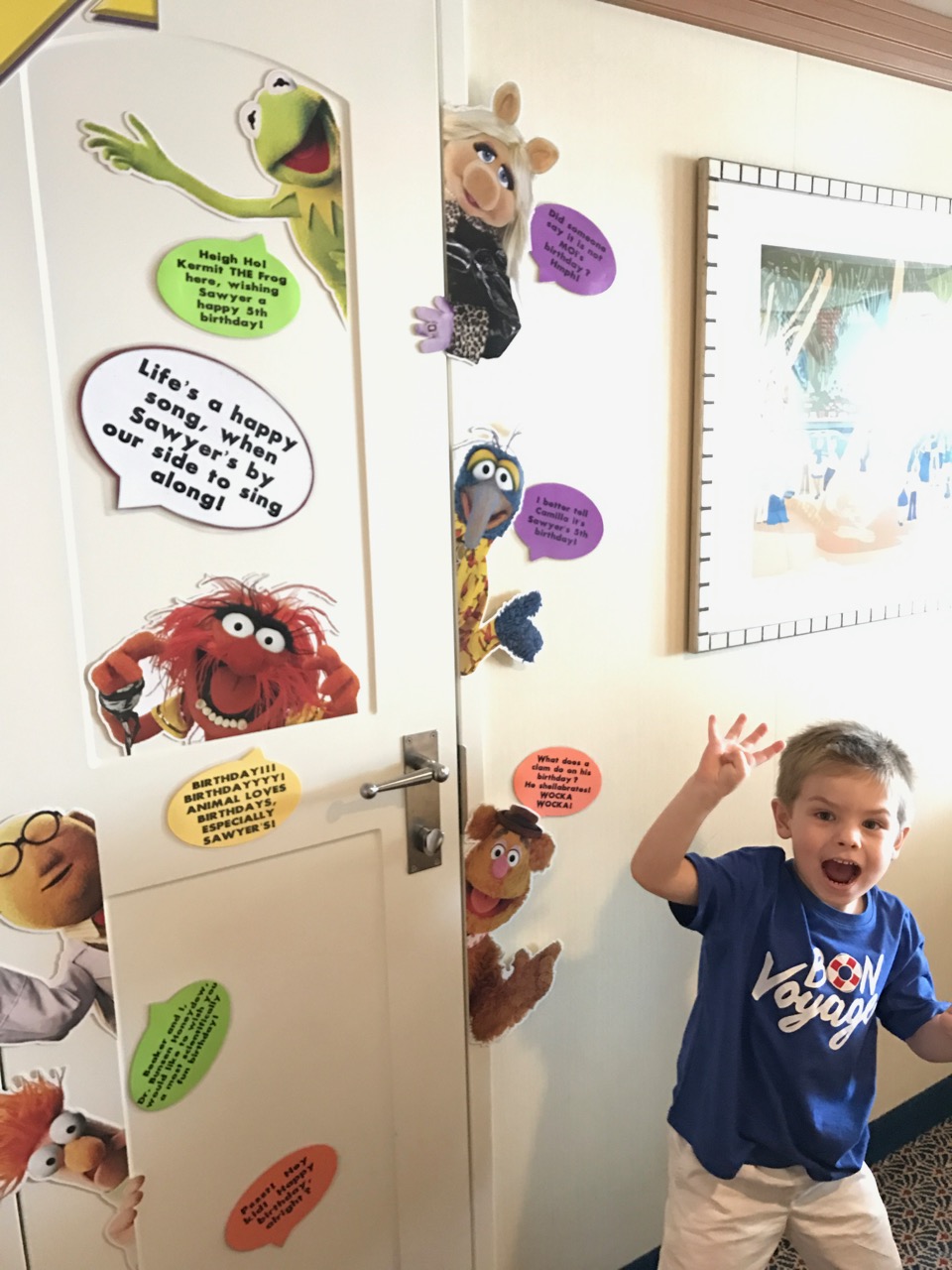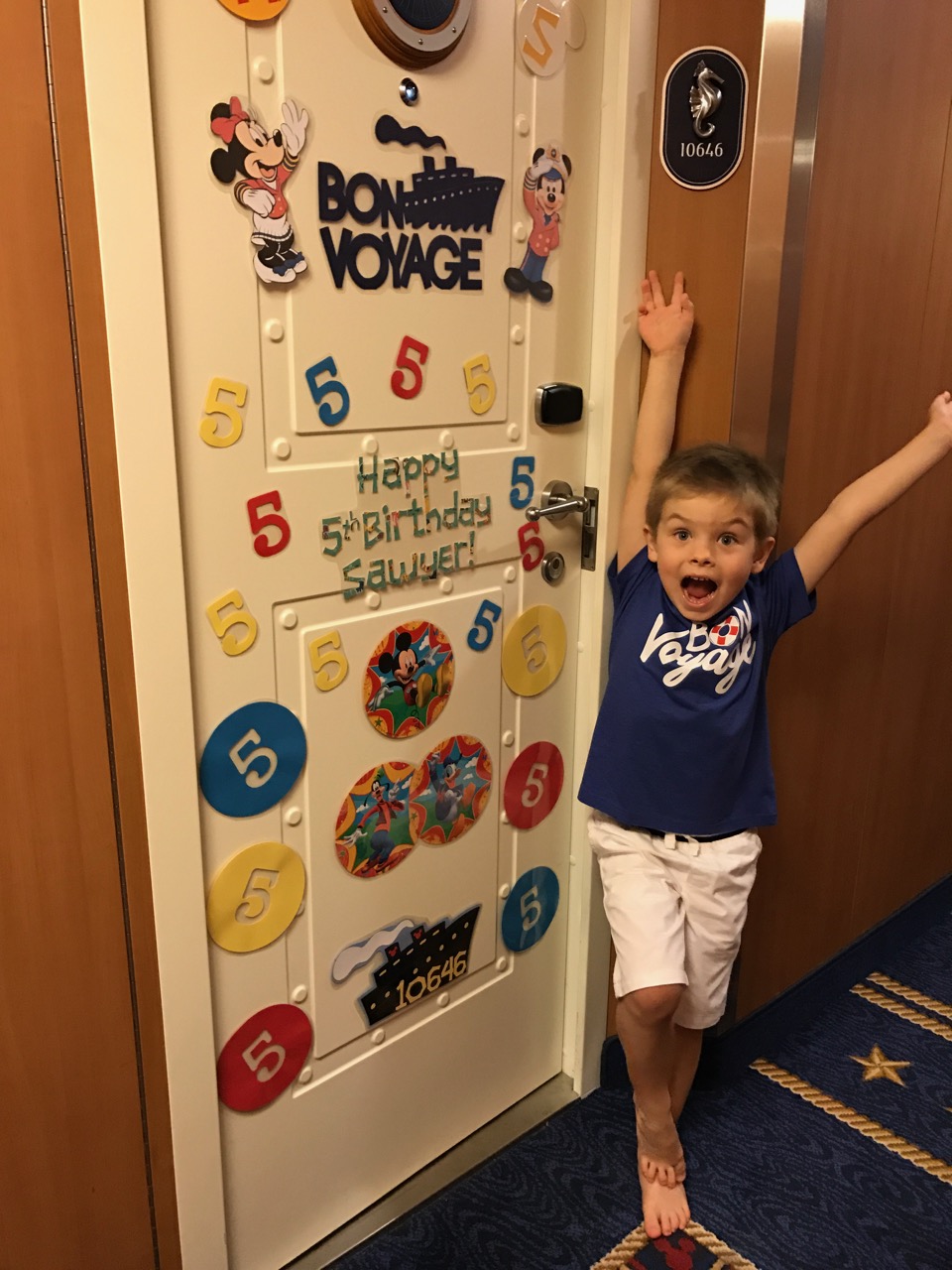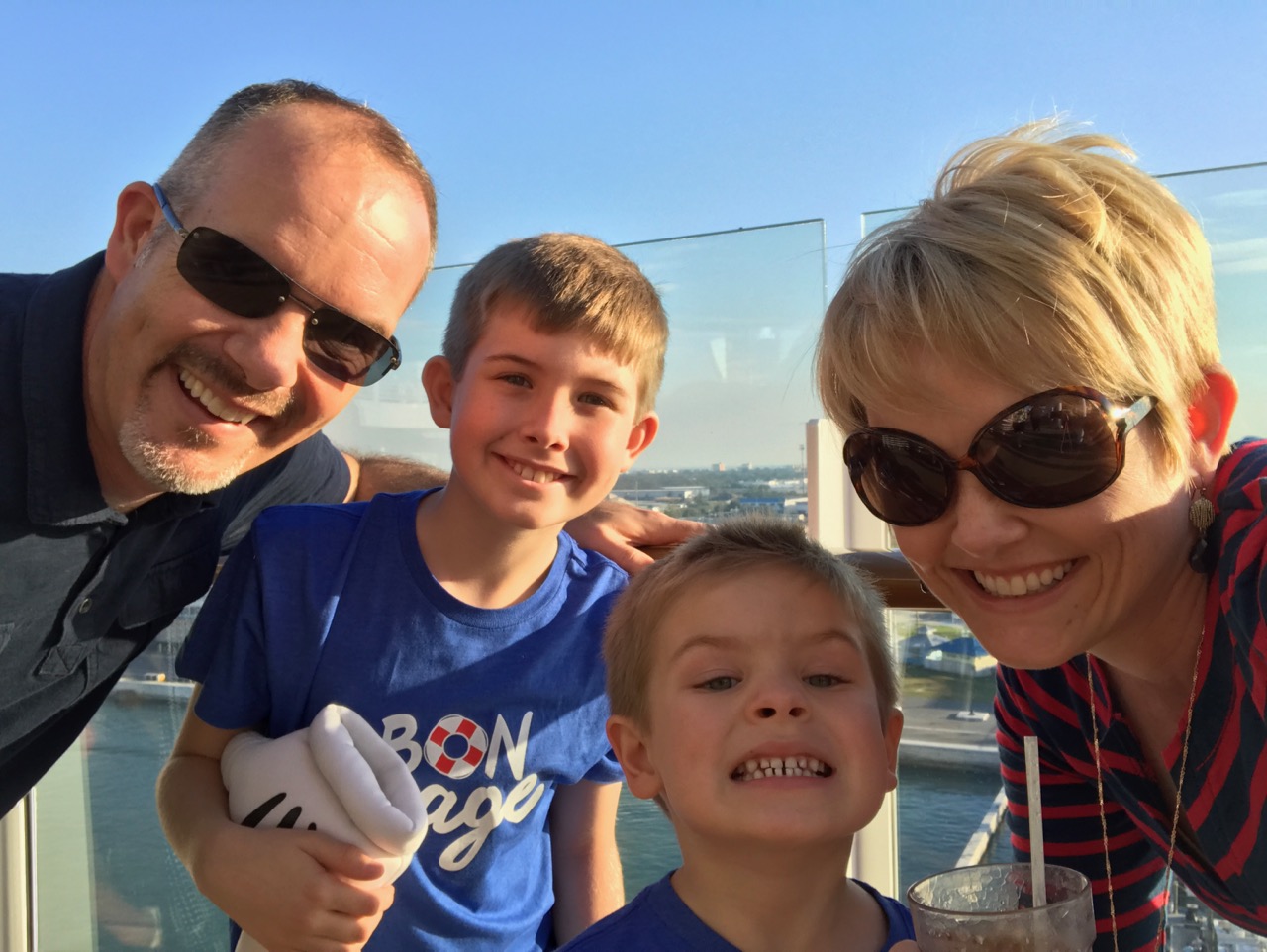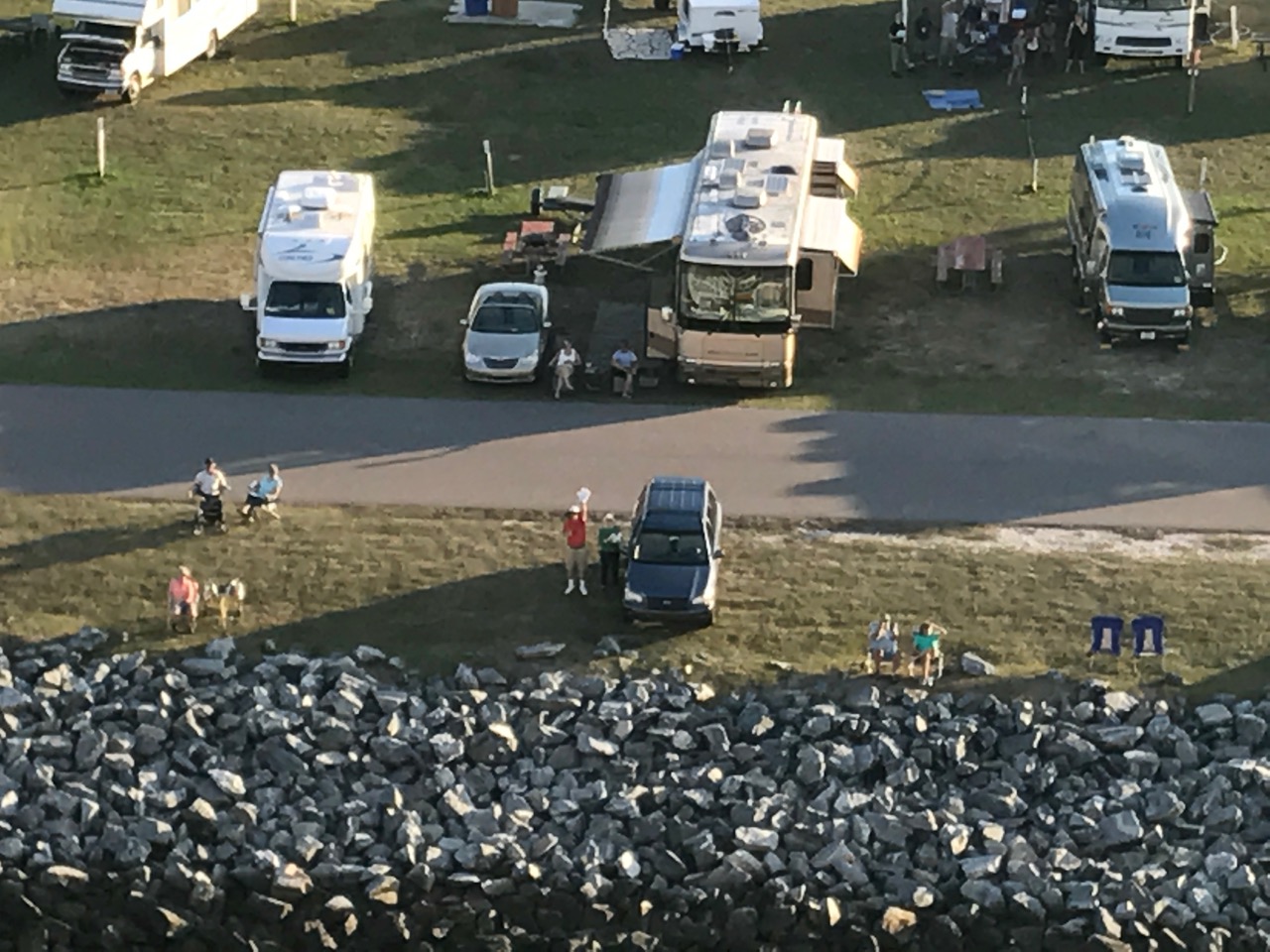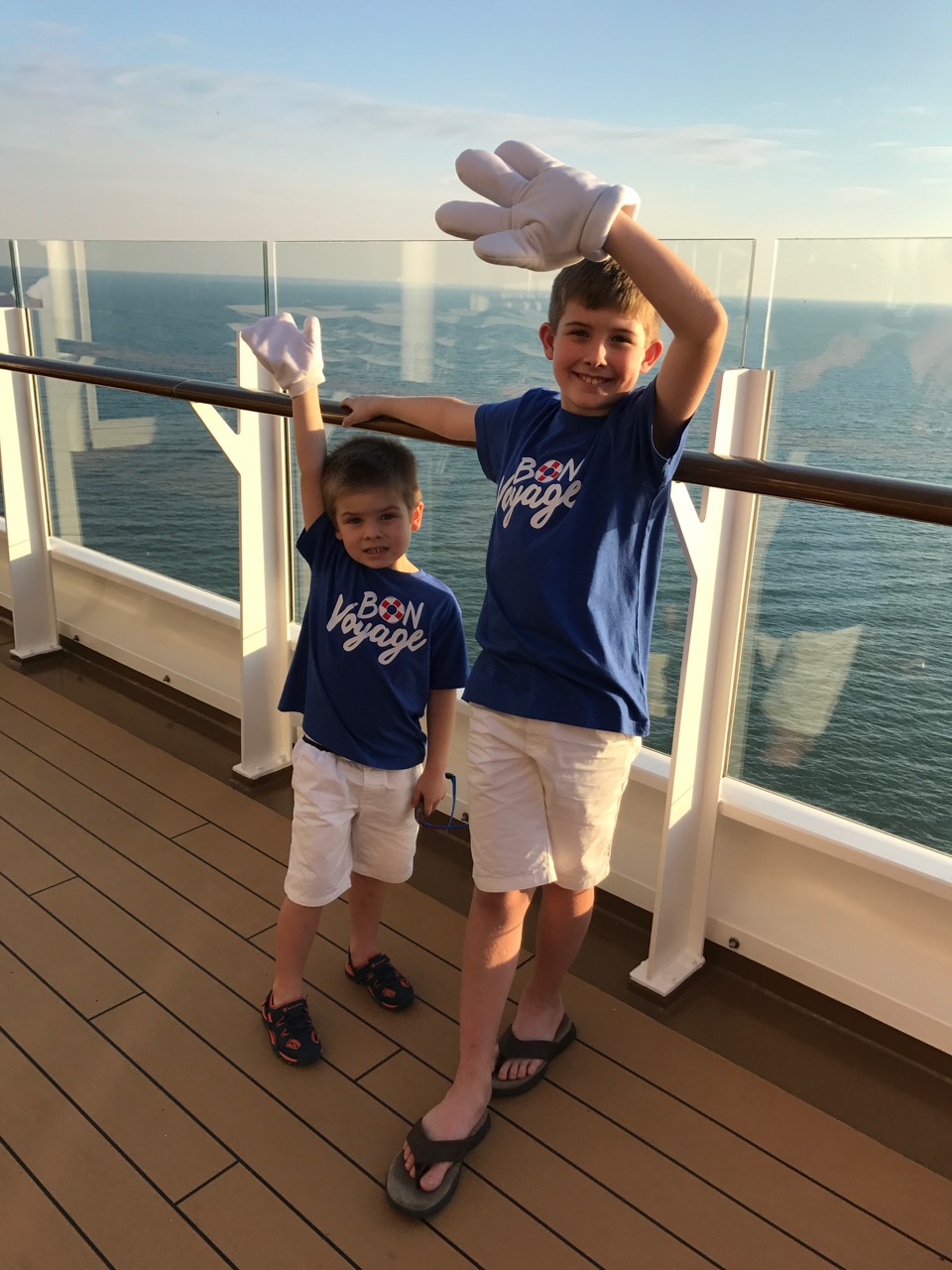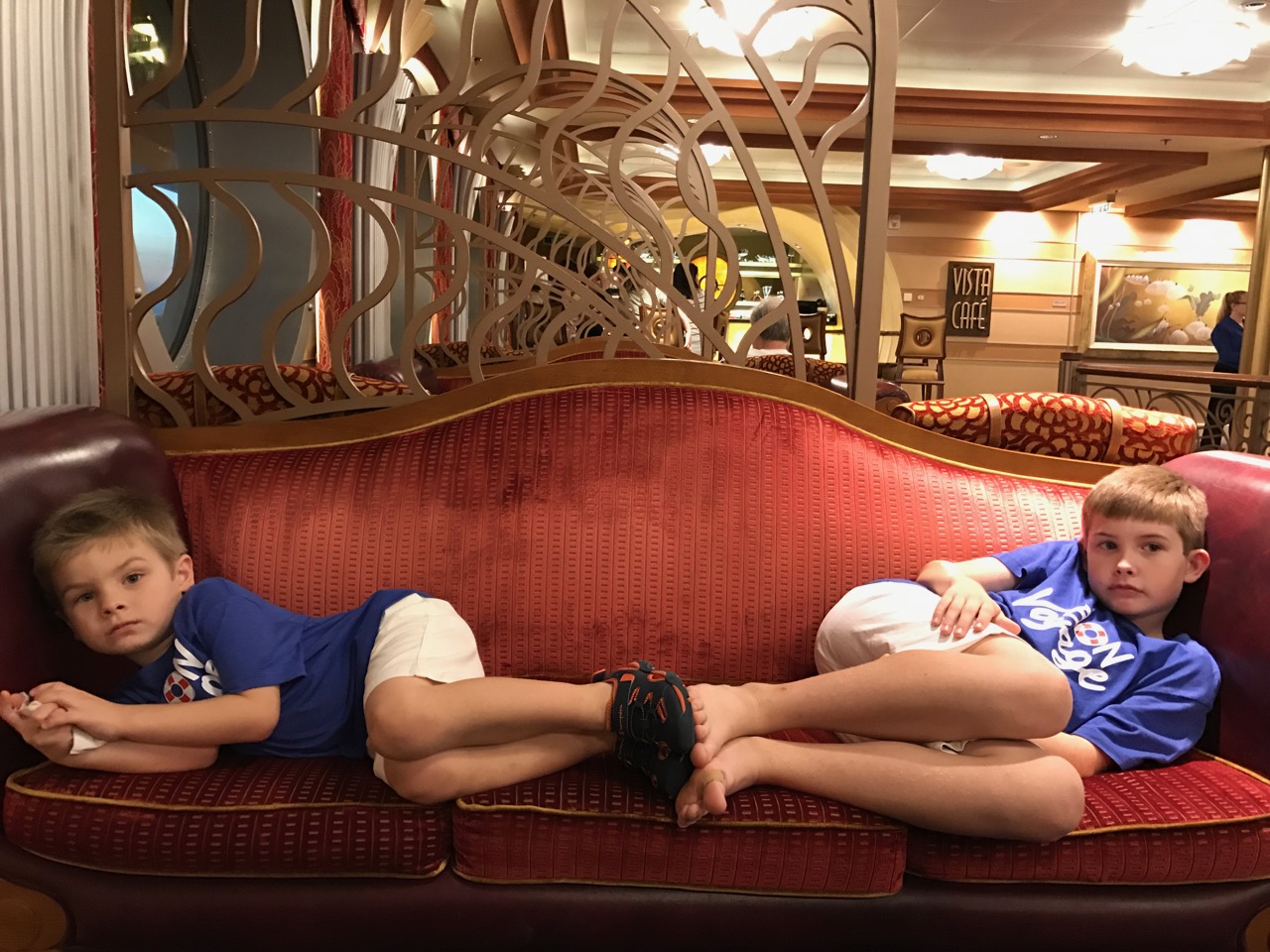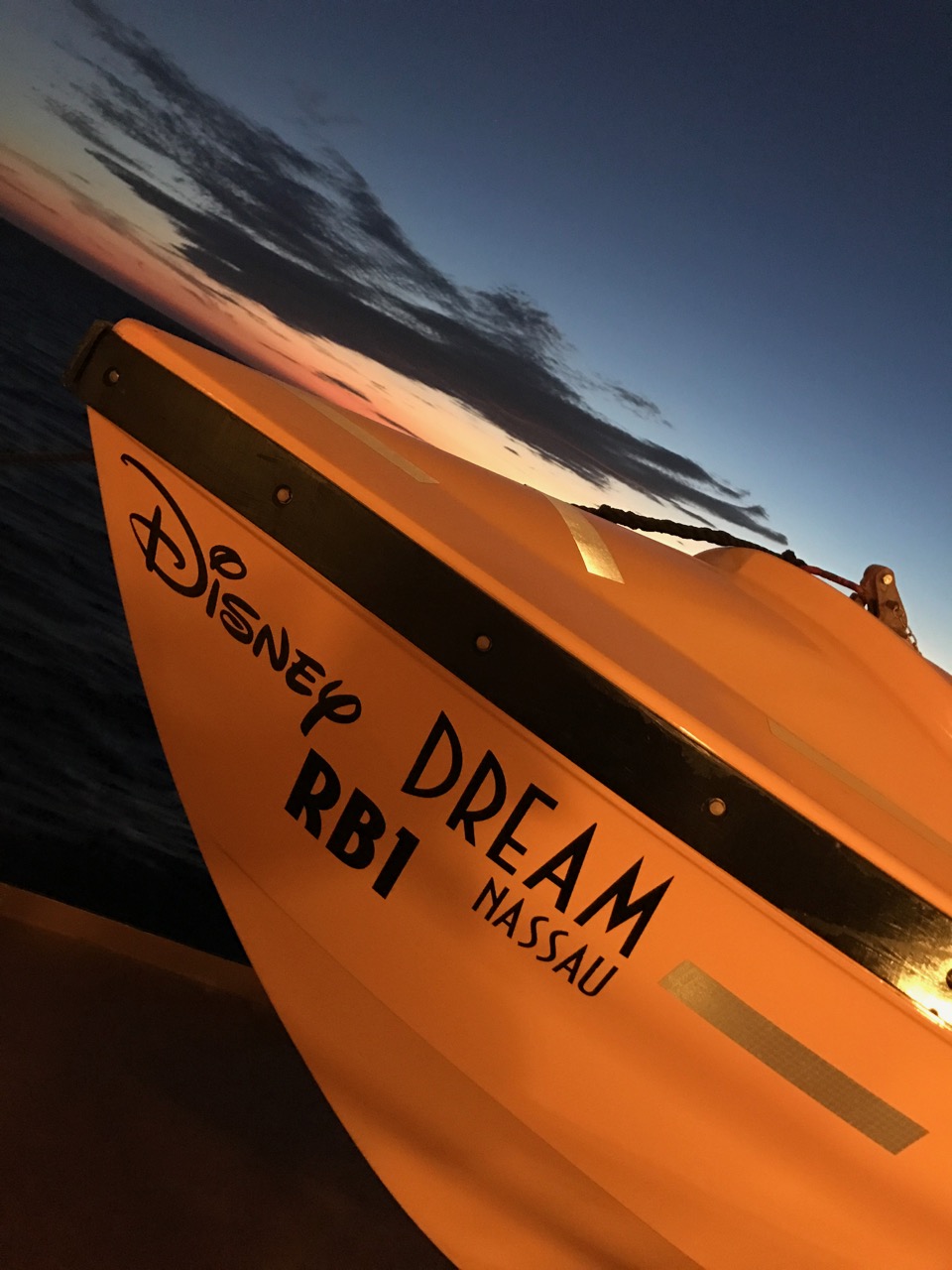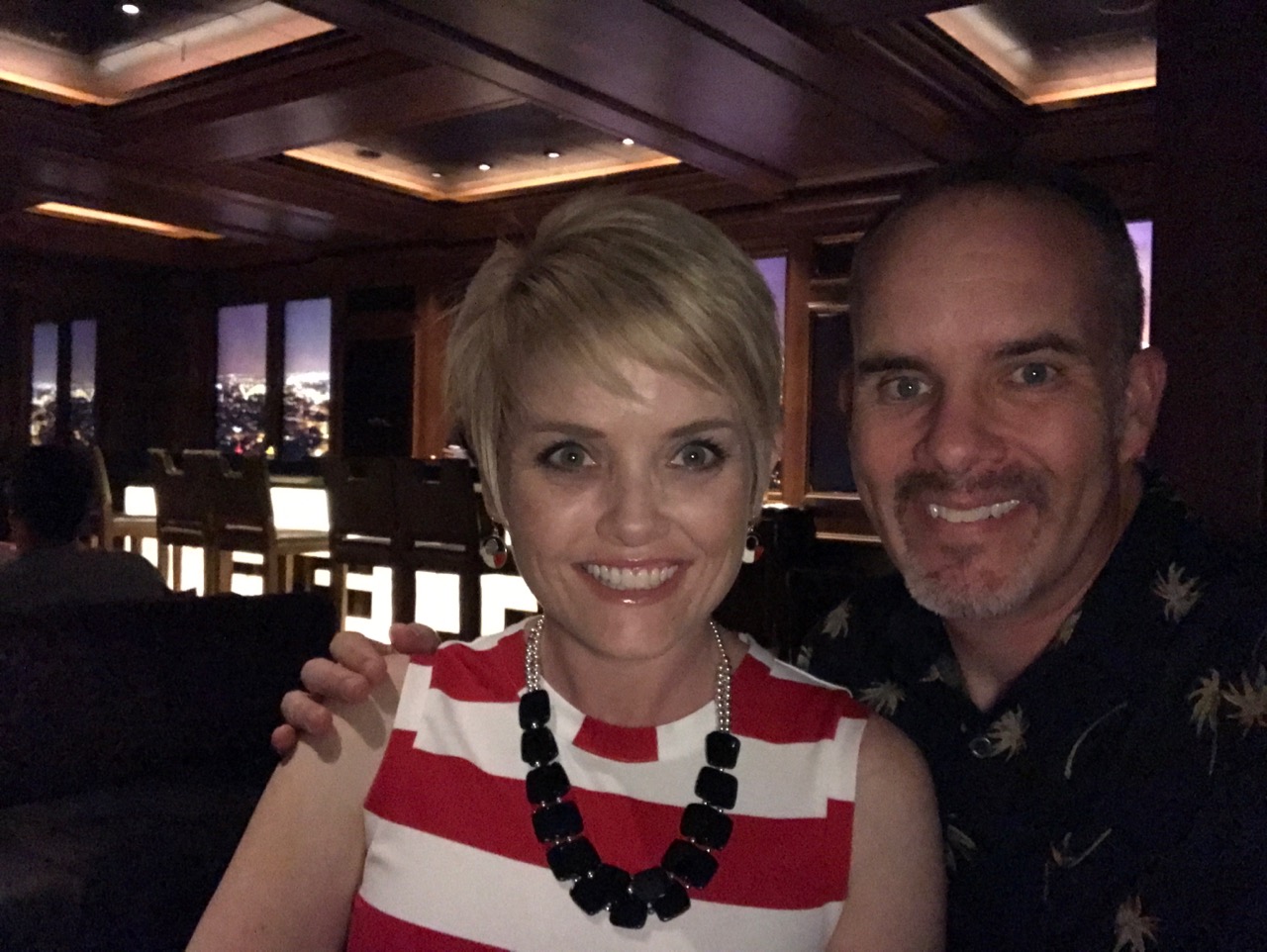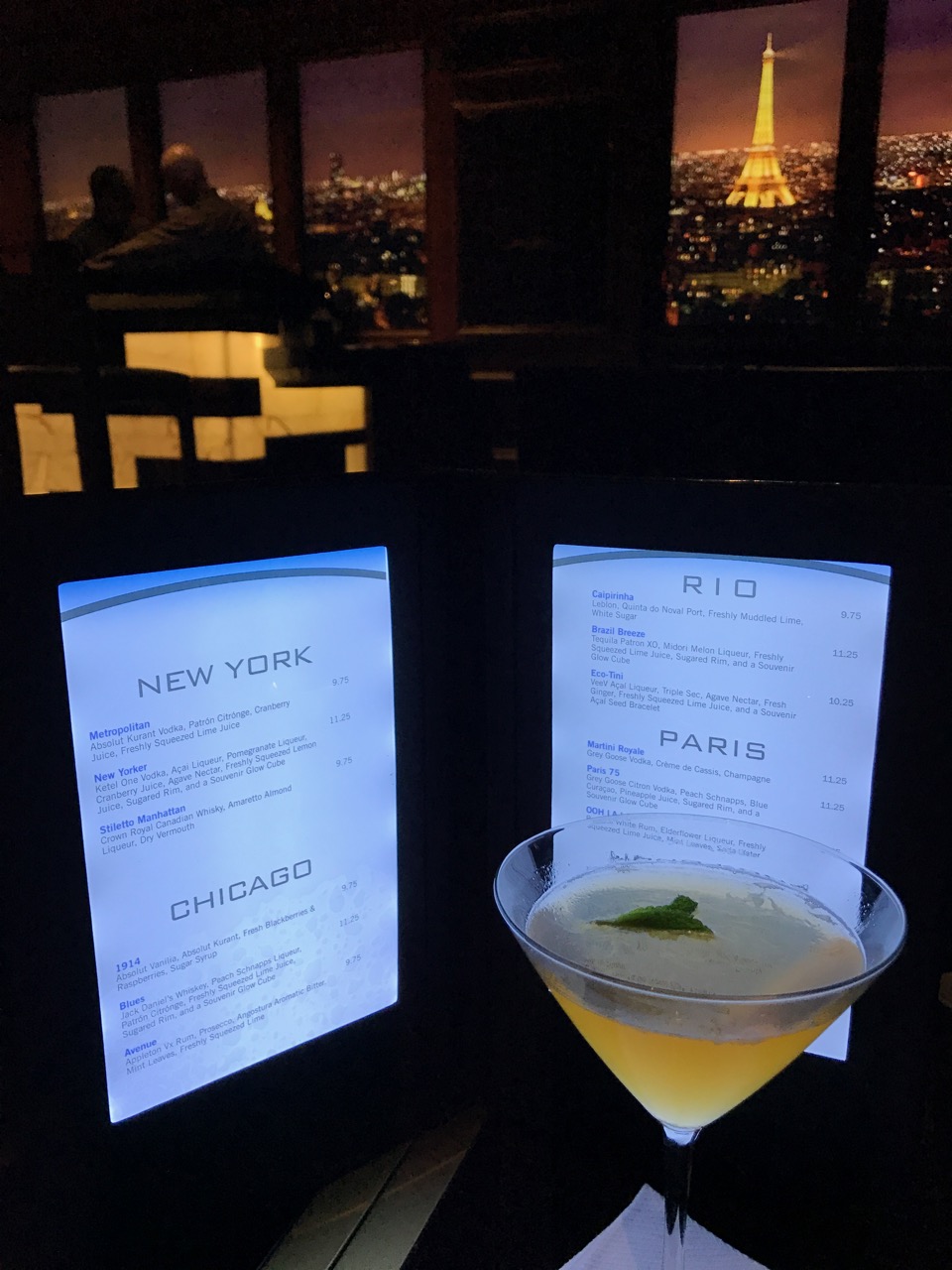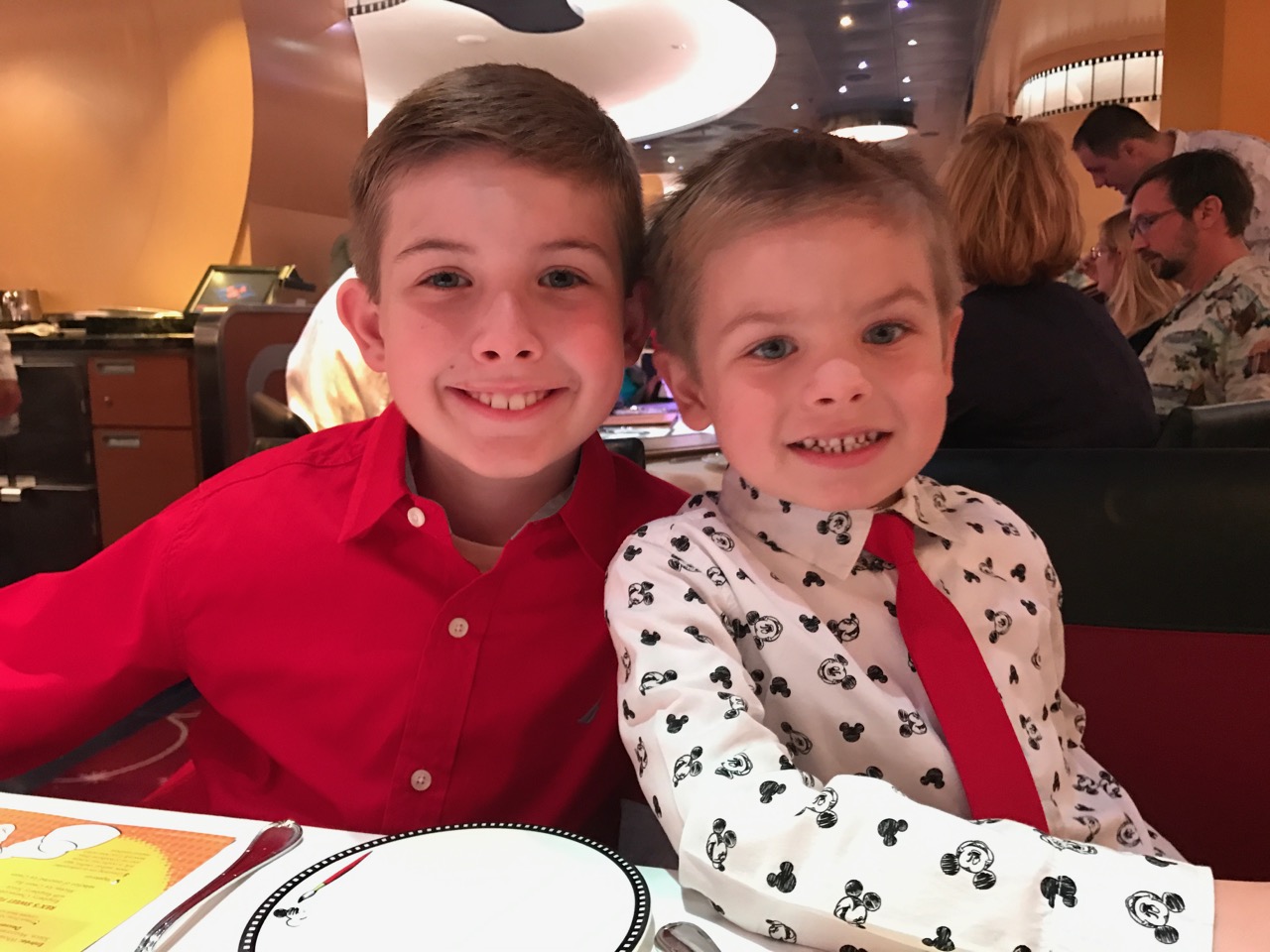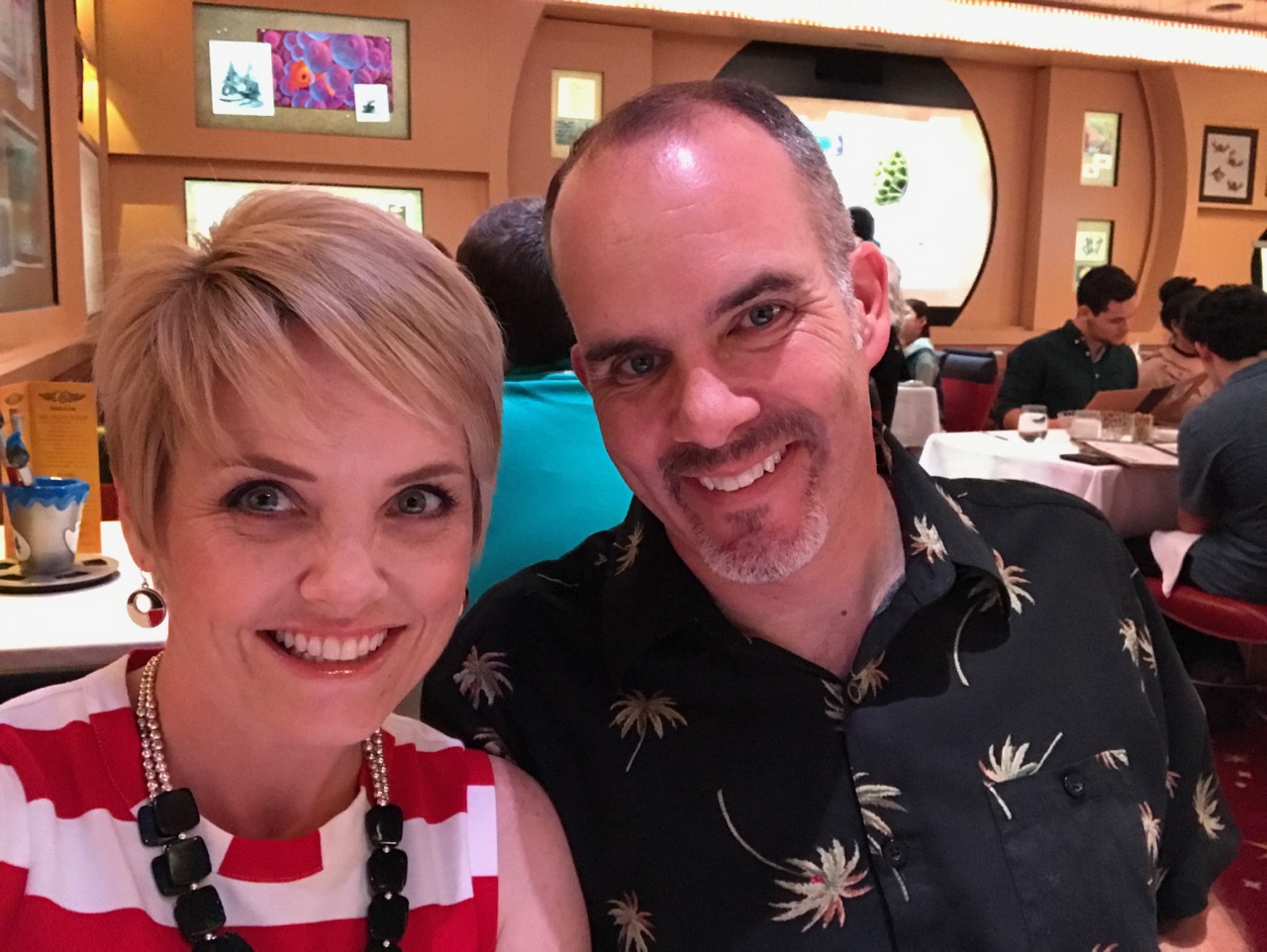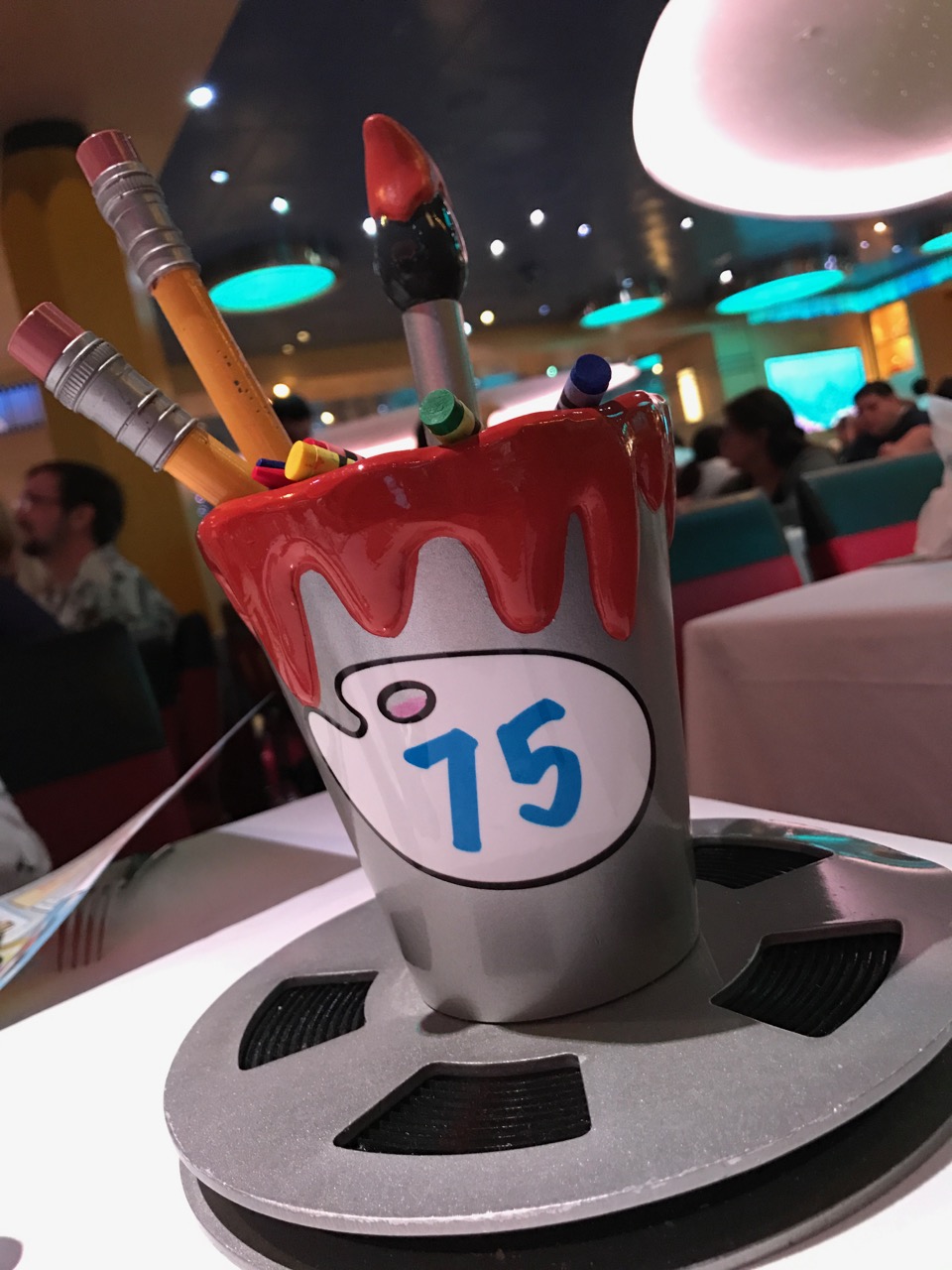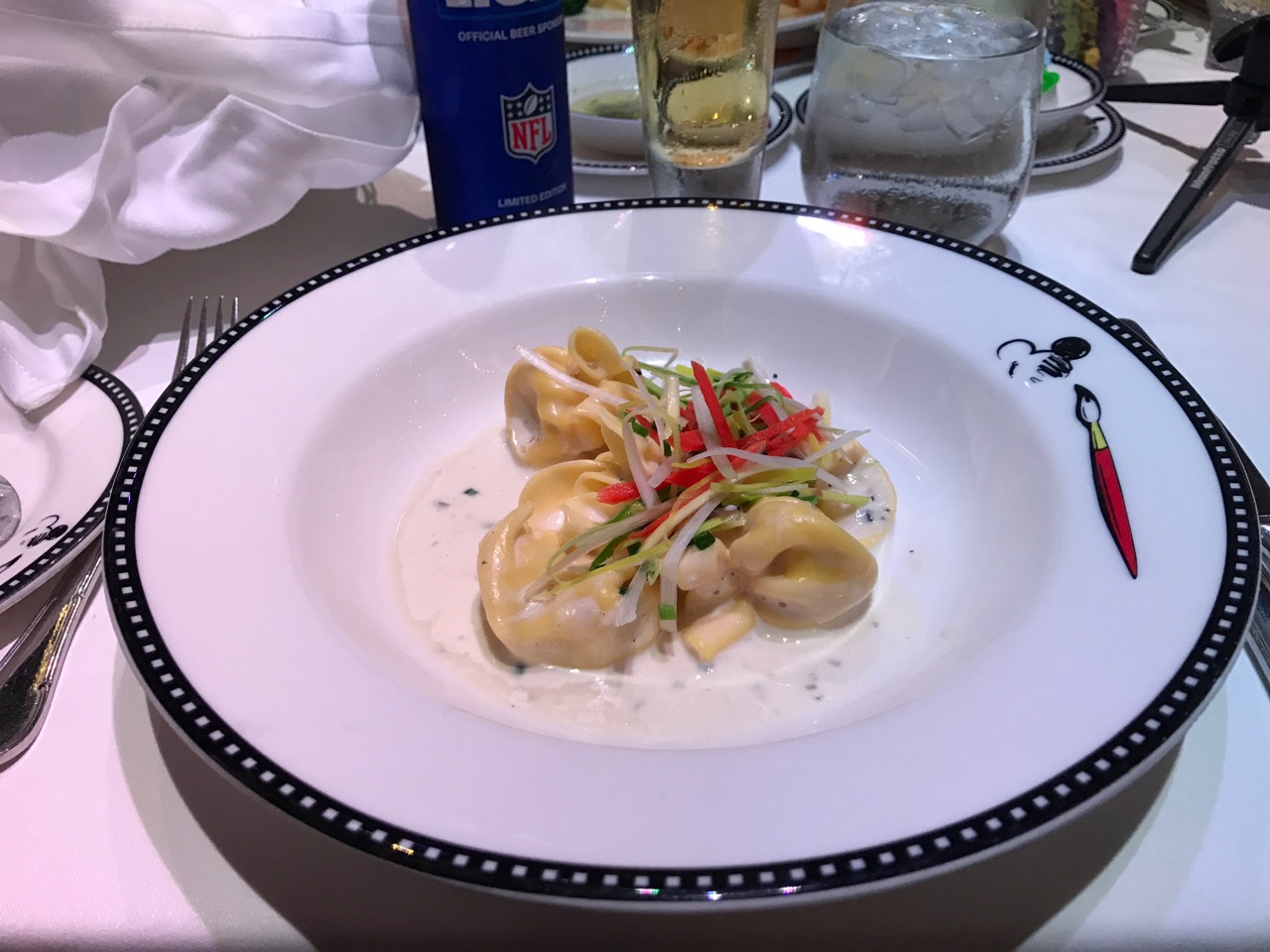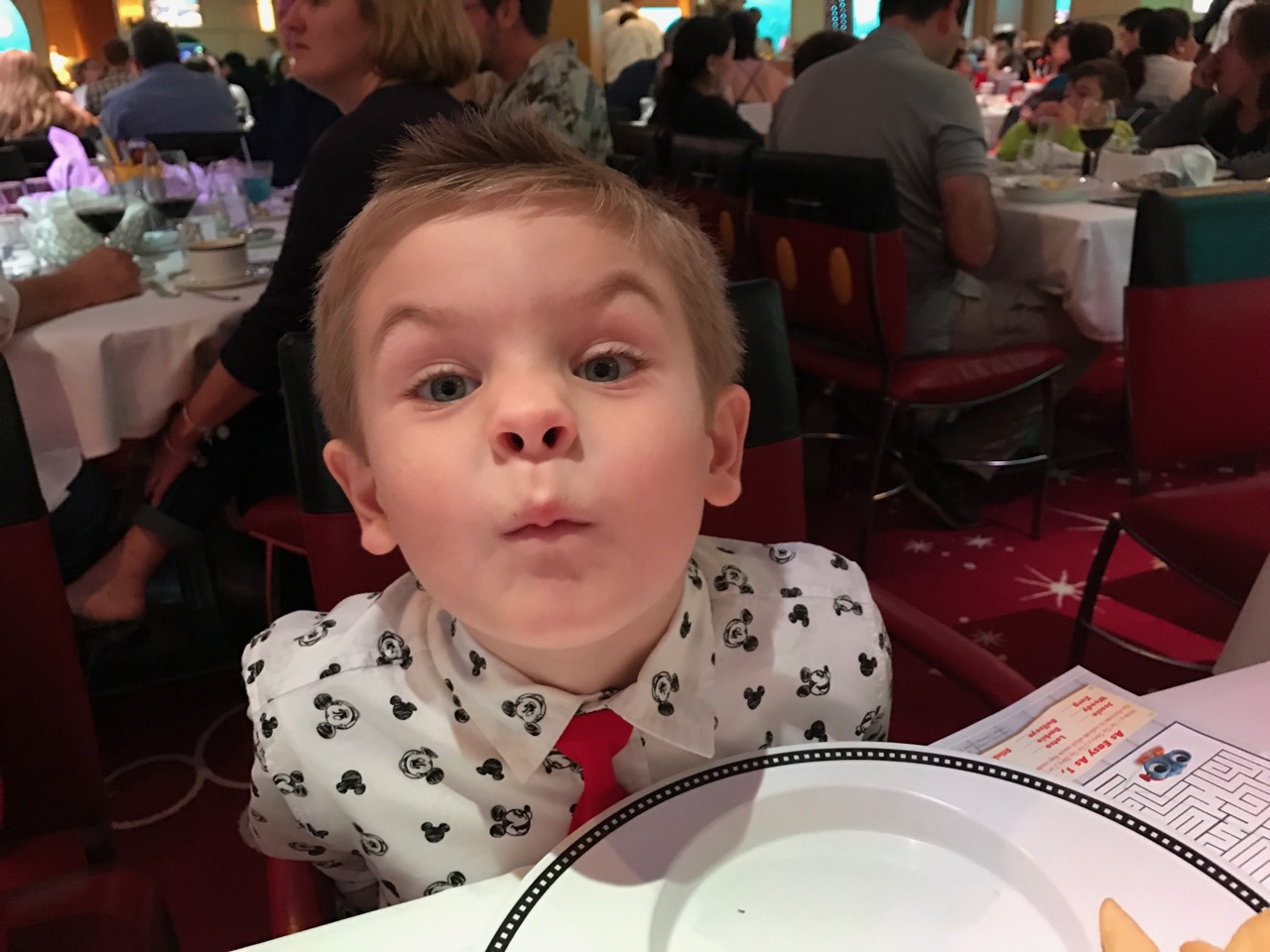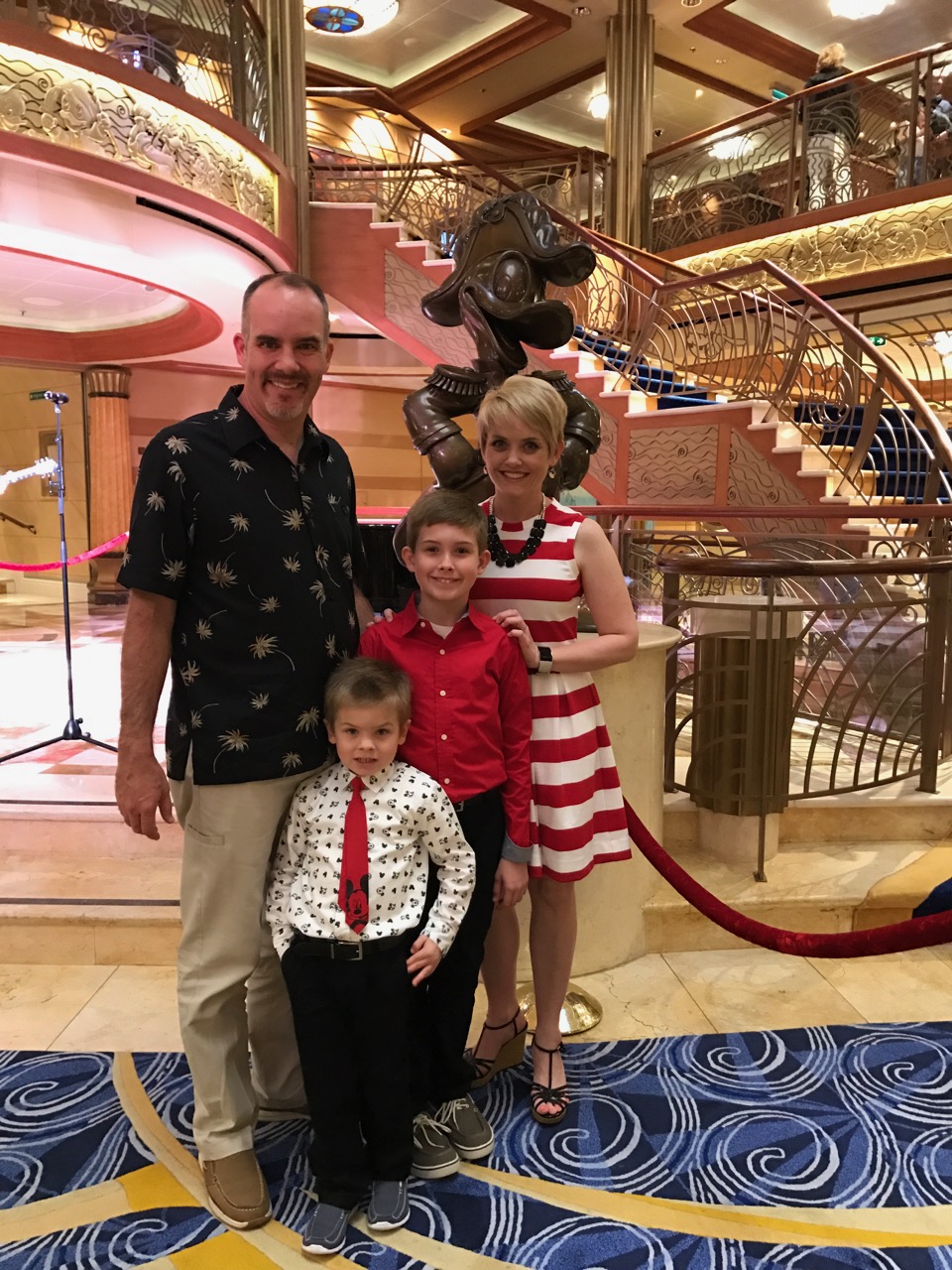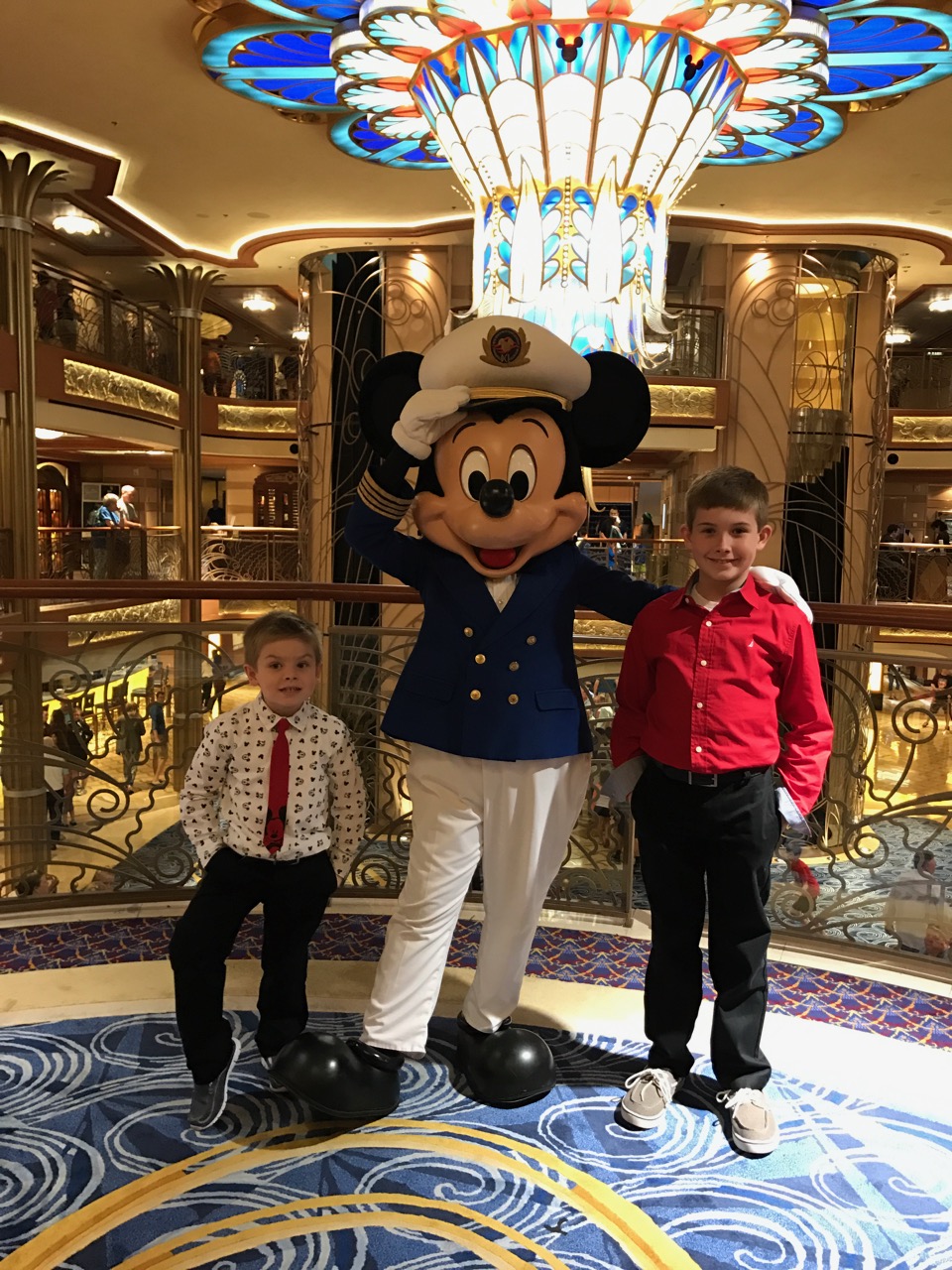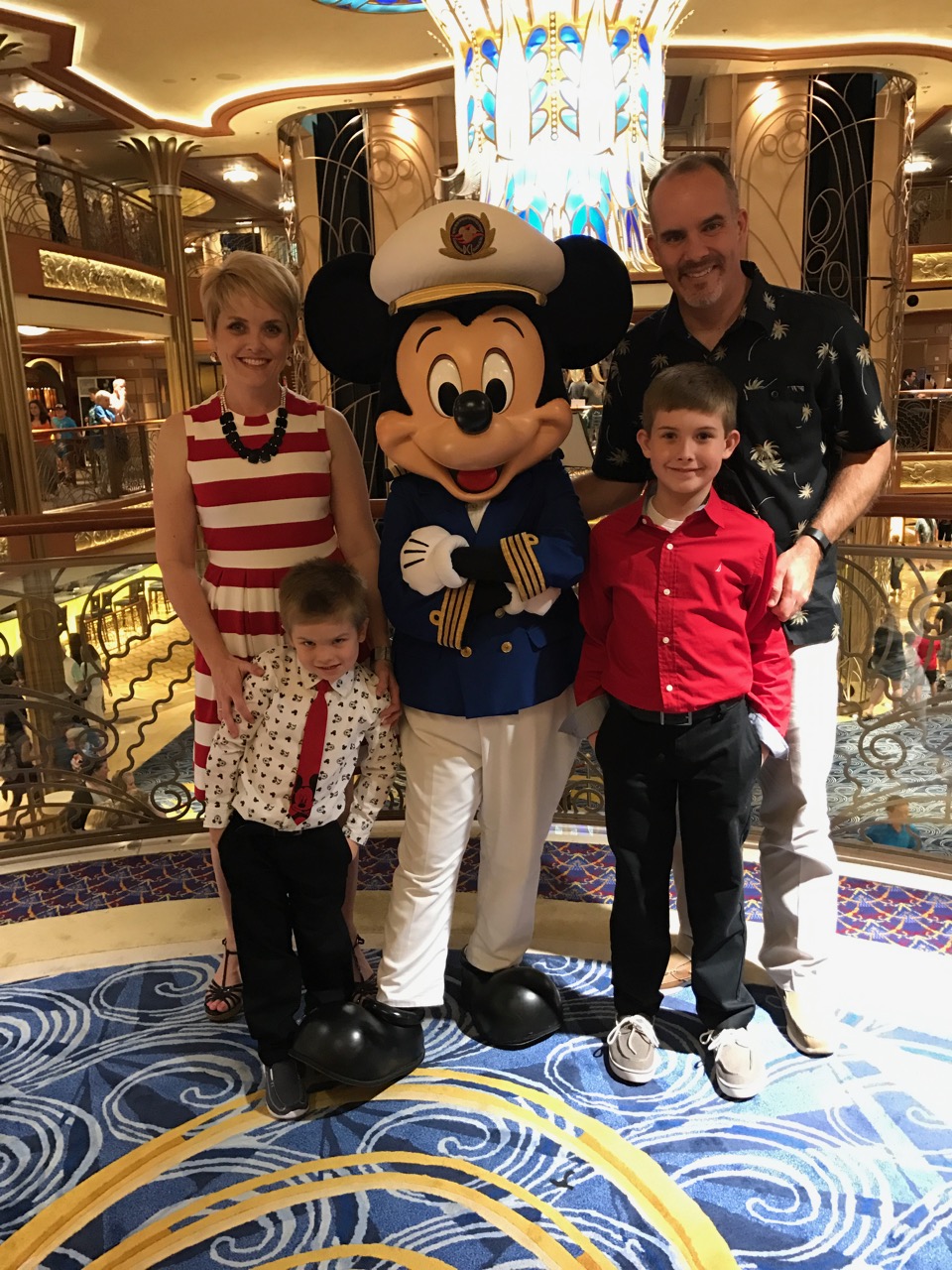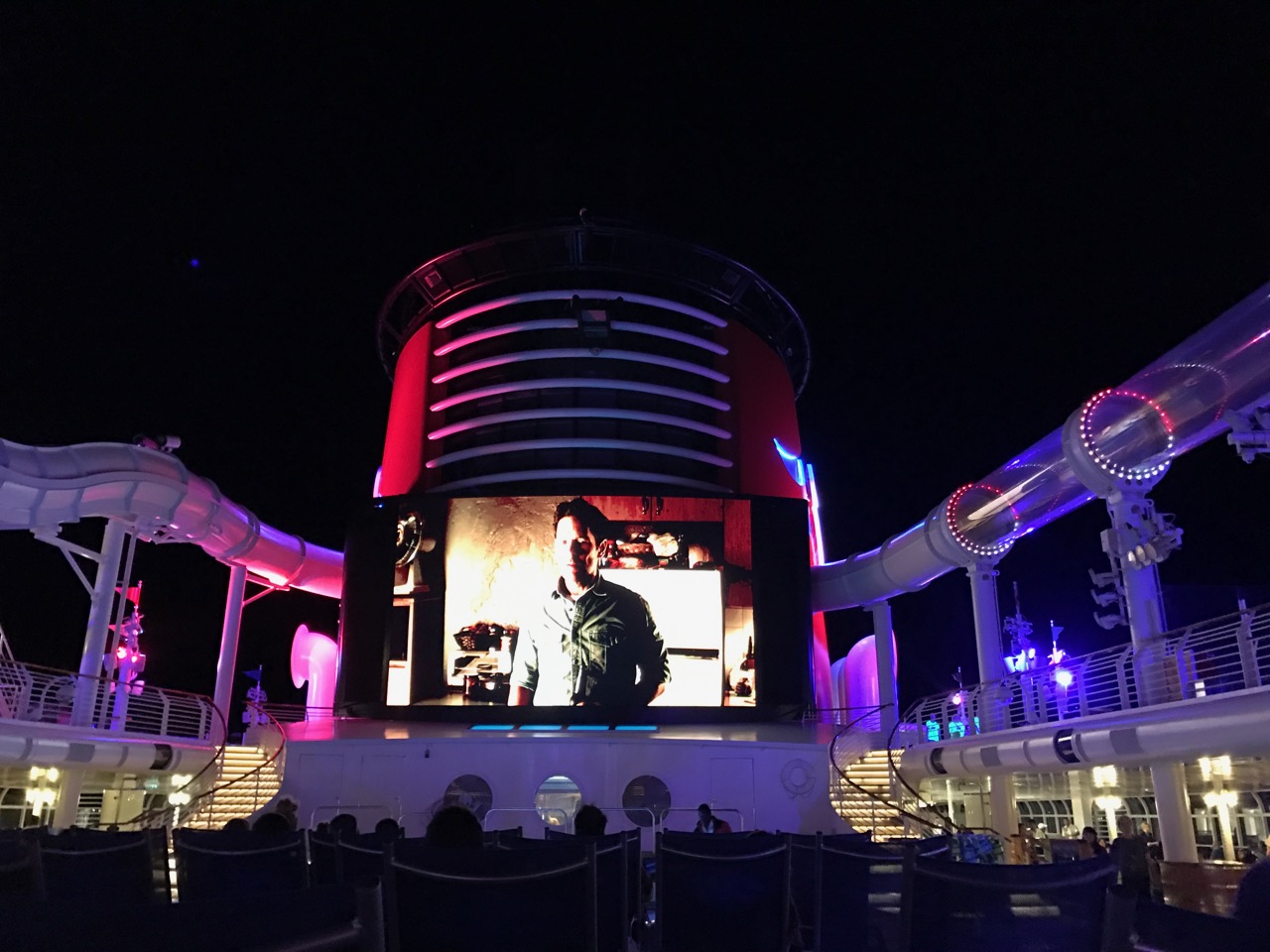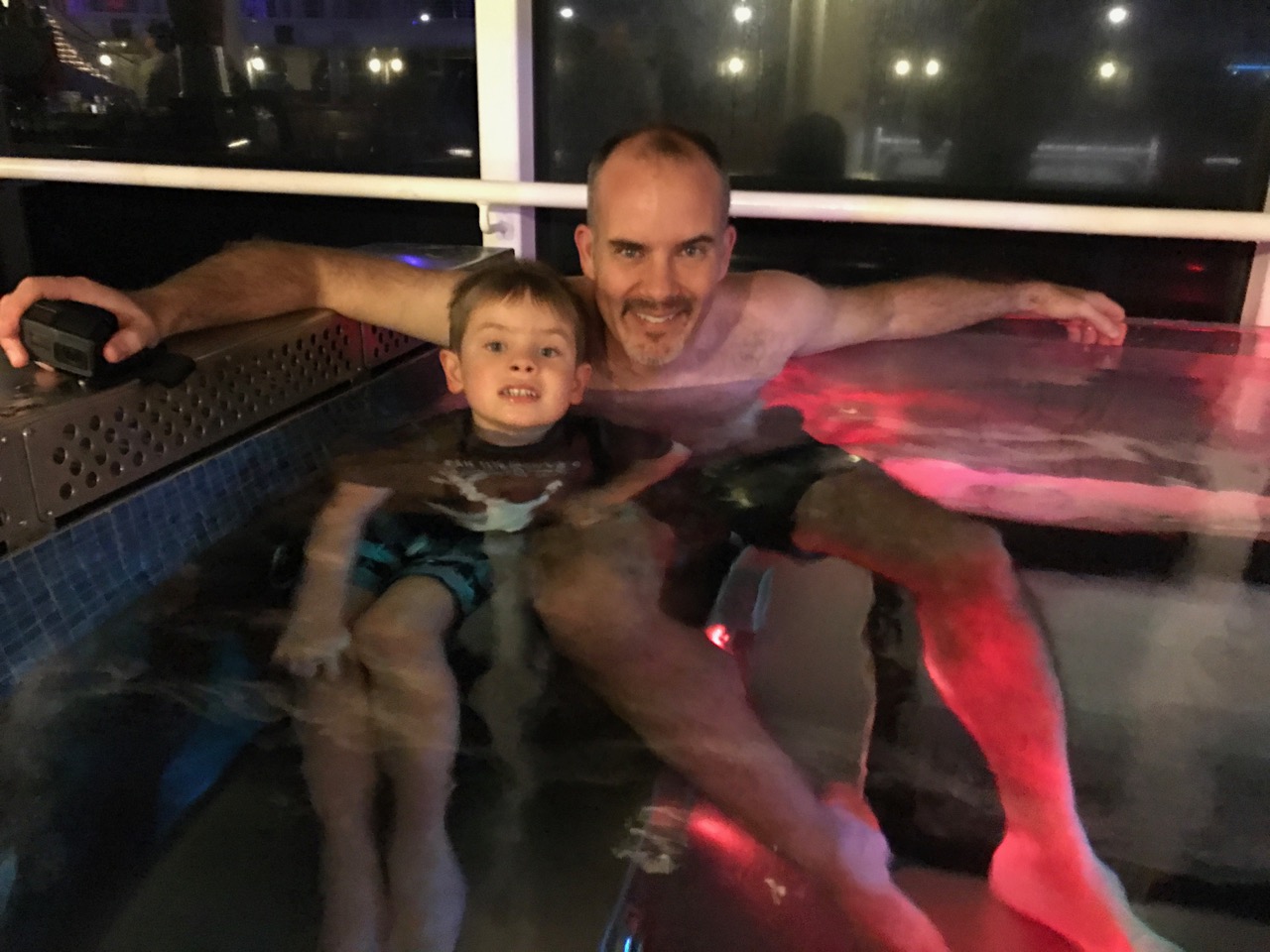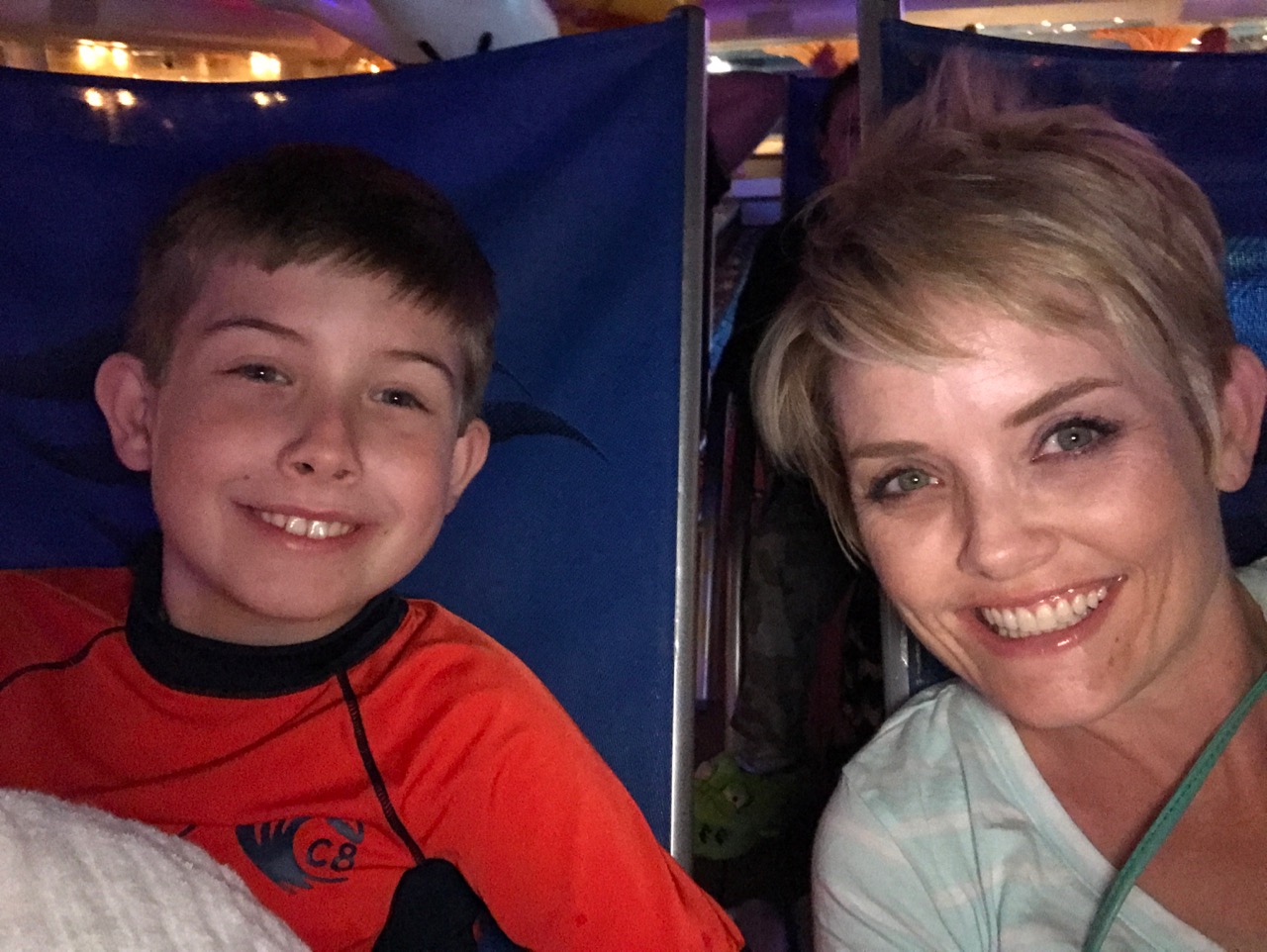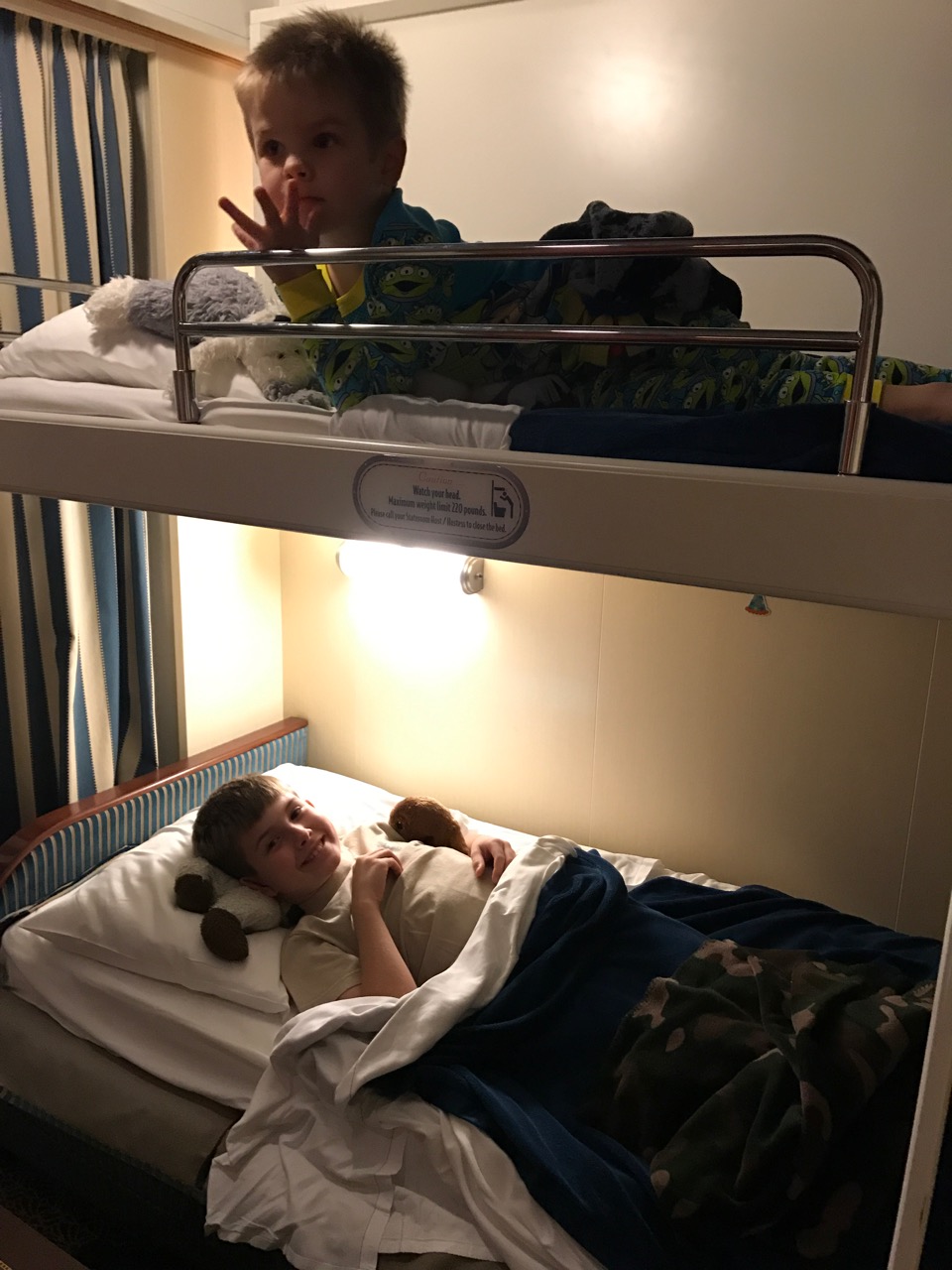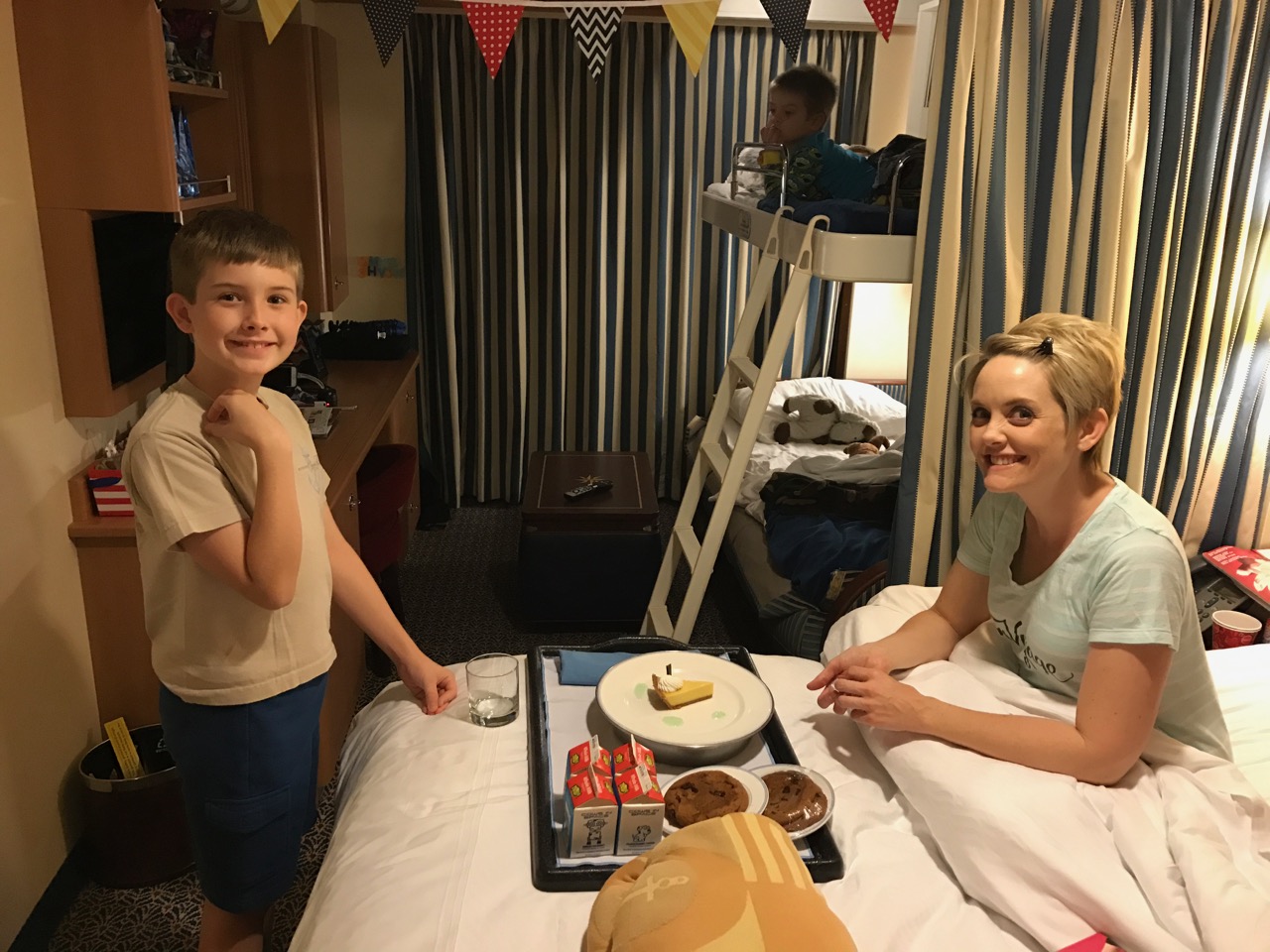 (Visited 29 times, 1 visits today)