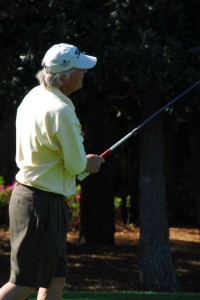 After the Harvest Classic players tipped their hats to the missing man formation flyover in honor of Don "Kenny" Hayes, it was on to the start of the 2011 Harvest Classic.  This years tournament marked the 25th anniversary of the competition that began with eight gifted golfers back in 1987.  The tournament returned to Innisbrook Golf Resort in Palm Harbor, FL where defending champ Bob Hayes had the round of the day grabbing the early lead at +6.  Having taken most of the season off from golf to focus on fishing, Bob was extremely happy with his first round performance.  Bob played with brothers Tom and Jim who were no match for the game that Bob brought.  Tom shot a 73 which made him even for points but Jim couldn't get the sticks working finishing at -6.
In the second group Kevin Hayes brought his "A" game shooting a 75 which was good for +4 points and second place.  Kevin, who finished third in the 2010 Harvest Classic said he was determined to get his first Harvest Classic win this year.  Along with Tom Hayes, Patrick Toney and Jeff Riester both finished at even points putting them right into the mix going into Friday's rounds.  When asked for a quote Jeff Riester said "It was great to knock the cobwebs off the clubs and be in position to strike going into Friday."  Although Jeff played well his prodigy Tom Duffy was not able to bring it in the first round finishing at -6.  Duffy said, "The lunge wasn't working for me today and I am beginning to think Riester is the only one who can pull it off."  Lucky for Duffy there were a few players, including myself, who forgot to bring their games today as well.
As for Vern Shukoski he was able to work his way through his loyal fan following to make it to the tee just in time for his round.  Although Vern had a strong start he couldn't keep it going and ended up in the middle of the pack at -4.  When Hayesvision.com caught up with Vern after the round he said that the reason he didn't play his best today was because all of the travel for his book signing was catching up with him.  On his way out the door Vern said, "Lookout because tomorrow is moving day and I'm wearing my Two Men and a Truck shirt!"
Day one is in the books and it was a great day.  The event just doesn't feel the same without Kenny but he has kept in touch with many of the players so he is definitely here in spirit.  Don "Kenny" Hayes fell ill this week and was not able to make the trip to sunny FL.  Tomorrow the players will play 36 holes and the leaderboard is sure to look different.  Stay tuned to Hayesvision.com for all the updates and trash talking from Palm Harbor, FL.
Check out your first round leaders below.
Harvest Classic 2011
Innisbrook Golf Resort - Palm Harbor, FL
| Place | Player Name | Round 1 | Round 2 | Round 3 | Round 4 | Total |
| --- | --- | --- | --- | --- | --- | --- |
| 1 | Bob Hayes | +6 | | | | +6 |
| 2 | Kevin Hayes | +4 | | | | +4 |
| 3 | Tom Hayes | 0 | | | | 0 |
| 3 | Patrick Toney | 0 | | | | 0 |
| 3 | Jeff Riester | 0 | | | | 0 |
| 6 | Vern Shukoski | -4 | | | | -4 |
| 7 | Terry Haack | -5 | | | | -5 |
| 8 | Jim Hayes | -6 | | | | -6 |
| 8 | Tom Duffy | -6 | | | | -6 |
| 10 | Kent Dickson | -7 | | | | -7 |
| 11 | Patrick Hayes | -8 | | | | -8 |