Needless to say the entire Hayes household arose early with excitement as our Disney Fantasy Cruise embarkation day had arrived. To backup the storyline a bit, this cruise was two months in the making, but we only told the boys about it the Sunday before we departed.  In classic Emily style we wanted to have a fun and unexpected reveal so she had ordered some customized fortune cookies (see slideshow) and planned a Chinese food night for the Sunday before departure.  After dinner we had a little dessert production where the boys dramatically chose their respective cookies and determined their fortunes.  Luckily all of the fortunes said the same thing, informing the boys they would set sail in three days.  It took a little while for the idea to process and set it, but once it did, they were bouncing off the walls (when I get around to making a video for this day, I will include the reveal which was filmed from a GoPro hidden away in of the our kitchen decorations).
Fast forward through two days of grueling anticipation, and we were finally ready to set sail.  We completed our traditional morning routine of Emily hustling around the house cleaning, Dad packing the car and getting the boys showered and ready, and the boys doing their best to make sure Mom had plenty to pick up and tidy.  Just your basic calming vibes of embarkation day.   Emily's parents came over for the traditional cruise day photos before leaving the house, shed a few tears, and agreed they would see us one last time at Jetty Park as we set sail.
We hopped in the car, got the GoPro set to timelapse our drive out to the port, and hit the road… and then went back to the house because we forgot the boys' sunglasses… and then we hit the road.  I am sure I have said this before, but the great thing about living on the East side of Orlando is that the drive out to Port Canaveral is a pretty short one.  During the drive we talked about our favorite things we were excited to see and do.  It had been over a year since we had been on the Disney Fantasy which had recently gotten some updates during its time at dry dock, so we were excited to see the new updates.
We pulled up to the Disney Cruise Port Terminal, dropped our bags off, parked the car, and headed in to get officially checked in.  One of things that was new about the check-in process was the boys received their Oceaneer Club magic bands right at the front desk, thus not requiring us to stand in another line to get that done.  Check-in was a breeze giving us time to get a photo with Minnie Mouse in front of the model cruse ship, and press a couple pennies before getting in line with boarding group 5 to board the ship.
As mentioned in previous posts, we have our ship boarding ritual that we like to stick with.  We, of course, love boarding the ship as they call each family by name, but this time we got Ben, who took it a step further, taking our GoPro and giving it to a Cast Member on board who filmed our arrival from the ship side.  Pretty cool having that footage!  We basked in the glow of the atrium before our stomachs took over, guiding us to the aft of the ship and up to Cabanas for our first meal on the ship.  Because this was a 10-day cruise, we had two carry-on suitcases and a camera backpack, which meant navigating to the restaurant and our table was quite an adventure.  We somehow managed to find a spot and eagerly went to get our plates for lunch.
Lunch was the perfect reintroduction back to the Disney Cruise, as it always it, as we dined on the outside deck, enjoying all of our favorites from Hunter's mac-n-cheese filled bread rolls, to Sawyer's cheese pizza and French fries.  Emily and I enjoyed the freedom of eating anything we wanted as both of us had been trying to eat healthy and lose weight heading into the cruise.  After our meal, Sawyer and I got our customary chocolate chip cookie selfie that has become our little cruise tradition.
We wrapped up lunch and headed to the Oceaneer Lab and Club to check out all of the new additions and changes to the kids play area.  The boys and I had just watched Dr. Strange in anticipation of this cruise, and there was an entire room dedicated to the movie that was really cool.  They still have some of the same areas like the ship captain game and Andy's room, but Andy's room has been redesigned, which was neat to see.  There was a Star Wars area that was added with some really cool new technology which included an area for the kids to fly an x-wing fighter.
It still wasn't quite time to check out our room so Emily stayed with the boys in the Oceaneer Club and I went down to Guest Services to get waitlisted for a Castaway Cay Cabana (which we didn't end up getting) and then went to Royal Court to see about booking a Palo brunch, which we weren't able to get online.  I also wanted to request a change to our Palo dinner reservation, which conincided with our Animator's Palate dinner where we would be drawing our own animated figures.  Luckily for us, I was able to get both scheduled successfully. 
I headed up to the room to meet Emily and the boys who had already arrived, and Emily was getting the carry-on suitcases unpacked and put away.  We spent a bit of time relaxing and checking out our room, flipping through the movies on demand that we were excited to watch during our vacation.  Emily was getting antsy to get the bags unpacked and put away so I took the boys do a little ship tour, getting some ice cream, a pizza snack, and starting our first round of the Midship Detective Agency game, before returning to the room.  When we arrived, Emily had laid out some treats for the boys that included; new Iron Man Tervis tumblers, Disney Gift cards to use on the ship, personal fans for the hot days, some of their favorite candy snacks, and new straps for their sunglasses.  The boys were super excited.
Our next adventure on this ship was the dreaded lifeboat drill.  This has always been Hunter's least favorite part of the cruise, but he has since calmed his fears a bit, and the fact that we got to sit in the air conditioning while we heard the boat drills, made it a lot more tolerable.
Following the lifeboat drill we returned to our room, got our Mickey gloves to wave to Grandma and PopPa, and made our way to deck 12 to enjoy the sail away party.  Since Sawyer had been singing the sail away song all week, I was excited to have him see and hear the show in person.  The weather, although warm, was not overly hot so it made the experience a lot more enjoyable.  We sang and danced a bit before getting in position to say our goodbyes to Port Canaveral and see Grandma and PopPa stationed in Jetty Park at their normal location.   I also picked up a couple of Captain's Mai Tais to make the cruise sail away official.
Since all of our luggage hadn't made it to our room before the party (did I mention there was a lot?), Emily returned to the room to finish unpacking and the boys and I headed out to complete our first round of Midship Detective Agency.  The timing worked out well as when we got back to the room we chilled for a bit before getting dressed and ready for the evening.  
Our first stop was a spin through the shops on deck 3, followed by a photo op with Captain Mickey on deck 5.  Sawyer was so cute in that he wanted to have his own photo with the Captain, quite a change from his initial intimidation of the characters.  
We concluded the character photo shoot with enough time left for a stroll outside on deck 4 to the aft of the ship for our dinner at Animator's Palate. We were seated at table 8 with another family from Orlando.  I happened to have worked with the father of the family during my time at Epcot. Our server was Vipin from India, and our assistant server, who was working his first full cruise, was Martin from Scotland.  The dinner was fairly chill and the menu was uniquely built for this cruise which was cool.
The great thing about the second dinner seating is the Oceaneer Club Cast comes by the restaurant to pick up the kids about 2/3 of the way through the meal. We took them up on the offer and enjoyed the remainder of our dinner sans kids. We finished up our dessert(s) and a little more conversation and headed off to the Tube to catch a performance by the on board musical a capella group, Six Appeal. We arrived about ten minutes before show time only to find the location packed with guests. We found some standing room, but it wasn't in the best location because I had to crouch down as to not block the people we stood in front of. The group was great, but we agreed to head out after three songs. 
Since it was getting late we made our way back to the Oceaneer Club to pick up the boys. As anticipated, they were camped out in their favorite spot in Andy's room.   They were excited to see us as we dragged our tired bodies across the ship and back to our stateroom. 
The boys had mentioned they were excited to see if Stateroom Santa would be visiting on this cruise. The wait was over as they bounded through the door to find a scroll letter and two Vinylmations waiting in their sea stocking that was hanging on the wall!  The letter read:
Welcome aboard the Disney Fantasy
For a cruise you won't soon forget
So many adventures lie ahead
And treasures a-plenty I bet!
You will rest and relax for 10 glorious day
With islands and activities galore
It's Christmas in June – and July!
Who could ask for anything more?
Because you will be away so long
I have decided to add some fun
Each night you will receive a gift OR a clue
Check your sea stocking to find which one
So enjoy your trip and all it entails
Be sure to try something(s) new!
Relax, explore, and be sure to have fun
And save time for your favorite stuff too!
One last evening activity was in order before we retired to our beds, our tradition of ordering room service. For some unknown reason Hunter was still hungry so we ordered him a grilled cheese, added a cheese plate for Emily, and warmed cookies and milk for everyone. The perfect way to end our first day at sea! As Captain Fabian promised, we drifted off to sleep to the rocking of the sea and the sounds of the Mickey cartoons.  Looking forward to Day 2 & 3 at sea on the Disney Fantasy…  Love the cruise!
Disney Fantasy 10 Night Southern Caribbean Voyage Navigator
Disney Fantasy Day 1 Photo Gallery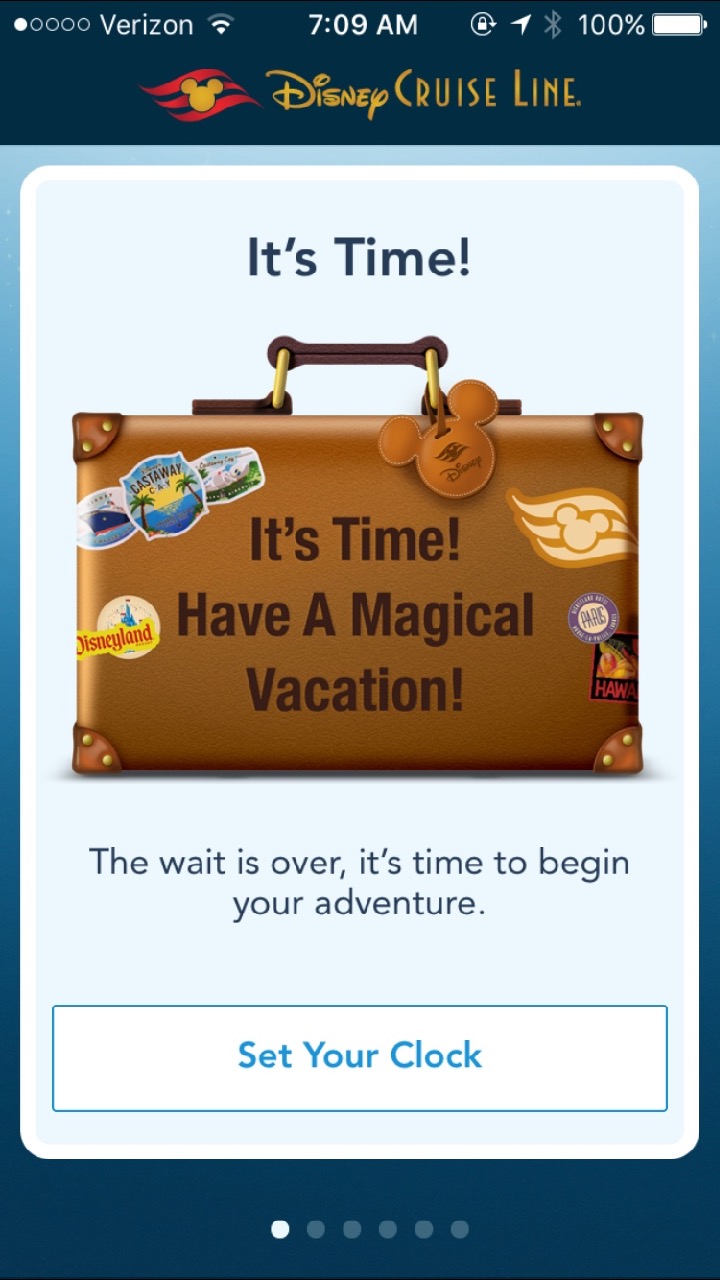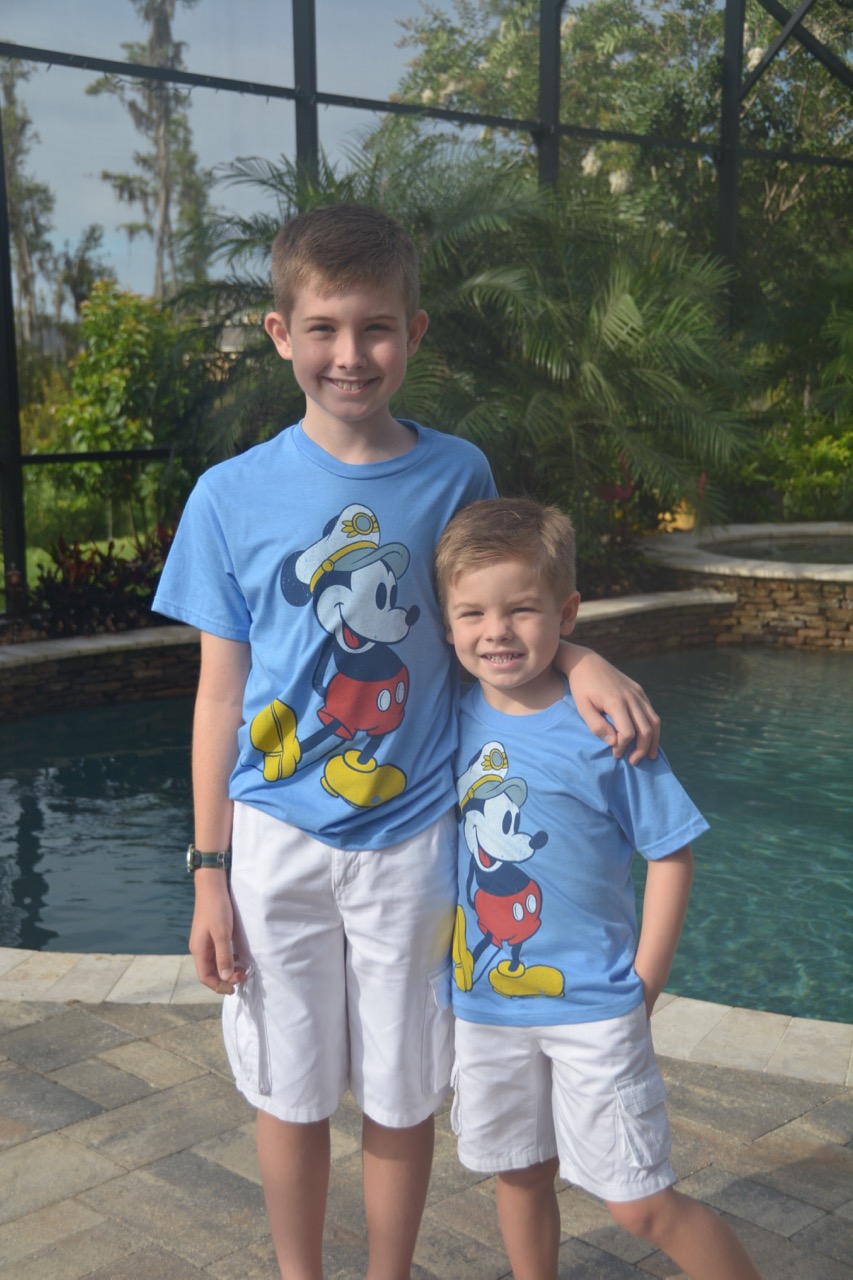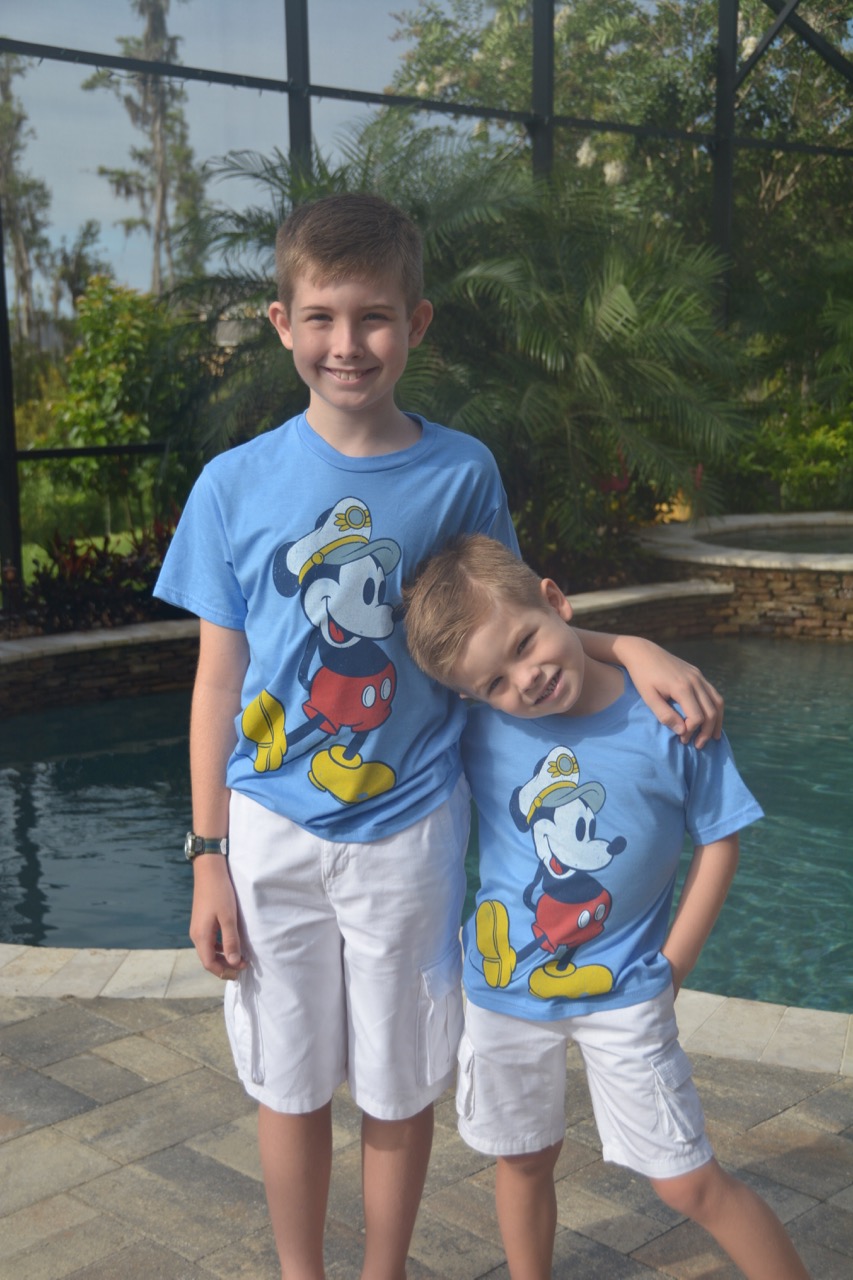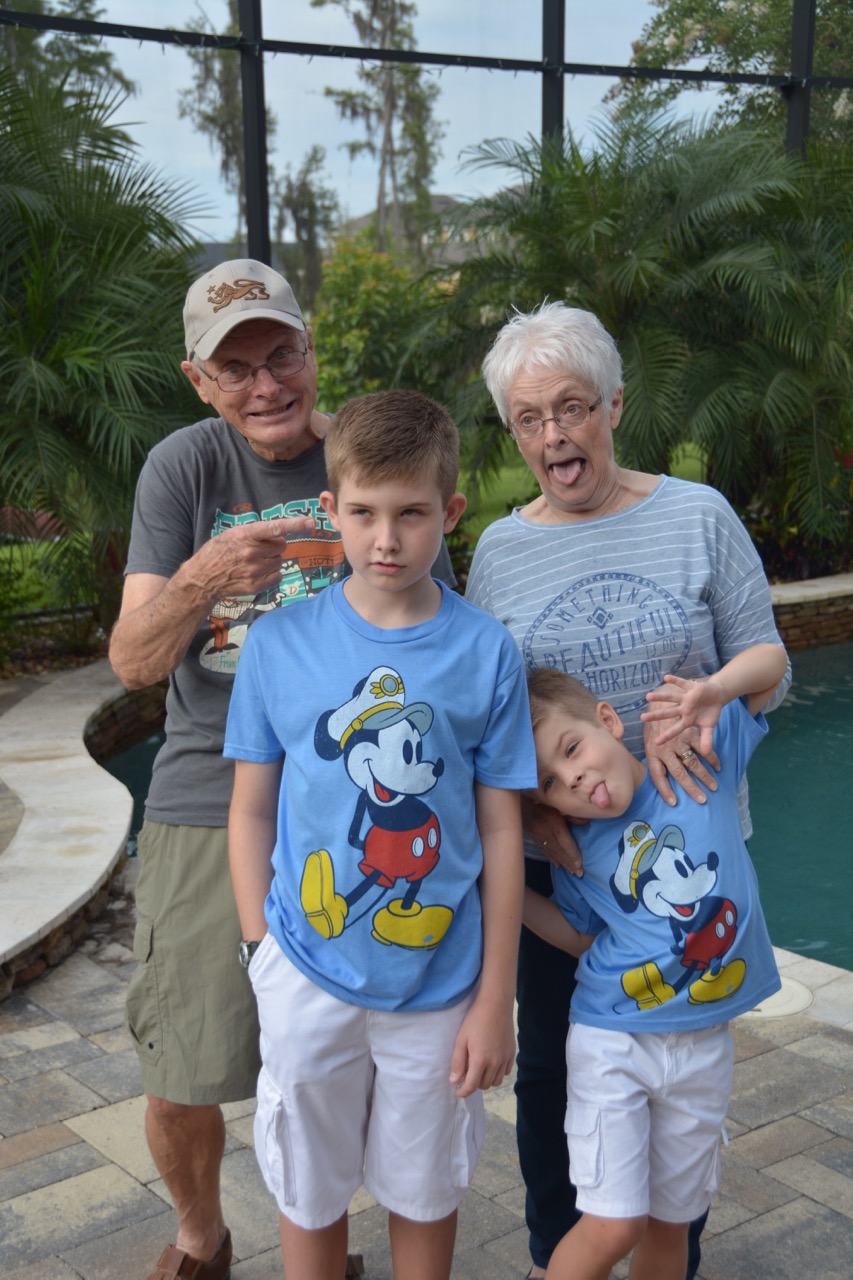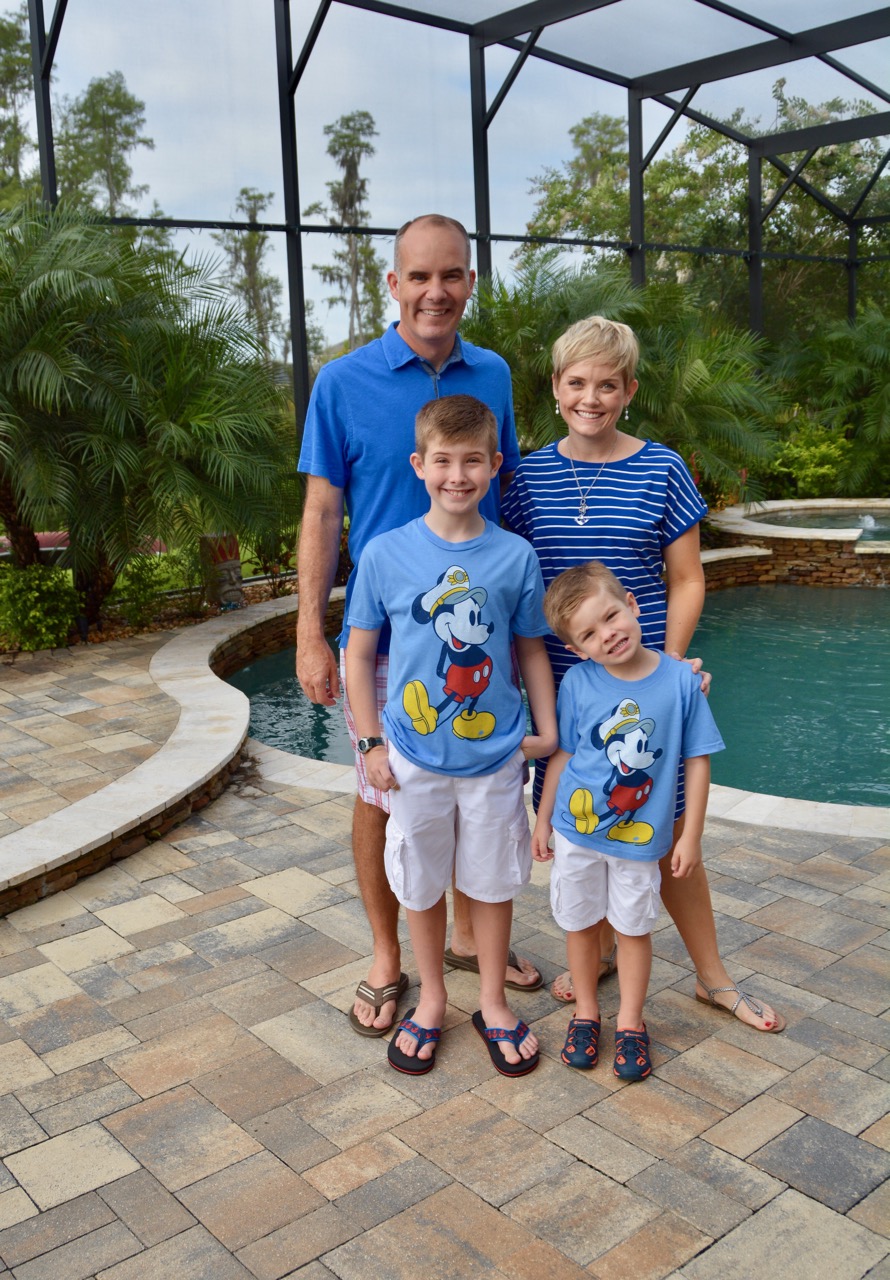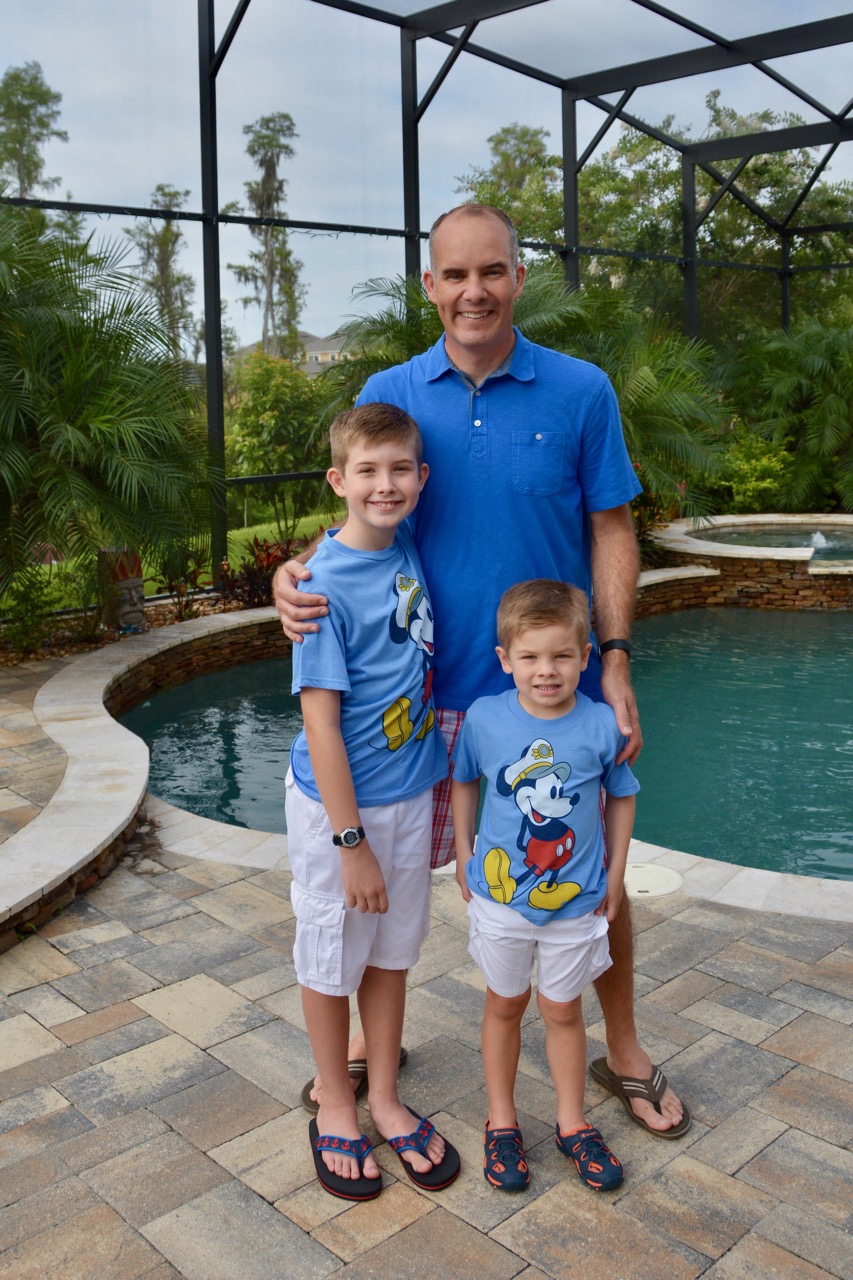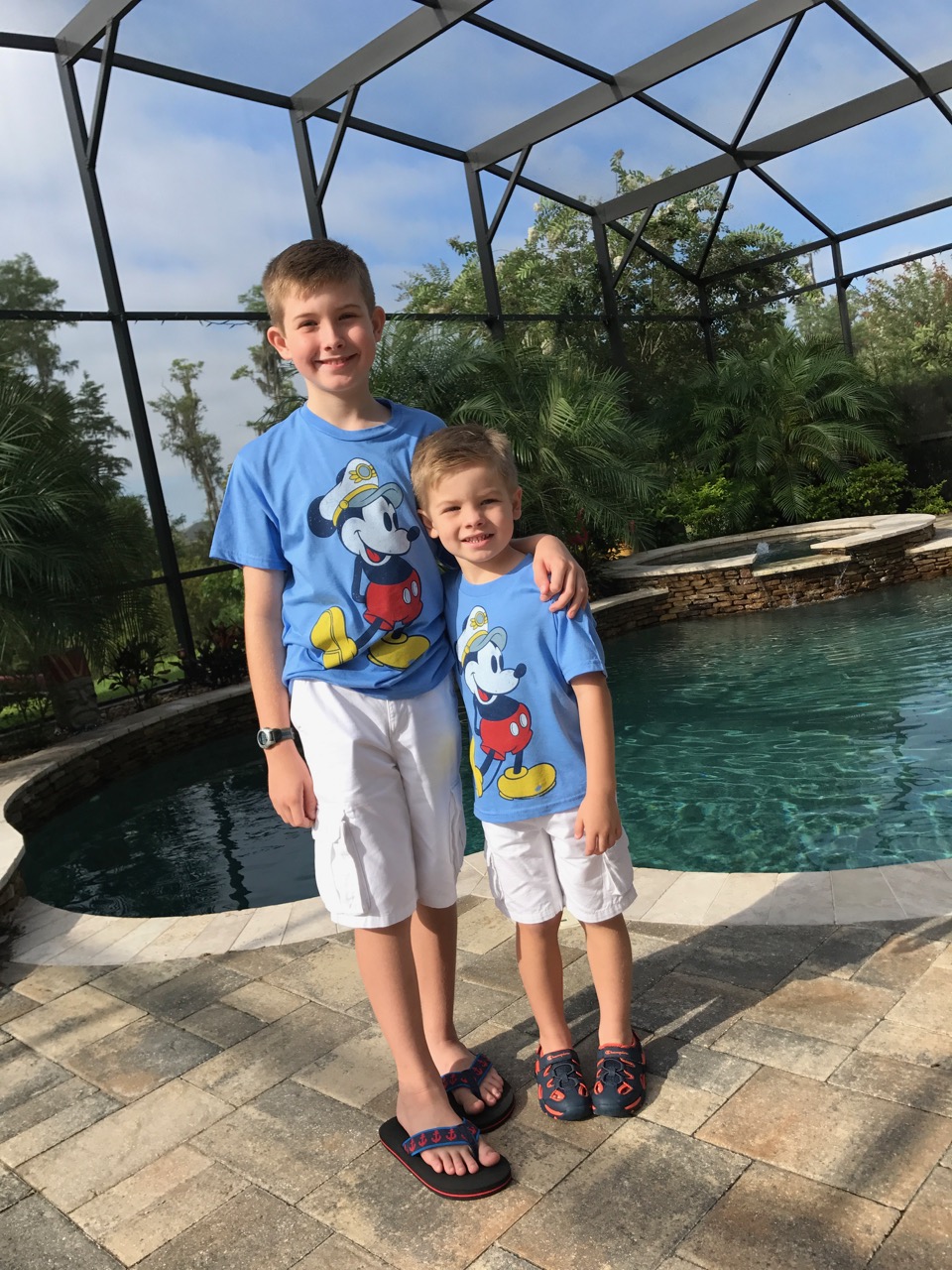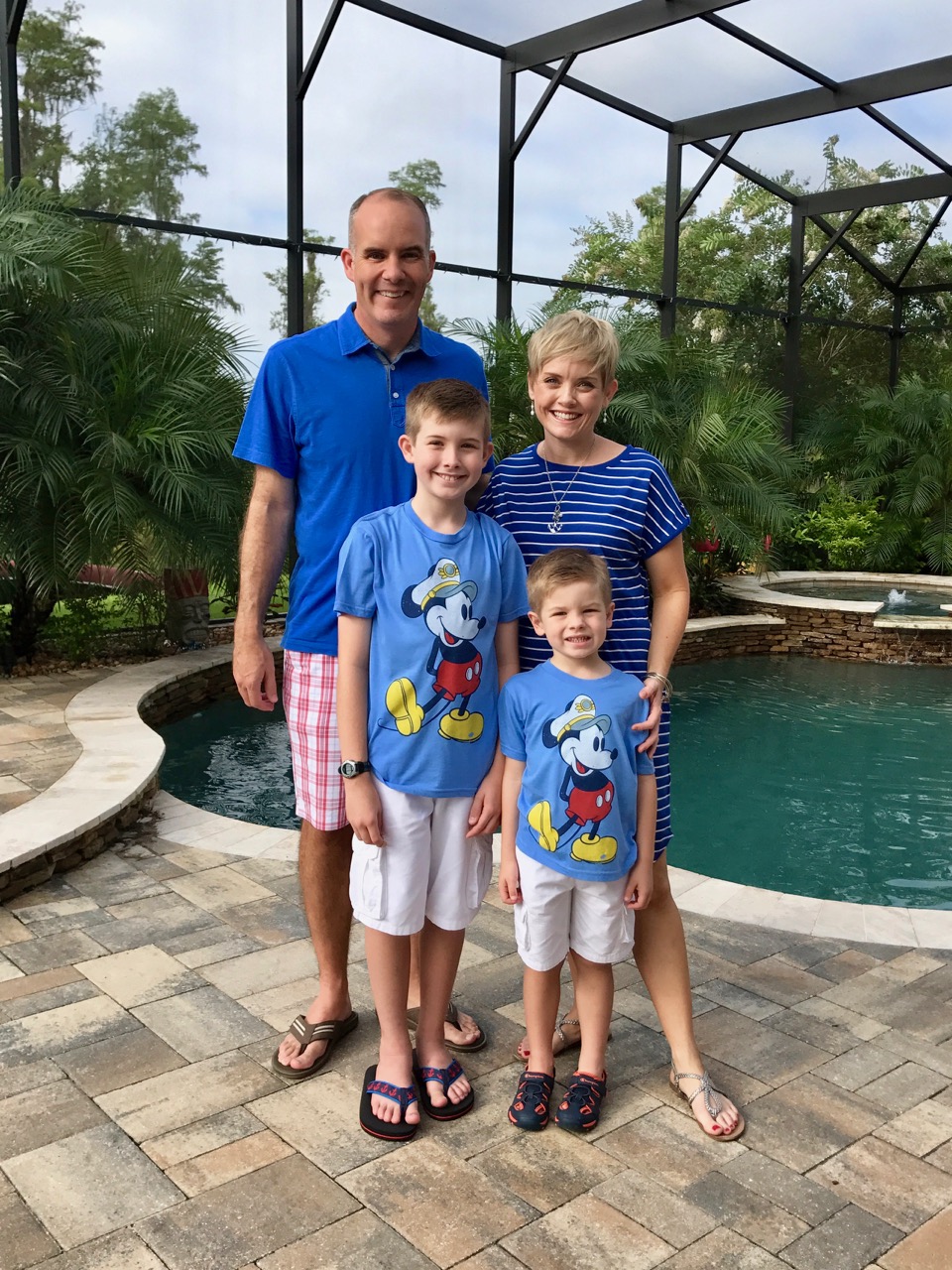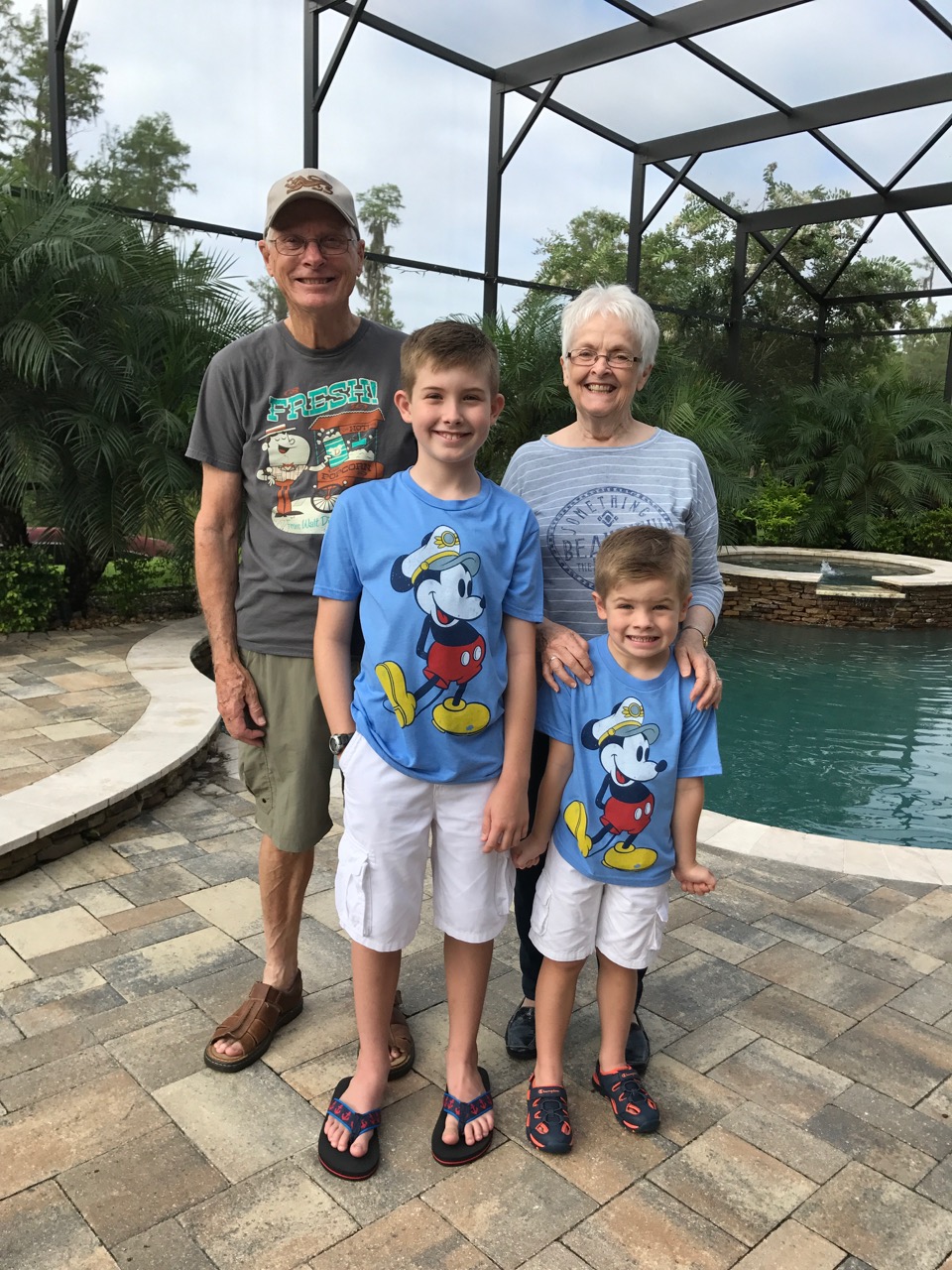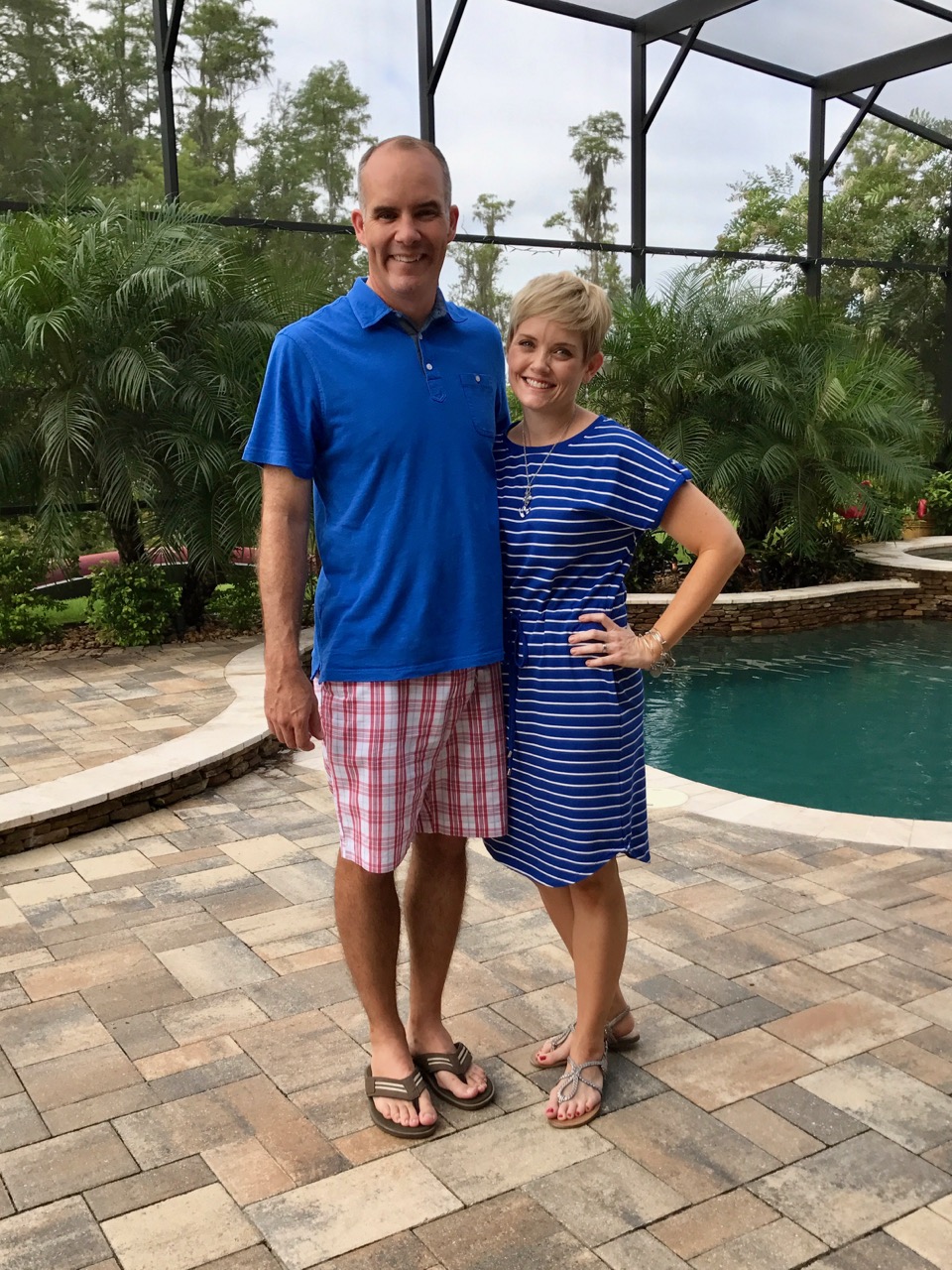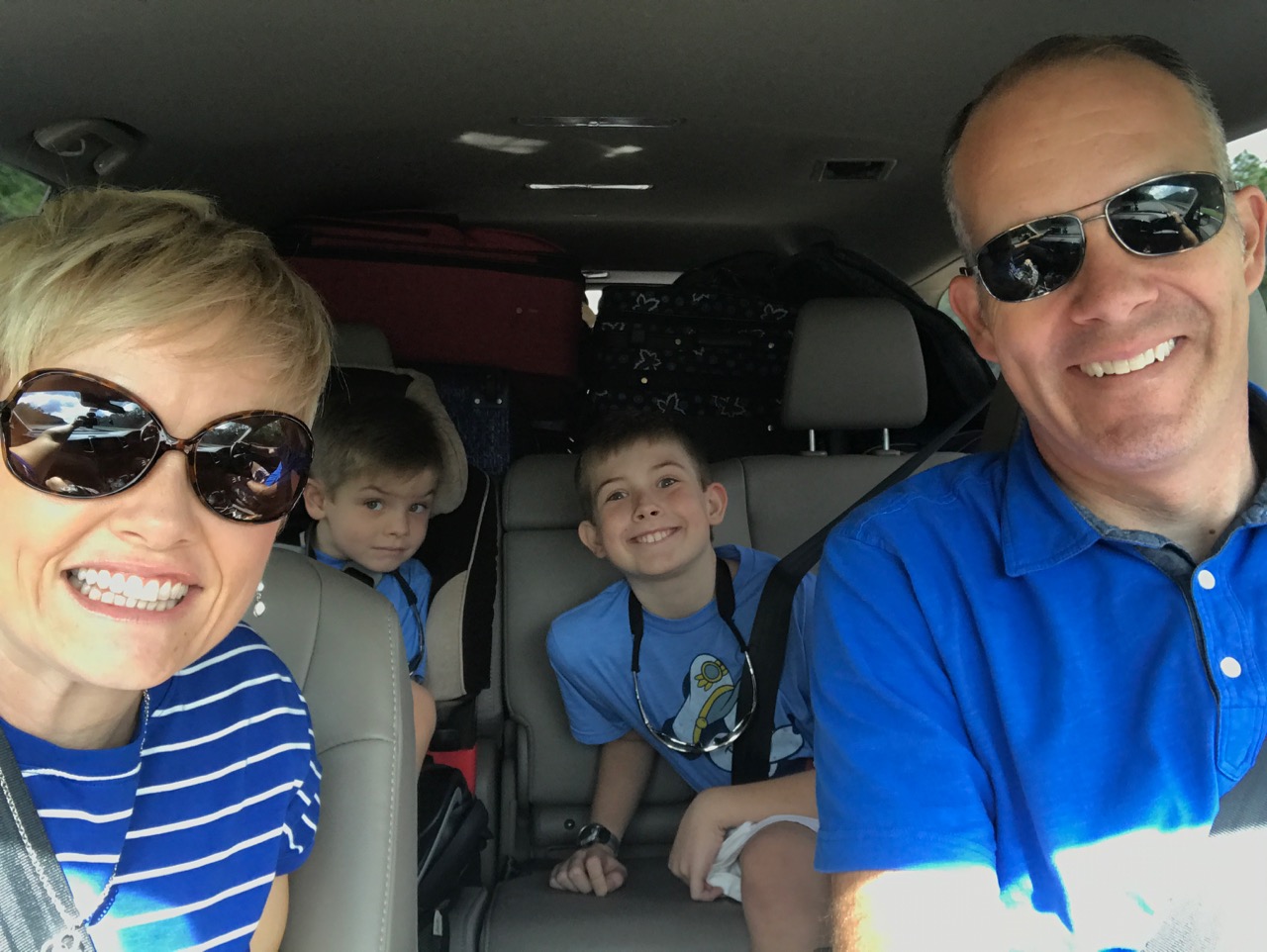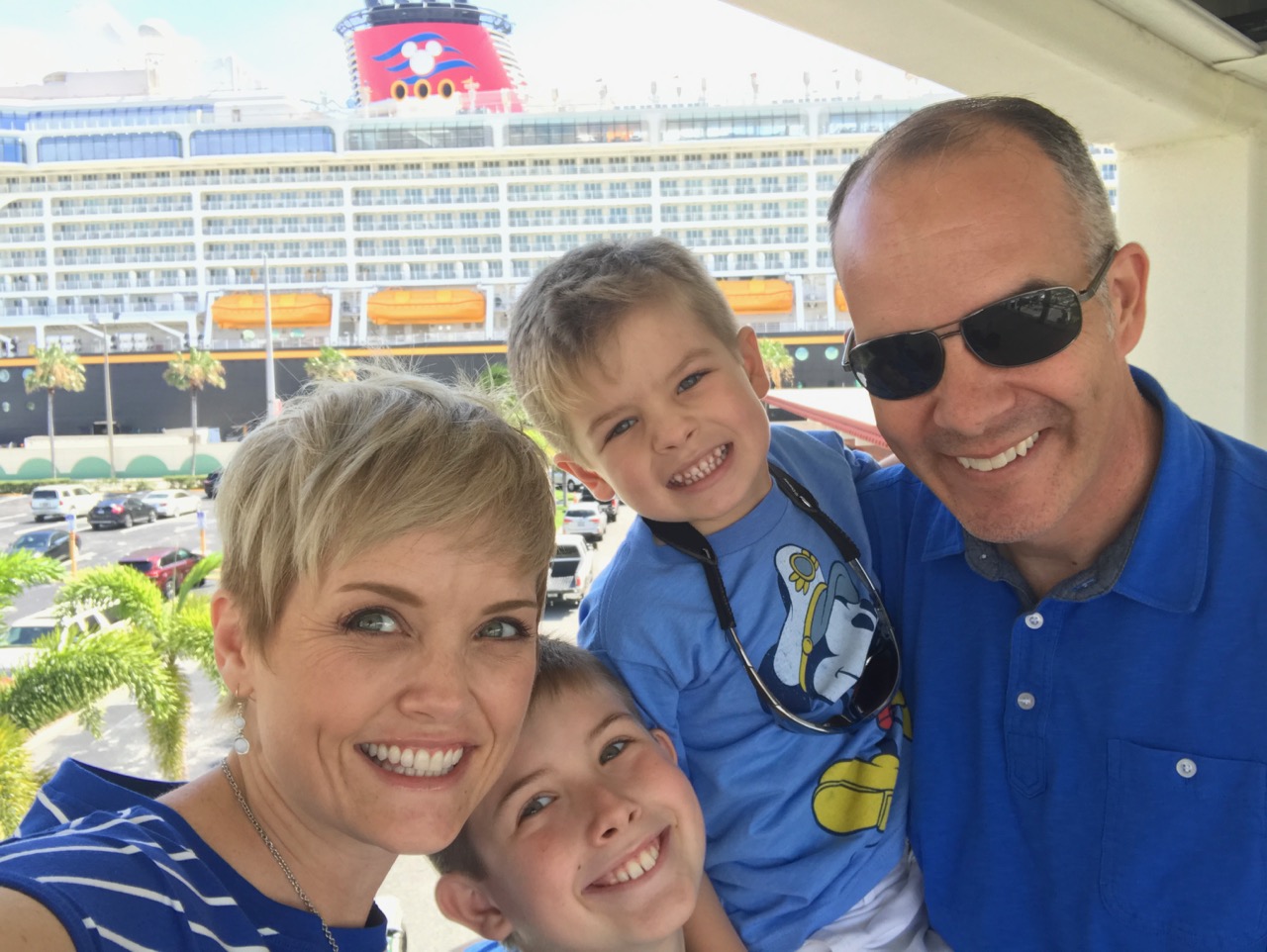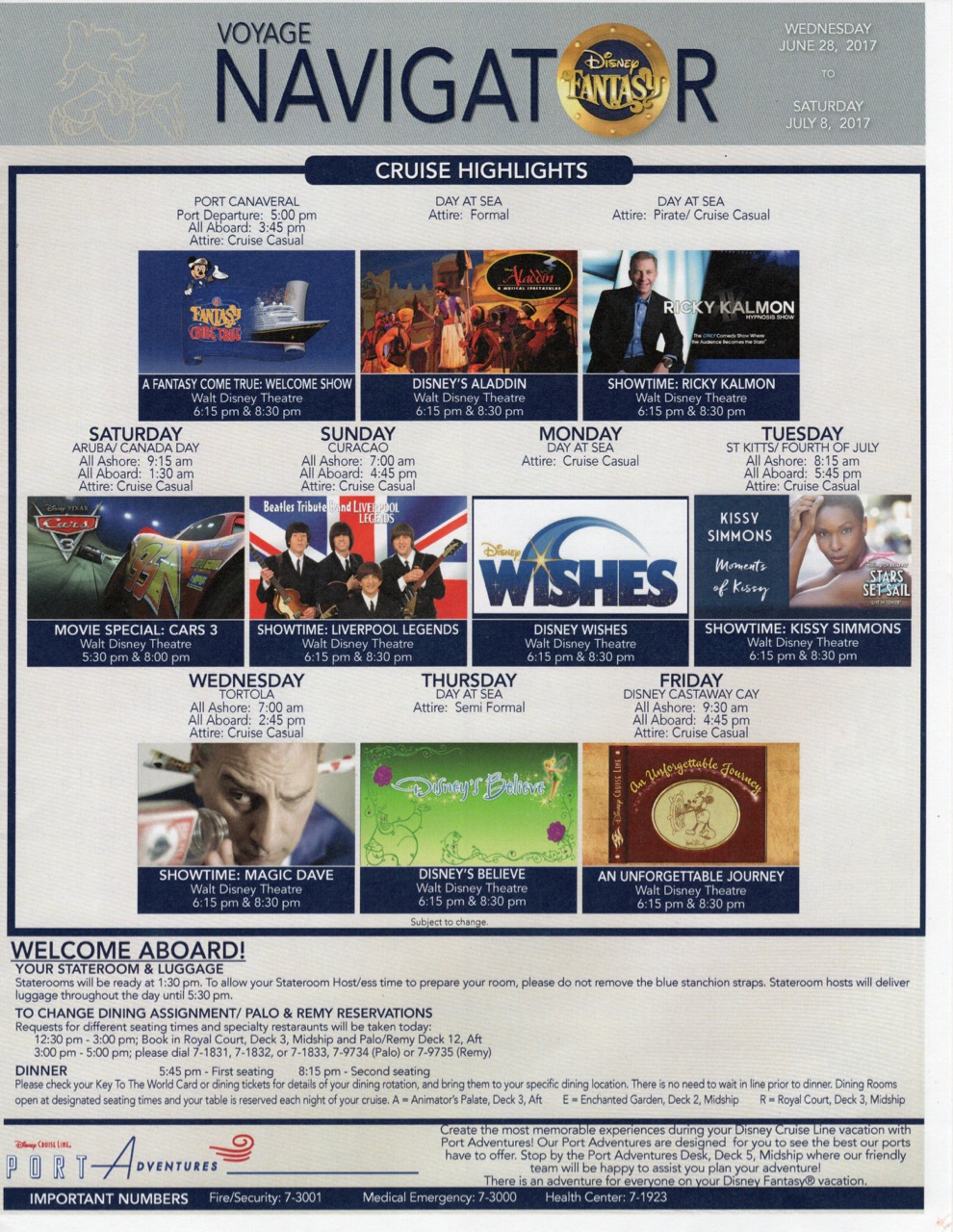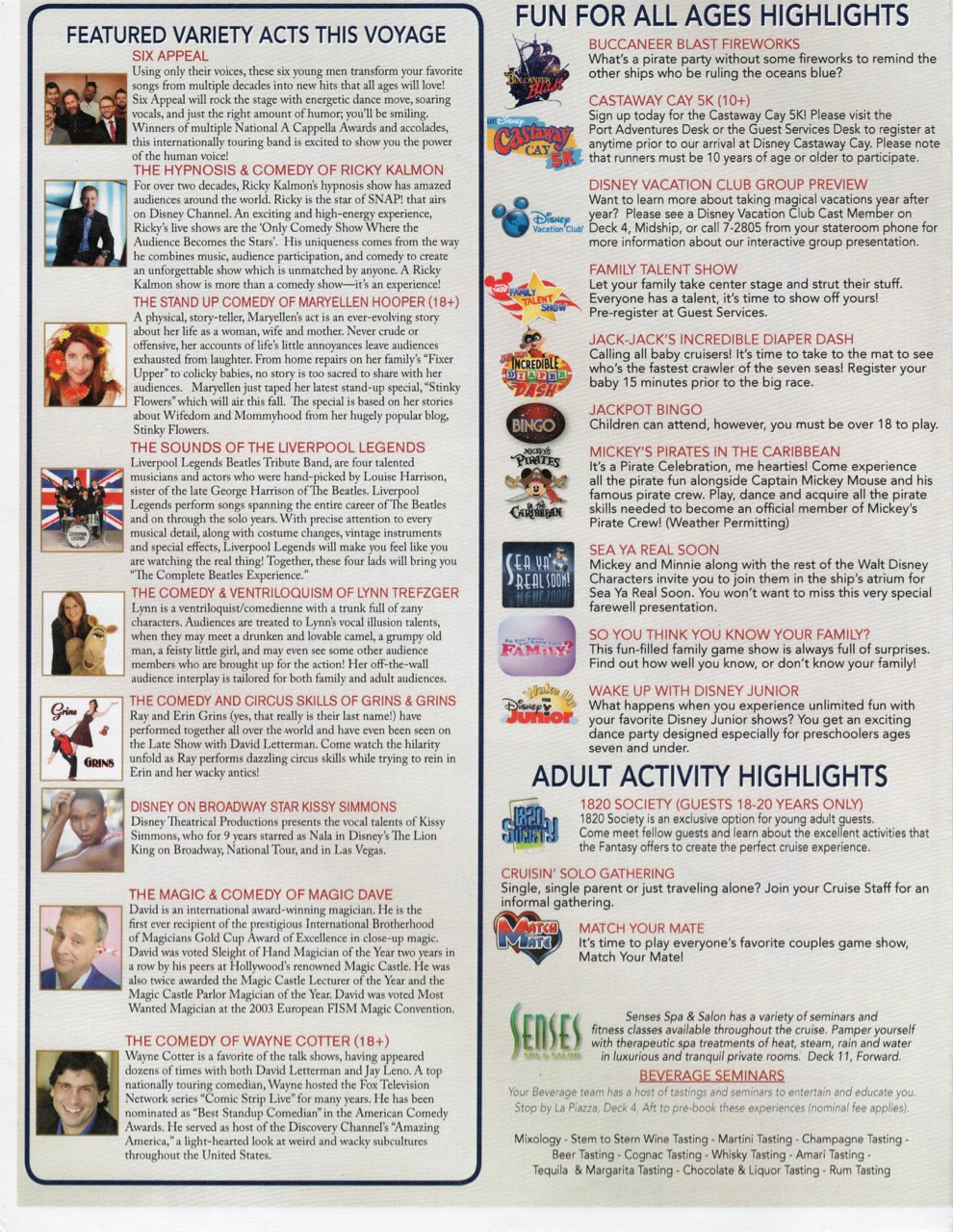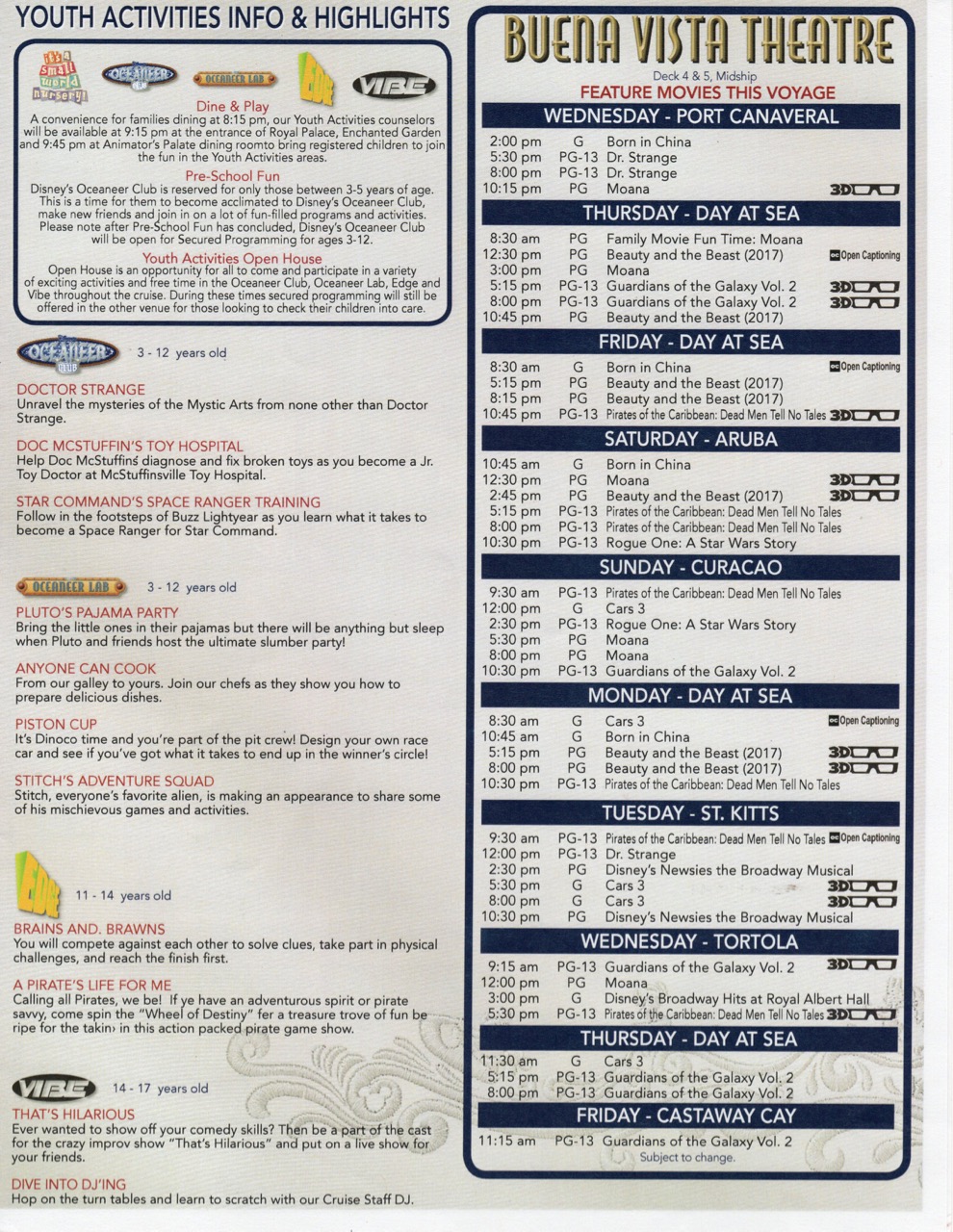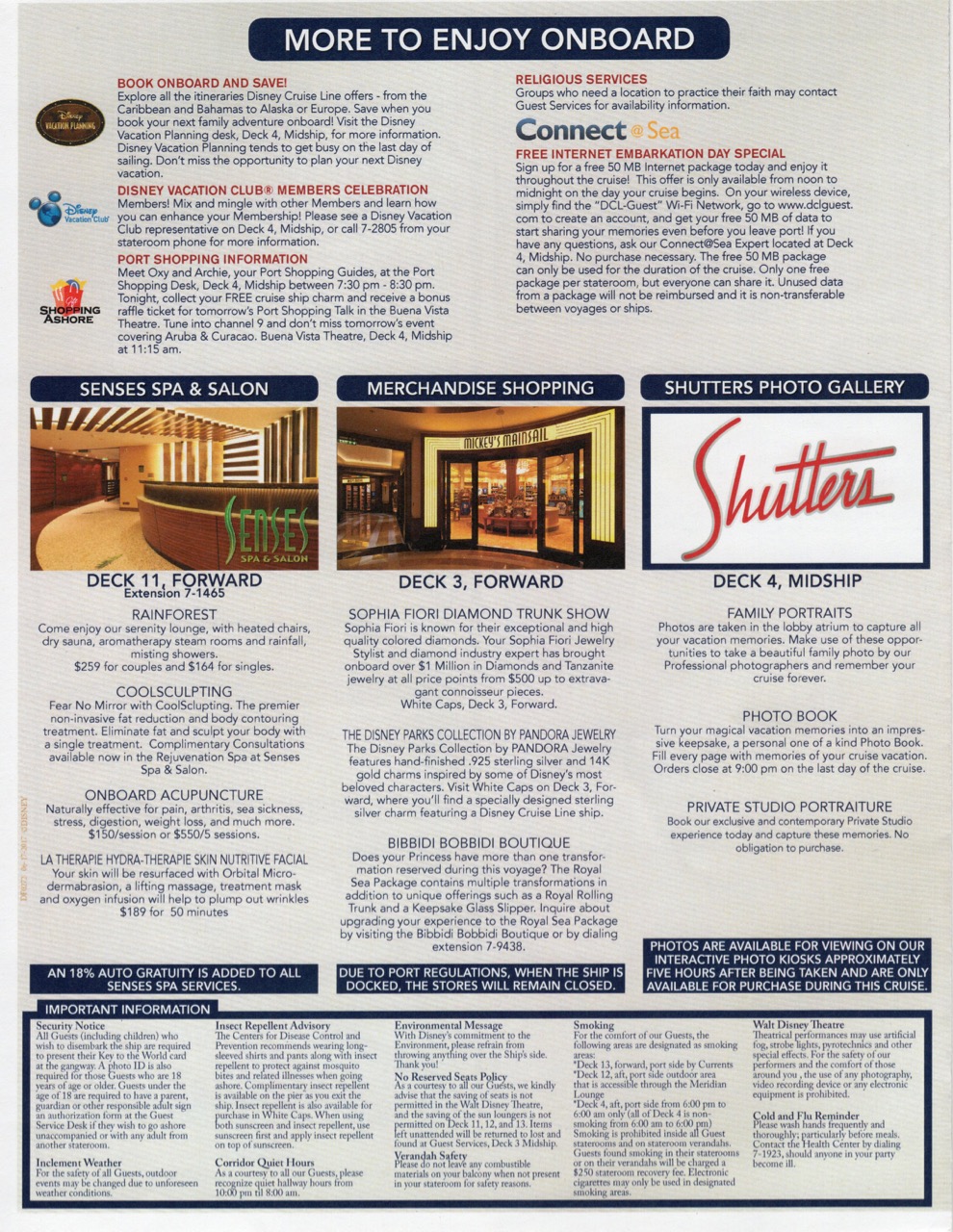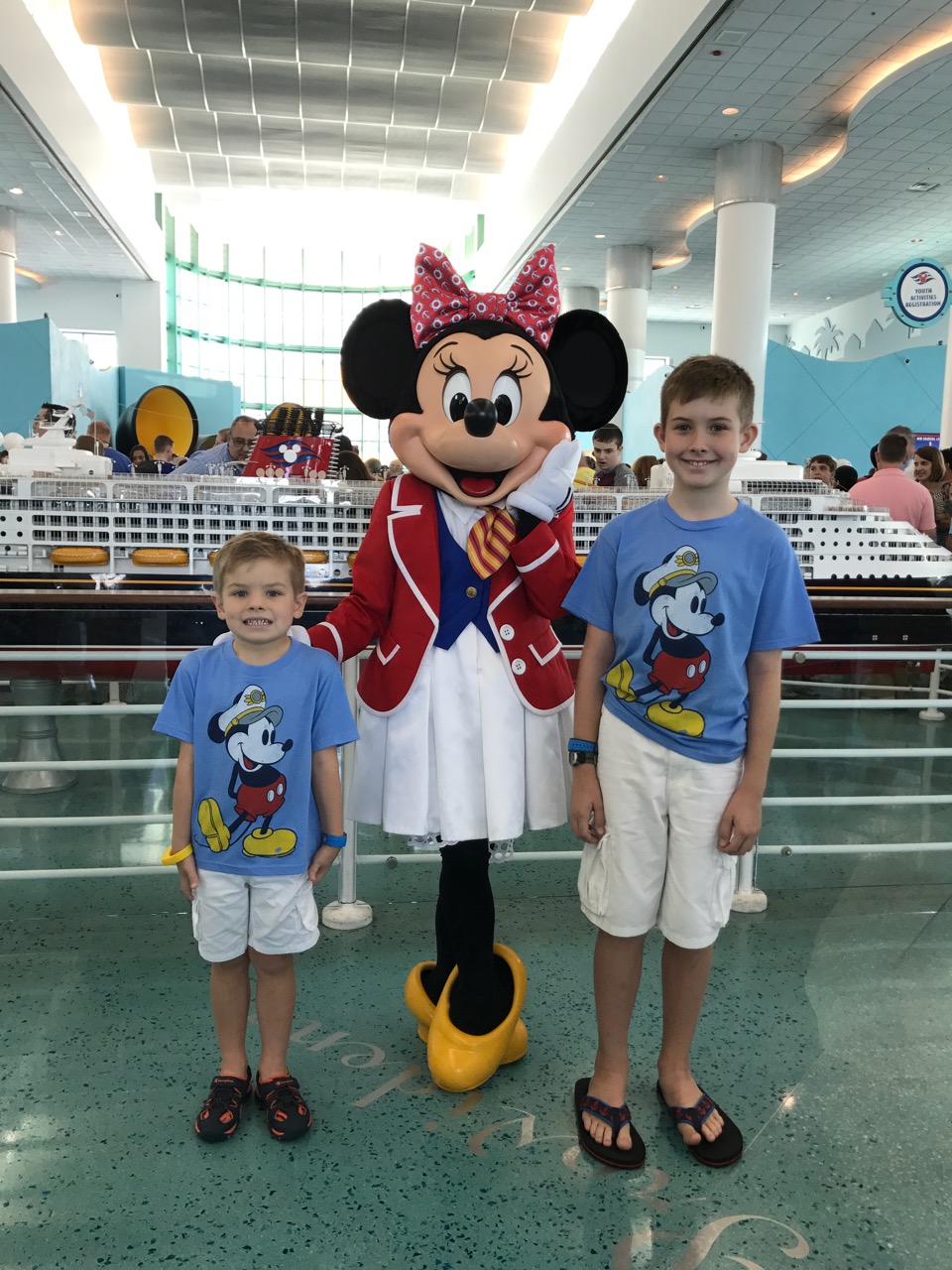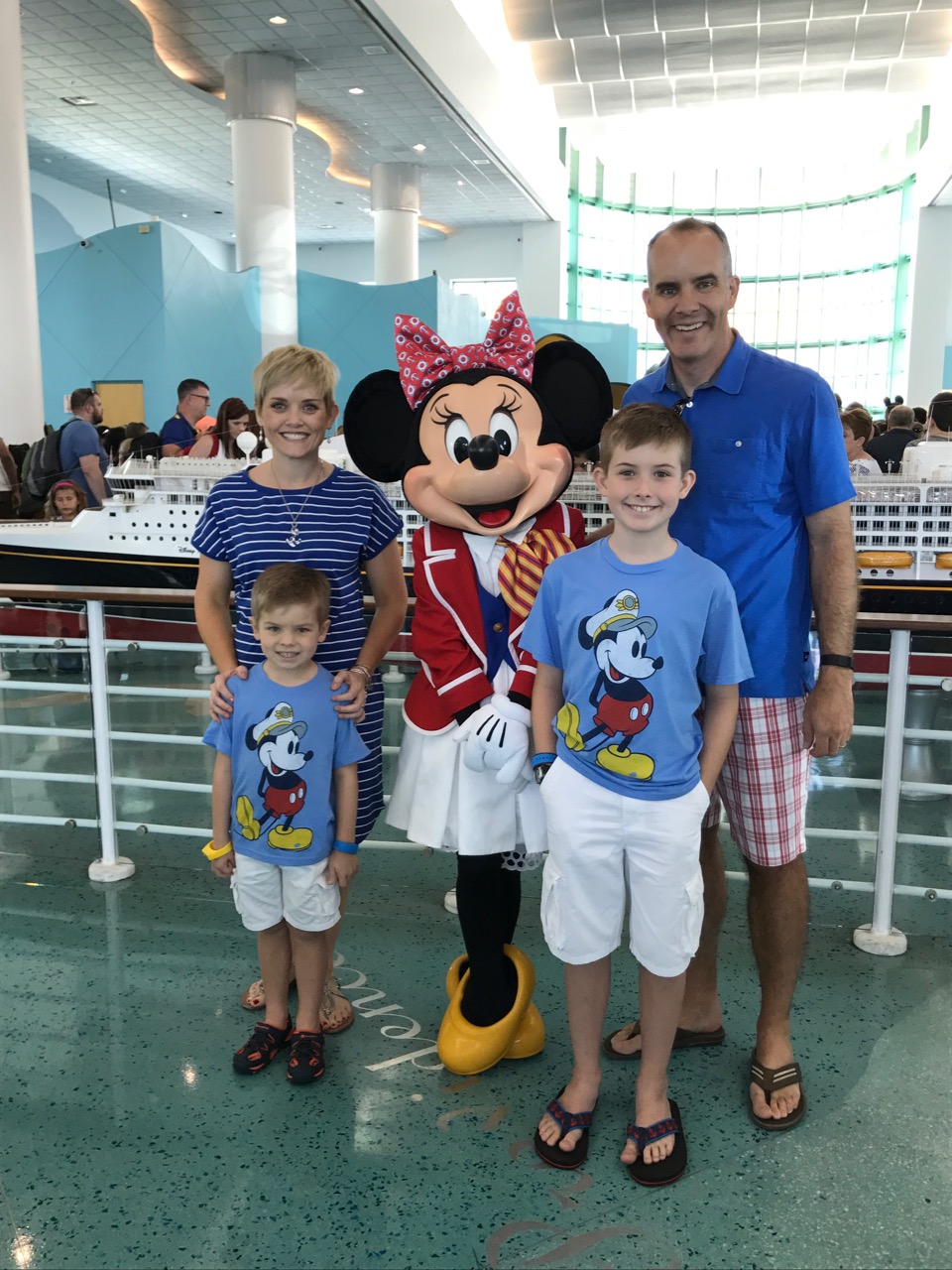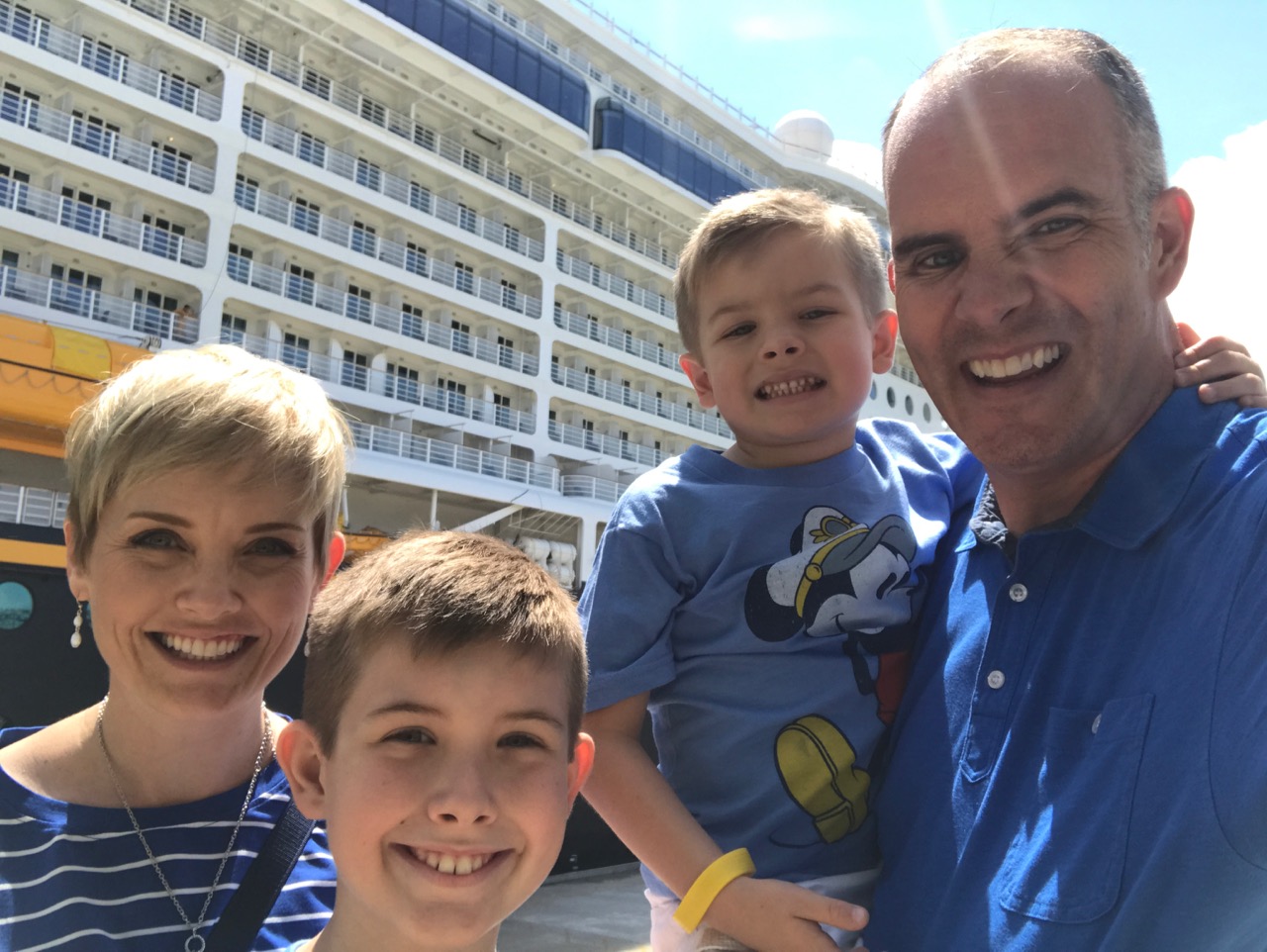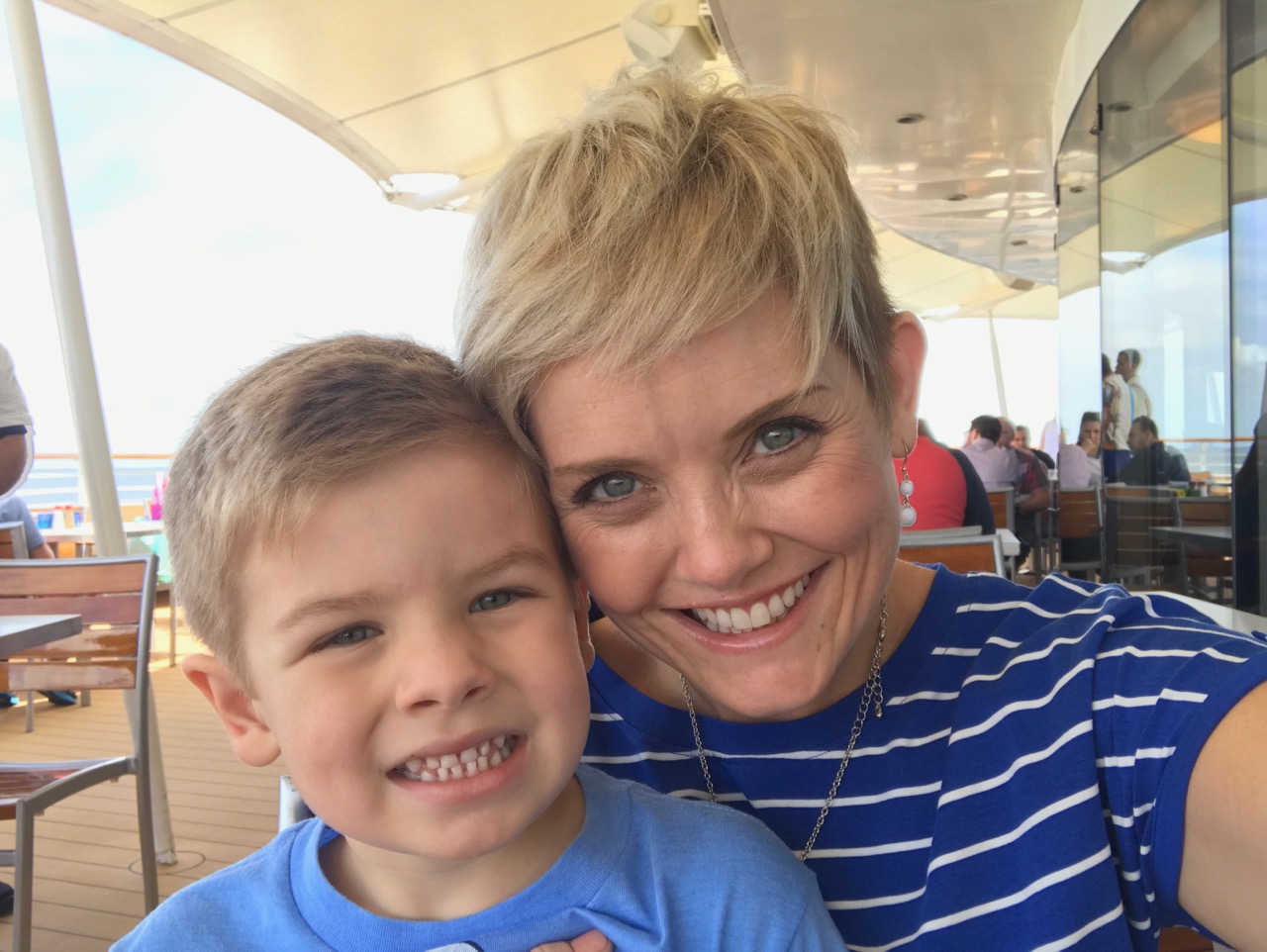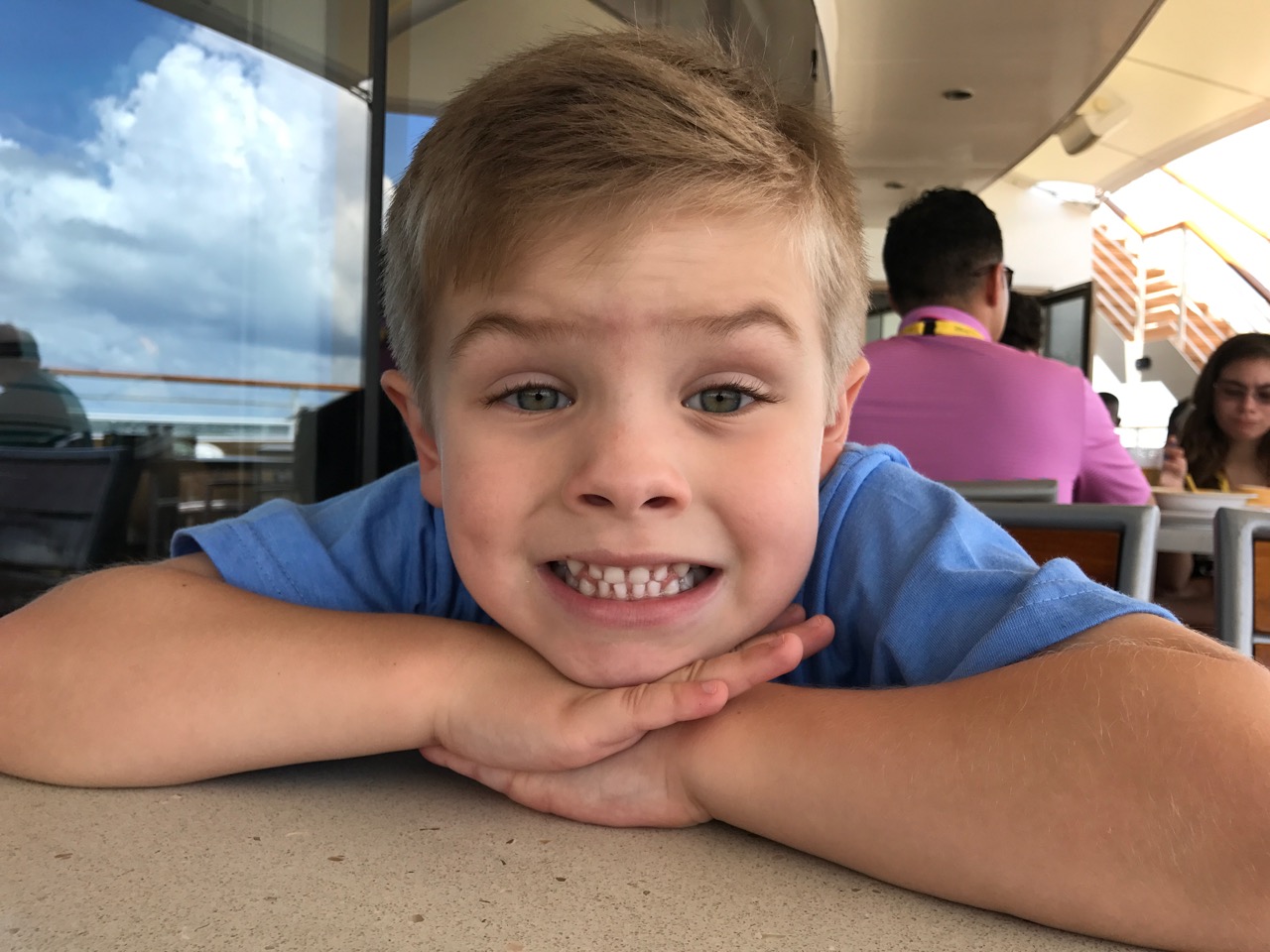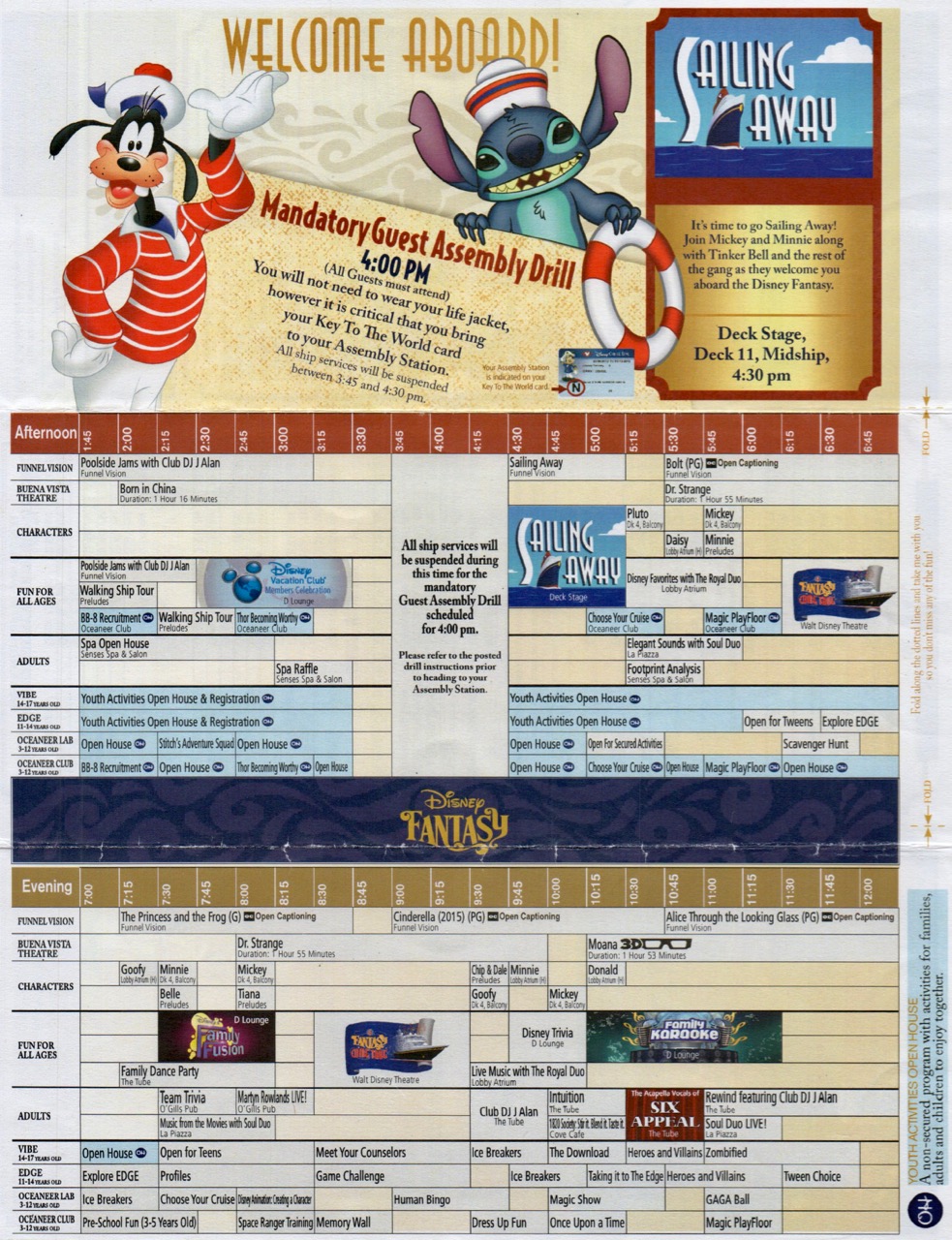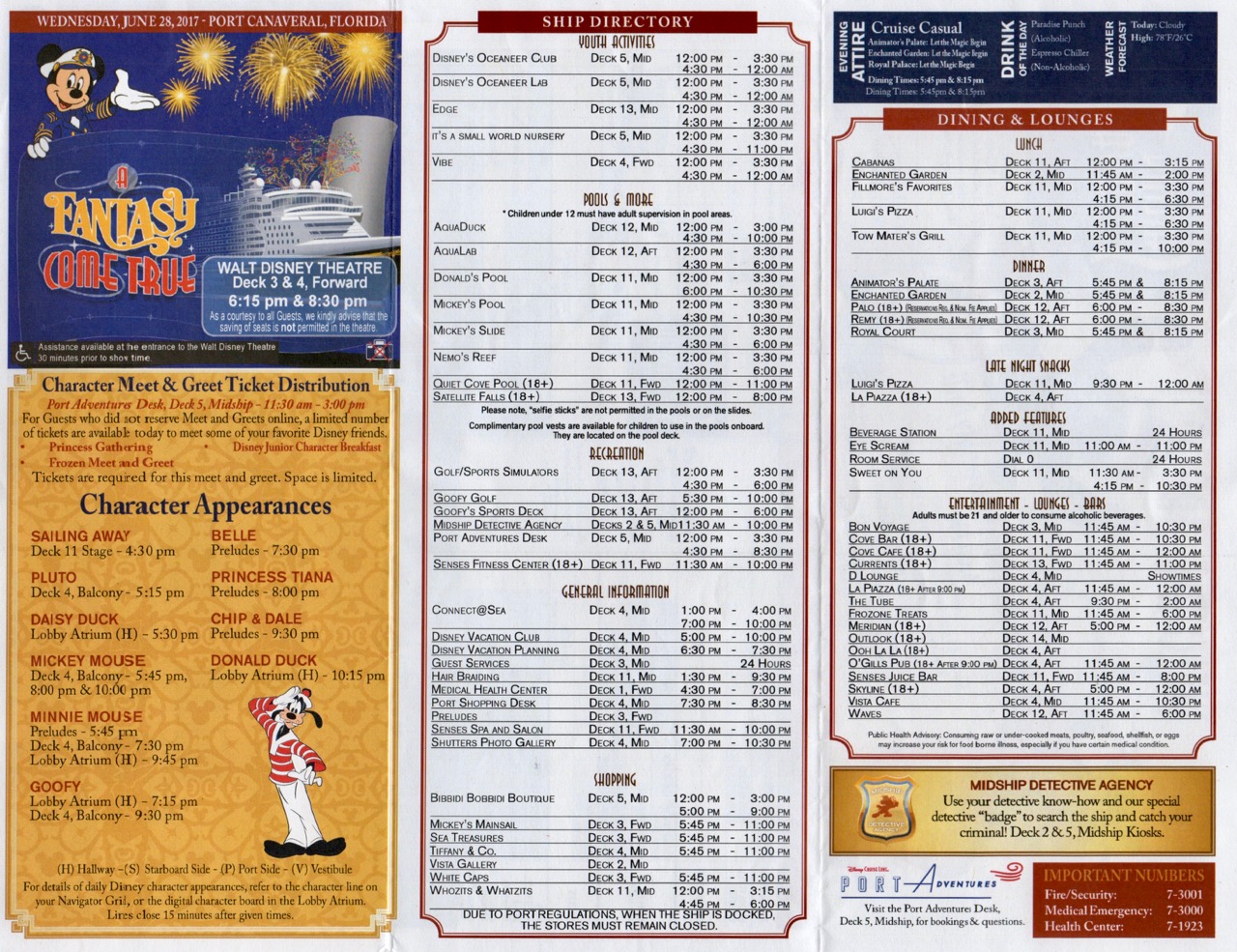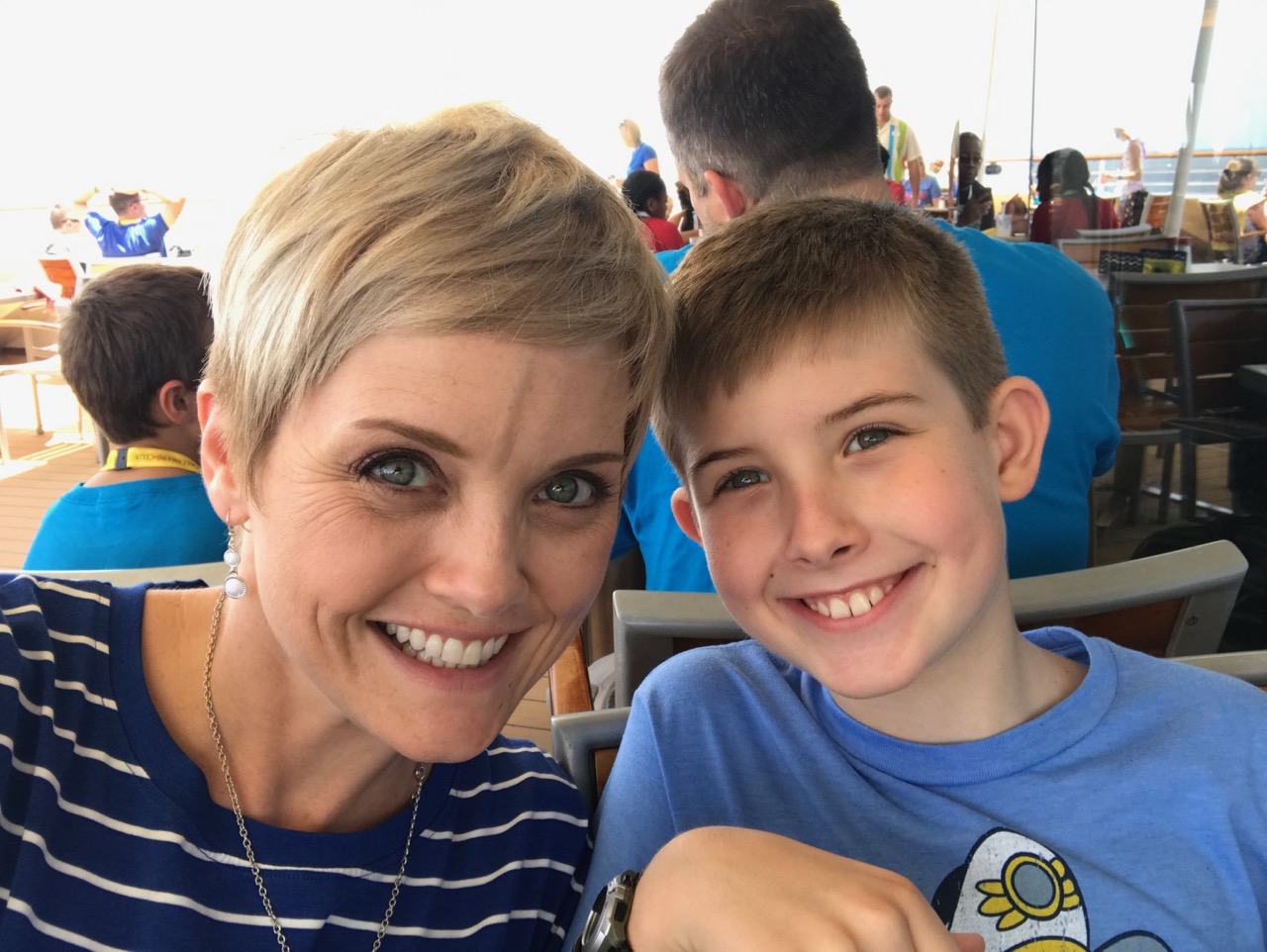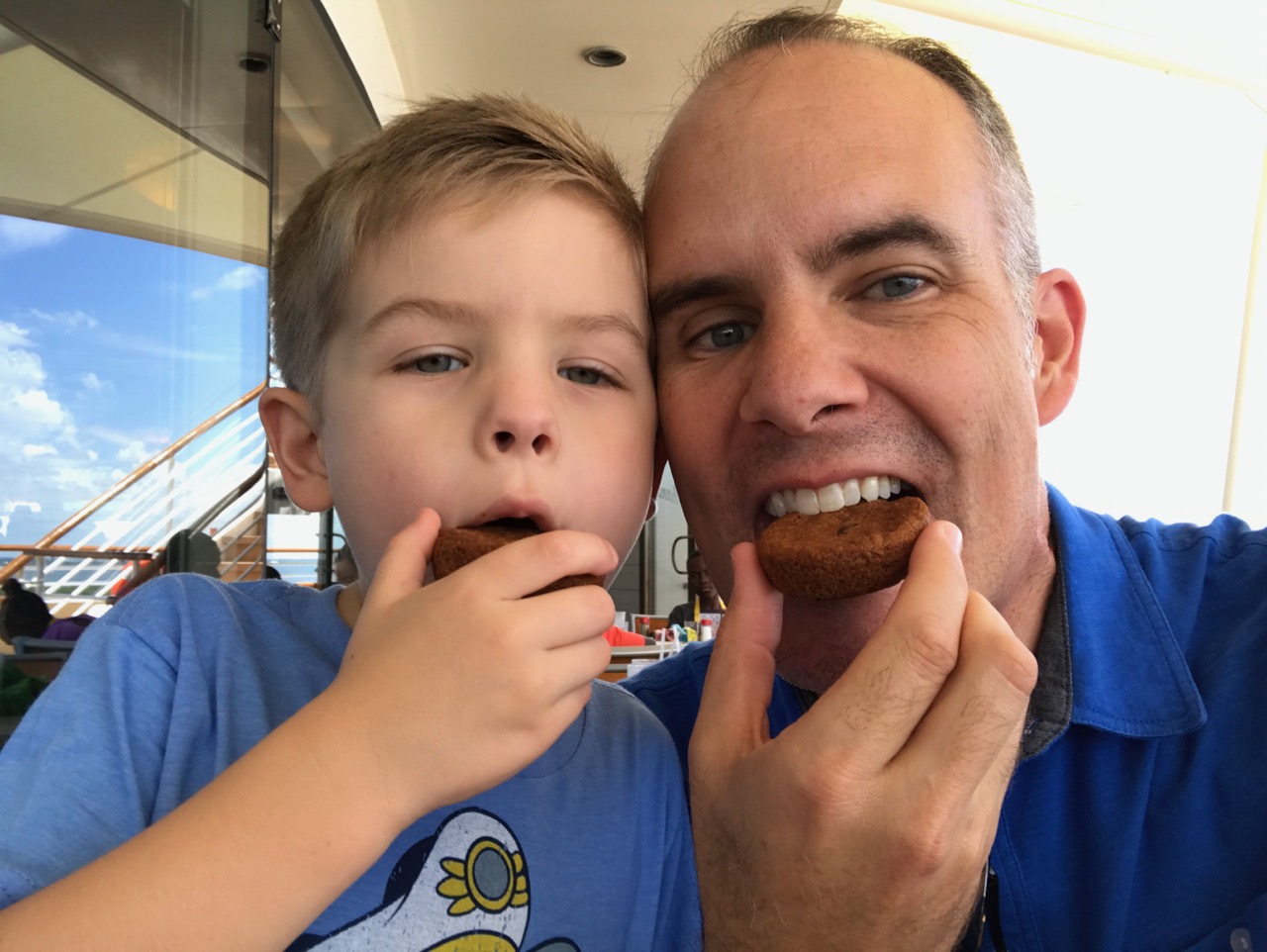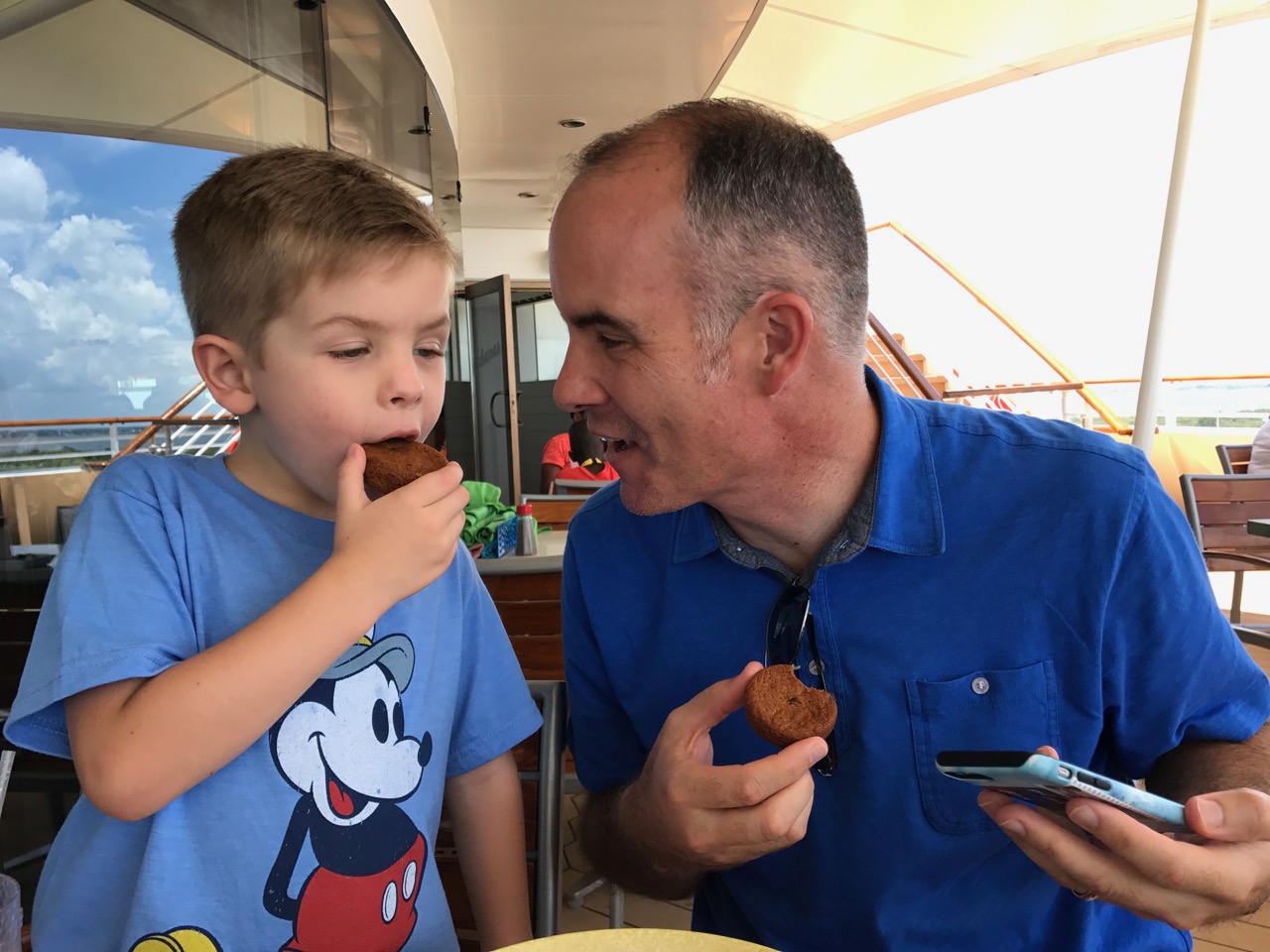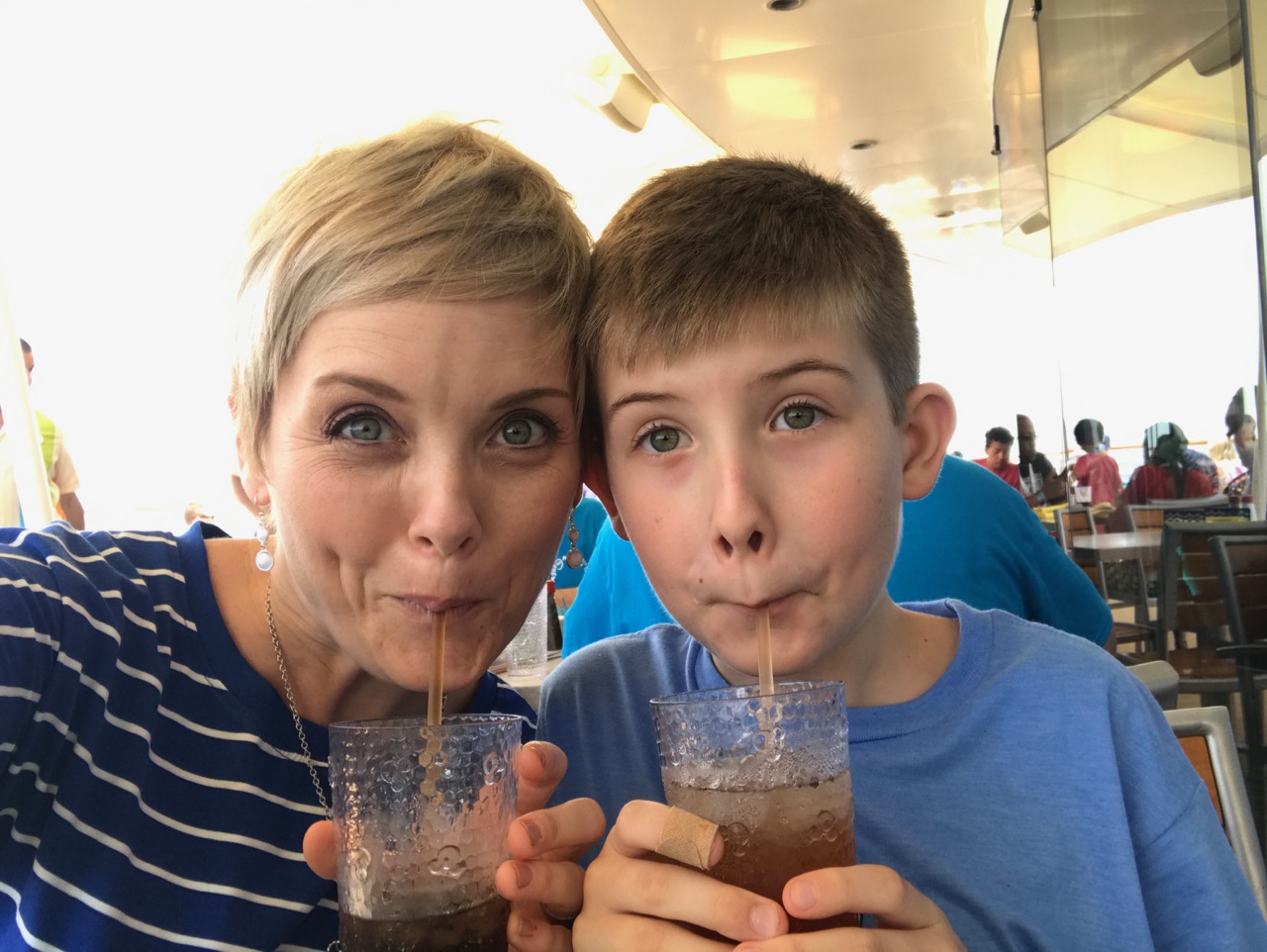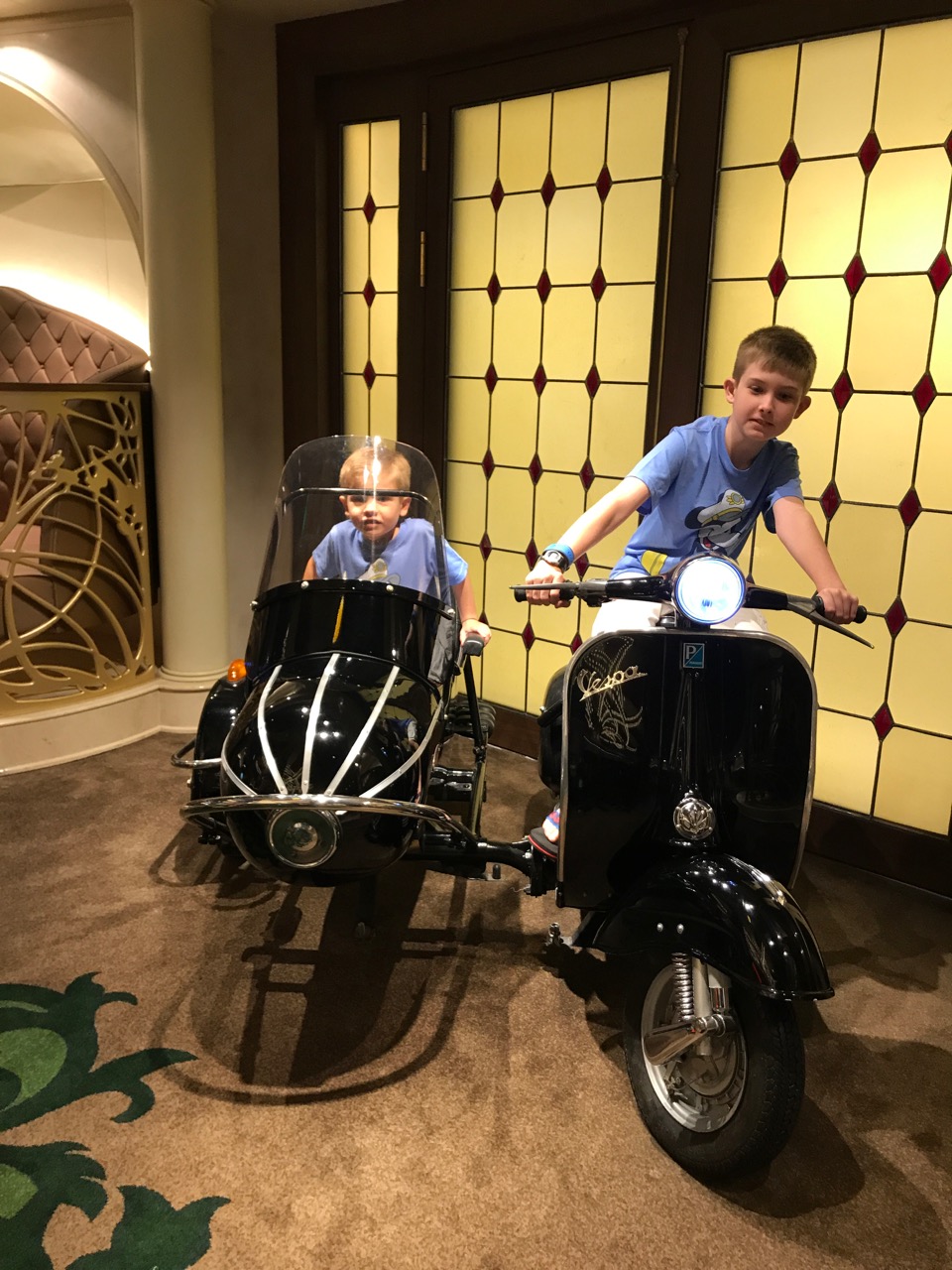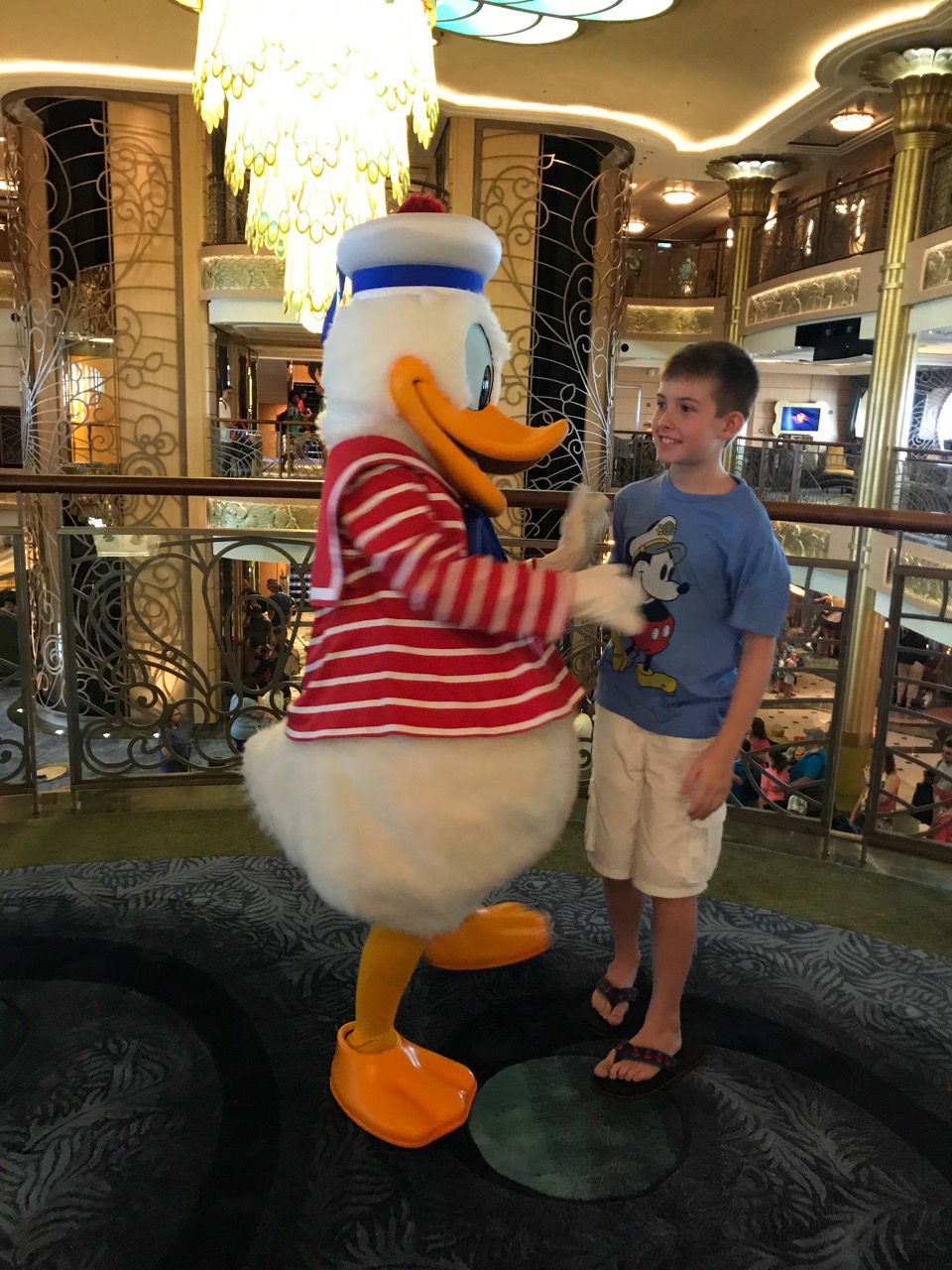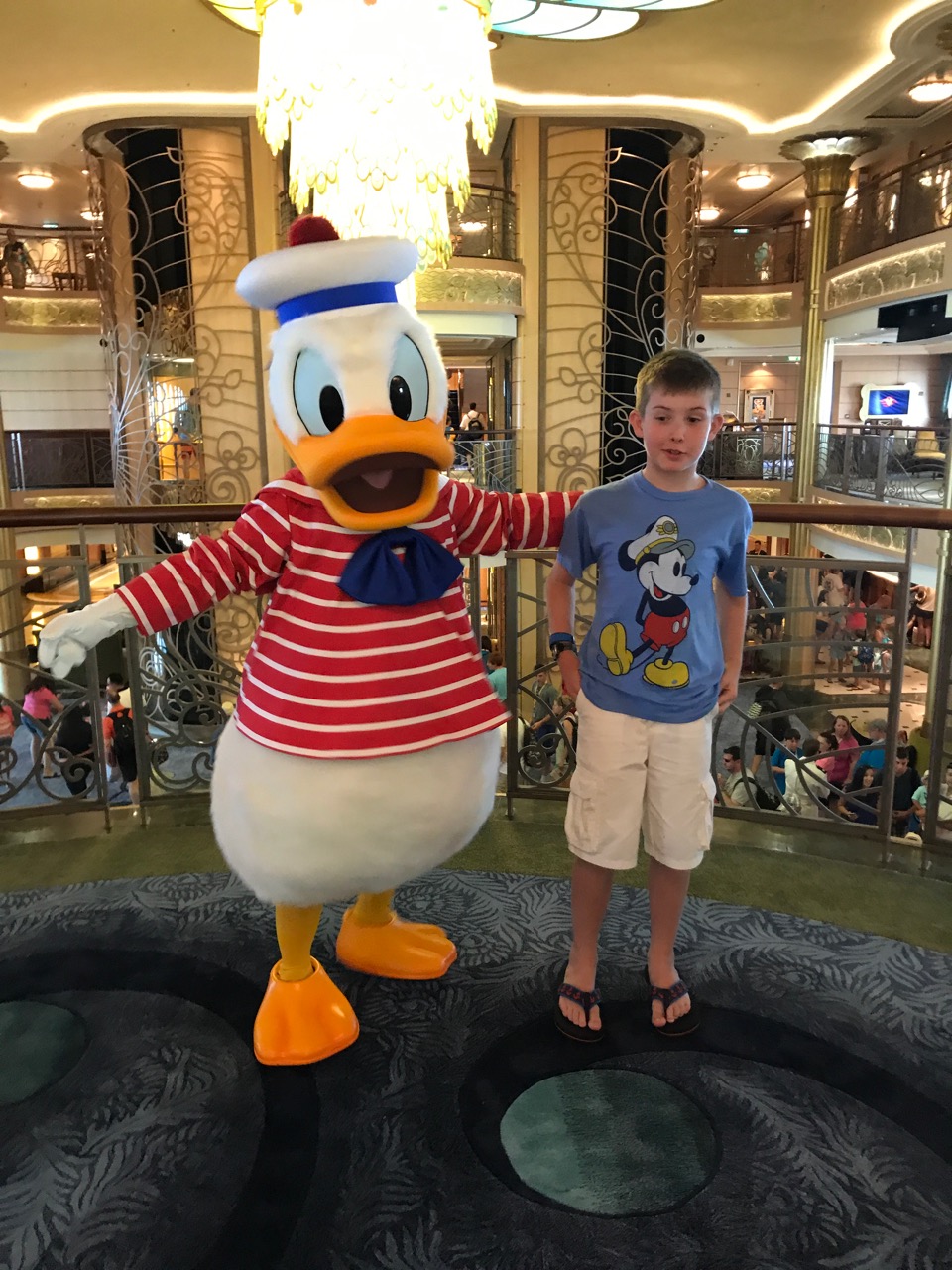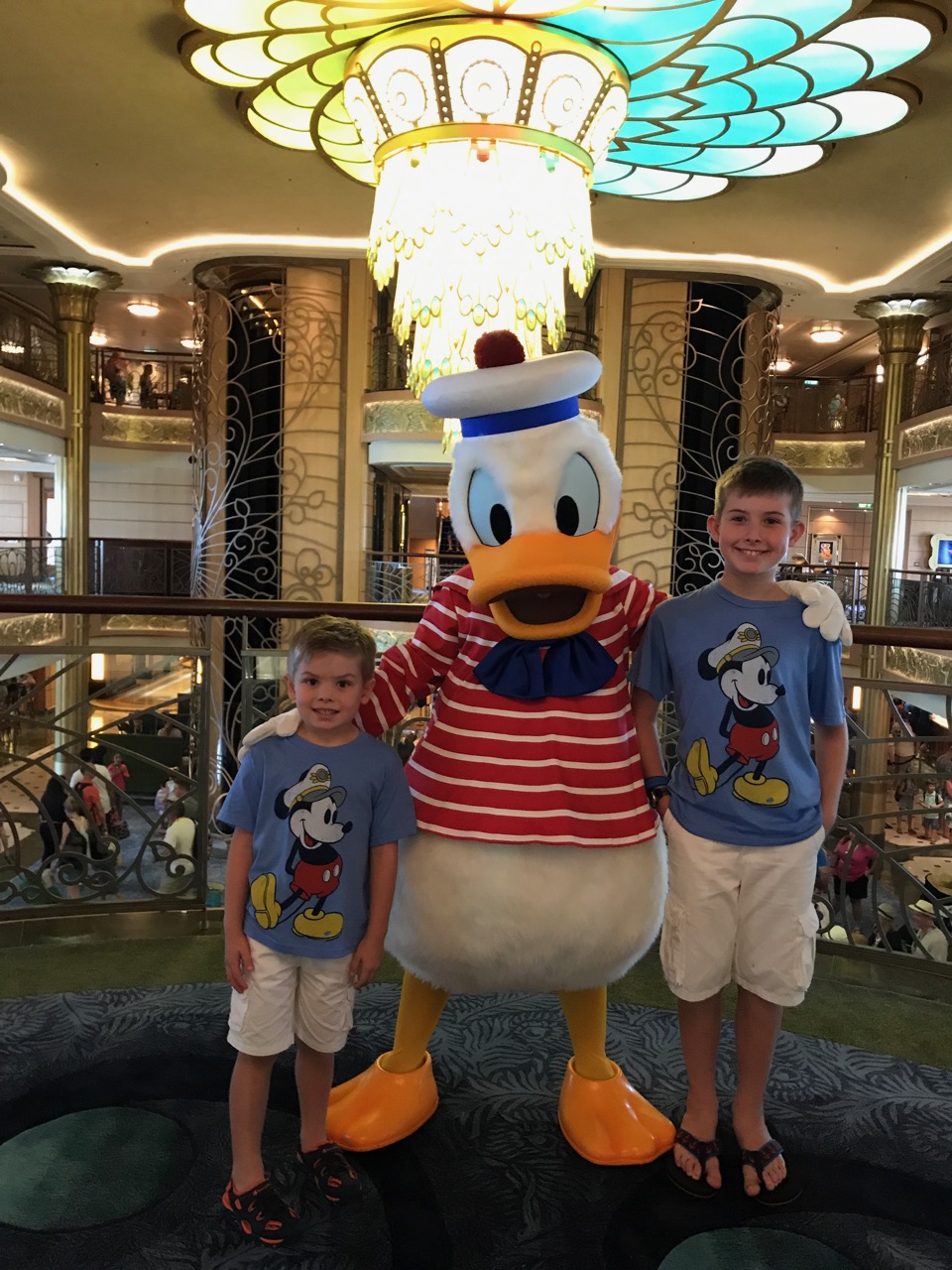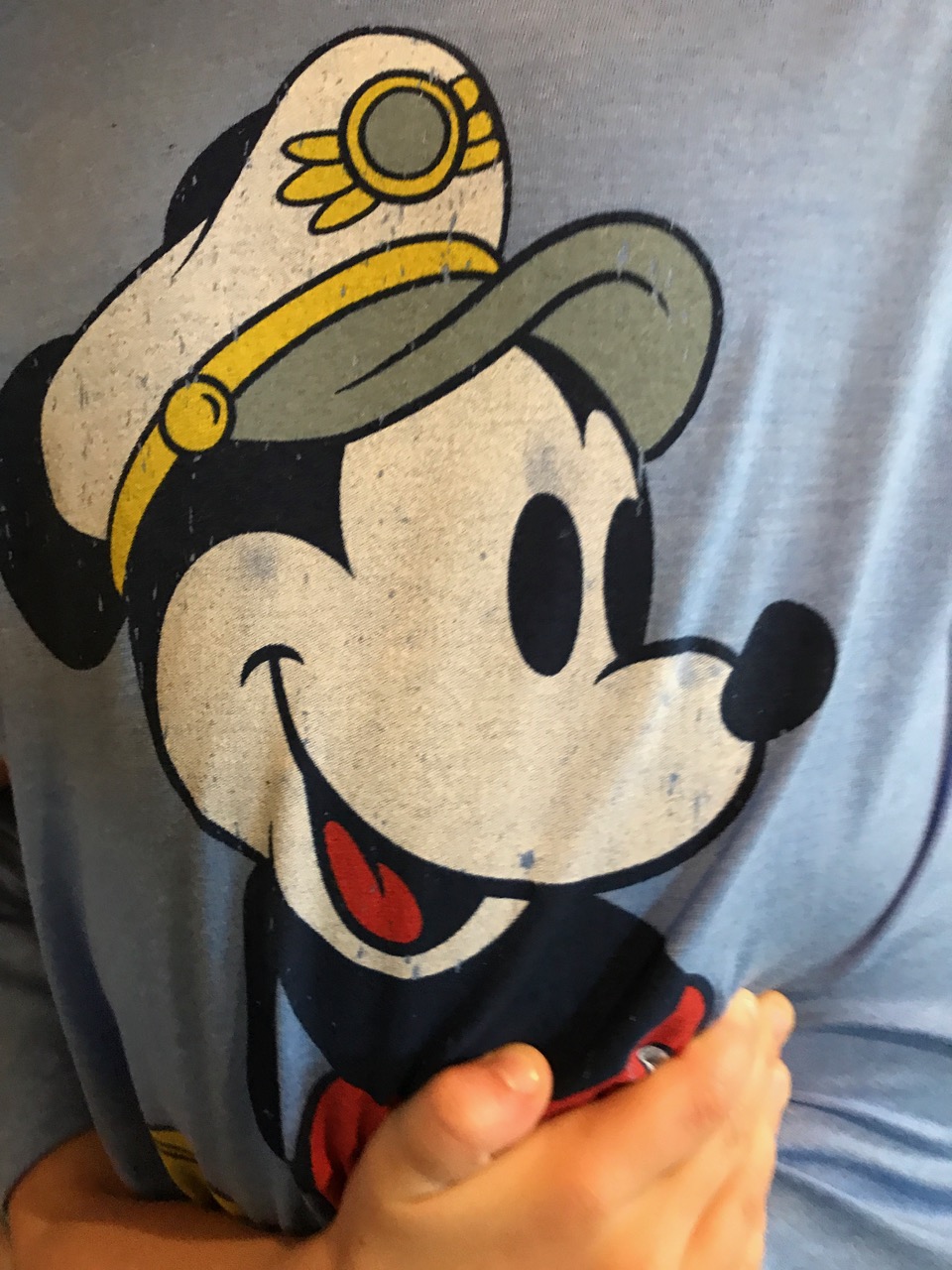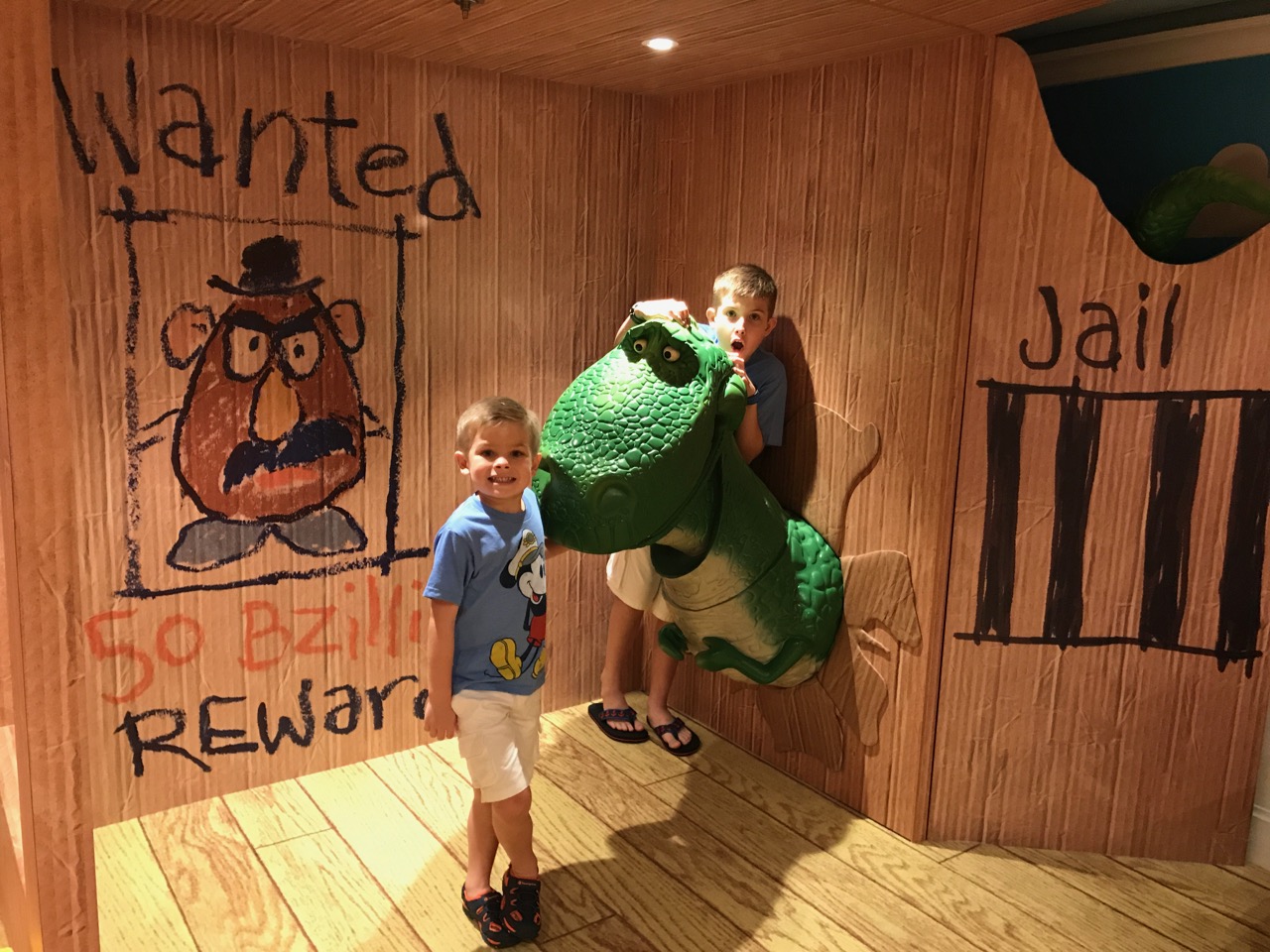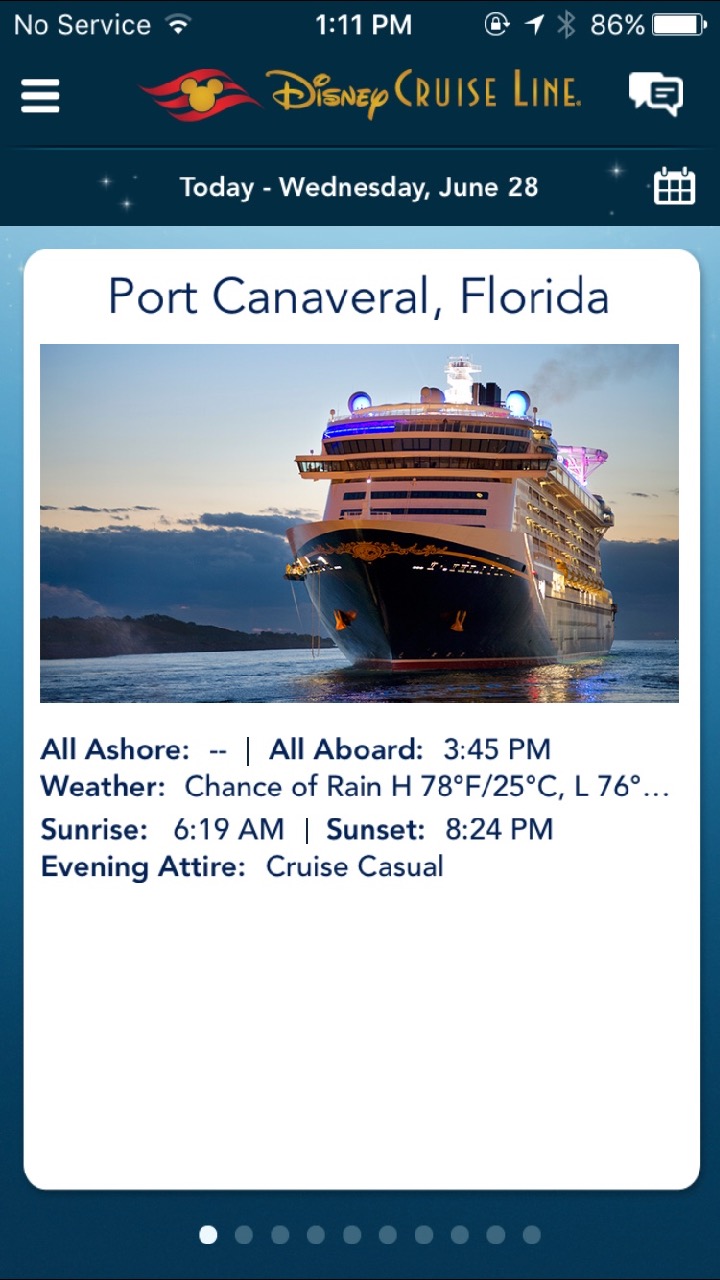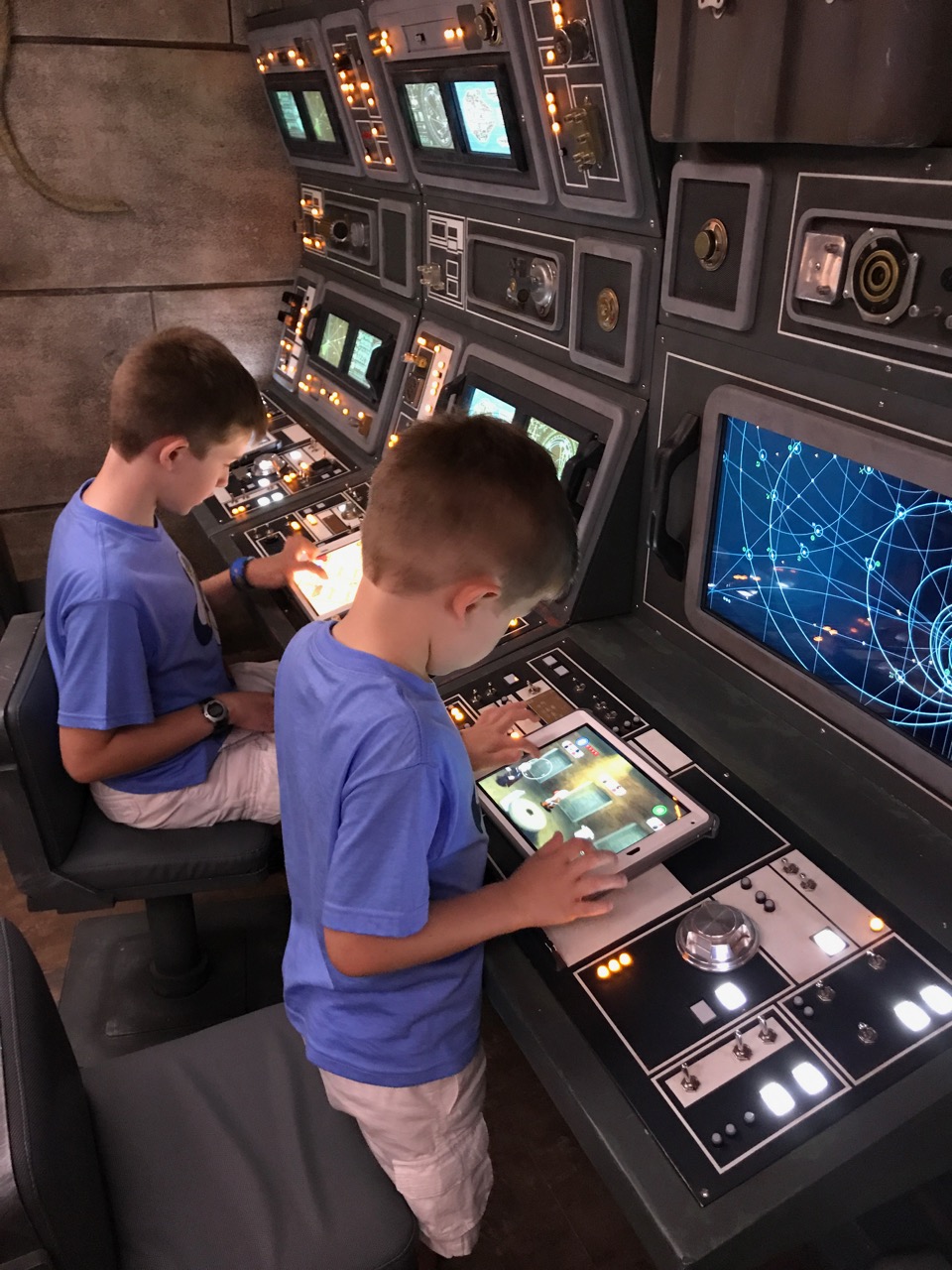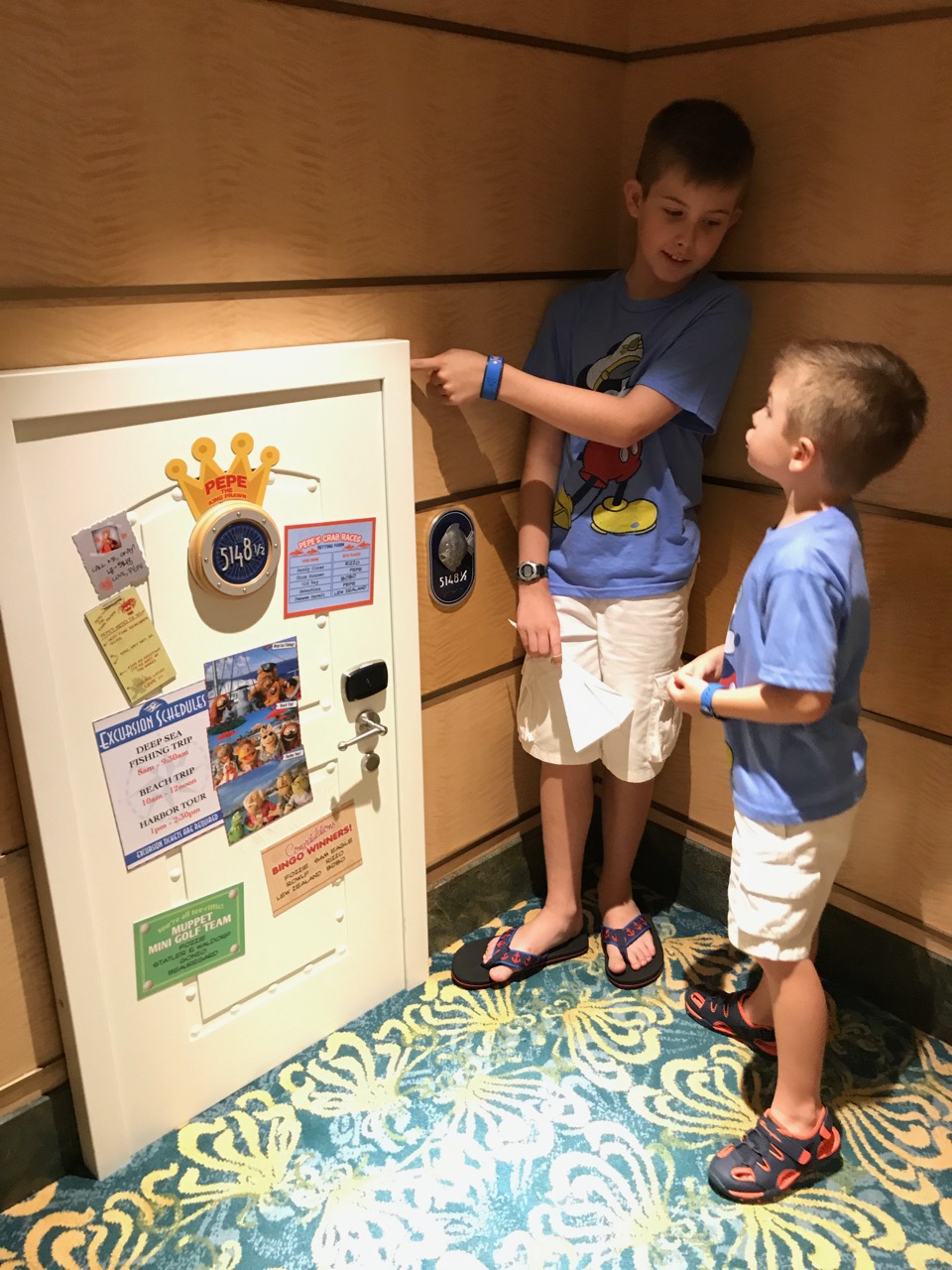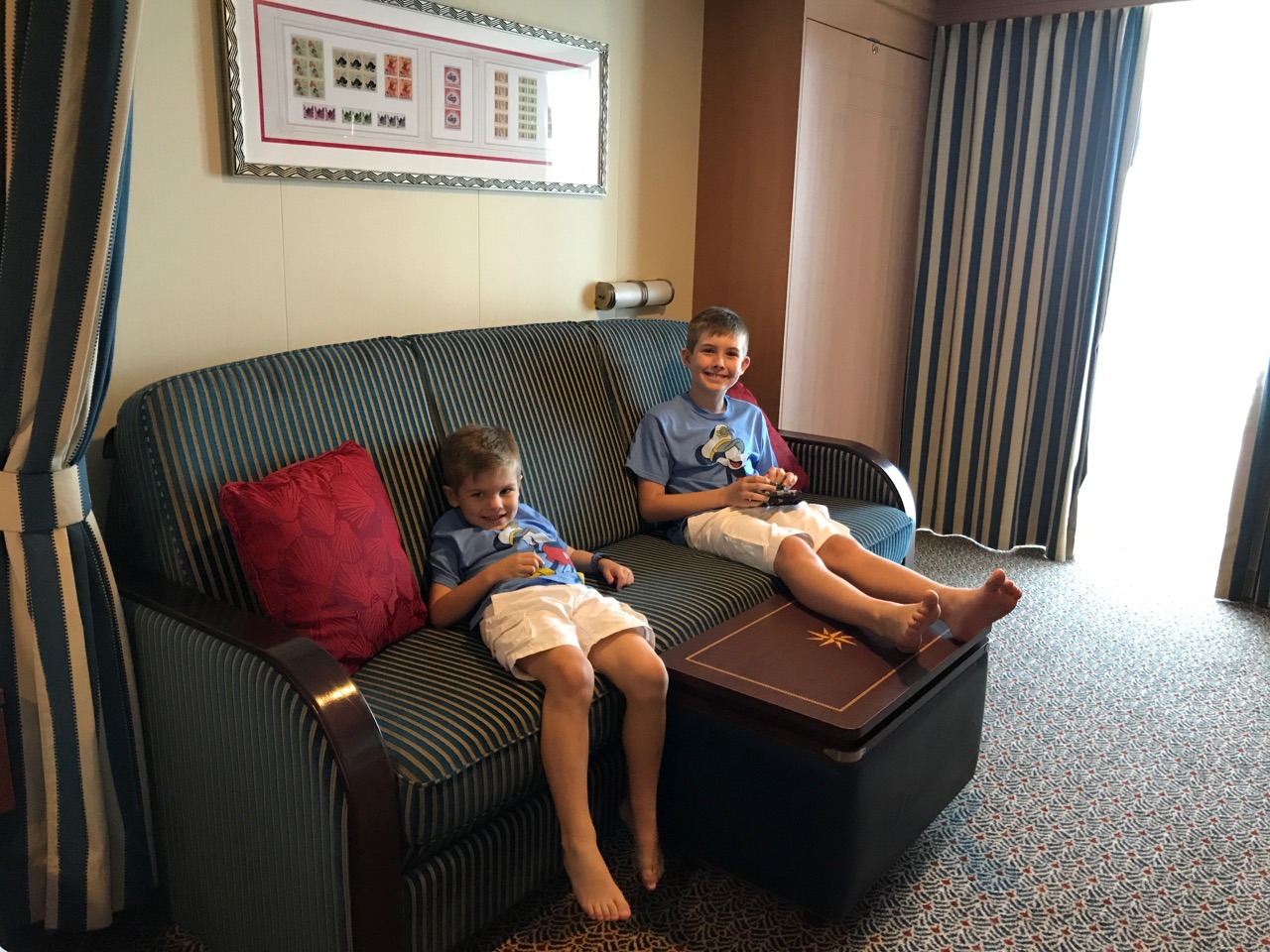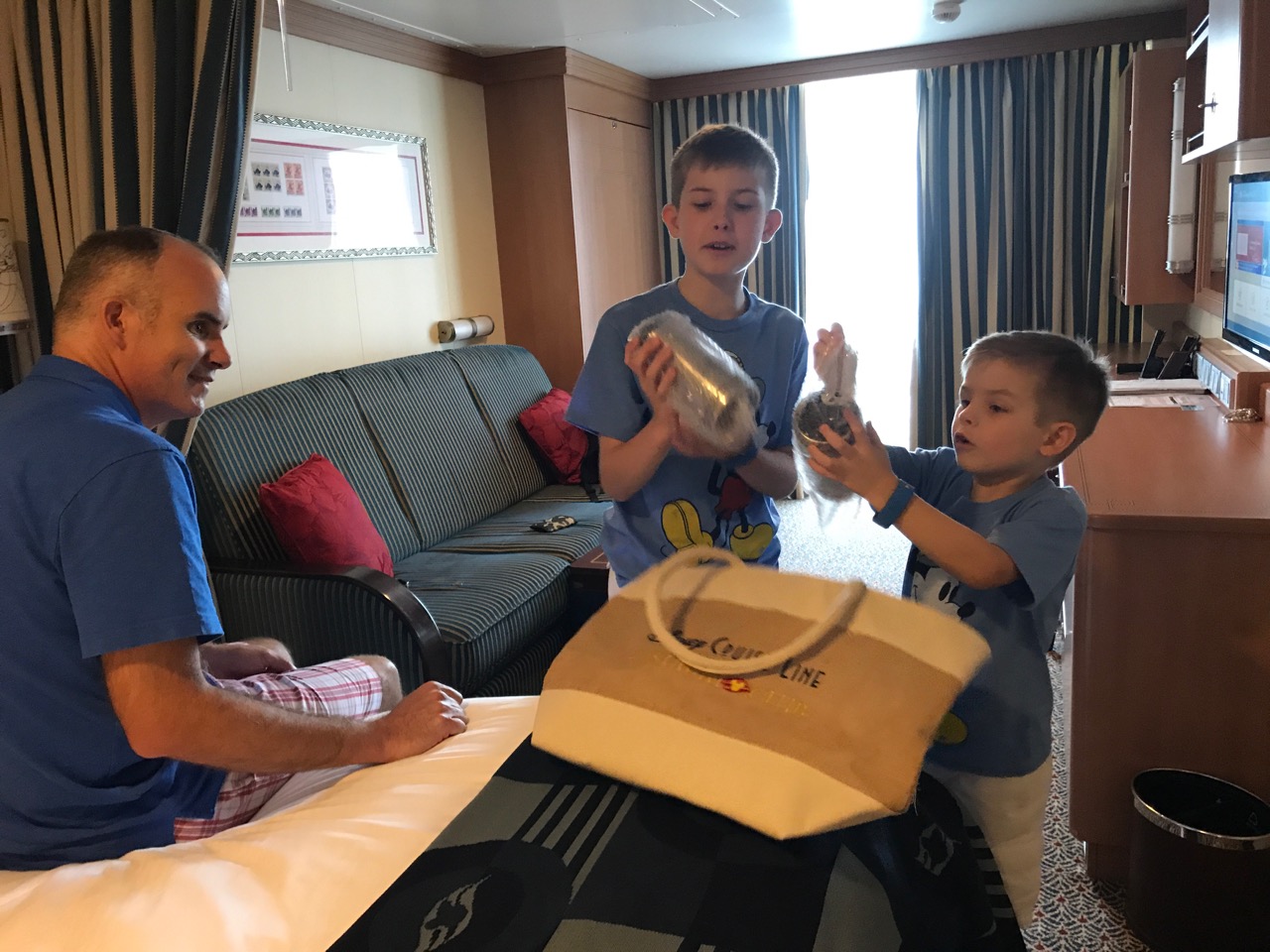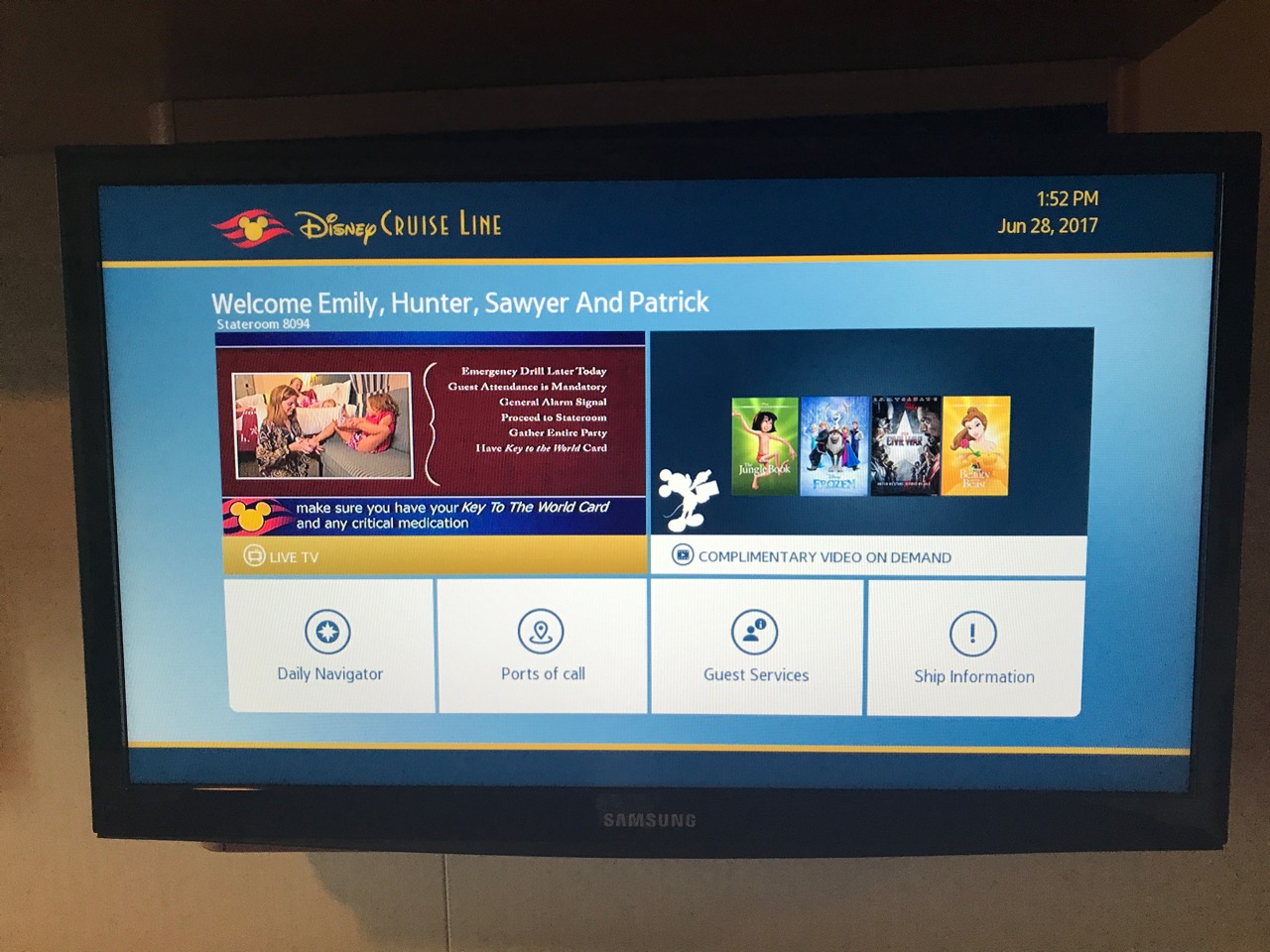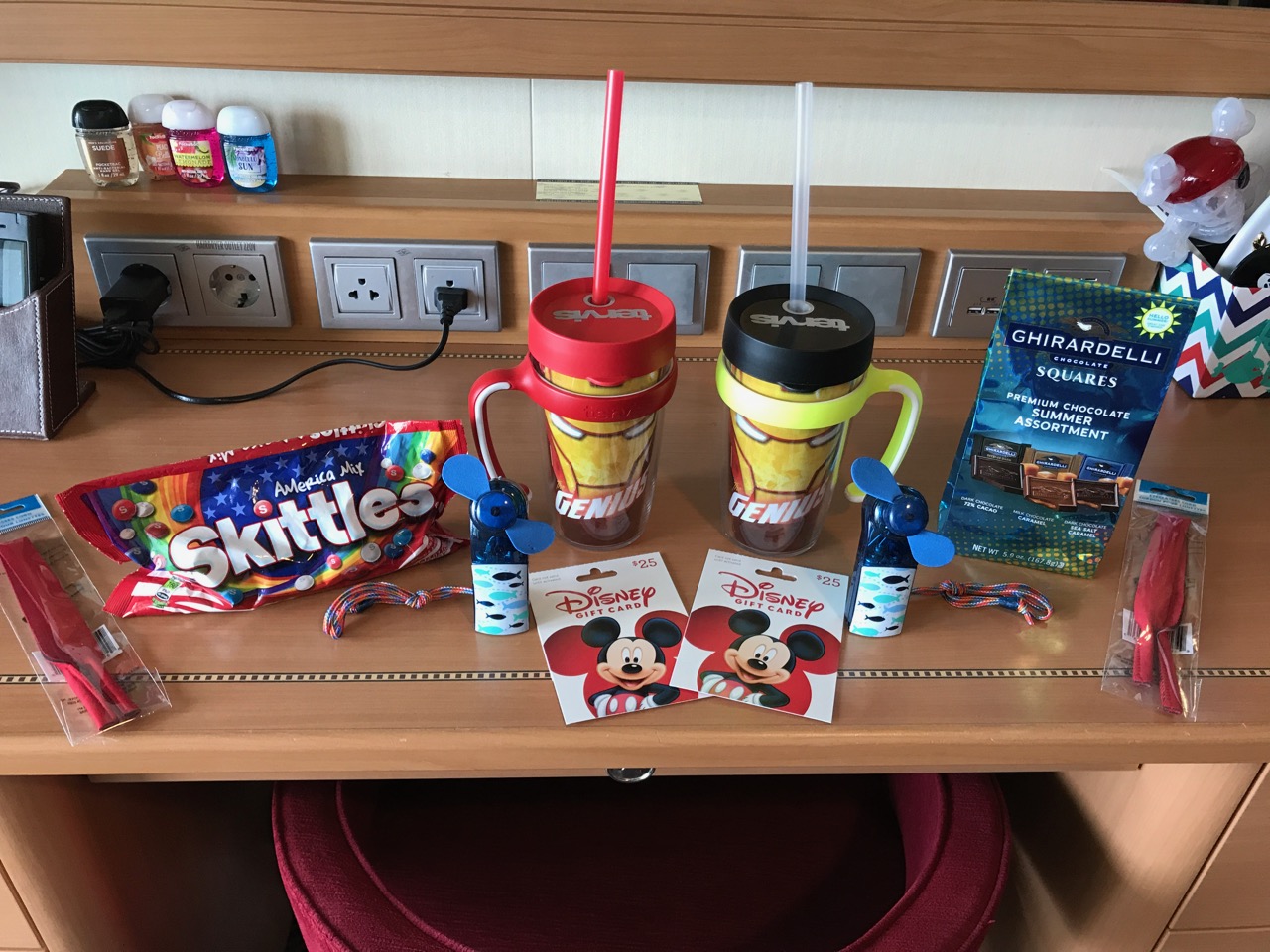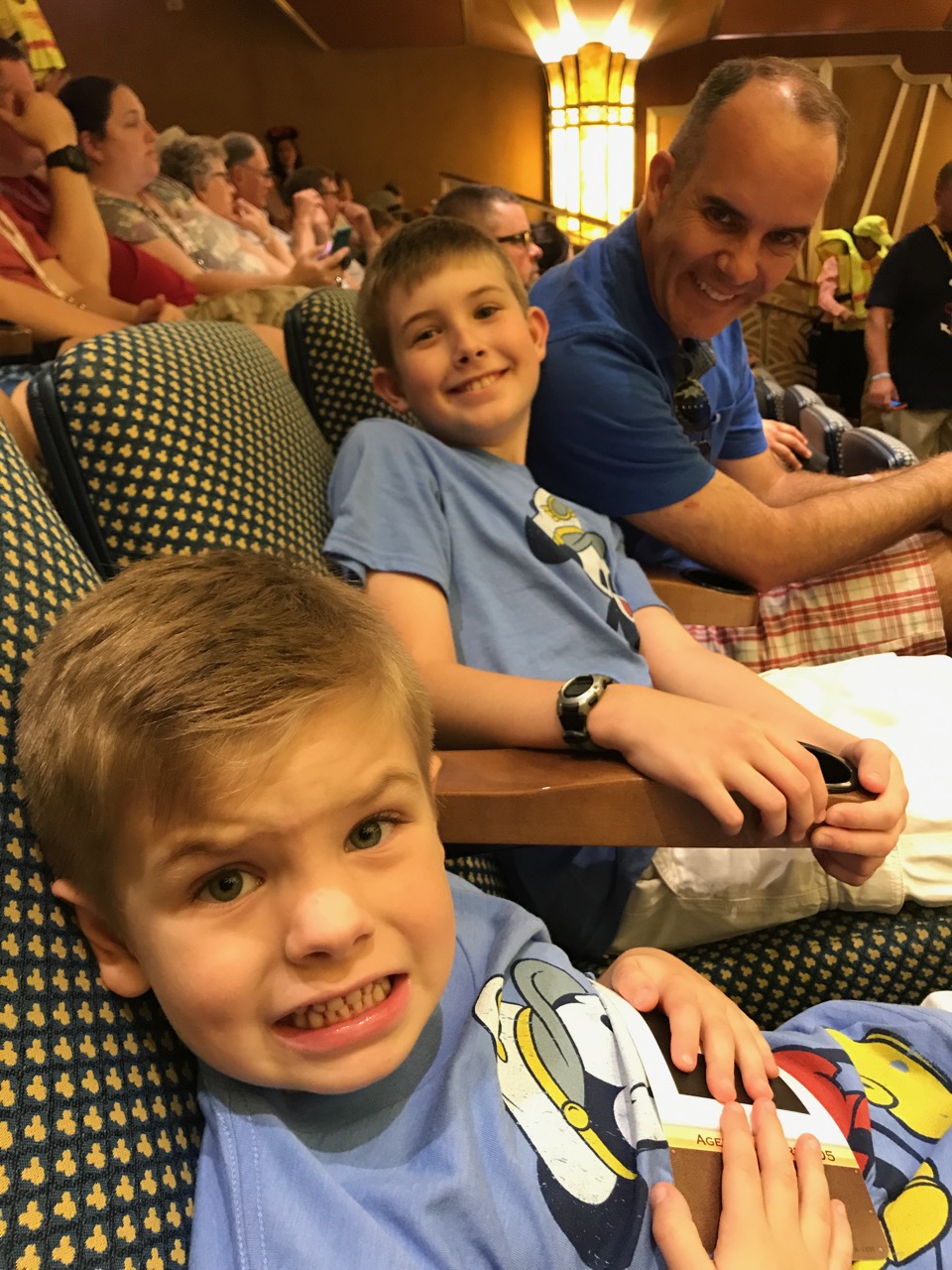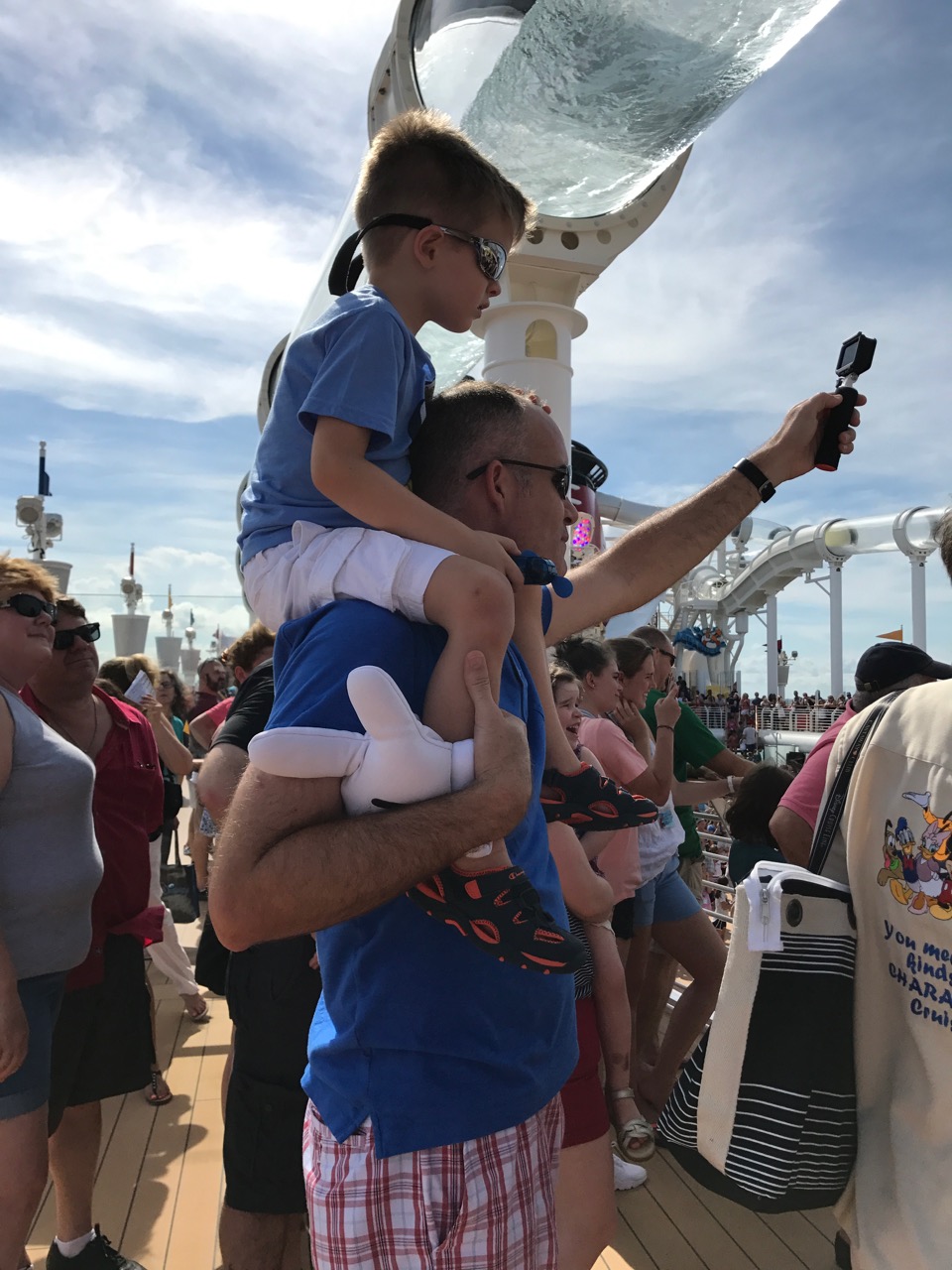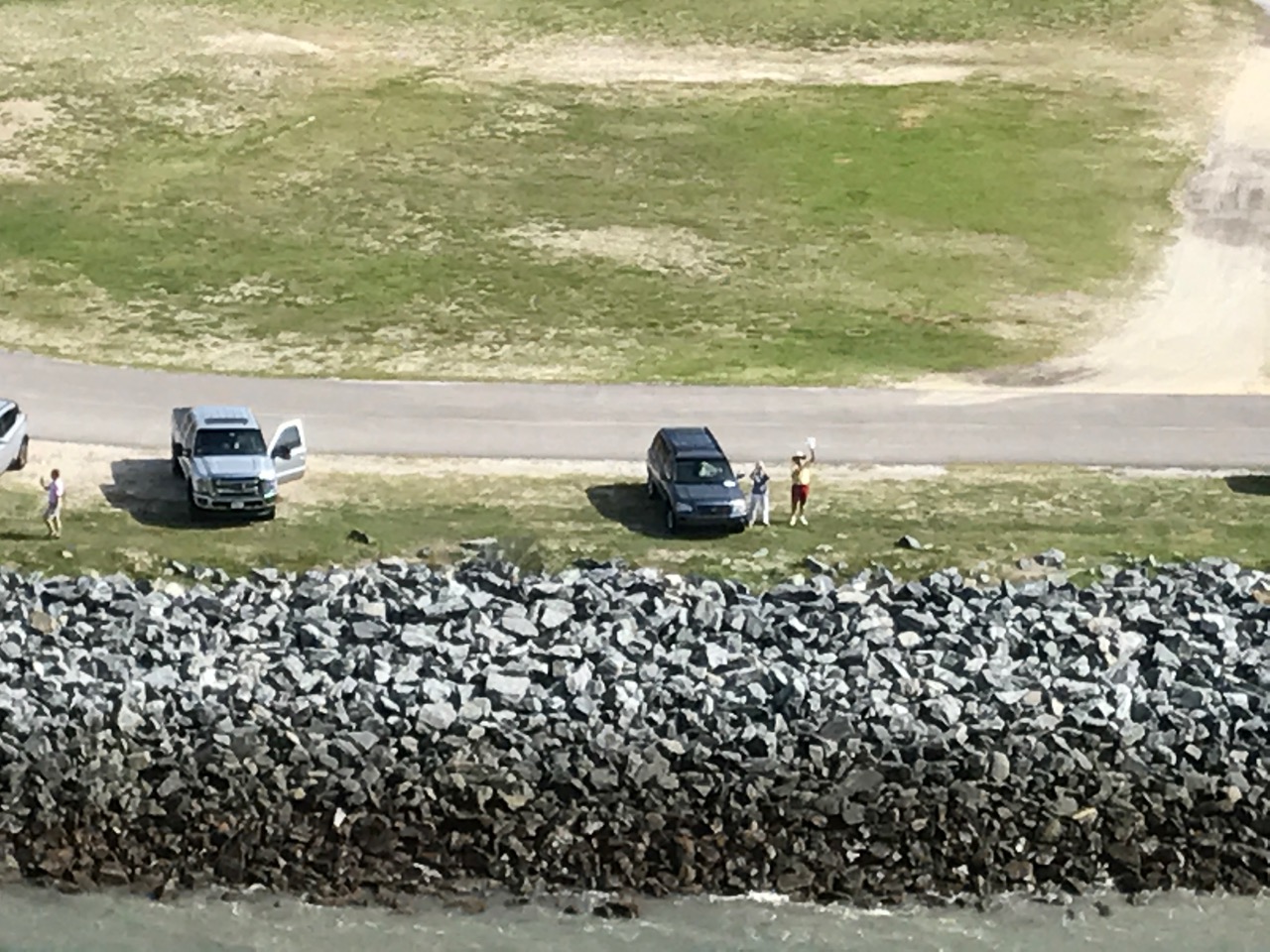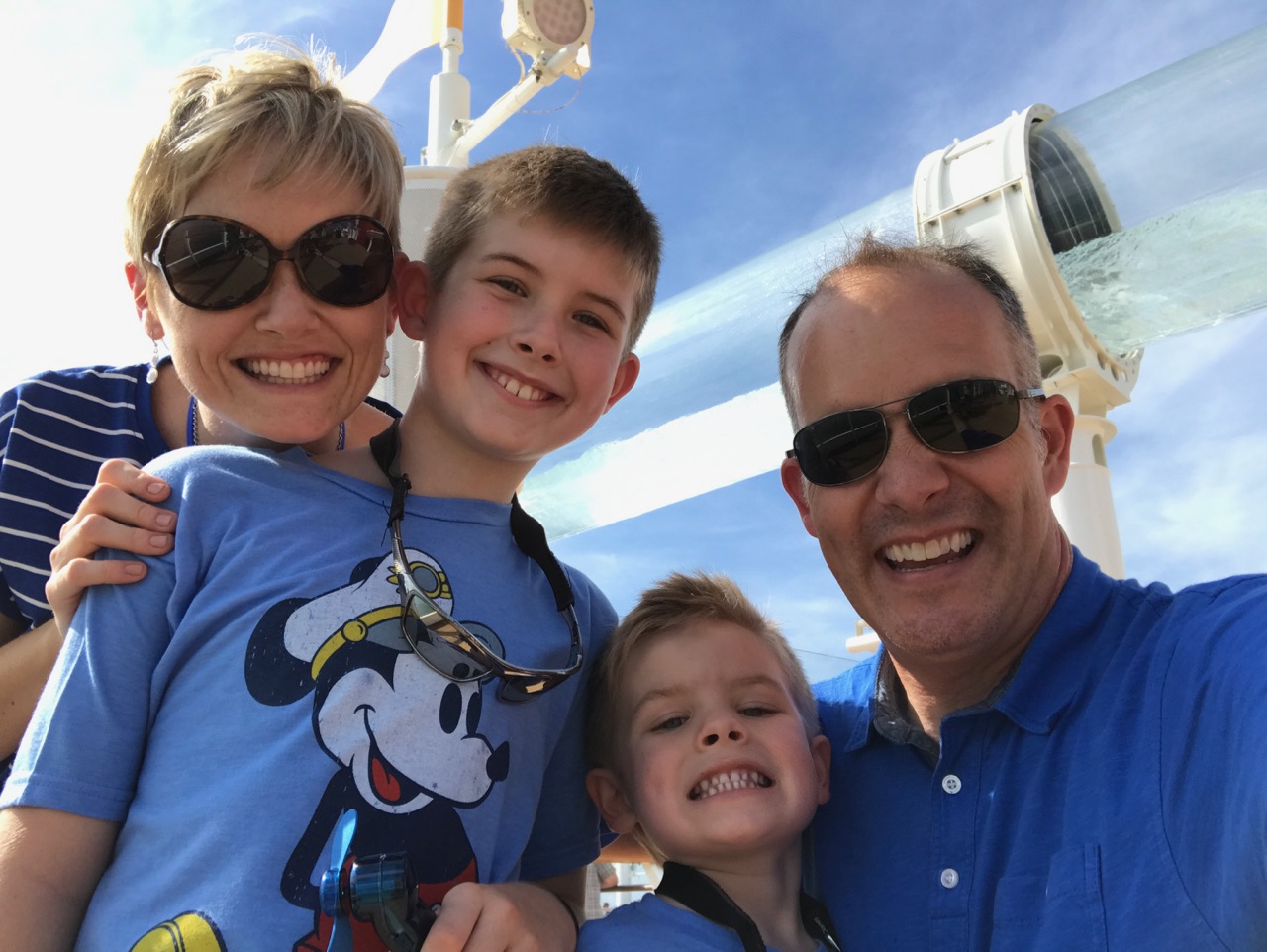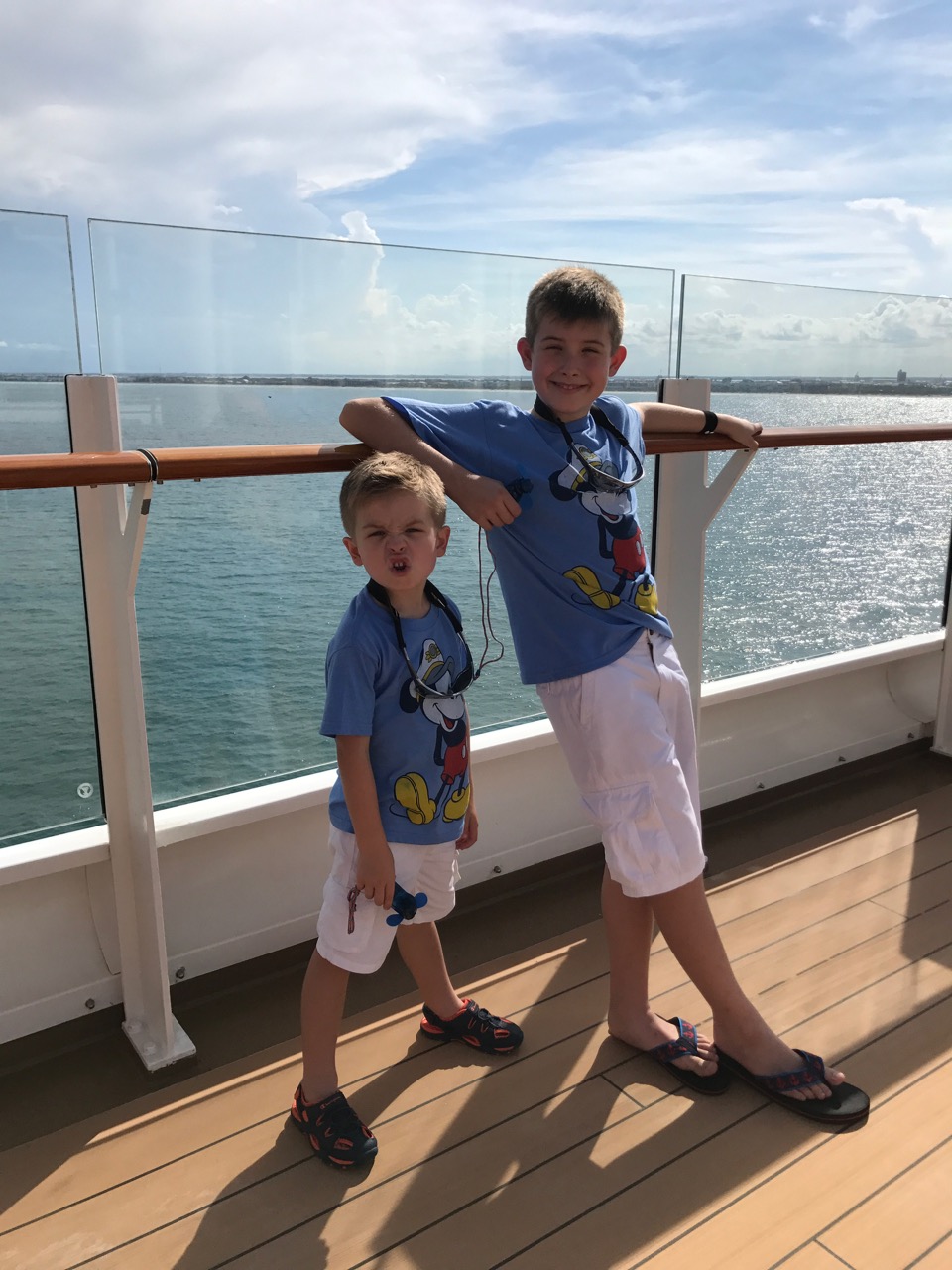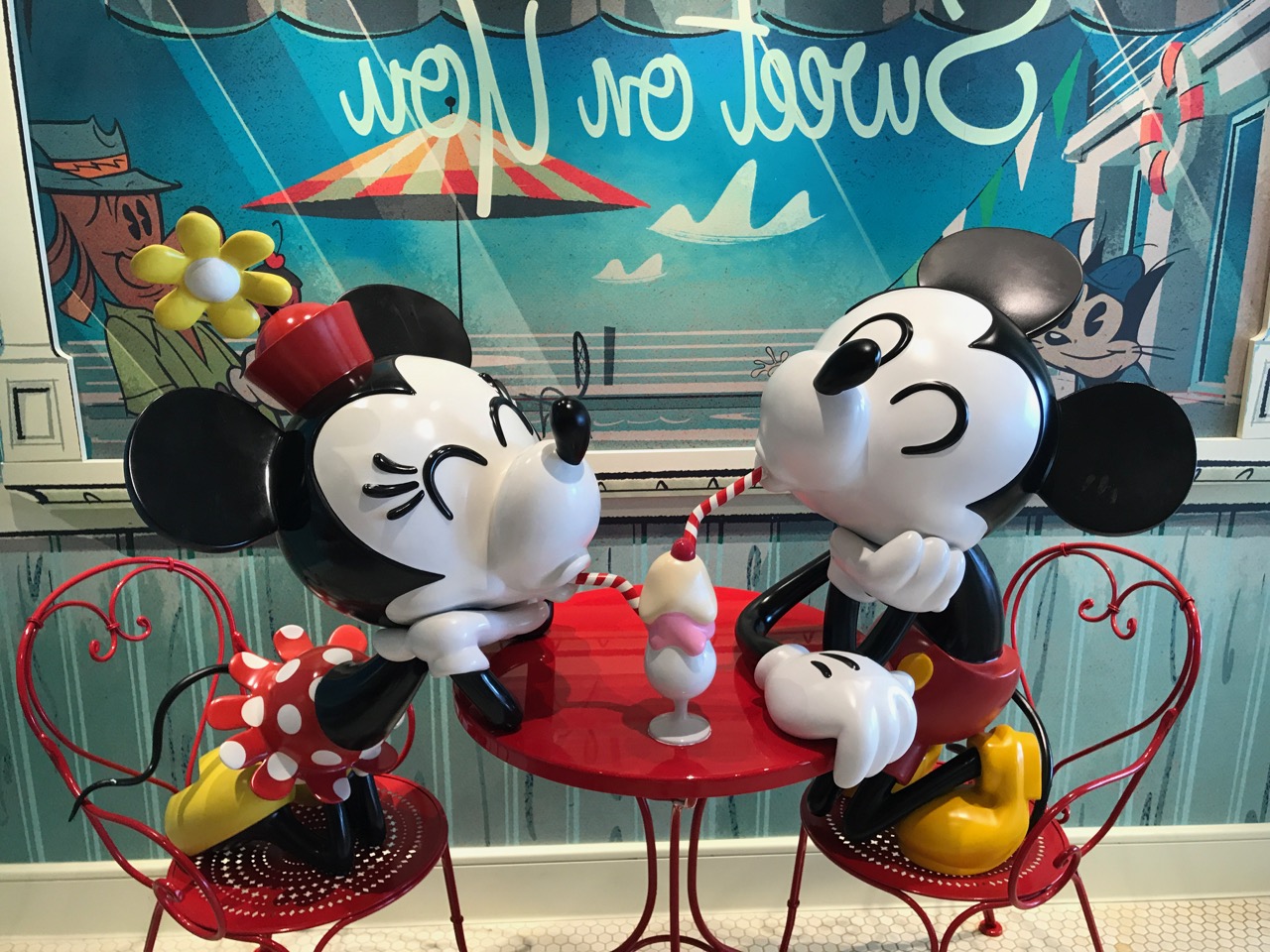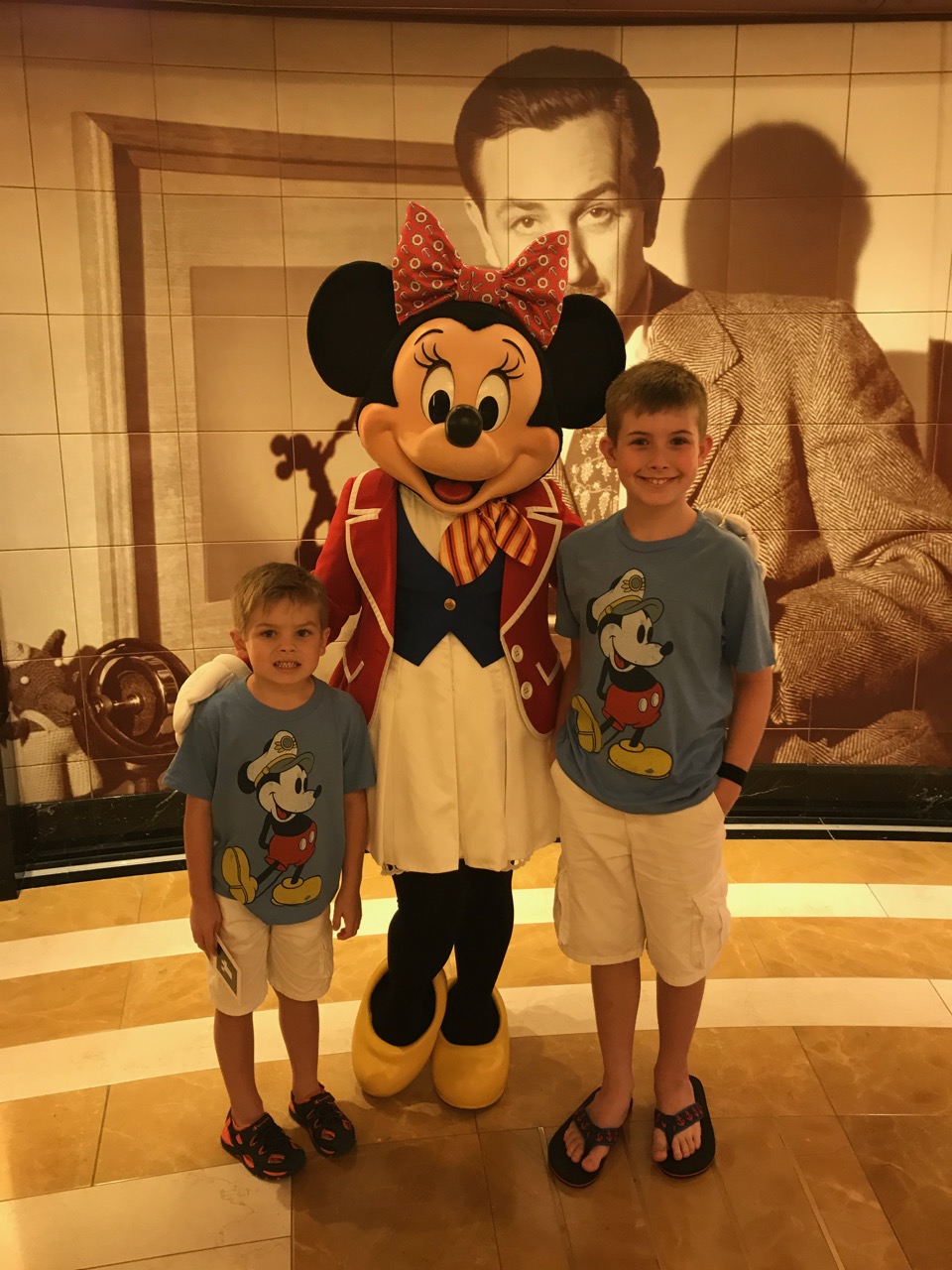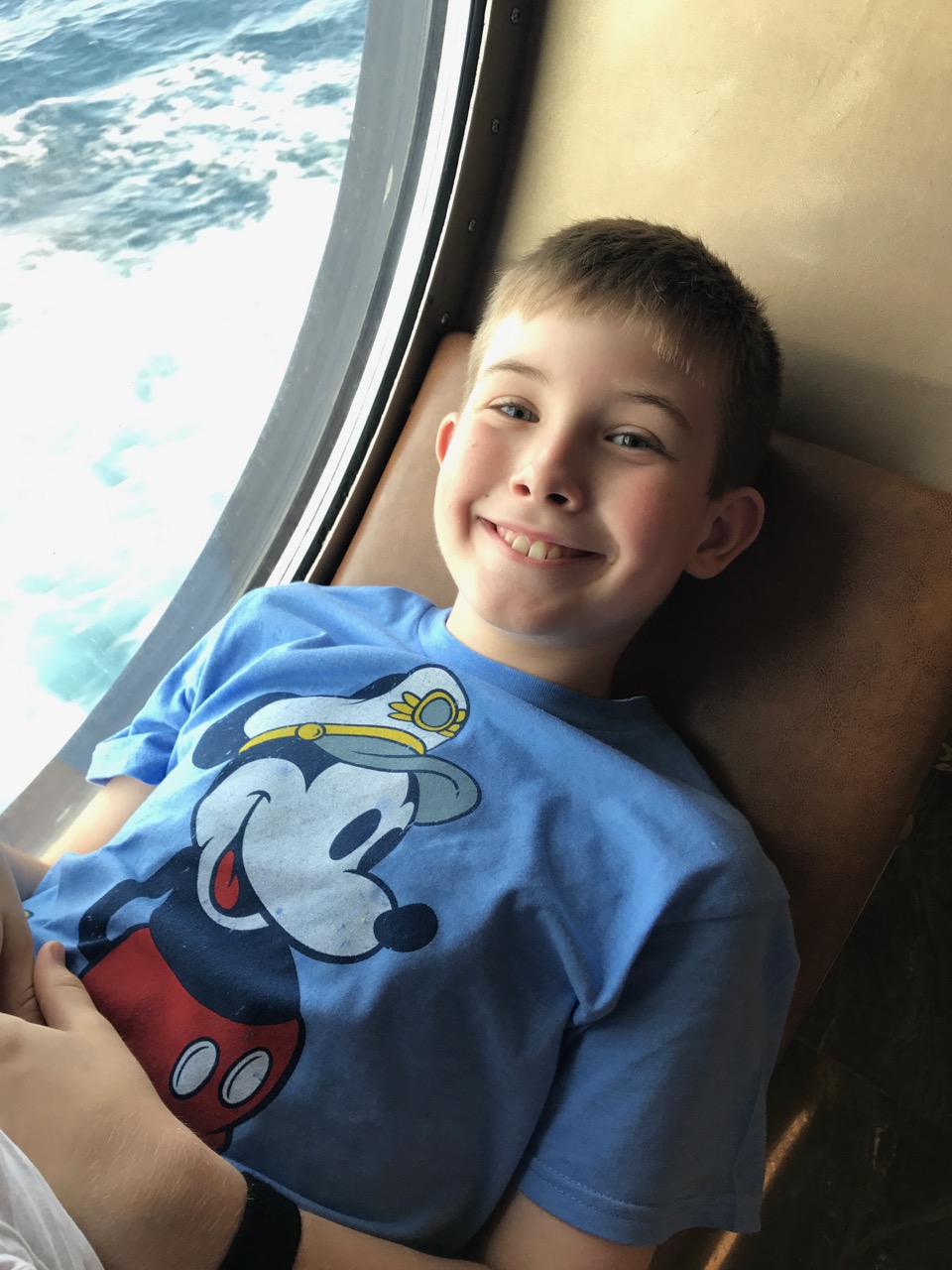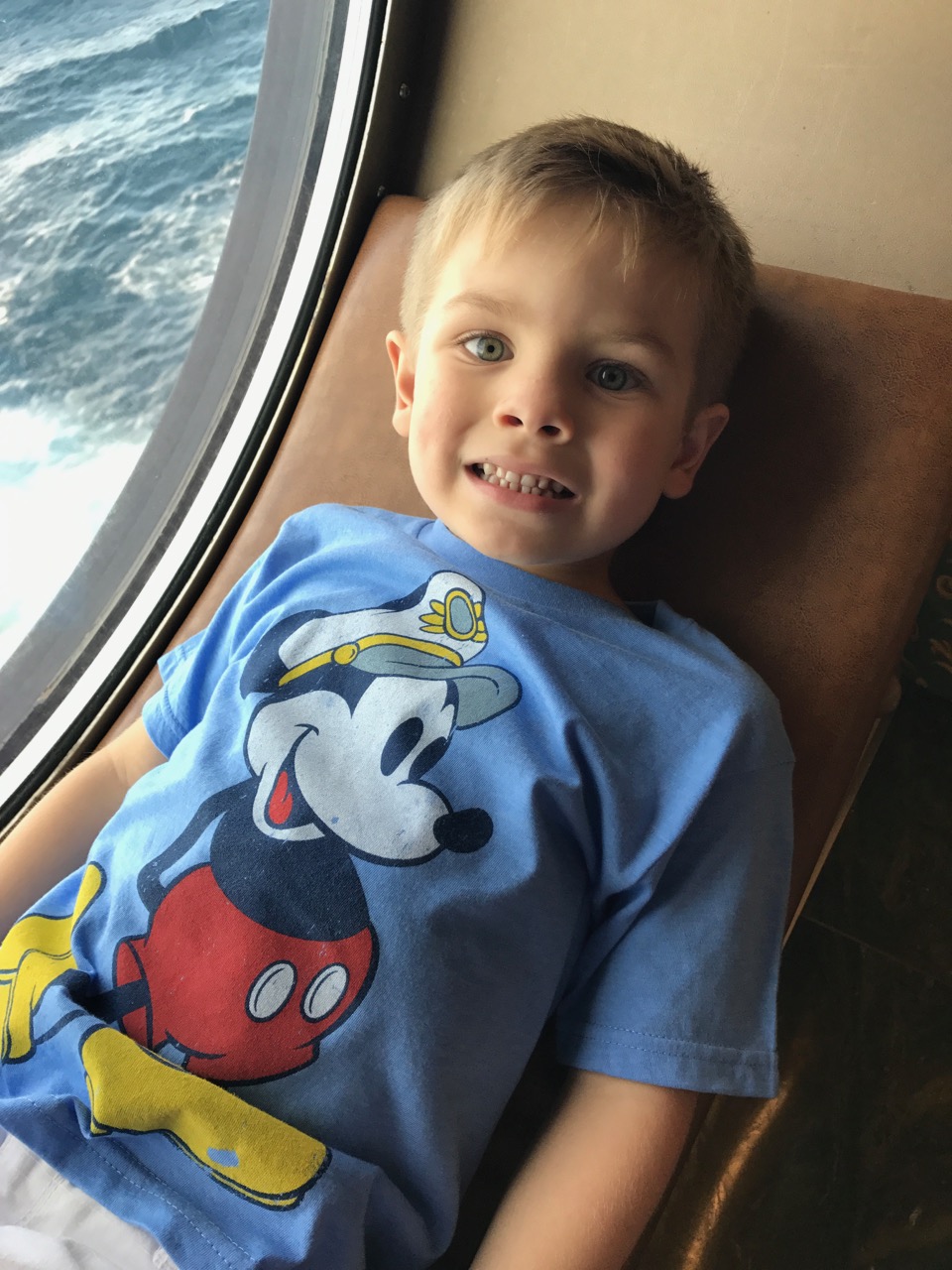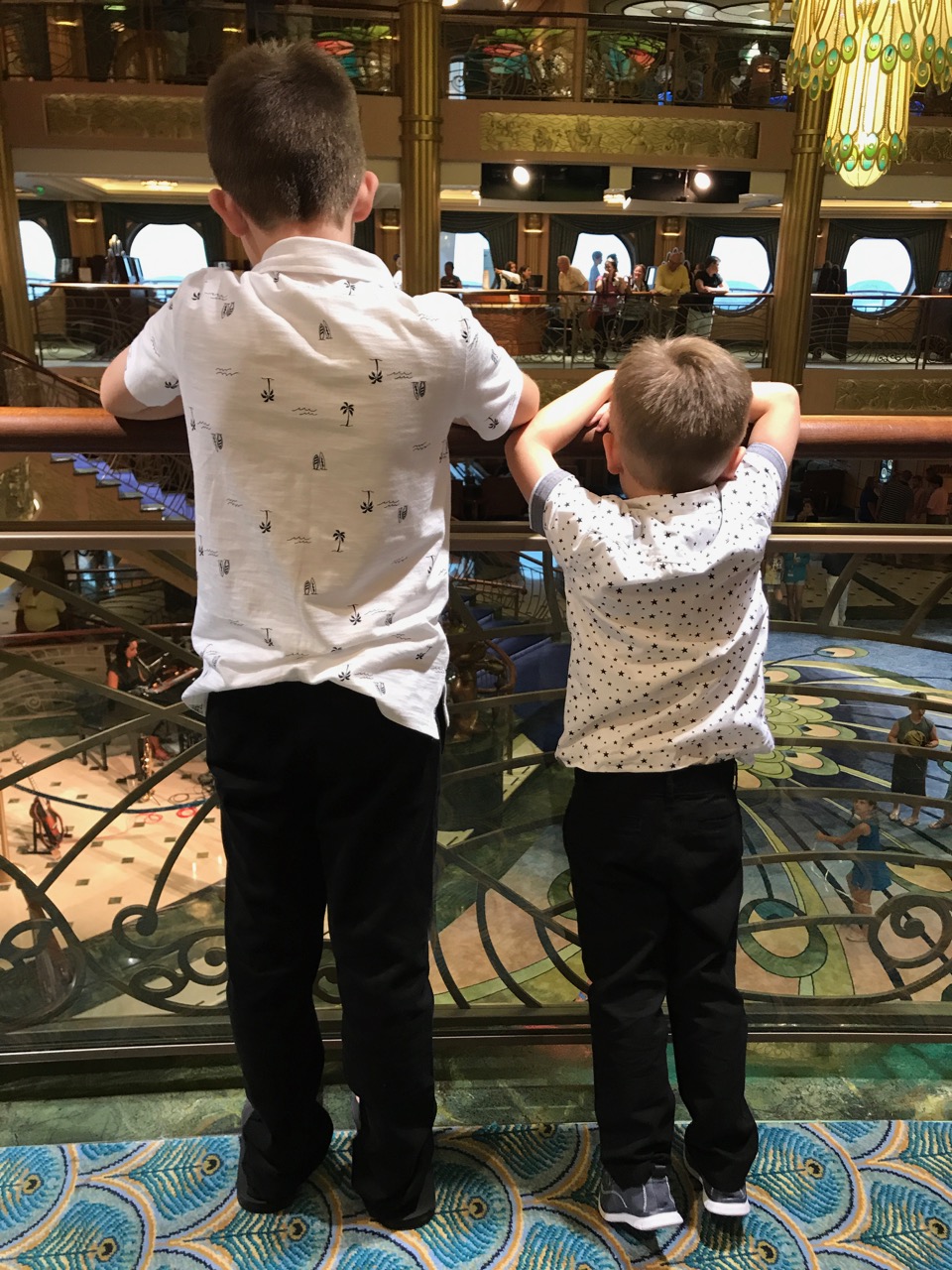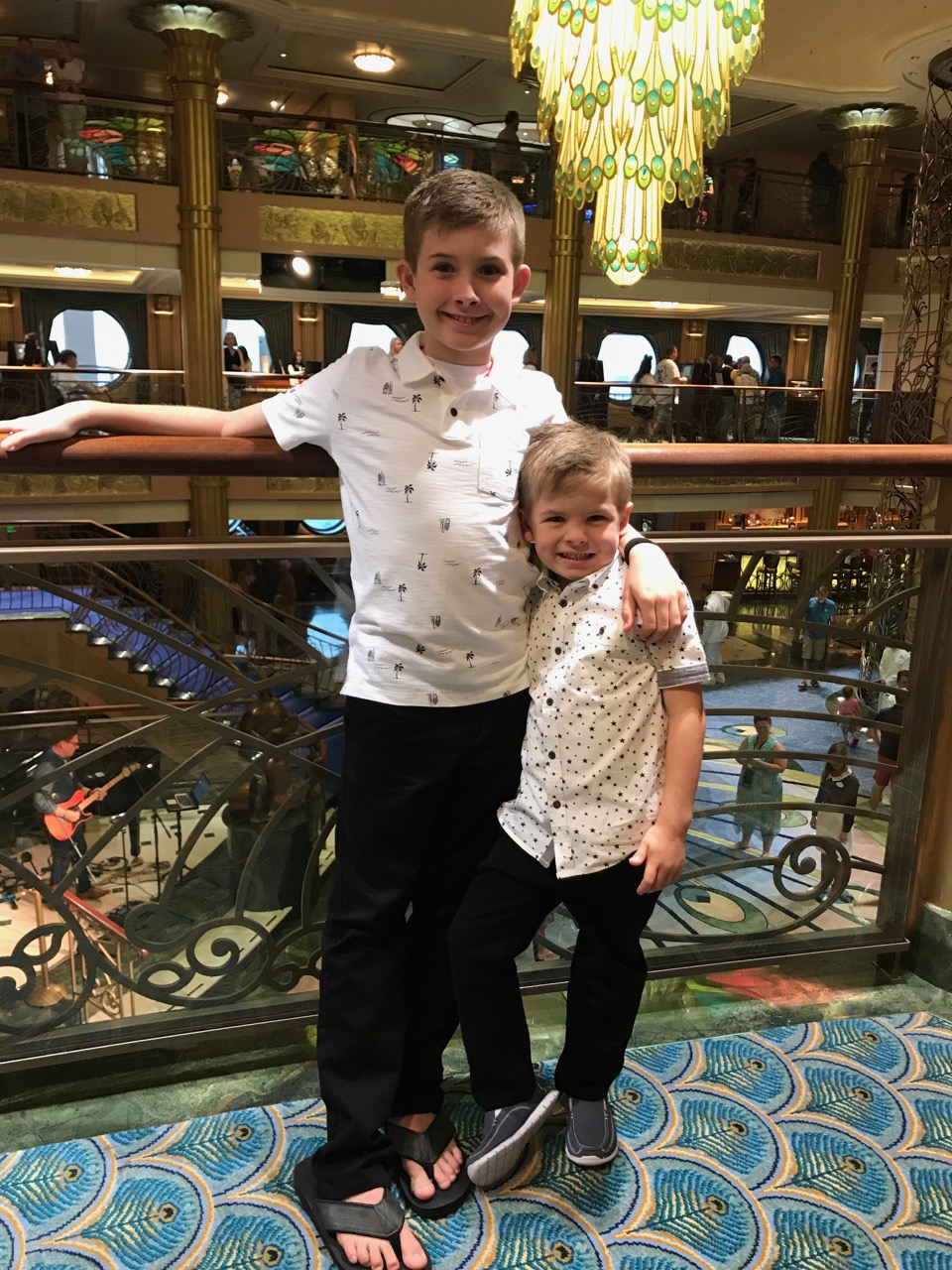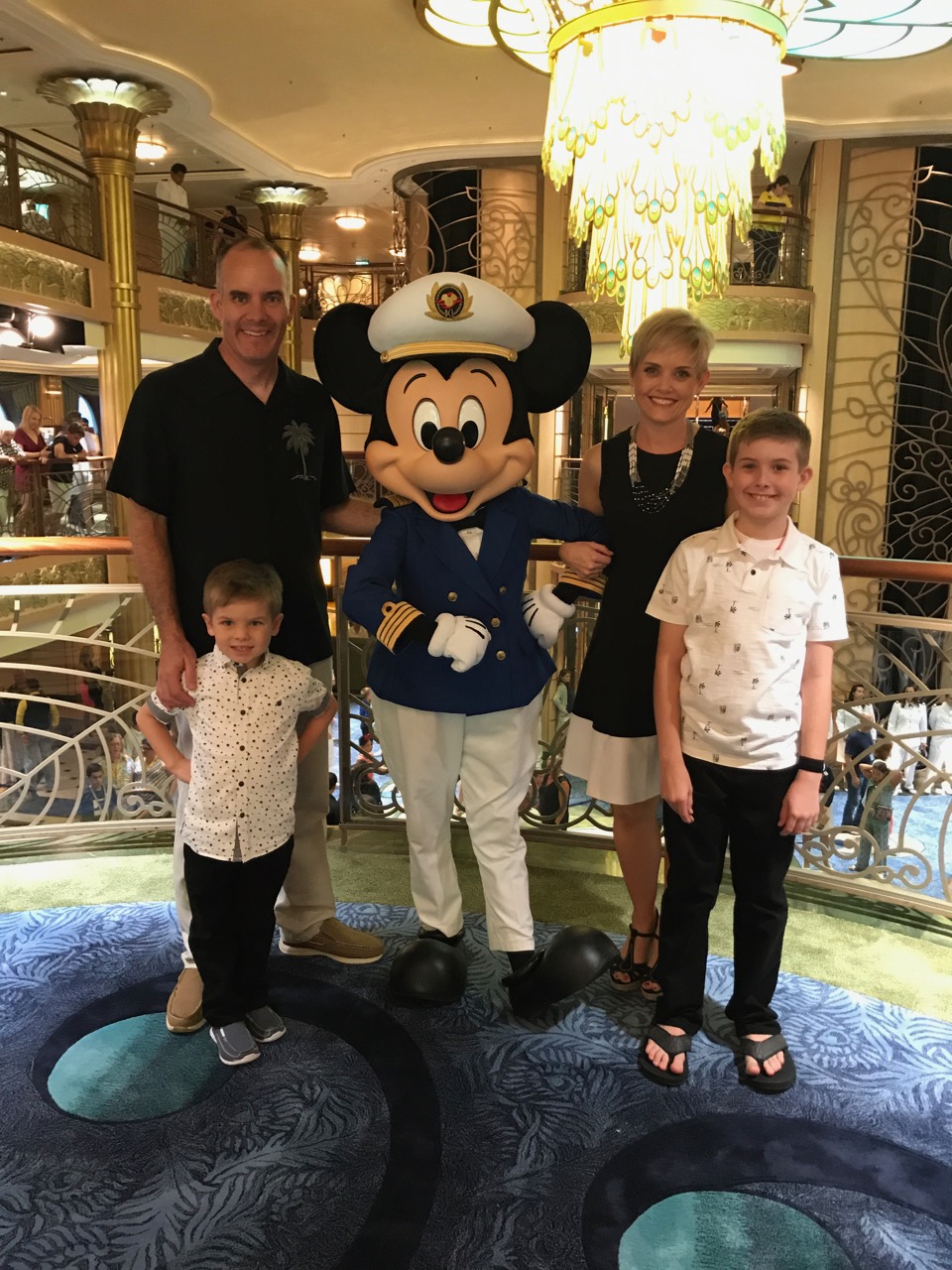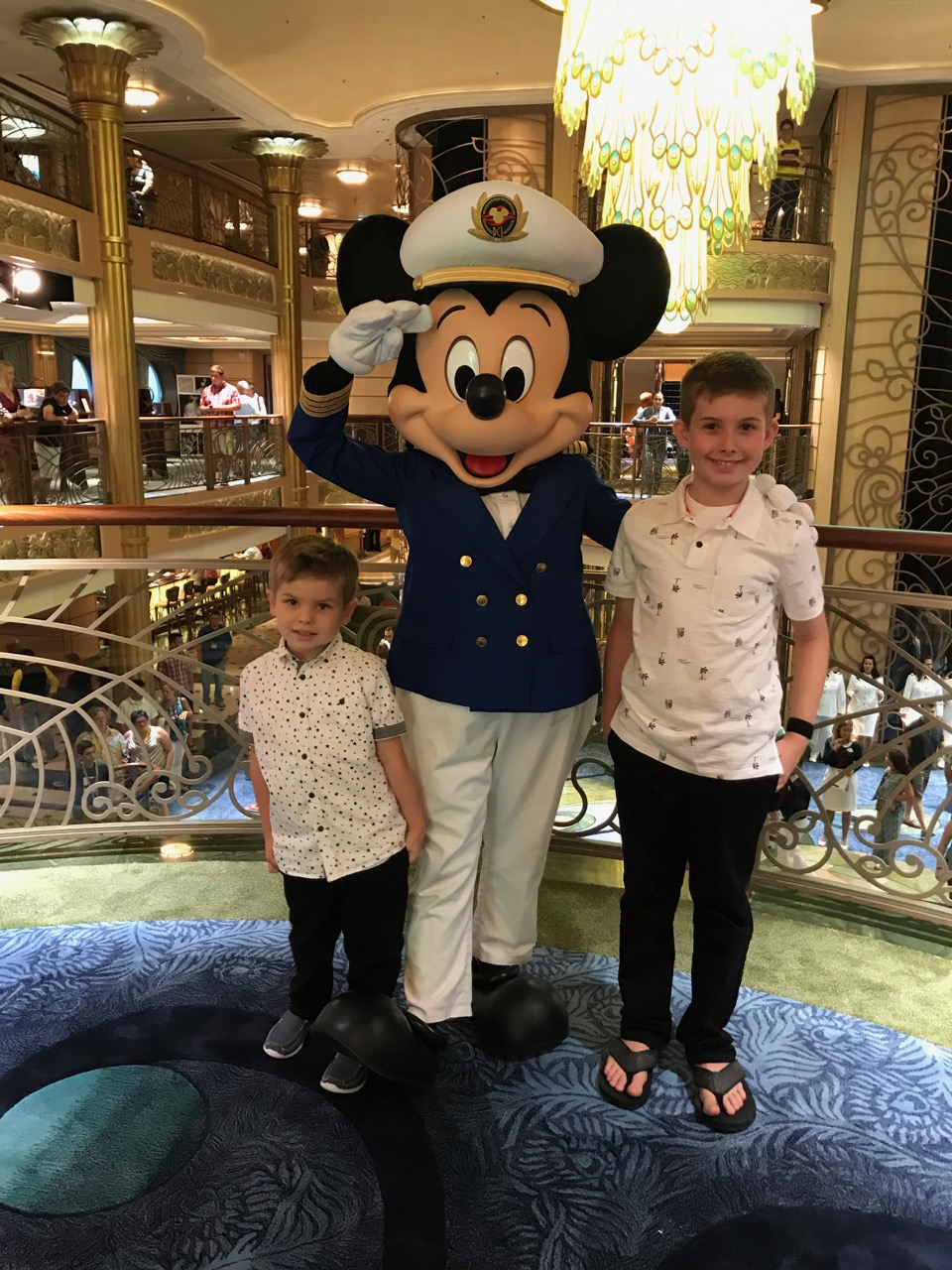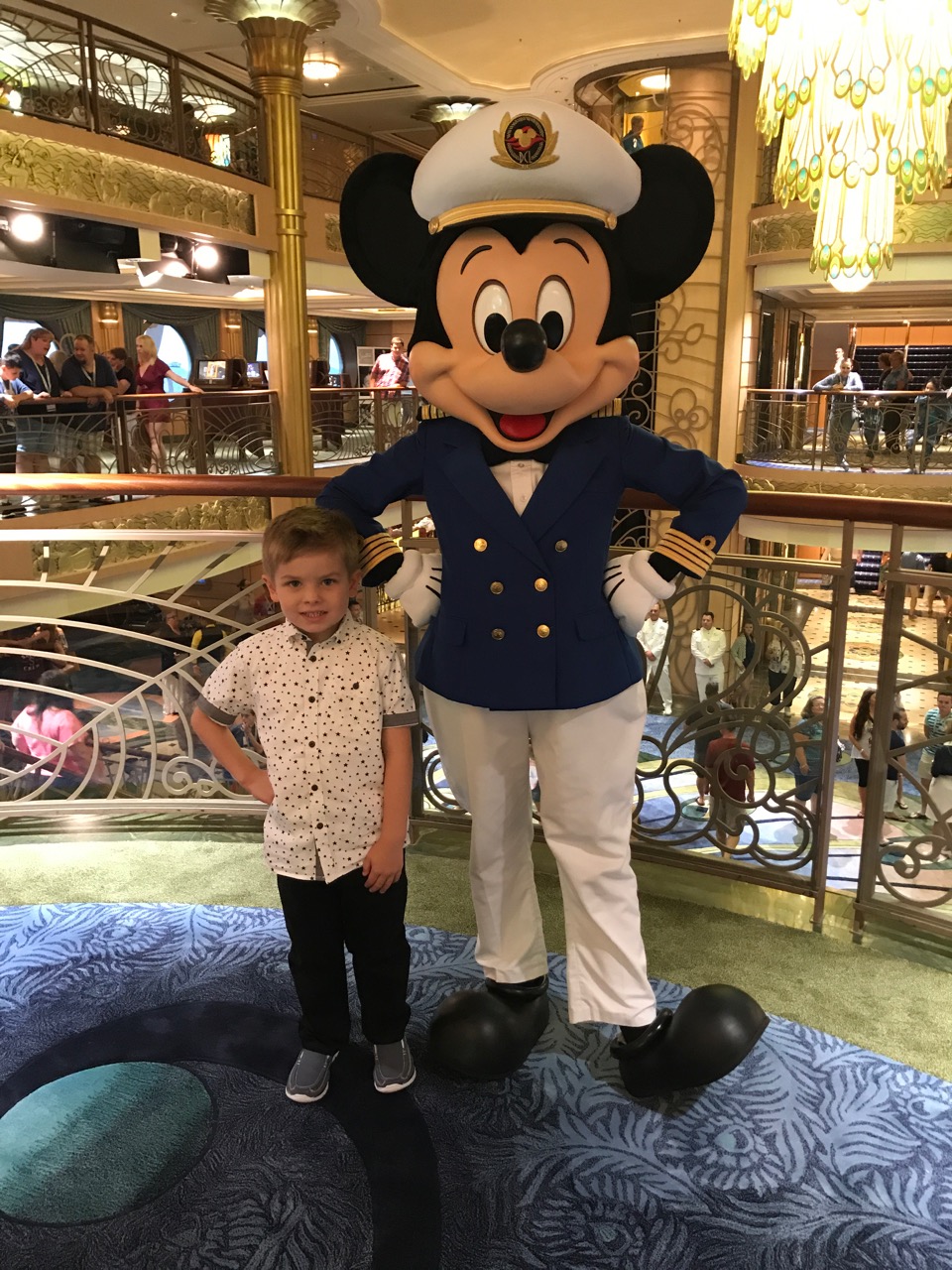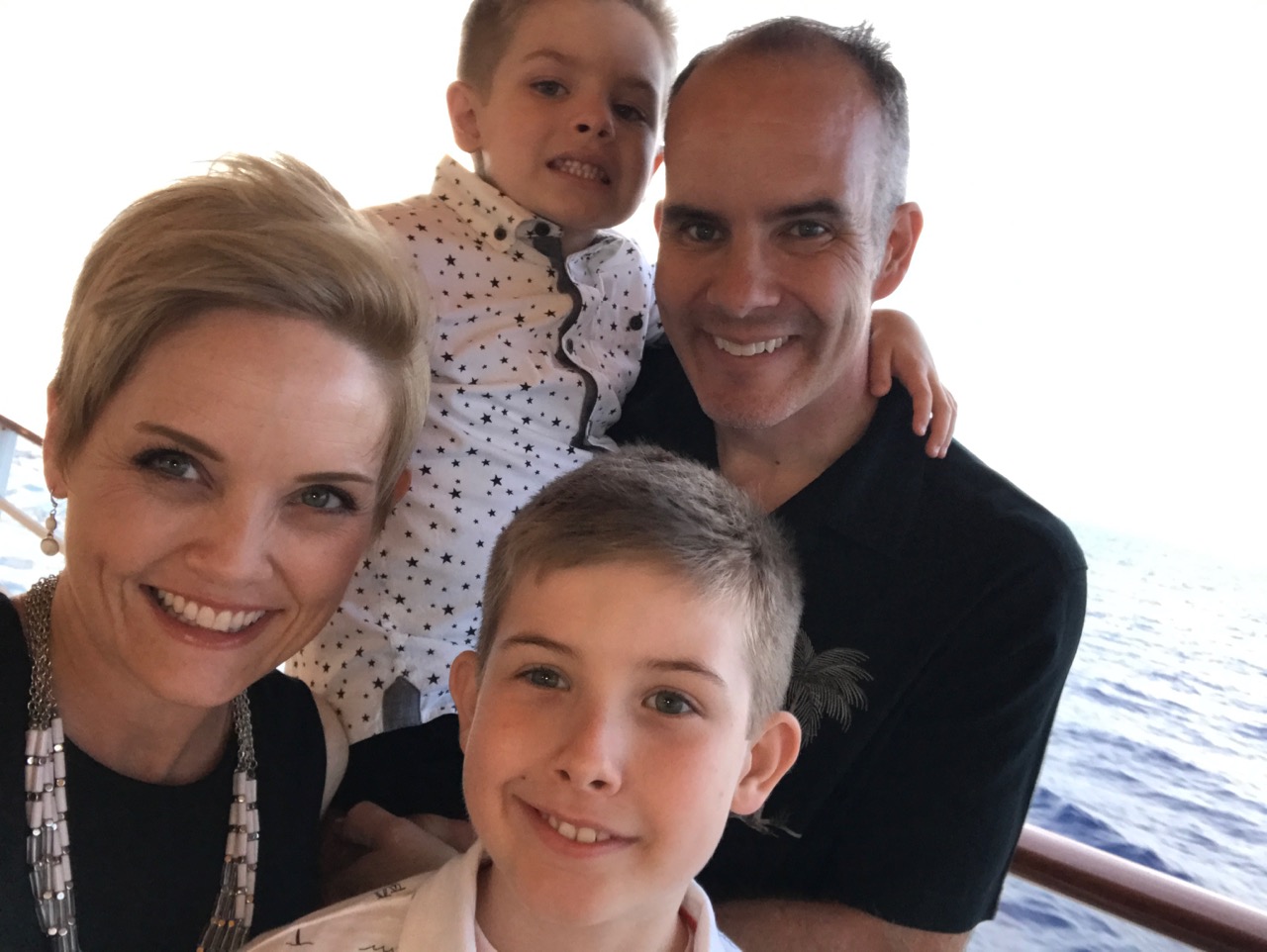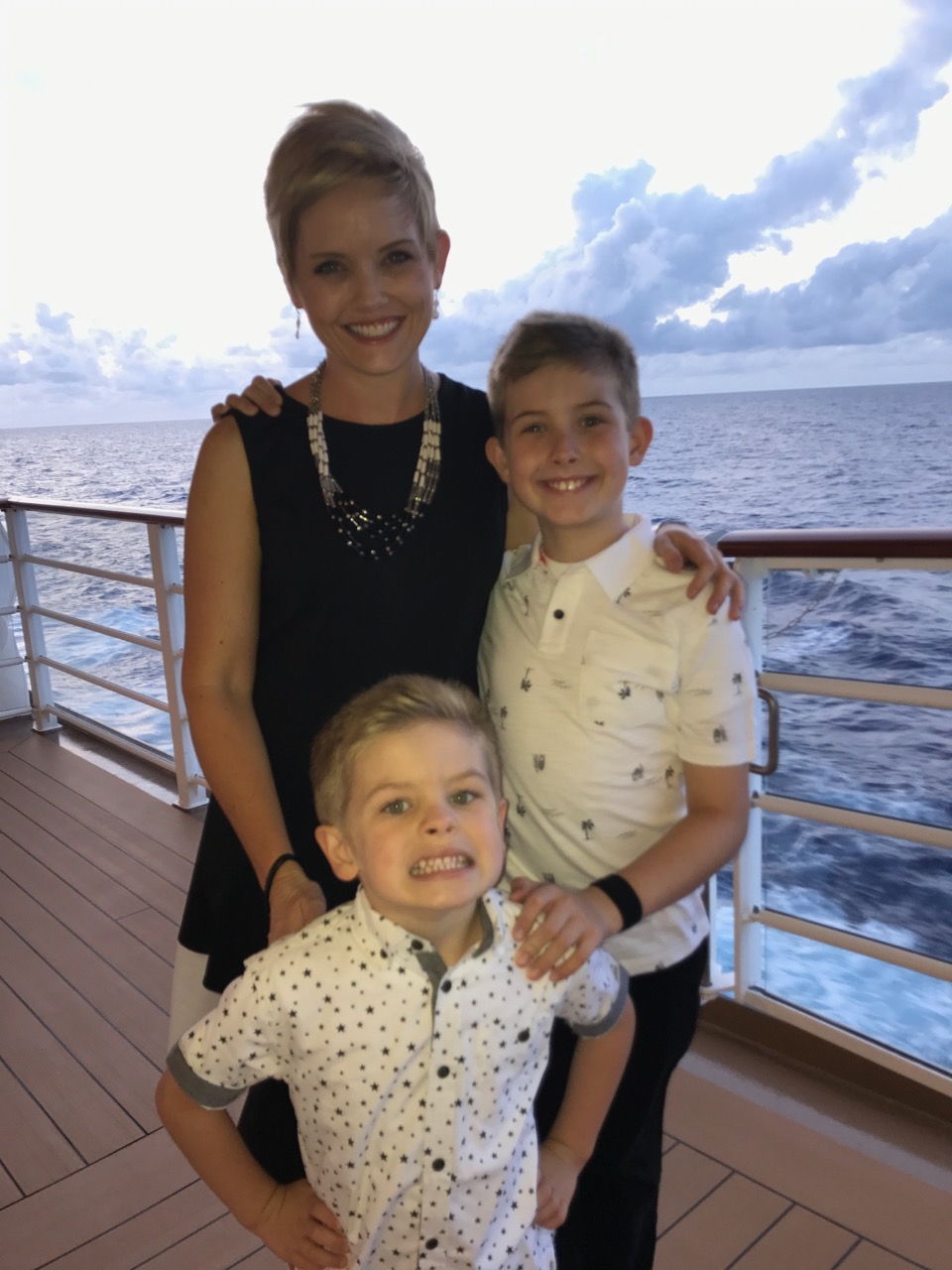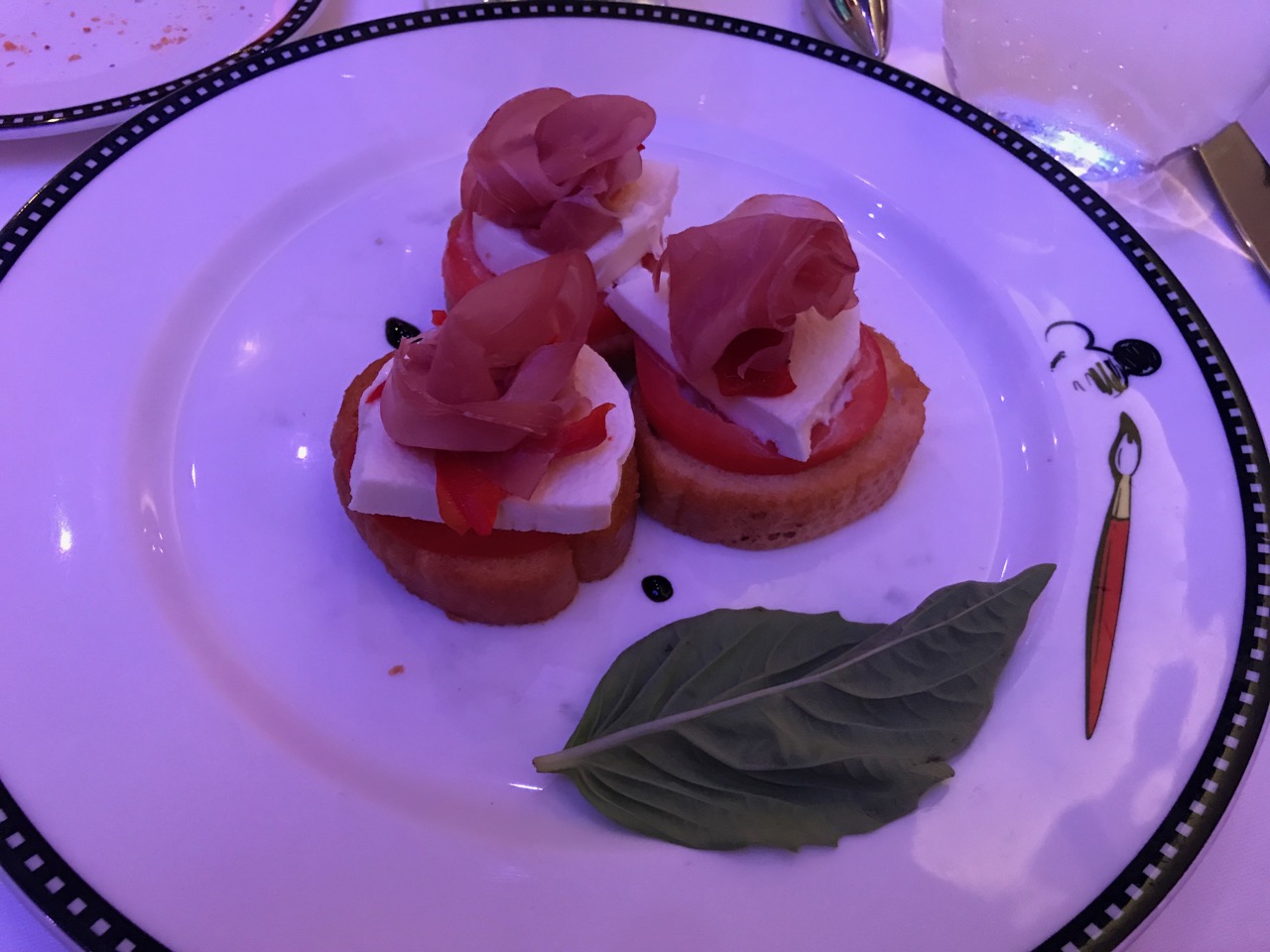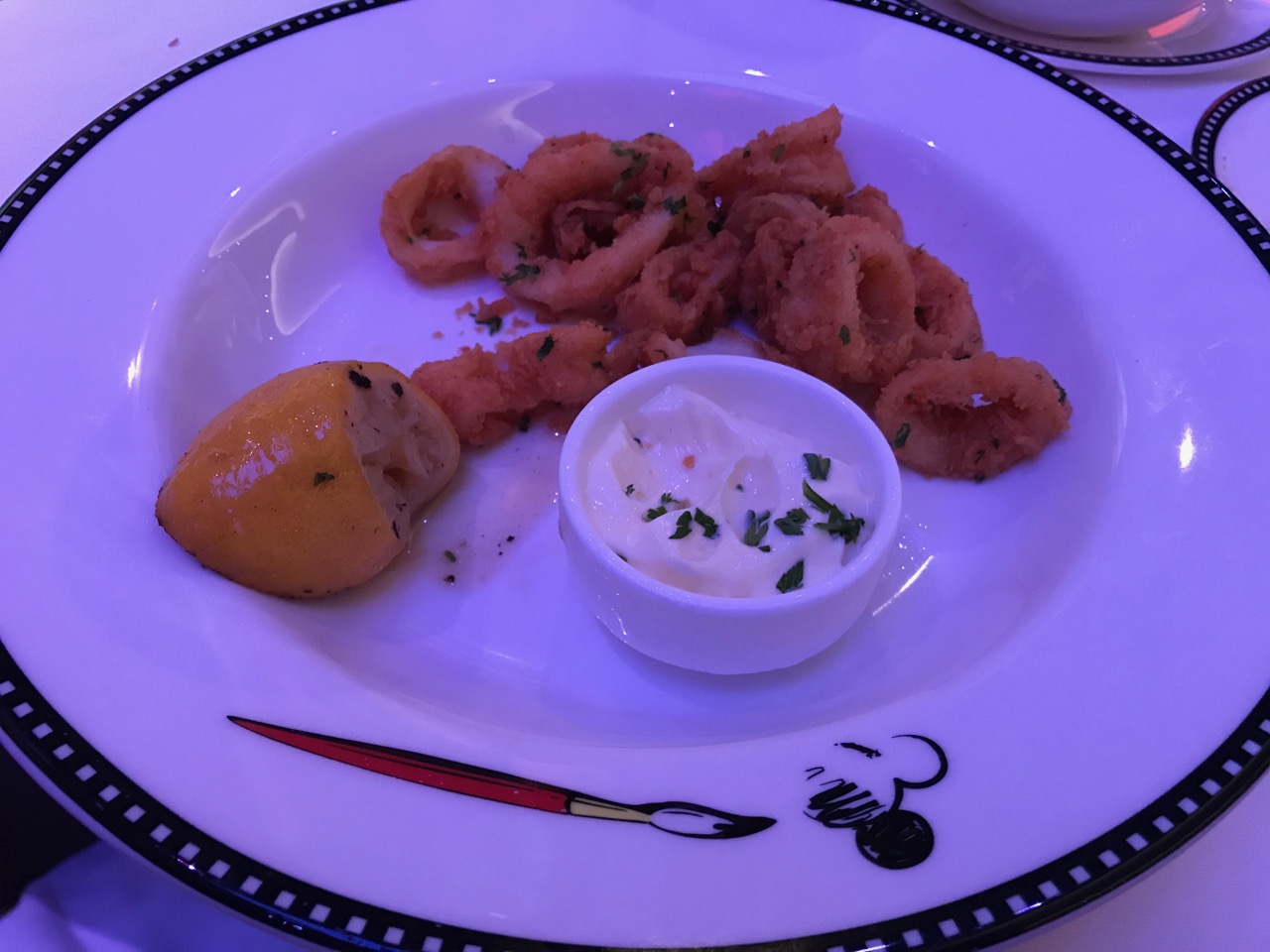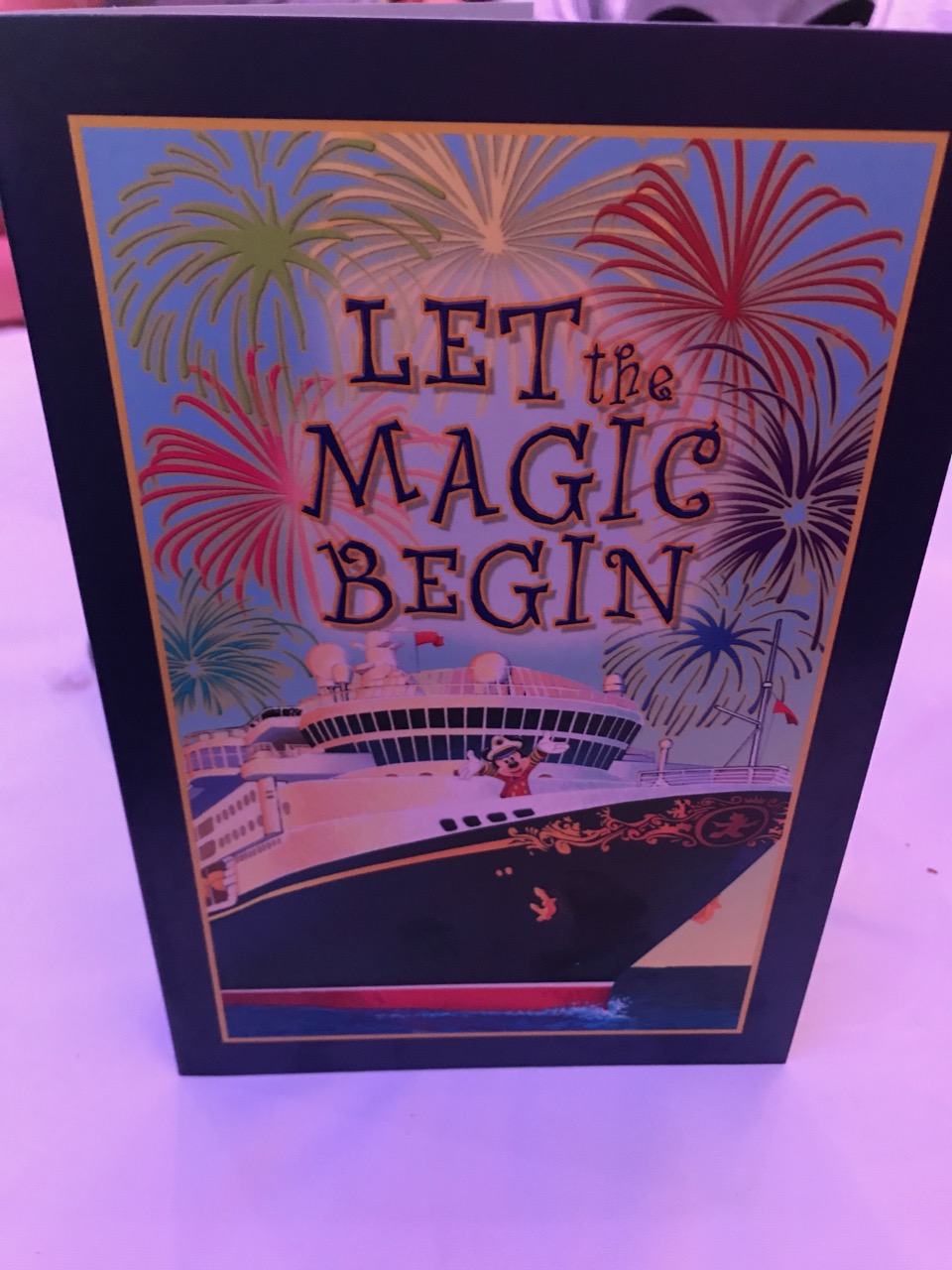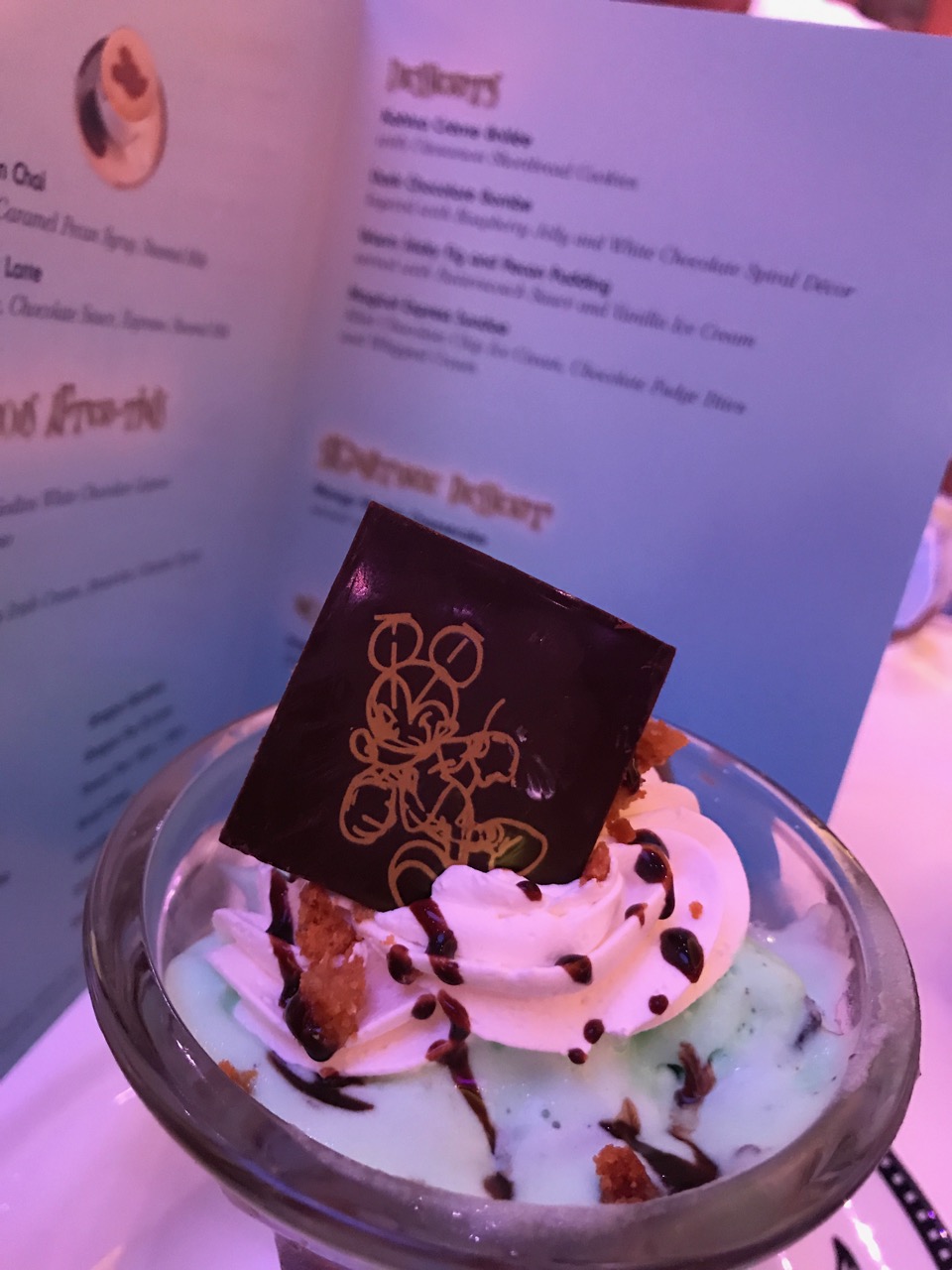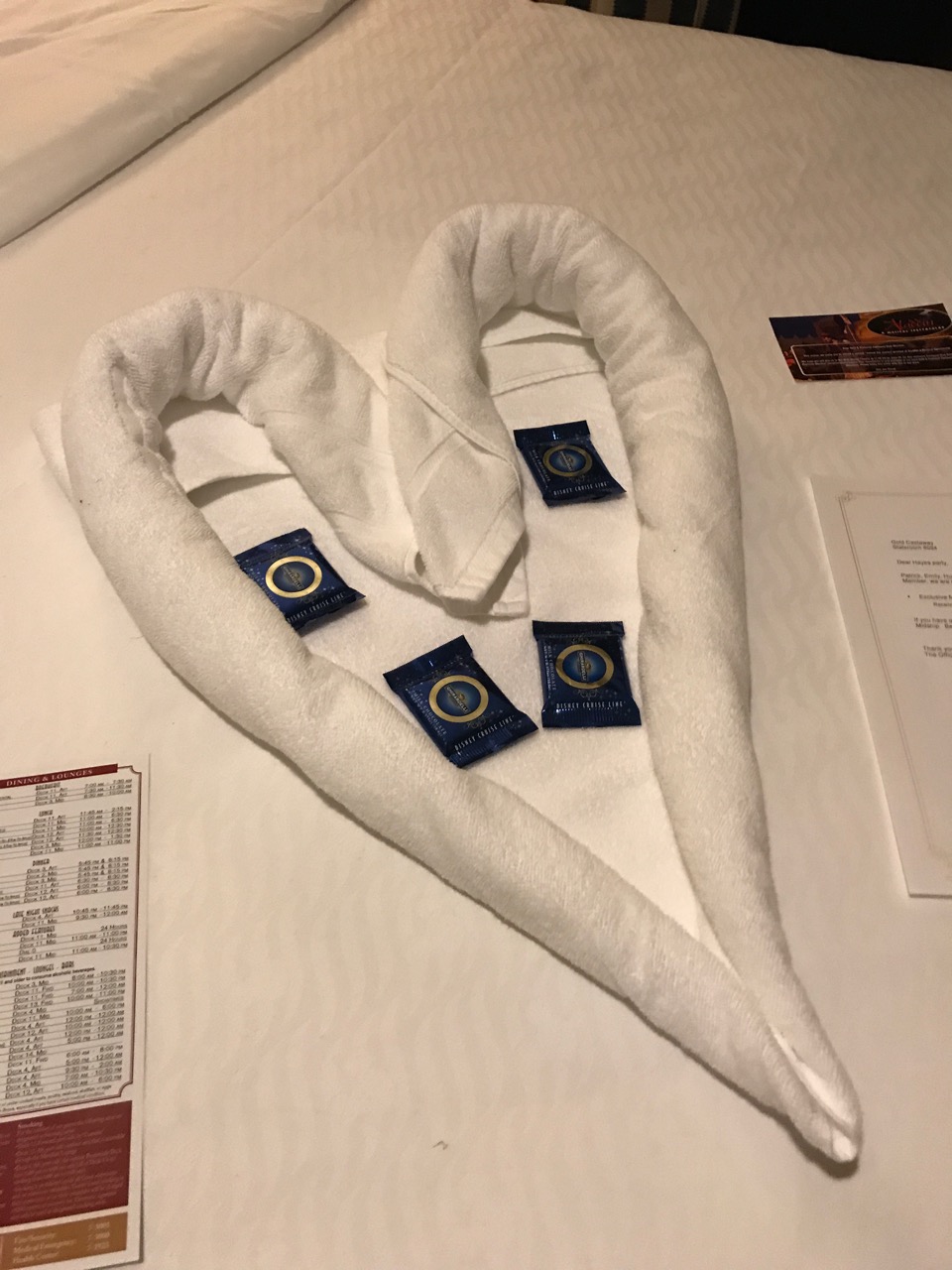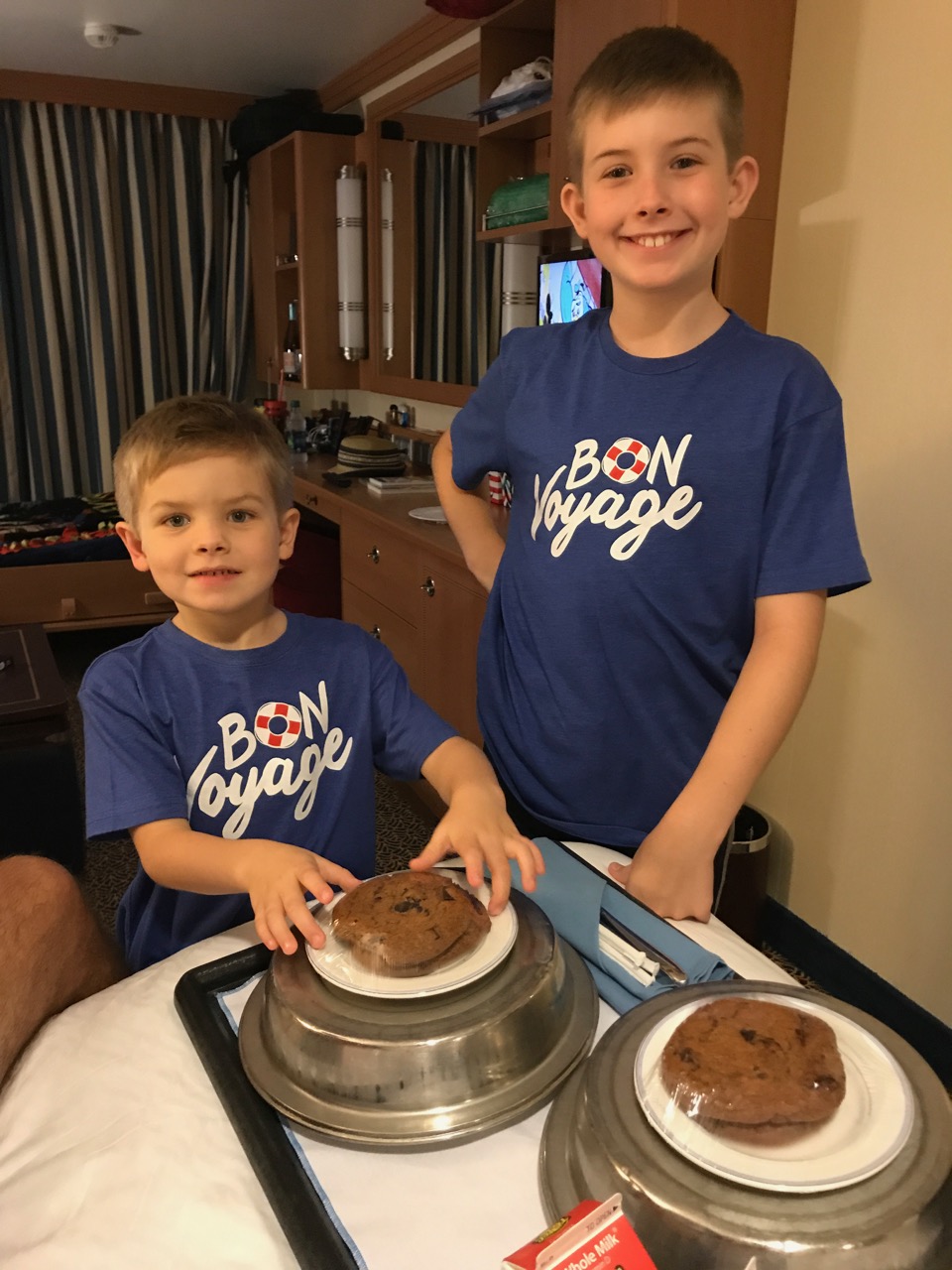 (Visited 75 times, 1 visits today)